Fear can be based on real dangers or past experiences, but what happens when it isn't?
What happens when fear goes beyond "healthy level of caution" to "abject terror"?
Sometimes labeled as phobias, those irrational fears can still be crippling.
Redditor An_Anxious_Mess_Idk asked:
"What is one fear you have that would be considered stupid by most people?"
Never See It Coming
"I'm scared that when I'm driving anywhere late at night and the roads are clear I'll be struck by one of those land speed record vehicles."
"I'd be afraid it would come out of nowhere and I wouldn't see it coming."
- gameofthrones_addict
"I always had this fear (a vehicle coming out of nowhere) when crossing streets as a kid. Suburban streets, mind you..."
- unknown-permutation
"Yeah pretty much, just middle of nowhere you don't always see everything…"
"I know it wouldn't happen. So I know it's an irrational fear."
- gameofthrones_addict
Detached
"Becoming detached on a space walk and drifting off into the void."
"I am not an astronaut, for clarity."
- LoneKharnivore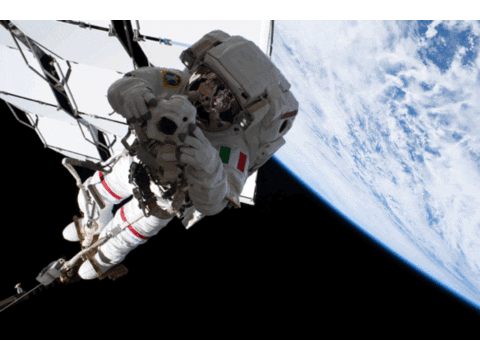 Giphy
Wooly Bully
"Cotton balls."
- DatDude999
"I can't touch cotton wool or anything of that texture. It gives me the chills and the jitters."
"My wife thinks I'm an idiot."
- cloudstrifeuk
"Me too. Everyone always tries messing with me by showing me them or chasing me because I actually run as soon as I see them!"
- AdministrativeCap998
"It's called Sidonglobophobia. The sounds and the static they make when you touch them makes me shake."
- DatDude999
Hiisssss
"Toilet snakes. Thanks, Stephen King."
- Beesareourcousins
"Wife found a 5 foot long black snake in her mom's washer. She thought it was some sort of gasket that fell in the tub at first….reached for it and it moved."
"Our house is 500 feet away, heard her scream from the front porch."
"Mother-in-law's house was built 1890 or so. Not very well sealed up anymore."
- tatpig
"Omg. I found a 3-4 foot snake in my hamper once."
"I heard what I THOUGHT was like, a soda bottle slowly letting out fizz, and when I went to investigate, it was A F'KING SNAKE hissing."
"Carried the whole thing, dirty clothes and all, out to the driveway and kicked it over so the snake would slither away."
"I had bombed for spiders the day before. I had opened all the windows and doors for several hours to air the house out. I'm guessing he snuck in then."
"I was ready to burn the place to the ground after that. 😳"
- SamSepiol-ER28_0652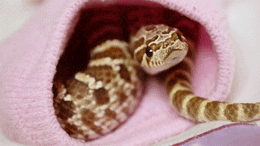 Giphy
Take A Seat
"I can't sleep with my desk chair facing my bed."
"I have to get up, turn on a light, face it away from me, and then I can go back to bed."
"I get irrationally afraid that I'm going to turn over or blink and look at it and someone is going to be sitting in it watching me sleep."
"No idea where that fear came from."
- lockehearte
Deep Blue
"Swimming in a lake, or in the ocean without being able to see the bottom."
"I was bit/cut by something once and since then it's a fear I just can't control.
"I will still go and do it though because I hate it when people tell me what to do. Even when that's myself."
- Personality4Hire
"Thank god water shoes were invented or I'd never go in the ocean or lake again."
"I stepped on a horseshoe crab and it freaked me out so bad I can't go into those bodies of water unless I have shoes on."
- JRich61
"We had a little sand shark swimming by us one trip to the ocean."
"Haven't been able to get past ankle deep since. It's been probably closer to 14 years ago now."
- Negative_Shake1478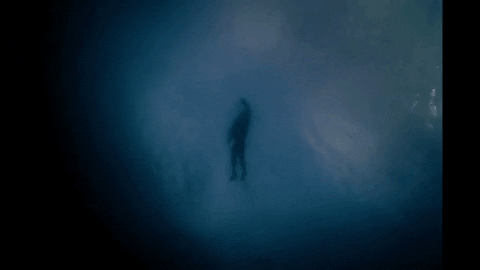 Giphy
Reflection
"Fear of mirrors."
"Creepy things they are."
- The_dead_are_rising
"I'm specifically scared of mirrors in the dark, or any reflective surface."
"I'm convinced that if I look at it, I'm gonna see something horrible standing behind me."
- Kotori425
"Same but I'm not scared of seeing something behind me."
"I'm scared of seeing something in it that could possibly reach or step out."
"Mirrors in the dark feel like a door to another dimension to me and I have no idea why."
- christopharo
"My worst nightmare is getting up at night to go to the bathroom, going past my mirror and I'll see myself in the mirror but the me in the mirror does something different than me..."
"It's that bad that I'll walk past my mirror with my eyes closed at night."
- JenJMLC
Unblinking Eyes
"DEAD FISH."
"UGLY MOTHERF'KERS."
"UNBLINKING EYES ALWAYS STARING"
- Flat_Bodybuilder_175
"Hate to break it to you, but fish don't blink when they're alive either."
- Itsafinelife
"You're... not wrong. By the law of my own phobia, I now have a fear of living fish too."
- Flat_Bodybuilder_175
"The sharks got your back bro, they wink."
- salinase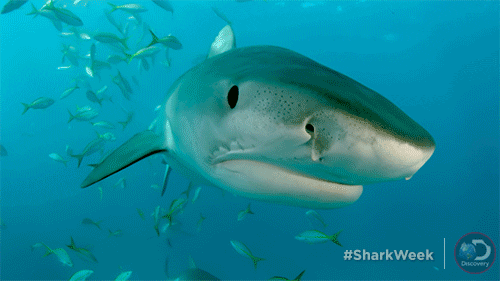 discovery eye roll GIF by Shark Week
Giphy
Mothra Is A Monster
"Moths."
"I get teased all the times about it and my reasons and people try to trick me in to liking them or admitting it's fake.
"Apparently being scared of spiders is ok (I like spiders) but terrified of moths is weird because I like butterflies and 'they are the same thing'."
- kyaria17
That Moth Fear Is Justified
"May 2020, my husband and I took off on a road trip. Everything was mostly shut down but that's fine, what we like to see and do are outdoor, nature things. We stopped at a state park in Oklahoma that had only partially opened that very day."
"We walked around for a bit, let the dog run around as we were the only ones there. Then I had to pee. Now I'm a chick and 'I've got to find somewhere to pee' is pretty much always happening or going to within half an hour."
"The usual state park bathroom places were one hole situations but in little concrete buildings….nice enough, I've used way worse."
"When we first opened the door a LOT of moths flew out. I'm not scared of moths but it was a LOT. So we let them fly away and I went in. I'm sitting there beside one of those large toilet roll things….the one foot diameter ones with the black cover and you pull the paper from under."

"Even as I gave the toilet paper a yank, a tiny part of my brain knew what would happen. A truly biblical number of moths burst out from the bottom of the paper roll when I pulled."
"I ran/hobbled with shorts pulled down and toilet paper in hand just screaming out of the bathroom. My husband all but dropped he was laughing so hard. My poor dog was sure I was being attacked and ran into the bathroom barking and growling."
"It was all hilarious in hindsight. But trying to explain to anyone how moths could make me run screaming is difficult to say the least."
- rebel1031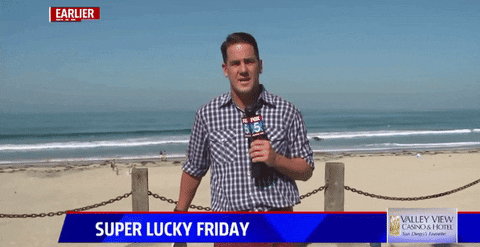 Giphy
For me?
June bugs.
June bugs crawl out of the ground in the summer because they're mini demons emerging from Hell. I cannot be convinced otherwise.
So what's your irrational fear?
Want to "know" more?

Sign up for the Knowable newsletter here.
Never miss another big, odd, funny or heartbreaking moment again.
Keep reading...
Show less
Fears.
We all have them, but not all fears are the same.
There are things that make us a little uncomfortable, but then there are things that completely terrify us.
Reddit user, Immediate-Salary-736, wanted to know what makes your hairs stand up on the back of your neck when they asked:
"What terrifies the sh*t out of you?"
Trapped
"Locked in syndrome."
"Cannot move your body, speak, do anything but think."
"I think you can move your eyes?"
"Maybe?"
"Otherwise you're completely at the mercy of your surroundings."
"If I ever get it, just kill me."
Brachiozord
Losing Control
"Alzheimer's disease"
Dapper-Way-1114·
"On a similar note, Parkinson's. My grandfather was lucid to the end; but physically he was just completely helpless."
mossadspydolphin

"Yup. I don't fear death, but the prospect of losing my personality and sense of self little by little terrifies me. If I ever get diagnosed with Alzheimer's or dementia I'm going to go out on my own terms."
Northerleyfire
In An Instant

"A brain aneurysm. One killed my mother when I was 23, instantly. I rang her 4 days before and she didn't even have a runny nose then bam, dead. Late fifties."
"Supposedly I'm more likely to have one on a hereditary level. F**king terrifying"
[user deleted]
Clots
"Blood clots, aneurysms anything that you cant really detect happening in Your body until it's too late. Like WTF."
Deus_Ex_Machiavelli
"In a 5 year stretch I knew 12 people who died of blood clots in their legs. 3 of them were related a dad and his two daughters. They all started out with a weird pain in their leg. Then dead. I'm petrified of this. Whenever I get a leg cramp I freak out."
klsprinkle
Late Discoveries
"Finally discovering very late in life, what I was supposed to have been doing the entire time."
MeToolMovement
"This one definitely resonates very strongly with me. I just turned 40 and I've failed to achieve much of anything for myself... after college I was totally lost and directionless- and I never stopped being that. I often lie awake at night wondering if any hypothetical positive that might occur at this point in life could make up for all of the wasted years already behind me."
DonktorDonkenstein
Thought not everything has to do with the body. Some people had real world fears and phobias.
Seaworthy
"The thought of Being in the middle of the ocean stranded"
crackonwednesdays
"Ooof, Open Water. That film would've stayed with me for years even if I hadn't known it was based on a true story, but knowing that those two people were just abandoned in the open sea (and that no one realized they were gone for TWO DAYS) just ruined me."
Elvis_Take_The_Wheel
"The last scene in The Perfect Storm where the guy is alone in the water during the storm and the camera pulls away until he disappears."
Pest Control
"Cockroaches when they start flying."
"I went to South America for a summer in my teens. I stayed with a very poor family and slept on the floor. I will always remember being woken up by these strange noises. I turned on the light and the room was absolutely teeming in giant flying cockroaches. When I turned on the light half of them started flying around. I've never been more grossed out and horrified in my life. It still haunts my dreams."
'We have a saying here in Mexico: Todos son muy machos hasta que vuela la cucaracha 'everyone is too tough until a cockroach flies.'"
Open Road

"Driving. Especially out of town. I do it every day in my own town, and have very few issues, although I do get a little nervous sometimes. But man. Put me on a road trip even just 2 hours away and I'm a nervous wreck. Unfamiliar traffic and driving conditions will never not scare the shit out of me."
"Oh, and heights. F**k heights."
[user deleted]
Wreckage
"Getting into a serious car crash."
"So, here's how mine went if anyone's interested. Moral of the story is don't drive tired. Might be a little long, but it's here if anyone wants to read it."
"I fell asleep driving once. When the car went off the road, that's exactly when I woke up. So opened my eyes to going downhill in the grass, at about 100kmh/55mph. My reaction was just steer away from the trees and mash the brakes. I avoided the trees, but hit the end of a steel culvert sticking out from under a driveway."
"The culvert caught the car just below the steel bumper support, ripping the bottom half of the rad and condenser off, the oil and transmission pans, and part of the floor, as the wheels straddled it, and the car went up and jumped the side of driveway, becoming airborne. Landed completely sideways in the driveway on all 4 wheels."
"The scariest part was when it stopped, my glasses were gone (found them in the rear window deck) from the airbag, and I put my hand on my face and felt lots of warm liquid running down my skin. I figured it was blood, and when I pulled my hand away, it was brown?... looked down, my coffee was still in the cup holder, no lid, half full. It was coffee."
We all face our fears daily.
Hopefully we never have to face the ones that truly terrify us.
Want to "know" more?

Sign up for the Knowable newsletter here.
Never miss another big, odd, funny or heartbreaking moment again.
Keep reading...
Show less
In theory, we're supposed to outgrow our childhood fears and settle nicely into a slow burning existential dread like a proper adult.
In theory.
In reality, some fears just stick.
No matter how old you get, or how much math you do to convince your anxiety that it's probably NOT going to happen... some things just stick.
Reddit user iron_horse_ asked:
"What's one thing that still scares the hell out of you no matter how old you get?"
When I was young, my dad's car spun out on an overpass while I was driving with him. I was sitting upfront because there wasn't much of a back seat.
The car came to a stop facing the wall, the windshield framing the long fall that we could have taken. Just a few more inches forward. If he had been going just a little bit faster ...
It's probably not a coincidence that my first actual panic attack happened as I was driving on an overpass on a rainy night.
It just stuck.
Here's what "just stuck" for Reddit.​
The Stairs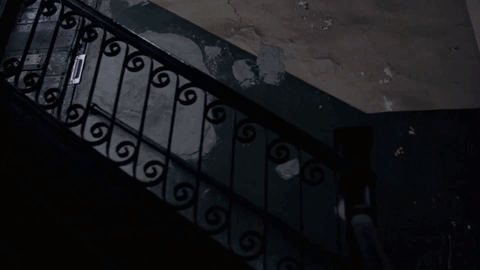 michael douglas stairs GIF by Justin
Giphy
"Walking up the stairs at night when all the lights are off downstairs."
"No matter how hard I resist, I always end up sprinting."
- metee_agar
"For me, I start at normal speed then constantly speed up until I'm going so fast I often fall. It's so stupid."
- PreciousAliyah
"Same! I'm usually the last to go to bed, so I'm the one turning off the lights most nights while everyone else is asleep."
"I imagine my family hears my loud sprinting thuds every night and thinks I'm insane lol"
- largecucumber
Overboard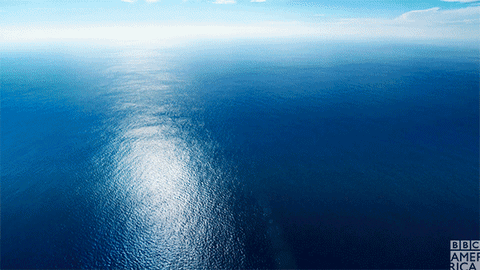 blue planet oceans GIF by BBC America
Giphy
"The thought of being dropped in the middle of an ocean."
"I'm terrified of the emptiness - nothing but water stretching into the horizon in every directions. Treading water and wondering if you should even try to swim or give up and let yourself sink into the ocean ... and to God Knows What that lives there."
-jmongevida
"When I was in the Navy, I'd look out at the sea and it wasn't too bad most of the time."
"There are people watching out in every direction all the time, and there's usually someone working topside to keep an eye on you when you fall in."
"But even the THOUGHT of falling overboard at night is terrifying to me."
"It is damn near pitch black, so even the people watching at night won't see you, and you'll just sit there watching the ship's lights fade into the distance, knowing they'll never find you in the dark."
- MS-07B-3
Mirror Mirror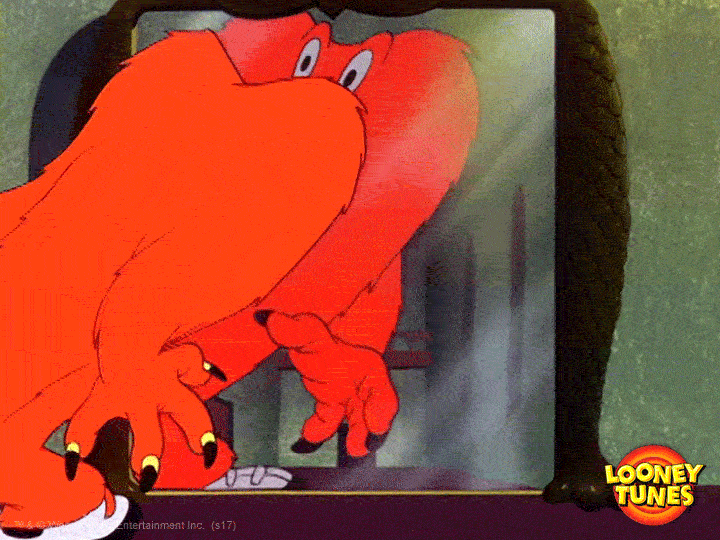 scared looney tunes GIF
Giphy
"Often times when I'm washing cleanser off of my face, I fear that when I lift my head to look in the mirror, there will be a stranger/monster/axe murderer suddenly standing behind me."
"I've had this paranoid thought since I was around 7 years old."
-juliannedattas
"Same but I'm always scared about me being the monster. Like I look up and instead of my face, there's some demonic entity🙃 "
-thegirlwhodied_
"I think this is one of the more common ones."
"Any time I shampoo my hair I make sure to rinse really quickly so that the bathroom demon doesn't have time to show up lol"
- poecilio
"It's odd because looking in mirrors is the only time I can see behind me, but it's also the only time I am scared something will sneak up on me from behind."
"It's completely contradictory to logic. I should feel safer while looking in a mirror."
- snapwillow
Lights In The Dark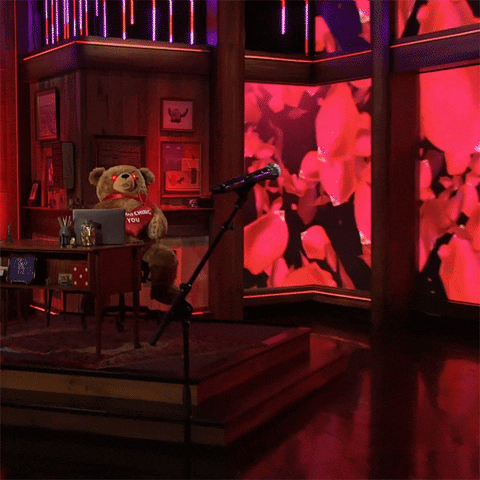 Im Watching You GIF by The Tonight Show Starring Jimmy Fallon
Giphy
"Small, red lights in the dark."
"My TV has one that's always on, but not many things do anymore."
"It makes me extremely anxious and on guard. Maybe that I'm being watched? I can't really explain it and I've pondered why get all wigged out for a hot minute."
- SpoolBus6Oh
"They always remind me of eyes in the dark."
"They belong to some strange, terrifying mystical creature that could kill you at any given moment. It watches from the shadows. Waiting. Watching. Always."
- ScaredBlackCat
"For me it's the possibility of the light winking out for a split second, then coming back."
"That tells you that something is moving right there in front of you in the pitch darkness - and the only thing you know about it is that it's there."
- Prudent_Hawk_7476
Sleep Situations
new jersey woman GIF
Giphy
"I can't sleep with my back to the door. I saw a movie as a kid where a girl was sleeping with her back to the door and someone came in and stabbed her in the back."
"Also, the closet door has to be closed because there are monsters in there at night."
"I will still occasionally jump into bed so the monsters under the bed can't grab me."
"A dark house, I flip on every light as I walk through."
"So I guess this means I'm afraid of the dark? *Sighs*"
"I'm 47. I guess I won't be growing out of it anytime soon."
- r_ylenia
"I have this!"
"I'm so traumatized that I can barely go to the bathroom without getting shivers and adrenaline boosts. Going to sleep is horrible."
"I can only sleep if I face the wall and I have to distract my brain from projecting horror stuff on my retina. I always fail."
"I don't know if I'll grow out of this (I'm a teen.) It's bad. sometimes I even look constantly behind me just to make sure I didn't spawn a demon by breathing or something"
- colorfulblack
"I'm 27 years old and can confirm El Cucuy is DEFINITLEY in the closet."
"Haven't seen it... but I know it's there. Never leave a closet door open at night."
- PancShank94
Spiders
"Spiders. God damn spiders."
"Big ones, small ones, fat ones, skinny ones, all of them. They keep me awake at night thinking about them."
"The idea that there is probably at least one hiding in my room somewhere at this exact moment freaks me the f*ck out."
"I once punched my sister in the face for putting a fake one on me."
"When I was a kid, I was going to take a shower and a daddy long leg came crawling out of the drain hole. I puked from the fear and didn't take another shower from the next 2 months."
"Spiders can all die in a fiery pit. They're all gross and disgusting and I hate them."
- aizen_vx
The Floor Is ... Crabs?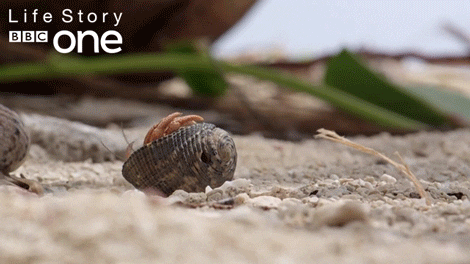 bbc one crab GIF by BBC
Giphy
"Bathing in lakes and seas."
"Once, as a small kid, I went for a swim in the sea only to discover that the ground was covered in small crabs."
"I'm not talking 50, I'm talking thousands of small crabs that would be everywhere where I put my feet down. I was stepping on them, they were scrambling over my feet. I couldn't touch the bottom without touching a crab."
"Now I hate to go swimming if I cant see the bottom."
- LakeTop7461
3:33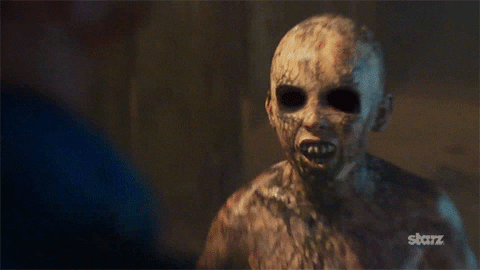 Scared Bruce Campbell GIF by Ash vs Evil Dead
Giphy
"It's bizarre, but it freaks me out when I randomly wake up at 3:33am or happen to notice the time at 3:33pm."
"I think it was some Exorcist movie when I was a kid. I just look the other way like 'nope not noticing this devil sht!' "
"The funny part is I'm agnostic."
"Mom was catholic, though, and quite nuts so this may have played a role in my legit fear of demons, even if rationally I don't think they're real... Probably."
- Otherwise_Flan_7854
Just Bots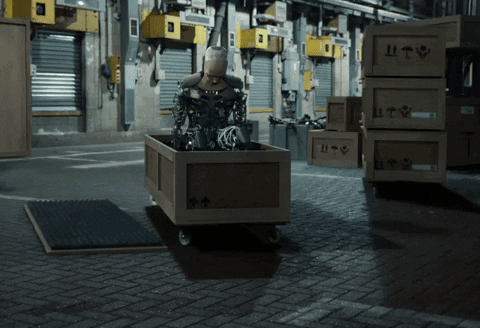 Robots Free Yourself GIF by The Chemical Brothers
Giphy
"The Dead Internet Theory"
"It's getting scarier and more obvious as we get older."
"The theory is that internet "died" somewhere around late 2016 to early 2017 and is being discreetly replaced by bots designed to selectively challenge or reaffirm your opinions to maximize engagement."

"This is also supported by the spread of link rot and content drift. Read up. It's not as tin-foil-hat at you might be thinking."
"People massively undervalue their intuition these days, and are quick to play the tin-foil-hat card when something like this is brought up."
"If something feels off, it usually is."
- Spxders
Fire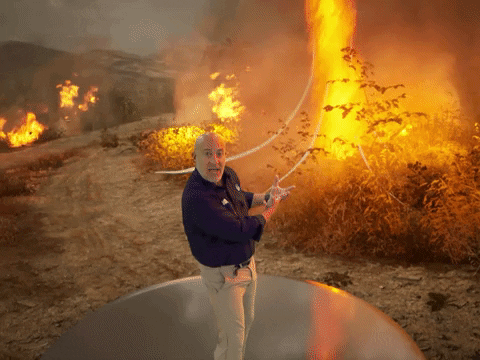 Virtual Reality Fire GIF by The Weather Channel
Giphy
"Bushfires. I live in a very bushfire-prone area."
"It was made super clear growing up how awfully terrifying fires are. They kill. It isn't quick and painless. An extremely intense wariness and fear of them has always been deep-rooted in my mind."
"Just the sight of smoke on the horizon makes me nervous. God forbid I see it on a hot and windy day."
"F*ck fires. So much."
- No-Acanthisitta423
Stairs Again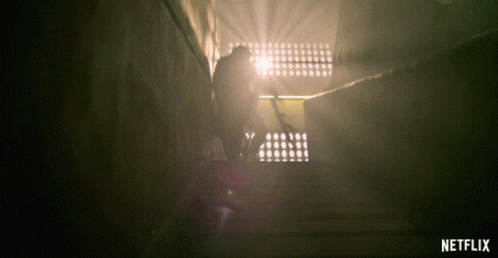 Chris Hemsworth Movie GIF by NETFLIX
Giphy
"Heights, glass railings, steps/escalators and especially around children."
"As a small child I fell backwards down a escalator and managed to catch myself before a point at which I probably would have died."
"It still scares me today. All I saw was the mall floor and glass railings as I fell."
"My ex husband had a little cousin that died on steps. It really bothered me - he was a gorgeous, happy little kid and I spent so much time around him."
"He happened to fall a day after we spent time with him."

- ChineseChaiTea
Welp ... Reddit has just given me a bunch of new stuff to lose sleep over at night. What about you?
Want to "know" more?
Sign up for the Knowable newsletter here.

Never miss another big, odd, funny or heartbreaking moment again.
Keep reading...
Show less
We all have fears. Some are the spectacular phobia kind, things like spiders and heights. And other fears come from all the media we consume, the narratives of abduction and murder that dominate television and movies.
And still others are a bit more realistic. These tend to be the one's that really make us shiver.
Of course, everybody has that one fear that seems to rise above the rest. For some reason, it seems more plausible and more catastrophic than the others all at the same time.
Curious to hear what the top fears out there are, Redditor THE_FALL1N_1 asked:

"What genuinely scares you to the core?"
Many people opted to share the more outlandish possible catastrophes. These weren't very likely, but their spectacular horrors made up for that.
Avoidance of Suffering
"Being tortured I think. I feel a healthy amount of fear towards death. Like I am not thinking or worrying about it everyday, but I try not to get in risky situations either."
"BUT The thought of someone provoking me an immense amount of physical pain with the whole purpose of making me suffer just scares the sh** out of me."
Like a Plague
"A swarm of flying cockroaches." -- Affectionate-Sock-62
"I'm in Texas, so imagining our Texas-sized roaches flying en masse is pretty scary." -- 3-DMan
"Fu** that I'm scared of even one roach!" -- Rocket-Tree
"Minor"
"Nuclear confrontation. Even at a minor scale." -- edgeofsanity76
"With nuclear bombs there is no 'minor' scale" -- ron_sheeran
"This, absolutely. There're now more countries with nuclear weaponry than ever and we're 100 seconds to midnight." -- GlebRyabov
Other people feared suddenness. They just couldn't fathom the idea of it all ending like a bolt out of a clear blue sky.
Just Happens
"That everything can change in a second."
"Just over a year ago my dad went for a walk, had a heart attack and died straight away. He was in great shape. there was no warning and he was only 50. Everything changed that day."
-- TpotCharlie
A Common Choice
"Brain aneurysms! You could just be going about your day and bam! All over" -- indistrustofmerits
"One of our colleagues today was rushed to the hospital for an aneurysm. Apparantly it's non operable and she has 48 hours left. It really puts things in perspective." -- meltedsnake
Never Good
"Phone calls late at night or at awkward times when people normally don't call. Those are never good calls." -- spockgiirl
And others went with the very realistic, existential threats out there. These had a lot to do with time passing and a thousand moments of bad luck all adding up.
The Withering
"I'm not afraid to die. I'm scared of getting old, and losing control over my body and mind. That is far scarier to me than having it all end" -- Silas-Alec
Eroding at the End
"Having a long-term illness that is a burden on my family and wipes us out financially." -- irishamerican
"My grandmother has become that kind if burden and she doesn't care and intentionally makes life impossible for my family. We will probably be sending her to live with my POS aunt because of how they both are behaving."
"My family might lose our house because of everything we are going through. My grandmother needs to be out of the picture. She's not even a good person and she brought her illness on herself, so I have no pity." -- LaunchesKayaks
To Be Loved
"As a 36 year old man with no kids and having never been married, dying alone. Getting old never having known what it feels like to have someone who chose you scares the hell out of me."
-- ramboy18
What If It's Just Not Enough
"Doing everything right financially, saving for retirement, investing, paying down my mortgage, etc. and everything crashing. As a millennial I have already been through 3 major recessions, I'd prefer to not ad a depression onto that."
Just in case you were feeling safe, secure, and confident about the future, hopefully this list didn't upturn it all.
Want to "know" more? Never miss another big, odd, funny, or heartbreaking moment again. Sign up for the Knowable newsletter here.
Keep reading...
Show less
Step on a crack, break you mother's back. I tell you that phrase has haunted me for decades. It was told to me by an adult who was clearly messing with my head, but the way he made me feel, my body has never forgotten so to this day. I jump over all cracks I see. Just in case. I'm also superstitious. You're welcome, mom. We all have fears that seem irrational, even to our own minds, but we just can't help being held hostage sometimes. Thank God for therapy and vodka.
Redditor u/SweetP1078 wanted everyone to discuss all the phobias and life anxieties that hinder the everyday by asking.... What's your strange irrational fear?
Want to "know" more? Never miss another big, odd, funny, or heartbreaking moment again. Sign up for the Knowable newsletter here.
Keep reading...
Show less