We all have fears. Some are the spectacular phobia kind, things like spiders and heights. And other fears come from all the media we consume, the narratives of abduction and murder that dominate television and movies.
And still others are a bit more realistic. These tend to be the one's that really make us shiver.
Of course, everybody has that one fear that seems to rise above the rest. For some reason, it seems more plausible and more catastrophic than the others all at the same time.
Curious to hear what the top fears out there are, Redditor THE_FALL1N_1 asked:

"What genuinely scares you to the core?"
Many people opted to share the more outlandish possible catastrophes. These weren't very likely, but their spectacular horrors made up for that.
Avoidance of Suffering
"Being tortured I think. I feel a healthy amount of fear towards death. Like I am not thinking or worrying about it everyday, but I try not to get in risky situations either."
"BUT The thought of someone provoking me an immense amount of physical pain with the whole purpose of making me suffer just scares the sh** out of me."
Like a Plague
"A swarm of flying cockroaches." -- Affectionate-Sock-62
"I'm in Texas, so imagining our Texas-sized roaches flying en masse is pretty scary." -- 3-DMan
"Fu** that I'm scared of even one roach!" -- Rocket-Tree
"Minor"
"Nuclear confrontation. Even at a minor scale." -- edgeofsanity76
"With nuclear bombs there is no 'minor' scale" -- ron_sheeran
"This, absolutely. There're now more countries with nuclear weaponry than ever and we're 100 seconds to midnight." -- GlebRyabov
Other people feared suddenness. They just couldn't fathom the idea of it all ending like a bolt out of a clear blue sky.
Just Happens
"That everything can change in a second."
"Just over a year ago my dad went for a walk, had a heart attack and died straight away. He was in great shape. there was no warning and he was only 50. Everything changed that day."
-- TpotCharlie
A Common Choice
"Brain aneurysms! You could just be going about your day and bam! All over" -- indistrustofmerits
"One of our colleagues today was rushed to the hospital for an aneurysm. Apparantly it's non operable and she has 48 hours left. It really puts things in perspective." -- meltedsnake
Never Good
"Phone calls late at night or at awkward times when people normally don't call. Those are never good calls." -- spockgiirl
And others went with the very realistic, existential threats out there. These had a lot to do with time passing and a thousand moments of bad luck all adding up.
The Withering
"I'm not afraid to die. I'm scared of getting old, and losing control over my body and mind. That is far scarier to me than having it all end" -- Silas-Alec
Eroding at the End
"Having a long-term illness that is a burden on my family and wipes us out financially." -- irishamerican
"My grandmother has become that kind if burden and she doesn't care and intentionally makes life impossible for my family. We will probably be sending her to live with my POS aunt because of how they both are behaving."
"My family might lose our house because of everything we are going through. My grandmother needs to be out of the picture. She's not even a good person and she brought her illness on herself, so I have no pity." -- LaunchesKayaks
To Be Loved
"As a 36 year old man with no kids and having never been married, dying alone. Getting old never having known what it feels like to have someone who chose you scares the hell out of me."
-- ramboy18
What If It's Just Not Enough
"Doing everything right financially, saving for retirement, investing, paying down my mortgage, etc. and everything crashing. As a millennial I have already been through 3 major recessions, I'd prefer to not ad a depression onto that."
Just in case you were feeling safe, secure, and confident about the future, hopefully this list didn't upturn it all.
Want to "know" more? Never miss another big, odd, funny, or heartbreaking moment again. Sign up for the Knowable newsletter here.
Keep reading...
Show less
Step on a crack, break you mother's back. I tell you that phrase has haunted me for decades. It was told to me by an adult who was clearly messing with my head, but the way he made me feel, my body has never forgotten so to this day. I jump over all cracks I see. Just in case. I'm also superstitious. You're welcome, mom. We all have fears that seem irrational, even to our own minds, but we just can't help being held hostage sometimes. Thank God for therapy and vodka.
Redditor u/SweetP1078 wanted everyone to discuss all the phobias and life anxieties that hinder the everyday by asking.... What's your strange irrational fear?
Want to "know" more? Never miss another big, odd, funny, or heartbreaking moment again. Sign up for the Knowable newsletter here.
Keep reading...
Show less
Sometimes being a human means living a life full of fear, or at least, harboring lots of fears at every turn.
But there is always one fear that stands out more than the others. One fear that makes you seriously reconsider getting out of bed in the morning. And it can easily take over your entire life if you're not careful.
Keep reading...
Show less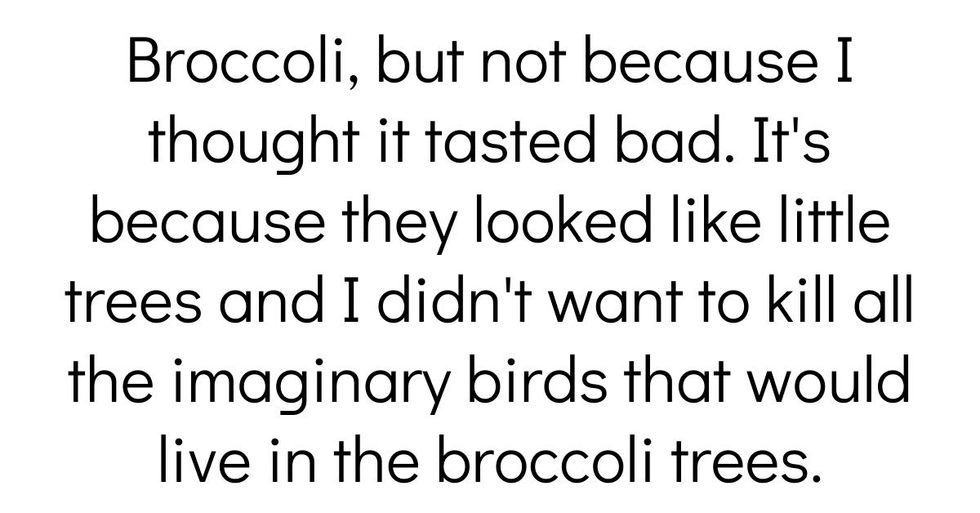 Full disclosure- when I was a kid, I was TERRIFIED of Willy Wonka and the Chocolate Factory. I couldn't handle Violet Beauregarde turning into a blueberry for some reason. Luckily I outgrew it, and now it's one of my favorite movies!
These Redditors had similar fears to mine as a child. Here are some of their best stories.
u/kumquat_kutie asked: What's an unusual thing you were afraid of as a child?
Keep reading...
Show less
One of the most wonderful things about being a kid is not necessarily having the language to say what's going on or why something makes you feel the way you feel in that moment. You just feel that way.
That can be freeing for kids and immensely frustrating for adults. Adults acquire reasoning and think, "Why did I care so much about this?" Kids have no such skill and as such are free to feel the thing unabashedly.
u/smitserss asked:
What's is one weird thing you were scared of as a child?
Here were some of those answers.
This Seems More Common Than One Would Think
Seaweed. I HATED seaweed. I loved swimming in pools, but hated swimming in the ocean because of it. If I went swimming with my friend, I'd have her wade in the water and then I'd grab her waist and paddle my feet so I wouldn't have to touch the bottom because there MIGHT be seaweed. Like a seaweed monster was going to eat me alive or something. Lol.
A Tether
Space.
When I was young I had this nightmare where I jump up and these giant scissors cut my "gravity". I would go up and I could see my house and my street getting smaller and I'd still keep on going up until I was in space. Past asteroids and planets. And then I would wake up. I was never able to come back home.
Not Totally Sure Why 
The weaving of the hair on the inside of a baby doll's head.
My sisters would take the heads off and throw them under my bed and I wouldn't get in bed til someone removed them
Real Life Foreshadowing
I was terrified that someone could read my mind and know what I was thinking.
Fast forward 35 years, I keep all my thoughts in a computer and someone could actually read my mind this way. I think I was foreshadowing.
What A Grape
I was absolutely terrified of E.T. when I was younger.
The diminutive alien is supposed to be one of those universally beloved characters, despite the fact that he looks like the result of an elephant's indigestion. When I was a kid, though, something about him frightened me so much that I'd refuse to even touch a lunchbox (or its matching thermos) with his face on it. There were even a few times when I insisted on my mother finding out if my friends would be watching the film before I agreed to visit their houses.
As far as I was concerned, E.T. was "The Scary Raisin."
I can remember visiting the state fair when I was about five years old, and being thrilled at the prospect of going through the funhouse. (This is relevant, I promise.) Other kids – kids my age – would scream and burst into tears after being startled by the flashing lights, the loud noises, or the life-size images of bats attacking pictures of scantily clad women. They, I thought to myself, were babies! Throughout the entire experience, I smugly suppressed my own surprise and laughed at each hazard – believing myself to sound like a hardened action hero or something – then pressed onward, leaving my frightened peers to run back in the direction that they'd come.

Then, as I came to the funhouse's end, I was greeted by an incredibly realistic model of The Scary Raisin.
For a moment, I froze in my tracks. Keep it together, I told myself. You've come this far... so just keep walking. The exit is right there. I took a single step, then another.
I must have set off a motion detector or something, because a raspy voice suddenly blurted "ELL-EE-OTT!"
With all the bravado of an especially panicked chicken, I let loose an ear-piercing shriek and sprinted back toward the entrance. At one point, I got hopelessly lost in the Hall of Mirrors, and my intense wailing actually attracted the attention of an employee. She took my hand and led me out through a hidden door in the wall, then somehow managed to decipher my sob-wracked description of where my parents could be found.
Looking back, I have to wonder what she thought about that event... and if she ever questioned why a random kid had seemingly lost his mind after seeing some dried fruit.
TL;DR: The Scary Raisin jumped me in the dark.
Up Ya Nose
I was convinced that monsters could easily get into my house by crawling in through the garden hose and maneuvering their way through the plumbing until they found an open drain.
I was terrified of looking down the sink drain and seeing an eye ball when I needed to wash my hands so I would blast the hot water for 5-10 seconds to burn the monster eye and cause it to retreat further back into the pipes.
Generally Not A Thing Before Ten
I was afraid of losing a foot to gangrene, which is a pretty weird thing for a 5-year-old to be afraid of, I think.
My grandpa was a diabetic and, if you didn't know, diabetics need to take extra care of bruises/scrapes on their feet, cause they're prone to developing gangrene. And if it spreads, then the solution is amputation. Naturally, my parents never thought to mention that only my grandpa was in danger of something like that, and I spent quite a lot of time scared to death every time I scraped my knee.
But then after like the billionth scrape without any gangrenous symptoms, I decided I must be immune or something, and stopped caring.
Of Course Of Course
At Christmas time one of the gifts my brother and I got was a puppet. It was a cute little horse where stick your hand in and you use your thumb and pinky for its arms.
We have a video of this: my mom casually put it on and danced the horse around and my brother (probably 3 or 4 years old) SCREAMED. He ran across the room and was super scared of this little horse puppet. He was fine having it near him if it wasn't being used, but the minute my mom brought it to life his little child self was terrified.
Safe to say it wasn't too popular of a toy after that.
Loud, Unwelcome Moos
The milk man.
In the UK they used electric carts (milk float) and I used to think the sound of the motor was a cow. When the central heating came on the pipes and radiators would knock and creak and my conclusion was a cow was in the house and was coming up the stairs to hurt me in some way.
Gone With The Wind(ow)
Windows at night time.
I haven't the slightest clue why but they freak me out. Like as long as the blinds are closed, it's no big deal, but once they are open, it's sprint across the house time.
Back when I was younger, the family room had huge windows in then and not a blind nor cover in sight. Nothing could get me in that area at night.
It's like peering into a deep dark void man. I still have that issue but it's not nearly as bad as the irrational fear of child and teen me.
God I hate windows.
Keep reading...
Show less