A good story—whether it's a book, movie, manga or TV show—can really draw us in.
We can get invested in the story to the point we begin to have real feelings about the characters.
That's why having a favorite character die can cause real grief.
Redditor Iridescent126 asked:
"What was the saddest fictional character death for you?"
Spock
"Spock, in Wrath of Khan."
- Lisa_Anns_Ass
"'I have been, and always shall be, your friend'."
- MadMacs77
"'Of all the souls I have encountered in my travels, his was the most... human'."

- bozoconnors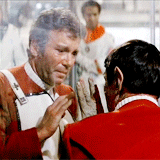 Giphy
Stoick the Vast
​"Stoick the Vast How to train your dragon"
"Dude literally just reunited with his wife after over 15 years of being gone and spends a total of about 15 minutes with her. Cause of death: basically took a bullet in the chest to protect his son."
- 24Nitro-gamer
"I saw it in theatres and a bunch of kids started to cry. Not like sniffing but out loud wailing. It added to the atmosphere."
- ThePurpleMister
"I cried, 20-something y.o. dude just ugly crying"
- leotushex
The Iron Giant
"​The Iron Giant will ALWAYS have me ugly crying when he goes up to stop the missle"
- muhfckinuhhh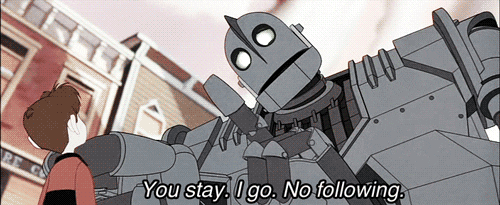 Giphy
Where The Red Fern Grows
"The dogs in 'Where the Red Fern Grows'."
- johnny*mseed
"Came here to say this. This book destroyed me in grade five but also really demonstrated grief in such a profound way."
- such_sweet_nothing
Bubba
"Bubba in Forrest Gump. That whole scene had me wrecked."
"From Bubba's weak, 'I wanna go home,' to Forrest's narration saying he died by that river in Vietnam while showing him holding Bubba....."
"God damn, I'm crying just thinking about it."
- ChuckZombie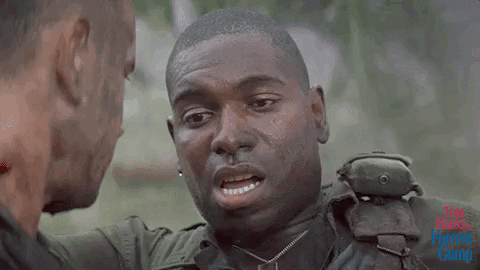 Giphy
Saving Private Ryan
"Saving Private Ryan has two of the saddest, most brutally gut wrenching deaths I've ever seen on screen in Wade and Mellish."
"Wade trying to talk the guys through his injury that goes from panic and terror to acceptance of his own death as he cries out for his mother and says 'I want to go home'? Jesus Christ."
"Mellish is brutal for all the more uncomfortable and raw reasons you'd imagine. War is horrific. Young men are sent off to die, and their lives are cut short for no reason."
"It's tragic and heartbreaking, and this is one of the only movies to really nail that feeling"
- Tuna-No-Crust
Ellie From Up
"Ellie from 'UP' gets me everytime"
- MaterialScientist420
"Sometimes I wonder how movies ever took off when the first ones were short with no sound."
"Then I remember the time a 10 minute animation with no dialogue absolutely wrecked me. It's a god-damned masterpiece and I hate it."
- cycloptian_tit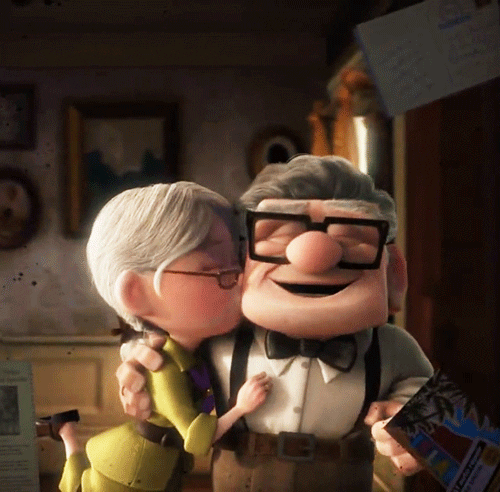 Giphy
​M*A*S*H Had A Few
​"Henry Blake. MAS*H. The scene in the operating room. The actors weren't told about it, just called back for one last scene shoot and Radar walks in and tells them. The silence is amplified by the sounds of instruments still working. Haunting"
- Salami_sub
"Piggy backing off this, the guy they tried to keep alive so his kids wouldn't remember Christmas as the day their dad died. That one gets me just thinking about it."
- GaussfaceKilla
"I just saw that one like a month ago! That was totally heartbreaking. Hawkeye spins the clock forward to twelve o five December twenty sixth and they all conspire to forge his death certificate"
- The_Dynasty_Group
​My Girl
"'He can't see without his glasses'"
- peesherman42
"What made this especially shocking/sad is that the entire movie was a huge bait-and-switch, but in a really effective way."
"At the time, 11-year old me thought -- based on the trailers and the marketing -- that I was about to watch a lighthearted coming-of-age movie."
"And while it does have some of that, boy did it have a macabre edge to it."
- Geekboxing
​Littlefoot's Mom
"​Littlefoot's mother's death"
- 2-DMan
"My son fell in love with this movie when he was 3 or 4, and every time that part would come on I would have to leave the room because no matter what age I am, I will always get emotional. Something about the music and the overall vibe that really just punches me in the gut."
- isurfnude4foods
"The music plus the quote 'Let your heart guide you. It whispers, so listen closely'. It's so beautiful and tragic."
- fiofo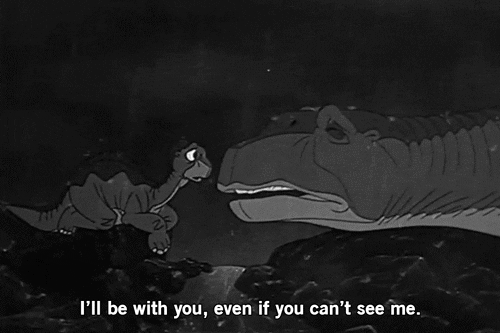 Giphy
The sign of a great story is how it can touch our hearts and sometimes break it.
So what was the saddest character death for you?
Try as I might, I just can't get into the Kardashians. I think most of us are tired of them, actually.
But their fanbase is massive and they are pretty much the American version of the royal family. They wouldn't have attained that status without a legion of loyal fans who eat up everything they do, contributing to a massive collective social media following.
But fans of the Kardashians are just the most high-profile fanbase you might know about.
There are others you might not be so keenly aware of.
People told us all about them after Redditor dominique4thewin asked the online community:
"What's the stupidest thing that has a large fan base?"
"Convince one depressed powerful person..."
"Scientology. Convince one depressed powerful person that you have something to offer them, get them to spill some dark stuff about themselves and other powerful people, leverage that into convincing another powerful person you have something to offer them, repeat."
mattheimlich
Their buildings are enormous. Their offices in New York in California are as imposing as you think but the number of Scientologists is on the decline.
"I find it a bit weird..."
"I find it a bit weird that politicians seem to have fans rather than supporters."
1TadTHG
Usually it's not about the person but the ideas they hold (or say they hold).
"Many celebrities..."
"The Kardashians. Many celebrities in general. They shouldn't be worshipped like they are."
[deleted]
Celebrities need us more than we need them.
"Influencers."
"Influencers. I feel like small time niche group influencers aren't a problem. They're great for backpacking, as an example, where they test out the gear and give the pros/cons. It's when they start to sell their endorsements to the highest bidder."
TheCobbledTiger
Don't get me started.
Sell, sell, sell. That's what they do.
"Flat earth."
"Flat earth. How many are actual believers vs people just 'joking' though? I have only met one actual flat earther in my life."
[deleted]
Oh, there are a lot. And there are entire documentaries about them.
"The base..."
"The fan in my bedroom. The base is ridiculously big for the size of the fan and it takes up too much room and I trip on it almost every morning getting ready in the dark."
Sharkn91
I see what you did there.
Mine has a smaller base and yet I still manage to trip over it.
"Moms exploiting their children for money and popularity."
SharpSubject8314
The number of parents who have monetized their own children for social media is too damn high.
90 Day Fiance
"The 90 Day Fiancé Universe (which is a thing thanks to their billion spinoffs)."
HelluvaMan
Technically we're all living in the 90 Day Fiance universe.
"YouTube..."
"YouTube reaction videos. They're awful."
scapegoat88
I just don't see appeal to reaction videos. It is always fake super over the top reactions.
"I'm not talking about..."
"ASMR - I'm not talking about rain sounds or even a softly spoken story being told or something. What I'm referring to is a moderately attractive Japanese woman slurping down a bowl full of jelly an inch away from a microphone. Yuck!"
SamJamHamFam
It takes all kinds I guess. Not sure how any of that is remotely appealing.
One thing is for sure: After reading all of these, you're bound to see that there is something out there for everyone.
Have observations of your own? Tell us more in the comments below!
Fan theories are almost like the conspiracy theories of fandom.
Except they don't lead to people refusing to follow public health guidelines during pandemics or storm the United States Capitol Building.
Instead they can spread so far and so often the line between wishful thinking on the part of fans can get confused with canon—the works of a particular fictional realm that are recognized as genuine.
Want to "know" more?

Sign up for the Knowable newsletter here.
Never miss another big, odd, funny or heartbreaking moment again.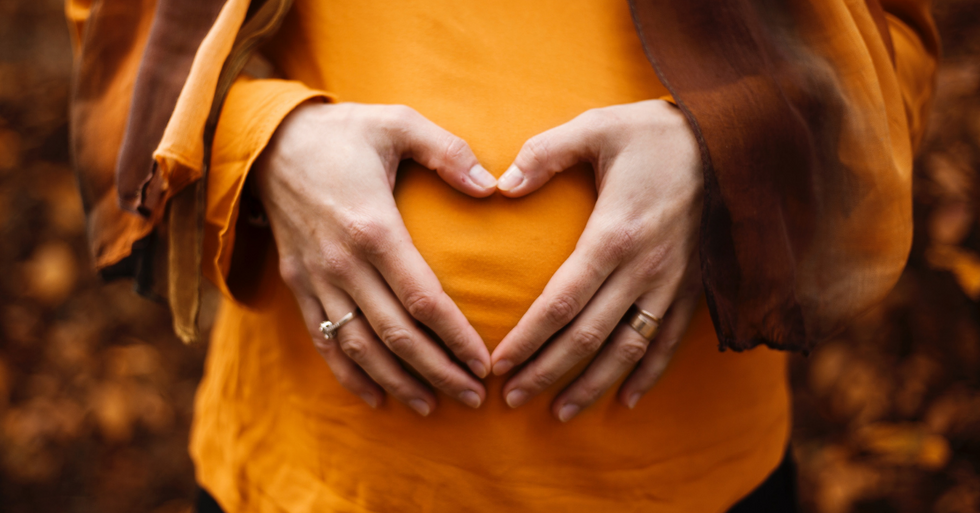 Many people are huge Harry Potter fans, and it's not that uncommon to meet someone with some mugs or decor in their home, or even a pet or a plant named after a favorite character. But naming children after the franchise hasn't become quite so common yet, pointed out the "Am I the A**hole?" (AITA) […]
More
One of my favorite things to do is imagine myself living my best life as a citizen of some fictional world.
What would life be like if I had super powers? Or magic? Or could water-bend?
But with my luck I'd just be a regular-degular-shmegular person surrounded by supers...
Reddit user aggravated_rub_3575 asked:

"If you could choose to live in one fictional universe/world, which one would you choose and why?"
and obviously I'm not the only one to spend time daydreaming about this sort of thing. I'm also not the only one who's pretty sure they're NOT getting whatever fictional world bonuses exist.
Even we power-pessimists have some pretty dope options, though. Take a look!
The Shire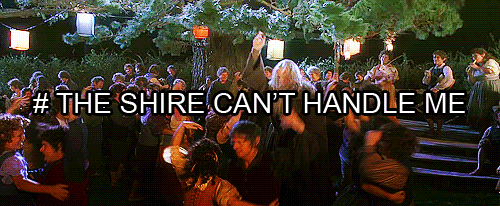 the lord of the rings party GIF
Giphy
"Middle Earth, so I could be in the Shire (except for during the Scourge of course). Seems so unbelievably peaceful to be a hobbit"
- novascotia3898
"Being a hobbit would be great. You live longer, only have to deal with superficial stressors, wizards roll into town like the circus"
- TheExtraMayo
"If more of us valued food and cheer and song above hoarded gold, it would be a merrier world."
- Babstana
"I'd love to party with hobbits in the best years."
- DuncanDickson
"The Shire."
"You farm a little, eat seven times a day, drink ale, and smoke the Hobbits Leaf."
"Maybe have a run in with a wizard, but otherwise, life is peaceful and calm. Your house is built into a hill that's covered in soft, green grass."
- Qu33nM4ry
Statistically A Peasant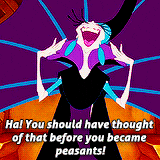 fox news GIF
Giphy
"Depends if I can choose my role in that world."
"The vast majority of options mean that statistically, I'd be a peasant in terrible conditions worse than my actual life lol."
- dizzlefoshizzle02
"Exactly, I'm loving the super power worlds but would suck if I'm the civilian person"
- NuttyDuckyYT
"Everyone always assumes they get to live like the hero of he story they are entering, but in reality they could get to live as a peasant."
- Hutch25
Only One Answer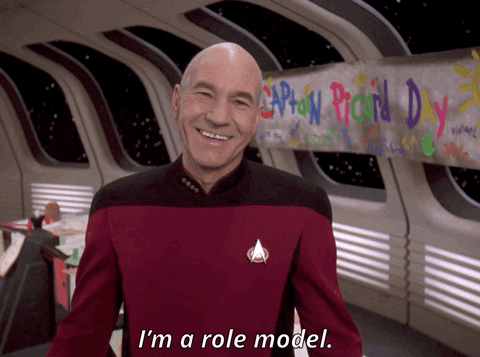 Picard Role Model GIF by Star Trek
Giphy
"There is only one answer: the Federation in Star Trek is as utopian as it gets (I ignore JJ's Mirror Universes wherever I can)."
"There are little real threats for the federation itself. If you live in a nice place, probably a metropolitan area on Earth or someplace else nice, it is probably as good as it can ever get without becoming a god or something in some other Universe."
"Even if you go to a rural place you have locally so much advanced tech (even in your cottage!) that you're probably far better taken care of than anything we might even imagine today."

"Free time for hobbies en masse, Holodecks, nature, lots of cool people, free high-tier education of all sorts, replicators, spaceflight if you want to go somewhere, absolutely stunning medical care, teleporters connecting major places even cross-continent on a planet, nearly no serious crime, no major wars that threaten the core of it..."
"Sure, it is also not 100% perfect, but probably as perfect as it can get."
"And the important part: it is that for LITERALLY EVERYONE, not just 'Live at Universe X and if you are one of the few Chosen Ones it is awesome.' "
- Deals_With_Dragons
A Peaceful Valley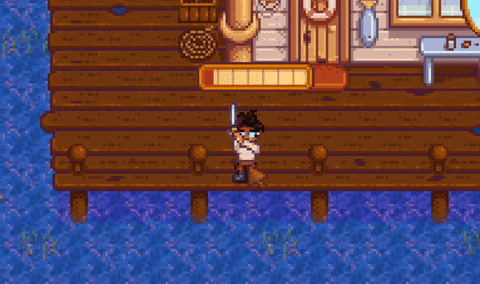 stardew valley steam GIF
Giphy
"Stardew Valley. You get a house and a farm and apparently no bills to pay, which is pretty nice."
"You can work as much or as little as you want. You can fish, farm, mine, or just wander around talking to people. You can even just forage or raid people's garbage cans and sell the items for cash."
"There are monsters and such, but you never die. At the worst, you get knocked out and wake up at home minus fifty coins because I guess they have socialized healthcare or something."
"There are even festivals you can go to. You can even get a pet for free."
- eddyathome
The Last Airbender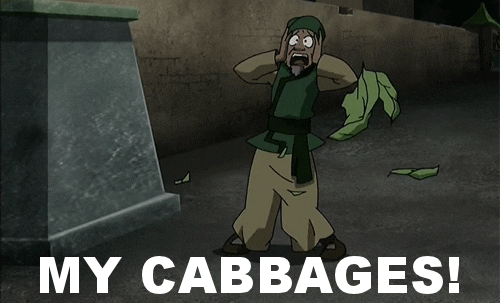 Animated GIF
Giphy
"Avatar: the Last Airbender. I think infrastructure would be a lot better, and being a bender would be cool in a boring dystopia."
- retinasearedliketuna
"Considering even non-benders can train to be anime character running up walls and doing all sorts of crazy sh*t, I'd still think of it as a complete upgrade."
"A setting where I can literally abandon all human interaction to learn with a sage sounds amazing."
"I wish I could do that in real life sometimes. I'm not religious, but I've seriously considered becoming a friar or someone who lives at a church and leads a very modest life of just helping people."
- Darkwoth81Dyoni
"Just don't become a cabbage merchant."
- Bamboozle_
"My cabbages!"
- Dinokkid
We're Wizards, Harry! But Do We Want To Be?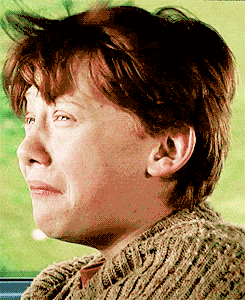 Sad Harry Potter GIF
Giphy
"As a kid I always thought about Harry Potter and the Wizards World it would be fantastic to be a part of it and experience the magic"
- ObjectiveSquirrel820
"Why the hell isn't this the top answer? I had to scroll down so far to find it, because this is obviously the right answer."
"Sure, others sound cool too, but we grew up watching/reading these and it's one of the most popular series in the world because people adore it so much."
"I still hear adults talking about their Hogwarts house, there's a whole ass Harry Potter World, and they even recently built a huge ass multi level store in New York City that sells only Potter merchandise."
"Come on now. We know this is the real answer."
- RynnChronicles
"Oof no thank you. The Wizard world is f*cked up."
"A school, next to an evil forest, where children are regularly killed? Check."
"An inept, corrupt government thoroughly infested with dark wizards, who is the primary employer in the region, with no system of checks or balances other than regular elections? Check."
"A broken legal system with a prison that literally drains your soul, where you can be sent without a trial and without bail for any reason? Check."
"Everybody has easy access to rape drugs and it's perfectly legal to use them? Check."

"Everyone has access to polyjuice potions and can easily impersonate anyone? Check."

"A world where innovation has stagnated because magic solves so many problems, and therefore there hasn't been any real technological progress since the 1700s? Check."
"I mean shit, so many of the problems in Harry Potter could have easily been solved if they just had cell phones. Or, as the meme goes, a freaking gun."

"I could go on. Have fun in the wizarding world, I'm happy being a muggle."
- livious1
The Matrix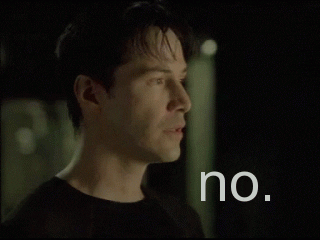 Keanu Reeves No GIF
Giphy
"This all seems hard, I'm going to stay here and be an accountant."
"Screw it, my fictional universe is The Matrix. But I don't do anything, I just go to work every day in a modern but pre-9/11 world."
- burn-babies-burn
"Lol great answer. We choose the Matrix thinking we will be the next Neo but instead it's just life as usual. I'm laughing too hard at this, thanks for that imagery."
- tykogars
"Can I just be put into the Matrix and not deal with the robots? A peaceful simulation would be nice."
- SwingSoHigh
Well... There's The Whole Dragon Thing...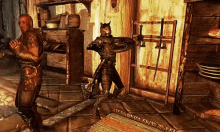 time feels GIF
Giphy
"Skyrim."
"I know everything that's going to happen in almost every quest, I know lore tidbits and facts about Tamriel that even the most learned scholars wouldn't know."
"I've been every type of character from thief to noble warrior, I know how to talk and how to say the right things to the right characters."
"Plus if mods are allowed I have the cheat room, impossible armors, I can save Miraak, I can give myself horns and wings and the character editor would completely eliminate my body dysphoria."
"I use Skyrim as an escapism because I can control almost everything in that world but can control next to nothing in this life so yeah :) "
- SapphicsAndStilettos
Nice, Even As A Regular Citizen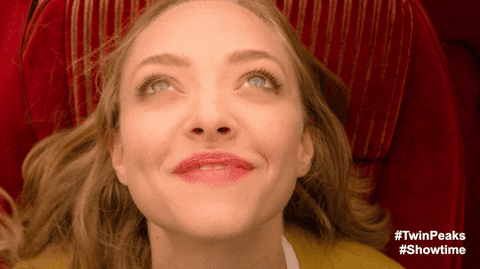 elated twin peaks the return GIF by Twin Peaks on Showtime
Giphy
"Anno 2205."
"Life would be great even as a regular citizen. The only things that there really is to object to is a corporation having a private, armed navy, and this same corporation having essentially as much power and influence as a government with its ability to build entire cities and establish colonies on the moon."
"Having said that though, the reality of the situation seems to be that despite all this power and influence, the corporations of Anno 2205 have nothing but utmost respect for the environment."
"They fully embrace automation but create lots of highly skilled jobs and build enormous, aesthetically pleasing (to me anyway) and environmentally friendly cities. They have near limitless ability to abuse and exploit to create the worst cyberpunk dystopia you could ask for, but they have gone in the opposite direction by actively caring for their environment and people."
"The big unknown is what the social and healthcare services are like in these corporate cities and it could go several ways."
"Best case is there is a full social safety net paid for by taxes diligently paid by these megacorps to the remaining governing body due to lessons learned from the previous centuries."
"The worst is that its completely sink or swim. However, it can be assumed that by living in these cities you are guaranteed to have some form of job, but we'll never know for sure."
"The population seems healthy, happy, professionally fulfilled and has come off the cusp of near apocalyptic environmental disaster (from 2070). They've finally cracked Fusion power as well, so from there its only a matter of time (and in fact well within their capability) before they start building starships to build colonies on Mars and the rest of the solar system."
"The main barrier is propulsion technology, but if they can figure out some kind of working EM Drive or even FTL travel then the galaxy is theirs for the taking."
"Being a citizen in Anno 2205 is to be part of a future of incredible technological development and optimism, with plenty of work to be done and no real military threats to worry about as Orbital Watch as a terrorist organization are pretty pathetic."
- Crembels
What's Up, Aslan?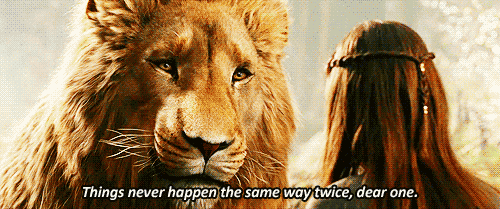 the witch narnia GIF
Giphy
"Narnia."
"I'm a zoologist and my job would be a Helluva lot easier if animals could talk."
"Like instead of observing them for months to figure out why they're doing something, I could just go 'Yo, why you doing that?' and they could tell me."
- Frantastic79
I'm not even about to try and lie. My answer was the Shire, but I'm 4'9" (almost 4'11" if my hair is being amazing that day) and I really like plants and food, so I'm pretty much a hobbit already.
Of COURSE I said the Shire.
What about you?
Want to "know" more?

Sign up for the Knowable newsletter here.

Never miss another big, odd, funny or heartbreaking moment again.