There are some places all over the world just about everyone dreams of visiting.
Who doesn't want a picture of themself under the Eiffel Tower, in front of the Grand Canyon, or amidst the sparkling lights of Las Vegas?
But, are all of these iconic places actually worth visiting?
Redditor tade757 wondered what iconic travel destinations people found overhyped and not worth the time and money to travel to, leading them to ask:
"What famous place is not worth visiting?"
One rock is just like any other
"Plymouth rock Massachusetts."
"Despite all the rage it's still just a rock in a cage."- BodybuilderOk3836.
"Plymouth Rock!"
'I don't know how famous it really is outside of New England but it's a rock that marks where the Pilgrims supposedly first landed in Massachusetts."
"It is quite literally just a medium sized rock with '1620' carved in it but every elementary school teacher around Massachusetts at least hypes it up for the class field trip to see a literal rock that is not big, impressive, or really historically relevant."
"Driving an hour on a bus to see this was the most anticlimactic thing and I would not particularly recommend."- alisoninwonderbread
Vegas of the East Coast?
"Atlantic city."
"Monopoly got me good."- mahouko08.
How do you spell that again?

"Llanfair­pwllgwyngyll­gogery­chwyrn­drobwll­llan­tysilio­gogo­goch in Wales."
"Nothing there except an Edinburgh Wollen Mills shop."
"Which is just silly as Edinburgh is nearly 300 miles away.'- Dreddguy.
Hooray for Hollywood...
"Hollywood, it's seedy and disappointing."

"It's full of entire industries (*cough scientology *cough) that take advantage of starry-eyed twits."- Judas_Feast.
​
"Hollywood Walk of Fame."
"It's a sidewalk and outside of maybe big events where they may clean the ones around where photos may be taken."
"It otherwise is just covered in dirt from people's shoes and some are barely legible because they haven't been cleaned in ages."- CaninseBassus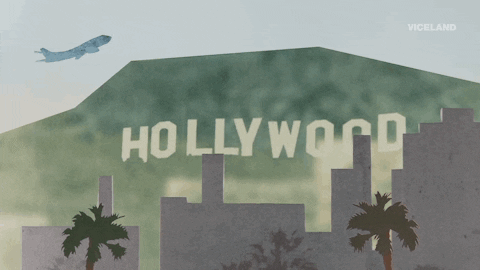 Los Angeles Hollywood GIF by Party Legends
Giphy
Where the land meets the sea.
"Lands End, UK.'
"Heralded as the 4th most disappointing attraction in the UK."
'It's not even disappointing enough to win an award.'
"I mean the landmark in Cornwall, not a clothing store."
"Deary me."- YellowBernard.
"They say the neon lights are bright..."

"Time Square on New Years Eve."
"Just forget it."
'It has *never* been worth it."- roman_fyseek.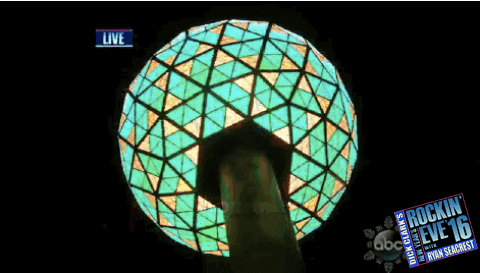 Times Square Ball GIF by New Year's Rockin' Eve
Giphy
"See the Pyramids along the way..."

"Egypt.'
"Its like if phone scams were a materialized location."
"You get there an right away the airport is going to start scamming you, take your electronics away and tell you that you need permits for them (which they will gladly sell you, and then tell you that its the wrong one and have you buy another one)."
"The hotel you stay at will check your bags again like the airport did and again tell you that you need permits or whatever random thing they decide they can get away telling you needs one."
"The police will extort money from you if they think they can."
"Fake police will come up to you and fine you or tell you to follow them to different sites where they will charge you."
"Children will run up to you and ask if you want to ride their camel very aggressively (they will cut you off with their camel and not let you move forward) tell you its free, and then try to charge you insane amounts of money and call their camel pimp over to deal with you if you don't pay."
"If you don't get on the camel they will often even get the camel to attack you."
"It's all pretty wild, its not worth it."- yovalord.
There are few worse feelings than arriving at somewhere you've been dreaming of going all your life, only to find yourself disappointing.
Maybe some places are best visited in our imaginations.
It certainly costs a lot less!
Want to "know" more?
Sign up for the Knowable newsletter here.
Never miss another big, odd, funny, or heartbreaking moment again.
Keep reading...
Show less
Are you related to anybody famous? Where do they stand in your family?
The reality is, we are all probably related in some way or another to some famous figure at some point in history—the size of the human population was a lot smaller back then.
But how about now?
Does anybody whose name crosses the news on a regular or semi-regular basis come to your holiday table?
Redditor LoveSimpleHacks asked:

"Who is the most famous person in your family?"
Here were some of those answers.
Barney And Betty
"My grandmother was the voice of Betty Rubble... And the blue bonnet chicken in Foghorn Leghorn, and little red riding hood on Bugs Bunny (and witcheepoo), and Tweety's grandma (along with other women who voiced her.)"
"And she was on I Love Lucy, and she had her own show called Petticoat Junction, and she was on Burns & Allen.. and.. so... so.. so many more. Oh, and my grandfather was Red Ryder on TV." - Chalky_Cupcake
Crew Crew
"My grandad is a double Olympic bronze medalist for rowing, he has them displayed in a cabinet in his house."
"He's also one of the most humble and down to earth people I've ever met. Never brags or boasts about it, and never brings it up in conversations as a form of one-upping someone."
"If he does talk about it it's because someone found out by some other means and has asked him about it." - The_Extreme_Potato
You Mean Reality TV Isn't Real?!
"Well I will have you all know my mom has not only been a guest on the Ricki Lake show and the Queen Latifa Show, but the Sally Jessy Raphael show as well!"
"The last one is the only one we have been able to find video evidence of. My mom is a full on attention-seeker and early 2000's daytime TV was her stage."
"She was also on a couple of 'court' shows but … those storylines were for sure fake. She just wanted a free trip." - sadmotelvibes
These are the people that represent us and our family on the world stage.
Rutherford? I Hardly Know 'Er Ford!
"My great-great Uncle, Ernest Rutherford. The father of Nuclear Physics!"
"My granny has fond memories of him, and it was a buzz to visit the Nobel Prize Museum and see him honoured there. I can attest that the propensity to be good at physics is not passed on, I was horrendous." - petanotpeter
Its Fleece As White As Snow
"George Ellery Hale. His father owned the Hale Elevator Co, who provided the elevators for Chicago's new skyscrapers after the Chicago fire."
"George was a solar astronomer who made discoveries concerning magnetic fields and sunspots. Some of his most famous work, however, was getting 4 observatories built, including Mount Wilson where Hubble made his discoveries of the expanding universe."
"He got multiple world leading telescopes built. Is considered a founder of astrophysics. Cofounded the Journal of Astrophysics. Received numerous awards for his scientific research and achievements."
"I may be related to Sarah Josepha Hale, who wrote 'Mary Had a Little Lamb' and was instrumental in getting Abraham Lincoln to make Thanksgiving a federal holiday, but I'm still researching that one." - ProbablyABore
Google Docs - create and edit documents online, for free.
Create a new document and edit with others at the same time -- from your computer, phone or tablet. Get stuff done with or without an internet connection. Use Docs to edit Word files. Free from Google.
Is There A Doctor In The House?
"Not famous in the traditional sense, but I have 4 uncles in my family who are world renowned physicians. One has a patent that is used worldwide in cardiac surgery."
"Another just won India's second most prestigious award for citizens' distinguished service from the President of India himself."
"Another is retired but used to be the personal physician to the Royal House of Bhutan. The last is one of the top orthopedic surgeons in the world. Pretty astounding achievements in their fields." - dhalsim282
Another Pandemic, Another Time
"My grandmother was a nurse during the 1918 flu. A large farm family was stricken with the virus so she stayed on the farm and nursed them all back to health."
"The mother was pregnant and when the baby was born, my grandmother returned to care for mom and baby. My grandfather was a close relative of the farmer and worked as a hired hand."
"The baby was the father of singer Christopher Cross." - DamnDame
The world is a lot smaller than we give it credit for, so in doing a true family tree trace, you could find one of these surprising figures in your family.
Politicians
"My grandma was a very popular governmental figure and since finishing her term, nobody has really been noteworthy in the same position, the job pretty much never gets mentioned."
"I know I'm biased of course, but I keep up with it and there's nearly no news. No outreach. Nothing. Mostly disappointments. People not doing anything with the job."

"Most of her 'fanbase' are pretty old now. But she used to get stopped every time we went out, it was a huge pain as a kid." - ladyalot
Saving The Family
"Both of my paternal great grandmothers walked The Trail of Tears. Both lost their entire families during the walk due to exposure."
"One quickly became a Robin Hood of sorts by stealing things from drunken passed out soldiers at night, then passing out what she could."
"Both of them were the best of friends, married (one married a Frenchmen, the other a Swiss farmer) and had children. One of each of their children married and they were my grandparents. My dad is 92 come March. (I'm 35. Second mid life crisis😅)" - Professor_Quackers
I Know Your Face
"My aunt is not famous, but she's been an actress her whole life and has been lucky enough to get some small parts here and there."
"She was in a movie with Matt Damon, she was recently in a TV show with Alec Baldwin, and she knows a ton of other celebrities".
"She was in House of Cards, Daredevil, etc. But, yeah, she is definitely not famous and she is just scraping by to pay the bills despite doing better than the average actress." - gman4734
So even though someone in your family might not make the newspapers on a daily basis in 2021, they are still an important part of history.
Be sure to give credit where credit is due.
Want to "know" more?
Sign up for the Knowable newsletter here.
Never miss another big, odd, funny, or heartbreaking moment again.
Keep reading...
Show less
The deaths of famous people can hit people really hard, especially when they were taken from us way too soon.

From politicians, singers, actors, and others who've made a huge contribution to society, their deaths are a constant reminder of our fleeting mortality on this planet.

Some people can have a difficult time, more than others, when a venerated individual is no longer with us, and the feeling of despair can be akin to losing a family member.

Curious to hear whose deaths had the biggest impact, Redditor Jrose798 asked:

"Which famous person's death were you not ready for?"
They made us laugh when they were alive and broke our hearts when they passed.
The Comic Genius
"Robin Williams, he was a legend RIP."
– Thankless_ruler
"Robin Williams died on my 21st birthday. The thought that someone so f'king funny could be so sad hit me like a brick at that age. Haunted me throughout cake with my family. I still think about him all the time."
– BlazedInMyWinnie

Stand Up Legend
"George Carlin"
– eyes-of-strange-sins
We could use his insight these past 2 years. Rip George.
– GingerUsurper
Fans reflect on those who've made a huge impact on their lives.
He Brought Severus Snape To Life
"Alan Rickman."
"Man could have read the Tax Code, and I would have been in awe."
– lazyasdrmr
"By Grabthar's hammer... The taxes imposed by section 3201 shall be collected by the employer of the taxpayer by deducting the amount of the taxes from the compensation of the employee as and when paid."
– hymie0

Space Fan
"Neil Armstrong and Carrie Fisher. As a huge Star Wars and Space fan since forever, I hadn't even conceived the possibility that they would die someday, even if I was already 17 when Carrie Fisher died."
– Skeledenn
"There are only 12 Apollo astronauts left out of the 24 that flew. Of those 12 left, only 4 walked on the moon. If NASA's Artemis program doesn't start producing results soon, the experience of walking on another world will pass out of living memory."
– RogueRocketeer

He Had Passion For Animals
"Steve Irwin's death broke me as a kid."
– dboz99
"I was in basic combat training, and the drill sergeants gathered us and said counselors were on standby and that we had experienced a national tragedy."
"We were expecting a 2nd 9/11 event. They told us Steve had died and everyone laughed. I was f'king devastated."
"Like so many, he taught me to appreciate the beauty of nature, and its inhabitants. Though a creature could be deadly if mistreated or not respected for its power, it was still worth understanding and appreciating."
"Steve, was an incredibly formative part of my upbringing."
– AldereztheGreat

The Venerated Food Critic
"Anthony Bourdain. He was weirdly like a member of our family, so many of our holiday traditions included watching and rewatching no reservations. All of our favorite meals were from his cookbooks. It was a gut punch for sure."
– Affectionate-Oven306

These young actors had their whole life ahead of them.
Posthumous Oscar Winner
"Heath Ledger. He was on his way to greatness."
– bdbr
He Was Entering The Prime Of His Career
"Anton Yelchin. He was so young and full of life. His career was really starting to pick up. I still feel upset about it."
– zephyr1004

The Beloved Roboticist

"Grant Imahara."
– JrsyDude
"This one crushed me because I had a brief interaction with him shortly before his death. I ran into him at San Diego Comic Con. He took a picture of me and my wife dressed as Rocket and Groot."
– dandroid126

Two Honorable Mentions

"Chadwick Boseman and Avicii, no one even knew that Chadwick was sick and Avicii was like 27 when he died."
– yeetgodmcnechass
I was not ready for the death of Luke Perry, the actor who played bad boy Dylan McKay in the original teen drama Beverly Hills, 90210.
Not only was he a loving father, but he also had the respect of most people in the industry. According to those who closely worked with him, Perry was a presence of encouragement.
I may even have had a crush on the guy. Sigh.
R.I.P., Luke.

Want to "know" more?
Sign up for the Knowable newsletter here.

Never miss another big, odd, funny or heartbreaking moment again.
Keep reading...
Show less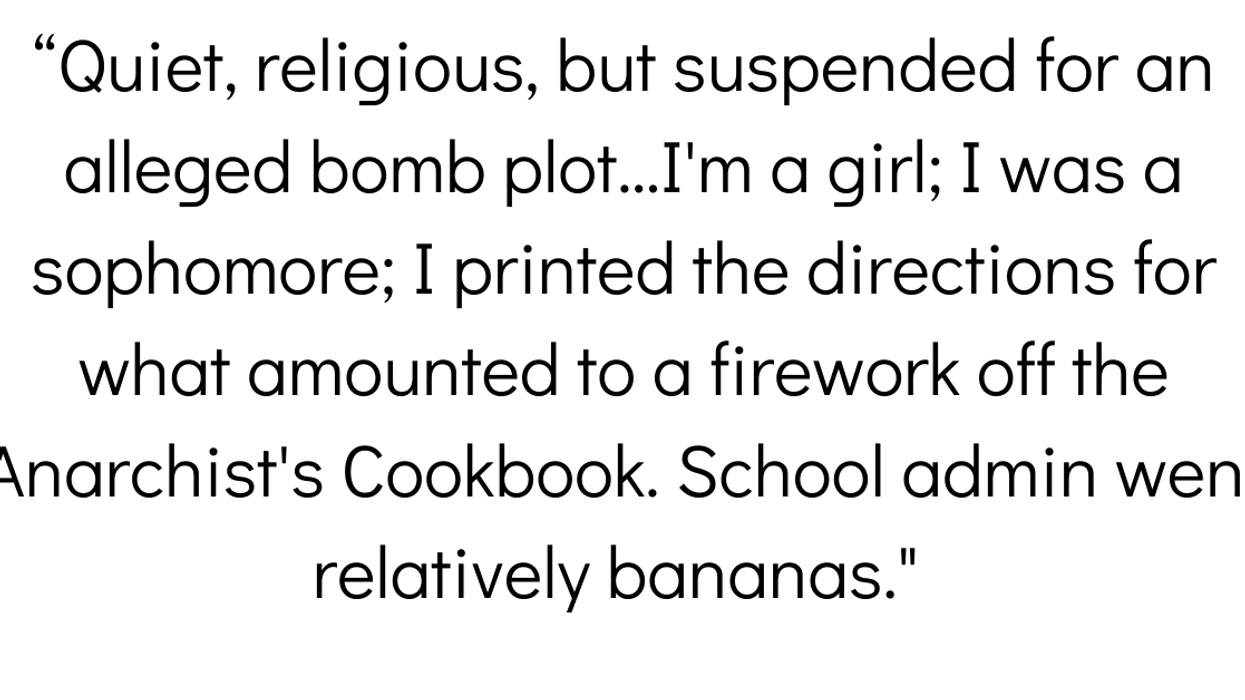 The cliques and labels that come with middle and high school can be socially rewarding or make your time in school feel unbearable. School in the early 2000s could be brutal. At least for the brainy kid who didn't fit all the norms. I was famous mostly for being the weird chubby kid.

I remember having conversations and pretending to not be as smart as I was because I didn't want to stand out anymore than I already did. Transferred schools once in middle school because bullies got so bad. Fast forward though and I love my curves, my mind, and now it's mainstream and "cool" to be nerdy. I love my life.
So anyone going through anything like that remember to value yourself because a day will come when you're older that you are the cool one and your life will turn out pretty darn sweet.
Redditor El-Sordo420 wanted to hear what others were labeled as and asked:
"In school, what were you famous for?"
The responses were hilarious and sometimes sad much like our real school years.
"my teacher fell out if his chair laughing…"
"Let me premise this with no one was hurt, and my teacher fell out if his chair laughing. I was a Techie in high school. During a specifically awful rehearsal of a show the school was putting on, I was working lights up in the balcony as our Tech teacher (who couldn't take the musical disaster anymore) sat below at the director's booth. At some point he sarcastically said into our headphones, 'Someone please just throw a wrench at me.' So, I did." GinaTRex
​"Farting. Alot. It got so bad that my nickname became 'The Bean Machine', and the slightly less popular 'Super Pooper Trooper'. Got so bad that when the teacher sat the whole class down to speak about name calling because of my nickname, I farted and the teacher has to tell me to go outside because of the stench."
"My most vivid memory was when one of the ringleaders called me it during a lunchtime and I just broke down. My twin sister found me crying behind the school dumpsters. ):" GoryBark
"That was when she started to learn about her dad's past."
"Being the school hackerdude. My daughter found out twenty years later when a retired teacher turned substitute took attendance in her class. Got to her name, said 'I remember that last name, he took over all the computers in the school!' The rest of the class turned to look at her wide eyed. That was when she started to learn about her dad's past." Sabz5150
The school "Coke" dealer…
"My school removed soda machines, so I became known for selling coca cola relatively quickly. Made decent money too! Some teachers were in on it and supported me because all vending machines had coke products removed, not just student machines." BackgroundDrider
A young time traveler…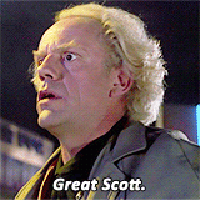 back to the future great scott GIF
Giphy
"In grade school one day I pretended I was from the future. For sh*ts and giggles. But then over time it kinda turned into a thing. Eventually it got to the point where it would do more harm than good to admit I was not from the future. I don't recall how it happened, I just remember wishing people would stop asking me if I was from the future because I didn't want to talk about that anymore. Not much different from potato guy in retrospect." orderfour
Sounds like a romantic comedy plot…
"In high school I was called 'The city girl' cause I was in a small town & grew up in the city." ​Peanut2ur_Tostito
"…I was the seizure kid."
"Getting knocked on my head before school one day and having a seizure. It was before they opened the doors so everyone outside saw what happened and then the ambulance came and I was awake but I was blacked out and my friends told me I tried to fight the paramedics off."
"I don't remember anything from hitting my head to coming to in the ambulance with some type of amnesia, I didn't know who I was or where I was and I was strapped down so this made me panic even more and I think I tried to spit on the paramedics so they covered my face with the oxygen mask and I'm pretty sure it wasn't turned on. I couldn't breathe."
"It was one of the scariest moments of my life and it still kind of haunts me to this day.
People Share Their Unexpected Happiest Moments | George Takei's Oh Myyy
While many of life's big events like weddings and births bring us joy, even the smallest of gestures or gifts can leave a lasting impression. Especially if y...
Their parents must have been unimpressed…
"My nickname. My name is 'Adam'. My parents were happy because they named my brothers and I with impossible names to shorten (into nicknames) but in my case they were wrong. I grew up in the 1980's and you will no doubt understand why that's relevant when you hear what the other kids decided to call me. They shortened my name 'Adam' into 'AID's.' My nickname for 40 years has been Aids." Found_the
One of these things doesn't add up…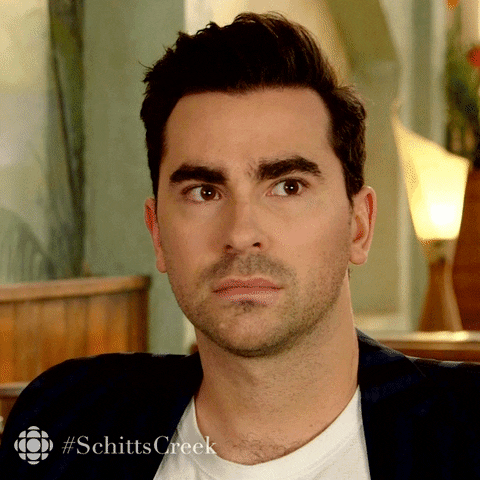 canadian what GIF by CBC
Giphy
"Quiet, religious, but suspended for an alleged bomb plot…I'm a girl; I was a sophomore; I printed the directions for what amounted to a firework off the Anarchist's Cookbook. School admin went relatively bananas." nursebeast
"I was known for being the most bullied person in our year group! I found out about this when I left and somehow matched with a guy from school on tinder a few years later. It went around a few year groups, so even people I'd never met recognised me. Very odd!" ​BloodlustPrincess
For good or bad nearly everyone in school was labeled and known for something, even if it was just fading into the background. We'd love to hear what you were school-famous for in the comments.
Want to "know" more? Never miss another big, odd, funny, or heartbreaking moment again. Sign up for the Knowable newsletter here.​
Keep reading...
Show less
Famous people are normal people too.
There are countless videos and stories of famous people granting meetings and giving hugs and they're always heartwarming. So don't be afraid to say hi to your favorite high-profile personality if given the chance!
Redditor u/owen__wilsons__nose wanted to hear all about the times many of us have come face to face with the famous we love by asking:
Who's the most famous person you've interacted with?
Keep reading...
Show less