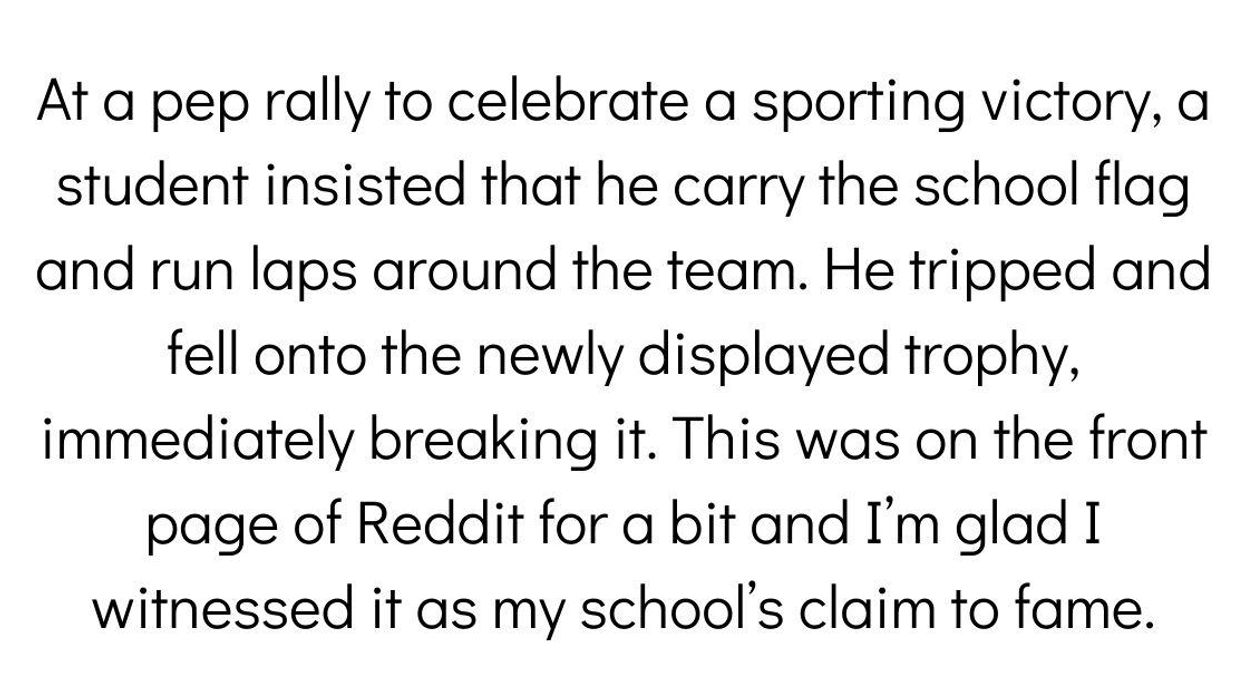 For most of us, our deepest fear is to fall flat on our faces in front of a bunch of people. No one wants to look the fool, especially when it happens before a group of people you're going to see every day for the forseeable future.
Embarrassing moments can come out of nowhere, but how you handle yourself in the aftermath is what matters. Laugh it off, shake it off, go with the chuckles, and let the people know you can't be hurt by it.
Well, unless you're any of the people in the stories below. Then I'd consider getting a new address and name.

Reddit user, Konke420xd, wanted to know when the shame was too much to handle when they asked:
"What is the most embarrassing thing you've ever witnessed?"
"Oral," Not "Oral"
"I was a sophomore in HS (so around 16) taking the last leg of my county's sex ed class. It was a co-ed day, so our full gym class of about 30 kids was in the room. Topic was STD's. The teacher mentioned oral sex a few times and I guess which diseases can be spread through it. One guy who was always pretty quiet and shy raised his hand and said "I just don't really understand how you can get an STD from talking about sex..."
"It took everyone, including the teacher, a few seconds to understand, but some quiet laughter came from a few students. the teacher then of course had to explain as simply as she could that oral sex did not in fact mean talking about sex (I think the stupid bylaws of the program in our county didn't allow her to fully disclose what it was)."
"Anyway, we thought he was joking but as he heard the laughter from everyone after getting this explained to him, he slowly put his head down and covered his face for the next few minutes. Poor guy. I felt bad, but it was hard not to laugh. At least no one directly gave him sh-t for it afterward"
– shlumpy_dumpyyyyy
Keep Your Preferences At Home
"Community college in Tampa, 2009. Spanish class. Shy goth girl walks to the front of the class and plugs in her USB drive to boot up her PPT and begin her presentation like the rest of us did. Except when she pluged it in, a file opened up and the most vile anime porn started playing. Everyone was mortified for her. It took her maybe 3-4 seconds to turn it off but the moment felt like forever. She said, "THIS IS MY BOYFRIEND'S DRIVE!" and ran out of the room crying. The teacher just moved on. The girl didn't show her face for a week. Just an absolutely insane moment."
– grandpasmoochie
Triumph, Glory, Embarrassment
"At a pep rally to celebrate a sporting victory, a student insisted that he carry the school flag and run laps around the team. He tripped and fell onto the newly displayed trophy, immediately breaking it. This was on the front page of Reddit for a bit and I'm glad I witnessed it as my school's claim to fame."
– NathanialH0rnblower
When You Want To Stand Up To A Bully But Fail
"There was this kid in my high school that was taking karate classes. He decided he wanted to fight a kid that was bullying him after school in the town park. A sh-t ton of people went. He got all pumped up before the fight. Instantly, once the fight started, he began doing karate moves at the air. Once he reached the bully, the first thing he decided to do was a very flashy "spinning backhand"(?). He missed by a mile and was knocked out immediately. I felt really bad for him. He was always known for not being able to read situations very well and that, being his first normal fight, was just the absolute worst time to try that move out. Bullies suck. It was embarrassing for both of them."
– meetmeinthebthrm
To Be Fair, He Made The Right Call About His Idiocy

"Alright, so my husband and I were driving around the city and it was pouring outside. Absolutely pouring. We were about to pass the lightrail train tracks (going in both directions) when the crossing gates came down because the lightrail was approaching."
"One idiot in a van decided he could make it across before the gates came all the way down. He kept on driving, but he did not make it. Instead, his vehicle was now trapped between the gates."
"We could see from our car that this person was PANICKING. His life was flashing before his eyes. In his movie mind, the lightrail was about to crash into the van and drag it for dozens of yards before finally stopping... so he did what anyone would do. He violently pushed the door open and RAN in the pouring rain for his life."
"He was halfway down the street before he stopped, turned around, and noticed that the lightrail was patiently waiting for him to move the vehicle. The door was still open. My husband and I just about pissed ourselves laughing."
– JoyceReardon
Keep Your Passions At Home
"I was watching a symphony orchestra concert at the Sydney Opera House one evening. The concert hall foyer has these huge glass windows beneath the sails that overlook the harbourside. The sun hadn't quite set yet, and every audience member that was exiting the hall could see this incredibly drunk middle aged couple having sex on a bench outside the hall."
– cowbelljazz
When It's Not Just A Towel

"Was in a pool at a Euro beach resort. We'd been chatting with an old brit tourist, he got out of the pool and went to get changed poolside, using his towel to do the discrete swimming tog shuffle."
"Suddenly up steps an angry Frenchmam wanting HIS towel back..."
"Turns out our poor retired gent had grabbed the wrong towel. There ensued a desperate tug-of-towel as a very stroppy Frenchman attempted to rip his towel from this poor old guy who was butt naked and frantically trying to save his modesty."
"The old guy's grandson saved the day, with an emergency towel transfer, but not before the whole pool complex had seen way too much hairy old British grandpa scrote."
– Bigfoothobbit
We're Not As Cool As We Think
"I was at a food court and I got the brilliant idea to jump over a row of those plastic chairs and tables.. You know, the ones that are fixed to the floor."
"Foot got caught and I fell flat on my face. I stood up to 30 people clapping. One guy yelled asking for my autograph."
– Niteryder007
Take It To The Dance Floor?

"I was on a high end cruise line at dinner. An older lady got up to go to the bathroom but missed and pooped herself in the dining room entrance. She left her panties there and continued on to the bathroom."
– SimbaOne1988
Maybe We Should All Only Poop At Home...

"I used to work in nightclubs. I once witnessed a girl leaning against a wall, casually flirting with a guy and as she laughed she actually sh-t herself. She was wearing a white dress and there was no hiding what had happened. The smell actually cleared the whole level of the club. She ran out crying. We had to clean poo off the floor where she had been standing. I often wonder what she is doing now..."
– Vaiken_Vox
Ice Ice Baby
"My childhood memories are very fuzzy but I do remember this one time as a teen. A couple of friends and I went ice skating at a local rink. They'd all gone before so I was the only new one on the ice. At one point I finally felt like I got the hang of it and gained a little speed. I proceeded to slip and eat shit in front of everyone on the rink. Bashed my knees straight into the ice so hard a random women skated over to ask if I was ok."
– ihasrestingbitchface
This Is Why I Don't Play Sports
"So we played this game in middle school called downer ball and basically all you had to do was kick a ball that was sitting still and run to a corner of the basktetball court before the ball was returned to the line. Kind of like a mix between baseball and kickball. Anyway this girl goes up to kick, and mean you shes not very athletic but enough to kick a ball sitting completely still. She runs up and misses the ball completely and the same foot that missed steps on the ball and she does a total banana peel style slip and fall. Smacked the floor so hard it echoed throughout the gym and everyone let out a "ooohhhh". Quite a small school too so we all remembered it pretty vividly for the remaining years"
– BigJuice109
Did It To Myself
"Was in elementary school and our class went on this strange sailboat trip around the bay in Redwood City CA. It was a windy day, and the boys were spitting off the side of the boat and I decided to copy them. It immediately blew back and hit me in the face."
– Suitable-Presence119
Just Absolutely Unfortunate
"Not me, but my dad witnessed this one day when I was in university."
"He was coming home one day from somewhere, and he was on the tram, just chilling, doing his thing, reading a book...and a few seats away, a lady's colostomy bag ruptured or burst or exploded or something."
"In the middle of a tram."
"In peak-hour traffic."
"Shit was going everywhere."
"Literally."
– Dippycat149
"Gimme A B-I-R-D!"
"Was at a high school football away game. The opposing team's cheerleaders come onto the field, were pretty much dead middle of their routine, and literally out of nowhere some beast of a bird releases the biggest dump onto the neck and shoulder of one of those girls who then proceeds to go into full hysteria."
"I was laughing so fucking hard at the time; but god I felt bad for her too."
– AutumnAtronach
Not Quite Yet
"When I was in late elementary school, I approached my mom about "blood when I go to the bathroom." She was psyched--threw me a "welcome to womanhood*" party and everything."
"Turns out it was hemorrhoids, which she only realized when l actually got my period in middle school."
"(I don't know if I'm cringing more for my sake or for hers...)"
"*Turns out I'm nonbinary and would later get a hysterectomy, but I still treasure the little charms and gifts her hippie friends gave me."
– SnubbyPears3144
Try, Try Again
"My friends and I got to the peak of this hike in winter. It ended at a lake that was frozen over, besides the edge near land, where the ice was obviously really thin. This guy came up out of the trail and ran straight for the ice covered lake. He obviously broke through into the water, but he was only an ankle deep."
"The really embarrassing part is that he tried to save his ego by continuing. He kept trying to get on top of the ice and it just kept breaking. He continued this until he was shoulder deep, in an ice covered lake, with 30 people watching his spectacle shaking their heads."
"He just got to the top of the hike and had to run all the way back down to his car covered in freezing cold water in the middle of winter before he got hypothermia"
– Khan_Khala
That's Gotta Hurt!
"In 8th grade a new pastor came into our classroom to teach us stuff we needed for confirmation (catholic school thing). First thing he did was the classic "sit on the chair backwards to relate to the cool youth" but as soon as he sat down the chair basically exploded underneath him from the weight of his body (which was fairly overweight). He got up and said something along the lines of "oh that chair's all messed up" or something but of course a kid yelled out "yeah because you crushed it.""
"It was hilarious but the more I think about it as an adult that had to be horrendously embarrassing"
– aztechfilm
I think the lesson we can take from all of these is anything you would normally do in private that, in the moment, feels right to do in public, don't. Just, don't.
Have you ever seen something so embarrassing you felt bad from the person? Tell us about it in the comments.

Keep reading...
Show less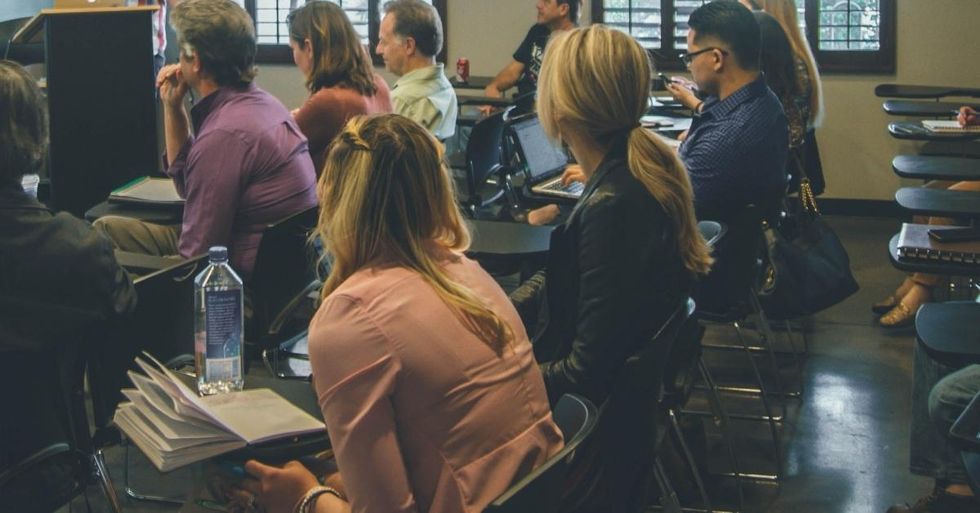 When do you draw the line in how technically accurate you need something to be? Maybe at the university level, things should have a higher bar to clear? Redditor Bluehousebluesky is asking themselves that very question. The original poster (OP) has a student that's not doing things the 'official' way. While the student isn't technically […]
More
Finding a life partner is hard.
Why do the movies lie to us?
And so many more people are choosing life alone.
I guess that not having to share a bed thing is a real plus.
Redditor TheSilverKnight711 wanted to hear from all the single ladies... and gents... and everyone in between. They asked:

"What's stopping you from having a partner in life?"
I'm just not that into any of it. I'm also tired. That's just me. And you?
Me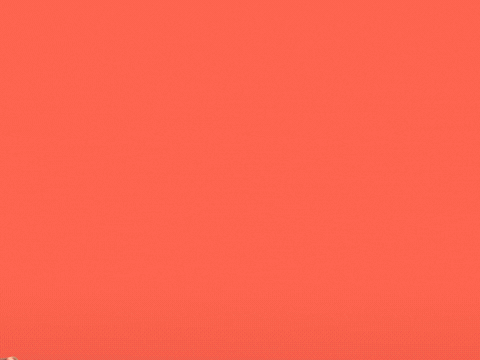 For Me GIF by Lil Yachty
Giphy
"Me, myself and I."
F1r3Phoen1x
"Try trusting all three of them."
TaintModel
Tough
"Trust issues."
DrMannulus
"That's such a tough way to live. It took me until my 40's to realize that the main person who didn't like me was myself. Took me a few years to talk myself around to liking me and then loving me. Now I am able to be less critical of other people too. (If I'm judging others, then I must expect to be judged too) My life is less stressful and I'm actually happy."
hen1bar
Meh
"Currently I'm making 0 effort to do so. Haven't been interested in anyone in a while."
Angel_OfSolitude
"Same, I hate online dating cause I can't tell what peoples personalities are and Im not on most forums of social media. 'Im obviously still on reddit but I have nothing else besides snapchat."
"I also work a lot as well, so pretty much the only time I come in contact with new women in my life is like at the grocery store. I don't drink much but I feel like I need to start hitting bars or college parties or something though. Im not even in college but It seems like it's the only way to meet women around my age without social media."
"Or just approaching random ones in the store. I just feel like unless I just actively 'hunt' for a date I won't ever find one. Which sucks cause I'd rather meet women organically, rather than just trying to hit up someone you see cause they might have potential based on looks."
thepastyprince
Happy
"The idea that I'm happy by myself."
Dvmbledore
"It's definitely a confidence thing. People in relationships don't need others' approval nearly as much - this translates to more confident, less needy behavior that signals to others that you're self-assured and comfortable with yourself. That's very appealing."
theragingletter
in-between...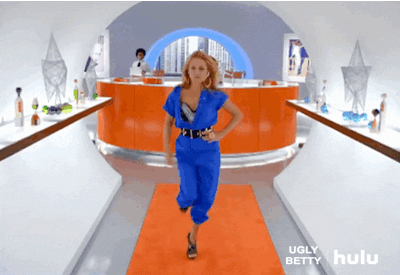 amanda tanen catwalk GIF by HULU
Giphy
"I'm in that awkward in-between area where I've got too much self-worth to settle for someone who's going to ruin my life and not enough self-worth to let a good person love me."
JACofalltrades1
There really is no rhyme or reason to it all. Is there?
Blah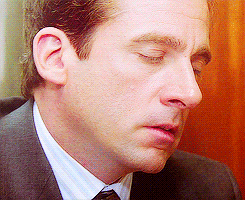 annoyed GIF
Giphy
"My personality. I get bored really fast, and don't think it'll be fair to the other person. My friends say it's because I haven't met the right person, maybe true, but I don't want to risk it."
mapeci77
"the rest of my life"
"Not being able to find someone that I can forsee the rest of my life with."
nuovi
"When I was dating in the 1970s, 'the rest of my life' was my standard statement to myself. Sure he was great to be around, but could I put up with him for the rest of my life? For my one, yes, except it was for the rest of his life. He died in January after being married for 44+ years. Simple comparison: Could I live with him in lockdown?
EC-Texas
"attractive"
"I'm not the best in social situations and I feel like I have nothing to offer."
JukeBoxHero1997
"Just a heads up: you absolutely have something to offer. Whether you're good at socializing or not, just show someone kindness and respect."
"And be there for them, and if they are available and attracted to you then you'll be everything they need. And I don't mean like you have to be physically 'attractive,' but like the person actually is down to hang out with you. Either way, you have worth and someone would be happy to love the sh*t out of you if you let them. :) "
SteveNJulia
Terrible
"I'm a really terrible partner. I've put multiple people through absolute hell, because they have normal expectations in relationship. I require a lot of alone time, sometimes I just want to sleep by myself. sometimes I like traveling by myself. I can get super depressed and withdraw."
"I've learned now that I have to keep things casual and I'm probably not meant to be a typical relationship where you build a life together and live together all the time. Also, I'm sure it's just modeling because my mom and stepdad live separately and just go on dates, so unless I find someone who loves being alone as much as me (unlikely) I guess I'm just over here vibing."
LadySovereign
Too Good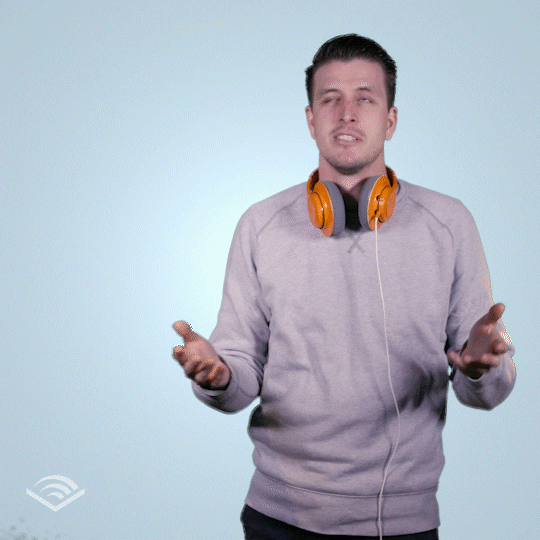 Which One Reaction GIF by Audible
Giphy
"Vacillating wildly between 'I'm not good enough for this person, and it's only a matter of time before they find out,' and, 'I'm too good for this person, I will never be satisfied.' Often, multiple times on the space of a single afternoon."
robbycakes
Ask them to hang out?
"My desire hasn't overtaken the expectations of effort required."
haijak
"The effort can be pretty ridiculous. I re-entered the dating pool somewhat recently after being in a relationship for most of my adult life and holy s**t is it terrible. People expect you to know exactly what they want when they want and if you mess anything up then they'll move on to someone else. Ask someone out too early? You're weird. Ask them out too late?"
"They're not interested any more - you missed your chance. Ask them to hang out? Too vague - no. Ask them on a dinner date? Too specific and too much pressure. Everyone has different expectations and people are so unforgiving if you can't figure it out. I'm told pretty frequently that I'm attractive and have other good qualities and yet I'm terrible at dating. The whole process is so confusing and demoralizing. I stopped trying after a while."
thequietthingsthat
I Know this pain...
"Self sabotage."
acid_vision_
"I'm very positive I do this unconsciously whenever I date. I seem to be very attracted to people that are either unstable, they don't know what they want or emotionally immature. It's like my brain wants me to be alone forever."
cemeterykitten
at a loss...
"I'm not the kind of sociable that goes out of his way to meet people for that reason. I don't care for bars or parties for instance. It's not that I don't want someone, it's that I don't really know how/what to do. And since I'm a male, it's doubtful a girl would risk it herself and pursue me. So yeah... at a loss."
Tijain_Jyunichi
Today's Crush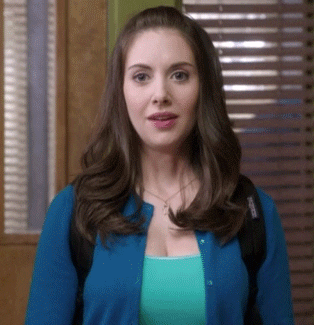 Happy Alison Brie GIF
Giphy
"Getting hyper-fixations on people and then being disappointed when they are normal people. Just today had a crush on my young orthodontist - like 5/6 years older than me cause he was nice while fitting new retainers."
DaffodilGoofyDuck
"I do this except only ever with one person lol. I've only ever been truly attracted to one person. I still have a long time so I imagine it'll happen again, but I still thinks it's weird when people my age by this point have ex counts in the double digits."
Entercheesynamehere
No Interest
"I simply don't have the energy to provide and love someone unconditionally at this point of time in my life. I want to grow as an individual and love myself first. I choose to not be in a relationship for that purpose because it would be completely unfair for them."
Sienna-hart
Apps are a joke...
"I have no idea how to meet people. Apps are a joke, I don't drink so I have no reason to be in a bar, and the only friends I have are on discord so no group activity stuff. My one hobby outside of gaming (hiking) is also very solo focused with me not even encountering another person for most of the day... I've just given up and accepted that I'm just not meant to ever find anyone."
zose2
I Don't Need You
"The question isn't what's stopping it from happening. It's more that having a life partner is a huge commitment that I don't really want to enter with anyone that I know, nor am I really seeking out someone that could fulfil that role because it's not a net positive to be in a relationship. I really enjoy not being beholden to anyone, and someone would have to overwhelm that for me to want to be with them long term... I think I'd prefer to just have some really good friends."
PastaBakeWizard
"capable"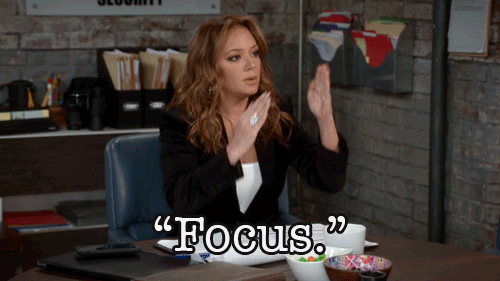 kevin can wait focus GIF by CBS
Giphy
"I'm not in as much of a rush as I used to be. My focus is on patching up the holes in my life so I can love myself first."
"I've been mentally checked out for a while. Too many pressures, too many thoughts, and too much self-neglect. I'm steadily getting back into a comfortable feeling. Just recently started feeling 'capable' again. Maybe someday I'll find someone, but it's no longer a do-or-die event for me."
Tylrt
Toleration
"I'm at the age where I should have my life figured out at this point, but I don't. My peers are generally already established in life and are rightfully looking for a partner who's on their level. Couple that with bad attachment insecurities, and it would be cruel to get another girl a tangled up in this hot mess haha."
"Anyone in this thread though should look at their reasons and try to work on them earnestly. I am currently and hope to one day get to a place in life that maybe someone might tolerate me long enough to give me some head pats or whatever people in relationships do. It's tough, like really tough, to not have someone for this long, but you can only march forward."
lastcallcarrot
Alone is ok as long as you're ok. So be ok alone.
Want to "know" more?
Sign up for the Knowable newsletter here.
Never miss another big, odd, funny or heartbreaking moment again.
Keep reading...
Show less
Nobody's perfect. We all make mistakes, and when we learn from them and endeavor to do better, we're all the better for it.

But then there are those epic screw-ups where we know we crossed a line and forged ahead anyway.

Can we ever come back from those? Well, that would depend on how much damage was done.

We've all had these face to palm moments. What's yours?

That's what Redditor PeteK816 asked strangers online but in a more direct way.

"What's your biggest 'I f'ked up' moment?"
Redditors recalled when their discreet, NSFW activity became exposed.
Busted
"When I was in 7th grade, my parents woke me up from bed and took me to the guest room where they proceeded to show me what 'History' on the computer was."
– D4rks1id3
Time For Cleaning
"Had something similar happen to me. A techie guy my parents hired to clean/speed up our computers (2006ish), was cleaning up the one in my bedroom, I was 12-13 at the time. He found the pornographic photos I didn't delete from my recycle bin. He then taught me how to delete things from my recycle bin and to his credit never told my parents."
– Cpcalio

Shout Out To Techies

"As a teenaged girl that got curious and watched some porn, I also had a techie guy save my bacon. My computer had been infected, lots of pop-ups and everything. I'd mentioned to my parents my computer stopped working and I was going to take it to get fixed and they surprised me by inviting a family friend over to pick up the computer and eat barbecue with us. I had no idea my parents were close friends with a computer savvy guy."
"I had stupidly not deleted my history yet. He ended up taking my computer with him before I had a chance to hide anything. He managed to convince my parents the virus came from me clicking an ad by accident and my mom apologized to me for being suspicious and told me to be more careful."
"The tech guy also showed me how to delete my history so I'm fairly certain he saw the sites I'd been on."
"My parents had laughed when they heard my male cousin got caught watching porn. They laughed when he got caught with a girl. But when his sister got grounded for reading a book with one vanilla sex scene, they judged her pretty harshly and went on a rant about how the devil is influencing the youth of today. They would have killed me for watching any kind of erotica."
"My parents were convinced if I ever watched porn, I'd grow up to be a degenerate. Funnily enough, I watched it the most during puberty when it was forbidden and as an adult with freedom to do it anytime I want, I rarely if ever watch anything erotic."
"Thank you to all the techie people out there saving us from judgment!"
– Taebellz

Unfortunate Release
"On the day i was moving to Jersey from VA, I had a date in VA. I was planning driving straight to NJ after the date. I ate something bad during dinner and my stomach started acting up. But the date was going well and didn't want to cut it short and thgt i could hold it until the date was over. Right after the ended, i got in my car and drove to nearest restaurant to use the bathroom. But nature prevailed and couldn't hold it. I literally sh*t my pants. It was so bad, i couldn't even get out of my car."
"So i drove with sh*t in my pants from VA to NJ. I was worried that i might get pulled over. I got to my apt building at 3am in the morning. walked up 3 flights of stairs to make less noise. got rid of my clothes and took a shower."
"damage: I had to buy tools and throw away the driver side car seat. cost me 2000 bucks. I had it detailed 4 times in 2 months and finally decided to get rid of the car to get rid of the trauma."
"P.S: I married her."
"She does not know the story. Nobody close to me knows. I will take this to my grave."
– joker1547

Employees shared their workplace screw ups.

Costly Mistake
"I was a bank teller working drive through and I had a fat stack of cash in an envelope (roughly $3,000ish) that I had set aside because I needed my manager to take it to the vault because I was over the max amount allowed to keep in the drawer at any time."
"I'm just going through the motions and some guy was doing a cash withdrawal and while I was on auto-pilot I sent back his tube with the envelope containing $3000 instead of the few hundred he was withdrawing. Worst part was I didn't realize this until about 15 minutes and 10 or so transactions later."
"I immediately called my manager and just said 'I f'ked up big time'. I couldn't even remember which account it was on so I had no idea who to call or who he was. He could have kept that money and we would have never known."
"Luckily he was a good samaritan and came back into the branch and asked for the manager saying 'I believe there was a mistake, I was given way too much money but I noticed it wasn't taken out of my account. I don't want your teller fired over this!'"
"Issue was resolved in under an hour and I'm forever thankful that guy was a good person and came back to return the money."
– HallucinatesOtters

Losing Focus
"I read a manifest wrong and pumped the wrong chemical down an oil well and literally ruined a brand new well worth about 4 million. They had to abandon it."
– Sillyak
The Jenga Effect
"In my 20s while working at Home Depot, I walked by an aisle full of pallets of doors."

"As soon as I casually walked by, all of the doors came crashing down."
"Pallets and all."
"No one knows how it happened but I'm pretty sure I was the one that put the pallets there a few days prior."
"Damages were in the thousands."
"Luckily no one was hurt, but I still think about all of the booby-traps I left in that place."
– Jetix_MK3

Internet Network Disruption
"I once accidentally created an infinite network loop on my college campus' network and crashed the entire school's internet. This was during my certification program as a Cisco Certified Networking Administrator."
– BlackTemplar2154
Return To Sender
"I used to work at an aggregate company. Once I got an order address wrong and sent 22 tones of topsoil to some poor bastards laneway."
"Whooops."
– canadaiscoldAF

Dumpster Fire
"I was working a facilities job in my early 20s and was a heavy smoker at the time. I worked for a very wealthy company and had a no smoking rule, so every time I needed a cigarette I had to hide behind the building to smoke."
"Due to a recent change in furniture we were left with lots of cardboard and plastic wrap, so the DO ordered a roll away dumpster to the site. This roll away dumpster happened to be put around the corner of where I smoked."
"One night I was smoking and got a call to go do a fix on a machine, so I put my cigarette out before finishing it with the intent to come back later. The cigarette broke in half while I was doing so and in frustration I tossed it into the dumpster. I do the fix on the machine and go back to the shop office to sit down."
"5 minutes go by and one of the other facilities guys comes running in and tells me there is a fire. I run to a fire extinguisher and run outside to see there is a huge fire in the dumpster, so me and 3 other people jump in the dumpster to attempt to put it out."
"After 2 long minutes I look down and see flames coming from underneath the cardboard I am standing on and decided to call it time to dial 911. The flames erupted 9-10 feet out of the dumpster when the fire department arrived and it took them nearly half an hour to put it out."
"We were all examined afterwards and the fire department recommended we all go to the hospital immediately due to smoke inhalation. My cigarette sent 3 people to the hospital and a security camera above the dumpster saw the whole thing. I was fired and banned from the place I worked. In the end I was very fortunate nothing was damaged and nobody was seriously injured."
"Definitely was an 'I f'ked up' moment."
– MessageLarge5901

These Redditors suffered physical consequences.
Struck
"For me not a lot of 'f'ked up' moments yet, but me and my brother sprinted on a pedestrian crossing and got hit by a car about 7 years ago, I realized that I had f'ked up when I noticed I was flying through the air."
– Guillaume_Hertzog

Rough Housing
"wrestling with my brother, I try to throw him over my hip, and I start falling sideways and realize 'oh, f'k, he's going over my knee' followed by a surprisingly loud pop, don't know how I didn't dislocate it or tear a tendon, but I didn't but yeah, sprained knees ain't fun."
– bothVoltairefan

Finger Smoothie
"Our very-old blender started smoking when I was using it, so I frantically unplugged it at the wall and started taking it apart."
"It was when I heard the whirring and felt the blade go through my finger tip that I realised that in my panic I had instead unplugged the toaster from the socket next to it."
– taversham

An Expensive And Painful Lesson Learned
"I didn't goto the dentist for five years out of sheer laziness. Five cavities, one pulled tooth, one full tooth implant and a root canal later……I regret that decision."
– Dust_Parts

As long as we can pick ourselves up, dust ourselves off, and move on with our lives after making some of the biggest f'k ups in life, we're good.
Although, that's me just being optimistic–even if a hypothetical miscalculation you made may have cost an employer an exorbitant amount of money.
If they kept you on payroll, despite your costly mistake, congratulations. Keep in mind, however, there will probably never be a "next time."
I bet the Redditor who had their finger blended will always double-check the electrical sockets before sticking their fingers in any electrical devices from now on.

Want to "know" more?
Sign up for the Knowable newsletter here.

Never miss another big, odd, funny or heartbreaking moment again.
Keep reading...
Show less
New experiences are the spice of life, but sometimes that spice might be a little more bitter than you originally thought.
Whether the experience turned out to be a total flop, or it was the kind of thing that you're glad you got to do once but don't need to do again, some things are best left as one-off experiences.
*Content note: the following article contains graphic descriptions of injuries, and mentions drug use. Reader discretion advised.*
Keep reading...
Show less