New experiences are the spice of life, but sometimes that spice might be a little more bitter than you originally thought.
Whether the experience turned out to be a total flop, or it was the kind of thing that you're glad you got to do once but don't need to do again, some things are best left as one-off experiences.
*Content note: the following article contains graphic descriptions of injuries, and mentions drug use. Reader discretion advised.*
Keep reading...
Show less
The market of product delivery is a fickle, sometimes senseless beast. There have been so many fads, inventions and ideas that everyone was sure would revolutionize the world. Moments of creative advertising and strategic planning and unveiling go into the perfect introduction. The budgets are blown are cash is thrown.
The heralding of something new and innovative is trumpeted. The hype is big and the anticipation high. Then every once in a while... THUD! What was to be the next big thing is the next big floppy disaster.
Redditor u/MexPoosyConoisseur wanted to compare notes on the items that left us disappointed, by asking:
What was hugely hyped up but flopped?
Want to "know" more? Never miss another big, odd, funny, or heartbreaking moment again. Sign up for the Knowable newsletter here.
Keep reading...
Show less
A daft driver was left with a huge hole in the side of his car after fitting it with the wrong size door.
Robert Woods, 33, spent three hours replacing a broken door on his Peugeot 206 before realizing the new door he had replaced it with was a foot too small.
Newly qualified driver, Robert, tried to save himself some cash by fitting a brand new passenger side door himself because the old one had a faulty wind-up window.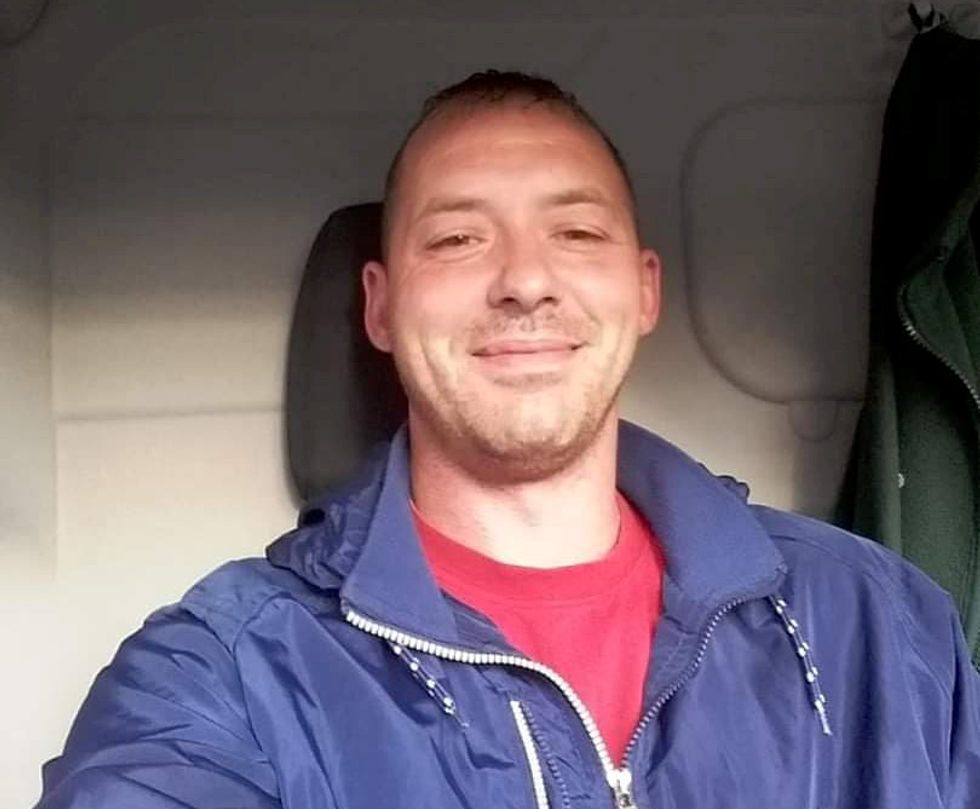 Robert Woods / SWNS
He said he even went to a specialist Peugeot parts dealer, back in May 2017 when the ordeal happened, to source the right part.

But Robert somehow managed to walk away with a door for a five-door model rather than his three-door version of the car.
And when he came to replace the broken door with the brand new one, father-of-two Robert said he was baffled to see the "massive gap."
Robert has said ever since the blunder his mates have poked jokes - forcing him to sell his beloved motor.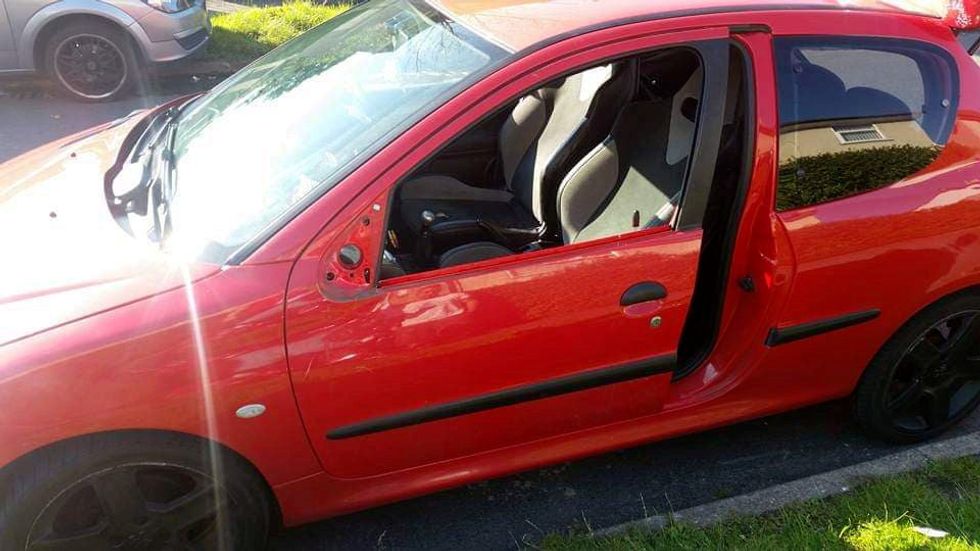 Robert Woods / SWNS
Robert, from Manchester, England, said:

"I didn't realize it was too small until right at the very end. It took me three hours to do. I shut the door after fitting it and started to walk away."
"But I didn't hear it click so I turned around. I noticed this massive hole in the side of the car."
"I was baffled but realized straight away what had happened. I felt really daft but saw the funny side by the end of it."
"I sold the car not long after. Every time I picked a mate up in my car they'd make jokes about it. I haven't heard the end of it since it happened."
Robert, who lived in Blackburn at the time, passed his test in May 2017 and parted with £600 (~$780) to pick the Peugeot as a "cheap runaround" to get him on the road.
But after making the purchase he soon realized the passenger side window would not wind down and was completely broken.
Robert got a quote for £60 (~$78) to fix the window but he said he soon worked out it would be cheaper to buy a new door all together and fit it himself.
He thought he managed to find himself a quick and easy replacement door for just £30 (~$39) from a local garage specializing in Peugeot car parts.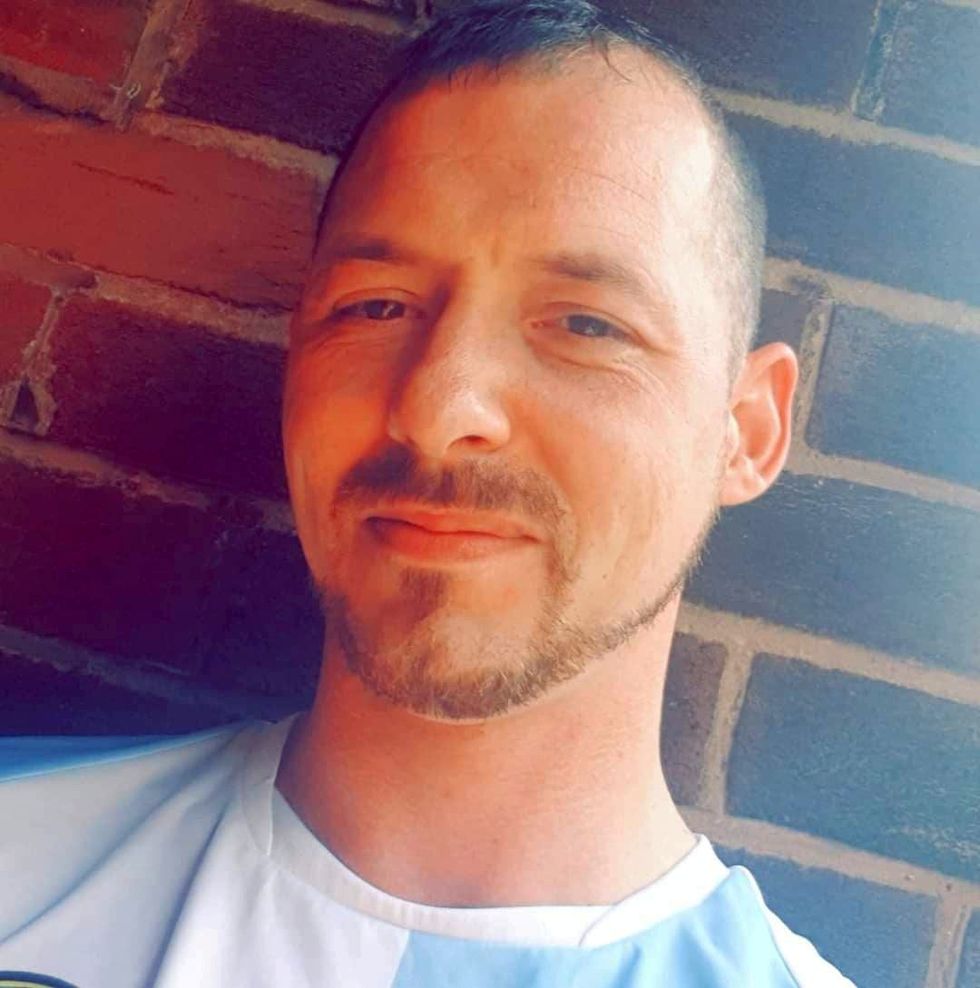 Robert Woods / SWNS
Robert, a courier driver, said:

"The window wouldn't wind up and it was cheaper to just get a new door. I went along to pick this new door up and the color was bang on. The guy in the warehouse said it would fit my three-door model."
"I thought I was quids in and was saving a bit of money. All I had to do to replace it was take out two bolts and disconnect the wiring."
"A friend helped me replace it and it was quite straightforward. We reconnected everything and to begin with I was quite pleased with myself. But then I closed the door and noticed what had happened."
Robert, who has a partner, Sarah Donohue, 33, said he didn't bother trying to replace the door for a second time and continued to drive the car with the broken window.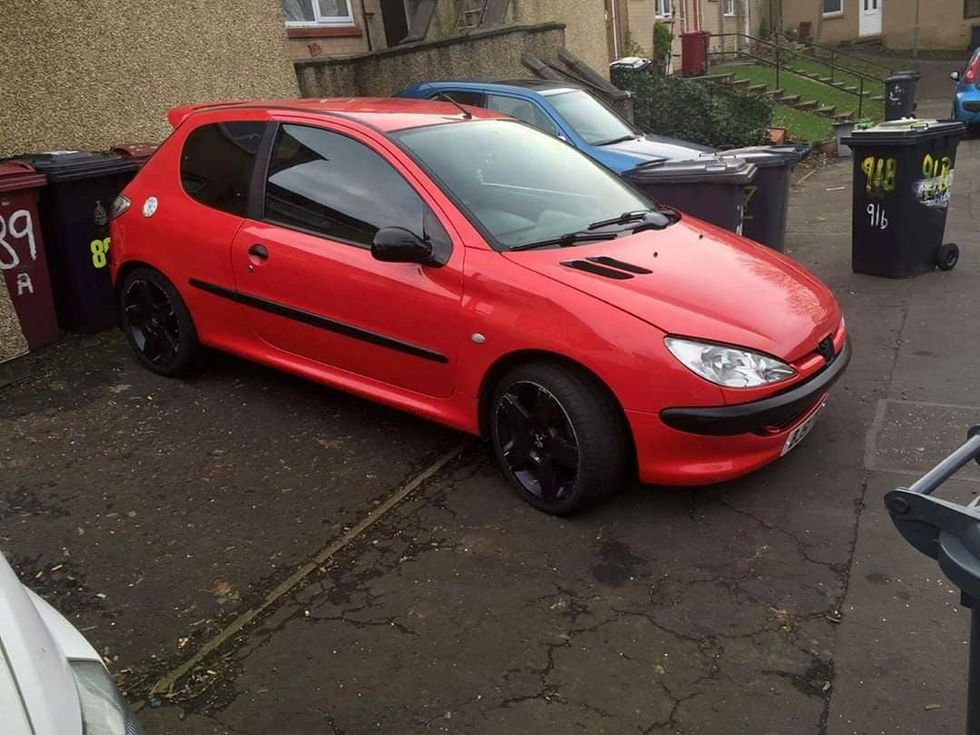 Robert Woods / SWNS
He added ever since the incident his friends have made fun of him.

The torments got so bad that Robert sold the car later the same year after growing sick and tired of being laughed at, he said.
"Every time I went somewhere in the car someone would say something or make a joke."
Former firefighter Robert now drives an Audi A3 and said he can now fix most mechanical problems, but still hasn't dared to replace another car door.
Keep reading...
Show less
A male Twitter user's attempt at accommodating his female guests is turning heads for all the wrong reasons.
Twitter user @DaddyAllDay recently shared his bro tip of keeping a "lady drawer"—but the contents of his own drawer drew ire and confusion from actual females.
The controversial tweet reads:
"I feel like every guy needs a 'lady drawer' if you plan on having frequent guests."
Included was a picture of his own drawer- filled with strange items that may or may not be helpful to women.
While the drawer did have some useful things, such as tampons and pads, it also includes an open pregnancy test, two bottles of nail polish remover and a dildo.
Fantastic.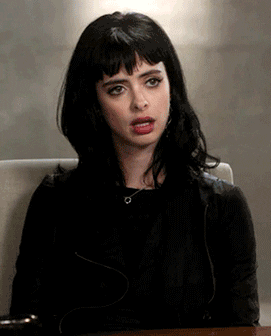 Giphy
While the sentiment is kind, sort of, the contents of this drawer are truly bizarre, and weirdly sexist. Women aren't all the same—and definitely don't want to share certain items with or even be reminded of the women before them.
@DaddyAllDay, who lists his name as BassFather, wrote a follow up Tweet.
"For the record, I'm not saying to go buy all this sh*t. You really just need makeup wipes, tampons, hair ties, and a hair brush. I just had all that laying round so I designated a drawer for it."
Cool.
Plenty of Twitter users replied to the man's tweet with pure confusion.
Others capitalized on the Tweet, turning it into a meme.

Try again, BassFather.
Keep reading...
Show less
Love... will make you want to forget love. Searching for love is one of the most exasperating "adventures" life has to offer. Half the time, the journey for love... will fail you. It's part of the gamble. If you're searching online, it makes it that much more nerve wracking. The crazies are running amuk out there. Sometimes the bumble isn't worth the buzz.
Redditor u/dannyboy8323 wanted everyone to band together and share some love stories gone awry by asking.... What's your biggest fail when it comes to online dating?
Keep reading...
Show less