Dance fitness classes aren't a new thing.
Many people like them because dancing is less boring than a simple aerobic routine; it is often a better workout, too.
Facebook user Santi Lucedelsol recently shared a video of herself in a step class.
She decided to take the class to a whole new level.
Santi adds in splits, stretches and various other movements that don't seem to be part of the class' choreography.
She seems to be having a great time and is definitely getting an excellent workout.
Check out her video here.
Comments on the video were largely supportive, many expressing a wish to be that confident.

Michelle Drew/Facebook

Terrence Antwon Summerour/Facebook

Shalana Sheppard Randolph/Facebook

Ashlee Griswell/Facebook

Kay Bey/Facebook

Niafurstia Holmes/Facebook

Mae Chase-Dunn/Facebook

Mo'nic Leesa/Facebook

Angela Lynne/Facebook

Lynn Golde/Facebook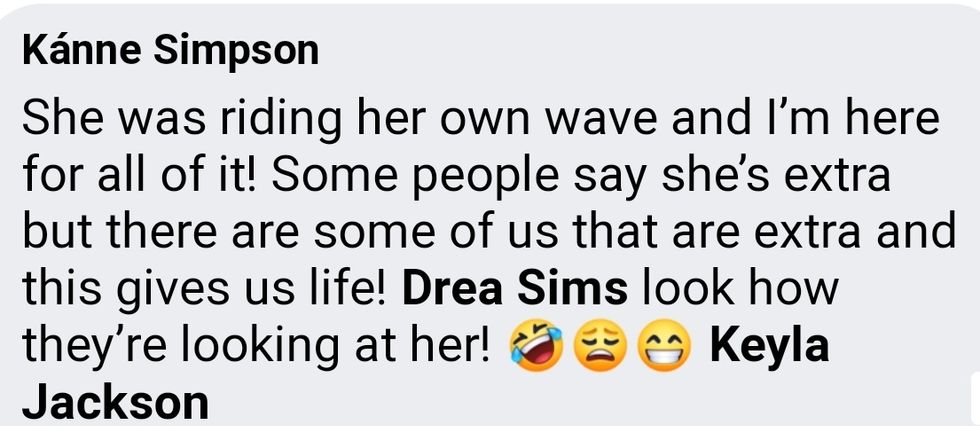 Kánne Simpson/Facebook

Nicole Briscoe/Facebook
Others have made extreme routines their bread and butter, including The Fitness Marshall, Caleb Marshall.
Meghan Trainor - Me Too | The Fitness Marshall | Dance Workoutyoutu.be
...and this unidentified gentleman who is clearly feeling it...
Feeling it!youtu.be
As one person commented on his video:
"Don't need a sixpack when you pack that personality. Much rather have this dude in my friendslist than any bodybuilder."

Lastly, this very good boy who is feeling the burn.
Golden retriever at workout classyoutu.be
Bottom line?

Put on your comfy clothes, make your workouts fun and don't let anyone dull your shine!