Some pasts are too shameful to talk about.
Former hate group members, and their family and friends, share various stories of redemption, and opened up about how they've made amends with their past, misguided hatred.
Redditor JeaniousSpelur asked former Neo-Nazis and hate group members:
"What was your 'I need to get out of here' moment?"
"I was left for dead..."
"The long story short is that it was late September; I'd just gone back to university. It was evening, and I'd started a knife fight with native girls over something that I don't even remember. Street fighting was a thing for me at the time, I was in the best shape of my life, and I was fairly confident that this was a fight that I could win."
"The fight went well right up until the point that it didn't. Adults in the room, you've probably guessed where this is going. I was stabbed fourteen times in the back and left for dead on a sidewalk. I can tell you what it feels like to lay there in a puddle of your own blood."
AlwaysDisposable123
"One day a friend of his threw a molotov cocktail..."
"Not my story but my dads, He was a neo-naxi in his youth and teenage years and often would get Into fights with people (he used to be a man made of pure muscle, worked as a bouncer on the weekends) and had a real hate against immigrants and punks."
"Well one day a friend of his threw a molotov cocktail onto a trailer with people inside and told everyone, my dad quickly left his friends and found better ones."
DrkLgndsLP
"He fell in love..."
"When I was younger I lived next to an ex kkk leader. One day I asked him what made him leave and he said he was online looking for more people to recruit when he met a woman he fell in love with and when he found out that she was a mixed race woman it completely changes his views."
LyteRay1943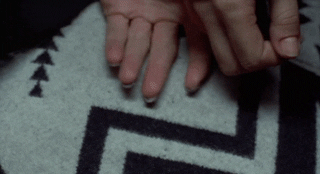 Giphy
"I used to justify this hate..."
"I was no where near a nazi but hating others only destroys yourself. I used to justify this hate by saying I hated an 'idea' and not the people who subscribed to this idea but it was just cover for hate and it ruined me all the same."
jessmattsam
"I realized how real these guys were..."
"Was never part of a group officially but socially I was one of the gang. I was in a bad place mentally and they (the local Nazis) basically were nice to me and I got involved with them. I left when I got worried about where it would end. I realised how real these guys were. I thought it was just the tattoos and the noise, but the guys I was close with were under investigation for supposed arms trafficking (Extra bad as this was the UK) and heard rumours about MI5 having files. Wasn't sure I bought it, but I wasn't taking the chance. Cut all contact over the space of like a week."
sozimdrunk
"I gradually killed off the conversation..."
"I never actually joined such a movement / mentality but there was a bit of an attempt to 'recruit' me... I've always been a history enthusiast and WW2 has always especially been a topic I enjoyed researching. I went through a bit of a phase where I was focusing a lot on the German side of the war."
"Anyway, I ended up talking to a German lad who seemed nice enough. His grandfather was in the SS and I was getting him to tell me his stories and such (purely for educational reasons on my part)."
"Gradually over time he started dropping little things in chat and communication which seemed a bit.. 'wow.. uhh..', started to show his views on immigration and all that sort of stuff and as the weeks went by darker and darker little scoops started coming out, at this point he was saying we should meet up and stuff. I gradually killed of the conversation and haven't spoken to him in a few years."
Phynnoderee
"They started buying guns..."
"My friend walked away from the skinheads when they started buying guns. Or, that's what he told me 25 years ago. Turns out he walked away after they murdered a random guy. He was probably a witness/accessory to the crime."
waheifilmguy
"I didn't want to be grouped in..."
"I used it to be a Nationalist, and while I was one of the Nationalists who weren't racist, the reputation of hate that came with the ideology alienated me from it. I didn't want to be grouped in with those awful people."
Northumbrialand
"He apologized and left very quickly"
"I had a crazy experience with a former Neo Nazi/KKK member. For 2 years i worked with a guy who was very shy and timid, i felt i needed to take time with him to make him feel more at ease when at work. So over time he was a little more chatty with me and i could see he was enjoying work way more since i was getting him involved."
"But something he always said no too was joining works weekly footy match, but finally after a few months of asking he said yes. So here we are in the changing rooms he comes very late so he is last in to get dressed as we head out to warm up. I have forgetton my water bottle so i head back, knowing its only him in there."
"As I open the door he has his shirt off facing the wall and there it was the biggest Swastika symbol tattoo i have ever seen on this mans back. He panicks and throws me up the wall with his hands and my neck, he apologised and left very quickly. Never seen him again, he did not come back to work."

TezzTezza
"She didn't have the same beliefs..."
"When I met my (now) wife. She didn't have the same beliefs as me. We started hanging out and talking more and I just stopped being as involved in the movement. Over time my beliefs started to change. I started to meet some of her friends who were not white and after having a fun night out, I realized not everybody in the world is bad."
"Fast forward ten years, we're married now with a life of our own. We moved away from where we grew up. And I haven't spoken to any of my old contacts in years."
robitt88
"He was jumped by members..."
"My uncle was part of the kkk. He was very poor and homeless and the kkk supplies you with housing and food and pays for things for you. But he tried quitting and one day as he left a bar, he was jumped by members and had his chest slit open. He had to get around 200 staples but he still quit. Thankfully"
bambixx_
"I was shedding my racism..."
"I started to get older and learn more compassion. I was a lonely kid and I didn't have many friends, and I already grew up in a racist household and many of my family members are neo nazis, covered with white supremacy tattoos. I discovered a group of older skin head kids and I fell into it pretty bad."
"As I was learning more compassion and slowly was shedding my neo nazi beliefs, my buddies were bragging that they beat up another mutual friend of ours when he said he wasn't a nazi anymore and he was dating a black woman. I was already thinking about leaving the group. It was basically a little gang."
"Once I found out they were beating up people for leaving I realized it really was like a gang and I didn't want anything to do with it. I was shedding my racism and I didn't want to be involved."
Comrade_Oghma
"He became a born again Christian..."
"Not me, but my grandfather evidently was a member of either the Klan or associated hate group back in the 1960s. He became a born-again Christian and walked away from it. There was little evidence of his history as I grew up...I only found out after my mother told me about it after he passed away."
ElucidatedBrethren
"That interaction completely changed my outlook on LGBTQ+ people..."
"I met a gay man. I was raised in a very homophobic home in a rural area, and I always believed gays were bad people. I thought they were rude, self centered, and bullies. I distanced myself from them until one day I was assigned to work with a flamboyantly gay man. I was horrified."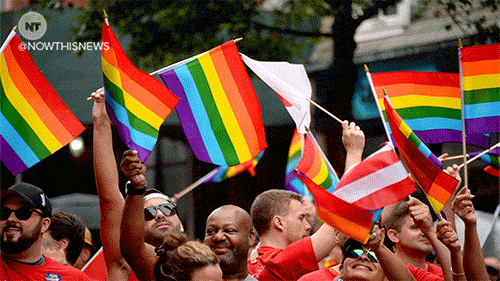 Giphy
"He proved to be one of the nicest, most caring people I had ever met. He was a fantastic listener and good with melding ideas together. That interaction completely changes my outlook on LGBTQ+ people, much to the horror of my conservative family. They are quite uncomfortable that one of my best friends is a pansexual that uses they/them pronouns."
"I don't know why I didn't think people were decent humans just because of who they are attracted to, but opening my eyes allowed me to meet so many amazing people."
anyythinggoes
"My niece married a Neo-Nazi... or at least we thought...."
"My niece in Romania married a neo-nazi last year...or at least we thought he was because of his long Facebook history, racist tattoos, prior arrest for hooliganism, etc. I had a 4 hour car ride with him and had a long chat. He quit because he left the Romania for a little while to work in Amsterdam. His co-workers were from all over the world, including African countries and Israel."
"He realized everyone was pretty much the same after drinking with them and smoking after work. There was nothing about them worth hating, they were doing the same thing he was. He basically quit Facebook and started getting his tats modified, and hasn't touched politics at all since 3 or 4 years."
PolecatEZ
"He saved the guy's life..."
"Not a former neo Nazi, but I worked with a guy who's dad was in the Klan. Brawl breaks out at the bar, and he's getting beat up. One of our few black bouncers jumped in and saved the guys life. Dude disowned his dad, got his rebel pride flag tatooed over, and had the dude that saved his life as his best man in his wedding. The feels from that moment were so. Strong"
CaptChair
"I was young and stupid..."

"I was a part of a political party with a heavy Anti-Immigrant stand who had a reputation of beating up immigrant workers, I was young and stupid, only later I realized if someone who couldn't even speak the language of the land can easily find a job and work here then something was wrong with me. I felt humbled and became an immigrant myself and emigrated the greatest immigrant country of all."
speeddevil789
"We're all the same on the inside..."
"My moment was when I realized that the other neo Nazis who 'educated' me were not only exaggerating, but sometimes just straight up lied. I challenged one of them on this one idea and they just straight up insulted me for "having the audacity" to ask such a question. Then I got blocked cause they were afraid that I'd report their posts in retaliation."
"After awhile I came to realize that people of all races and ethnicities; we're all the same on the inside. I did more research on the evidence I was shown and I used to justify my hatred and it turned out to be heavily exaggerated and sometimes just completely false."
CrimzonShardz
"I got out of there..."
"Wasn't actually a member but when I saw that someone I used to be friends with trying to indoctrinate I got curious and asked for evidence, sources, etc."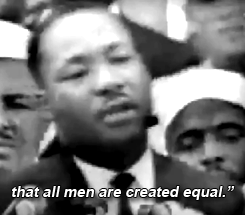 Giphy
"A lot of their sources for stuff like race = predisposed behaviour and holocaust denial are usually either related to statistics that are really easy to be faked. I got out of there but the psychology of how people get sucked into that type of stuff fascinates me."
an_iron_giant
"They were all ignorant..."
"They were all ignorant. Their entire body of knowledge was little more than passed down excuses and cliches. None of them were actually contributing anything to society. They weren't making the world a better place. They were doing nothing except figuring out how to keep someone under them so they didn't have to be the bottom of society. They were EXACTLY what they said every other race was."
getyousomefonts
drawing kids into such toxic ways...
"I used to be very into far/alt right thinking, especially regarding immigrants, muslims, feminists, and members of the LGBTQ+ community. Once you get sucked into it you can very quickly go down the rabbit hole. Online forums and communities are a big issue in drawing kids into such toxic ways of thinking and I don't think they get enough coverage."
"Anyway I realized I was on the wrong side and an asshat when I started interacting with the very people I hated. My one friend introduced me to a Muslim immigrant student that was in my science class. He started sitting with me and I discovered we had a lot in common. We quickly became really good friends and through just interacting with him on a personal level I began to realize how idiotic my beliefs were. We were exactly the same minus the color of our skin and the god we prayed to."
"Through seriously questioning my beliefs I was overcome with shame realizing how misguided I was. I started purging everything I had learned online and looked at everything with an open mind and I've done a complete 180. I've started living my life in an actual Christian manner, loving everyone, treating everyone with kindness, caring for the poor, homeless, and oppressed."
"Going on 10 years of friendship with him, we both consider each other our best friend. Wildest part is he doesn't even know how much of an impact he's had on my life and the debt I'll never be able to repay as far as I'm concerned."
TheLimpD**kVirgin
"date outside my race."
"I'm white and my husband is black. My dad is a very old school southern green beret who always told me that I was not to 'date outside my race.' My dad got deployed all over and was very much absent for my senior year of high school until a couple years in to college."
"When I finally talked to him he found out I was attending FAMU (a historically black university) and the first thing he said was 'you're not dating a black guy are you?' But I was... in fact I had been with him for years at that point. We were only together for a few months when he put his life on hold to work five jobs to help put me through college."
"My dad was incredibly angry and he essentially disowned me. Years later he met my husband (who was my fiancé at that time) and after talking with him for about a half an hour my big, scary, racist dad burst into hysterics and apologized profusely."
"It was like switch flipped while he was talking with My fiancé and he realized that he was the a**hole and he just kept apologizing, It was shocking honestly and something I won't ever forget. It's been almost ten years since that day and he still apologizes and is trying to make up for it."
6CO26H2O_C6H12O66O2
It broke my heart
"I wasn't part of a hate group, but I was anti-gay for a long time. My childhood best friend (TJ) was secretly gay his entire life. He didn't tell me ever, and we were best friends since first grade. In seventh grade, my family and I moved so I ended up going to a different school. Wasn't too far away (less than an hour), so TJ and I still remained in contact for a bit, but by tenth grade, we had lost contact (there was never a falling out, we just naturally drifted apart over time)."
"When I was in twelfth grade, I reconnected with a mutual friend who told me that TJ had got beaten up badly a few weeks prior because his friends didn't accept him as a gay man. It broke my heart. I have supported the LGBTQ community since."
downvotezfordayzzz
Fitting In
"When I fell for a black girl. I think I was trying to fit in and be cool by being involved with people like that instead of actually being racist. I needed somewhere to fit in."
Paffmassa
Reform
"Somewhat related, but I found this guy recently on TikTok (I know a lot of people hate it, but it fills the void Vine left for me) who was a white supremacist for 20 years. In this video he explains his face tattoos and how a lot of them were symbols of hate and after he reformed he had them covered up with symbols of Polynesian and African culture, two cultures that he used to hate and learned to love. I really recommend checking him out, he has some great stories about how he has grown as a person over the years."
-eDgAR-
It's not how you start, it's how you end up, right?
Keep reading...
Show less
Realizations can come to us at any time, and they're usually a good thing. Sometimes they take a while, and can make us feel more than a little slow on the uptake.
Keep reading...
Show less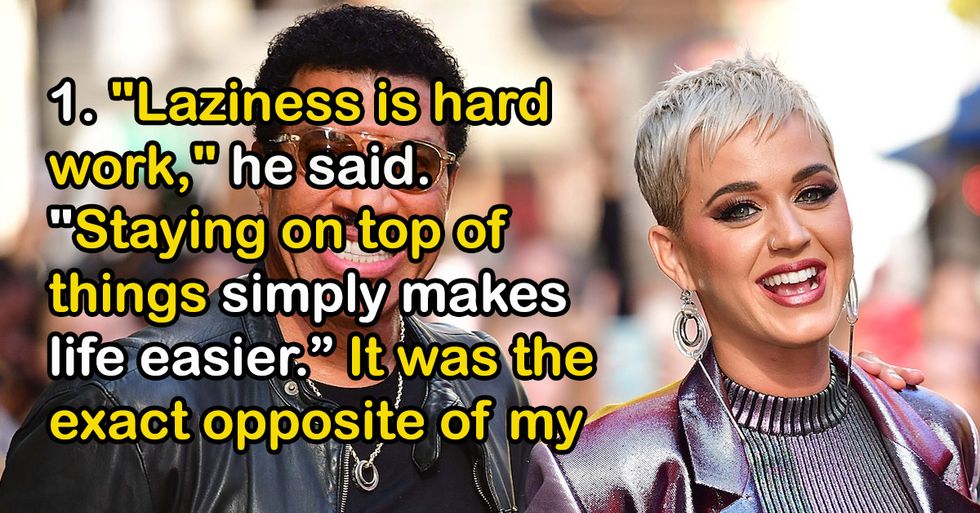 Thoughtful People Reveal The Simple Epiphanies That Changed Their Lives
[rebelmouse-image 18361438 is_animated_gif=
dam=1 expand=1]

It's always such an interesting, refreshing experience to have a simple thought which changes the entire way you approach situations throughout your life. These thoughts can build over time or they can come completely out of nowhere. And sometimes, other people even impart their own wisdom onto us.

Redditor Orieonma came curiously to the internet for some insight into their own personal epiphanies:
Here were some of the answers.
The Getting There
[rebelmouse-image 18361439 is_animated_gif=
dam=1 expand=1]

I don't hate my job, I hate my commute.
Your Own Path
[rebelmouse-image 18361440 is_animated_gif=
dam=1 expand=1]

That I didn't need to reach the same milestones as other people unless I wanted to. That my goals in life could be different from my peers
A Metaphor
[rebelmouse-image 18361441 is_animated_gif=
dam=1 expand=1]

I once took a drink of soda when I thought it was milk. It was the most disgusting thing. But I like soda. It made me realize that whether you like something or not is just as much about expectation as it is about what you're actually getting...
What's Gonna Come Will Come
[rebelmouse-image 18346096 is_animated_gif=
dam=1 expand=1]

While watching a play of Rosencrantz and Guildenstern for an AP Lit class my senior year of high school, something they said really clicked. They were having the existential crisis towards the end of the play, scared of what was coming next since their time was up, in accordance to Hamlet.

"But if we don't know what comes next, why be afraid of it?"

For some reason that's stuck with me, don't fear the unknown, because you can't know until you face it. The nightmares of what comes after death haven't come back since.
Piling Up
[rebelmouse-image 18359200 is_animated_gif=
dam=1 expand=1]

I used to be lazy and a procrastinator. Behind on credit cards, behind on tax returns, mail unopened, bill collectors calling, dishes piling up in the sink.

I saw a psychologist, and he pointed out that I was making my own life very difficult. Penalties and interest were costing me thousands. Letting small problems multiply was creating much more effort later on. "Laziness is hard work," he said. "Staying on top of things simply makes life easier."

It was the exact opposite of my philosophy at the time. It seemed "easy" to ignore things and let it all pile up around me. But in reality every day was a slog and a chore. I had a constant buzz of worry in my head about the things I was putting off.

Today, my house is clean, my credit score is 780, and my tax refund should arrive any day now. Not because I'm some sort of awesome go-getter, but because I want my life to be easy and carefree. Laziness is just too much hard work.
The Word Is No
[rebelmouse-image 18350482 is_animated_gif=
dam=1 expand=1]

You can say no. Oh you can say no, you can say no to the guy asking you a question unsolicited, you can refuse flyers, you can say no to the cashier when she asks do you want to donate to the children's cancer fund? It doesn't make me an a-hole, I just don't want it and I can deny it if I so choose.
Work And Loss
[rebelmouse-image 18361442 is_animated_gif=
dam=1 expand=1]

I realized the other day that when you're trying working to improve yourself you might lose a couple relationships, but that is not always a bad thing. Losing that relationship just means they are not making you better or they are not helping you move towards your goals, and you will develop relationships in the process that are are after their goals and they will help you reach your goals and better yourself.

My roommates have been making comments about my life style lately that aren't true. Making claims that I'm wasting my life and getting nothing done. We are all college aged and I am currently working a full time job so I will be able to pay for school while all their money comes from their families.

I realized that they don't have a clue what I'm doing with my life and that I don't have to deal with them past this semester, so why bother my self with people who are bringing me down making me feel like it's my fault. They are the ones slowing me down. So I decided I'm moving out on my own to focus on my life without them.
Look For Reasons To Be Happy
[rebelmouse-image 18361443 is_animated_gif=
dam=1 expand=1]

Being negative doesn't make me any happier. It's okay to get upset but always complaining and focusing on the negative doesn't make me happy. I found that if I can recognize the things to be grateful for, I am a much happier and content person.
Three Sizes
[rebelmouse-image 18361444 is_animated_gif=
dam=1 expand=1]

Keep your head up.

When I was a kid I usually looked down at my feet when walking or standing around, even while talking to people.

I vividly remember walking to school one day when I was 15 years old and thinking to myself why are you looking at your feet? Nobody is going to respect you if you can't look them in the face.

So I looked up and have done so ever since. I think my self-esteem grew 3 sizes that day.
Self-Awareness
[rebelmouse-image 18361445 is_animated_gif=
dam=1 expand=1]

That I can be a toxic person. I was always the victim and hurt others in the process

Now I'm just trying to improve and be a better person.
Poison Outside
[rebelmouse-image 18361446 is_animated_gif=
dam=1 expand=1]

That you don't have to set yourself on fire to keep others warm. Helped me cut off toxic relationships which were making my life miserable.
Solving Social Anxiety
[rebelmouse-image 18361447 is_animated_gif=
dam=1 expand=1]

That nobody cared about me. I don't mean that to be depressive. I get anxious in party-type situations. I was going to a wedding and was anxious about people's expectations. My dad had had enough, stopped me, and asked whose wedding it was. I said "Jim's" and he said, "oh, not yours?" I said no. To which he then replied "nobody cares about you here. Your only job is to show up, eat if you want, dance if you want, but realize you can sit on your a** the entire night and it will effect nobody."

I've never been anxious at events since then.
How To Be In Control
[rebelmouse-image 18361448 is_animated_gif=
dam=1 expand=1]

That I to some extent can control my mood. Had been feeling a bit down for a few days in a row. I met someone on my walk to the tube. Who smiled and said good morning. I realised I felt a tiny bit more happy. So on the rest of my walk to the tube, the tube ride and the short walk before I was going to be at work I made it my mission to look everyone I got the chance to in the eye. Smile and at least give a small nod good morning or say it out loud.

By the time I arrived at work I feel rather upbeat and in a good mood. That was the day I realised I really could control my mood, and decide if I wanted to be in a good mood or not that day.
Beautiful Thoughts
[rebelmouse-image 18361449 is_animated_gif=
dam=1 expand=1]

People aren't AGAINST me, they're FOR themselves. That makes me not an enemy, but a resource. I am responsible for myself as a resource and if I think I am taken advantage of, I've every right to remove myself from their lives. I am a privilege, not a right.
Unpacking Emotions
[rebelmouse-image 18361450 is_animated_gif=
dam=1 expand=1]

Emotions make a lot more sense after realising I can be feeling two or more different emotions at the same time. I guess that's what is meant by emotional literacy.
Representing Yourself Well
[rebelmouse-image 18347824 is_animated_gif=
dam=1 expand=1]

It matters what people think.

I used to be 'that guy' who always buried my nose in a book and it earned me a reputation as thinking I'm better than everyone else but now that I've closed that chapter in my life and began interacting with those around me, my life has improved dramatically.

For example, I shoot the sh** with the old-timers at the gym now. They think I'm a good guy and one of them gave me a heads up about a job opening at his company and put in a good word for me. I ended up getting hired. If I didn't care what people thought and indulged my natural, bookish tendencies; I'd be in a dead-end job right now.
Discipline
[rebelmouse-image 18361451 is_animated_gif=
dam=1 expand=1]

If I want to stop unhealthy behaviors (drinking too much, eating junk, being lazy) all I need to do is stop doing it. Simple as that. No mind games. No excuses. Just don't do it. It's not hard. It's discipline.

Idk why that just clicked for me one day.
What It Means To You
[rebelmouse-image 18361452 is_animated_gif=
dam=1 expand=1]

Forgiveness is giving up all hope for a better past.

I had a really hard time forgiving someone, and then it just hit me: "let it go, it doesn't really matter, and it's hurting yourself." During the time I was angry at the person and I couldn't forgive them, I knew the logic behind forgiving someone is that you are forgiving them for your benefit, not for them, but I couldn't let the anger go. I don't know how I was able to finally forgive, there is no secret for that, I guess just time. But when I had that epiphany of just let it go, it changed my life because the anger lifted and I was happier in all aspects in my life. There should be a life hack to get over these emotional obstacles like forgiveness or getting rejected.
Real Motivation
[rebelmouse-image 18346747 is_animated_gif=
dam=1 expand=1]

I was overweight and unhappy with myself and one day it hit me as i asked myself "what am I waiting for, do something about it". This energizing clarity came over me as I realized what the f*** am I waiting for, I'm just going to keep being unhappy. So I started eating right and excersizing. lost 60 lbs.
Moving Up
[rebelmouse-image 18361453 is_animated_gif=
dam=1 expand=1]

The popular kids at school never really put me down. I put myself there. I was so insecure about myself that I just projected my own feelings onto their actions.
Definitions Of Success
[rebelmouse-image 18361454 is_animated_gif=
dam=1 expand=1]

That I don't need more qualifications to be successful, I am already successful, that work is NOT my identity, does not provide me with my self-worth. That I am enough as I am in this moment. That I am smart, capable and that I do not need to follow societies ideals of what a woman is supposed to be. No one tells me what to do, I fit no man's mold. I am who I am. And I am responsible for my own happiness no one else is. I've let go of the past, I've let go of the pressures and I am free.
Growing Up
[rebelmouse-image 18359597 is_animated_gif=
dam=1 expand=1]

This is one that definitely made me less anxious about growing up. When I was younger I was incredibly intimidated about doing "grown up" things like going to the bank, going to the doctor's alone, etc. I just assumed that you had to know exactly where to go, who to talk to and what to do. Well, I realized how ridiculous that was. No one expects someone else to know everything and people who work with the public anticipate that they will be asked questions. All you really need to do to be prepared for accomplishing things in adulthood is be polite, smile and ask somene how to do the thing you're trying to do. If someone ever gives you gruff about it, remember that they are the -sshole, not you.
Maturity
[rebelmouse-image 18361455 is_animated_gif=
dam=1 expand=1]

I was on a date with someone who I'd nervously asked out after we both got killed in a LARP. Toward the end of dinner she says that she's not really interested in dating me but that she thinks we'd be great friends. At that moment, it.... felt like a video game. As if a red orb of angst floated to me and a dialogue box popped up with options and I realized that I had totally the option to accept that this was a bit unfortunate but we could still have a fun time. I chose that and had this "doot-doot-do-do-ding!" Play in my head that I'd leveled-up in terms of emotional maturity. We went to the bookstore and had a great rest of our evening.

We remain friends, though have drifted apart since I moved abroad.
Your Reward
[rebelmouse-image 18361456 is_animated_gif=
dam=1 expand=1]

Do things for their own sake. Don't go to work to make a paycheck. Work to work. Don't love for sex, marriage or kids. Love to love. Clean to clean not to have a clean room. Expectations lead to disappointment. It will still feel wonderful when you get that promotion, get married, have a clean home but when things fall apart (which given enough time everything will) it's okay. Stop being in love and start loving. Stop being musical and play music. It's this mentality that has made me a much better man in so many ways. I'm much stronger and resilient. A good exercise is to make something like a painting or a story, pour your heart out into it and when it's done throw it away. Clean up a street that is not your own. If you can appreciate maintaining, creating, building and destroying itself you have learned to appreciate things as they are. It's so much easier to do things now that there is less fear of failure.