We've all known someone who tends to say mean things or generally be kind of a jerk.
And whether we want to admit to it or not, it can be fun to see that jerk taken down a few notches with a solid insult.
Ready for roasting, Redditor depressed_jellybear asked:
"What's the best insult you've ever heard?"
Not Your Mom
"When I was in high school, one of my classmates gave our teacher a typical 'your mom' response to a question without realizing the teacher's mother had just died."
"Without missing a beat, the teacher said, 'Leave my mother out of this. I don't make fun of your parents, and look what they produced."
- HopeDeferred
Adoption Jokes Not Welcome
"I was playing 'Pavlov' (a virtual reality game) with a group of people, one of which was this very annoying kid who kept saying something like, 'You're bad because you're adopted,' and stuff like that."
"He did that to one dude, and the guy replies something like, 'I'd return the insult, but that'd imply someone wanted you.'"
"Had the whole lobby erupting. I don't know if it's taken from somewhere or what."
- ClaireBear13492
Underestimated by the Teacher
"Teacher of mine once said to a classmate who kept making the most asinine contributions to the conversation:"
"'You make it really difficult to underestimate you.'"
"The guy had no idea what it meant, he thought it was a compliment."
- robbycakes
Jeez, Dad.
"16-year-old me trying to convince my dad to take my friends and I to see 'American Pie':"
"Dad: So what is it about?"
"Me: A group of high school friends trying to lose their virginity."
"Dad: I can stay home and see that."
- Theromented1
Based on Real Life
"I once asked my cousin if he watched the tv show 'Desperate Housewives,' and he said, 'No, I'm married to one."
- InourbwotamI
The Joke Will Go On
"I remember when 'Titanic' came out. My grandma, my mom, and I were getting ready to see it."
"My grandpa said, 'Don't know what the fuss is about. I can tell you what happens, the boat sinks. The end.'"
"Lol (laughing out loud). Maybe it was his delivery, but it cracked me up."
- a7xbarbie
So, Anyway...
"The best one I've heard was, ''I bet your parents change the subject when their friends ask about you.'"
- scottcree486
Seems Pretty Complicated
"I overheard someone tell someone else, They'd need a recipe for making ice cubes."
- thepiecesaremoving
An Insult for an Insult
"You're not the dumbest person I've ever met, but you better hope he doesn't die."
- Trick-Reveal-463
"And I have the best response for that: 'Well then, I will pray for your health.'"
- Maria_506
New Take on the Clown Car
"I saw a bunch of quite pretentious people getting out of a limo at a club and pretending they're more than they are to get in ahead of the line."
"The bouncer quipped, 'I can always tell clowns, all arriving in the same car.'"
- preferablyoutside
Signs of Aging
"Some bouncers are brilliantly witty, I assume it comes with working in a job where you have to deal with drunk a**holes all the time."
"A few years ago, I got IDed to enter a bar. I'd recently started buzzing my hair due to hair loss, yet my photo driving license had me with a thick full head of hair from several years before."
"The bouncer looked at the card, then me, and then said, 'Haven't you forgotten something?'"
"I was confused. He then showed his colleague, who nodded and said, 'Yeah mate, you've definitely forgotten something.'"
"Then he pointed to his head."
- Squeaky_Lobster
Good Luck Getting a Job
"You've got a face for radio, and a voice for writing."
- mike_e_mcgee
Girl Quips
"From 'Golden Girls':"
"Blanche: Now, if you'll excuse me, I'm going to go take a long, hot, steamy bath, with just enough water to barely cover my perky bosoms."
"Sofia: You're only gonna sit in an inch of water?"
- LissaMasterofCoin
Randomness Wins
"Context aside, someone once told me I look like I go to the park to punch birds."
- TheRoamingWeeb
While it can feel terrible to need to be around negative people sometimes, there's hope knowing that there are some things we can say that are funny and that will relatively put them in their place.
Now if only some of us could think of the comeback at the moment when it's useful...
There is so much to learn in the world, it's impossible for one person to know absolutely everything there is to know.
But there are certain things, like common phrases and idioms, that everyone seems to use that might be a little embarrassing to not understand until later in life.
Redditor Curious-2577 asked:
"What's something you learned 'embarrassingly late' in life?"
Addictive Personality
"My sister was in her fifties when she found out the meaning of, 'You have an addictive personality.'"
"She thought after all these years of therapy that it meant that people were addicted to her personality."
"We laughed hysterically when we talked about this (in a very sad way)."
- casper02127
Horse Toes
"I thought that horses had toes until I was 22. I thought the hoof was a 'horseshoe' and the toes were tucked inside."
"How did I learn how wrong I was, you ask?"
"I was walking past a cavalry museum and saw a horse statue and loudly remarked, 'It must hurt so bad when they fold a horse's toes to put them into the shoe!'"
"Dozens of horse enthusiasts turned and looked at me with wild bewilderment in their eyes."
- BronNatsPulisic
Referencing Flowers
"The saying is, in fact, 'Nip it in the bud' and not 'Nip it in the butt.'"
- too_sharp
Pastures New
"A few months ago, two of my colleagues both handed in their notice at around the same time."
"I kept reading/hearing the sentence, 'They're both moving on to pastures new' being thrown about the office in the weeks leading up to them leaving, and I hadn't heard this phrase before and thought that was the name of the rival company that they were going to, like, 'Pastures New.'"
"I thought it was weird that nobody was talking about how they were both leaving for the same company."
"I was in the car with one of the two people who were leaving and said, 'So where is it that you and X are going to be working? Is it...'"
"And just before I could embarrass myself and say 'Pastures New,' they interrupted me and said they're not going to the same place and asked me where I had heard that."
"I think at that moment, I realized I was stupid and didn't mention it again."
- WorriedSoft
Mario Brothers
"I think I was in college when I realized that Mario and Luigi are plumbers. I thought they just went and up down these tubes just because that was the theme of the game."
- dontbemystalker
Bonsai Trees
"That Bonsai are not a species of tree, but a way to grow them. Any tree can be a bonsai."
- ixent
Houston, We Have a Problem
"Houston is not the name of the guy astronauts talk to."
- vienna_versailles
Cowboy Beans
"I learned that pork and beans are not called 'cowboy beans.' I was 18 and asked a grocery store clerk to help me find the 'cowboy beans.'"
"We were looking everywhere and I was getting frustrated because I know that every store carries these beans. After a while, I picked up a pork and beans can with a picture and said, 'See, they look just like this!'"
"He said, 'You mean pork and beans?'"
"Then I realized that my mom called them that so that I would eat them."
"The look of disappointment from that grocery store clerk haunts me to this day."
- whyunoletmepost
The Pulitzer
"Let me tell you about how I thought you were awarded a 'Pullet Surprise.'"
- BendyBrains
Rum and Coke
"Not too late in life, but I thought my parents were making 'Roman Cokes' until I went to college."
"Which, I think is a much better name for the drink (Rum and Coke) anyway."
- Th3seViolentDelights
Oh No, Not Acoma!
"That a coma was 'A' coma. Until I was probably 19 or so, I thought it was 'acoma.'"
"I thought you fell into acoma."
- FightWithBrickWalls
It Must Have Been a One-Way Trip
"My parents were divorced the whole time and my mom was not, in fact, taking a vacation, lmao (laughing my a** off)."
- artemus_who
Multitasking
​"I live near the Hospital for Joint Diseases… when I was a kid, I thought was a special hospital for people who had two or more different diseases at the same time."
- Baffhy_Duck
Ore-Ida Fries
"Moving cross-country, driving east to west, and crossing from Idaho to Oregon, I noticed huge fields with signs for the Ore-Ida Potato company."
"So I was in my early 20s when I figured out Ore-Ida wasn't just a brand name but was because their potatoes came from Oregon and Idaho."
- Deadhawk142
Kid Logic
"When I was really young, my sister told me she threw her guts up. So I was really afraid of vomiting my entire insides up for years."
- Presitigious_Sweet_50
Some of these really had us laughing as we realized the revelations some of these Redditors were having.
But when we're really honest with ourselves, we probably didn't figure out some of these until later, too.
The convenience of flight comes with a few expected inconveniences. First, your seat is never going to feel like it's big enough for you. Second, the person either in front of or behind you is going to put their feet up or lean their seat too far back. And, third, you have to roll the dice with the TSA checkpoints.
They scan you, check your baggage, send you on your way. Installed as a form of protection, they do their jobs before you even arrive at the airport, keeping very obvious weapons and dangerous minded individuals from boarding your flight.
Most of the time.

Reddit user, False_Philosophy_412, asked:
"What's the weirdest reason you were stopped by TSA?"
Most of the time, the agents are doing their best job to figure out what's on your body with a machine that may not be accurate 100% of the time.
It Already Has A Name
"Crotch anomaly".
"I was wearing normal joggers, nothing in my pockets."
"The lady behind me loudly said 'yeah it's called a penis'"- wot_in_ternation
Packing A Different Kind Of Heat
"TSA agent asked to search me with the back of his hand and I said 'okay sure'."

"The back of his hand hit my unit and he said 'what's that?' to which my only response was 'That'd be my penis.'"
"The TSA woman next to him started laughing at him and his face went pale before he said 'you're clear, move along.'"- DarkSlayerKi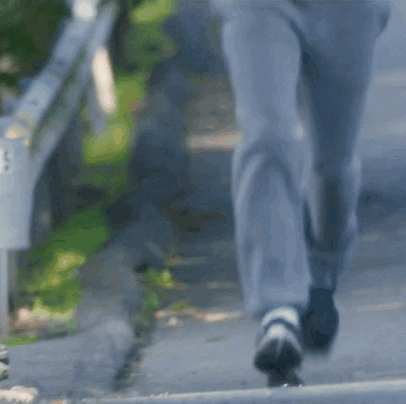 the leftovers no GIF
Giphy
Keyword: "Random"
"I have maintained a decent beard and have a darker skin complexion for a white dude."
"I am 'randomly' selected for a search or shoe swab every single time I fly."= batkevn
You can assume a lot of these are simple misunderstandings, agents doing their best to make sure everyone gets on the plane safely.
Still, it's got to feel bad to open up a loved one's ashes in a public setting.
Mad Respect For Your Wardrobe
"Not in the USA but in France, I got stopped on the way through customs by an agent who said something fast and aggressive-sounding in French."
"My French isn't great, so I just looked puzzled and said I didn't understand."
"The guy quickly beckoned another guy over and explained to him in rapid-fire French what was going on."
"The second guy turned to me and said 'He says your T-shirt is really cool and can you tell him where you got it?'"
" It was a Star Wars T-shirt that I got as a birthday present, so I couldn't even tell him where it came from."
"Luckily, he didn't arrest me."- 99thLuftballon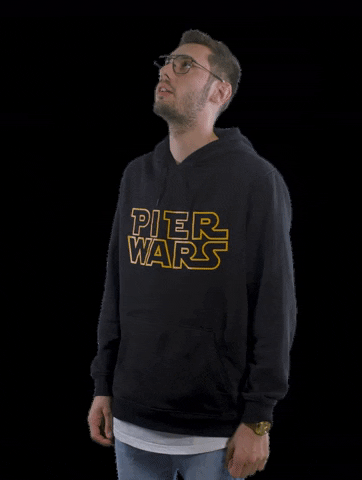 Giphy
Sinister Teddy
"My niece has a teddy bear."
"She has had this teddy bear essentially since she was born."
"The doggo has bitten a hole into its belly, so we sew onto it like a lion head sticker, to keep its guts inside."
"One time we were on holiday visiting family, and she left it there, luckily I was staying a bit longer so I could grab it on my way back."

"An adult man with a teddy bear that had its guts torn open and fixed with a lion bandaid apparently looks pretty suspicious, so they shoved the poor guy into x-ray 3-4 times."
"She is still in ownership of the teddy bear and it is still in decent shape."- Gacsam
It's A Weapon For A Certain Type Of Person...
"I had a nutcracker in my carry-on."
"Like a legit, festive Christmas soldier nutcracker."
"It was a gift for my mom's birthday, she collects them."
"I was only flying in for 2 days for my grandmas funeral so didn't check any luggage."
"They stopped me and questioned me for 30 minutes."
"Kept insinuating I was going to use it as a weapon."= Pamplem0usse__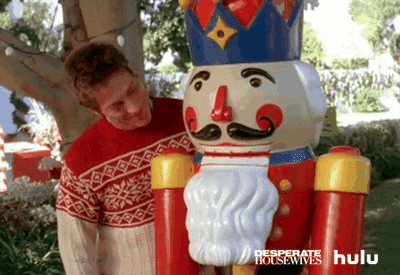 desperate housewives nutcracker GIF by HULU
Giphy
Spider Truck. Spider Truck. Does Whatever A...
"When the Andrew Garfield Spiderman's first came out they did some amazing merch for them."
"My Stepdad is a HUGE Spidey fan, so I picked him up the corniest Spiderman film merch when in the US, one of those being like a whirling cement truck thing?"
"It was a big tonka sized thing and the only bag it would fit in was my carry-on."
"They stopped me and said 'Is that a spiderman toy?' and I took it out and showed them."
"They said it was the best thing they'd seen all day."- CharacterSuccotash5
No Smuggling Of Animals
"Glass jellyfish"
"Like those blown glass ones that are super cool at art galleries."
"I got pulled aside into a small room because they thought I was smuggling sea life. Was an interesting time."- Aelsar
When Things Look Like Other Things
"One time my dad had a few rocks of petrified wood in a bag, and had his phone charger right next to it."
"They almost went DEFCON 1 and did radio people to show up and act if it went down."
"But they opened the bag and saw it was rocks and a charger."
"They told him that it looked absolutely identical to what they had been taught a bomb looked like."- AudiieVerbum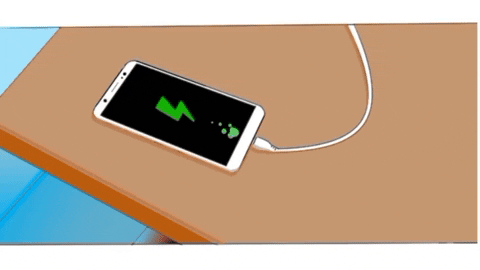 Phone Charging GIF
Giphy
One Last Look For Ol' Mom

"My mom passed away unexpectedly in California."
"I flew out to pick up her ashes and there was a terror alert at LAX."
"It was unreal; the military was in the airport with what looked like machine guns."
"I was out of my mind with grief and drugged to the gills."
"I was dealing with a bad back, and had to fly from California to a small town in Virginia for the memorial service."
"Security was heightened and everyone was being searched."
"I only had a small carry on and my mom's ashes."
"When I got to the TSA, the agent wanted me to open my mother's box of ashes! "
"I refused and insisted they x ray the box instead."
"It showed nothing inside ( duh- ashes) which convinced the TSA agent that it had some sort of cloaking device and was hiding a bomb."
"Again he insisted that I open the box that held my mom's ashes."
"I was beginning to lose my sh-t."
"I called my husband who works in nuclear power and explained what was going on."
"He told me to tell the TSA agent to place a coin under the box and send it through the X-ray again."
"He did and thank goodness he saw the coin."
"Otherwise I would have been arrested for assaulting a stupid TSA agent."- Due_Judgment_9518
Agents Put Up With All Sort Of Sh*t...

"Previous TSA Agent here - not a passenger."
"This happened on like my 2nd day of training in baggage."
"A bag went off & I had to clear it."
"The owner, a gay gentleman, stood directly across from me, glaring thru my soul."
"I opened the bag & the very first thing in it was a plastic 'laundry bag' from a hotel."
"So I squished that bag, as we were supposed to do, and looked over at my trainer with this look on my face."
"He was confused & I just kinda shook my head like 'please don't make me do this'."
"The passenger had a smirk on his face at this point."
"Of course, I HAD to take it out of the bag."
"It was a dildo COVERED IN sh*it & they'd JUST used it before heading to the airport & didn't bother to clean it off!"
"I whipped it out so everyone saw, my trainer was hiding behind the x-ray ROLLING laughing, & I had to swab it to test it for explosives."
"Of course it cleared, so I put it back in the bag & the guy's boyfriend was standing by him at this point."
"Passenger says to me (all pissy) 'Happy now? Did you see what you wanted to?'"
"The bf is also rolling at this point."
"I just put the bag on the floor, scanned it thru the x-ray again & dropped it on the conveyor to go downstairs to cargo."
"My trainer was like OMFGGGGG...I SWEAR that NOTHING like that has ever happened before!"
"Of course the story spread quickly to everyone else & for a while, til people knew me/my name better, I was "THAT girl"- HalloweenFreak260
You Never Know When You'll Have The Craving...

"Not me, but my friend went on a family vacation."
'Her dad's carry on gets flagged and TSA starts freaking out calling back up, and ask him to come over to them."
"As he walks by my friend he just says 'oh no, it's the jerky'."
'This man brought 14 PACKS of jerky in his carry on for each day of the trip and TSA thought it was sticks of dynamite, and then had a good laugh at the suitcase full of beef jerky."- raccoonslikecheese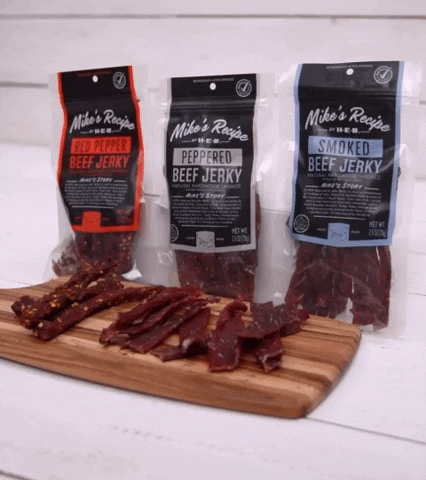 Beef Jerky Texfest GIF by H-E-B
Giphy
Don't Be Fooled By Their Sweetness
"M&M's"
"They thought I was smuggling drugs."- hchristian13
Double Check What Counts As A Liquid...
"Not necessarily weird but Peanut Butter."
"We were going to Disney and we brought groceries to make sandwiches and they took it away."
"I wouldn't have considered peanut butter a liquid but I guess so."- PrincessLuma
Double The Trouble
"I have two stories."
"We were flying to the Caribbean for my aunt's wedding and everyone got through alright except my uncle."
"He kept setting the machine off no matter what he did."
"He had taken out all of the change in his pockets, his belt off, his jewelry etc., and it still went off."
"I want to point out this was not long after 9/11 so security was a bit different to what it was when he last had flown."
"So when the metal handle thingy scanned him and it went off on his hip the TSA asked 'are you made of mental sir?'"
"In a surprised voice then my uncle just responded 'oh sh*t sorry mate, I didn't know it would detect my metal hip joint!'"
"They had a laugh about it to each other and he was let through."
"Second story."
"I was coming back from Germany and the day before somehow I have come down with a severe throat infection."
" I lost my voice and could barely speak."
"The TSA were asking me all these questions and honestly it was pretty awkward because they couldn't hear me despite how hard I tried, they took it well and asked if I was okay."- After-Land1179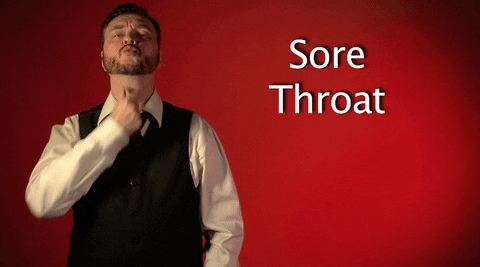 sore throat GIF by Sign with Robert
Giphy
Let's Not Forget, They Do Have A Job To Do...
"I had injured my ankle so had it wrapped in some of that adhesive wrap tape, with a sock and shoe over it."
"Bomb dog alerted on the bandage."
"The TSA agents were extremely nice, got me a chair I could sit in since I was limping and we had a great talk about books while they were doing the routine check of my bags etc."
"They were extremely baffled and couldn't figure out why the dog alerted, so brought it back over to see exactly where it alerted."
"Once they figured it out we all had a good laugh and they made sure I made it safely to my gate."- WanderingWordsmith19
Talk About Bad Hair Day
"My hair."
"Every time I fly out of Logan in Boston."
"They pull me aside and pat down my hair."
"I finally got a black lady that told me that it's the thread in weaves and wigs."
"Sometimes they use something similar to thin monofilament wire."
"It doesn't always show up so they check to make sure it's just a weave that doesn't double as a bomb I guess?"- bballpixie
Ever been stopped by the TSA for something silly? Tell us about it in the comments.

You don't want to think about it, but it haunts you at three in the morning, the way embarrassing, awkward memories often do.
You sit there and you can't stop cringing because dear Lord, it was awful and how in the world did you even survive that moment without immediately dying from embarrassment?!
Well, you did, and it sucks to be you. Just kidding. Hopefully you've learned to be a bit kinder to yourself – and to laugh at yourself, too!
People told us all about the embarrassing moments that they experienced after Redditor No-Bag7478 asked the online community,
"What was the most embarrassing moment of your life?"
"Luckily for me..."
"I have a few but the worst, as I've said on here before, was when a colleague gave me a lift home from work as my wife was busy. When he dropped me off, I went into 'wife dropping me off' default mode, and leaned in for a goodbye kiss. Luckily for me, he wasn't looking and either didn't notice, or had an existential crisis and never mentioned it."
"The walk to my front door was spent bemoaning the fact I had been born."
SoapyRibnaut
I mean... I can't blame you. My face would be red as a beet!
"When I was in the 7th grade..."
"When I was in the 7th grade I got assigned a project with the most popular girl in school. This was my chance to become her best friend. I invited her over to my house and I thought we could chill before jumping into the project."
"I thought the best way to impress her would be to show her the dance I made to a song from the new J.Lo album. She sat on the couch while I performed."
"We did not become best friends."
SahmiSahm
This gave me a good laugh. Don't be too hard on yourself. At that age, kids lack a lot of self awareness.
"I was enlisting in the Navy..."
"I was enlisting in the Navy. I had to go for a drug test. The lady comes in the bathroom with you and watches you pee. I pulled down my pants and I had gotten my period bad; it was all over. I was mortified, I asked the lady if she had a pad or tampon, and she said no. I rolled up some toilet paper and stuck it in my underwear."
"The next thing we had to do was strip down to our bras and underwear (15 females in the room) and do stretches, and bends, and duck walk. I had on bloody underwear with toilet paper stuffed in them. Everyone saw. Everyone thought I was gross. I wanted to die."
lukriel
Why did they think it would be better for you if you just free-bled everywhere?! I am angry on your behalf.
"I asked my cousin..."
"I asked my cousin, who I hadn't seen in two decades, how long he and his girlfriend had been together. He informed me that it was his daughter."
kobblejagar
At that point just never speak to them again.
"I wander in..."
"I was rehired at a job after 6 years and most people still there remembered me and were happy to see me back. Friday rolls around and someone goes "Dave...come by the break room!"
"I wander in and there's this cake at the end of table and everyone is standing there. So I you say "You guys!" and blow out the candle ,not noticing it said Happy Birthday Julie."
The68Guns
Not hard to relight a candle and to be fair, you could always play this off as a joke!
"Some kid and I..."
"Some kid and I agreed to wear tuxedos to the last day of middle school. I was too young/stupid to realize he wasn't serious, so I convinced my mom to front the cost of renting a tuxedo which I spent the next several weeks paying off."
"I won an academic award that year too, so not only did I show up in a tuxedo, I had to go up in front of the whole school in the gym to accept the award."
thisguyhaschickens
I realise it was embarrassing to you at the time but I feel that's pretty cool of you. The other kid should be embarrassed for standing you up. You got an award and accepted it in style.
"The time my high school history teacher..."
"The time my high school history teacher called me and the girl I was dating into her office, asked us about the nature of our relationship, and then told us we were cousins and she was our aunt. And that we should not be dating. We didn't know."
ThadisJones
I think there might be more to this story, no?
"Last week..."
"Last week when I accidentally sent an butt photo to my family's group chat for my grandmother's funeral."
[deleted]
Hey, look on the bright side: You took their minds off their grief!
"Love is bliss."
"During the early days of courting, we had just finished having sex. We were all sweaty and had those post-coital munchies. We went into the kitchen to prepare food."
"Our relationship was at that wonderful moment where everything was still new but we were gaining intimate trust. We had reached that huge milestone of farting in front of each other. We'd grown comfortable doing so and when we entered the kitchen in our sweaty glow I decided to let rip."
"I farted. Quite a small fart but with such pressure (I wanted to make her laugh) that some poop flew out my nekkid butt and landed on the kitchen door."
"I looked at the poo."
"She looked at the poo."
"I closed the kitchen door in her face and grabbed the kitchen roll. Utterly horrified. Hearing her howling with laughter the other side of the door. Me with my shame."
"It's been 20 years and my wife reminds me of that shart almost every month. Love is bliss."
coglanuk
This is gold and I love that you two are still together!
"I pissed myself..."
"I pissed myself during my first grade play."
PlusDay2950
Stage fright, huh? Don't worry, it's quite common.
You live and you learn. As you get older, it becomes much easier to laugh at yourself. If you're not at that stage yet, you'll get there. You'll see that a lot of these moments are much more meaningless as time moves on and you acquire new experiences.
Have some stories of your own? Feel free to tell us more in the comments below!
Want to "know" more?

Sign up for the Knowable newsletter here.
Never miss another big, odd, funny, or heartbreaking moment again.
ZOOM is the new way of communication. This pandemic has forced us to figure out a new world way to communicate. How do we hold court from home? You ZOOM... and oh the things we learn about one another thanks to this new way to "see." We're not always meant to be in one another's homes. Lesson learned.
Redditor
u/lol4r4
waned to know how ZOOM was working our for everybody in these trying times by asking....
Students during the COVID outbreak, what is your most embarrassing Zoom story?
Training....
My friend was the admin on a zoom call. He switched my name to "big booty B." I then joined a work related zoom call, name was still "big booty B" had no idea how to change it so was "big booty B" for the duration of my summer job training that day. WhatIsRedditImConfus
Snuggle....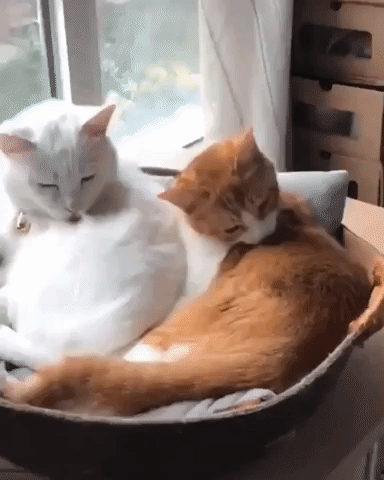 Giphy
I was giving a presentation and my cat jumped up on my lap. He then immediately turned around to show everyone his butt (he wanted snuggles, but you know… that put the other end right into the camera). drownednotgod
Stench...
I set my hair on fire in a Zoom call with all my students present.
I have homework help sessions over Zoom, so I wasn't doing any actual instruction. I was looking out my window to see what my neighbor was doing; there was a lot of yelling going on. Then I realized I smelled something weird.... then I realized I had forgotten to blow out the candle on my windowsill.
Next thing I know I'm sheepishly minus a chunk of hair, and the kids are dying of laughter after figuring out why I shrieked. suboccasumsolis
'get another tug out'
I entered a class and didn't realize that my mic was on. 20 people heard me baby-talking to my cat and I got laughed at.
In one of my friends' lectures, a guy had his camera off but his mic on without realizing, and was talking about how he'd picked that major because it was easy, he didn't know anything, and what he did know he'd learned off TikTok.
In another friend's class, a guy was talking in that chat about how he'd been masturbating and had to 'get another tug out', thinking that he was texting to someone else. The whole university got an email from the Dean about proper conduct after that one. gingerginger27
The Deepest Cut...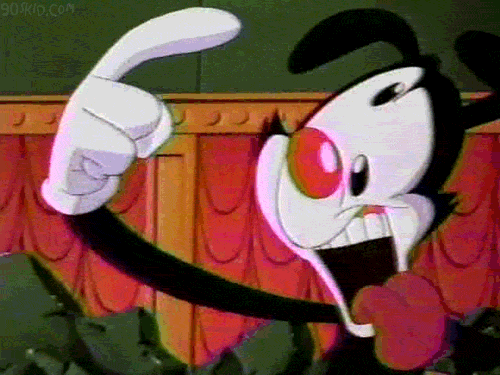 Giphy
My sister has serious anger issues. It is to the point that she was playing Murder Mystery on Roblox and screaming bloody murder when she died. I did not know she was playing and in the middle of me discussing my book my sister screams at the top of her lungs" Oh my god he stabbed me!" It was a really awkward situation to explain. WonkierCracker6
The Jerk. 
Oh, god. I don't know how to feel about this one.
So, my Spanish teacher has a horrible reputation. He's know for being inappropriate towards students, making fun of poor students, and being a jerk. Anyway, I was in class, muted- I thought, and my mom comes into my room and sees my screen, and we jump into a conversation about him.
I was saying how he "seems" nice, but here's all the bad things he did, and my mom was saying how she doesn't really trust him and how she wants me to know that it's never okay for a teacher to hit on a student, and I was like "I knoowwww mommmm". I come back to my screen and there is my class, sitting in silence, just hearing everything. lemon_bby
Oh Mochi....
Thankfully I'm careful about my mic but yesterday I was in a lesson with my math teacher and forgot I wasn't muted I called to my cat (mochi) and the exchange went as follows:
Me: mochiii. Moch moch! C'mere kitty! Proceeds to fall out of chair... damn that hurt
My teacher: holding back laughter did someone just fall out of their chair?
Me: yes that was me... I was trying to get my kitty immediately mutes my mic and sits there silently. Rocket-Tree
The Floof!
My cat walked into my room during my German class. I had forgotten to turn off my mic, and so everyone heard my "who's an adorable floof? You are! Yes, you are!" routine.
...my German prof reminded me it was a German class, and that I needed to baby talk my cat in German. So my cat got to hear that he was, in fact, "eine sehr nette Katze, die beste Katze in der Welt!" el_pobbster
I really like my legs!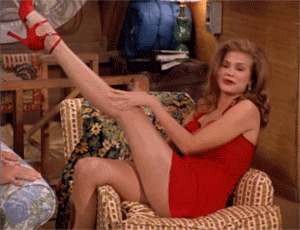 Giphy
I have my laptop hooked up to a monitor at my desk and I leave my laptop under my desk. I didn't realize my dad unplugged my webcam from my laptop to plug in the printer. When I turned my video on for my Poli Sci class everyone got a great view of my legs and fuzzy socks (not nsfw). Thankfully I really like my legs! Lizzybreath
STOP!!!!
My younger siblings were knocking on my window behind me and thinking I was muted I screamed "YO STOP THAT YOU LITTLE FOOLS!!" my entire class found it entertaining that a few minutes later I unmuted to calmly say "excuse me but I'll be right back" with the sound of loud arguing in the background and proceeded to mute and turn off my camera. my teachers want us to keep the cameras on to make sure we are in class and are really strict about it. the argument took me I kid you not the whole class period to detangle. ItSmEmArO
Do you have something to confess to George? Text "Secrets" or "
" to +1 (310) 299-9390 to talk to him about it.