Reddit user b-secret asked: 'what is the most embarrassing thing you have ever Googled?'
I freely admit I'm of a certain age where my primary education occurred before the age of the internet—when our questions were answered with conversations with experts, encyclopedias or knowing how to use card catalogs.
My knowledge of the Dewey Decimal System is largely useless today.
Research is drastically different now—sorry Melvil Dewey. Internet search engines quickly became the difference between occasionally finding an outdated version of the information we were looking for and rarely not finding current information on the most obscure of topics.
Unless your Google game is super weak, you're likely to find what you're looking for or something close to it unlike the good old days when our chances were hit or mis—with lots of misses.
So what do we use this amazing, life-changing tool for?
Well...
Reddit user b-secret asked:
"What is the most embarrassing thing you have ever Googled?"
How Much?
"what's the alcohol percentage in 70% rubbing alcohol?"
~ LightsJusticeZ
"55% alcohol, 15% rubbing"
~ FishOfFishyness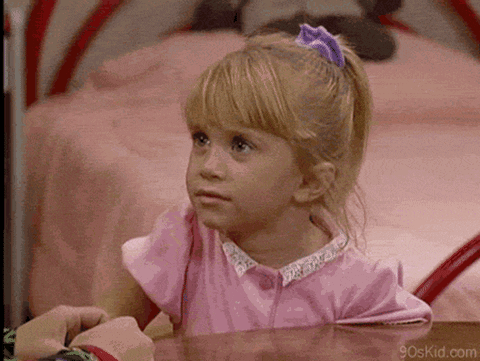 Giphy
Who?
"I Googled my work because I couldn't remember my boss' name after working there for 8 months."
"I just blanked and couldn't think of it."
~ HCxTC
Spellcheck
"I Google how to spell restaurant all the time."
~ ParkOk6450
"I'm like that but with Febuary."
"EDIT: February"
~ NeoNero_x
"I go into incognito mode to check spellings of words I should know how to spell."
~ LordCaptain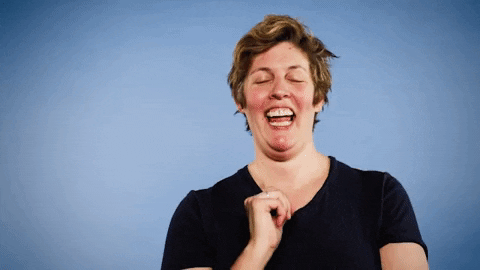 Giphy
Um, No.
"I was trying to find the name of those signs where a word is written down the side and each letter is used for a descriptive word."
"Confusing I know."
"So here's an example: False Evidence Appearing Real"
"I know it has to have a name. So I googled 'Sign where every word starts with a letter' and Goggle responded with 'Did you mean a sentence?'."
~ Team_Lift
Looks Like...
"Googled green beans once, was super high and forgot what they looked like."
~ testies2345
"I did the same thing with beets."
~ Jjetsk1_blows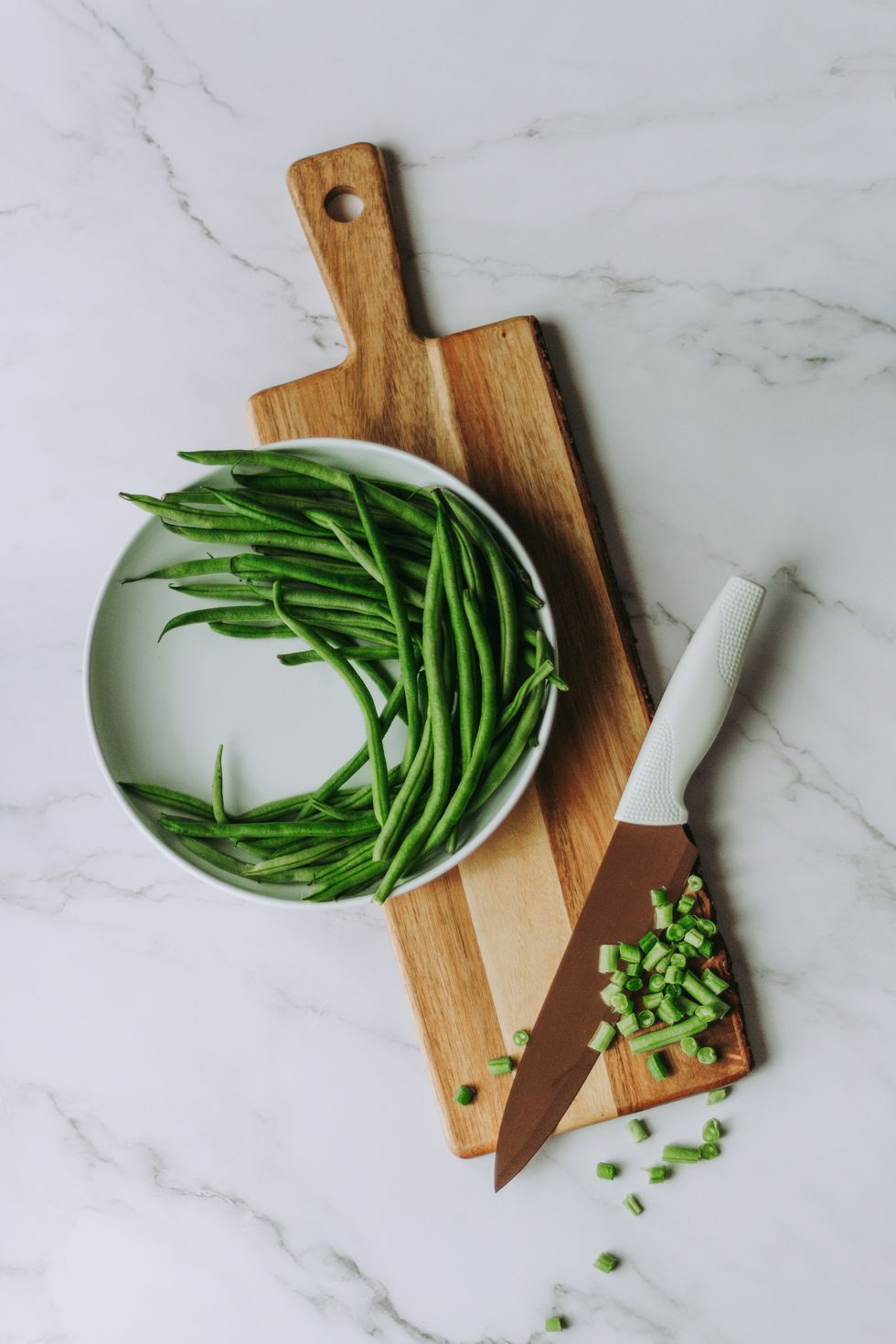 Gaby Yerden on Unsplash
That Movie, With the Guy and the Stuff...
"I'll forget the name of a movie and just type in random sh*t I think I remember. Usually it works."
"Like 'that movie where the kid sleeps and has weird dreams and flies on a bed'."
"Works like a charm."
~ fohsupreme
Did They Have Blue Feet?
"big boobies"
"I was only 10."
"I was surprised to find some."
~ PoopPower99
"I'm 39 and I Google this every day."
~ dekkact
"They're nice birds but are they really worth Googling everyday?"
~ redwolf1219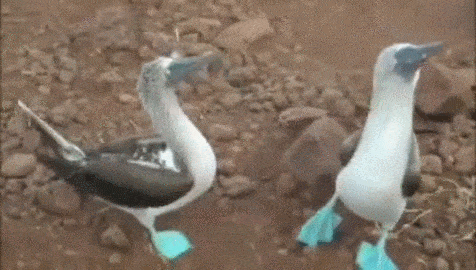 Blue-Footed Boobies
Giphy
Predictive Text
"I used to search something like 'no clothes' or 'without clothes' or something like that when I was a kid."
"Then I learnt the word NAKED because of the TV show Naked and Afraid."
"Then searched it so many times that my autocorrect started to show that word first when I wanted to type something."
~ sniper8207
The Shade...
"I like to Google Bing or Duckduckgo when I need to use them."
~ Reboared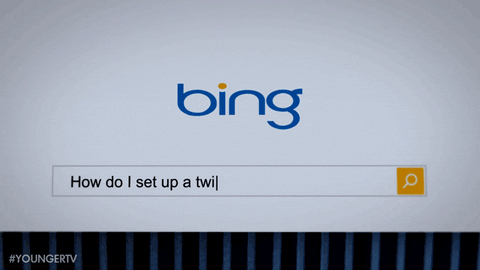 Giphy
NSF...S?
"My favorite band growing up was 'The Barenaked Ladies'."
"When I was at school, I once Googled them and clicked on a link that said 'free shows!'."
~ BW_Bird
Good Description
"I forgot what a 'gondola' was called so I typed in 'Thing that carries you through the mountains in a basket'."
~ TheGreatJaceyGee
"I once forgot the word for 'door' so my brain reached for adjacent concepts, smashed them together and threw them out my mouth: 'house portal'."
~ Tail_Nom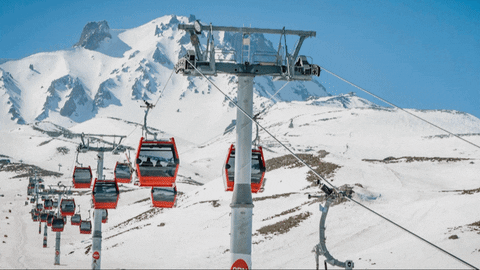 Giphy
It Just Doesn't Translate
"I have to search a random word 'auf Englisch' or a random word 'auf Deutsch'."
"Every damn day."
"It took me a minute to realize that there was no way to translate Schadenfreude into English."
~ grammar_fixer_2
Ah, Memories...
"I found out that as long as you're logged into Google, all your searches are saved to your Google account (I'm not talking about browser history)."
"So I looked back, and the 1st thing I ever googled after getting a Google account was 'Can ducks fly'."
"I've no idea why I googled this. I know ducks can fly."
~ caca__milis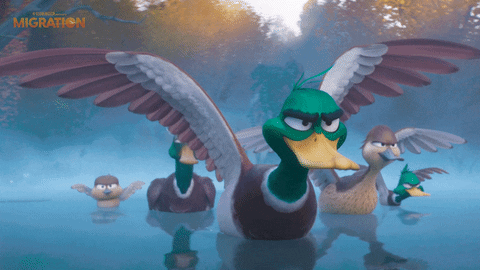 Giphy
You Ate What‽‽
"Once I was with some friends and I was telling them about how when I was a kid we only got to eat nuts as a special treat around Christmas."
"Then I mentioned how much I liked squirrel nuts and no one knew what they were. So I Googled 'squirrel nuts' with image search."
"Not at all what we ate at Christmas time."
"Finally found out what my family called 'squirrel nuts' were actually called hazelnuts."
~ 123fofisix
100% NSFW
"A few years ago my coworker and I were looking at the calendar at work. It had pictures of birds and we were trying to figure out what kind of bird was pictured for that month."
"I can't remember what she thought it was, but I darned sure it was a Great Tit."
"We have a great relationship and have been working together for a long time but we tend to argue like an old married couple. So we went to Mr Google for the answer."
"Let me tell you that Googling Great Tit at work isn't something I will ever do again."
"For the record, I was right. The bird was a Great Tit."
~ pi11bott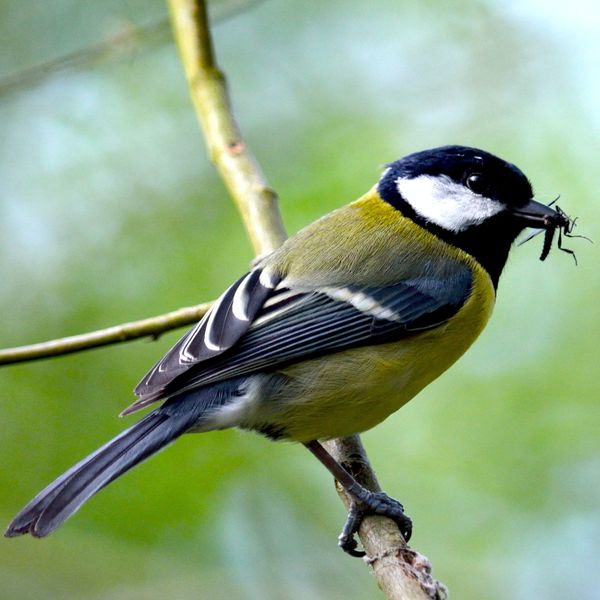 Great Tit holds an insect in its beak
A Perry on Unsplash
Hope some of these folks remembered to clear their browser and search histories.
So, what's your hilarious—or embarrassing—little Google secret search?
Reddit user callmejari asked: 'What's the weirdest compliment you have received?'
Giving compliments is pretty easy, although most of us don't do it often enough.
Accepting compliments can be much harder.
Too many of us immediately shift into disclaimers to explain why we don't deserve the praise.
But we just need to say thank you—even if the compliment is a little odd.
Reddit user callmejari asked:
"What's the weirdest compliment you have received?"
Zzzzz...
"Someone once told me that my voice was so soothing, it could put a crying baby sloth to sleep."
~ Marena-Cris-18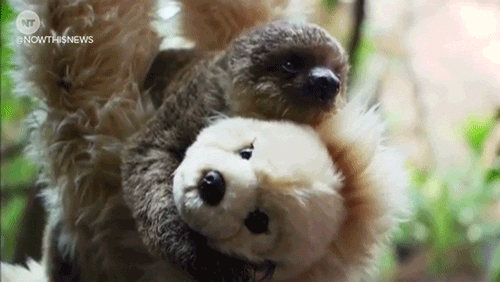 Giphy
What About My Sneeze?
"'Your cough sounds nice' Was just a random girl on the train."
"Still throws me off 2 years later."
~ ThatGothDinosaur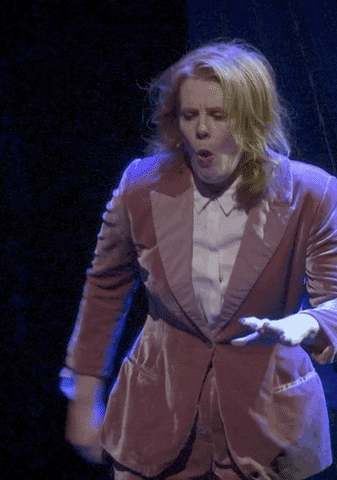 Giphy
Hope It's Not SpongeBob
"A 5-year-old kid told me he liked me because I looked like a cartoon."
~ Sea_Ganache620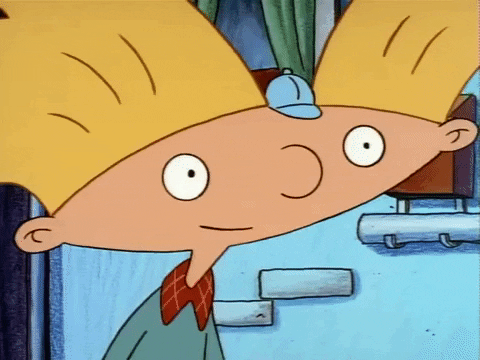 Giphy
Pre Malone
"You look like Post Malone but when he was poor."
~ RandomEldritchHorror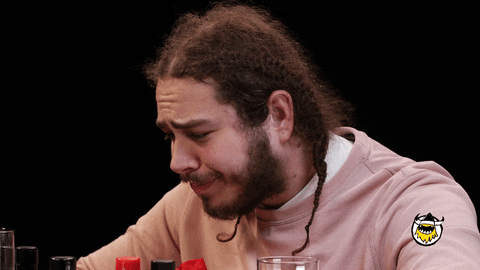 Giphy
The Better To Blow With
"Someone once told me my nostrils were a nice size."
~ Joanie_skye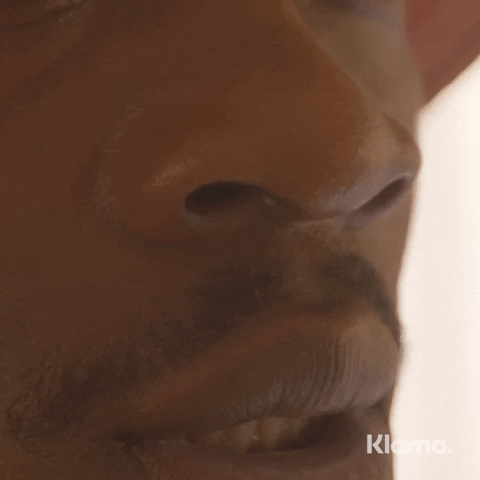 Giphy
Unfulfilled Potential
"I have nice wide birthing hips."
"I'm a guy."
~ kudzufarmer
"You got the foundation for it, you're just missing the plumbing."
~ ARoundForEveryone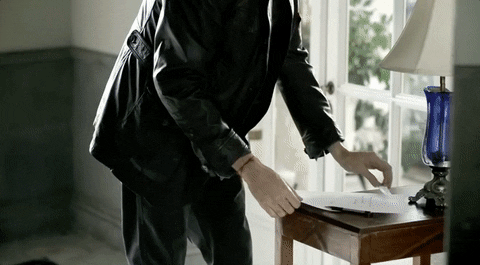 Giphy
Serving Backhand
"'I like you because I'm into unattractive guys'. Thanks?"
~ anx778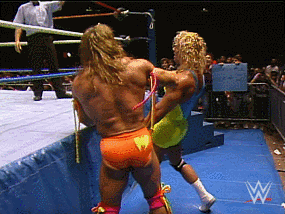 Giphy
Wrong Hemisphere, But Thanks
"When I was 16 working the drive thru—'You're the prettiest Arabic girl I've ever seen'."
"I'm Mexican. But thank you ma'am."
~ 3sp00py5me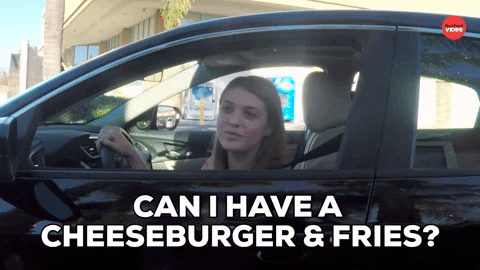 Giphy
Was His Name Vlad?
"'You've got beautiful veins'."
"By the guy that injected my contrast before an MRI."
~ Reblax837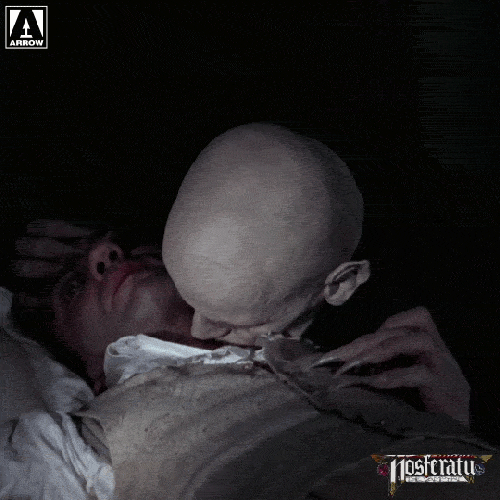 Werner Herzog Halloween GIF by Arrow Video
Giphy
It Keeps My Teeth In Place
"Some random NYC man told me I had a nice chin once. I still think about him."
~ pssht07070707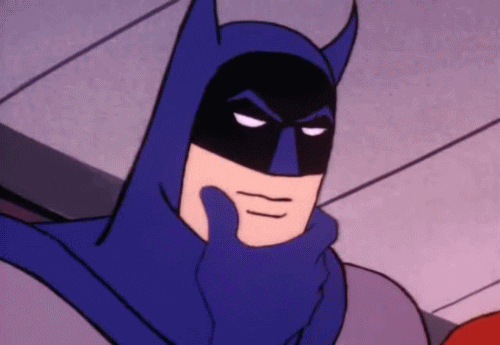 Giphy
Never Skip Leg Day
"I was told by a woman walking behind me on stairs that I had great calves."
"It was kind of weird at the time."
~ Sider-Pride
Not The BBQ Ones
"'I like your ribs'."
"From random girl at a pool party during a music festival."
~ Particular-Natural12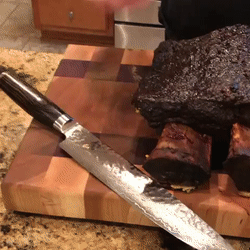 Giphy
Cleaning Up On Aisle 5
"I delivered bread to grocery stores in the 90's and when I decided to change routes, the young lady who had always checked me in told me she'd really miss the sound of my voice."
~ OGGBTFRND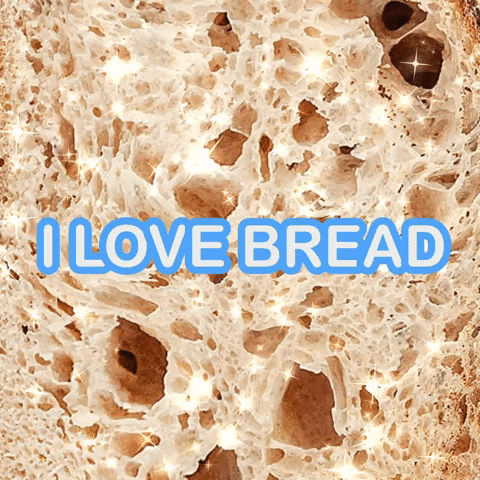 Giphy
Bloody Offal
"One time I was at the doctor for some lower back pain getting an ultra sound and the tech looked me dead in the eye and said 'You have really nice kidneys. They're very plump.'"
"Best strange compliment I ever received."
~ FlashRage
Meow?
"'You walk like a cat'."
~ jackfaire
"'Aww... You sneeze just like a cat!'."
~ LakotaGrl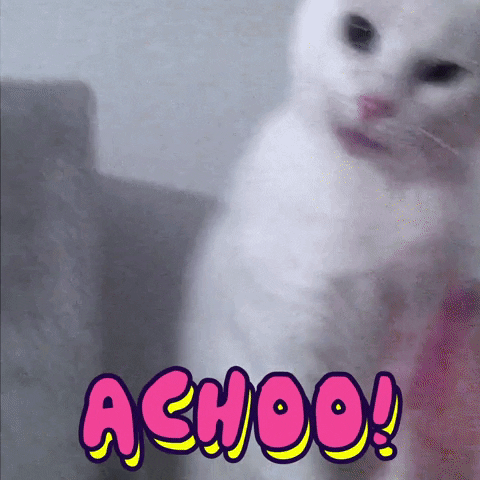 Giphy
A compliment is a compliment, right?
What's the weirdest compliment you've received?
Everyone is a bit leery of hospitals.
Even people who have to work there would rather be somewhere else most of the time.
But sometimes, a trip to the hospital is unavoidable.
More specifically, a trip to the ER.
We humans can really get ourselves into some ridiculous health-related situations.
All you can do is try to laugh about it.
And be grateful you lived so you can tell the silly story.
Redditor lugulaga wanted everyone to fess about the times their ER visits were more embarrassing than painful, so they asked:
"What is the stupidest reason you went to the hospital?"
I do my best to stay away from the ER.
I'll even suffer in silence.
Especially if I'm being an idiot.
Intractable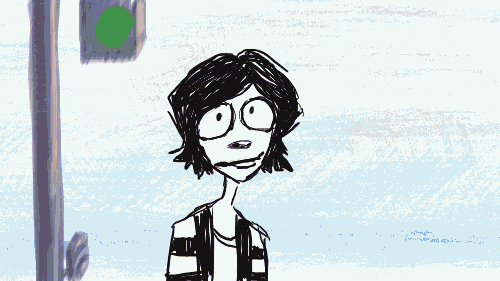 Giphy
"Hiccups that lasted 24 hrs, stopped right when the doctor stepped in the room. Lol."
stargill70
"I've seen this a lot. Had a guy last Monday. 'Intractable hiccups.' Fun note: we use Thorazine to treat it. As in the anti-psychotic."
W6RJC
Down the Hatch
"Not me but I had to pick up a mate who swallowed a 50c piece to win a $2 bet. If you don't know, an Australian 50c is quite large. They had to do an endoscopy to get it out. They let him keep the black corroded coin too."
honest-aussie
"My son did this but with an American 25¢ quarter. He had it in his mouth but inhaled it. It was stuck sideways in his airway so luckily he could breathe. They had to put him under and got it out via endoscopy."
"He spent 9 hours with it in his airway and hardly spoke at all. That is the quietest he has ever been since he learned to speak. He was about 9 when this happened, he is autistic, though very high functioning, and was sensory seeking which is why it was in his mouth."

kaismama
While I Sleep
"A bat landed on my head while I was asleep. Rabies shots all around!"
olda**hit
"Ugh, my child had a 'mystery bite' from daycare that we ignored until it started looking infected. Doctors asking about animals and specifying bats-- reminds me that LAST YEAR the daycare had bats removed that were living in the roof but had no sighting since then."
But I said it. So they had to do the rabies shots, including IGG injected directly into the infected bite... on a 2-year-old. Most traumatizing experience of my life... thank goodness she doesn't remember!"
overweightthrowaway3
A Hard WInd
"My husband went because he was in extreme pain and thought he was having a heart attack. Turns out it was wind. He just needed a good fart."
blueboatsky
"I took my 1-week-old son to urgent care because he had abdominal pain for hours and hours. He cried in the waiting room for a couple more hours, then farted three times and immediately fell asleep."
"They called us in about 10 minutes after that. The doctor said, "As long as you guys are here, let's see how he's doing" and gave him the standard well-baby check. I thought that was nice."
EvadingDoom
Not the Thumb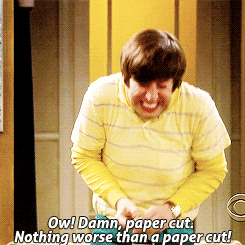 big bang theory paper cut GIF
Giphy
"When I was 8 I was bored so I got a bottle of Gatorade from my pantry and grabbed a kitchen knife then proceeded to stab it over the sink to see how easily the knife would go through the thicker plastic of the bottle… almost lost my thumb."
New_Moon_Lotus
Kids and kitchen knives, a most deadly combination.
Merry Nothing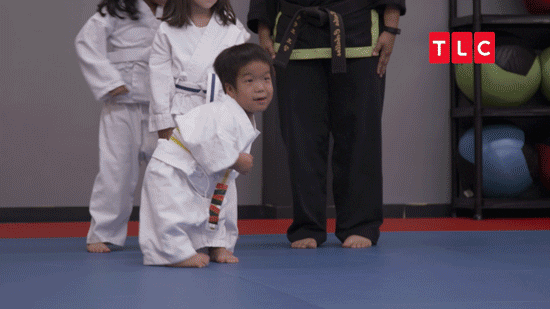 Freak Out Running GIF by TLC
Giphy
"Christmas Day, I dislocated my knee attempting to kick my brother during a sparring match. Needless to say, my martial arts career was over."
IDontThereforeIAmNot
Broken
"I was at a house party, all the bathrooms were full. Went outside, and decided I should crawl under the porch to pee. Everything went well until I tripped on the way out and rolled my ankle. Shrugged it off, limped back upstairs and someone said 'Your ankle is broken.' Sure enough, bone sticking out. DD took me to the hospital and got me ice cream on the way home. I miss you, Kyle. You're the best."
Ubermassive
Knobbed
"Butt cheek injuries caused by a door. I hate touching door knobs with my hands and always use my forearm to rub against the doorknob in a downward motion using friction to turn the knob. Was joking around with my gf saying I can open a door with my buttcheek exactly like how I use my forearm. Jumped at the door butt first and the little metal thing that guides the door cut my buttcheek (I think they call it strike plate or latch strike)."
"The cut wasn't a clean cut because the thing wasn't that sharp. 30+ stitches."
"After that, she had to stand behind me holding a bowl to cover my wound every time I take a shower so it doesn't get wet, and we live in a hot country so she has to do that twice a day for like a month."
Normal-Focus9248
We did Nothing...
"I'm an ER doctor. About once a year I see a very nice young female who comes to the ER with three or four family members because her fingers are blue. They have always googled all sorts of fancy and exotic diseases that they are worried about. 100% of the time the patient has brand-new blue jeans on."
"Without saying a word I just grab an alcohol swab and wipe the blue dye off of their hands, and then I do the same thing to their jeans to show them it's the same color. The collective sigh from the family is always what does it for me. Not surprisingly, half the time the patient doesn't believe me and is angry that 'we did nothing.'"
Dan-z-man
All Sewed Up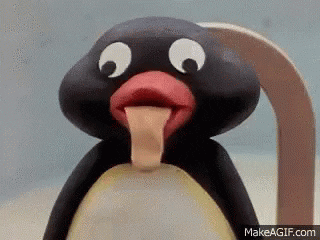 Tongue Out GIF by MOODMAN
Giphy
"When I was about 3, I was running up the stairs in my house and fell. I hit my chin on a step and bit my tongue nearly off. My parents took me to the local hospital where they sewed up the gash in my tongue without anesthetic. I still remember it to this day."
Salty_Fixer
I feel faint after reading all this.
Thank the Lord no one brought up any eye issues.
I'd be on the floor.
We've all made mistakes.
Most of the time, these mistakes don't have major consequences in our lives, such as putting salt in our coffee instead of sugar, or taking a wrong turn and adding a bit more time to our journey.
There are some mistakes we've made in our lives, however, which we spend nearly every night regretting and giving anything to go back in time to change.
Perhaps the most unnerving thing about these mistakes though, is that we didn't even begin to think we were making a mistake at the time.
Redditor was curious to hear the one decision people made they would give anything to go back in time to change, leading them to ask:
"What is the worst mistake of your life?"
A Penny Saved...
"Not putting money away for savings early enough."
"Start early!"
"Make it automatic!!"- NecroJoe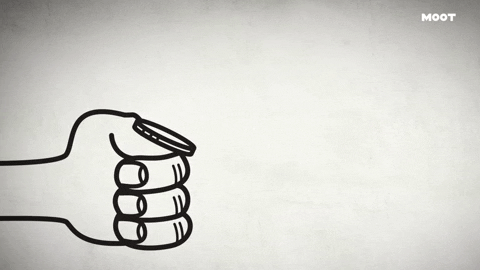 animation saving GIF by MOOT
Giphy
Education Should Be Practical, Not A Bragging Right...

"Working my a** off getting 3 useless degrees."
"I fell into the trap of believing that high grades and multiple degrees = good, stable, high paying jobs."
"Lmao."
"Looking back I can't believe I was so naive."- Kla1996
"Choosing the wrong major in university and now I'm stuck in my career."- AmbitiousPanda9806
"Going to college when I didn't know what I wanted to do. Went because it was 'what we were supposed to do'."
"I went to a magnet high school, so we were never educated about professional certificates or given the tools to start our own business."
"We were just shuffled into college, because we were a 'gifted' school. I even distinctly remember one of our teachers pointing to some of the construction workers out the window and telling us 'that's what happens when you don't go to college'."
"Now I have my degree, way to much f*cking debt and im not even working in the field I got my degree in."
"Thanks brainwashing!"- Quave11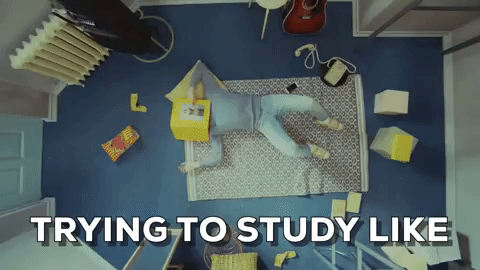 Studying K-Pop GIF
Giphy
There's A Great Big World Out There...
"I have many, but the worst could be isolating myself from the real world to the point I started to experience symptoms of psychosis."- negocpu4·
Not Everyone Is A Team Player
"Trusting a supervisor and believing that people at my job will 'do the right thing'.'- Properclearance
A Decision Never To Be Taken Lightly
"Getting married."
"Or 'marrying the wrong person' would be more accurate, I guess."
"We got married in 2001 and just divorced in April, but I left her (for the last time) in 2015 after getting solid proof that she had been cheating."
"She now has 4 kids by 4 different guys."
"Three of them born while we were together and just 1 is mine."
"Tip of this depressing iceberg, unfortunately."- Parabola1979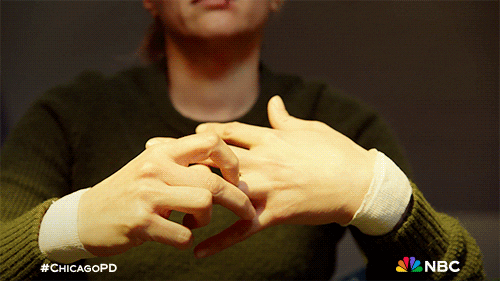 Season 10 Nbc GIF by One Chicago
Giphy
It's Never Too Early...
"Not buying a house when I was 8."
"I'll never recover from this."- DiscombobulatedPay51
You Never Know Who You Can Trust
"Letting my mother have complete control of my finances when I got my first job."
"She stole everything from me."- XxieatoutnunsxX
Ulterior Motives Are Sadly Real...

"Trying to help people that didn't deserve it."- baldeagle1337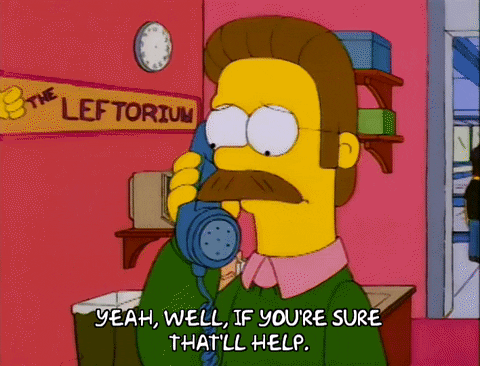 if youre sure that will help season 8 GIF
Giphy
Some Bad Habits Are Hard To Break...
"Smoking my first cigarette."
"No doubt."- sicilian504
When You Know You're in a Bad Situation, GET OUT!
"I thought if I was positive and receptive I would be able to climb and earn like my boss did."
"Wasted 7 years making 8 bucks an hour under a boss who made 108/hr (one hundred eight, no typo) at a grocery store. plus Sunday pay."
"He and I found out together that the union let corporate pull the ladder up behind them a decade before."- VAShumpmaker
Never Take A Good Situation For Granted
"Being mean to my wife and son when I was younger."
"We got married at 18 and I was just immature and was always taking my job home and just getting upset over really nothing."
"We're still married after 32 years and over past several years I have come to realize how lucky I have them in my life and will do anything for them."- VerticalMARS-72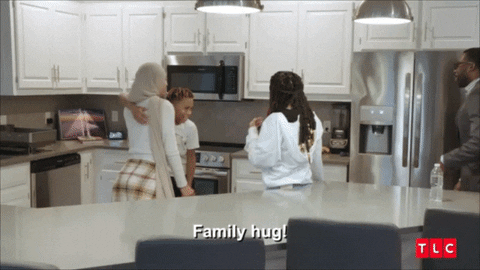 90 Day Fiance Hug GIF by TLC
Giphy
Seeking Help Is Not A Sign Of Weakness

"Years of untreated mental illness."- goodgirlgonebad75
Always Practicality First
"Not paying off my mortgage 17 years ago when I had the money."
"Instead I used it to renovate my house to add two bedrooms and a den."
"At the time I thought it was more important for each of my four kids to have their own room (they were sharing two each before then) and a bigger family room."
"I'm kicking myself because had I used the money to pay off the mortgage instead, I'd have had an extra $3000 a month in my pocket."
"I could have saved up that money and extended my house a few years later."- Keithninety
Sometimes we don't realize we made the wrong decision till it's far too late.
But looking back can't change what can't be undone.
All we can do is look forward, and move on.
There are certain life events that are painfully embarrassing to most people, they might never recover from them.
Although plenty of scenarios can make a person want to crawl into a hole never to see the light of day again, the most mortifying experiences typically involve those of a NSFW nature.

Curious to hear examples of this, Redditor stgunknonw asked:

"What's the most embarrassing NSFW thing that's ever happened to you in public?"
The classic wardrobe malfunction is always embarrassing.
Crowd Surf Fail
"I was at a gig. The band playing was called Decapitated. One guy I met that night decided to crowd surf me. It went wrong. I began to fall. My glasses flew off into the abyss. He grabbed my t-shirt and it tore in 2. Then people tried to catch me by grabbing my jeans. Then fell down along with my underwear to my ankles. I was on the floor. Blind and naked."
– T_raltixx

Airborne Judo Pants
"When I was six years old I was super, super, super skinny. My parents enrolled me in a judo class and after about a month or so of practice, the parents were all invited to a judo competition. Before things started, one of the instructors was demonstrating a basic flipping someone over the back technique. I was chosen to be the one flipped by the instructor. When the instructor demonstrated the flip, my judo pants went flying off into the spectators leaving me laying on the mat in just my tightly whities."
– wyoflyboy68

The Midnight Show
"I was performing in a play, and had a very quick costume change off stage and had like....90 seconds to change these victorian-style dresses."
"So my bestie was also in the show, and he was offstage, waiting with the costume so I could get into the new dress, get it zipped up, and we walk out together."
"This dress was an open and low neckline, and I could not wear a bra with it...so I was basically nude while changing backstage. That part wasn't too bad, and he was the only one who got the full shot he was gay and we'd known each other 20 years, so it was all good in that aspect. The main takeaway with this: NO BRA!"
"However... he had forgotten to completely hook the sides that required being sinched up."
"So we go onstage....do the dinner scene.....everything great."
"The dinner scene ends up turning into a chase scene with all characters at the table running around chasing each other. I slip in front of the table, hitting the stage and sliding on my stomach, facing the audience...."
"And my boobs had both fallen right out."
"In front of the audience."
"It was easier NOT to see my boobs - they came right the hell out - I'm splayed out and before I realize what's happened...I stand up and see 'Oh hey....there's my boobs on the wrong side of my costume."
"My bestie comes over and covers me and we get me fixed fairly quickly, (The fall, my boob show, and the fix probably happened within 20 seconds total - it just felt like hours.)"
"He turns to the audience and says 'Folks, you definitely got your money's worth tonight.'"
– TheseCryptographer95

Free-Ballin'
"Wore a costume to a huge Halloween party one year that included an ill-fitting G-string. At some point, my family jewels slipped out of the pouch, and I was too intoxicated to notice. Spent a good portion of the party walking around cluelessly exposed before someone eventually told me."
– xxplodingboy

These former patients had it rough.
Clueless Orthopedist
"Orthopedist walks into the operating room and takes a look at the screen which shows the patient's right leg with multiple fractures. Seconds later he says out loud: 'How the f'k are we going to fix that?'"
"Everyone in the room falls silent and turns their gaze to the orthopedist and the anesthetiser whispers: 'He's in spinal anaesthesia…'"
"The orthopaedists eyes widen for a moment, he clears his throat and says loudly: 'We'll make a leg out of this yet. Scalpel #10 please.'"
– Kyoshiro80
Painful Flight
"I had plastic surgery for cancer on my face. What I didn't know is they pump you full of gas and that the anaesthetic also hits your system pretty hard. I had to fly home bandaged like the Mummy but the bad part was once the plane was pressurized, I had uncontrollable gas and pain in my face. For 4 hours. I couldn't laugh because it hurt, couldn't cry - same reason. So I wedged myself into the toilet after apologizing to the crew and they kept slipping me ginger ale and holding my hand because it hurt so bad. I sent a letter to the airline with all of their names and told the COB they deserved raises. I hope that the smell wasn't so bad that it was killing people near the toilet."
– EmmelineTx
Sometimes it's hard to keep track of all your computer activity. Perhaps these incidents will prevent embarrassment in the future.
Mind They Google Search
"I saw a bad a** documentary on bears. There was a segment about this black bear that had mange and they were trying to save it. They shaved all its fur off and it looked f'king insane. Looked like a monster tbh. Anyways flash forward to thanksgiving my whole family is sitting around a new projector that we hooked up in the living room sharing funny videos and pictures and having a good ol ha ha time."
"My grandma/grandpa, mom, dad, sisters uncles, everyone is present. I'm like 'hey I got a good one I think you guys will think is interesting!' So on the F'king projector in front of my whole family I type 'Naked Shaved Bears' into the Google search, on an 88' projector. F'king god that day haunts me every time I close my eyes at night."

– FireFromThaumaturgy
Current Activity
"Clicked on a link on a school computer in a full classroom. It lead to a website that played 'IM WATCHING GAY PORN' Full blast out of the speakers with a very NSFW gif, the website was also unclosable."
– prawduhgee

Onboard Entertainment
"When I was 13, I opened my laptop on a Caltrain and other people were around me and my family. As soon as I opened it, the screensaver was an nsfw, pretty tame nsfw pic that I set as a screensaver. I immediatey shut it closed and turned around to see if anyone saw it. An old lady had a mortified look on her face but I turned back around fast. F'k. Repressed memories... thanks a lot OP!!"
– cuntofredemption

What The Customers Saw Inside The Store
"10 years ago I accompanied a friend to a crowded Boots store so he could have a photo of his pet dog printed on to canvas. He had to upload the photo via usb on the store computer… which was surrounded by families. He happily put the usb in… blissfully unaware that instead of being greeted by a picture of his lovable mutt on the oversized monitor, we (and the many people around us) would be greeted by multiple peen pics that he'd neglected to delete. God knows… but I couldn't question him instantly seeing as by the time I'd digested what I'd seen; he'd already pulled the USB and ran from the store at full sprint leaving me with the hordes of stunned grandmothers, disgusted parents, and upset children."
– BarraDoner

Sound Of Pleasure
"Opened up my laptop in the school library to do some homework, turns out I had not closed the porn that I was watching the night before, didnt have headphones in."
– Lau_wings

A "friend" I was roommates with answered the door for the UPS guy to deliver a package.
Little did my friend know he was also delivering the goods but with a peep show.
The opening in his worn-out boxers he happened to be wearing had a tendency of not closing all the way and revealing his member getting some fresh air.
It's no wonder the UPS guy was scrunching his face bizarrely while waiting for a signature. He was trying his darnedest not to laugh out of embarrassment for him. Or maybe he liked what he saw.
Who know? Some surprises do come in small packages.