The truth matters.
Something one would think was a given in modern society.
Yet all over the world, there are people so unbelievably stubborn, that they simply refuse to believe the facts.
Sometimes even when presented with evidence.
This could be for something menial, such as refusing to believe that a cotton candy was actually invented by a dentist.
But sometimes, refusing to believe the truth could have serious consequences, up to and including climate change, the effectiveness of masks, and the disproportionate amount of gun violence in the US.
Redditor Lady_Of_The_Water was curious about the many things, both frivolous and serious, people refused to believe were true, leading them to ask:
"Whats something someone thought you were wrong about and ridiculed you for it, but it turns out you were right?"
What's that smell?
"That there really was a gas leak in the apartment building."
"Thankfully, the fire didn't cause much damage."- yamsnavas2.
There's a reason the bill is so high.
"Our water usage at work went up a lot."
"They checked all the toilets, sinks for leaks, couldn't find anything."
"I mentioned that it seemed to coincide with the new water cooler system installation, maybe that should be checked."
"They basically laughed at me."
"That stupid water system never worked good and the guy came in 3 different times and said it was just the filter."
"Every month it needs changed???"
"Didn't seem right."
"Finally a different technician came in and result was it was never installed correctly."
"I asked, 'could that have anything to do with the increased water usage that started when this got installed?'"
" He smiled 'I wondered if anyone caught that, yes the valve was not correct and water has been running'."
"For 5 months!!"
"If only they had listened."
"Total redemption!"- McTee967.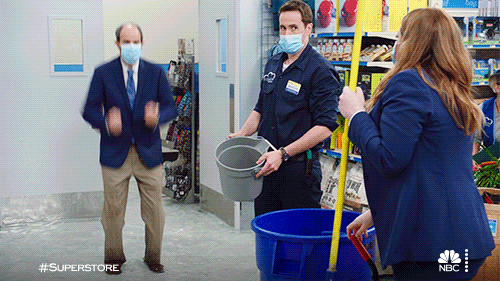 Nbc Jump GIF by Superstore
Giphy
Have you ever looked at a map?

"I had a coworker doubling down repeatedly, claiming that new Zealand is north of Australia."
"I even told her about how I had lived there and she just assumed I was such a huge idiot that I didn't know where on the globe I was living."
"Brought the smartphone out and put an end to that."
"Let me just say, it's ok to not know where all the countries are."
"The problem is if you heavily assert you are right and others are stupid."- PlopPlopPlopsy.
Is it supposed to hurt this much?
"My husband told me that I was a 'baby' about my IUD insertion and insisted that it wasn't painful."
"That my concerns about entrusting a stranger to shove a foreign object into my body were paranoid."
"I listened to him because really, the info you'd find online is overwhelmingly positive."
"Long story short: the provider placed it wrong, didn't check/fix it when I asked her to."
"I spent 4 years in pain that I eventually 'got used to."
"It expelled half way out my cervix, had to get it yanked out at the ER."
"That's when I was told that copper IUDs are notorious for breaking inside the uterus."
"Because it broke inside me."
"The cherry on top?"
"The female gyno with three kids I saw to get the broken piece removed told me that 'cervixes don't really feel pain' and that I didn't really need to remove it."
"Goes without saying, I was in severe pain for 2 weeks straight before this appointment."
"Tons of women came out with their stories about lawsuits over IUDs, how they got pregnant with an IUD."
" Stories similar to mine."
"And how women should really be offered anesthesia or pain pills for this procedure."
"And when my husband was surprised to learn about the pain I endured I reminded him 'You called me a baby and everyone else told me it was all in my head'."
"Which is why I didn't talk about it."- PopK0rnAndMMs.
Seems like you could learn something from me.

"In sixth grade chemistry a teacher asked us what element was a gas that was lighter than air, and extremely flammable/explosive."
"I grew up on science because of what my dad does for a living and Bill Nye."
"I knew about the Hindenburg, and so I was really proud of myself when I raised my hand and said 'Hydrogen'."
"The teacher laughed at me and said that no, it was Helium, and the entire rest of the class proceeded to laugh too."
"Almost three decades later I work in a lab now, and f*ck that teacher I was right."- vanyel_ashke.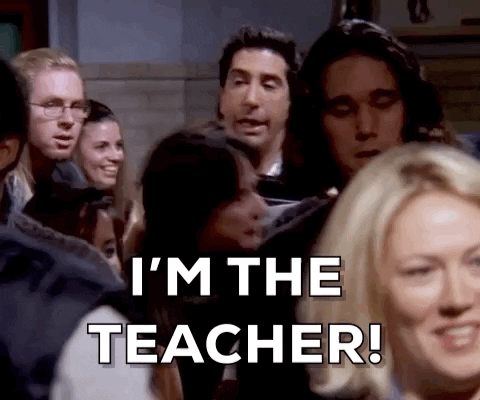 Season 8 Teacher GIF by Friends
Giphy
The dictionary is your friend.
"I have worked as a translator and a proofreader."
"For one of my translations, it went something like 'and he piqued her interest'."
"My proofreader docked me for an inaccuracy and switched it to 'and he peaked her interest'."
"I'm still salty."
"I tried to get the agency I was working for to remove this person as a proofreader since I question his/her command of the English language."
"Had a similar problem with the phrase "lynch pin" used metaphorically."
"I stopped working with that agency because it pissed me off so much being 'corrected' incorrectly."- spot_o_tea.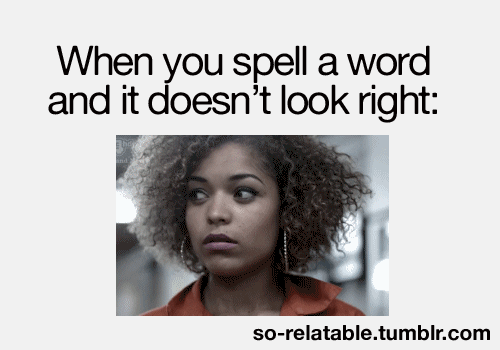 spelling GIF
Giphy
No, that's just an illusion.
"When I told my mom that the clouds were moving and she laughed like I was crazy."-
Did you even read the menu?
"I was in the passenger's seat at a Carl's Jr Drive Thru with a friend."
"He asked what I wanted and I requested the Fried Zucchini."
"He puts half his body through the window to the voice box and goes on this 'My friend here thinks you have some kind of food I know you don't have so I am just going to say it for laughs because you will get a kick out of this'."
"She wants FRIED ZUCCHINI' and starts laughing."
" Well guess who ends up eating fried zucchini."- User Deleted.
And how do you spell that?

"Believe it or not, the pronunciation of my own middle name."- ThePlantie.
We have standards in this community...
"Not me but my Mom tells a story about how she wrote a paper for school about how tough her small town makes it for any new people moving in."
"Basically if you didn't grow up there you were a social outcast for decades and were excluded from a lot of things."
"The teacher didn't agree so she got a bad grade and scoffed at."
"A few years later a news paper reporter essentially wrote the same thing and won a local award for calling out the same small town BS that was going on."- Jberg18.
It's pretty amazing that anyone in this day and age would jump to tell someone they're wrong without having any authority.
Particularly when someone can quickly look up the truth on their phone in less than a minute.
Want to "know" more?
Sign up for the Knowable newsletter here.
Never miss another big, odd, funny, or heartbreaking moment again.
Keep reading...
Show less
What is normal anyway?

We all have behaviors and quirks that some may look at with a furrowed brow, but they just don't get the genius.
And besides, all the other cool kids are doing it.
Aren't they?
Redditor Shlegnog wanted to see who would fess up about some qualities we possess. So they asked:
"What's something that you do that you're pretty sure is normal, but you don't know for sure?"
I talk to myself to go to sleep. It's soothing. Anyone else?
Pockets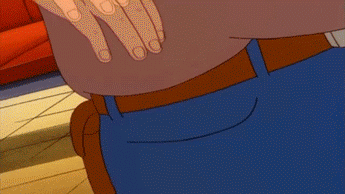 Animated GIF
Giphy
"Putting my hands on my pockets where I keep my phone/wallet when I closely pass by someone, just in case they may be a pickpocket."
TheYeti4815162342
Wiped
"That one dude yesterday and elsewhere on reddit posted that he only wiped once after pooping and was certain that he didn't need more than one wipe to get the job done. I definitely use multiple wipes until the tissue is clean... but now I'm questioning if there are secretly a bunch of (literal) nasty-a** people out there."
SmokeGSU
Keep Dreaming
"I daydream constantly. I'll sit there and be imagining I'm the hero of some story, or I just won a billion dollars and how I'm spending it. I just have an imagination I get lost in when nothing is happening. It's so easy to get lost when you have an extremely vivid imagination. Sometimes I think it's childish, but then I realize it's honestly just a relaxing habit that maybe some adults are too stressed to be able to practice."
__________lIllIl
Mind Reader
"If I'm out in public (grocery store, school pick up line, doc office, etc), I'll have a quick thought of 'I wonder if anyone is reading my mind right now. Quick! Don't think of anything weird!' and then I proceed to automatically start thinking of weird s**t or trying to tell this imaginary mind reader that I'm totally not a weird person or side-eyeing people that I see."
ArtsySAHM
Conversations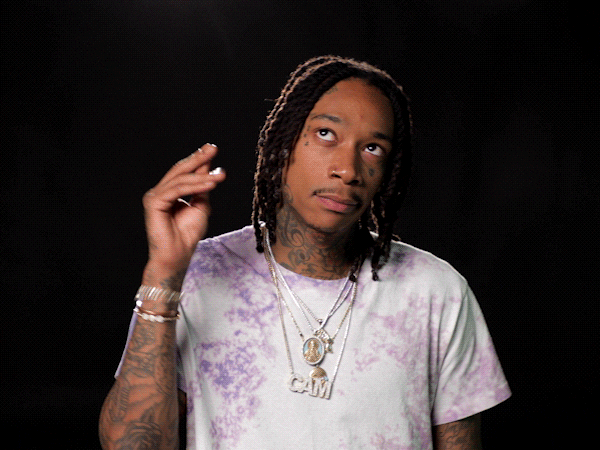 Talking Blah Blah Blah GIF by Wiz Khalifa
Giphy
"Having imaginary conversations with people, that I know will never actually happen in real life."
Bulgasauri
Conversations with others who aren't there. That is a popular one.
LOUDER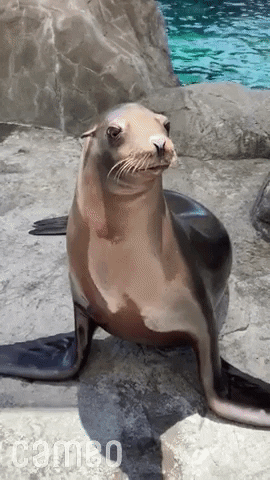 Sea Lion Reaction GIF by Cameo
Giphy
"Whenever I haven't talked to a person for a couple of hours, I just say something out loud to test if my voice still exists."
Flux-bite
Popping In...
"Horrible intrusive thoughts. They pop in without warning, and without trigger. It's usually the standard 'what if I drove off the side of this bridge' or 'I bet it would hurt to stab myself with this thing' but they can even be worse: I was washing dishes yesterday."
"My wife was heading to our bedroom to pick something up. For some reason, I imagined her grabbing my gun and blowing her brains out. It really upset me. I had to pull her aside and give her a big hug, and I explained to her what happened, to where she reminded me 'I can't even load the f**king thing.' Do ya'll do s**t like this?"
GeauxAllDay
Guzzle
"The amount of water I can consume. I know they say you should drink when you are thirsty, but I can be thirsty a lot, especially during warm weather / summer days. I can easily drink 100oz (or about 3L) of water a day."
Jim105
"I drink so much water. I swear it's easily a gallon per day if I have water by me the whole day. It's funny too because everyone in my social circle hates water and almost never drink it and I just don't understand how that's even possible. Water is amazing!"
SimplyComplexd
Creeping in
"Against my will, my mind will imagine horrific scenarios wherein some tragic death scene of a loved one plays out. It used to be my doggies, but now that I'm a mom, I imagine *my* death, because that would be tragic to my kid (and maybe I just can't imagine my own kid's death, thankfully!). It's f**ked up and its gotten better generally, but when I'm stressed out, it'll creep back in."
epigenie_986
Name that Tune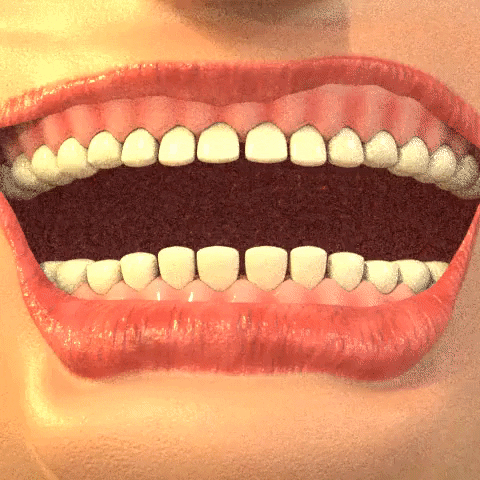 Happy Dance GIF by benjamin lemoine
Giphy
"If I have a song stuck in my head I often click my teeth to the drum beat. When my wife notices me doing it she asks me what the song is."
CornerMoon
Louder!
"When I have a cringe thought or something negative on my mind I'll make some noise out loud to interrupt said thought."
Favnonpornomag
"My therapist actually told me to do this. She said if I have a negative thought (about myself was the issue) she said actually saying no out loud interrupts the thought and keeps you from continuing it. I feel like it really works!!"
crashbanecoot
"I do this. I hate it. I've been caught occasionally and try to weave into a song, as if I just happened to be singing when they strolled by, like that is somehow better."
crescendo83
Add it up...
"When I add 7 + 4, I break up the 4 into 3+1. 7+3 is obviously 10, 10+1=11. There is probably several other examples of math problems I break up in my head to make solving easier."
nivekps2
"This, believe it or not, is actually how common core math is supposed to be taught. Not the whole 'Put these numbers into boxes and break those boxed number up etc...'"
belac4862
"Actually I worked as a math tutor and that is exactly how we taught them that method lmao. like ofc they should break the numbers up into boxes, that's how you learn to see 7+4 as (7+3)+1"
redbottleofpoison
Taps
"Slap my thighs as if they are percussion instruments when I'm bored."
XX_OVERLORD
"I do this with everything. I even change the shape of my hands to make different sounds, so I'll tap my fingers like drumsticks, flat hand for a similar style to you. I'm basically a one man band at this point."
KaleidoscopeInside
"If my keys are not in my pocket, I will sadly slap my empty pocket all day because I'm used to my hi-hat being there lol."
labamaFan
Tongue It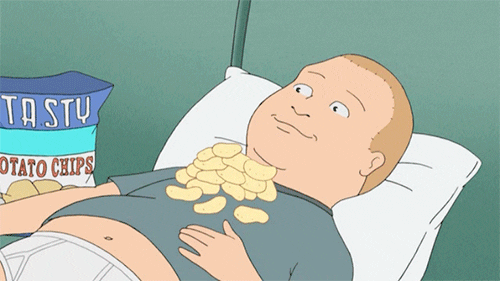 chips GIF
Giphy
"Look at each side of a potato chip/Dorito to determine what side I want to put against my tongue."
Konebred
Where is It?
"Whenever I leave a spot I've been sitting in outside, I make sure to look back and check if I've dropped anything."
consciously_comad
"I look back at the spot where I was sitting, but only to see if I left a butt print. (Not outside though! Inside, like in a waiting room)."
Appropriate_Day_8721
"Always. Picked up the habit after I lost my PE kit 19 times in one term of secondary school. One time the lost and found lady returned my PE kit to me before I'd noticed it was gone."
carmina_morte_carent
Scene to Scene
"Create scenarios in my head of how conversations would go, even though they're likely to NEVER happen."
ManufacturerLess7116
"I seem to pratice potential conversations all the time. Or re-act a scene from a movie in my head. Or Redo a conversation I had earlier with somebody. By the third or fourth time replaying the conversation I sound so much smarter and quick wit. You know what, I going to pretend that's how that conversation really went with my coworker."
CH11DW
"wetting"
"I wet my toothbrush, put on the toothpaste and then wet it again. Always wondered if this was normal but never asked."
tehkitryan
"I used to do this until very recently. I was wondering one day if the second wetting makes any noticeable difference. After a bit of testing, no wetting is very noticeable and not recommended, but I didn't notice any difference between one or two wettings. I now absolutely despise the word 'wetting' as of typing this comment, but I only wet my toothbrush once."
LucidLumi
Clear!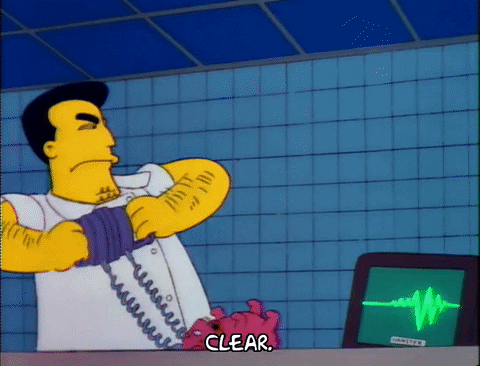 Rubbing Season 3 GIF by The Simpsons
Giphy
"Clearing a notification off my phone as soon as I get it, deleting most of my texts after a few days, and then swiping up on any open pages/apps at the end of the day."
byah1601
Me and Myself
"I talk to myself all the time, will also speak gibberish and make random other sounds. I feel weird about it, but I'm convinced it's way more normal than not. I think maybe I just somewhat subconsciously hate when things are too quiet."
leotonius
"My wife and I do this so definitely not you. Do you also ever feel compelled to mimic a sound after you hear it? It doesn't matter what it is, speech or some random sound, I find myself almost forced to do it especially if it's a unique or standout sound. Most of the time I don't even register the compulsion, I just hear the sound and mimic."
BookooBreadCo
We're all gifted. Feel no shame people. That is all.
Want to "know" more?
Sign up for the Knowable newsletter here.
Never miss another big, odd, funny or heartbreaking moment again.

Keep reading...
Show less
You don't want to think about it, but it haunts you at three in the morning, the way embarrassing, awkward memories often do.
You sit there and you can't stop cringing because dear Lord, it was awful and how in the world did you even survive that moment without immediately dying from embarrassment?!
Well, you did, and it sucks to be you. Just kidding. Hopefully you've learned to be a bit kinder to yourself – and to laugh at yourself, too!
People told us all about the embarrassing moments that they experienced after Redditor No-Bag7478 asked the online community,
"What was the most embarrassing moment of your life?"
"Luckily for me..."
"I have a few but the worst, as I've said on here before, was when a colleague gave me a lift home from work as my wife was busy. When he dropped me off, I went into 'wife dropping me off' default mode, and leaned in for a goodbye kiss. Luckily for me, he wasn't looking and either didn't notice, or had an existential crisis and never mentioned it."
"The walk to my front door was spent bemoaning the fact I had been born."
SoapyRibnaut
I mean... I can't blame you. My face would be red as a beet!
"When I was in the 7th grade..."
"When I was in the 7th grade I got assigned a project with the most popular girl in school. This was my chance to become her best friend. I invited her over to my house and I thought we could chill before jumping into the project."
"I thought the best way to impress her would be to show her the dance I made to a song from the new J.Lo album. She sat on the couch while I performed."
"We did not become best friends."
SahmiSahm
This gave me a good laugh. Don't be too hard on yourself. At that age, kids lack a lot of self awareness.
"I was enlisting in the Navy..."
"I was enlisting in the Navy. I had to go for a drug test. The lady comes in the bathroom with you and watches you pee. I pulled down my pants and I had gotten my period bad; it was all over. I was mortified, I asked the lady if she had a pad or tampon, and she said no. I rolled up some toilet paper and stuck it in my underwear."
"The next thing we had to do was strip down to our bras and underwear (15 females in the room) and do stretches, and bends, and duck walk. I had on bloody underwear with toilet paper stuffed in them. Everyone saw. Everyone thought I was gross. I wanted to die."
lukriel
Why did they think it would be better for you if you just free-bled everywhere?! I am angry on your behalf.
"I asked my cousin..."
"I asked my cousin, who I hadn't seen in two decades, how long he and his girlfriend had been together. He informed me that it was his daughter."
kobblejagar
At that point just never speak to them again.
"I wander in..."
"I was rehired at a job after 6 years and most people still there remembered me and were happy to see me back. Friday rolls around and someone goes "Dave...come by the break room!"
"I wander in and there's this cake at the end of table and everyone is standing there. So I you say "You guys!" and blow out the candle ,not noticing it said Happy Birthday Julie."
The68Guns
Not hard to relight a candle and to be fair, you could always play this off as a joke!
"Some kid and I..."
"Some kid and I agreed to wear tuxedos to the last day of middle school. I was too young/stupid to realize he wasn't serious, so I convinced my mom to front the cost of renting a tuxedo which I spent the next several weeks paying off."
"I won an academic award that year too, so not only did I show up in a tuxedo, I had to go up in front of the whole school in the gym to accept the award."
thisguyhaschickens
I realise it was embarrassing to you at the time but I feel that's pretty cool of you. The other kid should be embarrassed for standing you up. You got an award and accepted it in style.
"The time my high school history teacher..."
"The time my high school history teacher called me and the girl I was dating into her office, asked us about the nature of our relationship, and then told us we were cousins and she was our aunt. And that we should not be dating. We didn't know."
ThadisJones
I think there might be more to this story, no?
"Last week..."
"Last week when I accidentally sent an butt photo to my family's group chat for my grandmother's funeral."
[deleted]
Hey, look on the bright side: You took their minds off their grief!
"Love is bliss."
"During the early days of courting, we had just finished having sex. We were all sweaty and had those post-coital munchies. We went into the kitchen to prepare food."
"Our relationship was at that wonderful moment where everything was still new but we were gaining intimate trust. We had reached that huge milestone of farting in front of each other. We'd grown comfortable doing so and when we entered the kitchen in our sweaty glow I decided to let rip."
"I farted. Quite a small fart but with such pressure (I wanted to make her laugh) that some poop flew out my nekkid butt and landed on the kitchen door."
"I looked at the poo."
"She looked at the poo."
"I closed the kitchen door in her face and grabbed the kitchen roll. Utterly horrified. Hearing her howling with laughter the other side of the door. Me with my shame."
"It's been 20 years and my wife reminds me of that shart almost every month. Love is bliss."
coglanuk
This is gold and I love that you two are still together!
"I pissed myself..."
"I pissed myself during my first grade play."
PlusDay2950
Stage fright, huh? Don't worry, it's quite common.
You live and you learn. As you get older, it becomes much easier to laugh at yourself. If you're not at that stage yet, you'll get there. You'll see that a lot of these moments are much more meaningless as time moves on and you acquire new experiences.
Have some stories of your own? Feel free to tell us more in the comments below!
Want to "know" more?

Sign up for the Knowable newsletter here.
Never miss another big, odd, funny, or heartbreaking moment again.
Keep reading...
Show less
Romance can be such an embarrassing issue.
In the movies it's all flowers and sunshine.
But in real life, people get and give a lot of NOs!
"NO. I'm not into you."
But rejection is a part of the game of love.
And as if that isn't bad enough... can you imagine having to face the person who rejected you repeatedly?
Redditor IneedAnameForReddit8 wanted to hear from everyone out there who has had second encounters with someone who left them hanging. They asked:
"People of Reddit who ran into the girl that rejected you in the past how did it go?"
I can't talk about this, in order to protect the "innocent."
No Interest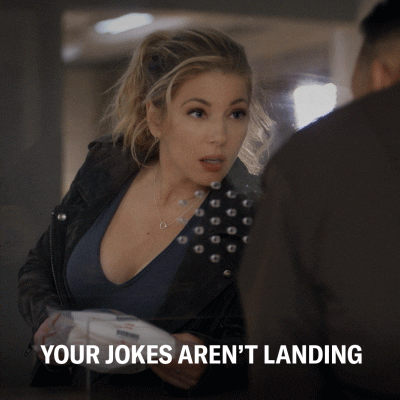 Youre Not Funny GIF by ABC Network
Giphy
"She rejected me again. This time for a home loan."
PlanarVet
Off to College
"Not exactly a rejection, but my after going off to college my then-GF from high school told her ultra-religious mother that we'd been fooling around. Her mother had her break up with me and confess to their entire church what she'd been doing with me. A few years ago I heard from a friend in my hometown and he told me that my ex-GF had never done anything after that."
"She went to college, but it was a local school and she never moved out of her mom's house. She never got a job in her field and still (20 years later) has the same job she had in high school - not just the same employer the same position. She never even dated again after her mom broke us up. It's like she's been stuck in stasis since that time."
USPO-222
"there"
"She was my first love, and she broke my heart. I let it haunt me. About four or five years later, we actually started dating again, just long enough to realize we'd both grown in different directions. There was no 'there' there anymore. All we ever really had was that we were young together. Which was great. But that time was in the past. It was a very therapeutic revelation. Set me free."
jimmyjazz2000
The Tattoo Girl
"I went to a concert to see one of my favorite bands, a girl noticed a tattoo I had on my side and showed me a similar one that she had. We talked a bit in between bands until I asked for her number to try to talk to her some. She said no she wasn't cool with that and I said alright no worries and enjoyed the rest of the concert."
"Few months pass by and the band rolls around again, and there she is again. Didn't try asking again because she already said no once before. We see tattoos hug and how each other are doing and make small conversations. Enjoy the concert and go our separate ways."
"Few months pass by again and the band comes through. See her again except this time we know each other without having to compare tattoos. We enjoy the show and as we're leaving I notice she's basically trapped between two guys. She sees me and yells 'hey I've been looking for you! Ready to head back to the airBnB.' So I said 'I've been trying to find you too. Yeah I'm good to go.'"
"Walked her the few blocks back to where she was staying. We had a nice chat during the walk, and ask if she needs anything before I left since I had a good drive back home. And that was it. We talk at the occasional shows we see each other at and on IG from time to time, but I'm glad she felt comfortable enough knowing that she could trust me to make sure she was safe."
CaptainNinj
Hey Neighbor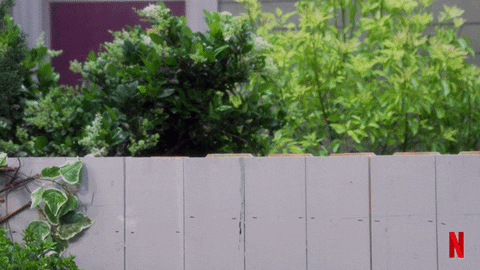 Giphy
"She stood me up on Valentine's Day three years ago. She's now my next door neighbor, talked to her a couple times but we aren't friends or anything."
Zombiejesus8890
Being neighbors? Now that is a special kind of cosmic humor.
Bad Shot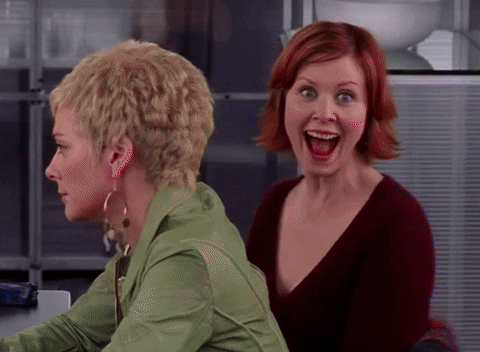 Best Friends Hug GIF by Alex Bedder
Giphy
"I saw a girl from high school at a reunion. She never rejected me because I never had the nerve to ask. At the reunion she confessed that she had a crush on me. You miss all the shots you never take."
AMLRoss
Out of my League...
"We met at a work trip and had great conversations and a connection. When we returned back to our hometown, we went out for some drinks, and she rejected me at the end of the night when I leaned in for a kiss. I thought she was out of my league at that point. We texted for a bit and then went our own ways."
"Little did I know after going our separate ways for two years, I would be tapped at work again for another trip as an emergency replacement. Guess who was running the event? That's right. She was. We reconnected the first day, and then spent the next night together. Two years later, she's my fiancé. You never know where life will take you and what timing might mean."
Savage2929
Christmas...
"I met this woman near Christmas of 1999 or 2000, had a wonderful night of chatting, dancing, just a perfect night. I live near her so I drop her off in the taxi. She said she was leaving shortly for Australia so wasn't looking for anything major, but to give her a call later in the week and we'd go do something. She never responded. It was a wonderful night though, and something I always fondly remembered."
"Fast forward to 2019, I meet this woman on tinder, we have a great brunch and end it with a hug and a kiss. Start seeing each other regularly. After a couple of weeks I drop her off at her mum's house - looks so familiar, it's the same house I dropped that woman off 19 years ago."
"This woman I'm dating is that woman - who doesn't remember it, doesn't remember me at all. Such a wonderful insight into how there's two sides to every tale. We didn't last long as a couple, but it was really interesting to be able to cross off one of those that got away."
ddmf
Bumps
"We bumped into each other buying lawndarts at Walmart. She was pregnant and in Cookie Monster PJs, and I was in what were essentially male booty shorts, as my friends swimtrunks fit too short. We were literally both buying packs of lawndarts. We laughed, but both knew deep down inside that that Walmart run was embarrassing AF."
theglowoflove
All's Good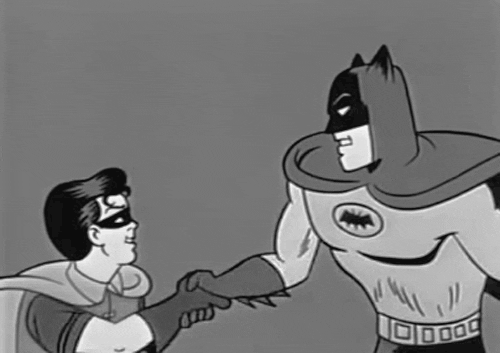 vintage agree GIF by hoppip
Giphy
"We met again after ~6 years and became good friends."
throwawayaj218
Not too bad. Even when it's calm though, that feeling of no never fully goes away.
Want to "know" more?
Sign up for the Knowable newsletter here.

Never miss another big, odd, funny or heartbreaking moment again.
Keep reading...
Show less
It's time to talk truth.
Humans seem to do all we can to avoid that word.
Nobody wants to be embarrassed or feel weird.
But if we don't ask the hard questions to get to the truth (with finesse) we're just running on assumptions.
And assumptions are the enemy, especially in relationships.
But what a world of difference it would be if you just had a respectful conversation about all the things.

Let's try...
Redditor Batman_1267 wanted all of the men out there to share some things they've been dying to talk about, they asked:
"Men of reddit, what's something you've always wanted to ask a woman but thought it would be too embarrassing to ask them?"
I'll go first.
Ladies. Why do you hate heels? Maybe you're not practicing enough.
Now y'all...
Leakage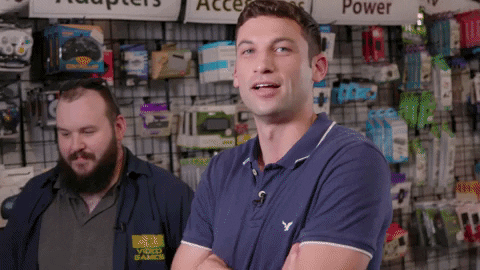 I Get It Wow GIF by Awkward Daytime TV
Giphy
"I always assumed periods were a constant stream of blood (like a cut, as another Redditor put it). Apparently this is wrong, so how does it work? Small gushes?"
billionai1
"Very very very slow leaks… slow on day one, a little heavy on the second and third day, slow to none for the next couple days… varies from person to person."
inmyelement
Roll It
"Do you really like it when men roll up their sleeves?"
Bigbird_Elephant
"Yes. Can't really tell you why. Something about the forearms. It's important to note that it's a phenomenon specific to having long sleeves that are rolled up; a shirt with three quarter sleeves does not produce the same effect. (I think it might be linked to giving the appearance that you're ready to knuckle down and work even though you aren't dressed for it. Idk.)"
LJGHunter
Let's Chat...
"What's the most neutral and comfortable to start a conversation (maybe at a bar), without being too shy or too aggressive/rude?"
firebullmonkey
"For me commenting on what's going on around us. If you've tried the cocktails before and want to share opinions, if there's a game on and I'm looking up at the tv, if there's a couple on a first date nearby, whatever. The really important thing is to get a good read on if the response is polite vs engaged. If I give you a "yeah" with nothing else stop trying lol even if I smiled or whatever."
General_Organa
Basics...
"Other than the obvious (lying, cheating, rude to you or your friends)what's the quickest way for your S.O, or someone you're interested in, to lose your respect?"
DanMittaul
"Lack of general manners or hygiene. Please/thank you/excuse me are important. Regularly bathing, washing your hands, trimming your nails, tidy clothes, etc are important. If you don't invest time and care into these basic things, how am I to know that you will invest time and care into our relationship?"
holy__granola

Smooth...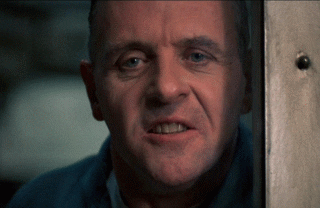 the silence of the lambs hannibal GIF
Giphy
"How do many of you have such nice skin? I want to be silky smooth too."
I_ate_your_skin
"Your username makes this question… concerning."
Doom_Toon
How do you get skin that soft? I've tried the lotions. Not working.
With a Cracker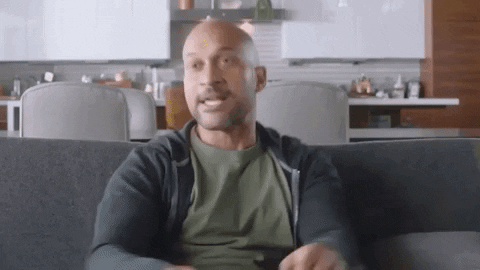 String Cheese Reaction GIF by MOODMAN
Giphy
"Does offering cheese really work?"
Shardnic
papayaseth
The Wife Way
"If you have a wife, there is no question too embarrassing to ask."
high_dosage_of_life
"Before wife-liness, I was a nurse. We got rid of embarrassing questions right off the bat when we were discussing 'experience.' He had none in the physical relationship department, and neither did I, however, I did have to admit that I had probably seen and handled more penises than he ever had... and come to think of it, more vaginas as well, lol."
DishyPanHands
Stay Together
"What's the deal with peeing together?"
beetus_gerulaitis
"Safety in numbers. Also we like to reapply make up or have a little gossip by ourselves, sometimes it just nice to go with someone else and continue whatever conversation you were previously having."
DI93
Be Free
"If bras give support then why does it feel good when you take them off? Would it feel good to never wear a bra?"
TinyThrowy
"Have you ever worn really tight jeans? They hold everything in place but the firm contact all day gets a bit much. Not wearing a bra if you have larger breasts can be pretty uncomfortable."
"It hurts your back (bras help a little by holding everything in centre so your gravity isn't too funky), your breast hurt if you move too much, you get sweat under your boobs where they touch your skin. Not fun for everyone. Also it can be uncomfortable when your nipples rub against your clothes from excess movement."
Extension_Drummer_85
Listen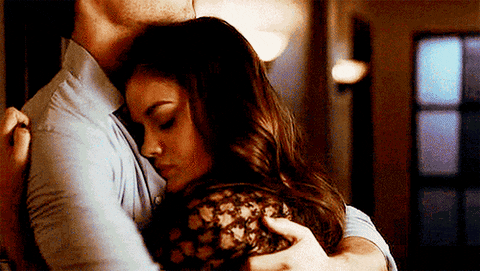 couple hug GIF
Giphy
"When you are really upset, how would you like your partner to respond or comfort you?"
Think8437
"Be empathetic, hold her (if she's comfortable with that), listen, and ask if she wants your advice. If she doesn't, just be a good listener and don't make her feel like she's to blame or that her feelings aren't valid."
MelanisticCrow
Postures
"How do you do the math and physics for when you pee outside? Some of my female friends took postures straight out of a yoga book and never made a mess."
LeMiaow51
"Sometimes I lean back on a rock or stump (almost in a 'crab walk' position) so that I am aimed at the ground and not my feet/pants."
BreWanKenobi
Playtime
"Do women play with their own breasts out it boredom? Like randomly squeeze them."
Regera80
"I do and it actually helped me! I was just laying in bed one day, playing with my boobs and I noticed a lump. Eventually went to the doctor and they were like, 'oh, were you doing a self exam when you found it?' And I had to be like, 'well, no…'"
"I ended up getting a biopsy and it was a fibroadenoma (benign common tumor in younger women) but I basically had to skirt around the fact that I found the lump from feeling my boobs in bed. No one ever asked directly, I just avoided being specific when they asked how I found it."
Apozerycki1
Hairy Situations
"How do you shampoo long hair? I've always had short hair, so lather and rinse is pretty easy, but with long hair I feel like it would get complicated quickly."
TheMathNut
"With shampoo you basically get used to massaging it directly on your scalp and the rest of your hair kinda rinses out along with any dirt as you wash away the shampoo. You focus on your scalp because that's where things get greasy and you don't want the bottoms of your hair to get too dry. This is why you also focus the conditioner towards the ends of your hair."
COVID_KISSES
Obsession...
"What is the obsession with murder? The whole serial killer book/podcast industry seems largely female oriented. Ironically many females I know who love this stuff also hate fake violence in fictional movies?"
Yngstr
"I'm taking notes so I don't make the mistakes they made that got them caught."
"Honestly though, it's a combination of the psychological aspect (why did they do it, what was going on in their head, what made them the way they are) and the forensic/investigation side of things. I also know some women who watch them in part to learn in some way how not to be the victim of crimes likes those featured."
Glowingrose
In the Books
"In a book/piece of writing, what do you think is the best way to describe a woman in a sexual context without being too crude or cliche or getting into the whole 'she breasted boobily down the stairs' thing?
"I'm a writer but I would feel WAY too awkward asking any of my girl friends this 💀 writing women characters isn't hard for me per se, you just give them goals, development and make them add to the story like anybody else. But I'm always second guessing myself when it comes to writing stuff in an intimate context."
AV8ORboi
'hot guy'
"Have heard what not to do on a date mostly but what are the top things a guy can do on a date? Without coming off as awkward or weird?"
UnKoNoWnDuDe
"Your looks will count for a little more in the beginning because I don't know you very well. But if you come across as decent, charming and confident, looks start to fade into the background."
"My husband is never going to win any 'hot guy' awards. He's a bit overweight, going grey, wears glasses and has more hair on his back than on his head. But I immediately fell in love with his personality; he's everything I've ever wanted in a man on the inside, so I honestly don't care what the outside looks like."
LJGHunter
Give it a try!
"How do you all make those little towel hats when you get out of the shower?"
mw407
"Imagine you have your towel across your back, both ends in each hand, flip you hair forward so you're bent over roughly 90°, being the towel forward so it's completely draped over your head until the edge of the towel that was touching your thighs, is now at the base of your hairline on the back of your neck, the towel is now draped over your head, grab the drape and twist it a few times, then toss it back. Give it a try! You don't even need hair to do it!"
78Carnage
Prepared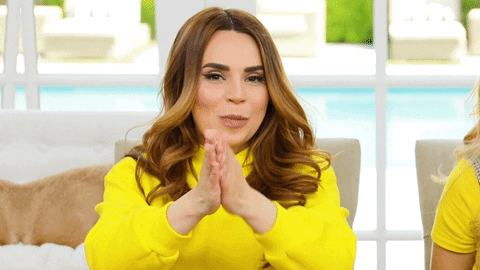 Giphy
"Does it appear weird that I have pads and stuff ready, even though I don't need any? My mother once said that would be very nice when I have people over and periods just happens. I agreed to that thought, so I have some in the bathroom."
FanStrong3311
A Leg Up
"As far as I can tell, leggings are one of the most universal/flexible pieces of clothing a woman can wear and still remain as casual as jeans, but as comfy as pjs. YET you always manage to look hella good regardless of what top you pair with leggings. What the f**k do you wear with leggings/how do you always seem to pair it correctly? (Correctly being it never looks like something you wouldn't pair with it)."
Honorzeal
Listening, empathy and cheese. It's always more simple than we make it.
Want to "know" more?
Sign up for the Knowable newsletter here.

Never miss another big, odd, funny or heartbreaking moment again.
Keep reading...
Show less