Random compliments are a huge mood booster and can make your day, but there are some that truly stand out from the rest and stay with you forever.
One such compliment I received is one I will not soon forget.
I have often gotten compliments on how I look younger than I actually am – no complaints there.
But one individual at work was slackjawed when I revealed to him my age.
He told me I was "well-pickled."
Aww, shucks. I'll take it!

Curious to hear about the comments that stayed with strangers, Redditor wubdubbud asked:

"What is the best compliment someone ever told you?"
All About Looks
Who doesn't like being complimented on their looks? Not these Redditors.
Exceptional Corneas
"I was having an eye test, and I was on a machine that measured the pressure of your eyeballs. Mine came up elevated, so the 70-year-old optician took another reading, and just said, 'miss, you have the thickest corneas I have ever seen.' And for the rest of the appointment, he just kept telling me how great my corneas are."
Love Note
"A random guy at a coffee shop wrote, 'I just wanted you to know, I think you're EXTREMELY CUTE!' on a scrap of paper and dropped it on my table as he walked out."
"It's still taped to my monitor and this happened in 1998."
ETA: pic of note - Note https://imgur.com/gallery/eVjlqyO"
Beyond Expectations
"I thought you'd be taller in real life; you have such a powerful presence online. It's still there...I just thought you'd be taller"
"Idk about best, but it was one of the most unique."
Heartwarming
These compliments are the ones that get you choked up harder than any Hallmark card.
A Child's Approval
"My 6 year old said 'Im proud of you, daddy' one day after a long day of school and work. He had just learned what 'proud' meant and was using it a lot, but this one hit differently."
The Devoted Pet Owner
"'If I were a cat I would want to be your cat.' Spoken by the veterinarian after my little furry guy lost his battle with lymphoma."
"So many people don't visit their sick pets when they have to stay at the vet. I came every day to sit with the cat and pet him and feed him out of my hand. It makes a difference. A lot of animals don't understand they're in pet-hospital. They think they're being abandoned and get really depressed. The extra love didn't save my fur kid but it bought him time and he knew he was loved."
"The vet even made a donation to a veterinary school in my cat's name. (It's rare but it happens). About the sincerest compliment it's possible to pay."
Comforting Companion
"My gf earlier this evening told me 'I feel safe when I' m with you.' As an addict in recovery, that is a huge one to hear. Very humbling. Probably made my whole next week."
Words From A Father
"I'm proud of you."
"---my dad, after I managed to get my bipolar disorder stabilized, built a life for myself, and repaired the fractured relationships with my family members."
"I didn't realize how much I craved his approval until I finally got it."
Appreciation From Unexpected Places
Just because you don't know them doesn't mean they don't deserve to hear your praises.

The Stranger
"Someone once told me, a stranger, that I seemed like a good person. For some reason coming from a stranger it felt really nice."
Happy Car
"When I was in college, I put those silly reindeer antlers on my car at Christmas time."
"One day after class, I got a note on my window saying that they love my car & it cheered them up every time they saw it. I have no idea who left it. I still have it."
"A couple years later, I sanded down my car and covered it in chalkboard paint. I leave out chalk for people to draw. Now I get smiles (and strange looks) all the time!"
Elderly Praise
"An old lady on the bus told me women would only dream of having hair as beautiful as mine. I'm a guy."
You never know if anyone is struggling on any given day, so it's good to know that a simple positive acknowledgment can make a huge difference.
So the next time you're impressed by someone's hair-did or by their accomplishments, let them know.
We could all use an extra ray of sunshine these days.

Keep reading...
Show less
Recently I was shopping in a Walmart and my day had been a cavalcade of suck. I'm still carrying Covid weight, my hair is greying and uncut and before I went to the store I opened a Diet Coke that blew up in my face and stained my new white shirt. So naturally, I went to the liquor store to preserve what was left of the hours before me. I didn't bother to change. Why? Nobody is looking.
While I was in the checkout a woman tapped me on the shoulder and said... "You have beautiful eyes. I noticed them above your mask. I saw you in the aisle and I just wanted to say that." I thanked her and we parted. After I stopped crying in my car while eating a rotisserie chicken and drinking a vodka/diet (in my mother's driveway... not driving) I reflected on that woman's kind words. They were short, simple and her intentions were only good. Yes, she was giving me a superficial boost, but, I needed it. And tomorrow was a better day because of it. Sometimes... a little compliment goes a really long way.
Redditor
u/akar17
wanted to hear about all the ways we can make others smile by asking...
What is the nicest compliment you have ever received?
Crush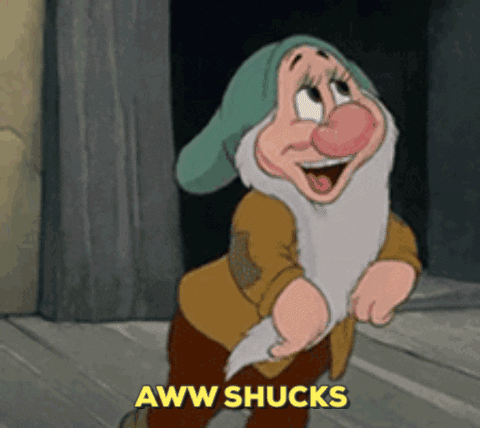 bashful snow white and the seven dwarves GIF
Giphy
A older friend of mine told me his daughter (teen) had a crush on me (not a teen) and said he was glad because that meant she had good taste and would find a good man when she grew up. I still think about it because although I was slightly uncomfortable I knew that must have been even harder for him to say which to me made it that much more meaningful.
fathers & sons
I lost my dad when I was in high school and a friend's mother wrote a condolence card that said "I never knew your dad but I do know the young man that he raised, and because of that I know what an amazing father he was." I got a lot of condolence cards around that time and that is the only one I remember.
Edit: thanks for the kind words, everyone! It was almost 20 years ago so it doesn't hurt quite so much anymore. We will all lose our parents someday unless they lose us first - and those are the real tragedies.
Let's do Trivia....
This was when I might have been 8-9 years old. I used to do well in trivia and quizzing. Not insanely good just good enough for people to notice. In our school sometimes if a teacher was absent a different teacher used to fill in their classes and these periods would be self study or something boring. One of the teachers who knew about me used to call me to the front of the class and frequently asked me to be the quizmaster and organize a mini trivia contest as an activity for that period.
I usually had some references books from where I used to source the questions.
One day she asked me to host the trivia competition for my classmates but I told her that I didn't have the book with me that day. In reply she told me that I should be fine because at that point I would know more than that silly trivia book anyway.
The confidence boost that one single line of random praise that I got that day still helps me tackle life's problems one at a time. I can essentially trace my confidence in my abilities to that one sentence uttered by my teacher. I'm eternally thankful to her words from that day.
Ride or Die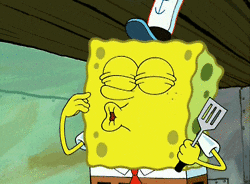 Kisses GIF by SpongeBob SquarePants
Giphy
Actually, I have two that are dear to me. The first was from a friend who had died way too young who told me that when he writes the book of his life, I would have my own chapter. The next was from a coworker who was ex-army that told me he would follow me into battle.
"you're so pretty!!" 
7 years ago I was heading into the office to a job I hated, and stopped at McDonald's on the way.
I pulled up to the first window to pay, and after the young kid gave me my card back, before he closed the window, he said "you're so pretty!!" with a high voice and so much energy, and closed the window with a huge smile on his face.
That was when I was at my heaviest, nearing 300lbs and at one of the worst stages of my life physically, mentally, and emotionally.
I bawled my eyes out the entire ride to work after that. I'll never forget him and how he made me feel.
I Miss You
Probably not the nicest but one of the most memorable. I used to work as a runner for a delivery company (someone who helps drivers deliver stuff buy doesn't actually drive). If I was ever working with drivers I disliked, I would intentionally talk to them less and try unload the truck a lot faster than normal. If I liked the driver, we would go slower and have a lot more banter.
On my last day a driver I disliked came up to me in front of the boss and said "She's really fast and efficient, I'm going to miss working with her."
This made me realise that I spent way too much time getting frustrated at people who genuinely appreciated my help.
Silent Clap
I am very patient and usually overly-optimistic. I tend to think the best of others and the worst of myself.
In a morning status call recently, a coworker announced that she was "going to try to be more bubbly and patient, like me. A couple of coworkers agreed that they'd try and do the same and that everyone should try and emulate me a little bit. Typing this out, it sounds like some crap you'd see on r/thathappened, but it actually did happen, nobody clapped. I wish I had been recording the call. It was a huge boost to my mood and self-esteem and honestly one of the best (if not THE best) compliments I've ever received.
You Soothe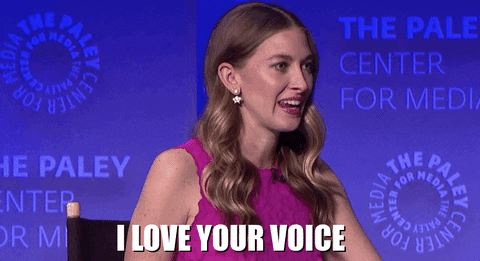 Giphy
One time when I was talking with a girl that I liked, she told me I have a soothing voice. I normally have trouble accepting compliments and actually believing them about myself, but that one kind of stuck with me.
Hair Bounce
Nicest compliment came from a little girl. She told me I had pretty hair, which is not anything special. But about 10 years on and I still remember this little girl I didn't know having the confidence to give a stranger a compliment. I dunno, it's stuck with me because SHE was so sweet.
Healthy Mind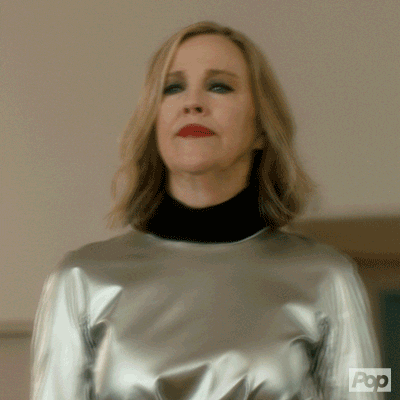 Pop Tv Thank You GIF by Schitt's Creek
Giphy
That I was the most emotionally intelligent person they know. (By two different people on two separate occasions) I hold this closely to my heart.
Want to "know" more? Never miss another big, odd, funny, or heartbreaking moment again. Sign up for the Knowable newsletter here.

Keep reading...
Show less
Secondhand embarrassment is like siphoning gas from one car to the next. Except instead of gas it's cold sweats and red blushing cheeks, and instead of a car it's your central nervous system.
Also, you want no part of it.
But it happens. Someone in your field of vision--or, even worse, someone you're interacting with directly--is so supremely awkward that you lose control of your own body so that all 206 of your bones can dedicate themselves to cringing.
It happens in a variety of places, for a variety of reasons, and lasts for anywhere from mere seconds to excruciating minutes that feel eternal.
TeachMeTheWayz asked, "What's the story behind a time when you felt secondhand embarrassment?"
Want to "know" more? Never miss another big, odd, funny, or heartbreaking moment again. Sign up for the Knowable newsletter here.
Keep reading...
Show less
Over the past few years, but especially the past few months the video parade of Karens has been non-stop. The phrase-which is now an infamous part of our lexicon-labels a person due to their hideous public behavior. Too many moms (and dads) seem to believe the world is beholden to them and they let the world know it with each breath they take. These people seem to have no shame with such actions, but the people who know them and have to claim them as a loved are embarrassed and cloaked in shame. Children of these people are especially affected.
Redditor
u/Matster04
wanted the children of "Karens" to share how they tend to the day to days with their moms by asking....
Children of "karens", what is it like to be their child?
Want to "know" more? Never miss another big, odd, funny, or heartbreaking moment again. Sign up for the Knowable newsletter here.

Keep reading...
Show less
Sitting on your porcelain throne is a sacred moment, and there's a reason why bathrooms have a lock on the door.
In one specific case, the lock served no purpose and it had nothing to do with preventing someone from accidentally opening the portal to a world of embarrassment.
After getting caught with his pants (and underwear) down as a result of an intruder, a shell-shocked Reddit user survived to tell his story on the TIFU (Today I F****d Up) thread – a community in which people share stories about "moments where we do something ridiculously stupid."

He was trying to get out of the bathroom before flushing and you would have too.

Let Redditor "jellyjack" set the scene.

"This happened on Friday, and I'm just now able to relive it without experiencing Tourette-like outbursts of random noises and profanity from my extreme discomfort from the embarrassment."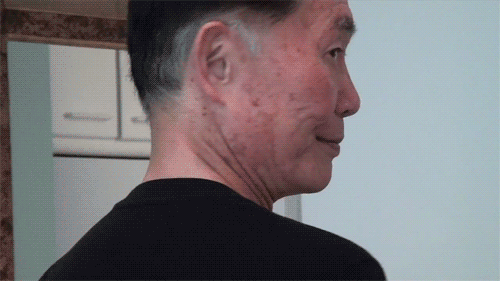 Giphy
Meet Jen, the neighbor whom the protagonist barely knows.

"I'm sitting on the toilet in the downstairs bathroom (which is right by the front door of our house), I have the door mostly closed, but it's not latched. Doorbell rings, my wife answers it, it's her friend Jen."
"Jen comes in the house. I should mention that Jen is a friend/neighbor we've known for just under a year and I don't really know her that well, which, for me, makes this worse."
Meet the third character in the hair-raising one-act making a grand entrance.

"I'm just finishing up, getting ready to wipe. I pull on the first piece of toilet paper, and as the toilet paper unrolls this big, and very fast spider comes running from behind the roll, brushing against my hand."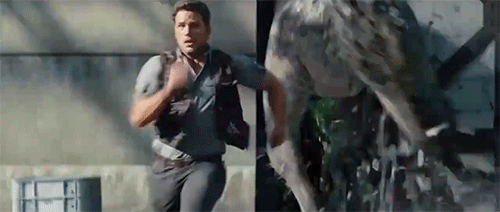 Giphy
The encounter alone is traumatizing at such a vulnerable moment, but it didn't end there.

"Instinctively, I jump up and away from this spider, as I do this, the door to the bathroom opens, there's Jen, we both scream, me because my fight or flight (in this case flight) response automatically kicks in from my lizard brain thinking I'm getting attacked by this spider, and Jen seeing her friend's husband with his pants and underwear down between his legs leaping toward her screaming."
It seems the accidental flasher gave new meaning to the word "streaker."

Life resumed once the dust settled, but he's still losing sleep over the boo! during his number two.

"A lot of apologies and light uncomfortable laughter afterwards, and I haven't slept well since."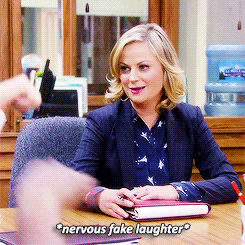 Giphy
While many sympathized over the arachnid's visit, one user was more concerned over one thing in particular.
"Oh man, that's a tough one to recover from. Was it at its smallest?" – jayeffoh
"Oh yeah, plus it was cold in the morning. You're making me shudder again with the memory." – jellyjack
Umm, we would rather not think about this detail, but there you go.
"Is nobody going to mention that all this occurred while you were still unwiped?" – Nougat
"Sadly (or weirdly) that's all I could imagine is just that feeling of being unwiped ugh. Though I'm also deathly afraid of spiders so that, the spider, the stranger, and my self-consciousness about my body...boy it'd be a real battle of emotions." – ColoneISanders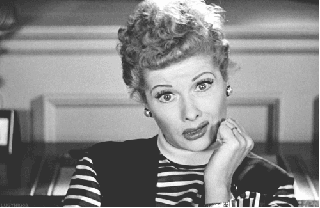 Giphy
Are you aware of this established rule?

"For future reference, restrooms that are the main floor of the house especially near the front door (my house also has a half bath next to the front door) should be used for #1's only. All #2's should be done in a more private bathroom." – Av3ng3d0wnt
"I've always been a bathroom door locker. What's with the door open poops?" – PigeonFace
"When it's just me and my wife, neither one of us locks the door, been like that since our college days." – jellyjack

"If you ever are home alone try pooping with the bathroom door all the way open. It's a glorious feeling for some reason." – BringBackOldReddif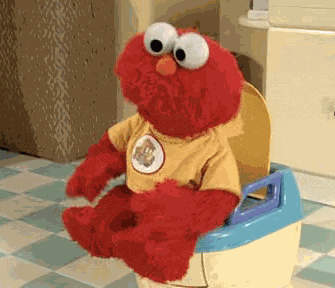 Giphy
So what prompted Jen to be at the wrong place at the wrong time?

"Why was she coming into the bathroom? Because of your scream?" – Merbel
"I didn't ask, but I'm assuming she was coming in to use the bathroom or wash her hands or something. Her or my wife didn't know I was in there. After the incident, she didn't end up using the bathroom." – jellyjack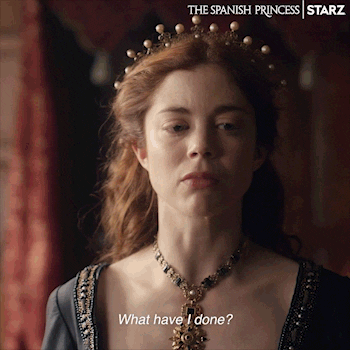 Giphy
So what happened to the spider?
"Did you neutralize the threat though?" – Mash_Ketchum
"I couldn't find it afterwards. Fell in my magazine basket, then after I finished up, I couldn't find it again." – jellyjack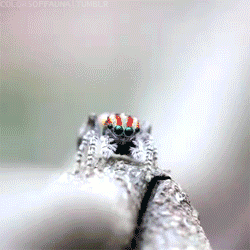 Giphy
One takeaway from the spider caper is:
"Stories like this are why I close and latch the bathroom door even when home alone." – ShinePDX
They say the spider is usually the one that is scared in these encounters, but the character more likely to be scarred for life in this scenario is a tossup.

If you want to play a little prank on your significant other, you can get 100 pack of fake spiders here. Who knows what will happen if you scatter them around the house?
Keep reading...
Show less