While dating is fun, trying to make a positive impression on the other person of romantic interest can be very stressful.
Regarding heterosexual males, they can sometimes try too hard when setting their sights on the endgame–which is making a woman fall in love with them in the hopes of marriage.
The guys who have wound up with their sweethearts may be the lucky ones, but it doesn't mean they narrowly avoided some missteps along the way.

Curious to hear from married guys online, Redditor TheTinRam asked:

"Married men of reddit: what was that dumb thing you did during your dating phase that you can't believe your wife ended up overlooking?"
Nervousness leads to really awkward moments.
The Switcheroo
"I get very nervous around women that are into me and especially when I know she's watching me do something. Even something trivial."
"On an early date, we went to the local shop to pick up some things for a picnic, including some gum. I was thinking really hard and aware that I was being watched."
"I had this. Money on the counter, gum in your mouth. Money on the counter, gum in your mouth. Easy."
"Suffice to say when I put the gum on the counter and the €2 coin in my mouth, the cashier was baffled and my girlfriend (now wife) was crying with laughter."
– mehfesto
The Recommendation
"Turned her down when she suggested we go on a date. Read as: I'm super awkward"
"I was working for Starbucks, she was a regular customer. I was new in town and noticed her a couple times, she was a regular customer and we got to some small talk, chatting about places to eat. She said there's an amazing taco place down the road, we should go sometime. I misheard her, thinking she said 'you should go sometime.' I replied with 'I'll definitely check it out!' I handed her a drink and she left very awkwardly."
"She was back in the next day and, against all odds, I was able to clear up the misunderstanding and I wrote my number on her Starbucks cup."
"We went to that taco place for our first date and she was right, it was amazing."
"3 years married and 2 kids later... Really glad she saw through my awkwardness."
– MadHarryRackham

Drawing A Blank
"I forgot her name once when introducing her to a friend. This was maybe a month into our relationship. I was all like, 'hey and by the way this is.... uhhh.... my girlfriend.' "
– anon

People can survive minor accidents and still manage to love.
A Stab At Romance
"Not my story, but my parents: Some backstory - My dad has a brother who's only a couple years older. Growing up, they'd commonly try to steal food off each other's plates just to be a**holes to each other. This was remedied by plate guarding and defensive maneuvers with utensils if hands got too close."
"On my parent's first date, my mom reached for something to try off my dad's plate and he instinctively stabbed her hand with his fork - drew blood and everything. He was obviously mortified Glad my mom was crazy enough to keep dating, marry, and procreate with the fork stabber."
– mollyjean-

Broken Device
"On our second date, I arrived 1h late. When I went to greet her with a little hug (yep, that's how we greet people around here) I accidentally knocked her phone off her hand. It hit the ground and cracked the screen, but I wasn't sure if it was already cracked. I apologized, she said it was ok and that the screen was already like that before."
"Almost a year later she confessed that I actually broke her phone that day. She had just gotten it from her mom (all phones she ever had were second hand, very simple ones) and she couldn't afford a new one at the time, but still she lied and kept using the broken phone so I wouldn't feel bad. My heart sank."
"We've been married for two years now and I've given her a brand new flagship phone every year ever since."
– kohdgen

Bad dates didn't necessarily extinguish the flame of love.
"Wife was a devout animal lover and activist. Planned proposal at a fancy Tokyo restaurant that only takes 3 tables a night and has 11 courses, which was filled with all sorts of innovative things so you're never quite sure what's coming next."
"In between one of the courses the chef brings out a cute little glass bowl for us to play with some squid. The chef informs us these are firefly squid that's local to the bay. My wife is delighted and practically named them."
"Two courses later they reappeared... as entrees, floating on a glass plate lit up from below and arranged to look like they're swimming."
"She still said yes but have never let me forgot that I took her on literally the worst dining experience she had, and I had paid the most ever for."
– wooshoofoo
Devoted Fan
"Played Weird Al CDs non-stop for a 6-hour car trip to the beach."
"She didn't ditch me but haven't been allowed to play Weird Al in her presence for the past 24 years. Got tickets to see him this year on our anniversary and knew better than to ask her to join me so I took a couple of my kids that appreciate the finer things in life. Best anniversary gift ever. Great show."
– homepup

Speaking Too Soon
"On my first date with my wife, we got to talking about tattoos. I have a rule that if I have an idea for a tattoo, I sit on it for a while to see if I really would still want it. I mentioned this to her and explain how glad I am that I do this because otherwise I'd be covered in Tool (the band) tattoos or some 'other dumb sh*t.' She rolled up her sleeve to show me that she had the lyrics to one of their songs tattooed across her arm."
– thevagrant88

A Strong Commitment
"5 years ago, after dating for 2 weeks, I accepted a job offer on another continent. I told her we didn't know each other well enough for me to pass up an opportunity like that and if it was meant to be, it would work itself out."
"Well, it was meant to be and we got married this spring."
– Breatnach
Long Distance Can Work
"We had a couple great dates and things were looking promising. Then I got super busy at work and didn't contact her for about 3 and a half weeks without giving her a heads up. She decided to move during this time. After things calmed down at work I text her again. We worked things long distance and finally got married. She reminds me that I didn't ask her out again for a very long time every few months."
– notneededjunk

Closure
"My husband kept calling me by the name of his previous girl friend on our first date. I finally told him to give her a call because they clearly had unfinished business to talk about. He did and she reminded him why he was happy to have her out of his life. And he never called me by her name again. 40 years later and it seems to have worked out in my favor."
– designgoddess

Anyone who has the capacity to overlook minor character flaws and idiosyncrasies are keepers.
If you've got someone in your life you could have lost over idiotic behavior in the past and they stuck by you through thick and thin, that says a lot about your character and that you're worth sticking around for.
If you're not there yet, don't worry. You got this. Just be yourself, and the right one will come along and embrace you for who you are, not who you're trying to be.

Keep reading...
Show less
When it comes to the activities we do on a daily basis–whether it's punching in numbers at work or doing routine house cleaning–we usually don't focus on them intently because we have it in the bag.
But maybe we should start paying attention.
Because it's the moment when we get cocky that things quickly start to go awry.

Curious to hear of circumstances where things started to unravel, Redditor PigPopcorn asked:

"What is one of the dumbest things you've done when your brain was on 'auto-pilot'?"
The things we default to saying to others don''t necessarily apply to every situation.
Customer Got Cornered
"I work at a busy restaurant so I end up saying 'corner' hundreds of times a night as I go back and forth around corners and doorways in the kitchen. Was running food to a table, set it down gently, and in my sweetest customer service voice I said 'Corner' while looking the customer right in the eye instead of 'here is your soup' or something like I usually do. They looked confused, my brain tried to reset, and so naturally I said 'Thank you' as if that made it better. I ended up just backing away, it was a lost cause."
– cherry650

Confused At The Walk-Thru
"I was working fast food and taking orders both inside and for the drive thru. I took someone's order inside at the counter and told them to pull forward to the 2nd window."
– w4nd3ringwolf

Invalid Validation
"I told my friend 'you're welcome!' after he sneezed and excused himself the other day."
– Jessicahisamused
See what I mean about not thinking? These Redditors learned the hard way not to ever lose focus when attempting simple tasks.
Coffee Crisis
"Let a coffee machine run without a jug under it. Went to take a shower and had to clean up the mess afterwards."
– jangxx
Extra Protection
"Lifted my Welding mask up and forgot it was on my head, then went to get a new mask."
– Verdunnny
Learning Curve
"Flipped my kindle over to read the other side of a document."
– Dedj_McDedjson

Hilarious mix-ups are common among those who space out.
Sweetening The Garbage
"Tore open a sugar packet, poured it directly into the trash, tossed the empty paper packet into my coffee."
– kygroar
Yolks On Me
"I was trying to make some scrambled eggs."
"Basic prep: crack the eggs, put the eggs in a bowl, toss the shell."
"My dumba**: crack the egg, put egg in the trash."
"I literally stood above the trash can with the shell in my hands processing what had just happened for about 30 seconds. I just had the faint feeling of 'I f'ked up' and was wondering exactly how for way too long."
– nWo1997

No Coffee For Her
"Not me but one time my gf got handed her drink at Starbucks, said thanks, went over to the bar to get cream or something and immediately dropped her fresh drink straight into the trash can at the bar. Her mother and I just looked at her and started laughing. The barista saw what happened and with a 'it happens' attitude agreed to replace the drink. It also helped that no one was in there except us haha."
"We still bring it up every now and then and all laugh, my gf included."
– KommieKon

Clean Or Cold?
"I put my dirty plate in the freezer instead of the dishwasher."
– mcSibiss

Kitchen Tool Switcheroo
"I was a kitchen employee at Arbys when I was 18. We used to have sub rolls that were footlong, but the only subs we sold were 6 inch. So you had to cut each roll in half before you used it. I was just zoned out one day, and I ended up cutting the sub roll in half, putting the knife back in the sub roll bag, and then trying to use the sub roll to cut the next sandwich. My manager saw it and f'king died."
– boyvsfood2

Never talk to me while I'm tying my shoe laces.
One time I put my shoes on while standing and propped the shoe I was going to tie up on a chair with my foot on it.
The guy I was with asked me a question during my preparation. After answering, I bent all the way down to tie the shoe on my standing leg instead of the one on the chair.
I guess I was more focused on getting out of his apartment after an unsatisfactory night.
Shame on me.

Keep reading...
Show less
I once had a man ask why I would choose to have my period on a Saturday knowing we were supposed to go snorkeling.
Aside from the astonishment that this man thought I could choose the day, I'll be honest and say I expected his concern to be shark-related since ... ya know ... snorkeling.
Fam it was much, much dumber than that.
This man, this adult human male old enough to drink and vote and make children, was upset with me because he believed my super-absorbency tampon would impact the water levels and we couldn't snorkel in the shallow water.
Because the tampon lodged securely inside of me would suck it up.
Reddit user Why_Not_Zoidbergaww asked:
"What is the dumbest thing you have ever heard someone say?"
​Holiday Hours For Emergencies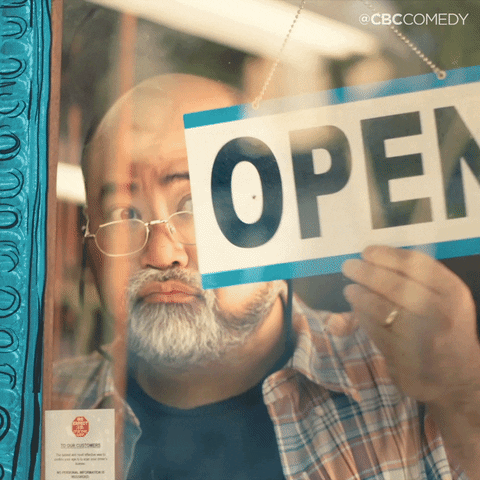 Good Night Goodbye GIF by CBC
Giphy
" 'Wait hospitals are open on public holidays'?' How the hell do you respond to that?"
- Bo-Cruz
"Yes"
- moo100times
" 'No, you just die if an accident occurs on holidays.' Merry Christmas everyone is home for the holiday so you're just going to have to wait until tomorrow stab wound and all. Have a great day"
- Bacnnator
​Foreigner Inception
"The worst thing about travelling abroad is all the foreigners"
- StonksStink
"Well it's a pretty true statement, I assume the person who said it didn't realise they are actually talking about themselves though."
- neers1985
"My ex FIL was exactly like this, he constantly complained about all the foreigners and the foreign food whilst on holiday in a foreign country."
- bertiebastard
Too Cold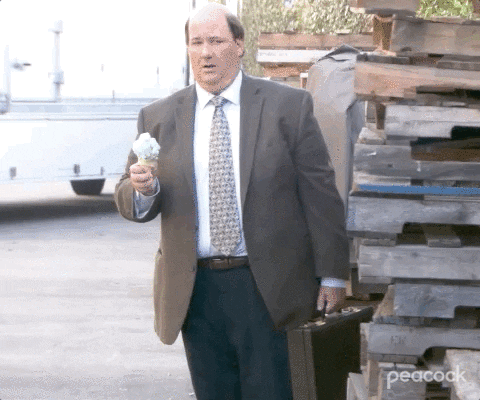 Season 9 Reaction GIF by The Office
Giphy
"My mom, after getting ice cream in the drive through at Dairy Queen:"
"oh! My ice cream is too cold, can you heat it up a little bit?"
- Flounder_guppy
"Omg I used to make warm ice cream soup when I was little!!!!"
"It's delicious :)"
- littlegingerfae
"My grandmother use to blow on her ice cream to warm it up 😂"
- mommysauras
"I understand exactly what she meant tho. Softserve must be soft!"
- YogurtFirm
Eat What Now?
""What is wrong, scientifically, with eating your own poop? Hear me out. I'm serious. It's food that's already been in your body. Yeah, nobody does that. But why, scientifically or medically is it wrong?"
- sovereignsekte
"This person was already doing it and wanted affirmation on their life choices."
- rayEW
"This sounds like something Joe Rogan would say."
- Captain_Hammertoe
Wrong Ungulate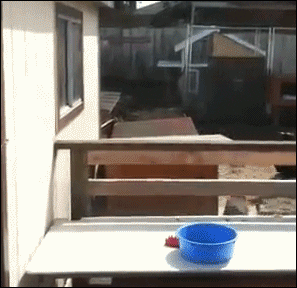 goat eating GIF
Giphy
"Friend: 'I don't get it: how the f*ck do goats grow into deer in the wild but stay goats at the farm?' "
"Me: 'Ayo what the f*ck?' "
"Friend: 'I know, right? With a pony, you can at least see how it'll grow up to be a horse but the goats look so different from deer.' "
"... ?"
- Corvus_Manufaktura
"Yeah and a Pony is a pony, it's not going to grow up to be a horse so that just makes the comment even stupider (although a lot of people think a baby horse is called a pony, so that part at least makes some sense)."
- golden_fli
"it's been 10 minutes and i can't stop laughing. thank you for this lol"
- robertaasdf
Who's More Dumb
"crows can't be that smart if they can't use sign language"
- Analdragongrip
"Apologies, I clearly must be stupid if I don't have fingers."
- Toxicity5675
How Bad Was He?
"One of my dumbest friends said this in middle school and I somehow remember it 'was Hitler really that bad?' and it wasn't a joke"
- Lt_Birch
"Well... dude asked 😆💁♀️"
- EquivalentControl972
Reading.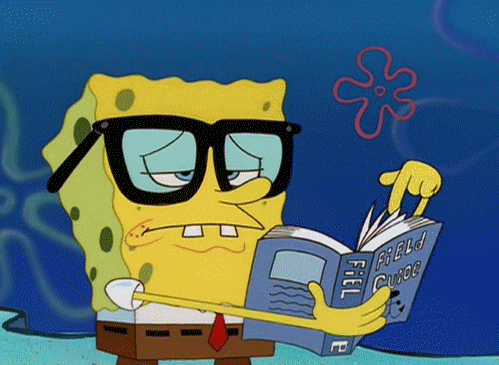 Unimpressed Sea GIF by SpongeBob SquarePants
Giphy
"Bro you read, they're just words it's stupid"
"I was just embarrassed for them"
- alittleoverthinker
"just looking at symbols, what a waste if time!"
- hastingsnikcox
"Bruh, why are you so into math? It's just meaningless symbols assigned value by society"
- Why_Not_Zoidbergaww
Pop-Out Book Astrologyidontdigdinosaurs
"My talking with family: I can't believe (family member age 60+) doesn't know the difference between the sun and the moon"
"Other family member age 30+: isn't the sun a gas giant?"
"Other family member age 40+: isn't the sun just the moon flipped around?"
"9 year old: the sun is a star the moon is just a moon"
"Me and 9 year old looking at each other like how are we related to these people"
"Everyone was dead serious with their answers an did argue with us explaining how they saw it in pop out books"
- dawnface42069
"At least they don't think that the sun is a planet"
- Why_Not_Zoidbergaww
"To this day I still don't know what they think the sun is lol"
- dawnface42069
"Women I knew thought giraffes ate birds."
- idontdigdinosaurs
"That is so weird . . . I suppose in her mind the long neck is for snatching birds out of trees or the air? Just trying to imagine how she came to such an 'understanding'."
- --VoidHawk--
"Lol my misreading just made that so much dumber (and funnier)... I first read are instead of ate. And was for a second seriously wondering how someone thinks an animal with neither wings nor feathers or beaks and with four legs was a bird xD then I read again and was like oooooh well"
- mycrazyblackcat
"She's wrong ofc, but not like completely wrong. Sometimes animals like giraffes, horses and deers eat birds or other animals so supplement vitamins they may lack. It's not at all common, but common enough for there to be photos and videos of it. They're still herbivores though"
- pestilencerat
Once you're over the headache that all must have given you, meet us in the comments for even more of *gestures vaguely at the stupid* thiiiiiis.
Keep reading...
Show less
In high school I got mono.
That's bad enough, but the sore throat and raw tonsils it gave me were a million times worse. I wasn't supposed to speak at all.
And then my dog jumped into a lake after some ducks.
My dog, I should mention, could not swim.
So I did what anyone would do and freaked out screaming til the neighbors came to help.
​They took ages, so I was already waist-deep in the water holding my dumb dog by her scruff while she snarled and flailed at the ducks.
She was a shih-tzu and absolutely had angry small luxurious dog syndrome.
So the neighbors come running out to me standing in the water screaming, bleeding from the mouth, holding a clearly possessed demon dog in the air with one hand while fending off a duck, who was now furious and trying to murder us both, with the other.
Reddit user TehHooman asked:
"What is the dumbest way you've injured yourself?"
I needed another 2 weeks of rest after that.
That is the story of one of my dumbest injuries - and also the story of the time my parents got CPS called on them for my "suspicious rituals."
Parenting kid-me was a trip.
Wrong Hand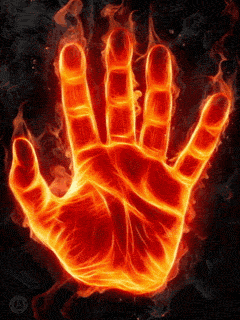 fire hand GIF
Giphy
"Wanted to get a pizza out of the oven. Put one glove on. Grabbed the baking tray with the other hand."
-firedexo
"I did something similar."
"I had a glove on, but the pizza was stuck so I was trying to push it up from the bottom, ended up sticking my hand all the way into the oven (with mitt) and hit the front of the rack with my arm right where the mitt ended. Now I've got a big ol' scar on my arm."
-rainbowequalsgay
"Baker of 5 years. I've done this so many times it now takes a bit more time for the burn to hit me."
-SteakJesus
"Had the same once, opened the oven with the glove and pulled the tray out with the hand without glove"
-julia_demmings
Low Calcium?
"I was running once and broke my pelvis. I didn't fall or crash into anything, my pelvis just broke."
-zor998
"Is your pelvis made of cheese?!"
-ZaryaBubbler
"Dude, cheese actually contains calcium."
-LaComtesseGonflable
"I broke my foot on two different occasions just walking. In both cases, I had been walking normally for several minutes in sensible shoes on unremarkable surfaces without issue and then suddenly my foot was broken."
"We figured out later that my ankle was really prone to rolling suddenly because I'd sprained it so many times playing soccer. And it rolled in precisely the right way to make me land hard on the weakest bone in the foot."
-hobbitfeet
"Serves you right for running…"
-ChaosRubix
Careful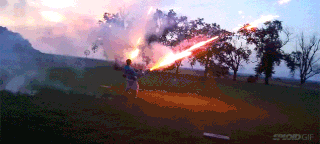 fireworks GIF
Giphy
"When I was 10, we had one of those hand-held fireworks that shoots in intervals."
"Mine stopped after 3 shots, so I looked into the hole to see if there were any more in there."
"There were."
-MyHeroRemedy
"My grandfather, in his 30s, did the same thing. Except it was with a mortar style firework."
"It obliterated half his face- lost his right eye, half his skull was rebuilt with plastic, and half his face was noticeably lower than the other half."
"But hey, he was an alcoholic and that made him quit drinking the rest of his 80-year-long life. Silver linings."
-Neither_Beaver
"We had something like that at a family party once. It was in the ground and would shoot fireworks into the air at intervals. But it flipped over and started spinning as it shot fireworks out in all directions. I remember seeing my family members running away from it."
-SwansonHOPS
"Roman candles! Almost did this to myself as well, thought all the shots were off, was just tilting it up to vertical when the last one went up."
"Took a lock of my hair off and I couldn't see for about 30 seconds cuz it passed right in front of my eyes, but I was physically okay"
-kharmatika
Sharper
"Thought sharpening my fingers using a pencil sharpener could give me those sharp nails. It did not."
-two_ate_nine
"How'd you even manage to fit it inside? I've tried to do that before but I could never get my finger in far enough."
-SkepticalSpiderboi
"I happen to have a skinny finger and I was about 6 or so, sooooo……"
-two_ate_nine
"Start with one of those pencil sharpeners that's has the outer disk with multiple sizes of hole to accommodate multiple sizes of pencil, from extra small to extra, extra large."
"Rotate the guide disk to the largest hole position, which should accommodate the smallest finger of a child with ease."
"Insert finger. Turn crank. Regret"
-HandsOnGeek
"I came here to say this. I really wanted to be like cat woman. I didn't get very far at least."
-wrathdeltorro
Plate to Face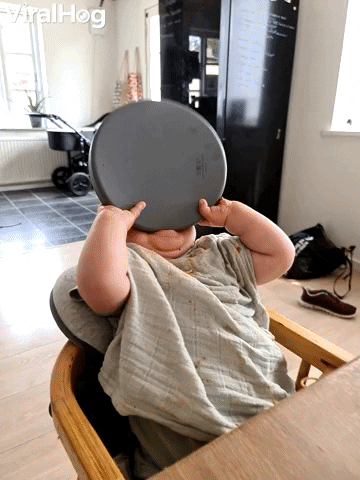 Baby Pours Plate Of Pasta Straight Onto Her Face GIF by ViralHog
Giphy
"Sitting on the couch eating dinner."
"The plate was resting on the armrest and I was cutting the food. I pressed down a little to hard on the side of the plate towards me which was hanging over the arm rest."
"The plate flipped up, hit me in the bridge of the nose and cut me. So I was covered in food with blood running down my face."
"The plate was really heavy and just wrecked my face. It was totally unharmed in this encounter"
-ThrowMeYourPics
"I made some ramen one day and carried the pot back to my desk and I didn't quite get the pot fully onto my desk."
"When I sat down I bumped the desk and the boiling hot liquid went right into my lap."
"I just had boxers on. That was a fun one"
-Spczippo
Handstands
"4 weeks ago I did a handstand in my room."
"Now I have a broken nose, 10 stitches on my face, had nasal surgery with packing and splints."
"It's been a time 👍"
-nevermyrrh
"Learning go how to fall out of a bad head or handstand is really important before you do one, for this reason."
"Its about knowing how to not panic and drop yourself basically."
"Human brains are dumb as f*ck and without training this is exactly what happens. Hope your face heals well."
-kharmatika
Puppy Love
"I bent down to pet my dog and he moved his head up to greet me."
"Bashed me in the nose and I had a black eye for a week or 2."
- its_justme
"As a dog trainer I can guarantee that this happens way more than you think!"
"You're lucky not to break your skin open or break your nose as I've seen/had happen 🤣"
- Spookywanluke
"My brothers dog did the same."
"Dog jumped up as brother was bending down to grab something. Puppy-skull got him right under the chin."
"Broke his jaw, he lost 4 teeth on the bottom and broke the top 2 pretty badly. He was spitting his teeth out and all the pieces."
"My brother got to the ER and was asking if his dog was okay, he didn't want him to feel bad for what happened lol."
"He just has a big old pit bull 'noggin."
- punkishblob
Into The Ocean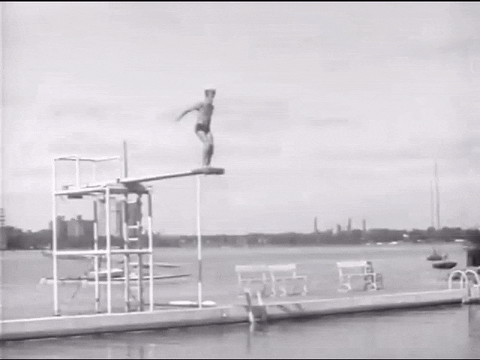 Black And White Swimming GIF
Giphy
"When I was a kid we had blue carpet in the living room."
"I had just watched some movie or show where the characters jumped into a painting and I started thinking maybe if I believed really hard, the blue carpet would turn into a vast ocean."
"So I climbed up on the recliner and swan dove into the floor."
- LavendAimm
"Okay but what was the plan if this worked? The open ocean isn't a great place for a child."
- Some-Band2225
Wifey Shot Me
"Stood behind my wife at the shooting range."
"She just loaded and latched her Derringer and it slipped before she could half cock it. Hit the ground directly on the hammer which caused it to misfire a .22 hollow point round directly into the center of my right shin."
"It could have been much worse."
"I mean, it shattered my tibia and got lodged in a thousand tiny pieces in my bone and calf muscle so I was on crutches for about a year."
"It also caused multiple blood clots in my leg from the healing process and my leg being stationary for so long which was scary."
"Again, it could have been much much worse."
"If it hit about 8 inches higher or lower I'd be without full funtion of either an ankle or a knee."
"Higher up the hits go past the knee and could have (and probably would have) been much much worse. Like life threatening worse "
"10/10 don't recommend getting shot anywhere at all if you can avoid it though."

- Shwiggity_schwag
Soup Noodles
"When I was 17 I made some soup which had short straight bits of pasta in it."
"I was cleaning the pot and some of the pasta was dried and stuck to the bottom, somehow one of the pasta pieces got lodged under my fingernail. I was walking around my kitchen yelling from the pain and when I tried to pull out the noodle, it snapped."
"I then had my mother trying to get bits out with a needle. It was one of the most painful things that's ever happened to me so I gave up and left it for a few days."
"Obviously it got very infected."
"I could barely move my finger. I went to the doctors and they made me get ultrasound to make sure it didn't damage my nail bed - it didn't luckily but the technician said it was the weirdest injury she's ever had to ultrasound"
- slugz1
So now that you know how clumsy and totally lacking in self preservation Reddit is, are you feeling a little better about yourself?
We absolutely are.
No offense to you, Reddit - but it's not like you didn't already know you were a hot mess.
Want to "know" more?

Sign up for the Knowable newsletter here.

Never miss another big, odd, funny or heartbreaking moment again.
Keep reading...
Show less
Have you ever had someone say something to you so wildly out of pocket that it kind of hurt your brain?
Or been the person having a Jessica Simpson style "Is it chicken, or is it fish?" moment?
Real talk, it's usually option 2 for me. Some of the stuff that comes out of my mouth surprises even me.
Reddit user Correct_Huckleberry4 asked:
"What's the dumbest thing someone has ever told you?"
We're going to start with my contribution.
I once asked the dude I was dating how they got the yellow lines on and off the field so quickly to mark the downs during a football game we were watching on TV.
I was a whole adult who absolutely understands digital technology. I have no excuses. The brain just called in sick that day.
That might be the case for some of these folks, too?
Catching Up
"I was going 30 mph in a 30 zone. The police station is on the street, so I'm always super cautious there."
"Anyway, an officer pulled me over and claimed I was going 50. I got his dashcam footage, it clearly showed me NOT speeding, but part of the footage, you can see the police officer going 40 mph to catch up to me."
"Someone defended the officer by saying, 'If you were REALLY going 30, then why did the officer have to drive 40mph to catch up to you???' "
"I'm like:"
" 'I'm going to assume you're joking here. But if, by some bizarre circumstance, you're actually being serious - in order to catch up to anything, you have to go faster than it. If I was going 50, he wouldn't have ever caught up going 40.' "

- RpTheHotrod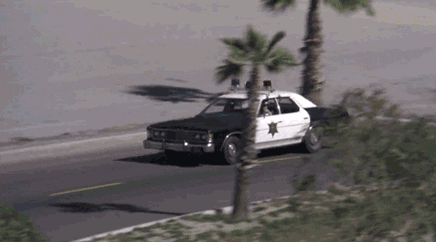 Cop Car Police GIF
Giphy
Tyson Didn't Introduce Himself
"I once found a big bulldog in my back yard. I don't own a bulldog."
"He was a big friendly, but slow witted guy. He look healthy and had a collar but no tags so I knew he was a local. I made sure he had water and went to the front yard to start knocking on doors."
"As soon as I stepped outside I saw the family three houses down all gathered in their front yard. So another case closed for our young detective."
"I walked over to them and said, 'You guys missing a bulldog?' "
"The mother looked at me and said, 'Is his name Tyson?' "
"The question took me aback. I mean, he didn't have tags. They knew he didn't have tags."
"So all I could think to say was, 'He didn't say. But I'm pretty sure he's yours.' "
"To this day I wonder if that woman knew how dumb that question was."
- Spodson
Sometimes North Is Downhill
" 'Water runs downhill, which is south. Water cannot flow north because that's uphill.' "
"They were very surprised to hear the reality."
- aosky4
"Ok I used to believe this when I was a kid too because we lived in the south next to the sea so all the Rivers did flow south."
- Major-Peanut
"I met a guy who thought ships at sea went faster going South because it was downhill."
- crosseyed_mary
Natural Wonders
"That they thought Mount Rushmore was a natural wonder. They literally thought it appeared in nature that way."
"She was dead serious. She was 17 at the time."
"She got mad that a teacher said Mt. Rushmore was man made and told the teacher as much - in front of the class! then told me after class the teacher was a liar.
"That brain went on to work at a Federal Agency."
- Argyleskin
"Good thing those guys all won their elections then."
- DocBullseye
"Yeah… about that. I had that same assumption as a very young child."
"I pondered the implications a lot. Was it destiny? Did people who looking similar to the mountain take advantage to further their careers? Was there a god after all?"
"It was a lot for a 5-year-old to wrestle with, so eventually I just put it aside, never to be thought of again."
"Then when I was 16 someone mentioned something about the in-process crazy horse 'by the same guy who did Mt Rushmore.' "
"Mind. Blown. I can be a real f*cking idiot."

- BustaferJones
Microwaves
"When the directions on a microwave meal say to keep the item in the microwave for some time after finishing its to allow the 'extra microwaves to get out of that food so it doesn't hurt you!' "
- larryeddy
"My mom always told my siblings and me to not stand in front of the microwave because we would inhale the microwaves coming out and get cancer."
- handy_dandy_andy
"I had a friend who, in his late teens, insisted that microwaved food 'trapped' some of the microwave energy, and released it for a while after cooking."
"He was very clear that he'd heard some truck drivers had stomach complaints that resulted from eating a lot of microwaved food without letting it rest."
"I didn't believe him, but I humored him. Microwaved food is usually scalding hot anyway, there was no harm in giving it time to cool (a.k.a 'letting the residual microwaves dissipate from it') if it made him happy."

- MagicSPA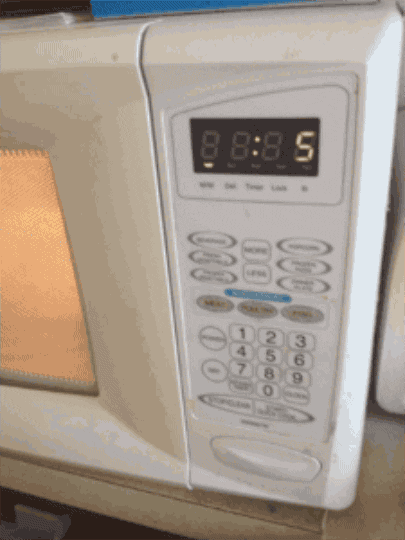 microwave GIF
Giphy
"My wife is a nurse and she was taking care of a heart patient. He had high cholesterol."
"He said he ate half-a-dozen eggs for breakfast everyday. My wife said eggs are high in cholesterol and should be consumed in moderation if you have high cholesterol."
"Then his wife chimes in… 'I make his eggs in the microwave so it gets rid of the cholesterol.' "
- pizza_for_nunchucks
Astronomy
"We had a team lunch some years ago, and I ended up in a conversation with one of our account managers. A woman in her 30s who worked for a multi-million pound company."
"She insisted that the sun was the same size/distance as the moon, and stars were asteroids falling to Earth."
"This was long before the whole flat earth idiocy kicked off, and to this day stands out as the most astoundingly ignorant thing I've ever heard."
- Rico_TLM
"I used to be a teacher, and a child asked me why the sun didn't melt the moon since they were 'both up there together.' "
"I was about to explain about the 150,000,000km between them, and how 'this one is small, but that one is far away' but her best friend then laughed at her for asking such a stupid question."
"After scoffing, best friend told her that 'of course the sun doesn't melt the moon, the moon is on the back of the sun ... isn't it?' and then looked at me for approval."
"These two were both fifteen years old at the time."
- crumpledlinensuit
Wasting Water
"Had a teacher tell our class that it can't rain over water."
"She proceeded to tell us that if the clouds are over water they will just wait until they were over land so it doesn't waste water."
"According to her, it doesn't rain over oceans or large lakes. The cloud will, instead, wait until it is over some forest or something that needs water."
"In her world, hurricanes probably just disappear when over the ocean, or at least stop raining and just be wind."
"My question is, how will the cloud know?"
- Solisia
"Man, I wish the clouds knew that a few years ago when I was on the far side of the lake, paddling with all my might trying to get to land and not absolutely soaked."
- wetwater
"This is terrible but somehow kind of endearing."
"It's a shame because she was supposed to be a teacher, but I really like the world she lives in where even the clouds are so conscientious."
- JimmyCrackCrack
Feedback
"It's dangerous to listen to your own heartbeat with a stethoscope."
"They said your heart will try to match what you heard and that will in effect stop your heart."
"There was no explanation given when asked why medical personnel didn't have issues listening to patients with heartbeat irregularities."
- Becky_8
"Like stereo feedback?"
- [Reddit]
"This one was so dumb I had to read this several times to even understand the theory they were presenting.. cheers."
- roolyons32711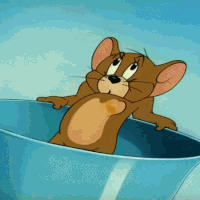 heartbeat GIF
Giphy
Uzbekistan
"My college roommate was so bad we started a list. My favorite, though:"
" 'Latinas come from Latin... as in the COUNTRY Latin.' "
"When asked if he could show us where that was on a globe he pointed to what was clearly marked Uzbekistan."
- WordLikeABullet
They Let You Have Guns
"I worked in a city that has a high military population. We gave military discounts if you could prove you were active duty."
"We had a family come in one day (dad, mom, adult son) who had never been before. The dad read the admission board and said 'Oh hey, you can get a discount for admission!' to the son while handing him the sign."
"The son read the sign and said, I swear to God:"
" 'I'm not in the military, I'm in the Army.' "
"All I could think was, 'Good Lord, they let you have guns...' "

- JustMeerkats
Spain Exists
"My favorite was when I said I was learning Spanish and someone told me, and I quote:"
" 'White people learning Spanish is cultural appropriation.' "
"I just stared blankly for a while and then said 'um... Spain?' "
"They shut up after that."
- youllprobablyhatemGP
Dinosaur Denial
"When I was young my youth pastor told us that dinosaur bones were put in the ground by the devil to test your faith."
- duston12
" 'Dinosaur bones' were actually buried recently by people."
- TinyKeebe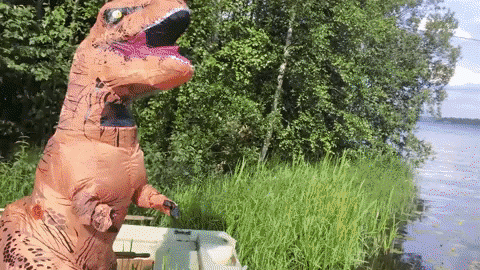 Giphy
Define "Dilute"
"A girl I worked with didn't know what 'dilution' meant as in diluting cleaning products."
"I'm not saying this to be mean, she could have asked or googled it. She should have asked or googled it cause she almost killed us all."
"She thought 'dilute' meant to heat it up. Since this is a store, we heat things (like our lunch) up put it in the microwave..."
"So she put some kind of cleaner in there to 'dilute' and nearly gassed out the whole store."
"Luckily it wasn't anything super toxic but she wholeheartedly thought 'dilution' meant to heat it up."
- CatsInSpaceSwag
Not Asian
"Me: 'I'm Asian.' "
"Her: 'No you're not!' "
"This girl guessed I was Hispanic, which spoiler alert I am not."
"I'm South Asian from Nepal."
"When I told her that, she denied it. Vehemently. Like she was there when I was born and it was her place to say where I was from."
- Albartox
The Chicken Wiccan
"That she'd turn me into a chicken."
"The worst thing was that after she threatened me with it, I started having dreams of being a chicken so I started to believe her."
"I was 15, am heavily autistic and was fresh out of a superstitious religious home, to clarify why I was so gullible."
"The Chicken Wiccan used all of that to full advantage."
- XxDarkAcademicxX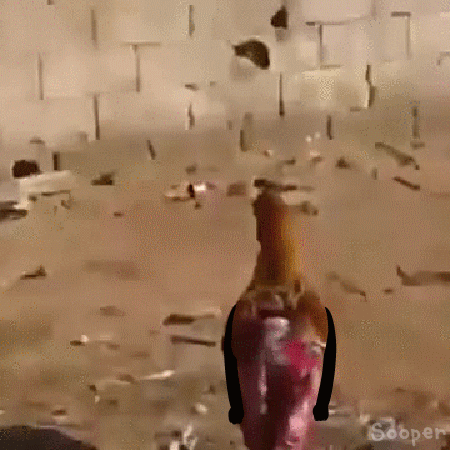 Chicken Pants GIF
Giphy
The Vin Diesel Virus
"The other week i was in the store, still wearing my mask although restrictions have eased up a bit here."
"Some old guy comes up to me and I'm expecting an anti-mask rant, but no."
"He starts claiming that it's good that I'm wearing my mask and that I'm one of the smart ones, since the virus was all planned out."
"Then the guy pauses for a second and goes: 'Exactly like in that movie, X times 3!' "
"He meant XXX with Vin Diesel."

- D1pSh1t__
Lady Troubles
"I love my father, but he used to honestly believe that if a woman went to the hospital, a doctor couldn't help her."
"He believed that because someone once told him hospitals don't really help with 'lady troubles'. I'm pretty sure they meant it like period cramps, but he just took it to mean hospitals didn't help women."
"I once asked him what happened if a bus ran me over? He'd just let me die?"
"So he sang a different tune after that."
- MJsLoveSlave
So now you're heard Reddit's list of painfully dumb stuff. It's your turn.
What have you heard, or said, that was so incredibly stupid it kind of hurt?
Want to "know" more?

Sign up for the Knowable newsletter here.

Never miss another big, odd, funny or heartbreaking moment again.
Keep reading...
Show less