PSA: the drive-thru microphone hears EVERYTHING, ALL THE TIME.
The drive-thru at a fast food restaurant is a one-of-a-kind social experience. Just about every step is a weird form of human interaction that occurs literally nowhere else.
And, oh yes, there are robot speakers that look alarmingly like sci fi trash cans.
Want to "know" more? Never miss another big, odd, funny, or heartbreaking moment again. Sign up for the Knowable newsletter here.
Keep reading...
Show less
Fast food workers encounter customers from a variety of backgrounds and situations that make each transaction unique.

But those who are positioned at a drive-thru window experience interactions that are even more oddly exclusive.
Tellers see customers inside their own environment, and therefore, get a peek into their personal lives.
To hear interesting anecdotes, Redditor Reach-n-Teach asked strangers:

"People who have worked the drive thru, what's the weirdest thing you've seen in someone's car?"
Some Redditors mentioned witnessing (or hearing) NSFW scenarios, seeing a mammal – and in one case – was attacked by something slimy.
One thing is certain. You can't make this stuff up.
Please proceed to the next window and be prepared to guffaw.
Drunk Gym Teacher
"My gym teacher, drunk. He started eating the tacos at the drive through window. He was there for over 5 minutes, just eating. I saw him the next day in school, we both acted like nothing happened."
The Inflated Passenger
"Dude had a full on sex doll dressed up in his passenger seat. Sunglasses, dress and even a hat. I couldn't even tell it was fake until I asked for their order. Coworker and I looked at each other simultaneously and we both said 'was that a sex doll?' This is in a 'wealthy' area of my city as well so it was definitely a first."
Not Gay
"Two guys naked on a bench seat. Driver made sure to tell me they weren't gay."
– shizuye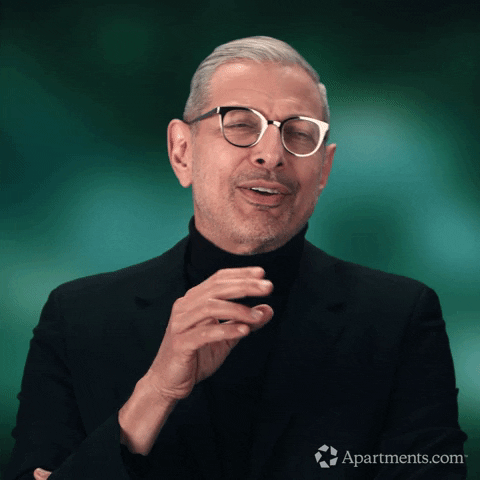 Giphy
Hungry Pet
"Only worked drive-through for a year but the weirdest thing I saw was an alpaca in a minivan. They asked at the window if they could order some apple slices for the alpaca. I just gave them two packs on the house."
"Private Peters"
"Had a guy consistently come through the drive thru with his pecker out. He would always order the same thing, large mellow yellow no ice, always on a sunday, and always wearing military fatigues. Then he stopped showing up for a bit, we called him private peters, as our little sign to call the cops if he showed up again. A month later we get an order for a large mellow yellow no ice, so I decide to take over the window. We convinced the car in front of him to stay in the lane and we called the cops, he got suspicious and left but they caught him and was charged."
Comfortable In Their Own Naked Skin
"I had 4 women that came through a few times. I'm 16. They're all like 45+. Not made up. Just naked and completely casual. Never acted like they were even slightly concerned they were naked at all. One of the girls there said they came through about once a week. We didn't have a nudist colony nearby that I knew of. Just these same ladies."
He Had Time
"Had a customer come through with a giant grandfather clock in the back seat. The thing was so huge it was sticking out the side window, which just so happened to be on the left side of the car. Which meant dude couldn't get close enough to the window to reach his food and had to step out, cursing the whole time."
Flying Fish
"Someone threw a fish at me once. Didn't order anything, just a drive by fish attack."
– PsyPup

What's In The Egg Cartons?
"I worked at a Tim Hortons and once saw an old lady with like 50 cartons of eggs in her car, I made a joke saying 'looks like you could make your own breakfast' and she got real straight faced and said 'oh honey those aren't eggs.' Still have zero clue what else you would store in egg cartons..."
– BoltzTV

So That's What Was In Those Egg Cartons
"Golf balls. I used to steal gold balls from a golf course water hazard and the woods around the course. Sold them in egg cartons for $5"
Keep reading...
Show less
It is called fast food. It is not called hasty food.
And yet, hasty is so often the experience.
We have all been there. First, we politely greet a metal rectangle that bears a mesh speaker face. It responds to the timid hello with fierce, garbed gibberish.
That puts us on our heels. So we escalate to a violent, aggressive scream about the kind of sandwich and drink we'd like. The robot tube remains loud and terrifying.
We're herded through the drive-thru lane alongside the brick wall until we arrive at the window: our only glimpse of the faceless void that we've given the reigns to for our lunch.
Finally, a hand flies out of the portal, we, panicked, absorb it into the vehicle and simply hope that the screaming rectangle did us good.
So often, as a recent Reddit thread illustrated, it did not do us good. It did us very very bad.
Fazi_Snaxxx asked, "What's the most wrong your fast food order has ever been?"
Want to "know" more? Never miss another big, odd, funny, or heartbreaking moment again. Sign up for the Knowable newsletter here.
Keep reading...
Show less
An Ohio employee of Taco Bell has been fired, after a video showing him refuse to take a deaf customer's drive-thru order was posted online.
Brandon Washburn visited a Taco Bell on New Year's Eve. The ADA compliant message on the drive-thru instructs those with hearing disabilities to pull up to the window. It was there, Washburn had trouble.
Washburn tried showing the employees his phone with his order, but they refused to look at it. They instead tried to invite him inside to be served.
This is where the video starts.
The video shows Washburn at the drive-thru window of the restaurant. He is trying to get the employees attention to read his phone, where he's typed up his order.
The night manager opens the window, and hands him a message written on a piece of paper.
Washburn tries to show the employee his phone, when the employee responds,
"It's against company policy. I can't do it."
The manager then closes the window and walks away. A little bit later, he comes back and says he will be calling the police.
It was very upsetting.

Facebook.com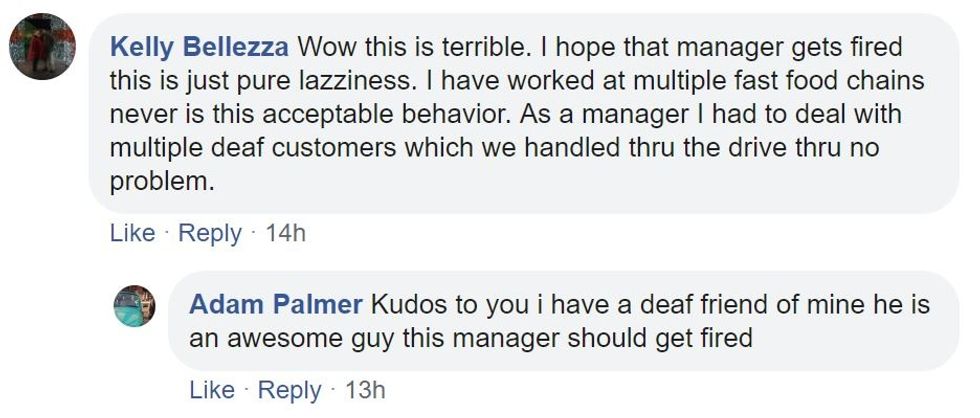 Facebook.com

Facebook.com

Facebook.com
The video was taken by Washburn's girlfriend in the passenger seat and uploaded to Facebook by his mother, Becky Rosemont Burch. It has been viewed over 1.5 million times.
In an interview with NBC News, she says,
"He has done this many times before at other restaurants, and has never had a problem."
The video went viral, extending beyond Facebook.
@wics_abc20 This is so wrong

— Amanda Helm (@Amanda Helm) 1546891579.0
@FOX26Houston I think it's not that he refused to serve him because of discrimination. It was more of not knowing h… https://t.co/G0InqjOi4c

— Juuuust a bit outside. (@Juuuust a bit outside.) 1546880246.0
The employee, Michael Brown, was fired, and Taco Bell has issued a statement that they are going to be retraining the employees of the restaurant.
"Taco Bell has a fundamental policy to respect all of our customers and employees, and we are committed to maintaining an environment free of discrimination or harassment."
Brown has spoken out since the incident. He's lost his job and has faced death threats since the video went viral.
As he describes it, he was trying to do the right thing.
"I wasn't just absolutely denying them, because I go through it every day… We tried our best to accommodate them, with them being deaf and none of us in there knowing sign language or having prior experience with it."
He goes on to explain that he asked the couple to come inside so he could ensure the order was correct and better assist them. There was an added element of safety to the situation, as Brown says the restaurant has been robbed at gunpoint through the drive-thru.
To some this just shows how better training is needed, while others feel it's no excuse.
@ABC7 Was the worker trained to handle these types of situations? Good this has been exposed so the Fast food chain… https://t.co/tJU7eEGt1S

— Dark_Room_Perfume1129 (@Dark_Room_Perfume1129) 1546811292.0
@snackpack210 @j_grixx @tacobell @Chipole okay but in the same article it says he refused for "safety reasons" mean… https://t.co/IpoRss4uoh

— Stoney Joey (@Stoney Joey) 1546816957.0
@snackpack210 @j_grixx @tacobell @Chipole typical, no valid counterpoints to make so just say its a troll. You've a… https://t.co/9RoAPOrasf

— Stoney Joey (@Stoney Joey) 1546820170.0
In the end, Brown is glad the video was shared.
"I do appreciate them doing that because it's going to allow my Taco Bell to improve - or, that Taco Bell to improve - but I wish they would at least put the full video out so the people could see I tried."
It hasn't been a great time for fast food companies. The age of smart phones has allowed videos to surface of extreme interactions between their customers and their employees, requiring the company to perform damage control.
Earlier this month, a McDonald's employee was forced to defend herself after a belligerent customer tried to assault her across the counter. And back in November, a viral video of a group of young men being told they had to pay up front at Chipotle had the internet on their side, until their dine and dash tweets were discovered.
We can only hope that eventually, these situations go from a normality to less than once in a blue moon.
Keep reading...
Show less
My mom sucks at giving compliments. There. I said it. I know 50 of you guys are going to forward this article to her and rat me out, so let me explain. She means well and in her mind she truly is giving a compliment. She just words things terribly, like she has this thing for pairing a compliment with a "constructive criticism." To my mom, saying something like "you're so beautiful, you'd be an absolute stunner if you lost weight" is just her telling you that she thinks you're beautiful - and have the potential to be woman-in-the-red-dress-Matrix-scene-head-turningly-distracting kind of gorgeous. All compliments! To the outside world she totally called you fat.
So I went most of my life never really hearing compliments when my mother thought she was giving them all the time. Then it happened, in ninth grade during the peak of my awkward era, I overheard her tell one of her friends that she loved the way I sang and that she knew I stayed up for hours after she sent me to bed because I would sing to myself for hours at night, but she never came in and told me to go to bed because she loved getting her own little concert.
Sure, my mom is biased - but she's also one of those painfully honest brown moms who absolutely would have told her friends if my singing voice was pure caca, ya know?
Moms are so pure, you guys.
media2.giphy.com
One Reddit user asked:
What's the most kind/beautiful thing you've overheard about yourself by accident?
And yup, it's exactly as warm and fuzzy as you think it is. So come on, guys. Let's do this. Brace yourselves, we're aiming straight for your feels.
Keep reading...
Show less