Reddit user Inflatabledartboard4 was curious about others' childhood cinematic trauma and asked: 'What is the most f*cked up kids' movie?'
When we think of children's movies, we may think of harmless fun.
But that doesn't mean there isn't some seriously messed up content in those films.
Like ever notice at least one parent is almost always dead—or dies!—during every Disney animated film?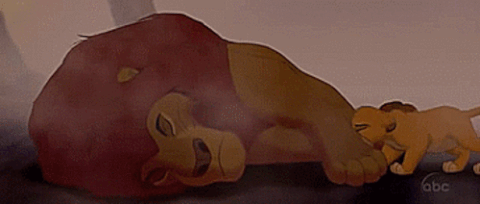 Giphy
Don't even get us started on Old Yeller.
Anyway...
Redditor Inflatabledartboard4 was curious about others' childhood cinematic trauma and asked:
"What is the most f**ked up kids' movie?"
All Dogs Go to Heaven
"Our hero is released from prison, only to be MURDERED by his former boss via vehicular homicide. Then that dog eventually winds up being continuously tortured by demon dogs in Hell."
"The giant demon dog filling the town with blood red smoke at the end is some pretty terrifying imagery."
‐ Diwari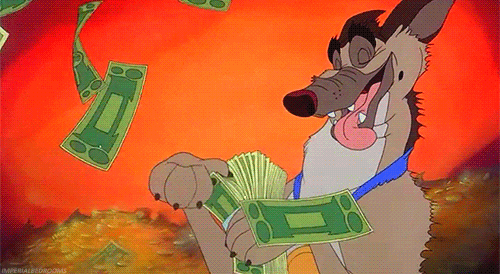 Giphy
Brave Little Toaster
"Suicide and abandonment all around."
- SkuzzleJR
"The air conditioner haunted my nightmares."
- Longjumping_Fold_369
"For some reason the part when the vacuum tried to eat its cord really freaked me out as a kid."
- ThoriatedFlash
"There's a lot of scary stuff in that movie but the flower might be the worst."
"I remember feeling like, despair for the first time as a child seeing that."
- purplefirefly6102
"The blender getting killed onscreen. I first saw Brave Little Toaster when I was around six, but I knew from the atmosphere of that scene what was really going on when you see the shadow of that wire getting cut."
"I was kind of horrified, and the the very next scene is another customer coming in asking for radio tubes and Radio is put on the chopping table but survives at the last second."
- EeSeeZee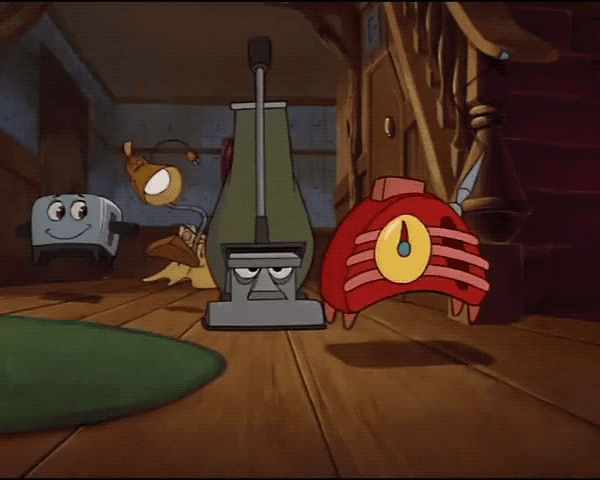 Giphy
Monster House
"The movie is literally about a man living in a house possessed by his dead wife and the house literally eats living creatures so I'd say that's what f**ked me up as a kid."
- Supa_saint
"Not just that, the dead wife was a circus freak and hated kids because they would always taunt her. So they move into this house and she dies."
"The husband who actually loves kids, now has to keep everyone away from the house or his wife will kill them."
"And then at the end the husband has to kill his wife aka the house."
"Too f**ked up for a kids' movie."
- whskid2005
Coraline
"Coraline scares me so much more as an adult than it ever did when I was a kid."
"I still love the movie and watch it several times a year, but somewhere between childhood and adulthood I got way more scared of dolls and puppets and sh*t, and I don't actually know why."
"Like nothing happened to make them scarier."
- Writing_Nearby
"I loved Coraline as a kid. I still do!"
"And the books are actual nightmare fuel, but I highly recommend giving them a read because the lore is really interesting and the story is different."
- SimplyAurallz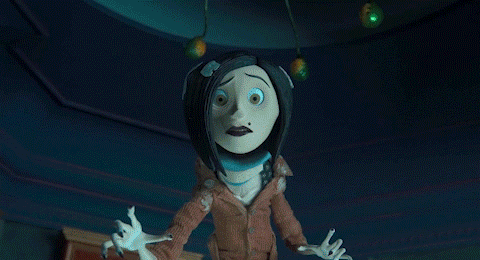 Giphy
Pinocchio - Disney animated version
"I'm surprised I was never traumatisedby Disney's Pinocchio as a child, because watching it as an adult, there are moments that are straight up nightmare fuel."
- neohylanmay
"When the boy who is with Pinocchio turns into a donkey, he cries out for his mother. I can't."
- MLAheading
"Ugh, watched it for the first time with my partner and two kids, during that scene all I could do is look at the two kids and wonder how they were not crying while I was on the brink of tears..."
- NurseJessisStressed
Peter Pan - Disney animated version
"The racism in Disney's animated Peter Pan is pretty f**ked up."
"Princess Tiger Lily and the song 'What Made the Red Man Red?' is just gross if you're an Indigenous kid watching it."
- LakotaGrl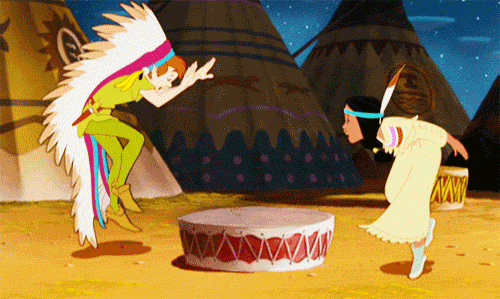 Giphy
The Cat In The Hat
"​The Cat in the Hat is something out of a back rooms nightmare in my opinion."
- hbombgomer12
"I literally just watched this, and I'm still questioning if I actually saw a movie, or just tripped out for 2 hours."
- LaMorak1701
The Last Unicorn
"Is The Last Unicorn even a kids movie? It's super scary."
"BTW I loved it as a kid and I still do. The whole Mommy Fortuna part was really dark, though."
- horschdhorschd
"I watched it in the last couple years. I never understood Molly Grue's meltdown at realizing she was with a unicorn. That scene hit hard as an adult. Missing out on the things you wanted in your youth only for opportunities to come by too late. I cried."
- cats_and_vibrators
"Super scary and way more sexual than I remember from when I was a kid."
- lovemyneighbor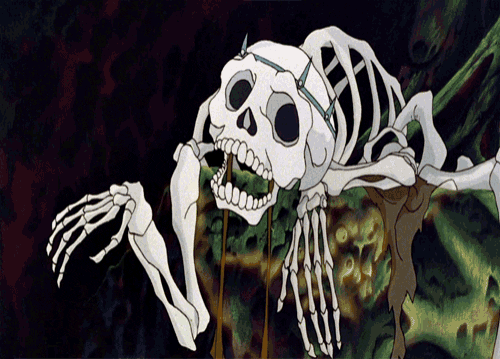 The Last Unicorn Skeleton GIF by Maudit
Giphy
The Fox And The Hound
​"The Fox and the Hound. Still traumatized to this day."
- asayle88
"That move absolutely wrecked me as a child, and I refuse to watch it ever again."
- droopingcactus25
"My best friend and I wept in that movie."
- CraftyRole4567
E.T.
"​E.T. The scene where Elliott watches E.T. die is all kinds of traumatizing. Never mind the Christlike resurrection afterward, the damage is still done."
- Brilliant_Tourist400
"The bit where the kids find him in the ditch looking like a piece of fine Italian deli meat.."
"Also the feds in biohazard suits crashing through the kid's house scared the f**k out of me at 7 years old"
- feeb75
"Having your home invaded is terrifying enough....seeing it through the eyes of the kids and the mother screaming 'This is my home!' Sends chills down my spine."
- LaCroixBoy89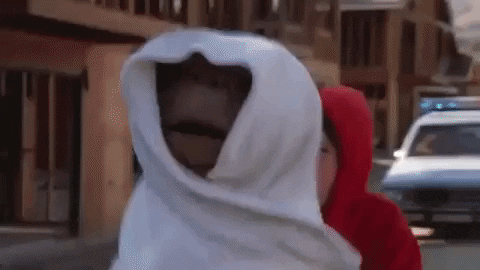 Sci-Fi Movie GIF by MANGOTEETH
Giphy
Where The Red Fern Grows
​"Where the red fern grows. My grade 5 teacher made us read it then watch it. I remember thinking she was an absolute b*tch before the movie. As an adult I'm 100% sure she hated children."
- DesperateFunction179
"My 5th grade teacher made us read the book and watch the movie too. She cried during the end of both."
- BadBackNine
"I read and watched this in 5th grade also. Shudder sobbed through most of it. Added it to my list of things that made me an overly empathetic adult"
- maiden-of-might
Dumbo — Disney animated version
​"Dumbo. The animal abuse, neglect, and let's not forget the 'Elephants on Parade' scene when Dumbo gets drunk. Have not been able to watch this movie as an adult."
- ArtisanalMagi
"I have a friend who made the mistake of showing it to a kid she was babysitting overnight. The moment the Baby Mine scene came up the kid was done. I think the night was unsalvageable."
- lowercase_underscore
"I was a really sheltered kid and never picked up on how awful it was. So then I have a kid and I'm like "oooo let's watch Dumbo!" What in the actual f**k?!? I turned it off. I honestly don't know if my kid ever watched the rest of it."
- littlescreechyowl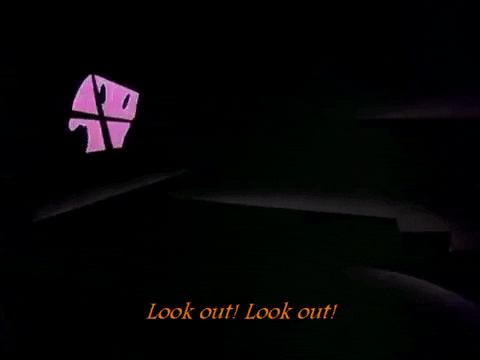 GIF by tomcjbrown
Giphy
Bridge To Terabithia
"One of a few movies that have actually made me cry. I went in expecting some Narnia like thing and I was wrong. I still get mad thinking about that movie"
- KickittoHester
"My mom has still not forgiven me for asking to see it in theatre's as a kid. We all bawled our eyes out. Same damn thing with Marley and me being shown on Christmas Eve, why did we go and why did they think that was an appropriate release to make people cry 😅"
- Troll101Catz
"I was having a terrible depression a few years ago, and decided to put on and watch a kids film to cheer me up. It couldn't have gone any worse tbf."
- BobbOShea
Watership Down
"This god forsaken movie was literally the source of ALL of my childhood nightmares. Deadass. Grandparents brought it over when I was 4. I was not ready."
"I don't blame them though, they didn't know lol"
- Flaminmallow255
"I've always been fascinated by this because I read the book quite young (I think I was seven or eight) and loved it instantly. I don't recall finding it upsetting at all, and it's remained my favourite novel into adulthood through many rereads (I've obviously come to appreciate the themes more as I've gotten older). The movie, alternatively, while pretty faithful to the book, I've always found pretty unsettling, even though I didn't watch it until I was an adult. I don't want to say it's not an appropriate story for kids, but there's just something about that movie..."
- VictoriaBells
"I saw it in the times before my memories form. Just uttering the title gives me chills."
- Sensitive_Ladder2235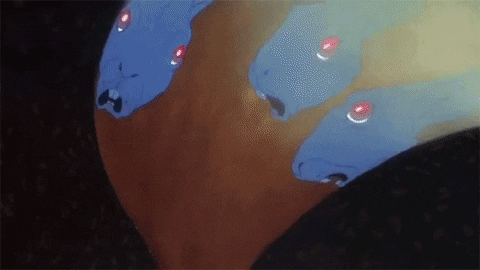 Giphy
While no one was hoping to traumatize kids with these films—we hope!—there were some really messed up moments described here.
So what's your most f*cked up kids' movie?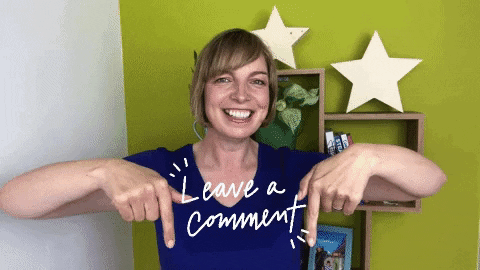 Giphy
It's fun to imagine what happens when worlds collide with the mixing of entertainment genres.
As an example of this, American author Seth Grahame-Smith comes to mind.
He brilliantly wove together two completely contrasting literary worlds together with his novels Pride and Prejudice and Zombies and Abraham Lincoln, Vampire Hunter–both of which were adapted for the big screen.
So what would happen if Katniss Everdeen from The Hunger Games trilogy was replaced by a completely different type of heroine?

The imagination of strangers went wild when Redditor AgreeableSolid7034 asked:

"Which Disney princess would win the Hunger games and why?"
Some people thought Elsa would be the best candidate, hands down, due to her supernatural powers.
Hard To Choose
"I have 3 potential winners:"
"Elsa on account of having super powers that can be used offensively."
"Mulan on having actual combat training."
"Nala (if you count her) for being a literal lion."
– Theher0not

Icy Powers
"Elsa can literally create sentient life and freeze everyone on their starting pedestals aoe style....there's no contest here twentieth level elemental wizard wins."
– Unnecessaryloongname
Fearless
"Ohhh I hadn't thought of Nala. Technically not in the Disney Princess lineup, and also she's not a princess. But yes, Nala would be a good contender."
– Pyrocephalus-rubinus

Disqualification
"Not one of the early ones, I'll tell you that right now."
– ShinyRedBalloon
"Ah, but what if the sounds of the battlefield awaken sleeping Aurora to her true love, the love of Blood drawn in war. She wakes, shatters her glass coffin, and uses the shards of glass as a pair of swords. She hasn't eaten in years, so she doesn't need a lot of food. She jumps full into the fray, slashing and jabbing with her glass swords. Tributes fall to the left and right, as Aurora, goddess of the dawn, destroys them unto their very bloodline. Exterminated."
– jewel-frog-fur
Some thought unique skills and credentials were more effective than witchcraft.
Take A Bow
"Merida is excellent with a bow. I think she'd have a fighting chance."
– UnStoppableWho_
Thematically And Practically
"Thematically? Meridia."
"Practically? Elsa. She's literally a magical ice goddess that can flash freeze an entire lake. The only other princess with anything approaching supernatural power is Moana, and her power is over water ."
– Allfunandgaymes

The Forest Expert
"Thematically, consider Pochahantas and Mulan too! If Elsa didn't immediately freeze everything in the arena, Pochahantas might survive just from knowing what's edible and what's not and being able to track people and avoid being seen!"
– ruiqi22

Woman Warrior
"Mulan - trained warrior with excellent survival skills."
– TitleProfessional760
Weapon Of Choice
"She defeated the boss Hun with a paper fan. I think she's a safe bet."
– inadequatepockets
Hitting The Bullseye
"Don't discount Merida. The Hunger Games were won by an archer, after all."
"Mulan definitely wound up being the skilled soldier of the bunch and probably best survival skills, but Merida was no stranger to the outdoors herself."
– 1CEninja
It's A Toss-Up
"I'm also between Merida and Mulan. I think they both have the skill set to win, but when it comes to killing the other princesses, I think Mulan's death count will give her an edge. Merida hasn't killed a human before, while Mulan is a war tested soldier with a 10,000 kill count."
– Pyrocephalus-rubinus

I'd put my pound sterling on Merida to epically conquer all.
Our red-headed heroine is skilled with a bow and arrow and she would fiercely take down leaders of the wealthy Capitol city of Panem to end the annual carnage once and for all.

Disney films hold a special place in people's hearts.
Iconic animated films like Snow White and the Seven Dwarfs and Peter Pan have transcended time and continue to enchant new generations while contemporary classics like Beauty and the Beast and Aladdin revived the genre when Disney struggled through an uninspired transition during rough economic times.
All of these films regardless of the decade in which they dazzled moviegoers have one thing in common. They inspire hope through the empowering message that the love of family and friends endure in even the toughest of times.
But underneath all the magic, dreams coming true, and happily ever afters, some plot points may have been more sinister than the conflicts presented to our beloved protagonists in the final cut.
Fans have explored fascinating theories that may have driven the storyline that was absent from the animators' storyboards.

To hear some examples of these, Redditor Marquis_de_Skiatook asked:

"What's the most disturbing Disney movie theory?"
Identities of certain characters were explored.
The Sales Pitch
"The merchant at the beginning of Aladdin is just making up the story, as he is just trying to sell you a lamp, which is crazy because the Dead Sea Tupperware was a better deal."
– PompeyMagnus1
Who Fired The Shot?
"Bambi's mom wasn't just killed by a hunter. She was killed by a poacher."
"There's a hunting scene right before winter where the whole family escapes. That was hunting season. You don't hear a single gunshot during the winter because it's off season. Bambi's mom was killed in early spring by a poacher."
– lllSnowmanlll

The Little Teacup
"There's a line in Be Our Guest that specifies '10 years we've been rusting...' meaning they've been enchanted for 10 years at that point. Chip is pretty clearly well under 10 when they break the spell and he becomes human. Which means that either the spell also froze their ages in time, or the teapot version of Mrs. Potts both conceived a teacup child (with who/what?!) and gave birth at some point."
"Also, there was a cupboard full of teacup children that weren't given names that also appeared to be under Mrs. Potts's care. What's the deal with those kids?!"
– killebrew_rootbeer
These films may need PG-rated prequels.
Child Was Suspect
"Lilo is responsible for her parents death because she failed to bring pudge the fish a sandwich."
– monorail_pilot

An Egg-cellent Theory
"Gaston was responsible for single-handedly supporting the egg industry of Southern France based on the amount of eggs he consumed, and his death caused a minor economic depression.​"
– BabaYagaOfKaliYuga

Woody's Original Owner
"Woody is Andy's fathers old toy and it's the only thing he has to remember him."
– ptepfenhart

Some Disney films may have war commentaries.
A Duck's Origins
"My favorite is Donald Duck being a WW2 vet. Donald is responsible for single-handedly taking an island from the Japanese, but the experience gave him serious PTSD and that's why he acts the way he does. The Department of Defense officially issued him an honorable discharge in 1984, meaning he retired as well."
– No_Improvement7573

Quacked Up History
"this was canon that Donald duck was a sailor but US naval fleet. But not many people know he was also Airborne or a para-marine."
"thats entirely his gimmick from the disney war propaganda videos."
"being in the marines at the time meaning donald duck would've seen pearl harbor from the hawaiian training videos all the way to the dolittle raids which is why he also knows how to fly a plane in the event if the pilot gets shot dead."
"donald duck was an airman in the pacific theater and took over entire japanese gun nests. Due to the time of the video(Commando Duck), the layout on the map and very much the actual role donald duck was a paratrooper in Guadalcanal."
"Donald duck wasn't a reservist or a volunteer since he was drafted so very much he fought all this mostly against his will. So it questions me why we would be there untl discharged in 1984."
"basically there is proof that everything that the previous person said is 100% true by overlooking two videos. Commando Duck 'Donald Duck vs Japan' and Donald Duck gets drafted as the release timing of both videos would match up the which battled and what unit Donald Duck would've fought in canonly. Based on merit he probably retired as a sergeant or e-5 rank. i did too much research."
"Its safe to say that Donald Duck was a paratrooper serving the 11th Airborne division n the battle of Guadalcanal. No only that he served in Guadalcanal but the timing itself means that Donald Duck served in Midway, Coral Sea, Pearl Harbor, Papa New Guinea, and the Philippines, Palau, Okinawa and based on the timing of the US fleet naval movements and as well as the history of the unit. Donald Duck probably seens some of the worst losses in US history and slept under the constant nightmare of a Japanese Air raid, death camps, jungle combat. It is also possible he saw combat in the Korean war since the same unit was posted for Korea but because he wasn't discharged until 1984 its save to say hes been in combat until Vietnam."
– ghigoli

Post-Apocalyptic World
"Cars takes place long after a war where the sapient machines wiped out their human creators."
– brak-0666

Vehicular Genocide
"Cars has a cars pope. Christianity is canon in the cars universe. This meaning there was also a cars Jesus who suffered a cars crucifixion."
"Furthermore the Jeep character is actually canonized as a WW2 veteran. There was a cars WW2 this meaning there was also a cars Hitler who killed scores of presumably Jewish cars."
– funkyjiveturkey

While many of these examples have not been officially substantiated by Disney, they sure do add another level that heightens the stakes for challenges faced by our favorite characters.
But one thing is certain.

You may never look at some of these classics the same way again.
An undeniable part of the magic that guests experience at many of the Disney parks around the world is the interactions with characters.
Those who post photos of their Disney vacations will almost always include a photo with Mickey and/or Donald Duck, Goofy, Minnie, and their human friends like Snow White, Belle, Moana, or villains like Gaston.
It's not that difficult to suspend your disbelief during an encounter with a Disney character.

But spoiler alert, the beloved icons you're putting your arms around and giving hugs are with total strangers who are paid to make you feel special.

Redditors got a chance to discover what it's like for those costumed Disney cast members giving hugs and signing autographs to kids of all ages that they've never met before.

Redditor nvoltage1017 asked:

"Former actors at Disney parks, what's the weirdest thing that happened to you while you were in character?"
Fluffy Disney characters are appealing to a niche interest in the kink community.

Sexy Furry

"I was one of the performers for Nick Wilde from Zootopia a few years ago, And if you're not aware; a large number of people in the furry community find him highly attractive."
"You can just imagine the number of people in that community who flirted with me and/or Judy and whispered some pretty sexual things to us. I think I also had a guy grab Nick's tie like in that flirty way, we had to get him escorted out of the park."
"The moral of the story is: don't be inappropriate with the characters, we are real people underneath, and there are legitimate consequences for that kind of behaviour."
– ExtremePikachu75

Just Plain Goofy
"I was playing Goofy inside a restaurant and I got swarmed Aliens-style by a hoard of <10 kids. Unfortunately while I was playing around with them the inner hood below the mask slipped over my eyes and I was completely blinded. We had assistants around whom we could signal for help by flapping our arms, but the kids had made it a game of attaching themselves Tarzan-like to both my arms and to raise them I would have had to lift 3-4 kids per arm (dangerous even if I'd been strong enough to do that)."
"I found myself blind and completely rooted to the spot, unable to ask for help and with nobody realizing that I was in trouble. I spent like a solid 10-15 minutes in that sort of limbo reflecting on the life decisions that had taken me there until the assistant came over and whispered 'set is over dude' and I finally managed to signal something was wrong."
– Judge_T

Things get out of control.
Why They Do It
"I was a 'mouse height' performer at Disney World around 2013. Can unfortunately confirm groping happened from time to time and it was incredibly uncomfortable. We were trained to move away if we could and signal to the character attendants to escort the guest away if it happened. One time some guy thought it appropriate to pick me up completely off the ground in a bear hug. The head pushed back and, because the inside is connected to us with head gear and a chin strap, my neck bent back with it and it hurt like hell."
"Not a weird story, but one of my most memorable guest experiences was meeting a little blind boy as Mickey in Epcot. I gently guided his hands to the soft ears, then the nose, and bow tie and he was laughing and his smile lit up the whole room. I still get emotional thinking about it! Interactions like that made it all worth it to me at the time."
– raybirdie

Tinkerbell's Drama
"I dated a girl that played one of the fairies for the Tinkerbell place. Beyond the pretty much daily occurrence of old dads hitting on her (she was 19 at the time) the weirdest thing to happen to her was a woman with a 4yr old little girl was all excited to get a picture with Tinkerbell, who was busy, so my ex volunteered to do pictures and entertain the little girl while they waited."
"The woman was a b*tch about that idea, rudely saying she was here to see Tinkerbell and not 'off-brand' fairies. So just shrugging it off, my ex moved on. A bit later, she hears a commotion and Tinkerbell is obviously upset, and security shows up. Apparently, this woman was Tinkerbell's bio mom and had taken her granddaughter to Disney, just to violate the restraining order against her."
"Disney Jail is a real place."
– EarlSandwich0045

Trapped In Sick
"I used to work at a different amusement park that featured similar costumed characters. The worst thing I ever heard was the time one of the characters was overcome by heat in 95 degree weather, and vomited inside the suit, splattering the inside of the suit's head with their half-digested lunch."
"They had to walk a long distance back to the dressing rooms breathing the super-heated vomit air the entire way."
– SpaceLaserPilot
That's Just Nuts
"Never was an actor, but when I was a kid at Disney World in the 70s, I watched Chip get into a fist fight with a young 20 something guy. The guys girlfriend wanted him to do a picture with Chip & Dale, but he didn't want to. Chip grabbed him in a head lock and his girlfriend snapped the photo. When Chip let go, the guy came up swinging. Dale had to jump in and break them up, as Chip started swinging back. For a kid of 12, it was awesome!"
– EddyBuddard

Shifts To Avoid
"My ex wife was in the character department at Disney World years ago. She was always getting injured by guests. From macho men wanting to see how strong of a grip Mickey had, to grabbing hold of Donald's bill and yanking really hard. Pulling noses, beaks, ears, etc., can really hurt people."
"Another person was dressed as Daisy duck and got tackled by a guest and knocked out cold. When she recovered, she pressed charges."
"The worst nights for the characters were high school senior nights and the religious group nights. Bunch of unruly teens with little to no supervision. No one wanted to work those shifts. Ever."
– artistandattorney

Some situations were a bit on the laughable side.
Meltdown
"I was part of the Disney college program and I have my own stories but not as a character. My mom on the other hand, she was a character actor back in the day (60's or 70's). They were testing a new headpiece for the seven dwarf costumes in Disneyland and my mom wore one of them out on a march with Snow White. As a Dwarf, your head is inside their hat, their face on their stomach, etc. Being Anaheim, it was really hot that summer day and as they were going around following Snow White a little kid saw my mom "Doc" he ran up to give him/her a hug. As he was hugging Doc, the plastic that made up the face started melting inwards and the child started screaming 'I killed Doc! I killed Doc!' In hysterics. Character handlers rushed my mom/Doc off through one of the secret passages by Pirates and got her out of the costume before the plastic could melt onto her."
"Always thought it was a fun story and curious how much it screwed up that kid."
– The_Woman_S

The Gas Leak
"Not a cast member but either Mickey or Minnie cut a very audible fart while posing with my wife and me. It must've been awful inside that dutch oven of a costume."
– Jeffclaterbaugh

Never Assume
"I knew a friend(a guy) who wore Minnie Mouse costume. He told me almost all guys would put their hands around his waist. He wouldn't dare to talk or else they will hear his manly voice and that might pisses them off."
"Edit: this blows up quickly. I feel I need to let people know that it's not okay to grope the Disney characters. My friend had introduced me to the people who play them and they are just normal people. All I can tell you is that they will make a disgusting face under the mask and talk sh*t about you later after work."
– reloadfreak

Disney cast members must've been relieved to some extent when the parks reopened with pandemic measures.
Not only did the Disney park institute mask mandates, but any character also interactions–if there were any at all–were at a safe distance from guests, preventing physical contact.
With normal character interactive procedures now back in place at most Disney parks, always remember to be on your best behavior.

When Walt Disney released Snow White And The Seven Dwarfs in 1937, history was made, and after a number of hugely successful animated shorts, he released his first animated feature film.
Long after Walt Disney's passing, his studio would go on to make history once again, when Beauty and the Beast became the first animated feature film to be nominated for the Academy Award for Best Picture.
It should be noted, however, that Snow White is frequently incorrectly labeled as the first feature-length animated film.

That distinction, in fact, belongs to Quirino Cristiani and Federico Valle's El Apostol's, a forgotten satire of the Argentine government. The only known copy was destroyed in 1928.
Even so, it goes to show that while Disney is often synonymous with animated films, they are not the last word on the genre.
Dreamworks, Aardman, Studio Ghibli and others have created dazzling masterpieces as good or better as anything the house of mouse ever created.
Redditor idkigiveup was eager to hear what people considered to be the greatest animated film of all time, leading them to ask:
"What is the best animated movie and why?"
Haunting, Disturbing and Magnificent.
"Paprika."
"Some clever editing technique outlined in this wonderful video essay."- OldTangerine
Have The Tissues Ready
"Grave of the Fireflies."
"Never would have thought that an animated movie could make me cry like a little b*tch."- ballislyfeee
An Epic Masterpiece
"Not sure if anyone's said this, but 'The Last Unicorn'."
"Everything from the animation to the characters is stellar, and I don't think I've ever watched an animated movie that's made me feel the same way as 'The Last Unicorn' does."- doodlerooniee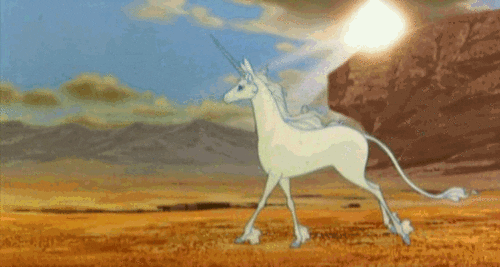 the last unicorn GIF
Giphy
The Magnificent Worlds of Miyazaki
"'Nausicaa of the Valley of the Wind' for me."
"The intricacy of Miyazaki's worlds is always fascinating, and I just love Nausicaa herself so much."
"As well as the tightly constructed plot, the majesty of the Ohmu."
"Such a great movie."- Temmere
An Undervalued Disney Gem
"'Meet the Robinsons', Disney movie."
"I fell in love with it as a child."
"I have been ridiculously depressed lately and I was going to watch something else on Netflix but saw they had it on here and immediately started crying so I put it on."
"Cried throughout the entire thing."
"Just before I was about to quit on myself entirely, that movie told me to KEEP MOVING FORWARD."
"'You learn from mistakes, successes... Ehhh not so much'."
"Was a great reminder and definitely a favorite."- lilskizzard
Can't Pick Just One...
"I have a few."
"'Your Name' is a fantastic piece of art - visually breathtaking."
"'Song of the Sea' is another gorgeous animated piece: purely magical story rooted in Irish mythology."
"The art style is a little different and beautiful, and the sound design is also fantastic."
"'The Breadwinner' is another example of beautiful storytelling filled with empathic characters and realism, telling a difficult story through the eyes of a child."
"All three of these are kind of 'mood movies' for me, for when I want to feel extra emotional."- theScribblerBirdie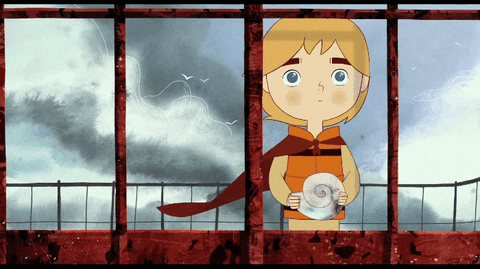 song of the sea animation GIF by Coolidge Corner Theatre
Giphy
To Call It A Work Of Art Would Be An Understatement
"'Loving Vincent' is the first, and to my knowledge only, full-length film where every frame is an oil painting."
"It's about a guy who goes to the town in Southern France where Vincent van Gogh was living and tries to figure out how he died."
"Amazing movie all around."
"I'm pretty sure that counts as animation."- nicethingscostmoney
Lost City Come To Life
"Definitely 'The Road To El Dorado'."
"Visually beautiful, music by Elton John, funny."
" I could rewatch that movie so many times."- warr1or6
Little Foot's Mom Though...

"'The Land Before Time'."
"It was the fist time that a movie made me feel so many emotions that I couldn't place at my young age, and watching little foot cope with his mother's death was devastating."
"I watched it last year when it was on Netflix, still cried."- OriginalReach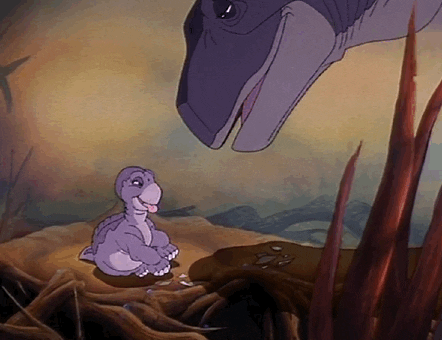 the land before time dinosaur GIF
Giphy
The Music, Oh The Music!
"I'm going to go out on a limb and say 'Triplets of Belleville'."
"If you haven't seen it, do yourself a favor and go watch it."- Malvagio
It's easy to dismiss animated films as "cartoons", strictly intended for children.
Those who do, however, are grossly underestimating how much animation can add to a story.
Leaving images in your mind that you will likely never forget for as long as you live, and often hitting at your emotions in ways you never thought possible.