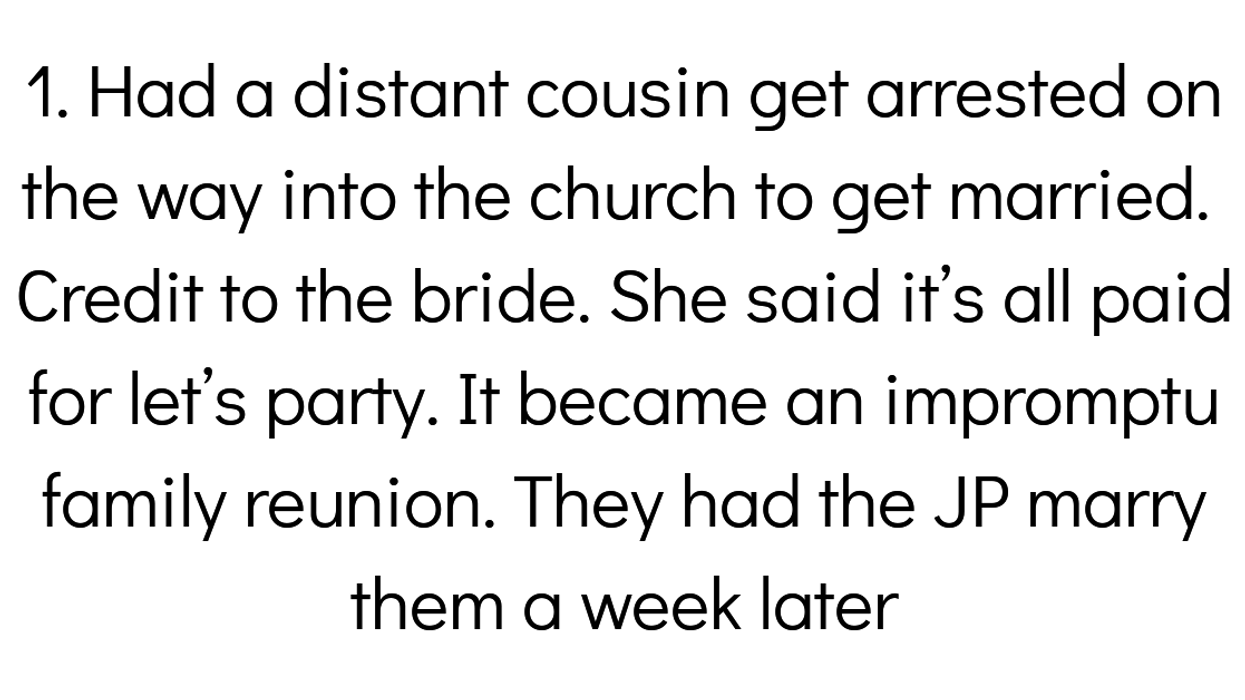 Weddings, and the festivities leading up to them, are a major milestone in many people's lives. The sheer stress and effort that go into planning a wedding are usually enough to make people realize they should try hard not to screw things up.
Sometimes that isn't the case though, and when things go wrong they often go very, very wrong.
Keep reading...
Show less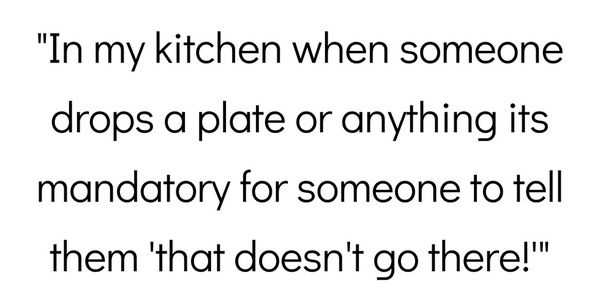 They say there's no use crying over spilled milk, but that doesn't mean there's no use in saying something to diffuse the tension.
When something goes horribly wrong, a comment that comes out of left field or a quippy comment can make everyone feel better.
Once a particular comment proves effective, there's also no real reason to look for something else. Instead, the aforementioned comment becomes your go-to.
In order to find out what those effective comments are, Redditor CruelHandLucas asked:
"What is your favorite thing to say when something goes terribly wrong?"
It's A Story
"This is good for the plot."
– mega-unicorn
"I always say "It's just a part of the character development""
– A_Trash_Homosapien
"whenever something goes completely the wrong way i think "ooooh plot twist""
– coolio_Didgeridoolio
Starting Over
""Let's start again, but this time with feeling," is one of my favorites."
– frustratedmachinist
"I want this on my gravestone"
– -PM_ME_UR_SECRETS-
I Meant To Do That!
"One time when I used to work in a kitchen the head chef accidentally clipped the chip/fries bowl where you dump freshly cooked chips/fries to season them and sent it flying across the kitchen and crashing to the floor with the clang that only stainless steel kitchenware can emit. Without missing a beat he went "I'll just pop that there for a sec" totally deadpan and turned back to the counter by the passe where he was finishing plating some dishes. Something about the humour of it cut through all the chaos of the busy kitchen and I was in tears of laughter. 10 years later I still say "I'll just pop that there for a sec" any time I knock something over, no one else seems to find it as funny as I do but it still entertains me."
– aightshiplords
"In my kitchen when someone drops a plate or anything its mandatory for someone to tell them "that doesnt go there""
– vancitypuck
"Sometimes before things even hit the ground I'll proclaim "Take that, floor!""

– Beowulf33232
British Responses
""Well that's not ideal, it's it?""
"I'm British."
– eezgorriseadback
"Best friend is British. When we play golf and she hits a bad shot she just says, "well that's unfortunate." And I love it."
– Lrv130
"i usually just shout "BIT SAD INNIT" in a British accent."
"…. My friends hate me"
– goneandsolost
"YES, QUITE BLOODY MISERABLE, I MUST SAY"
– UserNombresBeHard
Show No Emotion
"Brilliant."
"With a neutral expression, and unemotionally."
– ocelotrevs
"I do that but I say "Joy. Deep joy." Completely deadpan lol."
– BluelunarStar
You Never Saw Me. You Never Even Knew Me.
"I was never here"
– RandomGuyWithStick
"I was never given a name"
– danielstover
Stopped Too Soon
"I picked a hell of a week to stop sniffing glue"

– YouWouldThinkSo
"Whadda week to stop shooting shark adrenaline."
– DA_BATTLESUIT
"Zoinks!"
""Ruh roh""
– Deleted User
"Ah gee scoob..."
– TheSimpsonsCouch3
Those Cartoon Responses
"Great googly moogly"
– Nekumori
"I'm with this or "Oh bother" like pooh"
– timbit87
Not The Status Quo
""This is homophobic" (I'm fruity) Or "This is not what I want, this is not what I planned, and I just gotta say I do not understand""
– Bi_panic_
Short And Sweet
"Awww shiet! (Marcus Phoenix's Gears of War voice)"
– v43havkar
Not Sure That Will Help
"Say "kick it now" after someone drops something"
– hcase123
That's...Odd
"Depends on how pissed off I am. If I'm particularly irritated, I go with over the top sarcasm. Specifically, "F(ck yeah. I LOVE when that happens. It makes me so. F*cking. HORNY!""
– jdude329
So, Not Actually OK
"If it's one of my underlings I just say "it's OK no big deal, you're fired, but it's OK""
– passionateaboutEH
That's Always True!
"Well, it could have been worse."
– fiveguysjoe
Anyone Else Suddenly Craving Ice Cream?
"What the double mint chocolate chip fuck?"
– Das_Guet
Ouch!
"If someone else made a mistake:"
"Have you tried doing it properly?"
– RedChld
My New Line
"Oh, monkey!"
"It's something I picked up from the senior engineer I worked with a couple decades ago. He had a much better delivery."
– Steelforge
Ooops
"One time me and my friends got into an accident and I said "Omg slay". I wasn't invited out again."
– Proper_Secretary6047
All Eyes On Me
"I like to pause time with a loud record scratch and say "yup. That's me. I bet you're wondering how I got here.....""
– My_Sh*tty_Alter_Ego
Sometimes, when things go horribly wrong, all you want to do is bang your head against the wall...sometimes, until you knock yourself unconscious.
Or, maybe you want to scream and cry and hide in a corner.
However, finding something fun to say may be the best response...and the best way to de-stress and move on.
Keep reading...
Show less
A first date can be very exciting, but there's a lot riding on the initial romantic encounter.
Unlike in previous generations, many people meet their potential suitors through various online apps, where users have control over their perception.
Once a rapport is established, it's on to meet up in person. Once the profile pic matches expectations, most previous concerns go by the wayside and the evening can be smooth sailing.
Until it isn't.

Wondering about a hypothetical, Redditor MainSeparate2964 asked:

"Congratulations! You're on a first date with someone you really like, what's something that they could say that would ruin it completely?"
There was one person who was not on the same page.
A Late Confirmation
"This is a platonic date right? No? You know I have a boyfriend right?"
– Glad-Election-7952

Presumptions
"Reminds me of one I got once. Saw a movie, asked if she wanted to get food, she said no. I said 'oh well maybe next time then.' And she goes 'who says there's gonna be a next time?'"
– Silvinis
Identity Crisis
"A friend of hers shows up at the bar. Gestures to me, 'This is Chris.' I am not Chris."
– cambot86
Some dates didn't know what to call their situation.
What Label?
"Oh, so it's a 'date', date?"
– Akamors
The Confused Girlfriend
"No joke. I had a girl once ask me if I thought we were dating... Literally seconds after we had sex. Like we both regularly said we liked each other, went on dates, hugged and kissed in public."
"I had dinner at her families house once or twice a week. Anyway I said 'yeah' and she said 'Oh I don't think we should date.' Like what have we been doing for 3 months? Weirdest experience I've ever had with a 'romantic?' partner."
– kynthrus

A Happy Twist
"This happened to me! The guy didn't think it was a 'date' date and asked for a second chance. Almost ten years married."
– fiestafoxinue
These dates were doomed from before they even began.
False Pretenses
"It was a dare."
"Free food."
"I don't even like you that much."
– tr5al5x
Business Opportunity
"So, how would you like to own your own small business? I know a great opportunity, and all you have to do is get five of your friends to join with you! Want to join my team and crush some goals?"
– HawaiianShirtsOR

Curfew
"My dad said I need to be home by 8."
– YoungFelix105
Repeat Offender
"Remember me? the girl who cheated on your brother?"
– Brandenk192

While there are many variables involved that could derail a first date, you needn't be discouraged.
Just make sure before planning to meet with the person whom you have a crush on knows they will be on a date to ensure there will be no confusion.
Hopefully, it will be a match.
Want to "know" more?
Sign up for the Knowable newsletter here.

Never miss another big, odd, funny or heartbreaking moment again.
Keep reading...
Show less
The current state of the world is anything but pretty.
Climate change threatens our very existence.
A pandemic is raging through humankind, stopping to give those with already poor quality of life even more reason to fear.
On top of that, worldwide, there is political turmoil as the world attempts to pick up the pieces and move forward.
Things remain uncertain everywhere as the reality of a new world comes flying in.
Redditor wehosh asked:
"How do you stop stressing about the state of the world?"

Here were some of those answers.
The Doomscrolling Patrol
"Lately I've been going through my social media, including Reddit and paring way down on what I'm following. I don't need or want to get rid of it entirely, but curating my feeds has been really good for me."
"Even just to cut down on the cacophony of information being thrown at me that I could never keep up with is nice, let alone getting rid of things that are upsetting or don't serve me in some way."
"Being just connected enough to not be ignorant, without being on the front lines of whatever new perceived crisis is happening in some obscure corner of the internet is nice. Highly recommend it."-caffieneandsarcasm
It Really Is All About Tech
"Remove r/all, delete the Twitter app. Turn off notifications from any news source."
"Go to the outdoors, relax unconnected to the web. Withdrawal from checking your phone every 2 minutes should subside after a few days."
"Don't forget to remove vibrate mode, too."-I-Play-To-Win
One Small Cause
"Choose one cause for helping make it better, and research how you can realistically begin to help. You can't solve everything, but you can help in one area. Then relax, because you are already doing what you can."-MahStonks
These moments provide much needed relief from a world that seems determined to put us all on edge at every single moment.
The Turn Of A Tide
"Early 2000s, there was a big Anti-Gay push. People were fighting any hope for gay marriage, we had elected a president whose campaign emphases how he was against it and you just couldn't convince those on the other side that gay people getting married wouldn't hurt their hetro Mirages."
"At the time I felt the fight for equal rights had been pushed back decades. June 26, 2015, The Supreme Court struck down all state bans on same-sex marriage."
"Just today I saw two teen boys holding hands as they walked home from school. We still have a long way to go but I count this as a big win. I never thought we would get to this point in my life time."

"When I start to feel overwhelm I remember that this happened. Sometimes it can feel we are going backwards before real change happens."-Mable-Syrup
Interesting Times Are A Curse
"Some might say ignore it while others obsess about it so much they feel hopeless and helpless. One way or another, don't put your head in the sand."
"The times we're in will mold the.future for centuries to come. I don't have the answers, but I do know something wicked this way comes and the more we know, the more likely we are to fix it."-invalidpassword
How To: Cope
"Truth be told I am not sure I do. But more so cope with the reality of the time I live in. The world is persistently in turmoil and always has been."
"And just reminding myself the my parents lived through the Cold War. My grandparents through world wars. My great grandparents through famine."
"I remember that in the end we don't know what will be the end, but if it is tomorrow make sure that today was worth the last 24 hours I had."-jaaareder
But Can't One Person Change It All?
"By simply accepting that there's nothing I can do about the state of the world. I'm just one man. I can improve my own little piece of the world but I can't fix everyone else's."
"Change what is in your power to change. Accept what is beyond your power to change. And please have the decency to be humble about which is which. We have enough people around who can't. They're called politicians and they're a**holes."
"Also the world is getting better. We're a decade away from solving hunger for good and CO2 emissions in the US are down 22% in the last decade thanks to fracking of all things."
"Look for the good things happening in the world. You have to actively search for them because there's a lot of sh*tty people whose livelihoods are derived from you being scared and miserable. Politicians love fear, it gives them power."-Joescout187
Just when it feels like the world has won, it's your job to take back control of your life.
Kids Really Do Be Like This
"The unbridled optimism of children is an excellent remedy for depression."
"My friend's two year old son is one of the reasons I haven't considered murder suicide as a solution to my issues with my ex."
"The rest is having good friends and family to begin with and of course not being a murderous psychopath."-Joescout187
Ain't Humans Something
"I realized that the world has been in a constant state of near disaster since humanity first evolved. We'll never have a utopia and you'll likely only see a few things get better in your lifetime."
"So I figure I'm going to be here for about 80 years give or take. Might as well enjoy it while I can."-Playingpokerwithgod
Stay Present, Not In The Clouds
"I recently watched a run of Silent Hill 2. My gamer senses has gotten better that I can think of the map, the world, and even how the creators could have created the game."
"I noticed it and let myself get immersed in the world and story. I did it by keeping my mind 'only in the room' that the character was in."
"If he was outside, act like he can't see the rest of the world because of the fog. Like the game, the actual world is scary... And i make sure i keep my presence in the room I'm in."-SenorCerv
Did any of these give you a little jolt of inspiration for how to avoid all the bad stuff the next time it comes up?
Want to "know" more?
Never miss another big, odd, funny, or heartbreaking moment again.
Sign up for the Knowable newsletter here.
Keep reading...
Show less
Every red light, elevator ride, roller coaster... they're all riddled with danger. Seriously, the amount of crisis that we as humans escape on the regular is staggering.
I try not to think about the statistics of it all. If I thought any harder about it, I'd never have restful sleep.
I mean at this rate, just leaving a building that didn't collapse is something to be thankful for. How many times have you said... "But I was just there an hour ago!"
Makes you appreciate anytime we've got left.
Redditor NinjaNate123 wanted to hear about all the times many of us found a way to keep crisis at bay, by asking:
What is NOT a bullet you dodged, but a huge tactical nuke you dodged?
Most of my minor, well major miracles when you think about it, have been in cars. I've lost track of the amount of vehicle disasters I've averted, by the skin of my teeth.
Out Damn Spot!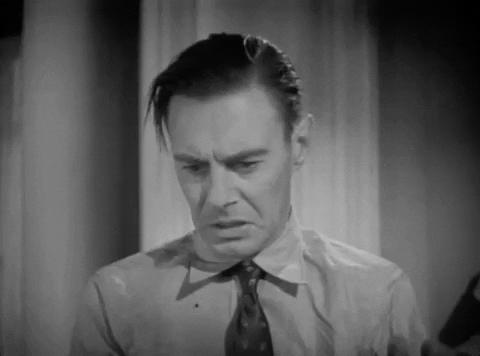 GIF by Warner Archive
Giphy
"My wife dragged my butt to the dermatologist for a cyst I have had for years. While there, the doc noticed a mole on my ankle that he didn't like. Turned out to be melanoma. Would have never gone if my wife didn't force me." ~ TheDistric
Say "AHHHH!"
"24 years old, had a pesky sore on my tongue that was really bothering me. My boyfriend's dad was a dentist so when I was over at his house one night I asked him to take a look. He recommended I go see an oral surgeon the next day for him to check it out."
"The next day I decided it was feeling better so I tried to cancel my appt but my boyfriend's dad insisted I go. I went, and the oral surgeon pretty much diagnosed it as cancer on the spot. It was aggressive and by the time of my surgery to remove it it had already spread to multiple lymph nodes."
"They ended up removing over half my tongue followed by chemo and radiation. Given how aggressive it was, I often think that if I had put off the doctors visit any longer I probably wouldn't have survived. I'm coming up on my 10 year anniversary in January." ~ bobear2017
Flip Out!
"When driving in the upper peninsula in Michigan last summer a truck full of logs flipped and barrelled straight into my car. Completely demolished the car, someone else had to come open the door for me after the fact because they were all pinned shut by logs. I walked out of there without a scratch on my body." ~ Tman2588
Pit Stop
"On a road trip in college with 4 friends. We stopped halfway for a pit stop because I had explosive diarrhea and was getting more sick by the minute. Friends carried on to Vegas and left me with one of the guys who rented us a car to return home. The friends that carried on got into a roll over: 1 died, 2 will be injured for life." ~ 4fingertakedown
Stay Single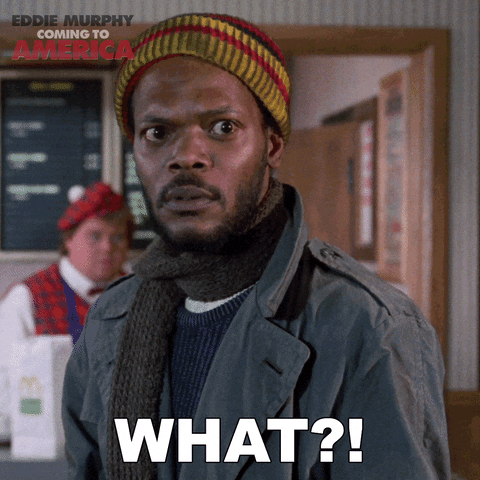 Samuel L Jackson Reaction GIF by Coming to America
Giphy
"I was engaged to someone, but then came to my senses and broke it off. Nine months later I found out she got married to someone else, then about 1 year after that she killed her husband." ~ Green-Boysenberry396
Life is a minefield when you think about it. Sometimes the heartbreak of love is worth it in hindsight. You look back and realize you loved a psycho and just say... "thanks for looking out God."
Leaks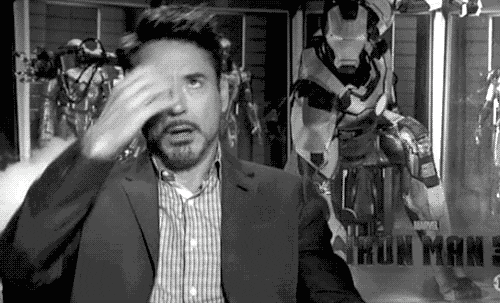 relief GIF
Giphy
"The second floor of the house I was renting collapsed a month after I moved out. ETA: apparently a water pipe sprung a leak shortly after we left. We weren't in any trouble." ~ RenaKunisaki
On Impact
"I was driving home from visiting my brother in Vermont when a snow storm started. I didn't have much experience driving in serious snow and I completely lost control. Car careened off the road and I was heading for a giant boulder at around 50 or 60 mph. I felt time slow down and I reflected on my life for a moment and then said goodbye to my body. Suddenly, I was jolted out of it by an abrupt impact, but I could see that the boulder was still 20 or 30 feet away."
"When I got out of the car, I saw that I had hit a little skinny tree that I could have easily grabbed with one hand. However, it had a giant root system that lifted the car off the ground and stopped me. Car was totaled, but I was completely fine because of that little tree. There is no way I would have survived the other impact." ~ senatorbolton
These Gestures Are Offensive In Other Countries | George Takei's Oh Myyy
Winter Days
"Walking to work in the winter. Half way through a step forward under a skybridge when an icicle taller than me (6') and probably 2' around at the base crashes down right in front of my nose. If my bus had been a half second earlier, if I had walked even a tiny bit faster pace."
"I would have been impaled from brains to testicles. I was frozen in place for a minute, quietly surveying my near-death. There was another pedestrian nearby who witnessed it and the wide-eyed, ashen look on his face as he stared at me confirmed just how narrowly fortunate I was that day." ~ MoridinXP
where I had just been...
"This happened before cellphones existed. I had a long commute home and on a rare occasion my husband drove into the city to meet me. I started for home about fifteen minutes before he did. On the stretch of Highway 101 that I needed to be on for about twenty miles, there was a big rig in front of me that seemed to be driving erratically."
"I got this weird feeling and just moved over to the next lane and accelerated past him. In my rear view mirror, I saw the big rig run over the car in front of him, flip to its side crushing the cars in the next lane (where I had just been). My husband was behind the accident and as the police were letting cars file past in single file."
"He saw one of the crushed cars had a red bumper. He got home a couple of hours after me and said he'd never been so happy to see my red car in the driveway. That he'd been holding his breath as he turned down our street because he really expected me to be under the big rig." ~ susgrigs
The Rising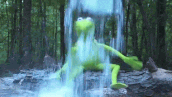 Water Douse GIF
Giphy
"My wife and I were prepared to buy a nice riverfront property in 2019, but the owners ( her dad and uncle) were dragging their feet. We had our down payment, we were approved for the mortgage, and we had even been living there paying rent."
"Then the river rose 30ft/10m and we had to evacuate. The water kept rising. The house was destroyed before we bought it. So we didn't buy it." ~ Idiot_Savant_Tinker
And these are just the disasters we know about. The truth is, we probably survive near-death experiences with every breath we take. God speed everyone.
Want to "know" more?
Sign up for the Knowable newsletter here.
Never miss another big, odd, funny or heartbreaking moment again.
Keep reading...
Show less