It seems nearly every week we find out something that was regular practice in the not-so-distant past was horribly dangerous. Whether this was the lack or poor excuse for car seats (if you even buckled at all) or using poisonous substances in makeup, household items, or worse ingesting them.
One thing that comes to mind is the vintage advertisements for weight loss pills targeted at women. Everyone wants something that will make them skinny by magic right? Wrong. These pills actually contained tapeworm. So these women were giving themselves a parasite with medical approval just to lose weight...pairs well with the cigarette ads of the time.
Curious of others experiences Redditor pinkyfirefly asked:
"What is something that used to be considered safe/okay but now we know is harmful?"
These responses show just how far we've come in understanding safety. It also gives us good reason to always question new things that come out that are "too good to be true" because they probably are.
Want to "know" more? Never miss another big, odd, funny, or heartbreaking moment again. Sign up for the Knowable newsletter here.
Keep reading...
Show less
While we don't think about them all constantly, we encounter several grave threats to our health and safety every single day.
And it makes sense that we don't think about them constantly. If we obsessed over the statistics of car accidents every time we got in a car, we'd never go anywhere. We'd never do anything.
So we have to compartmentalize.
And yet, a recent Reddit thread asked users, just for a few moments, to carve out a space in time to recognize all those dangers. It's nothing think about too hard or consistently, but it's worth doing once in awhile.
Redditor ILikeIceCreamSoMuch asked:
"What is far deadlier than most people realize?"
Many people talked about the medicinal products we deem relatively harmless. They may be relatively safe, but that doesn't mean they're totally safe no matter what you do with them.
Keep It In Check
"Tylenol. Its actually a lot easier to overdose on than most people realize, and it slowly destroys your liver over a period of days. Not a fun way to die to put it lightly."
Not a Toy
"Visine."
"People seem to have this idea that a few drops of visine in someone's drink will give them diarrhea, and do it to prank each other, or get some sort of satisfaction with petty revenge."
"People are sitting in prison for murder for doing this. The main active ingredient is called tetrahydrozoline. Once it enters your gastrointestinal tract, it can be absorbed by your intestines and end up in your blood, causing your blood pressure and heart rate to drop to potentially life-threatening levels."
"It really makes me wonder how many people have died due to people copycatting that scene in Wedding Crashers."
Not for Your Belly
"Essential oils. Do NOT put them in your food, they are not made to be food safe" -- willowdove01
"Some of them are capable of burning a hole in your esophagus. Why people think they're food safe I'll never know" -- jellybeansean3648
A Surprising Reaction
"Grapefruit in combination with many -- MANY -- prescription drugs. Basically, grapefruit can affect the way your medications work. With some meds, adding grapefruit screws up the way your body metabolizes the drug, so you end up with far more than the prescribed dosage."
"It can also work in the opposite way with other drugs, leaving you with less than the prescribed dosage. This is especially bad if you have high blood pressure or arrhythmia."
-- A-RovinIGo
Other people discussed the internal medical emergencies that might be going on without us even knowing. Often, these come as a result of us downplaying our own needs.
Keep the Legs Moving
"Trucker here. I've had two blood clots in my legs from driving long distances and having my leg pressed against the corner of the seat for hours on end. One almost killed me. Apparently it's very common with truckers. You're supposed to stop and walk around every hour and a half to keep things circulating (which almost nobody does due to time constraints)."
"The same thing happens in gaming chairs apparently - people forget to move their legs because they're so focused on the game. You don't need to worry so much if you're younger, but if you're a gamer who's a little older, please be aware."
-- tjfergusen
So Small, So Important
"Abscessed teeth can kill you." -- my_name_is_bobbi
"I had an abscess at 21 that I didn't get treated until I was 28 due to a fear of the dentist, by that point it was a root canal and an extraction and I now have a section of my jaw missing. Get it early and avoid this sh**." -- nighttimehamster
Not to Be Taken Lightly
"Infections can still mess you up easily if you don't seek medication attention in time" -- Humidhotness68
"I lost my brother a few days ago to this exact thing. Turned septic from an untreated UTI & spent about a week in the hospital, but it was too late by then."
"Infections aren't anything to fu** around with or ignore." -- Aurzyerne
And others shared advice about how to avoid tragic accidents and injuries.
Keep Breathing
"Holding your breath while scuba diving. To most people who don't scuba dive it may sound harmless but if you hold your breath and ascend even a little over a meter you can suffer major lung damage as a result of the gas in your lungs expanding from the lessening pressure."
-- Alone-Monk
Zing
"Touching sh** inside a guitar amp can fu** you up really bad. It holds a charge."
"And it all comes out at once if you touch the wrong spot."
-- Pei-toss
Unseen Until Too Late
"Going for runs on the roads at night without wearing lights or reflectors. Often times people even wear black. They think that just because they can see the car that the car can see them."
"It only takes one accident to change someone's life completely."
-- chubky
But before we consider this list as merely gratuitous and morbid, try to keep these in mind. It might help prevent a disaster some day.
Want to "know" more? Never miss another big, odd, funny, or heartbreaking moment again. Sign up for the Knowable newsletter here.
Keep reading...
Show less
Every once in awhile we tune into the local news--or more likely Facebook, nowadays--and hear about some shocking surprise tragedy that struck some person in our town.
When we come across the story, we consider just how terrible that poor person's luck was. The accident that led to death or injury often seems one in a million, and we rest easy knowing, statistically, that won't happen to us.
But some of those "flukes," despite seeming totally bizarre, happen enough that we ought to give them a little more of our attention.

Add up enough freak accidents and you've got yourself a pattern.
Redditor Scrabt asked was apparently keyed in. They asked about the quietly dangerous things that hurt or kill more people than we realize:
"What's something people don't know just how dangerous it actually is?"
Of course, plenty of tragic medical occurrences made it on the list. These seem like anti-climactic ways to die or suffer, but they are avoidable if we take a second to acknowledge them.
Shut Eye
"Not getting enough sleep." -- TheBassMeister
"As a firefighter who works 48 hour shifts at a busy station I really wish we would figure this out. It absolutely destroys guys." -- PhluckFace

"Even losing 1 hour of sleep (getting 7 instead of 8) can increase your risk of heart attack by 25%." -- CollegeSuperSenior
A Very Bad Mixture
"I saw this posted on a similar thread a few weeks ago and feel it's worth mentioning again - grapefruit and grapefruit juice. It can seriously mess up medications you may need to take. There is a page on the FDA website specifically warning about the dangers of ingesting medication and having grapefruit or grapefruit juice."
Don't Forget About This Virus
"The flu. It's one of the top 10 causes of death yearly in the US, combined with pneumonia (which they do because influenza deaths are often listed as pneumonia for cause of death). Flu deaths tend to exceed both suicide and homicide numbers along with car-related deaths."
"While many of these are people above 65, the flu is still dangerous to younger people, and there are a lot of bad things it does that fall short of killing people."
-- Plaid02
Others placed their attention on forces of nature. Us arrogant human beings tend to avoid being honest about just how vulnerable we are to the whims of our planet.
Picker Beware
"I'd say mushrooms, mostly because quite a lot of people annually die and a lot more get poisoned because they pick them according to some old wives tales, like if it's eaten by an animal or if it easily peels off it is for some reason or another safe for human consumption."
-- 1raindrop
Far Bigger, Heavier, and Stronger
"The ocean. People have no clue how powerful it is."
"I live at the beach and every summer multiple people die going in the ocean after hours. After hours meaning no lifeguards on duty."
Thinking Long Term
"The SUN" -- newone1104
"Yes! My bf works outside and it pisses me off that he is very careless about using sunscreen! I'm like in 15 yrs your going to look like your 100 and die a horrible death of skin cancer." -- Skinnysusan
Finally, some discussed the man vs. machine area of freak accidents. Our engineering minds have come up with some efficient, powerful tools.
But that power can come back to bite us.
Chomp, Chomp, Chomp
"Escalators, the top of the Escalators houses the motor that is basically a human shredder, the only thing seperating you from death is a jankly placed piece is sheet metal"
-- VeryTrickyy
Blame Hollywood
"Firing a 'warning shot' with guns."
"The bullet doesn't just continue into space. What goes up...."
"You are responsible for everything that leaves the barrel of your firearm and what it ends up hitting. Out of sight, out of mind doesn't work here."
-- Brotherbeam
Recoil
"Garage door springs. They'll kill you."
"Seriously, let a professional handle that sort of thing." -- BriSnyScienceGuy
"Even professionals are scared to death of them." -- Kool_McKool
"They are under such immense pressure that when they break, it sounds like a very loud gunshot or explosion. My neighbor's door spring broke and it woke up half the block." -- Au_Uncirculated
Just when you needed yet one more reason to have your head on a swivel whenever you partake in human life at all.
If you or someone you know is struggling, you can contact the National Suicide Prevention Lifeline at 1-800-273-TALK (8255).
To find help outside the United States, the International Association for Suicide Prevention has resources available at https://www.iasp.info/resources/Crisis_Centres/
Keep reading...
Show less
I've lost count when it comes to the amount of times lettuce has been marked hazardous. And I love lettuce.
Like, what is happening on these Midwest farms that lettuce is being poisoned before it's shipped out to feed the nation?
Everytime that recall occurs I clutch my pearls and run to my fridge to inventory. For me food recalls are the worst.
You never know if you're already in danger.
Though it maybe harrowing to hear, Redditor u/Pristine-Tomorrow710 asked:
What were the scariest product recalls in history?
Keep reading...
Show less
Taking that epic selfie from high off the ground may be worth it for all the likes you're hoping to receive after posting it on social media, but it's not worth risking your life for.
Sure, the idea of getting that impressive shot from the edge of a cliff or near the edge of a rooftop deck on a high-rise may seem harmless, but unfortunately, there have been numerous reports of tourists dying while trying to get that viral selfie.

Curious to hear examples of the potential dangers around us we don't even think about, Redditor Crimtot asked:

"What seems harmless but is incredibly dangerous?"
Warnings exist for a reason.
Why Everyone Buckles Up
"Having a loose animal in the car. A safety instructor once told me doctors had to dig dog bones out of a person after it got between them and an airbag."
"Same with unrestrained people."
"They become projectiles."
"Story of a car full of adults. No seatbelts. With a child/baby properly strapped in in the back seat. Got into a major accident. Baby was killed due to the unrestrained adult being tossed around in the car therefore crushing and impacting the baby."
"Might have been an older drivers Ed scare tactic story but it seems feasible."
Anesthesia Protocol
"Having a small snack before a medical procedure that requires anesthesia. Intubation can cause you to throw up your food and you can choke."
"And the food won't just get stuck in your throat as it comes up, it can pass into your lungs."
It Cuts Deep
"Mandolin slicer. USE THE HANDGUARD. Or lose a thumb....."
Kids can't identify potential dangers until it's too late.
They're Pretty Dangerous
"Kids picking flowers in the park. I am a conservation Technician for a county park system, at least once a year I have to stop parents with kids picking flowers off the trail because I see kids with either poison hemlock (one of the deadliest plants if injesting even a tiny amount) or wild parsnip, which can cause some serious permanent scarring, burns, and boils if the sap gets on to your skin and is exposed to sunlight. Don't let your kids pick or eat anything you aren't 100% sure of."
This Tracks
"Walking along the train tracks. It's crazy how fast millions of pounds of freight can sneak up on you."
– kwick818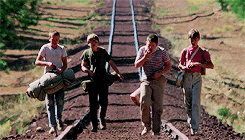 river phoenix 80s GIF
Giphy
Exploration
There is a thrill element to going places where you shouldn't. Unless you're an expert.
Claustrophobic Much?
"Confined spaces, above ground or worse, below the surface. If you do urban exploration, caving, or anything like that, get a 4 gas detector, clip it to you chest or belt, and set the alarm to max. If it makes a sound, get the fuck out or you are going to die."
– yearof39

Watch Your Step
"walking off the boardwalks at Yellowstone. They have several signs pressing that even though the ground may look normal in those areas it could be really thin. I've seen people do it anyway. Looks safe ≠ safe."
That Bites
The pain from the initial bite was the least of their worries.

Meow-ch!
"Cat bites. Cat fangs puncture deep and trap bacteria deep within your tissue, leading to horrible infections. You might think one isn't serious because it's not bleeding much, but that just means the wound isn't flushing properly - if you get seriously bitten by a cat, it's very important to go to urgent care so they can properly disinfect the wound."
The Worst Bite There Is
"A human bite. I worked at a kindergarten and one kid was sometimes super sweet but sometimes really mean. He could switch in a second. While I was naming the colouring pages they were about to get he walked up to me and bit me in the arm. Didn't think it was through, cuz no blood. But it started swelling and getting red and the marks were clearly there. Went to the doc right after my shift. He explained a human bite is the second most dangerous bite there is. Got antibiotics but they didn't work. Arm just kept swelling and getting completely dark purple over two days. Doctor sent me to the hospital where I got strong antibiotics. Basically everything in me was cleaned with that sh*t, felt weak for months. If it didn't start working by that night is have to come back and be hospitalised to get my underarm removed. I've sh@t some bricks there. Never thought a kids bite could cause this. Luckily the swelling got less and the bruise stopped spreading so I still have my arm, but that was very close."
"EDIT: For the people who asked me if I punished the kid, his parents did that for me. My coworker reported the incident to the parents and it was one of his last days there as they were moving (this was planned before he bit me.) His parents were really sorry and a few days later when I worked again, it was the last time I'd see him and the parents brought him towards me because they wanted him to apologize. My arm was still fairly swollen and purple at that point and he was absolutely shocked that he had been the cause of that. He apologized with tears in his eyes and actually hugged me. He promised me never to bite anyone again (apparently he had bitten his family and even other children before! So far no one had gotten an infection apart from me.) and I really think he meant that. Still had a good day with him, but was still pretty mad as I was scared my antibiotics stopped working or something but now that I think back on him he's not a bad kid, just a troubled mind that didn't get the right treatment. But a scare not the less!"
– stuetel
Dangers Of Water
We drink it, we swim in it – heck, we're comprised mostly of it. But there are things that will make you extra cautious about oceans and pools after reading these comments.
Out To Sea
"Riptide and 4ft waves....my friend drowned at the beach from a sneaker set. Terrible."
"For everyone else reading this - keeping swimming parallel to shore. You'll get pulled out a little bit, but more importantly you'll also get out of the riptide without being exhausted and can then get back."
Bedsheet Underwater

"Pool covers. It's like being wrapped in a bedsheet underwater. You cannot get free and you cannot scream for help. Once you're in the only way to get out is to be incredibly lucky and get free or have faith that someone saw or heard you fall in and hope that they get you in time."
"It's a lengthy, terrifying, death that's completely avoidable."
"fun fact i actually almost died bc of this as a little kid at a pool party, neighbor's dog noticed though and barked at the pool until someone came by."
Not A Playground
"Oceanside cliff blow holes. People think they're so much fun to stand around and play with. You fall into one of those things, you aren't getting out. The waves will just bludgeon you against the rocks until you die or you're lucky enough to drown first."
You'll have to take some of the horrifying comments above with a grain of salt. Living in fear is no way to live, as they say.
But one should still be mindful of the potential dangers around us and to heed the general warnings signs – which exist for a reason.
You may feel invincible by going for that boast-worthy selfie or exploring areas at a national park where you shouldn't.
But remember – luck won't always be on your side.
Keep reading...
Show less