School is intended to be a safe place.
Children are sent there with the purpose of coming home to parents in one piece.
Physically and mentally.
But sadly, schools have become a hotbed of danger and chaos.
You'll see things that will haunt you forever.
Redditor SuperLeftyAliReddit wanted to know what memories of being a student keep people up at night. So they asked:
"What was the most gruesome thing you saw at your school?"
I remember the run of the mill fights and being mugged. Yeah, school was a blast. But I lived.
Blinded
"Witnessed the end of a girl being jumped by about 6 other girls in high-school. Don't know what exactly they cut her face with but they tried to cut her eye out and did a pretty close job. Sadly she went blind in that eye. That was sophomore year and she graduated with us as the second highest GPA. The amount of blood that was there and the eye almost hanging out of her skull was just wild to see."
skeedlz
Ripped Off
"We used to spray soap on the floor in the shower and do penguin slides. One kid got a running start, jumped and slid across the floor on his chest full speed. Right up until he hit the black grip tape on the floor exiting the showers... Ripped one nipple clean off... Or should I say sanded one clean off."
User Deleted
Turned purple...
"Saw a kid die from cardiac arrest at wrestling practice. I was in 6th grade, he was a seventh grader We were doing a takedown drill. Him and his partner were right next to me. He got taken down and stopped breathing. Turned purple. They rushed us out of the gym. Apparently, he had a hole in his heart and the doctors warned him not to do sports. RIP"
coci222
elementary
"My elementary school used to be a high school. We had a big a** football field next to the paved playground, with concrete ramps going down to the field, dropping probably 12ft in from start to finish, and about 40ft long. Up top, the playground had a little ledge to prevent you from falling down to the ramp, but kids would sit on it because it was perfect kid-seat height."
"I'm sure you know where this is going: there was a spot on the playground where kids could fall backwards 12ft down onto concrete. That's exactly what happened. A kid was standing next to that ledge and a bigger kid thought it would be funny to throw a football at him really hard."
"The kid predictably fell backwards when he was hit by it and landed on his head. We could literally see his broken skull, possibly bits of what was inside. The pool of blood slowly expanding around his tiny body. I'll never forget it. Shockingly, the kid survived. He wasn't quite the same after that, traumatic brain injury and all, but he was a 2nd grader."
"Good chance he'd grow out of it, or at least I hope he did. The 4th grader who threw the ball at him was expelled. It wasn't the first time he'd hurt a little kid."
User Deleted
In self defense...
"Our female gym teacher was a tough lady, built similarly to WWE's Chyna if that helps paint a picture. Anyhow, kind of a rough school district in the city, and the gym teacher had just gotten this f**king rough girl suspended for fighting. Upon rough girl returning to school, word was she was going to attack the gym teacher."
"And well, she did. Only this rough a** girl, she had sticthes in her face from the previous fight, and the gym teacher went right for the stitches, she grabbed them by the handful and just ripped the stitches right out of the girl's face, right there in gym class. In self defense."
Scapular_Fin
I never knew school was such a minefield of terror.
Sad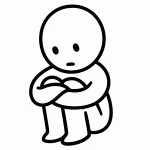 Sad Cartoon GIF
Giphy
"My 8th grade year I saw a kid got run over by a school bus. He died later that day."
spacebarthingy
don't run with scissors!!!
"In Primary School (aged 8-9ish), we'd quite often have those safety scissors, with the rounded tips but still metal, for different crafts and tasks. I remember one time when the teacher had an emergency and had to leave the classroom. The class clown decided this moment was the ideal time to run around the room with said scissors in hand."
"He tripped, fell towards another child and the scissors went into the back of the other child's hand removing a good square inch of flesh to the bone and showering the table in blood. I remember the substitute teacher almost passing out when she got to the classroom. There's a reason they say don't run with scissors!"
WritingFromABasement
Inside... out?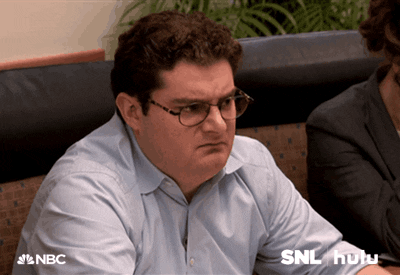 Saturday Night Live Ugh GIF by HULU
Giphy
"Classmate turned his thumb inside out with a table saw. Blood didn't squirt, it just oozed out in big drops. Still picture one guy eating a chocolate cupcake while looking closely at the wound."
Nonamanadus
Blood everywhere...
"A guy in wood shop class turned up a lathe at too high a setting, had some boards glued together I think and wanted to make a bat or something. He revved it up and applied a chisel or something during the process, the wood blew apart and it gouged out one of his eyes. Blood everywhere."
privatemidnight
Dribble
"Our star basketball player died on the court during an afternoon practice - he had an undiagnosed heart condition and that was that. The rest of us players were shuffled into the other gymnasium as a coach grabbed a defibrillator, but at that point it was too late. It was a very sad and surreal experience."
GoFightFoo
Lord, I'm thankful I made it out of school alive. Seriously.
Want to "know" more?
Sign up for the Knowable newsletter here.
Never miss another big, odd, funny or heartbreaking moment again.
Keep reading...
Show less
People can learn a lot from movies, but it would be wise for audiences to take any imparted wisdom with a grain of salt.

A majority of blockbusters are fiction of course, and even films loosely based on real-life stories can have false information unless a notable director is helming the picture.
To show that some popular beliefs people believe to be true can be dangerously spurious, Redditor kuroi_sny asked:

"What survival myth is completely wrong and can get you killed?"
The desert is beautiful. But it can also kill you. Beware of the following myths.
Nourishment From Desert
"Drinking water from a cactus. If absolutely needed for survival, you could get some water out of a Fishhook Barrel Cactus but only in limited amounts, most cactuses have various acids and other fun things in the water that will make you sh*t yourself to death, dehydration in the desert isn't a laughing matter and you don't want to lose the precious bit of water left in your body to the desert ground."
– Kraymur

The Intense, Dry Heat
"'The desert is hot and little clothing is best.' Cover up during both the day and the night. The sun will burn you and dehydrate you very quickly. During the night it's really common for people to die of hypothermia because the temperature drops so fast. And honestly living here, during the winter it gets to the low 20s f pretty often. And the wind is awful."
"Edit to add: it's dry heat here. There's no moisture in the air majority of the year. You can drop dead from heat stroke 'barely' sweating."
– Curious_Wrangler_980

In the face of immediate danger, you may want to unlearn these popular "tips."
See Ya Later Alligator
"Running in a zigzag to outrun an alligator. Alligators don't run for long distances, so this will probably just waste your energy. They can also climb some fences and trees as well."
– TchaikenNugget

Seal Yourself In
"'If you're in a tornado, open all your windows to equalize the pressure inside to match the outside.'"
"If you're in a tornado opening any window or door will create a wind tunnel that rips your entire roof off."
– NightOnF'kMountain

Lightning Pattern

"Lightning never strikes twice in the same place."
"If lightning has found a path that it likes to the ground it's extremely likely to strike there multiple times. That why lightning rods work."
– CatboyInAMaidOutfit

When Encountering Jaws
"If a shark is coming after you, swim away."
"If a shark is coming towards you in the first place, it's most likely just curious and wants to check you out. Swimming away and thrashing about will further intrigue it to keep following you. Instead, redirect it by running your hand along its side and carefully positioning it to swim away from you."
"(Side note: If one happens to bite you, poke/stab it in the eyes or pull on its gills instead of bopping it in the nose. Gills and eyes are far more sensitive than a shark's nose.)"
– swaggy_kyu

Are you lost? You won't be found as easily if you fall for these unfounded suggestions.

Change Your Voicemail When Distressed
"That bullsh*t 'change your voicemail if you are lost' PSA that was making the rounds over the last year. You need a cell signal to change your voicemail, if you have a signal then why wouldn't you just call for help?"
"Moreover it misses the most important thing about US cell phones and being lost: 911 will work on any cell tower regardless if it's 'in network' or even if you have an active phone plan or not. So in an emergency always TRY dialing 911 regardless of your phone appears to have signal or not."
"EDIT: To the dozens of people who replied that you are supposed to change your voicemail before going out, this is still a bad idea. If you're lost or injured in the woods, your survival depends on being found quickly. Waiting for someone to get worried enough about you not coming back to try calling you is just going to waste precious time. It's much better to just tell your friends/family where you will be and set up a check-in time so they know you made it back safely."
– Histidine
Getting Your Bearings
"That moss grows on the north side of a tree. It can grow all over the tree, so it's not a steadfast rule that you should make important decisions solely on."
– dildorthegreat87

Just in case you're planning a solo hike in the desert or go scuba diving in uncharted waters of the deep, your newly acquired knowledge here could save your life, thanks to these anonymous Redditors.
It's a good reminder to double check on the things you've heard to be true to get a solid confirmation.
A brief research can literally be a matter of life or death.

Want to "know" more?
Sign up for the Knowable newsletter here.

Never miss another big, odd, funny or heartbreaking moment again.
Keep reading...
Show less
When I was a kid, I LOVED amusement parks and roller coasters.
Then I grew up and life happened.
There is nothing worse than being thrown up on in the Gravitron.
It just makes the whole experience a little less fun.
You know what I mean?
Redditor gakuow wanted to hear about the times people were left... unamused. They asked:
"What is your worst experience at an amusement park?"
I also have claustrophobic issues. And I once got trapped for too long at the end of one of those cyclone things. Never Again.
Son of a Wasp?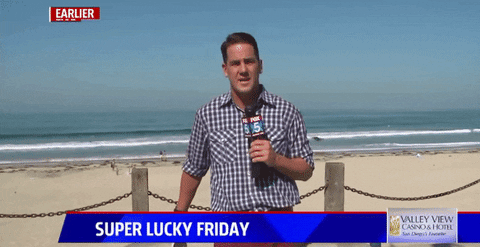 scared news anchor GIF by Mashable
Giphy
"A wasp got stuck in my shirt while riding Son of Beast at Kings Island. We sat on the brake run for several minutes while it stung away with abandon."
DenL4242
Towering
"I got stuck at the top of one of those 'rise up high, then drop you down' tower rides because there was a technical malfunction. We were up there for five minutes, and they apparently didn't have a speaker installed in the ride at the time, so nobody had any idea what was going on."
PM_ME_YOUR_WORRIES
Small Pause
"Last year Tokyo Disney reopened the 'It's A Small World' ride and I went on it the day of reopen. It got stuck. For half an hour I sat there with the song blaring away in not-english, which was occasionally interrupted by the vaguely threatening announcement:"
"LADIES AND GENTLEMEN, THE HAPPIEST CRUISE THAT EVER SAILED... HAS STOPPED."
Cavalish
Over Texas
"I was at Six Flag Over Texas in 1999, on the Roaring Rapids Ride. It's a ride where you sit in a round boat thing and splash down a concrete lazy river. Our tube looked a little low, but nothing crazy. Towards the end if the ride, it started to sink. It eventually flipped over. My dad had to swim against pumping water to save my brother and I had to hold onto a side faux rock for dear life."
"It took the employees forever to turn off the pumps. 1 lady was unable to get her seatbelts off and died. It was horrific. I remember holding on to the side singing the Titanic song to myself watching my dad disappear and reappear in the water getting to my brother. However, we ended up getting a settlement (like $100k) out of it so that was nice. The family of the woman who died got millions. Will never ride that again."
Fastthrowaway0303
Whiplash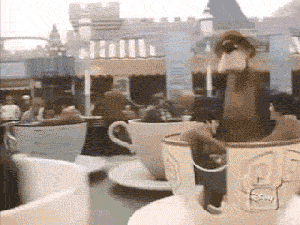 theme park disneyland GIF
Giphy
"Something happened on the teacups and they just stopped rapidly. Pretty good whiplash and a bruise on my hip. Not a fun one."
louispyb
I can't with these stories. I'm never going to Mickey's House again!
Too High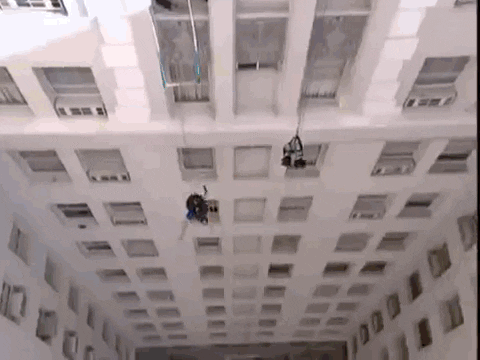 fear factor falling GIF by Endemol Beyond
Giphy
"Me, a lad afraid of heights got stuck at the top of the titan for 2 F**KING HOURS at 6 flags Arlington."
User Deleted
Love Gone Wrong
"The girl I was dating in high school and I got stuck in the amusement park's 'Tunnel of Love.' Apparently, the pump that kept the water moving to propel the 'love boat' quit - and there we were, about 1/3 of the way into a long, deep tunnel, barely moving. It was a little scary, but cozy, being the only ones in the dark space at the time."
Back2Bach
First Times
"I was on a wooden rollercoaster with my sister, and it was both of our first roller coasters. She was (and still is) a scrawny little thing, and she's pretty short, so she couldn't hold onto the railing in front with ease. She decided to hold onto the harness thing that comes down, even after I told her not to multiple times."
"About halfway through the coaster, we reach a small flat area, and she's pulling on that harness hard, and the f**ker popped up, like completely opened so she was sitting there with nothing holding her in. I had to hold onto her for the rest of the ride, but I wasn't a strong kid, idk how she didn't fly out. We both love roller coasters still though so ¯_(ツ)_/¯."
swaghunter24
"Pretend"
"Mark me down as stupid. I stood in the line for the submarine ride at Disneyland for at least an hour. When we got towards the front I realized that those damned things actually go under water. I'm extremely claustrophobic so I had to bow out. I guess I thought maybe you stayed above water and were in 'pretend' water."
RonSwansonsOldMan
Blood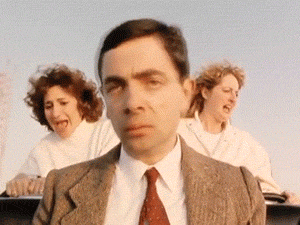 Roller Coaster Drinking GIF
Giphy
"My dad and I went on a roller coaster a few weeks after he'd had stomach surgery."
"The attendant pushed down the safety bar a little too hard on my dad and when the ride was over, his shirt was soaked with blood. The push had ripped some of his stitches. He was fine. I was actually freaking out more, but bright side, the park gave him a free shirt."
totallyworkinghere
That's why you have to be careful with these rides!
Want to "know" more?
Sign up for the Knowable newsletter here.
Never miss another big, odd, funny or heartbreaking moment again.
Keep reading...
Show less
Cute and cuddly goes a long way when it comes to human opinions on our fellow fauna.
But the animals that prey on the cuter critters or are a bit bitey or less than lovely never fare as well in the court of public opinion.
While some animals are as vicious as their reputation claims—looking at you honey badger—others are simply misunderstood.
Redditor MrBonelessPizza24 asked:
"What animals have a bad reputation they don't deserve?"
Vultures
"At least in my area of the US, the buzzards [turkey vultures] clean up the trash and dead animals on the roads. Yes, they are not pretty to look at but they do the job barely anyone wants to do."
- Cheetodude625
"Fun fact about vultures. In India because cows are revered they would euthanize old or sick ones with a special chemical as it was deemed the most humane way to do it. However despite having an almost steel trap of a stomach this chemical was also killing the vultures."
"The vultures would usually eat the dead cattle when they were decomposing. As a result decomposing cows were no longer being consumed and were beginning to spread sickness to the people around them."
"The Indian government had to make a change to the way cows were euthanized and as a result the vulture population bounced back and sickness due to proximity of rotting cow corpses went down."
"Vultures are very important to the ecosystem, but are usually treated badly because of their primary purpose within it. They shouldn't be, they provide an integral piece of it."
- Ghonaherpasiphilaids
"Himalayan cultures have to assist the scavenger birds by cutting up their dead and feeding it to the scavenger birds."
"Where they are above the frost line nothing really decomposes. It's also much too cold for burial."
"I'm sure they appreciate the birds, as they'd have died of disease without their assistance."
- PolarBare333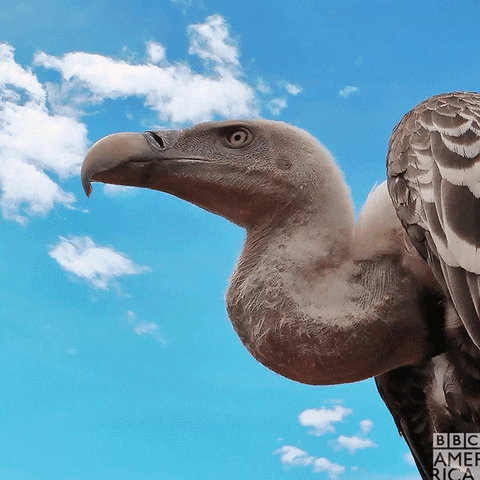 Giphy
Oviraptor
"It's extinct, but Oviraptor."
"Back in the day the first one found was a well preserved specimen lying in a clutch of eggs."
"Not much was known about oviraptor eggs at the time but these seemed to be from a much larger species, so it was thought that the critter died trying to get a free meal, so the paleontologist gave it the name 'Egg theif'."
"Years later, a really well preserved clutch of eggs was found, with perfect baby Oviraptor skeletons inside."
"The original specimen was a mother that died trying to protect its eggs, not trying to eat them. But because of paleontologys' 'first come, first served' rules in regards to naming things it will be forever known as a thief."
- Froskr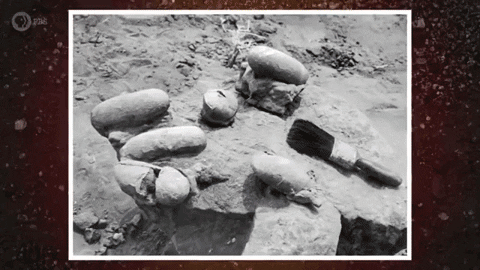 Giphy
Ravens
"Ravens."
"People think they're evil just because sometimes they're scavengers, and they were known to pick at bodies when public executions were still a thing."
"Because of that they're forever the symbol of death and many people think they're evil."
- BroskiWind
"Plus, they are pretty smart."
‐ The_Sound_of_Slants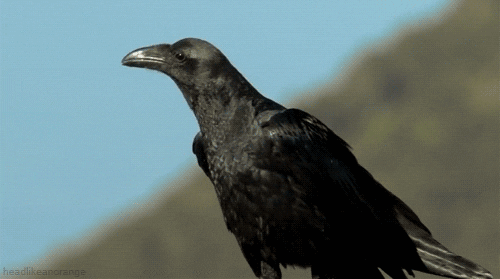 Giphy
Sharks
"Sharks."
"Humans taste disgusting apparently and sharks prefer something with blubber like seals or whales. Sharks have very very poor eyesight so they often mistake surfers for seals (imagine someone laying down on a surf board, it looks like a seal from below)."
"They aren't entirely sure what humans are and sometimes they'll do a test nibble to check. Then will go away once they realize that it's not a seal."
"Unfortunately their test nibbles aren't very gentle but also aren't fatal as long as no major arteries were hit."
"You're more likely to be killed by a cow than a shark."
- CapaxInfini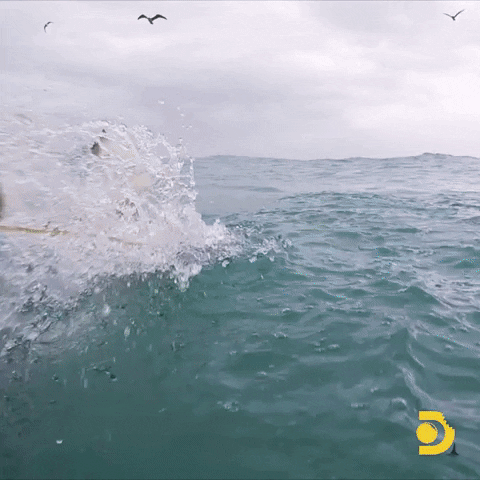 Giphy
"Most cows will not really hesitate to walk up to a human which could lead to a dangerous situation. A shark on the other hand?"
"Most sharks will quickly disappear into the depths the second they see a human. Hammerhead sharks, in particular, want absolutely nothing to do with us and will bolt on sight."
"Unless you're splashing around at the surface of the water, the chances of actually getting attacked by a shark unprovoked are super low. Cows seem more likely to attack unprovoked."
‐ Pixel131211
Bats
"Bats. They eat more insects in one night than a spider will in a month. And they're rarely aggressive."
"Bats aren't harmless. They are a carrier of rabies, which is deadly to humans and animals alike. You should definitely be *wary of them."
"They are wild animals, and though they aren't usually confrontational, that doesn't make them friendly, either. All I ask is if they are not bothering you, leave them alone."
"If they are, then please, do something about it. I don't want anyone to feel like they are obligated to allow bats to nest in their chimney or attic."
"Bats belong in the wild, not in your house."
- Independent_Sea_836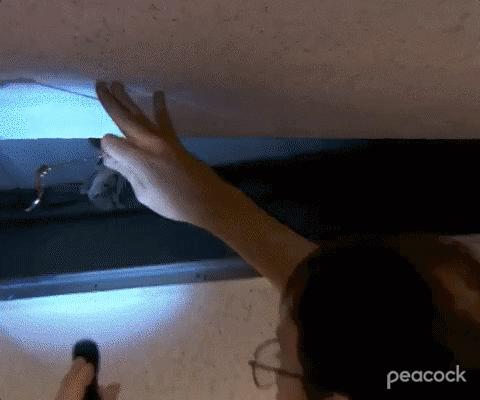 Giphy
Seagulls
"Gulls are actually really expressive and very social, so they're fun to watch."
"Mature gulls in flight are quite beautiful over the ocean."
"The reason they go after people's food is because people feed them."
- olivi_yeah
"I'll admit that I am one of the feeder people. When I'm fishing, I give some gulls (and other shorebirds) some of the bait."
"They love me and tend to keep the families and other fishermen and fisherwomen far enough away from me to satisfy my hate of socialization."
- Drulock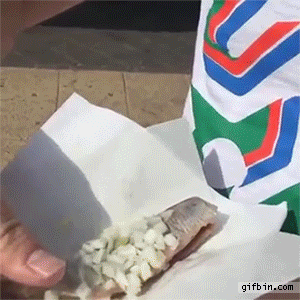 Giphy
(o)Possums
"[North American] Possums. They are very disease resistant."
"They are unlikely to carry rabies, because their body temperature is too low for the rabies virus to thrive."
- Automatic_Judge7910
"They also eat ticks!"
- Laurasaur20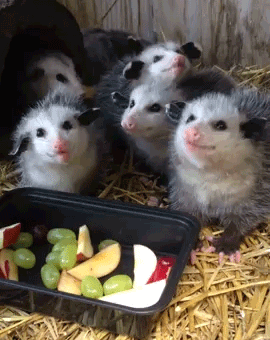 Giphy
Black Cats
"Black cats."
"They are even more adorable than the other cats and I don't understand why they have become the most known symbol of bad luck."
- SpacePickle95
"We've had 3. Each one was as awesome as the next."
"They still have different personalities, but black cats seem to have bolder personalities."
- normaldeadpool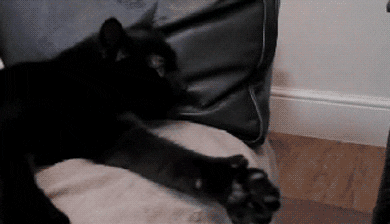 Giphy
Bees
"Honey bees. People are terrified but the last thing a honeybee wants to do is sting you."
"They just want to work. They are gentle creatures with personality and moods."
- thickener
"Most people can't tell the difference between bees and wasps and assume bees will behave like wasps."
- ReallySmallWeenus
"We are so large compared to bees that they actually only see us as environmental markers. When they see us, they see a mountain, not a giant."
"They might sting your hand if they mistake it for an adversary, but they don't care about you."
"They evolved to recognize other insects as predators. You are too big to register as living."
- Crazed_waffle_party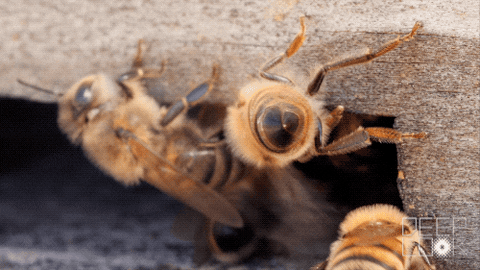 Giphy
Mosquitoes
"Mosquitoes."
"Just kidding—f'k mosquitoes."
- coobreeze6
"Came here to see if anyone would defend mosquitoes."
"I would have then assumed that "person" was in fact a sentient mosquito. And never went outside again."
- snowman226
"Mosquitos have a vital role in the ecosystem. They are the food of some animals like frogs and dragonflies."
"They are vegetarian most of the time; they eat nectars. They only bite when they are pregnant; they need the protein in blood for the eggs."
"BUT, mosquitos also have the most number of humans killed. They are the carrier of many diseases like malaria and dengue fever."
- Background-Lunch698
"Apparently only 6% of mosquito species feed on humans, and only half of that actually carries deadly diseases."
- NotGod_DavidBowie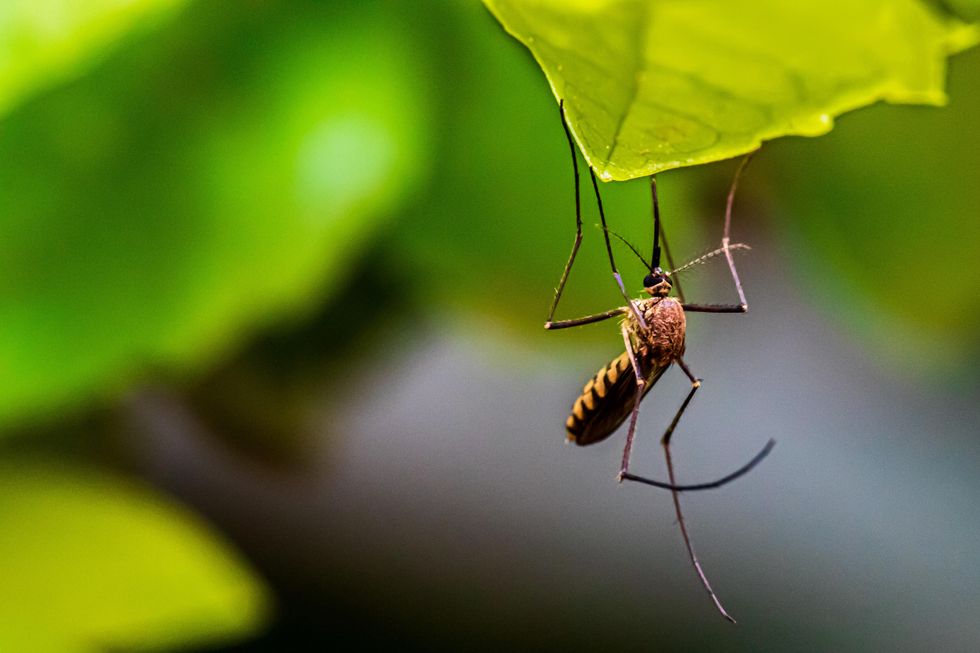 All life on Earth evolved into a niche in the food chain.
While the extinction of one species might not topple the ecosystem, it does have an impact.
Want to "know" more?

Sign up for the Knowable newsletter here.
Never miss another big, odd, funny or heartbreaking moment again.
Keep reading...
Show less
Over the course of the last several years, anything in the career of airlines has become one of the most dangerous fields to be a part of.
I've lost track of the number of videos we've watched with passengers behaving badly.
And badly? That is an understatement.
What happened to flying the friendly skies?
It's all a mess right now.
And airline people need to vent and set a few things straight.
Redditor BluPillow wanted to from all the people who work the friendly skies. They asked:
"People who work in the airline industry, what are some things you think everyone should know about flying?"
These people are not your maids or personal assistants. And I would hope you treat those people better as well.
basics...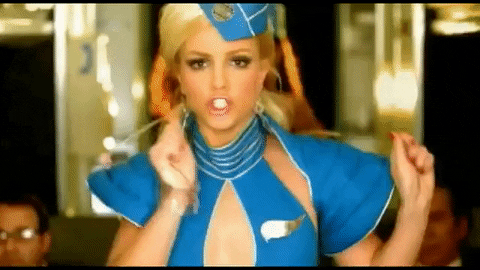 music video britney spears toxic GIF
Giphy
"We are there for your safety first, your drinks second. Also: we don't turn right back around after a 14 hour flight. How would that even work? I've been asked that so many times."
DerSaftschubser
Safety Concerns
"The reason you are supposed to open your life vest outside the aircraft in case of an emergency ditching is so that you don't float upwards while still inside the plane. This will trap you and increase your risk of drowning. Always open them outside or immediately before you leave the aircraft, should you need to evacuate on water."
DerSaftschubser
Difficulties Abound
"Flight attendant here. I think everyone should know or at least keep in mind that airline travel is difficult. You and your fellow passenger can expect to have: Stress, An altered food schedule, Lack of sleep, Swelling, Dehydration, Discomfort, Confusion trying to figure out new things, Social anxiety, Changing ambient pressure, Loud noises, Nausea, Being hot or cold, Boredom."
"Please remember your fellow passengers are traveling for various reasons. Hopefully it's vacation but very frequently I run into people going to funerals, going to get medical treatments and commuting to work away from their families. Everyone has a different story and many of us are having a rough day. onboard we all have the same goal. Get there quickly and safely. Including the staff. Have patience with each other and us."
soggy544
All in the prep...
"Worked one preparing meals that goes onto planes for a while. The reason why some things sometimes are or aren't one a plane. EX: type of drink, or a airlines doesn't have the normal cookie/meal they have on a flight EX: Uniteds delicious white chocolate cranberry, this is never the airlines fault this is ALWAYS the company (big one that's world wide is LSG Sky Chef's) fault. Either they ran out and substituted it or they can't find the item in their large freezer."
NorthwestIceman
You're Out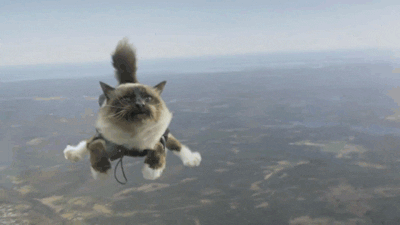 cat skydiving GIF
Giphy
"We will kick you off mid flight if you misbehave."
Dry-Addition9906
"Skydiving without a parachute. niceeee."
mrkitten19o8
See ya. There needs to be more of kicking the trash out.
Jailtime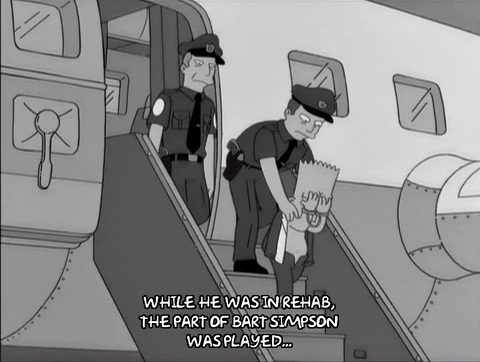 bart simpson episode 22 GIF
Giphy
"Interfering with the air crew is a felony. If you have grievances you can address them with the airline after you disembark."
starfishy
Too Heavy
"No one is physically capable of opening the cabin door while in flight because of the aircraft pressurization. So take comfort in knowing that if a crazy person gets up and starts frantically trying to open the door in the middle of a flight, they're not going to be able to do it at all. You could sit in your seat and watch them work on it for hours and it still won't happen."
EMPulseKC
Hit reset
"I work in System Operations. I try to keep it all on schedule. Here's a few: If you're flying from a small airport, it may be convenient, but it's also more limited on resources. That means if it delays, there's not much to mitigate it. Could go on for quite some time."
"Every aspect of the industry is highly regulated, from aircraft maintenance, to air traffic control, to crew duty restrictions, and more. Please be patient with delays especially around holidays and storms. It is an extremely delicate juggle with all of these challenges to avoid any delays. Got tons more but last one..."
"If you don't want to be delayed, take the earliest flight. There's a bit of a 'reset' overnight each night to start with a clean slate but late in the day, the chances are your plane has done multiple flights already. If any of those are delayed, yours is likely to delay too."
grilldcheese2
Simmer Down Now
"Alcohol has a greater effect on people in higher altitudes so know your limits and don't push them. Even if you have had a drink in the airport it can still effect you during the flight. As flight crew we do not care that it's your holiday, birthday, stag party, hen party or that you are nervous."
"If you are drunk and behaving like a jerk it will not be tolerated and you can be arrested and get a ban from the airline. And because airlines share their ban passenger list you could find yourself banned from a few airlines."
posh-old-bird
Scanner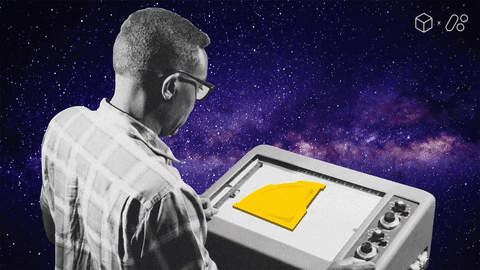 Space Box GIF by BoxMedia
Giphy
"In most European airports, you can enter the business class security lane with any ticket, not just business. The code scans anyway."
DerSaftschubser
Drink Up
"Your tastebuds are reduced by 30-60% on flights. So more salt and seasoning are added to the food so it doesn't seem bland. Might also be the reason so many crave tomato juice or bloody mary mix ONLY on planes. The air in flight is drier than most of the deserts in the world, this impacts the taste of the food as well as your need to hydrate."
"Make sure you are drinking plenty of water on the long trans-oceanic or even trans-continental flights. Flight attendant jumpseats are waaaaaay more uncomfortable than anything you are sitting on and are usually right by a stinky lav. So keep that in mind when you complain to a crew member about your seat. Jumpseats are about as comfy as those old plastic fold-up lawn chairs."
Angelsunrise
Say Hi
"As pilots we are just darn lazy. We focus our attention on finding ways to avoid anything becoming busy, rushed or any time our capacity might be stretched. We do everything for the simple life. Sometimes that means using the autopilot as much as we can. Sometimes it means manual flying and looking out the window."
"Whilst some of us might secretly relish the opportunity to go off piste and demonstrate our prowess as great aviators in adverse circumstances, no-one wants a sweaty day. Imagery of seasoned sky gods wrestling with the controls are all well and good in the movies, but that's exactly the sort of stuff we are determined to avoid. In fact most of us are just plain boring. Come say hi - either before after. Small kids and big 'kids' alike.'"
Cvrk2
Pray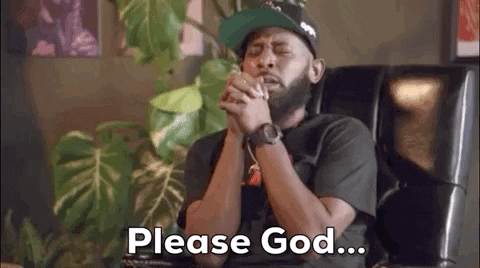 85 South Praying GIF by BET Hip Hop Awards
Giphy
"There are no parachutes on commercial flights, so please stop asking. If the plane is going down there is nothing you can do but pray and ask forgiveness for your sins."
Estbolbotkzn
Ridiculous
"I learned that flight attendants don't get paid for the time before and after flights when doing a crap ton of work to clean up and get people on/off, and frankly, I think that's sh**ty. We would never work before clocking in, why is it okay for them?"
"EDIT- The way I had heard it elsewhere -not reddit- was they were essentially only paid for 4 hours when they worked 7, but another comment here said they essentially get paid as a salary worker based on contract hours. So it's not as bad as someone had made it seem."
HairTop23
The Good Side
"Before being a prick to a flight attendant, keep in mind that their actual job is to save your life in an emergency. If I'm flying and know that there are 2 people who will make it a priority to keep me alive even if I'm unconscious, I'm going to make sure I'm on their good side. Just sayin..."
The-Gordon-Project
stop pushing...
"We KNOW your kid doesn't wanna get a peek in the cockpit, stop pushing that crying distressed child inside, dad. Planes often get delayed due to missing their slots, especially during the busy months, chances are we've been sitting on board for a while too as such a flight can be our 3rd/4th leg of the day, we feel you, yet there's nothing we can actually do about it. -FA."
eliysa_tis1
luck has you...
"Unless you're extremely lucky and your aircraft just rolled out of the hangar after major maintenance, there will absolutely be something broken in it. An aircraft can have a whole host of parts be broken and still be allowed to fly, the broken parts just get labeled, recorded, and put on the to-do list for the next time it goes to maintenance."
ConstableBlimeyChips
Whoops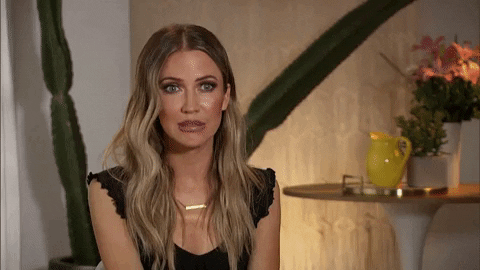 Kaitlyn Bristowe Oops GIF by The Bachelorette
Giphy
"Ladies, take your batteries out of your vibrators when you're packing. It's not going on the plane if it's dancing all over the baggage conveyor, and the bigger the airport the more difficult it'll be to find you so you can go in and deactivate it."
bpanio
SIT!!
"You don't need to queue before passing through from the waiting room to the aircraft and you can also remain seated when you land. There is no way to exit that aircraft until everyone has exited before you... so you may as well remain seated."
mishmishtamesh
Rules
"I don't need to work in the industry to tell you not only to shut up, shit down, and behave, but also not to mix sleeping pills and booze."
Etterra
This is why I'm skipping air travel still. I can't with people. Good luck to you all.
Want to "know" more?
Sign up for the Knowable newsletter here.
Never miss another big, odd, funny or heartbreaking moment again.
Keep reading...
Show less