"Reddit user Bob_the_peasant asked: 'What 'that can't happen to me' thing happened to you?'"
Life is full of shock and surprise.
Apparently, that is part of the fun.
Who hasn't been left stunned by life events?
We always think we're immune to way too many things.
Anything and everything is possible.
It's important to be ready.
Redditor Bob_the_peasant wanted to hear about the things that have left people SHOOK, so they asked:
"What 'That can't happen to me' thing happened to you?'"
I haven't been left that shocked that often.
I'm always expecting the worst, so I'm prepared.
But you never know.
I'm Dead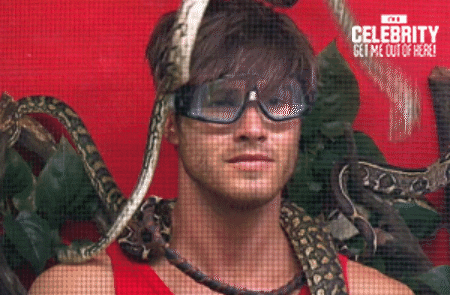 Snakes Imacelebau GIF by I'm A Celebrity... Get Me Out Of Here! Australia
Giphy
"A snake fell out of a tree and bit me on the head."
"ETA: I have always been more scared of snakes than anyone I know, so it's just so ironic that this happened to me of all people."
amanitachill
Crash Into Me
"A car crashed through my kitchen last year."
aster636
"I woke up to a truck parking in my bathtub 2 weeks before Christmas a few years ago. I watched my sink roll past my bedroom door followed by a hubcap. The driver managed to cross a median, 3-lane road, up an embankment, through an iron fence and between trees. He'd been involved in an altercation nearby and was fleeing the scene."
anjie59k
Hot Air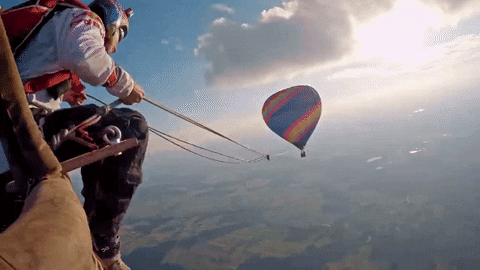 Swinging Hot Air Balloon GIF by Red Bull
Giphy
"My family and I were in a hot air balloon crash."
GymDoll2000
"My friend had one crash into her pool when she was a kid."
Environmental-Car481
This is why hot air balloons and skydiving are just a HELL no for me.
Always have. Always will.
Tragic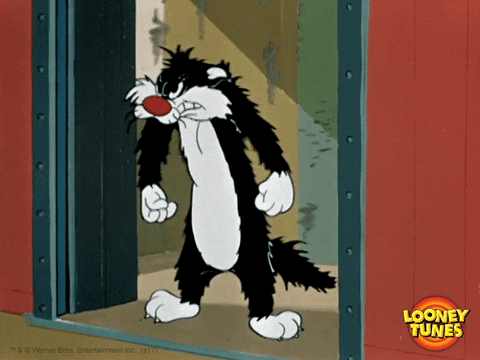 Cat No GIF by Looney Tunes
Giphy
"My wife cheated on me with my best friend. They're moving in together next month. I'm in a new city thousands of miles away. I found out a month ago."
Tssodie
Bad Penguin
"Everyone else's stories are very sad so here's something a bit lighter. I've mentioned this story before but I got bitten on the neck by a penguin."
"I was at an event where the local zoo had a penguin and owl sitting on tables with handlers so you could take a picture next to them. The penguin went for my glass of wine, I moved the wine, and it bit me on the neck hard enough to bruise. They removed the penguin after that. 😂."
archaeologistbarbie
All Gone
"Our house burned in a wildfire, we lost absolutely everything we owned and only salvaged a single coffee 3 cup."
"On the good side: There was a boy I crushed on all through high school. We went to summer camp together and I adored him. We ended up getting together in our 20s after reconnecting, and have now been together more than 20 years, married almost 17. We're as madly in love as ever."
toomuchisjustenough
Good Luck
"Homelessness. It came swiftly and out of nowhere. had no savings and the landlord sold the house I was in. couldn't afford a new place so lived in my car with my dog for a few months. ended up finding community assistance and got into an apartment."
jumbospicyslimjim
"I can't even imagine being in that situation. Hopefully, this is just the start of things turning around for you. Sending you good energy!"
frappbarqueen
Early Michael Myers
"About 10 years ago, I was stabbed in the arm with a flathead screwdriver. It was a coworker whom I had previously gotten along well with. He had stopped taking benzos and smoking weed a few days before and was on a hair trigger. I said something sarcastic, and he just snapped."
Mr_Spaghetti_Hands
Bad Landing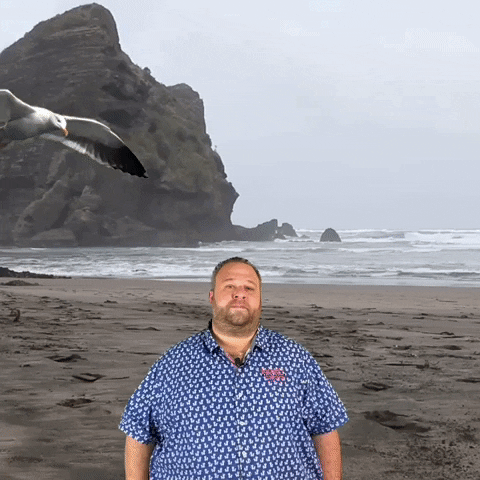 Bad Day Seagull GIF by Sound FX
Giphy
"I was lying on the beach and a seagull flying very high took a poop and it went straight in my mouth."
Competitive_Show6205
This is why I say... "Never trust a seagull!"
They are minions of the devil.
As humans with autonomy and knowledge, we try to protect ourselves as much as we can. However, accidents do happen, and while we can expect the unexpected, we can't always protect ourselves from it.
Because there isn't always a defense, people sometimes have a close brush with death. They experience something that could've killed them but, by some miracle... didn't.
More people have stories like that than we expect.
Redditors are no exception and, in fact, were eager to share their close calls.
It all started when Redditor XboxCorgi asked:
"What has been your closest moment to death?"
Minding My Own Business
"Was sitting at my computer on the ground floor playing TF2 when a car came through the wall, smashed my desk and computer and almost killed me."
– caulkhead808
"I can't imagine just chilling playing a video game and then the next second a car comes through my wall."
– RoutinePeach8752
Swim Parallel To The Shore
"I almost drowned in the ocean in Hawaii. I had swum out from shore, started getting tired, started swimming back but the current was pulling me out to sea! Scary as hell. I started to panic, but I remembered that the side stroke is the one that takes the least energy, so I started doing that and for 10 or 15 minutes just went back towards the shore. I wound up a few beaches south of where I had started! I had to walk north to return to my group."
– Snoo-35252
"I almost died like this in Panama when I was in the Army. Some of my buddies and I tried to swim out to what we thought was as an island from the beach, got halfway there only to realize it was a volcanic rock and that the waves crashing against it would surely crush/drown us. As we're treading in murky pacific water something very large bumped against my leg (I suspect it might have been a shark but cannot say for certain as I never saw a fin). As we tried to swim back to shore we were all caught in a rip current, swimming towards the beach but going nowhere. As my friends and I ran out of steam to the point that we were panting faces barely above the water I put my foot down onto a coral reef or volcanic rock where I was able to catch my breath and then help my friends over to where I was."
"Eventually made it back to shore after swimming sideways out of the rip current, but that is legit probably the closest I've come to death."
"Unfortunately years later I had a friend in the army stationed in Hawaii who kayaked to an island, his boat got pulled out by the tide, and when he swam to get it he went under and never came back up. I knew we'd had a close call, but when that happened it really sunk in how incredibly stupid what we did was."
– MotoGeno
Twister!
"Joplin tornado in 2011. I was in the bathtub as my house was destroyed around me."
"Edit: I was taking cover in the bathtub, not taking a bath."
– m48a5_patton
"There was a tornado 15 years back or so in Oconto County in WI and a bar owner told us he had no shelter so he got into his bath tub and his house (trailer?) was destroyed around him. He says when it calmed down and he sat up there was a deer standing nearby looking at him and he said, "well buddy, I guess we made it.""
– arriesgado
Incredible Luck
"The light was red so I put my car to park because it was taking a while longer than usual. It went green and I forgot to take it off park, but as soon as I put it in drive a semitruck ran a red light."
– laxmagic
"Mate, that is f*cking terrifying. I can actually picture the scene and imagine the sound of it rumbling past, possibly horn blaring. Thank goodness for that little brain fart you had."
– Ecstatic_Ad_7104
"A Fart That Saved My Life"
– TheImpossibleBanana
Not All Heroes Wear Capes
"Was working on an oyster boat. It was a beautiful day and we were sorting oysters on the boat of the deck. All of a sudden I felt the gentlest of taps on the back of my skull. When I turned around I saw my supervisor, red-faced with the effort of restraining the metal boom, which had come loose and almost slammed right into my head. He was able to slow it down just in time so I only got that little tap (guy's basically all muscle). If he hadn't done that I would have been dead for sure."
– Valahar81
A Terrifying Vacation
"I went to Mexico in 2017 and nearly died my first day there. Was all good, having fun, having a few drinks, nothing too crazy though. Went to my room in the evening, and suddenly got a bad stomach ache that just got worse and worse with each min that passed. I also got feverish and delirious pretty quickly."
"I remember for some reason I decided a shower would be a good idea, and that's where my gf at the time found me heaped on the floor screaming in pain. I vaguely remember a paramedic stabbing me in the a** with some morphine which allowed to calm down. (Was not all the fun its cracked up to be, just made me sleep)"
"Get to the hospital, and they quickly find out that im going septic from a stomach infection. A few more hours and Id have been dead. Spent 3 days there, lost 30 pounds and could only eat soft fruit for about a week after."
"I also got the worst strep throat on the plane ride home too... my immune system was already weak, so it was horrible. Made me cough so much that blood came up. That was another hospital trip when I got home."

"The doctor who oversaw my care in Mexico was the most amazing doctor though. He spent the first 36 hours with me to make sure I was Ok, didn't eat or sleep or anything."
"Edit: I didn't get the infection in Mexico, I brought it with me. Doc said it had been building in my system for at least a week from the strength of it."
– Youpunyhumans
Think Fast
"I was around 3-4, picked up a live electric wire on the ground to play with. Got electrocuted immediately. Good samaritan grabbed a wooden stick and hit it out of my hands. People told my me later that they told my dad not to touch me because I was probably gone. That good samaritan saved my life. Acted when no one else did."
– champsgetup
"Wow insane that they knew what to do. I don't think I'd be able to think that fast the correct way to save someone in such a situation."
– missilefire
Unspoken
"When I was real young, I was with my family at a hotel in Virginia (not sure which), but it had a decent sized pool.
"We were swimming in it, and my family went over to the deeper end. Not knowing how to swim, I stayed at the shallow end. After a while, I started feeling left out cause it looked like they were having fun, so I started to make my way over, hanging onto the edge."
"Dumb little me got careless, and my fingers slipped off the edge, and I started drowning pretty quick. About 5 seconds later, I get hoisted partly out of the water by a big Mexican lady, and she sets me on the edge of the pool. I hacked and coughed for a good minute before I walked along the edge to my family.
"They never noticed, and I never said a thing about it to them since."
– ThatThingTerran
Sugar Sugar
"I had undiagnosed diabetes for about 6 months, my blood sugar was in the 500's, I got to skip the line in the emergency room the doctors were so scared I was going to go to a coma."
– ThatOneTubil
"Hey, fellow diabetic here. Same story but my sugars were apparently over 800? Doc said the only reason I wasn't admitted straight to the ICU was cause I walked into the hospital instead of being brought in by an ambulance."
– Whit3Mex
Super Speed
"I was 7. My family had just arrived back home from watching The Incredibles in theaters. I decided to try and run like Dash around the whole house."
"I ended up running through the kitchen toward the back door that led to our back yard way too fast and couldn't stop. This door had a window in it, and when I put my hands out to stop myself, I ran into the door and my hands went through the window."
"My parents heard the crash and called out for me to ask if I was ok. I came walking out of the kitchen into the living room, blood pouring from my wrist. I was in a Disney princess night gown too, so it was honestly like a scene from a horror movie."
"We lived in a remote area, so when my parents called the ambulance, it couldn't find our house at first. My mom had to run out and flag down the ambulance while my dad was applying pressure to my wrist with a bunch of towels to try to stop the bleeding. The ambulance finally got to our house and the EMTs were able to get the bleeding to stop and take me to the hospital."
"I lived! The scar is pretty gnarly."
– turtledovefarts
Don't Go Chasing Waterfalls
"Waterfall hiking. Dipped my foot in on top and was immediately swept under and over about 3 waterfalls. Was very lucky to land where I did. Still have a chunk outta my leg to this day."
– mystery_leaf
Miraculous
"I was on the back of my dad's motorcycle and he had a heart attack and blacked out. Bike went over; I hit the ground headfirst. Luckily he felt something was wrong and slowed down, so it wasn't nearly as close to death for me as it was for him, but it was still super scary. Thank god for helmets."
– zapatodulce
"dam did you r dad survive too?"
– GetaGoodLookCostanza
"He did! This was about 10 years ago and he's been taking good care of himself and hasn't had more heart problems!"
– zapatodulce
Despite the happy ending, that might actually be the worst one, and that's saying something!
We all want to believe we are perfectly safe, but the fact is, the world can be a scary and dangerous place sometimes.
For the most part, we can protect ourselves, but sometimes we end up in dangerous situations through no fault of own (or anyone else's).
Redditors are no strangers to situations like these. In fact, some of them have been in actual near-death situations, and they are ready to share those stories.
It all started when a Redditorasked:
"When have you ever feared for your life? Why?"
Fight The Ocean
"When I got caught in a riptide while stupidly swimming alone in the ocean."
– ItAllDepends99
"My brother saved someone this way, and he never forgot it! He almost drowned too because she was fighting so hard and pulling him under. Another guy had to come help get her out because the current was so strong, but they made it."
– sordidcandles
"I just started working as an ocular recovery technician and live in a beach town. My first case was a 26 year old man who drowned off the beach. I don't know if he was a tourist or a local, but as a local I grew up being constantly lectured on water safety and how to get out of a riptide. It broke my heart looking at him in the morgue and thinking about how scary his last moments must have been. Water is not something to play with."
– maddicatdog
Living Roadblock
"Ex was driving and a moose walked out in front of the car."
– IjsKind
"Moose are no joke. Every person I know who's been in an accident with a moose have their entire care totaled and the moose just walks away like nothing happened."
– bobbi21
Just Breathe
"Woke up in the throes of a severe asthma attack. Clocked my pulse at 227. As I was digging for my inhaler, I kept thinking what a stupid way to die this would be."
– BuddleiaGirl
"I'm in the hospital on day 3 with my 10-year-old who is recovering from a severe asthma attack. It's incredibly scary. The crazy thing is, he has not had any issues with asthma since he was 3. His pediatrician told me he outgrew it (he was born with juvenile asthma). Unfortunately, he did not, as the pulmonologist said it can go dormant, may never reoccur in your life but never truly goes away. My son had the perfect storm of triggers, and here we are. We'll now have an aggressive asthma attack plan for him but damn this was incredibly scary. Like top ten level fear thinking he could not make it."
– HideousYouAre
She Was Mad!
"Wasn't the only time or most frightening time, but the most memorable was when I was a teenager and got pinned to a wall by an extremely agitated cow. She'd knocked her water bucket apart and I was replacing it and she charged me. I just happened to fit exactly in between the horns. I do mean exactly - I had matching bruises on each side like I'd been hit twice with a length of pipe. She hit hard enough to drive her points a couple inches into the wall and stick. I've been in car accidents, fallen off things, been in fights and even had a young tree fall on me. None of that compares. Felt like being caught by a huge wave."
"Anyway I bonked her as hard as I could on the forehead and bolted out the door when she pulled her head back. The whole thing took maybe two seconds tops. Best part? My parents were right outside, they thought I'd just been killed. The wall was solid for the first 4ft, then 2in gaps between 2x8 boards for the rest. They saw the whole thing but couldn't see me below my shoulders - just the charge, the catch, and the wall crack from the impact and the horns pushing through."
– Iamtheonewhobawks
Shaking Earth
"7.2 Earthquake in Japan made the apartment I was in wobble like Jello. Tried to stand up in my chair and walk away from the window, ended up crawling away and having a small bookcase spill my books on me."

"Spent a few seconds leaning against the inside wall/sliding closet, looking at the ceiling and having a very vivid picture of being crushed to death by collapsing concrete and debris."
"Slept outside for two nights after evecuating. Apartment did not even have a crack in it! 10/10 would recommend Japanese government housing."
– kaidenka
A Surprise Drop
"I was minding my own business walking in like 2 ft of water at a beach, holding my toddler. There was a massive clay pit that had opened up in the shallow water, but the water was murky so i didnt see it. I slid into it and the water was just deep enough to be over my head, because I couldn't stand up due to how slimy it was. It was shaped like a bowl. I couldn't swim up because my feet were just sliding into muck and it felt like an undertow. Just when I started breathing in water, my knee hit a rock in the side of the pit so I put my foot on it and launched us up. The lifeguards didn't do anything even after someone called us an ambulance to make sure we didn't dry drown.. We were under for maybe 20 seconds."
– BackgroundAd7040
A Scary Walk Home
"So I was 14, walking home from the bus stop, as I did every day. It was about a mile from the bus stop to my house. I'd walk home about halfway with a friend of mine, before he turned off to go home. About 2 blocks from our bus stop, a guy started walking along with us.
"This was in a major city, so it wasn't the first time someone started randomly talking to us. What was weird was that he wasn't crazy or weird. He was pretty normal. He was asking about our lives, asking about what was going on. Randomly he asked about what we'd been up to the last Friday night. We both said about the same thing, that we'd been home with our families, which was true. Even though he didn't sound crazy, this guy was giving bad vibes. Something was off."
"We got to the turnoff point where my buddy would go to his house, he said goodbye, and left to go home. By the way, I don't blame him for doing this, regardless of what happened next. So this guy keeps walking with me, bad vibes continue, but he hasn't said anything directly threatening yet. We get to a cross street, and he says, "Don't run, my boys are right across the street." Then I look and realize about 4 guys are following directly across the street. And that's when it all sinks in. The bad vibes are real."
"I could tried to run at this point. I had a friend who only lived a block away. But I decided not to. Maybe I just thought it was pointless. I kept talking to him."
"We talked for a while more as we walked, and he told me that his brother had been stabbed around where my bus was let off a few days before, and I fit the description. He said he'd gotten out of the life, but was back to avenge his brother. I told him that it wasn't me. He asked me if I was taking drugs. I said I'd f*cked around with pot but nothing more. He believed me. We kept walking."
"Eventually he started talking about why he'd gotten out of the life, and that I needed to stay on the right path. Eventually, we got back to my house. He said that he was glad he talked to me, because initially he was just going to shoot me and walk away, but he believed me and was glad he hadn't. He waved his boys away, who were down the block. The he left, and wished me the best. I told my parents, reported it to the cops, didn't sleep for a few nights, and eventually moved on. But yeah I almost died right there."
– NiteOwl2020
A Shock To The System
"Got shocked the other day. Work in the solar industry, I thought I was having a heart attack and that this was it"
– ryanjbanning
Bond. James Bond.
"Playing an outdoor game we called 007 at age 11 where you get dropped off a distance away from a home base and you have to sneak back in the dark without being spotted by your driver, who would call you out if they saw you while driving around the neighborhood. Me and a friend were sneaking through irrigation canals to be off main roads (not through people's properties, those were fenced off) and someone who's backyard we were sneaking past cocked a shotgun and fired a warning shot into the ground of his yard. We crawled on our stomachs in the canal until we were far enough away. Pretty scary at 11."
– SolarisIX
"What the hell is wrong with people and immediately shooting at things that move in the dark?"
– dewky
Noises In The Basement
"I have a more light-hearted one. I heard strange noises from my basement and though someone broke in. My heart was racing and I didn't know what to do. I kept listening down the stairs at the noise and decided it wasn't human. Turns out a woodpecker came down the flue and out the access hatch and was flying around. I managed to shoo him out the door and breathed a sigh of relief."
– SpecterCody
"I am terrified of birds so this would have been a lose-lose situation for me."
– Oohwsh*twaddup
Metal Death Trap!
"I hydroplaned when someone break checked me, and ended up in a ditch, I was fine my car was fine, my heart rate was goin insane."
– Crimate_Change
"This is like medical-related, not a situation like in most other replies. So basically, one day 2 years ago I started noticing some really odd symptoms I had that resembled a UTI (which I had never had before), but I kind of had this gut feeling it was more than that, even though the symptoms were subtle so I told my parents immediately."
"I woke up the next morning at 5am, with this sharp pain in my bottom right side. Oh, maybe it's a cramp. I use the bathroom and try to get back to sleep, but this pain starts growing, sooo much it feels like a stabbing pressure. I toss onto my side. The pain is still fully there. I go on my stomach. Still fully there. I sit up, walk around, do any position possible, and the pain is only getting worse and at this point, like 15 minutes after I woke up, unbearable."
"I have no idea what's going on and I'm scared out of my mind, so I tell my parents. Our first guess is appendicitis. So my mom rushes me to the ER, and on the car ride there I'm writhing in pain, crying, no matter how I sit or how I press my side the pain just continues to escalate."
"I get to the ER and they don't take me right away, and in the waiting room I'm throwing up into a bag from the pain and apologizing to a couple next to me in between bouts of dry heaving/vomit. I'm finally taken in, and they take me to get an ultrasound like 10 minutes later, but I can't stay still when the technician is taking it because of the pain."
"I eventually stop even attempting to cooperate and demand pain medicine, and when it's put into my IV I took like 10 minutes to lay there and breathe and feel better, it felt so nice to not be in extreme pain."
"Anyways, I had a kidney stone. A tiny little kidney stone made me think I was dying and was genuinely the most painful thing I've experienced in my life. I remember asking my mom on the car ride over if I was dying, because we had no idea what it was and why it was only getting worse. It's a genetic thing for me, but if you're reading this, drink water."
– kglove34
Well, I'm definitely going to hydrate all the time now!
We've all found ourselves at a crossroads of some kind at one point in our life, which has resulted in our needing to make a hasty decision.
Without much time to think, we often feel the need to ignore logic, and simply go with our gut.
Generally speaking, these decisions aren't terribly consequential, even if we might come across some new information down the line which makes us feel better about our decision.
In some cases however, making a decision based purely on our instincts may have proven to be a life saving situation.
In spite of the fact that the life or death stakes were completely oblivious to us at the time.
Redditor Ghostsarespoopy was eager to hear stories of how one, instinctual decision ended up saving their lives, leading them to ask:
"What's a time where trusting your gut quite literally saved your life?"
Hidden By Grass

"I almost drove through a big patch of tall grass on my dirt bike just for fun, but at the last second hit the brakes and turned around."
"Didn't know why."
"Next time I went there, turns out there's a 75 foot cliff over a river right behind it that I would have just flew off at top speed."
"Because of the scenery, you couldn't tell at all looking head on to it."
"I still don't know what made me stop back then."- Quiet_Stranger_5622
Always Safety First

"I was working in the sales office at an engineering company."
"I was asked to record the serial numbers off a stack of large steel plates on the shop floor."
"I had to get someone with crane operating experience to lift the top plate so I could read the one underneath."
"The guy lifted it directly upwards about 6ft."
"I was just about to lean underneath the plate when a little voice inside my head said 'don't do that mate, get him to move the overhead plate to one side'."
"Just as I thought that, the clamp holding the plate failed and it fell to the ground, just in front of me.'
"It must've weighed about a tonne."
'If it'd fallen on my head, I'd have been killed instantly."- dineramallama
Hanging With The Wrong Crowd

"My GF met up with a work friend at a bar."
"This girl was with a guy who gave me seriously bad vibes."
"He was fake friendly but his eyes were crazy."
"My GF didn't see it."
"I wasn't having it."
"I told her I was leaving, and she really needed to come."
"We fought, I left, she came running after."
"Next morning, we find out the guy stabbed someone in the chest and killed the guy."
"I straight up said I told you so."
"He was f*cking crazy."
"Gfs friend spent the night in holding too."
"I don't know if it saved my life but it saved me one helluva bad time."- S_204
Active Robbery

"My boyfriend at the time and I were house sitting for his uncle."
"My boyfriend was at work and I was bathing our son before bed."
"I had the bathroom window (facing the backyard) very slightly cracked, and heard a cough from outside."
"This house was in a residential neighborhood so it could have been a neighbor, but I suddenly felt anxious and scared and something told me to go make sure the back door was locked."
"I left my two year old son alone in a towel in the bathroom and ran to the back door."
"As i placed my hand on the doorknob locking it, I came face to face with someone through the glass, who had his hand on the outside doorknob."
"He started pounding on the door and juggling the doorknob saying he was looking for someone and i just told him no, they're not here."
"He kept jiggling the doorknob and i ran to my son and grabbed my cell phone to call for help."
"Remember Im house sitting tho, and this was in 2004/2005 when they had those flip open phones, not a smart phone where you can just look at a map."
"So i had no idea what the address was, or where the house phone was."
"Anyways, i call 911 from the bathroom on my cell, while hearing loud pounding on the back door."
"The dispatchers tells me to find a house phone, piece of mail anything with address."
"I locate the house phone and call 911 from that. so have no idea how police got there so quickly, but just as I hear the back door glass break, the guy on the phone tells me to cover my sons head with a blanket and run out the front door into the backseat of the police car."
"I ran out the front door and saw 6 or more police cars all with guns drawn and straight into the waiting cruiser."
"After they arrested the guy, they ask me if the machete on the back porch belonged to the owners of the house."
"The guy had a machete and had I not trusted my gut that the cough sounded a little to close, and to check the back door, he would've walked right into an unlocked house to a 19 year old female and her young son alone."
"Turns out he had been robbing houses and had a backpack full of stolen things, and was high on meth."
"Anyways, super glad so followed my gut on that one."- Liketheweatherpnw
Listening To Nature

"One time I was hiking after a storm and my intuition told me to freeze."
"I listened and a large tree just fell down across the trail in front of me, right where I would have been if I didn't stop."- LogicalFallacyCat
Home Alone And Feeling Uneasy...

"I had a sense something was wrong in my house but no reason why."
"I went around looking but couldn't find anything wrong or anyone in there."
"Felt so freaked I stayed at a friends place."
"Ended up being a carbon monoxide leak."
"Could've saved my life."- Responsible-Bet-7485
Questioning Unsafe Work Conditions
"Not necessarily saved my life, but saved me from getting seriously hurt."
"I was a temp worker at a warehouse, worst 9 months of my life, I wanted to die."
"One day, my boss who had no training on the forklift told me to climb up on a ladder and move something out of the way of the forklift, and my gut said 'tell her to turn the forklift off first' so I did."
"She scoffed and said it was unnecessary so she got this other guy to do it because I was being 'difficult'."
"Well, she moved the fork up and smashed his fingers against the ceiling breaking every finger on his hand besides his thumb."
"The badass just went 'ow!' and was like eh, bout time i retire anyways, huh?"
"He was like 70."- xarthos
When In Doubt, See A Doctor
"Extreme pain went to ER."
"Gangrenous appendicitis."
"Could have died."
"Thanks gut."- SternLecture
If You Can't Trust Your Gut, You Can At Least Trust Your Dog
"I had gotten my first black lab."
"He was about 10 months old when we went to a local park early in the morning to walk the trails."
"We had just finished a long trail and were resting."
"I was sitting on a bench."
"My dog's hair stood up and he started to growl."
"When I looked up, I saw a man walking towards me."
"His eyes didn't look right."
"I knew he was high."
"When my dog growled, he stopped."
"He gave a smirky smile and asked if my dog would bite."
"I told him he definitely would if the guy came any closer."
"He hesitated for a moment, and then he turned and walked away."
"To this day I am certain he meant to harm me."
"If I hadn't trusted my dog, I hate to think what would have happened."
"I gave him lots of hugs and treats that day."
"He died many years ago, but I think of him often."
"And I believe that when I cross over, he will be there waiting for me."
"He was the best dog I ever had."
"I still love and miss him greatly."- angelangelica16
It's never a fun feeling when you have to make a decision without any real time to think.
But if your gut is steering you in one direction, it's probably the right thing o head that way.
As sometimes there's nothing you can trust more than the hairs on the back of your neck.
We gotta do what we gotta do.
That is a serious life mantra.
Staying alive is not an easy task.
Sometimes we save ourselves without every realizing we're doing it.
The small, inconsequential actions we complete every hour, have the power to keep us all going.
WHo knew?
LIfe is so frgaile.
Thankfully our subconscious is looking out.
Redditor Dawn_Cyborgzzz wanted everyone to share about times we made that one certain, simple decision, that turned out to be the best decision, so they asked:
"What 'you know what, just to be safe' thing you did end up saving your a** later"
I believe just turning the right corner can save a life.
We're defying death on the daily.
Life Saver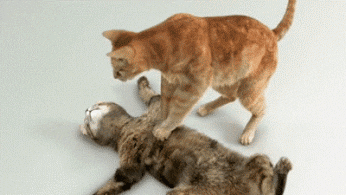 Cat Save GIF
Giphy
"Learned CPR and first aid. Had to give CPR to a family friend when she collapsed from a heart attack and thankfully she was brought back after being down for 15 minutes. She only had minor memory problems and mostly just couldn't remember that day. She is still here and kicking years later."
CompanionCarli3
$3.50 in quarters
"Was delivering pizza in a sketchy block of town late at night. Huge apartment complex with multiple buildings. Walking up to the front door I noticed a couple of guys wearing dark clothing about 100ft behind me walking in my direction. Delivery was on the second floor and by the time I reached her door I heard the main door of the apartment complex open and close."
"She used a CC for the order and tipped in cash so when I was putting the receipt into my bag (where I kept my cash) I actually pulled the rest of the cashout and stuffed it into my inner jacket pocket just to be safe leaving just the change I had that night in the bag. Started to head down the stairs back out to my car and two guys jumped out from behind the stairs, one had a gun pointed at me and told me to give them the money."
"I quickly handed them my bag filled with quarters and they took off towards the back entrance of the apartment complex. I never ran so fast in my life back to my car. I wanted to make sure I was as far away as possible before they realized they robbed me of $3.50 in quarters."
tjohnboy
End of the Night
"I was at a sleepover as a kid, I was a little worried because my mom had been oddly tired earlier that day. I went home early because I was worried. By the end of the night, I (14 at the time) had to call an ambulance for my mom, as she was having problems with her heart and I was the only one there with her. She was incapable of forming coherent sentences and would probably not have gotten the help she needed if I wasn't there. So, good thing I was."
boredwithhorns
Side by Side
"Was on a side-by-side vehicle mudding on some property a friend and I were visiting."
Mid-ride, I turn to my friend and say 'Hey, you should probably buckle your seat belt. Just in case.'"
"Not 1 min later did he lose control and slide front first into a tree going about as fast as this thing could go given the conditions."
"Both of us were okay but the side-by-side was completely ruined."
"He looked at me right after and his eyes were as big as dinner plates."
ajohndoe17
Locked and Ready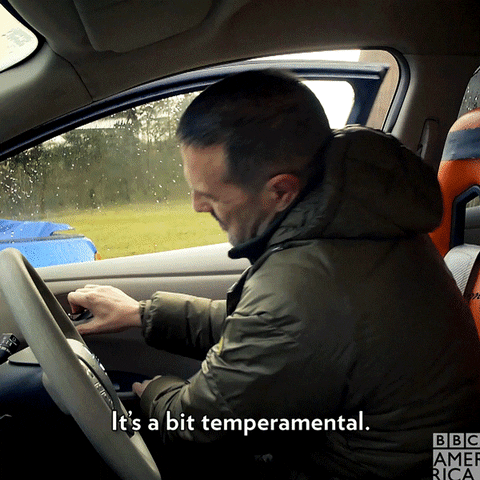 Top Gear Electric Cars GIF by BBC America
Giphy
"I dropped my high school girlfriend off, then for some reason I locked the passenger door."
"Not 10 minutes later I was stopped at a red light and some scummy-looking dude tried to open up the door. I have no idea why I locked that door after she got out, I really didn't have a habit of that. No idea what would have happened if that guy got in my truck."
Fat_Ryan_Gosling
Lock the doors. Every door. Always.
Minutes Later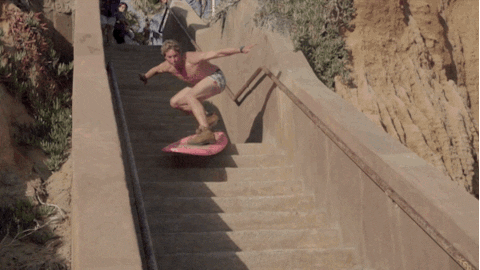 Surf Fail GIF by Red Bull
Giphy
"$5 breakage insurance on a rental surfboard. Broke that f**ker clean in half in my first 10 minutes."
​Jaboogaman
Going Blind
"My dad lost his glasses once. He was going to just use his old prescription but last minute decided to just go to the optometrist anyway in case something changed. Turns out he had a tear in his retina and was booked for surgery within 24 hours. It was bad enough they said he probably would have gone blind really soon had they not caught it when they did."
notallamawoman
Get it all checked...
"My stomach had some issues and my doctor sent me for a colonoscopy just to get things checked out. They found 1 polyp, no big deal, not related to the current problem, and told me to come back in 5 years just in case. I put in a Google reminder and forgot about it."
"5 years later, I went for a colonoscopy and they found a lot more and said I would have ended up with cancer in 5-20 years for sure had I not gone. Instead, they removed all polyps and now I'm regularly going to colonoscopies due to having a syndrome they identified."
"I'm far away from the age where you normally get a colonoscopy so I would definitely have got cancer. When you are eligible or if it is recommended, get a colonoscopy."
matttk
5 Minutes Later
"Not my a**, but I was getting ready for school whilst Mum was vomiting in the bathroom. She said it was just a stomach bug and to just go to school but mentioned her arm hurt. Something didn't sit right so I called the ambulance from downstairs."
"They arrived and took her into the ambulance - she then proceeded to have 3 cardiac arrests and needed defibrillating each time. A double bypass later and she was up and about within a month."
"Paramedics told me she would have died 5 mins after I left if I hadn't called."
TheKr1tster
Weird Feelings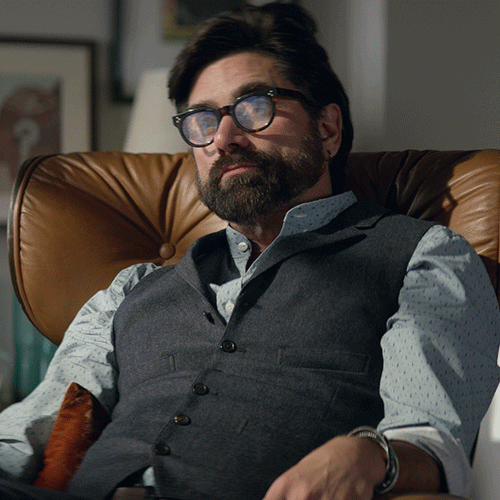 John Stamos Lol GIF by Lifetime
Giphy
"Had some weird achy symptoms and went to the doctor even though I figured I was probably overreacting. Turns out I had cancer."
Ok-Ad-2605
"I got really sick with what I thought was a virus or infection or something. turns out it might have been something like that, but whatever it was, it was made significantly worse by the fact that I had leukemia."
AHomicidalTelevision
When it comes to safety, refrain from taking chances.
The simple things save lives.