When visiting any place for the first time you want to do your best with the locals and the culture.
You're a guest.
Whether it's someone'e home or if it's as vast as the scope of the entire country.
You want to experience all you can while being respectful.
So let's discuss hitting up America for the first time.
Redditor Praglik wanted to share some must knows for the people whole and visit our land. They asked:
"Americans of Reddit, what's something anyone visiting the US for the first time absolutely must know about or be aware of?"
Welcome to America. A few beginner rules...
No Money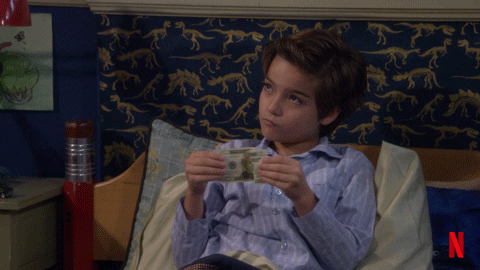 Bribing Season 3 GIF by NETFLIX
Giphy
"Do not under any circumstances try to bribe a cop depending on where you come from that might seem odd but trust me you will get in trouble if you try."
DanHN2002
Stay Seated
"Don't get out of your car if you're pulled over by the police unless directed to do so. Police here take their own safety very seriously so they may see someone quickly getting out of the car as a sign of aggression. Coupled with the fact they carry guns and generally don't have a track record of deescalation, it's possible you might get shot."
bboe
Cold as...
"Drinks come with ice by default."
RoofedSpade
"And refills! Soda is cheap as hell. No one's coming to pour it into a glass for you, it's made on the spot and you can have as much as you want."
sckurvee
"And everybody wants to put lemon in them but they never wash the lemons you have to ask specifically for no lemon in your water."
WolfThick
Extra
"If the price says for example $5, you need to be aware that is $5 plus taxes."
Mariuxpunk007
"Plus extra recycling taxes on plastic water bottles in certain states (like California) So that pack of water bottles listed for $3 will cost over $5 after taxes."
BobbiestofDs
"That's literally false advertising. If a product is advertised (say on television) at a certain price, that's how much you pay."
Arkady2009
Service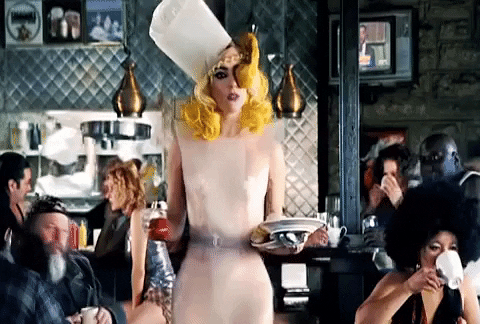 Music Video Mv GIF by Lady Gaga
Giphy
"Plus tip, if it's served to you."
luna_fea
Tip. Tip. Tip. And tip properly. 20%.
Eat Up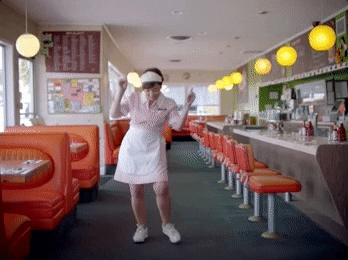 diner dancing GIF by Justin Timberlake
Giphy
"24 hour Diners. According to stuff I read in Reddit, our diners are legendary. ETA: I'm American and I eat at them a lot. I was just surprised how much visitors from other countries love our diners so much."
Revolutionary-Tree18
Road Issues
"I think it's really funny that the CA DMV official drivers manual says, 'do NOT make eye contact with another driver, this will make them MORE angry.'"
oof-floof
"If you screw up while driving put your hand up as a way to say sorry/my bad to the other driver. It diffuses situations because it shows them you didn't mean to do that. Many times drivers think something was intentional when really it's just human error."
pantsRrad
"I live in SoCal, and the Los Angeles area has the most brutally aggressive drivers I know. Sure, other countries like Vietnam etc. are a free for all, but Los Angeles drivers literally want you dead."
User Deleted
Don't Listen
"The CD is not free, never accept something from someone on a street."
Portland-to-Vt
"People will follow you around and thrust the CD (usually their mixtape) in your hand and then as you're walking away with a CD you didn't even ask for they start telling you you need to pay for it and then they refuse to accept the CD back so they make you pay for it or they keep harassing you. Happened to me in Venice beach."
rosiegirl8903
Nature Hunt
"GO TO NATIONAL PARKS!"
AmIADelusionalArtist
"But be respectful! Our parks are beautiful, but often dangerous! Stick to set paths, look up local wildlife, and get an idea of common dangers. A park in the northeast will have drastically different dangers than Utah. And always have plenty of water with you. States often have very gorgeous state parks, too."
whichwitch9
break the chain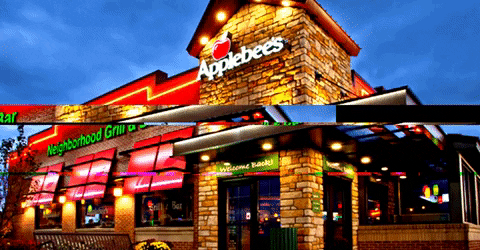 Applebees GIF
Giphy
"Do not eat exclusively at chain restaurants then go home and talk about how American food sucks."
Mastr_Blastr
So much to do and see. What would you add to this list? Let us know in the comments below.
Keep reading...
Show less
As much as many of us don't like to disrupt the status quo, there is only so much time a person can tolerate a miserable situation before things become so unbearable that they ultimately have to peace out.

For some people, it takes a while for them to reach a breaking point. Eventually, there comes a time when they realize their self-worth is more important than continuing to please others who don't appreciate them for the sake of keeping up with appearances.
Curious to hear from people whose patience ran thin and made a strong decision, Reddit Prestigious-Order-62 asked:

"What made you say 'f'k this sh*t im out?'"

The unwarranted reprimanding was something that was never mentioned in the initial job description.
Feeling Criminal
"In the late 90's."
"One time I got pulled into the Security office at a Department store I worked at. They accused me of constantly using the sales day coupons for people that didn't present one (we always kept an extra copy at each register). I had watched my own department boss do it many times so I assumed it was okay. We didn't even collect the coupons to be counted for the cash office, we just chucked them after use."
"They claimed I lost the store hundreds of dollars and had been watching me 'for months' do this awful, unforgivable crime for people spending 90 bucks on already bloated price designer jeans. I'm sure the occasional 10% discount was just devastating. 🙄""I got this huge lecture of how I was LITERALLY stealing from the store and they COULD call the police but would give me a chance to work off the damage. I couldn't believe how criminal I was made to feel over it. The best part when they called my boss in who pretended to have never done it before to save her own a**."
"I asked if they were firing me. They said 'Yes and No. You will be let go, but you can choose to work off the damages so we don't take you to court.' I told them I will just quit and asked for my last check. They said they will deduct what I owe from my last check. And I said 'Well then you need to show me all the footage and prove that I was stealing.' They wouldn't produce footage, finally called the cops, and when the cops arrived, they were just as confused and called it an internal problem and advised them that this was overblown. I think they felt sorry for me. So finally upper management came in and just said 'just issue the last check, I will sign it here.' So much drama over so stupid a thing."
"It was sad because that actual day my Mom and daughter had come to the mall to meet me for lunch and I had to explain I just was forced to quit that job and was never allowed in that store again like I was some awful jerk."
"It was nice a few short years later, the entire chain bankrupted."
– Munich11
Power Trip
"A coworker waited until we were in front of a large group of people to start 'disciplining' me for something 'wrong' I did (I took my lunch 15 mins late to help another coworker) when she wasn't even my supervisor. Applied for a job transfer the next day and couldn't be happier where I am now."
– _shes_a_jar
Abusive Boss
"I had a piece of sh*t of a boss. He'd praise you in private but berate you in public. In front of coworkers and customers. Always about stuff that didn't matter."
"He'd also happily break company policy to side with customers after you spent an hour telling a customer you can't give them stuff for free, for example. Any time he was around, everything was miserable."
"My only regret is that I wasn't there to see him marched out by corporate when he got fired, because I had gone on to a better job by then."
– redisforever
Human Punching Bag
"I used to work in a Kitchen at a pub, it was grim work, but I had freinds there and had worked there for 3 years, So it wasn't too bad."
"One Christmas season we were being absolutely pumped, full out functions and busy services. My boss at the time was very stressed and fair enough, We were busy, We were all working overtime and full out. He used any excuse to completely blow up and absolutely scream at me for little to no reason, essentially him yelling at me was his stress relief. But fine, whatever, kitchens are rough places, no appolagies or anything, move on."
"I then go away for 3 weeks over the Christmas holidays and spend the time road tripping around the country having an amazing time."
"First shift back, not pleased being back, he makes a snarky comment."
"F'k this, Im out."
– Freddy54323
Punishment For Time Off

"Got back from a vacation I had planned months in advance only to hear that the team was angry at me for taking time off when we were in the middle of a big project. People I respected started talking shit behind my back.""
"That was the straw that broke the camel's back. I put in my two weeks the next day."
– SirCoughAGuy

Lost In Translation
"My first ever job was at a Korean grocery store in the USA. I made it very clear I don't speak any languages other than english, I stressed this multiple times during my interview. They said it was fine I would just be doing stocking j don't need to know the language. 3 weeks in I got absolutely screamed at for not being able to read Korean, I'm talking like the kind of screaming that damages your throat. I told them to f'k themselves and walked out in the middle of my shift."
– valkdoor

Even though these employees weren't chewed out in front of co-workers, the low salary without room for negotiation made them not wanting to stick around for much longer.
You Only Get One Job
"They cut my hours so I had to get a second job. 3 days before I was supposed to start said second job, my manager at the main job told me that I couldn't get this second job because I had main job first and I needed to make it my priority. That's when I said f'k you and left. I didn't even give a notice, I literally just sent an email saying I wouldn't be coming in the next day, grabbed my sh*t and went home."

– ginger_princess2009
Meager Wage
"I used to work Retail and after 7 years at the company, I found out I was only making 50 cents more an hour than someone who just started yesterday. I understood if they couldn't pay me more and asked for a good schedule. 7-3 or 8-4 every day and the same two days off every week. I didn't even ask for weekends off."
"I was told that they couldn't give me a good schedule so I quit."
– maybeashly
No Promotion For You!
"Got strung along for a promotion for over a year, interviewing multiple times for it. Did not get the promotion, then later found out the one who did had been selected months prior."
– Chasingtheimprobable
Situations weren't much different outside the work place. Social dilemmas prompted these Redditors to say, "nope."
Rude Reception
"Went to a pub because a friend kept asking. When I got there, he was with a group of people I didn't know, so I introduced myself and got the next round. As I come back with the tray, I hear them saying something along the lines of 'why is that b*tch still here? I thought she was just supposed to drop off a bicycle?' 'Ya, we don't want her to come to <this other town with more pubs> and now she is drinking with us?' 'She's so dumb' *proceeds to imitate and ridicule me as I was actively listening and nodding when I was having a conversation with my friend."
"Gave the beer to random people and walked right out after saying good evening to my friend and briefly explaining I did not appreciate being tricked into being a bicycle taxi for people who hate me directly after meeting me."
– ILikeLamas678
A Shocking Incident
"I was on my boat fishing for bass. I casted out my line and watched the lure hit the water but the line just floated in the air. Lightning and thunder crashed and the line fell to the water. F'k this sh*t, I'm out."
– fsh4fun051
Femme Fatale
"She lined my bed with broken glass put the blankets over it and I dove on in lol."
"Edit: She was violent/crazy and on drugs, was like the 20th attack I took and that made me really think lol."
– MyLifeForAuir1
Ally For The Ex

"I found nudes of his ex (from ten years ago) that I'd previously asked him twice to get rid of tucked in a pair of MY socks. Our couples counselor asked why he'd kept them and he said, 'You know. In case I ever needed to blackmail her.' He said it like it was a perfectly normal and reasonable thing to plan to do. The therapist and I locked eyes and I noped the f'k out of there and moved out."
– Previous_Mood_3251
Bacterial Breeding Ground
"Finding peeled potatos in a pot of water under a sink and cooked chicken sitting unwrapped in a pot overnight for the next day. Yea I quit that place."
– RealNY27

Most of these Redditors realized leaving their situation was better than dealing with the consequences of sticking around.
The latter is never a good option. Why remain in a scenario you know is already going to consume your soul?
The lesson for today is–Don't be miserable. Your sanity is worth saving.
Besides, you would never know that something better awaits if you just don't get the F out.
Keep reading...
Show less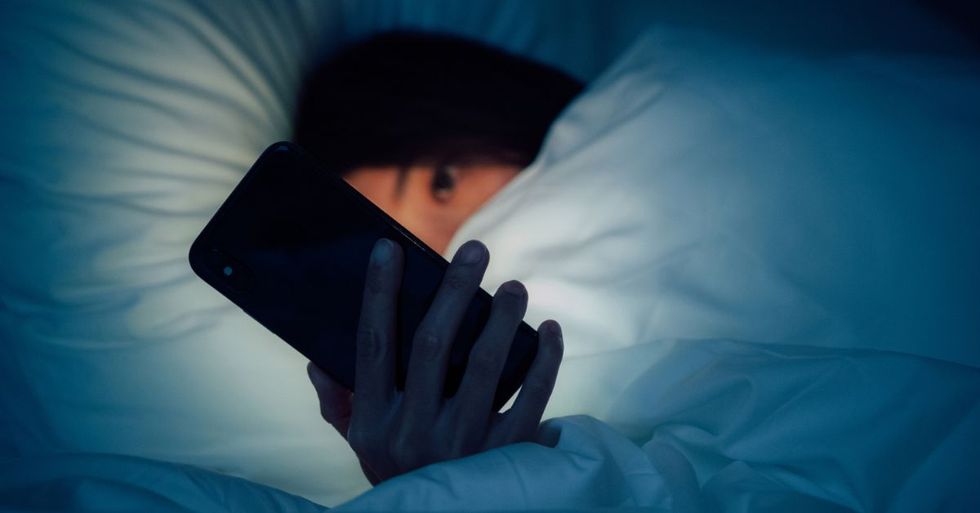 When love goes wrong it can be dangerous. And that danger can be a present for years to follow. If that is the case, one has to do all they can to protect themselves. Even if it lands you in chaotic circumstances. Case in point… Redditor actuatoad to discuss her story for some feedback. So […]
More
Believe it or not, many household items can be hazardous. Some household products, like oven cleaner, contain hazardous chemicals that could really harm you–or even kill you–if used incorrectly.
Oven cleaners often have a high pH, making them alkaline corrosives.
Oven cleaner can cause burns or irritation of any exposed tissue, whether that is the mouth, skin, eyes, or airway. And if swallowed, as the National Capital Poison Center points out, "oven cleaners can cause vomiting and burns to the lips, mouth, throat, and further down in the digestive tract, like the food pipe and stomach."
That will make you think twice, huh?
But oven cleaners are far from the only potentially hazardous objects in your home.
People told us more when Redditor Cool_Kid_Lit_Fam asked the online community:
"What household object do most people not realize, that if used incorrectly, could easily kill them?"
"The two most common types of accidental death in the home are falls in bathtubs and from ladders."
Leftrightthere
Are you telling me that I should stop showering on top of a ladder?
"Dryers when..."
"Dryers when you don't clean the lint trap."
Anti-charizard
Dryer lint is great for starting campfires! Throw some wads in your kindling and you've got an easy fire... which should be a big clue!
"If it falls..."
"Car jack. If it fails and you didn't use jack stands, and you can't bench press a couple thousand pounds..... you gonna die."
racerx21
To say the least!
Safety is cool, friends. Don't take it for granted.
"I feel like..."
"I feel like it's surprising that most people don't know that you can't put out a grease fire with water."
[deleted]
Many fires start this way – and get worse because people don't know what they should do.
"When my dad was a kid..."
"When my dad was a kid, one of his good friends died by inhaling Pam cooking spray. The boy was a good, smart kid and just thought inhaling Pam would get you a little high, like sniffing a Sharpie or whatever."
"But Pam coats your lungs and very quickly suffocates you if you breathe it in. He had no idea how dangerous it was and he was dead in minutes. It was absolutely devastating for everyone who knew him."
greenoctopusink
Very important. A tragedy for everyone involved. Sorry for your dad's loss.
"Bleach..."
"Bleach and other cleaners accidentally mixed together."
Luder09
This is a big one. Never mix – the consequences can be deadly.
"Had a friend of the family..."
"Oven cleaner. Had a friend of the family use it on a warm oven and breathed it in. Messed up her lungs and died in hospital."
queensofthemeeps
That's a genuinely useful piece of information. This sounds like something I'd have done without even considering it...
"Unsecured..."
"Unsecured free-standing shelves are pretty dangerous, especially for kids who might try to climb on them."
MedChemist464
Kids get hurt or die in accidents involving free-standing shelves all the time. You don't want your child to be one of them.
"My brother's..."
"My brother's father in law died falling off a ladder. He wasn't even high up, just fell badly. His wife (a nurse) tried CPR, but he didn't make it. He had no other health problems."
estherloveseevie
Condolences. This is so tragic. A warning to us all.
"Anything that can..."
"Wet floors, usually bathrooms. Anything that can make hitting your head easier can kill."
Flowy_Aerie_777
Falling in the bathroom is a big fear of mine. Thanks for the reminder.
You're probably going to be much more careful now than you were before, aren't you?
Good – now get out there and warn all your friends. You can't be too careful.
Have some suggestions of your own? Feel free to tell us more in the comments below!
Keep reading...
Show less
How many stories have you heard about last-minute decisions that change the course of someone's fate?

You make a right turn and not a left and learn the road on the left was on fire?
We survive on pure luck sometimes.
Most of the time we never know it.
But when you do witness it, it gives you some perspective.
Redditor Long-Jeweler-5845 wanted everyone to share how their lives at one point were spared. They asked:
"What's your best 'I didn't just dodge a bullet, but a tactical nuke' story?"
I've lost count of the amount of nukes I've dodged. Many have to deal with relationships. Obvi...
Gone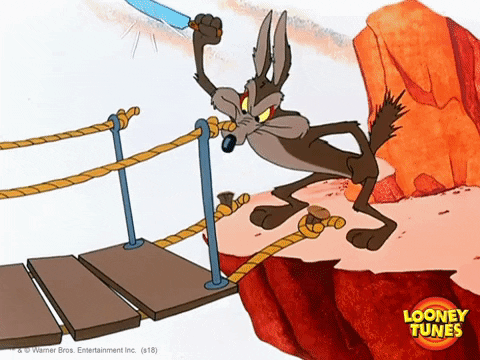 Wile E Coyote Wtf GIF by Looney Tunes
Giphy
"I was once the last person to cross a bridge before it fell... looked in my rear view to see what the noise was to see open air where there should've been road... and some white faced people who were just about to cross as well."
Dazzling-Role-1686
Angel
"When I was 14 I went to my best friend's house for her birthday party. A 30 year old guy that worked for their parents asked her to tell me that he wanted to take me out on a date. I said I had a boyfriend. He seemed nice but he started following us everywhere and just standing back staring at us (they had a huge farm)."
"I got nervous and called mom to come get me. Months later we saw his wanted poster at our grocery store. He was serial killer Angel Resendez, the railway killer. Mom didn't believe me until it was on AMW that night and they interviewed my friends foster parents. Then she freaked."
missymaypen
The Bad Guy
"My mom's BFF had a son get out of prison. He was doing tattoos for a living. We lived in a state that still had tattoos illegal at the time, so he and his mom came to our house to give us a tattoo. I was like 18 at the time and I think he was in his early 20s."
"We were told he went to prison because (while he did have a drug problem at the time), he took the fall for someone carrying a f**kton of meth. His mom kept hinting (and eventually outright suggesting) I let him take me on a date. She swore up and down he needed a good influence like me."
"I'll admit, I did feel pressured quite a bit. His mom was one of my favorite people in the world and I felt like i was letting her down. But I was not feeling it. Dude was not attractive at all. Worst of all, he was covered in swastikas (that he claimed was to survive prison). I also found it really creepy that he kept oddly stroking my foot while doing a tattoo several inches above my ankle."
"But, we managed to end the tattoo party with no dates made. Cool. About 3 months later, I'm listening to the news as background noise and I hear her son's name mentioned, police are looking for him. He strangled his girlfriend and all four of her children."
Puzzleheaded_Storm79
On the Fence
"I've posted this story before but when I was a young child, I was outside playing with the hose by myself. A man appeared at my fence and asked me to come over. I walked over, he leaned down and picked me up. I started kicking at him and he dropped me almost immediately, then walked away. After that I ran inside, hid in my closet and never told a single person."
"I had almost forgotten about it, or thought I had imagined it until years later when my mom was telling me about how they recently solved a cold case of a man who kidnapped and murdered a girl around my age at the time from our neighborhood and left her body in a field a few miles from our house."
sheddingcat
Bad Woman
"Not me, but my mom - one day, a male coworker of hers asked her on a date. She was friends with him and liked him well enough, but she had a boyfriend at the time so she politely turned him down. he took it like a champ and jokingly said 'ah, you should dump that guy - I'll treat you much better!'"
"Less than a year later, he was arrested for murdering his ex-wife with an axe because she wouldn't let him borrow her car."
clovecloveclove
Well all of you sound like very lucky people so far.
Horrible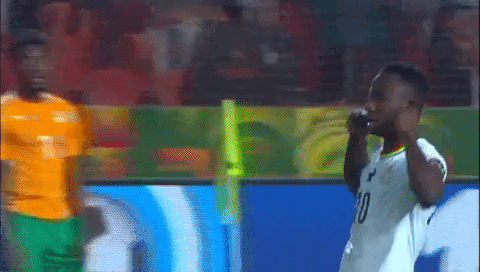 Celebrate Black Stars GIF by CAF
Giphy
"I had a two friends that were going to score some drugs. I almost went with them to get dropped off home on their way back. They were both killed, robbed, and set on fire."
SselluosS3191991
STAY PUT
"I was about 11 and my dad wanted me to come along with him to pick up some furniture about 30 minutes away. I made a huge stink about it, basically being an annoying little male adolescent turd, saying how I wanted to stay at home and play, I'd be really good, it was boring, etc."
"He finally got fed up and stormed out and told me to STAY PUT and he'd back soon. About an hour later, he comes home in a police car, pretty shaken up, and just reached over and hugged me hard. Turns out that he was driving down the highway and traffic got busy ahead, and this semi truck in the lane over tried to stop too late and jack-knifed."
"When it was coming to a stop from swerving all over the road, it fell over on the passenger side of the car, right where I would have been if I had gone along with him. The car was totaled (obviously), with the entire passenger side crushed down flat. Actually, he was lucky HE made it out alive. He never made another big deal about me coming along if I really said I didn't want to go."
bbergman1
Bomb Day
"I went to Boston U and lived less than a mile from the finish line of the Boston Marathon. In 2013, my friends and I had decided that we were going to walk down to the finish line to see the end of the race, after a 'light' 9am drink as is tradition for college students on marathon Monday. We got way too drunk and decided to go to McDonald's instead. Quite literally dodged a bomb."
RAWdangers
gunning for me...
"I was bullied pretty badly in middle school by this one kid. Before I could finish 7th grade, my parents and I moved to another state. On my last day in middle school, the kid who bullied me was unusually nice to me. Found out after my last day in middle school in that town that my bully beat a teacher with a metal baseball bat."
"Apparently he was gunning for me, and got frustrated that I didn't show up and decided to just take it out on a teacher. Last I heard, he went to Juvie for that."
YoureInMyWaySir
The End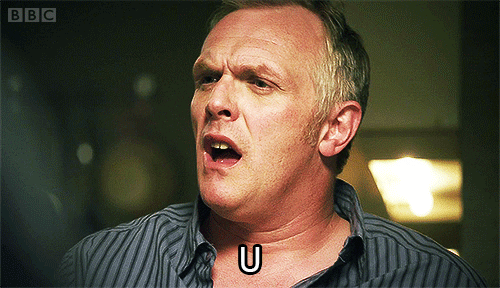 Bbc Three Comedy GIF by BBC
Giphy
"My dad's story but basically he was trying to hitchhike back to his house when some kids (visibly drunk) pulled over to pick him up. Whenever he would reach for the handle they would drive off until they eventually just sped off down the road, went airborne over the next hill and crashed the car. They all died."
medkitjohnson
Run Dad
"My father told me this story. As a young child he was approached by a man who wanted some change to make a phone call. My father gave the guy some money and the guy said it was too much and that he wanted to give my father some change."
"My father got in the car with him so that they could go and get some change. While driving something seemed off so my father jumped out of the car at a stop sign and ran away. He didn't think about it again until he saw they guy on TV years later. It was John Wayne Gacy."
mattibbals
The Walk Home
"I was a young teen, walking home from school. A man in a parked convertible called out to me for directions to a road close by, in the direction I was walking. He offered me a ride but I told him I lived right there and started walking up to the nearest house."
"He took off in the opposite direction. Later found out that a guy in a convertible was running girls on bicycles off the road and assaulting them. It may not have been a nuke, but it scared me enough to never hitchhike in a time when it was common."
GeeWhiskers
The Way he Looks...
"In my sophomore year of high school this guy sat behind me, he was a year older. He would look at me in this certain way. It was almost like interest but it was different. Couldn't put my finger on it. I caught myself a few times wishing he'd ask me out. Found out later he'd been torturing his little sisters and my younger sister for over a decade in some horrific ways."
"He'd assaulted several of his gfs and even tried to kidnap one. My best guess for the weird looks is I resemble my sister (who was his favorite victim) just enough and was even closer in age to him that it piqued his interest. Unknowingly had a slight interest in a child abuser/kidnapper. Shout out to social anxiety for dodging that one."
boklenhle
sold as ecstasy...
"I used to go to raves and take ecstasy when I was 19-20, in the late 90s. One weekend my friends went to a rave and I had to stay home to watch my little sister. About a dozen people in my friend group went, and ended up buying paramethoxymethamphetamine (PMMA) sold as ecstasy. Half a dozen had seizures or convulsions and ended up in the hospital. At least one person I am still in touch with has severe kidney issues as an adult as a result."
throwaway1f3s4vc
Breckinridge
"Was snowboarding in Breckinridge when I lost control on some ice and smoked a tree, I broke my femur in half and the surgeon said if it would've broke a centimeter to the left it would've ruptured my femoral artery and I probably would've bled to death internally before ski patrol got to me."
jg23101
Shipping Out
"Not me but my Sailor Great Grandfather shipped out of Pearl Harbor on I believe sometime between December 3rd and 6th 1941, just a day or few before the attack that left 2400 people dead (2000 of which were Sailors)."
Randomest_Redditor
"Wow! Mine was on a POW ship headed to coal mines outside Hiroshima iirc, when American bombers sunk the ship. Lost his brother and a lot of other pows below decks but got picked up by a US ship instead of going to Hiroshima."
ElkShot5082
Stay Single
"Female coworker hooked me up with her hot friend, who liked me for some reason but was too scared to say so. We talked on the phone quite a bit for a few days, had a hangout time at her place one evening (nothing sexual, just getting to know each other), then her ex found out she was starting to see someone and begged her to go back with him. She did, and I didn't really care, because it was all so new."
"Found out a short time later, that they'd broken up because she found out he was cheating on her, and she retaliated by trying to run him over, as he ran into his apartment to get away from her. She'd crashed through his living room, gotten out, tried to fight him, got arrested/jailed, etc. This all happened mere weeks before she'd set her sights on me."
"After reading about what happened--via the internet, after searching for her hame (this was prior to Google)--I was so glad he'd begged her to go back with him. I eventually asked my coworker wtf, and she just shrugged and said, 'she thought you were cute, so I was trying to help."
Sumpm
Killing Days
"A friend of mine dated an ex cop who was an a**hole and ate all of her child's food. He was later found to have cut up two women and dumped them on the side of the highway in suit cases. Luckily she broke up with him before his killing days."
TealTemptress
Nearly Smeared
"Not me, but my dad. When he was younger, he used to sell motorcycles for a living, and rode them frequently as well, never wearing a helmet. One day, he decides to wear a helmet for whatever reason. That day, a car t-bones him, he goes flying from his motorcycle and skids across the road. His helmet got sanded down from the impact and subsequent skid on the road. Despite having major back, shoulder, and hip problems to this day, without that helmet, he probably would have ended up as a red smear on the road."
SwipeRight4Wholesome
You never know when the Universe is saving you. So just be grateful.
Want to "know" more?
Sign up for the Knowable newsletter here.
Never miss another big, odd, funny or heartbreaking moment again.
Keep reading...
Show less