Just as new mothers encounter the sudden, influential developments of powerful hormone changes, protective instincts, and milk production, so new fathers undergo some key changes of their own.
Their socks become exclusively white, climbing higher up the calf than ever before. All their shorts sprout cargo pockets and clunky belt loop cell phone holders. They start to really lean in to their old records.
And their humor is changed forever.
This isn't confirmed, but it would appear that all the dads have a secret weekly meeting where the latest puns are exchanged and exercises in awkward timing are practiced.
A mighty craft is honed, and he can fill the role he was meant to: the colossus of cringe, the pun producer, he who instills the sigh.
And yet, for all the cringing and the facepalming, we love to say the very same jokes. There is just something about that quaint stupidity.
BennuH asked, "What's the best 'dad joke' you know?"
Want to "know" more? Never miss another big, odd, funny, or heartbreaking moment again. Sign up for the Knowable newsletter here.
Keep reading...
Show less
This is the brilliant note a sassy seven-year-old schoolgirl left for her dad in her lunchbox – telling him "I not etting my sandwish because I hate hummas."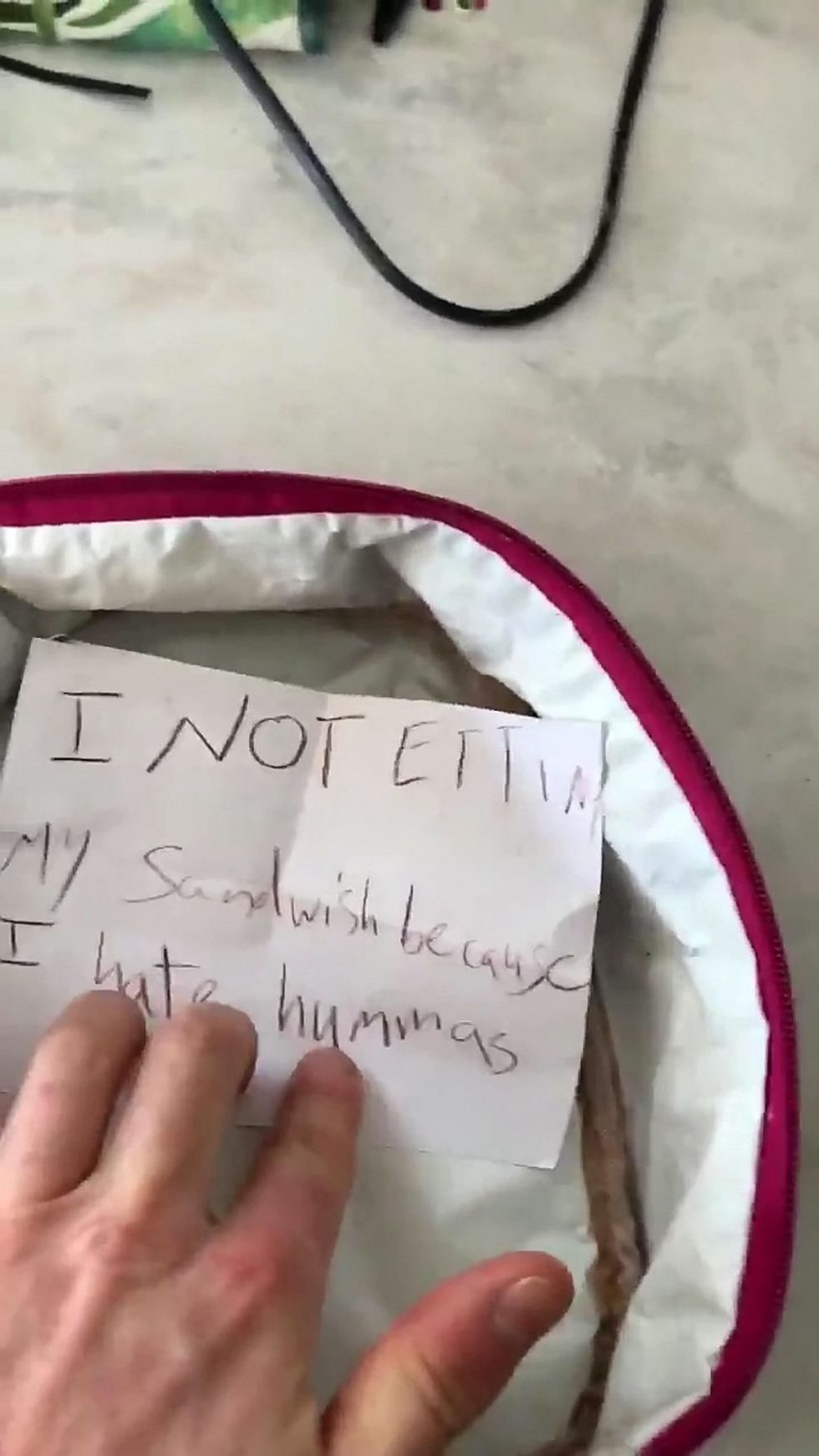 Peter Simson /SWNS.COM
Pete Simson, 37, asked his daughter Pearl, seven, what she thought about her packed lunch that day, once she had returned home from school.

She told him she'd left a note in her lunchbox - and he thought it might be a cute thank you note, or a lovely drawing.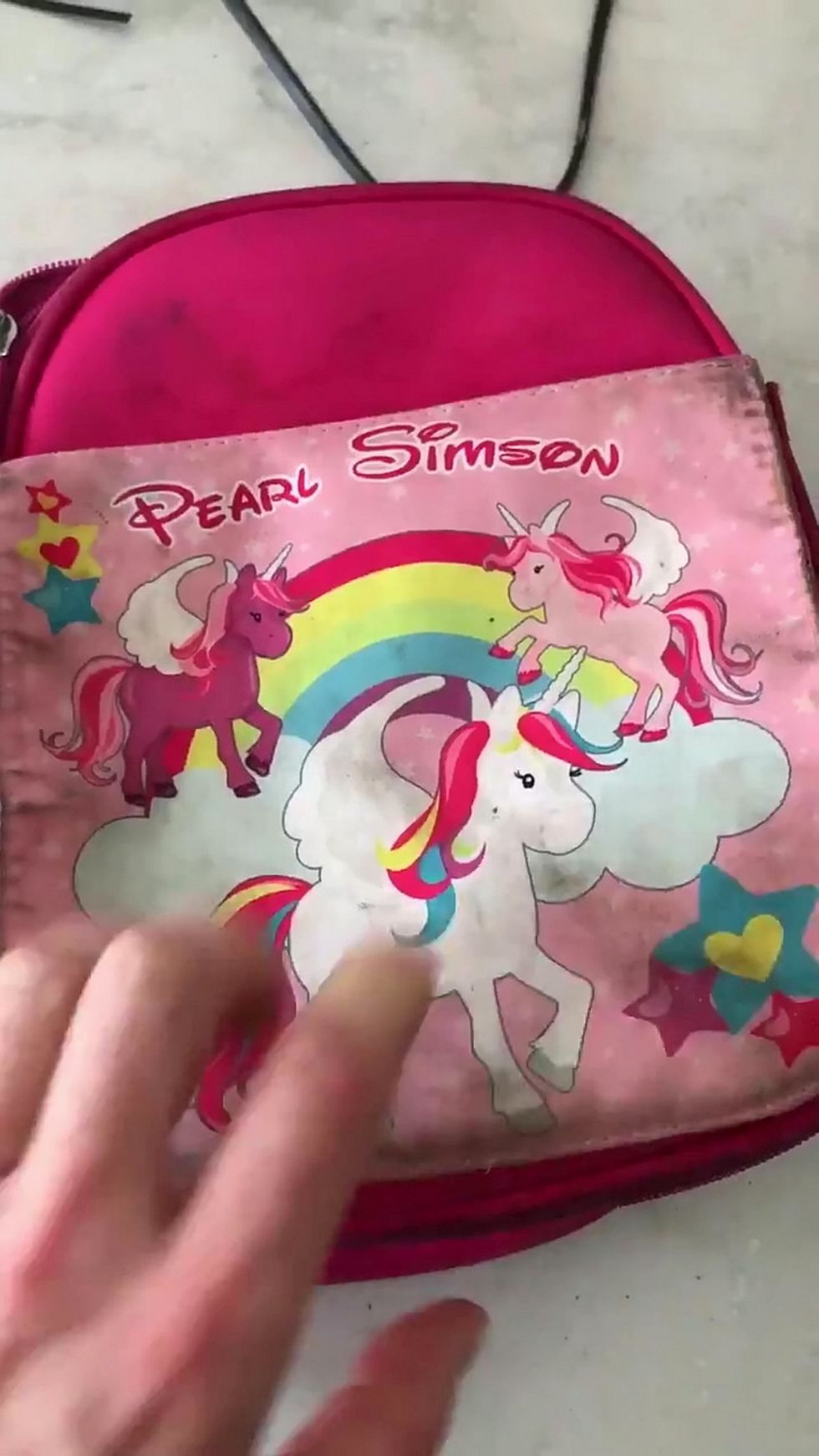 Peter Simson /SWNS.COM
He was left laughing when he found a note addressed to "DAD" which said "I NOT Etting my sandwish because I hate hummas."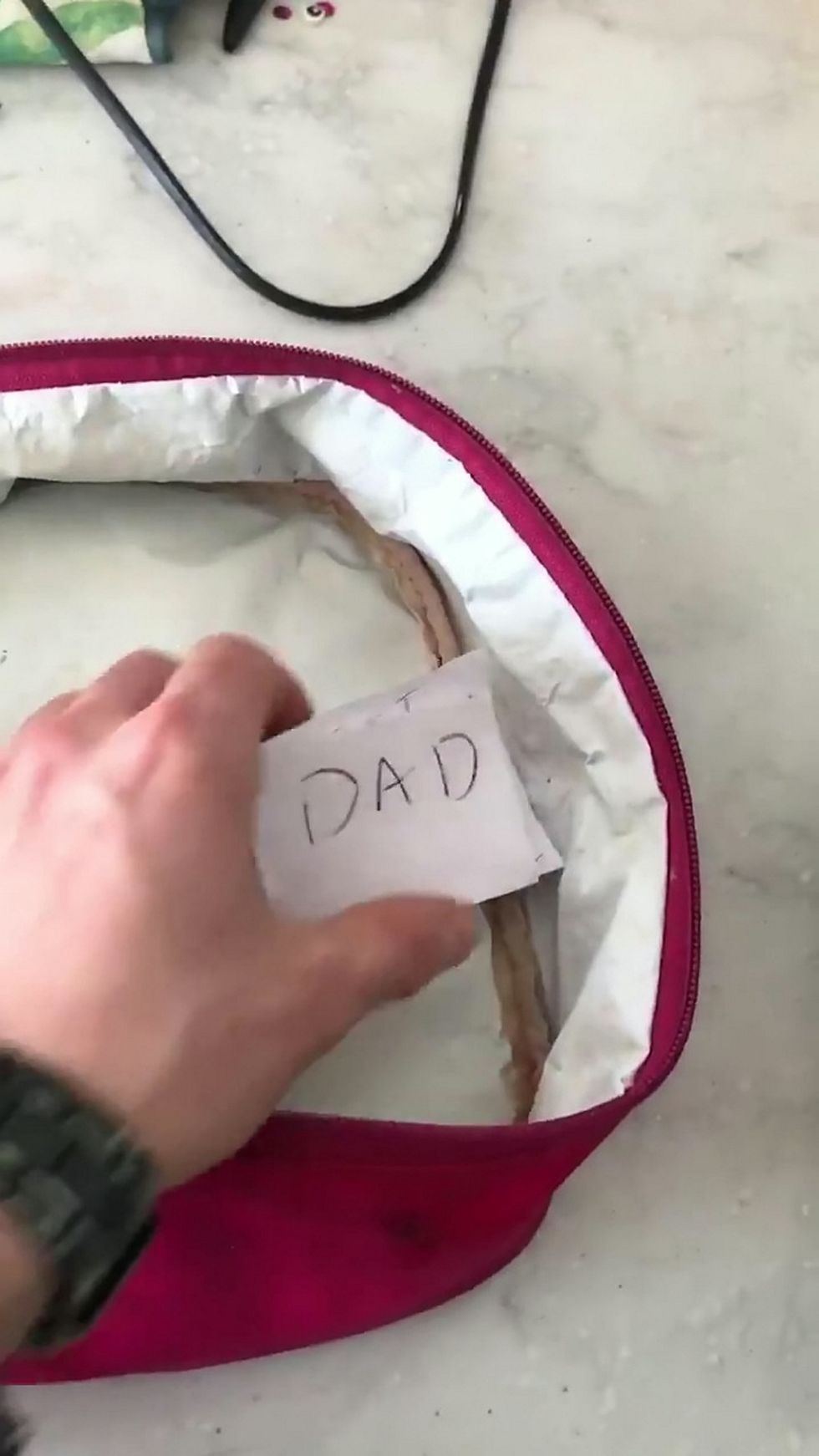 SWNS Peter Simson /SWNS.COM
Proud dad Pete, from Bristol, England, said:

"Well clearly, she wasn't a fan on the sandwich I made her! This was after school this week."
"I asked her if she liked her packed lunch and she told me there was a note in the lunchbox!"
"I thought it might be a thank you or something but as soon as I saw the disheveled sarnie in there I knew something was amiss."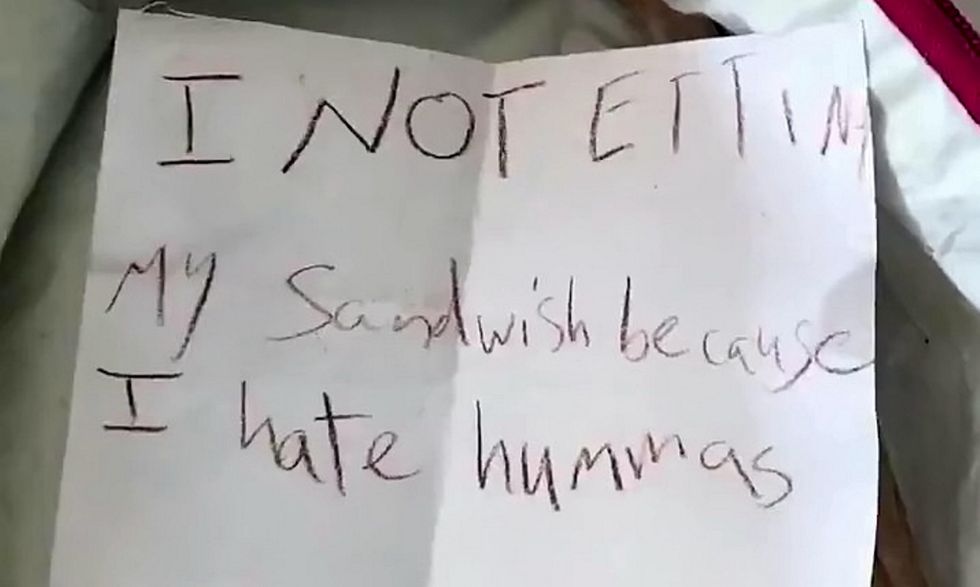 Peter Simson /SWNS.COM
"The dark brown pencil it was written with should have been a clue, it was a foreboding color. I was both amused and horrified."

"Amused because she'd gone to the trouble to write it and the cute spelling, but also horrified 'cos she must have been Hank Marvin (rhyming slang for 'starving')."
"This is a very Pearl thing to do - she is what a casual observer might describe as 'sassy.'"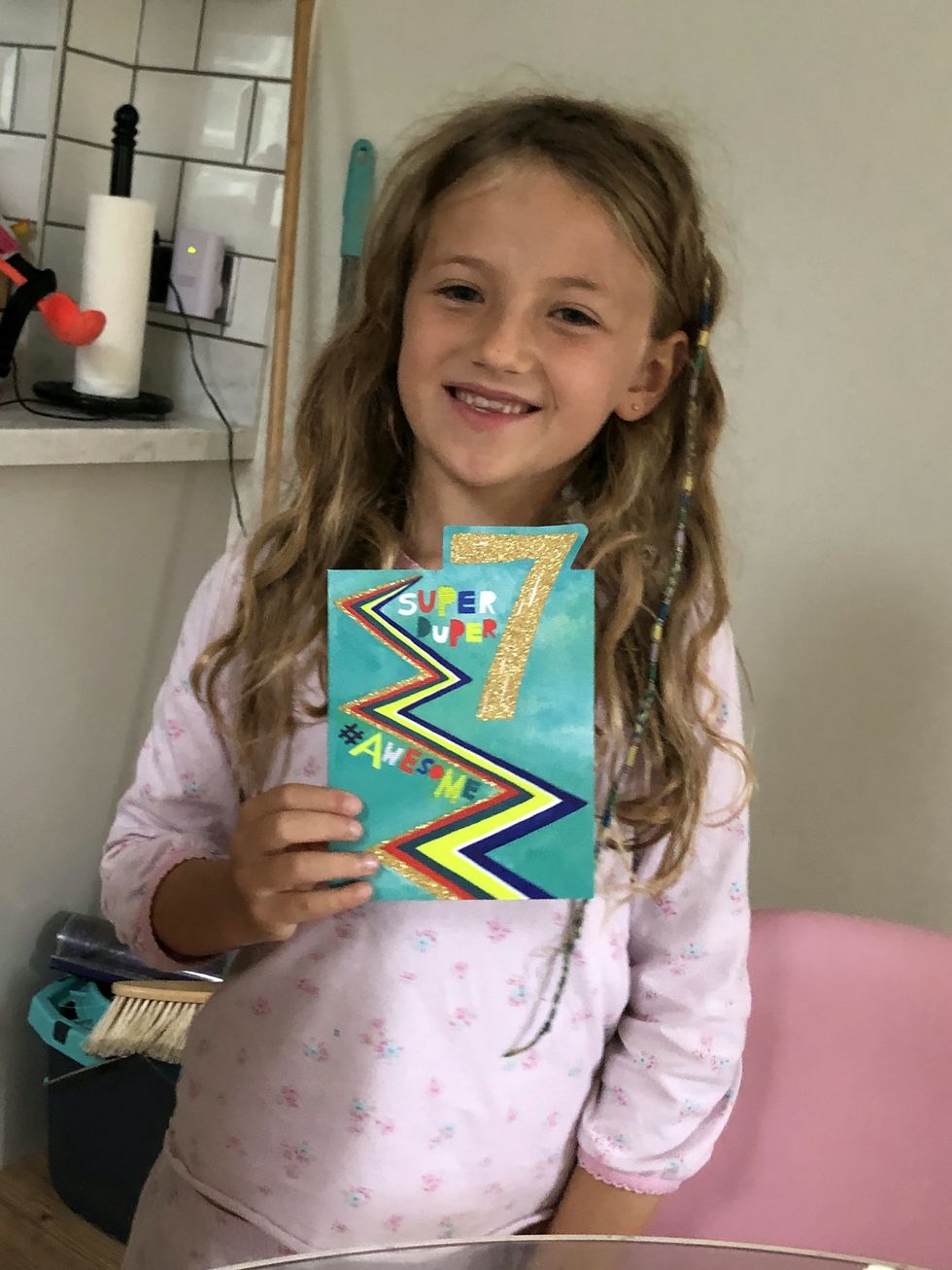 Peter Simson /SWNS.COM
He joked:

"To her mother it's the sign of a strong woman but to me it's plain insolence. I should add my own mother made the worst sandwiches on crumbly bread when I was a kid, but I made damn sure I ate them."
"I suppose it's nice I'm following in a family tradition. Pearl also HATES sourdough, with that and the "hummas" she'll never be a middle-class icon."
Keep reading...
Show less
A dad was forced to deliver his own baby at home using just one hand after his wife went into labor and gave birth - while his broken hand was in a cast.
Jade Brown, 24, went into labor in the middle of the night and it happened so quickly she had to give birth at home on the sofa.
Rhys Darby's left arm was in a huge plaster cast because he had just broken his thumb in three places, leaving him unable to use it at all.
But that didn't stop Rhys, 28, who safely caught baby Ariana in one had - while also juggling towels and a phone.
Paramedics arrived minutes later and Rhys quipped "I've done your job for you" before they cut the cord and took mom and baby to the hospital.
The family are now safely back home in Sunderland, Tyne and Wear, England - and Rhys joked changing diapers with one hand was just as hard as delivering babies one-armed.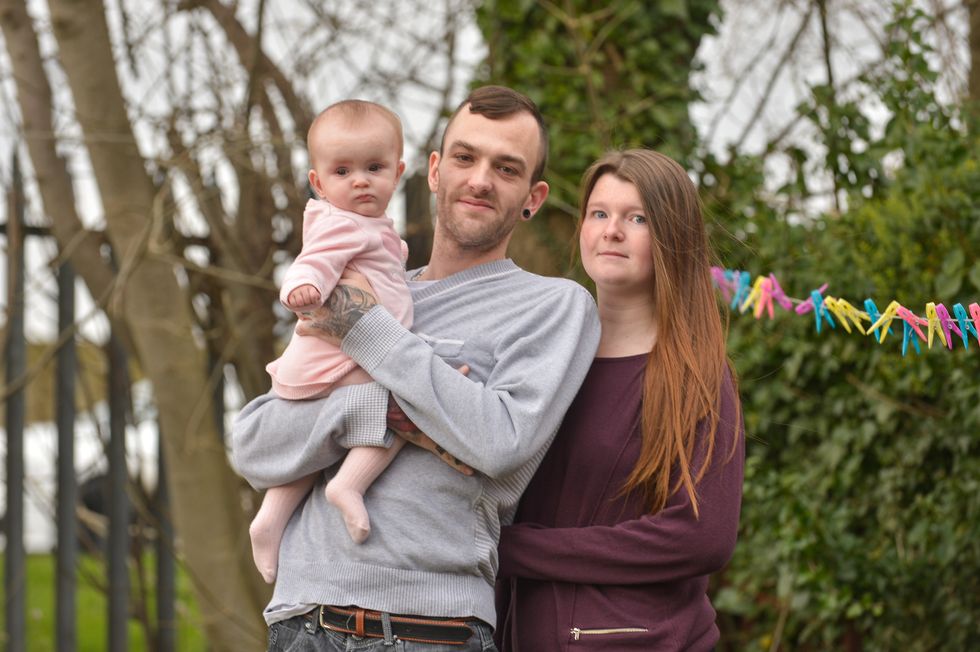 Alex Cousins/SWNS
He said:

"I had the cast on one hand and a phone in the other - trying to deliver a baby! I was running around trying to find towels while the woman on the line was trying to give me instructions."
"I bent down and stuck my hand out and the baby just came out. The ambulance arrived two minutes later and they cut the umbilical cord. I said: 'It's alright - I've done your job for you!'"
"It's funny - Jade was adamant in the run up that she didn't want me near the business area during the birth. I should have brought my baseball glove - then it would have been fine! But it was quite scary."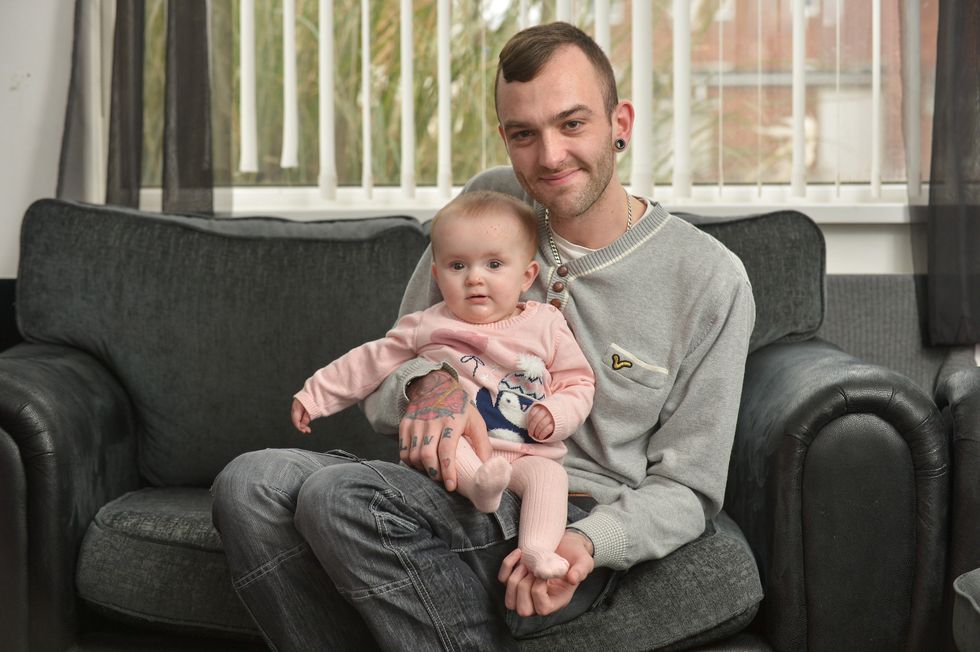 Alex Cousins/SWNS
Jade said:

"I was so glad that Rhys got to be so involved with the birth of our baby girl and I am so proud of him for delivering her - especially with a cast on his arm."
"He was amazing during and after the birth and he's an amazing dad to Ariana."
Rhys broke his thumb when he fell backwards playing five-on-five soccer for the first time in six years.
His arm was put into a bright blue plaster cast from his knuckles to the middle of his forearm for eight weeks.
A week later girlfriend Jade's water broke when she bent down to pick up a sock, and they went to the hospital, but she wasn't dilated enough and they were sent home, on June 19.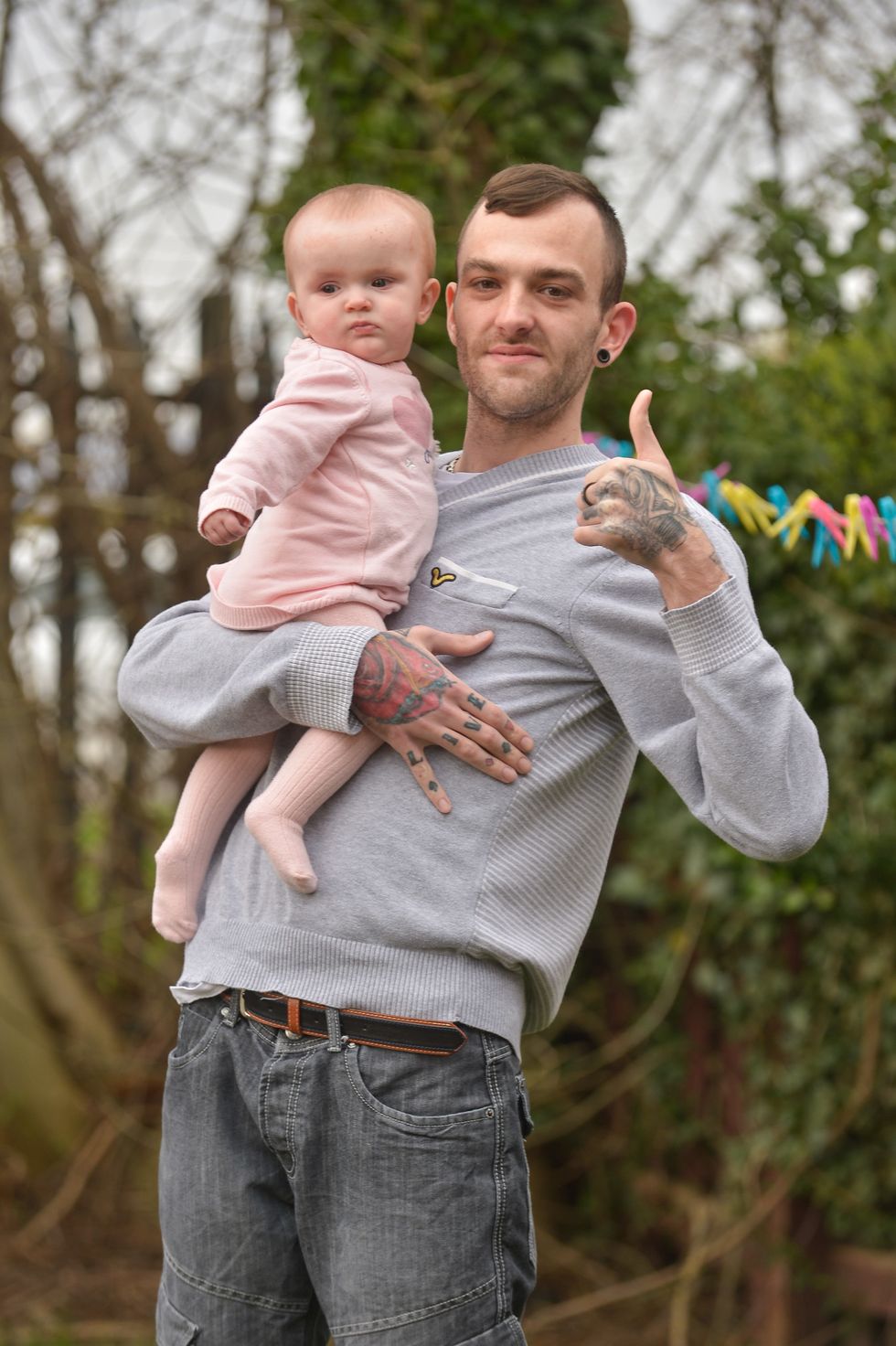 Alex Cousins/SWNS
Rhys added:

"We were told to come back the next afternoon if nothing happened and they would start her off, so we went home. Jade tried to get some sleep, but by 2am the pain was overwhelming."
Jade said:
"I was trying to just breathe through [the contractions], but they were getting more intense so I went downstairs and sat with Rhys."
"I was squeezing his hand every time I got a contraction but as time went on I couldn't cope with the pain and told Rhys we needed to go to the hospital."
They called for a taxi, but when things got more serious Rhys dialed 999 and was connected to an operator who told him the ambulance was on the way.
But the situation escalated and he had to get involved.
"After a few pushes, our baby girl Ariana was born on the settee," said Jade.
"I remember lying with her on my chest and I couldn't believe how quick it all happened."
Ariana's official time of birth was 4:23am.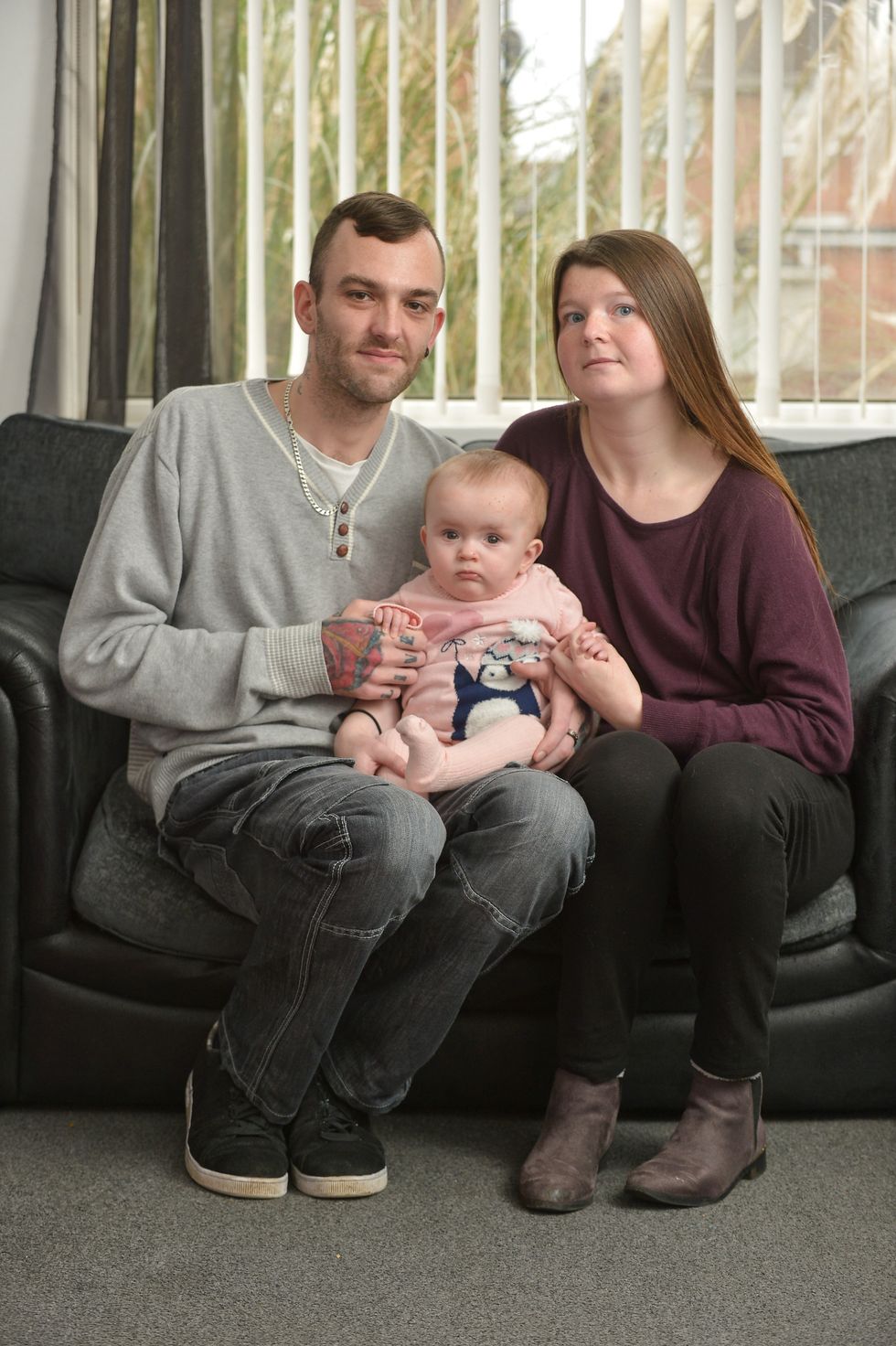 Alex Cousins/SWNS
Rhys said:

"Jade had no pain relief apart from a couple of paracetamol and some gas and air in the ambulance."
"I had wanted to do the honor of cutting the umbilical cord but the paramedics said I shouldn't, because of the situation."
"Apparently we were quite lucky. Lots of stuff could have gone wrong. Ariana is a miracle, really. She was conceived two months after Jade had a miscarriage."
A spokesperson for North East Ambulance Service confirmed a crew attended.
Keep reading...
Show less
This is the moment a dad granted his son's birthday wish - to be picked up from school by Jason from Friday the 13th.
Sam Murphy wanted to surprise his son Carter, who has ADHD, with a special treat for his big day.

He asked Carter what he wanted and was told his one wish was to meet the legendary villain and serial slasher Jason Voorhees.
Despite warning his son that it would be difficult to pull off, Carter found 'Jason' waiting for him outside the school gates and the pair walked home hand in hand.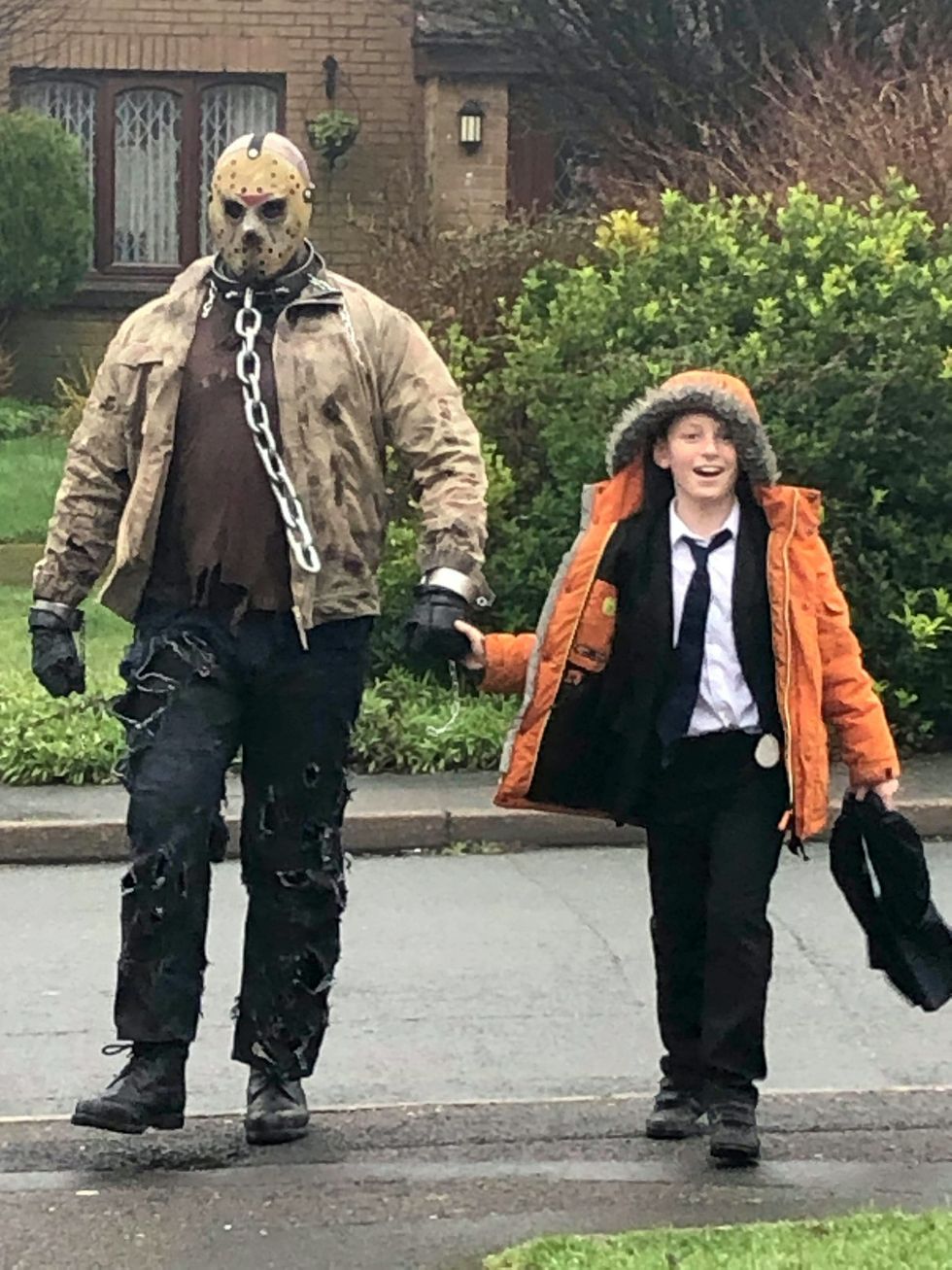 Sam Murphy /SWNS.COM
Sam, 45, of Plymouth, Devon, England said:

"I spoke to the school about it and they said they didn't want Jason waiting at the school gates so he had to be round the corner."
"It was quite a nice experience, he was walking down the street holding hands with Jason. He has issues with touching, he won't hold my hand."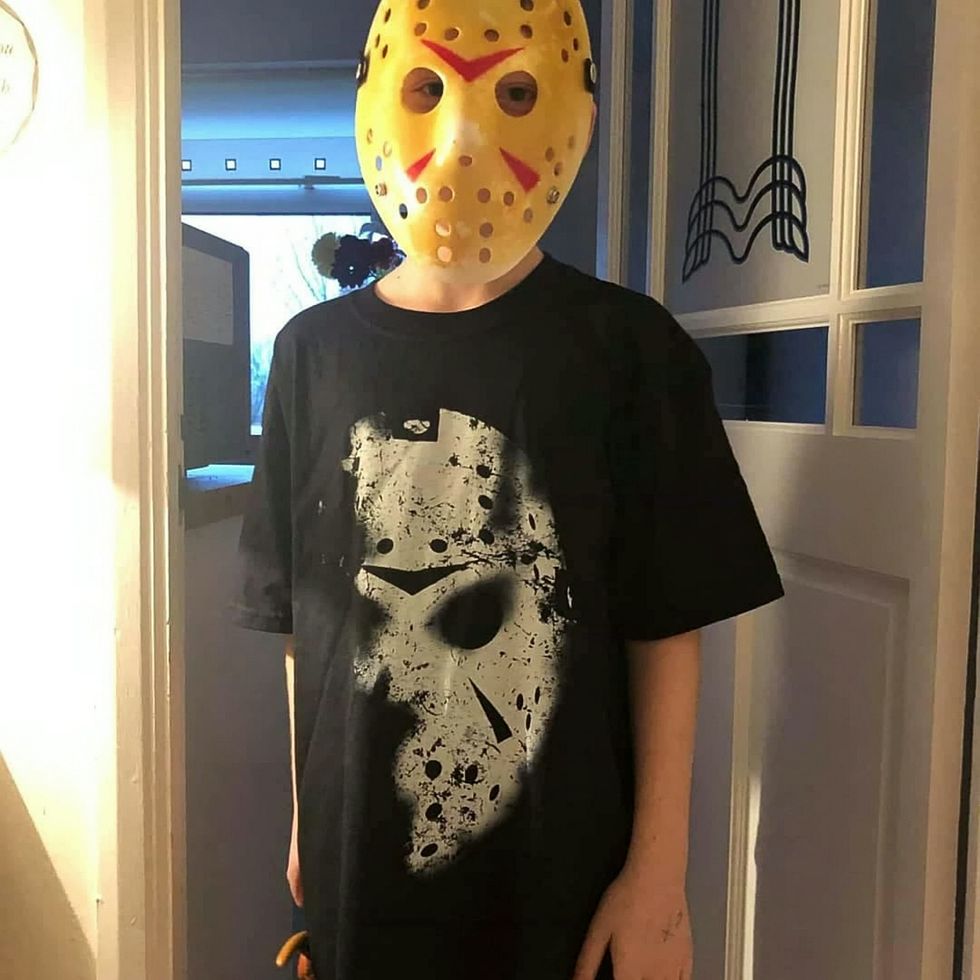 Sam Murphy /SWNS.COM
The horror movie icon was played by local make-up and special effects expert Tony Gartland who took on the job to make himself look just like the 'real' Jason Voorhees.

The scene played out on Carter's birthday on January 30 and was filmed by Sam.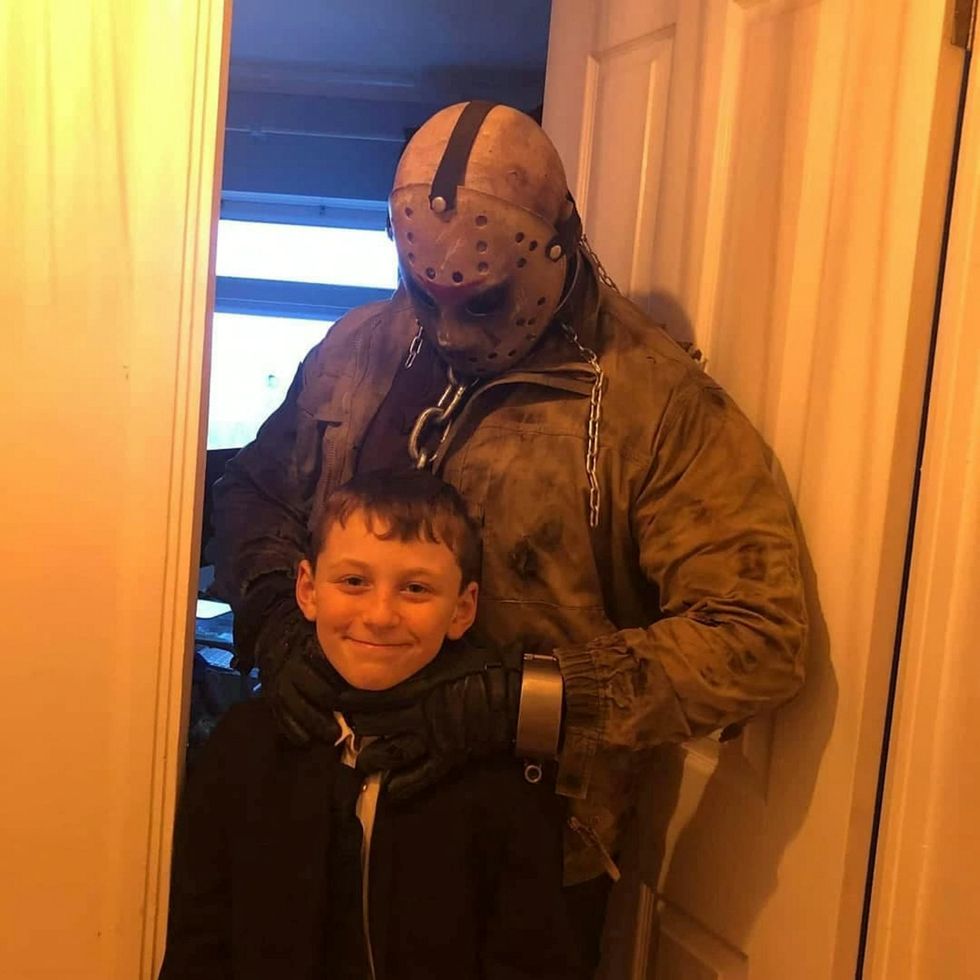 Sam Murphy /SWNS.COM
Sam added:

"Carter hasn't shut up about it, Jason gave him a t-shirt and he hasn't taken it off since. I can't get it in the wash."
"Jason came into the house with his shoes on and Carter said, 'dad, Jason left his shoes on' and I replied, 'well, I'm not telling him to take them off.'"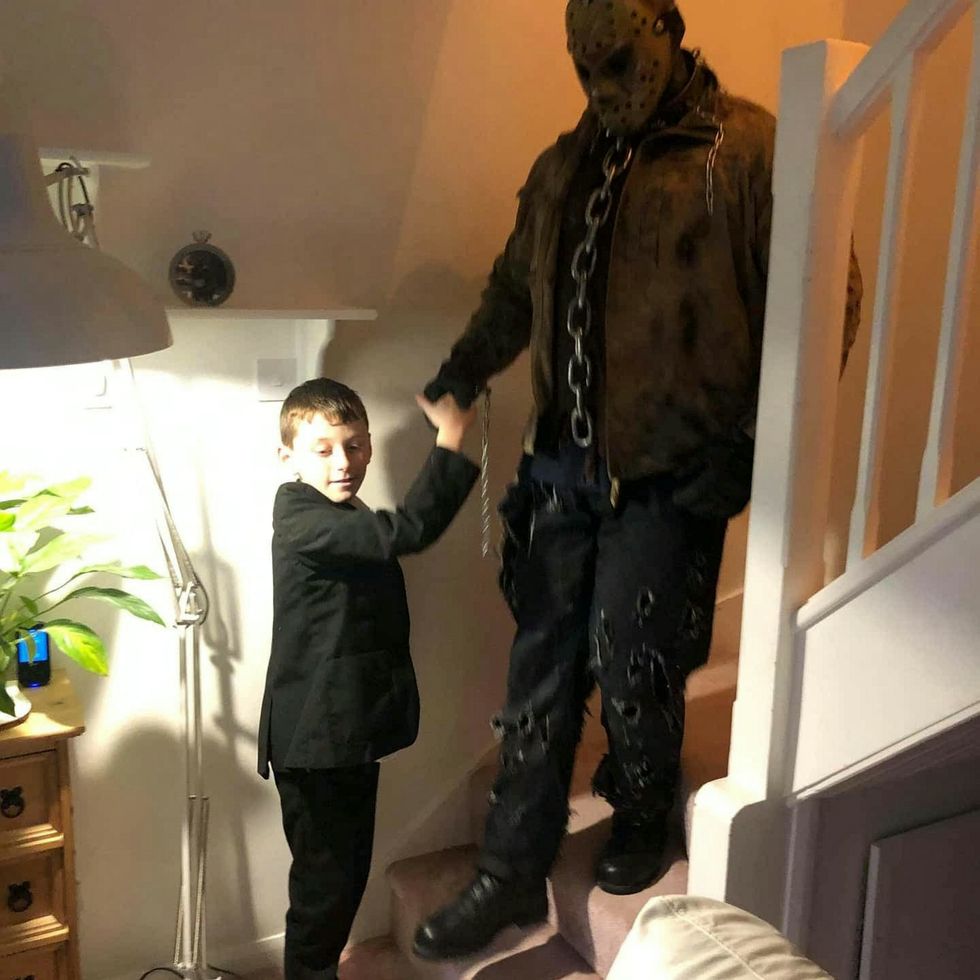 Sam Murphy /SWNS.COM
"They went to his bedroom and Carter was showing all his favorite toys, he showed him everything. Carter then brought Jason downstairs and then he had to go, and I said we'd drop him off in the city center so he could go on a killing spree."

"Carter was so excited, he hasn't stopped speaking about it since. Tony didn't break character once, he was great."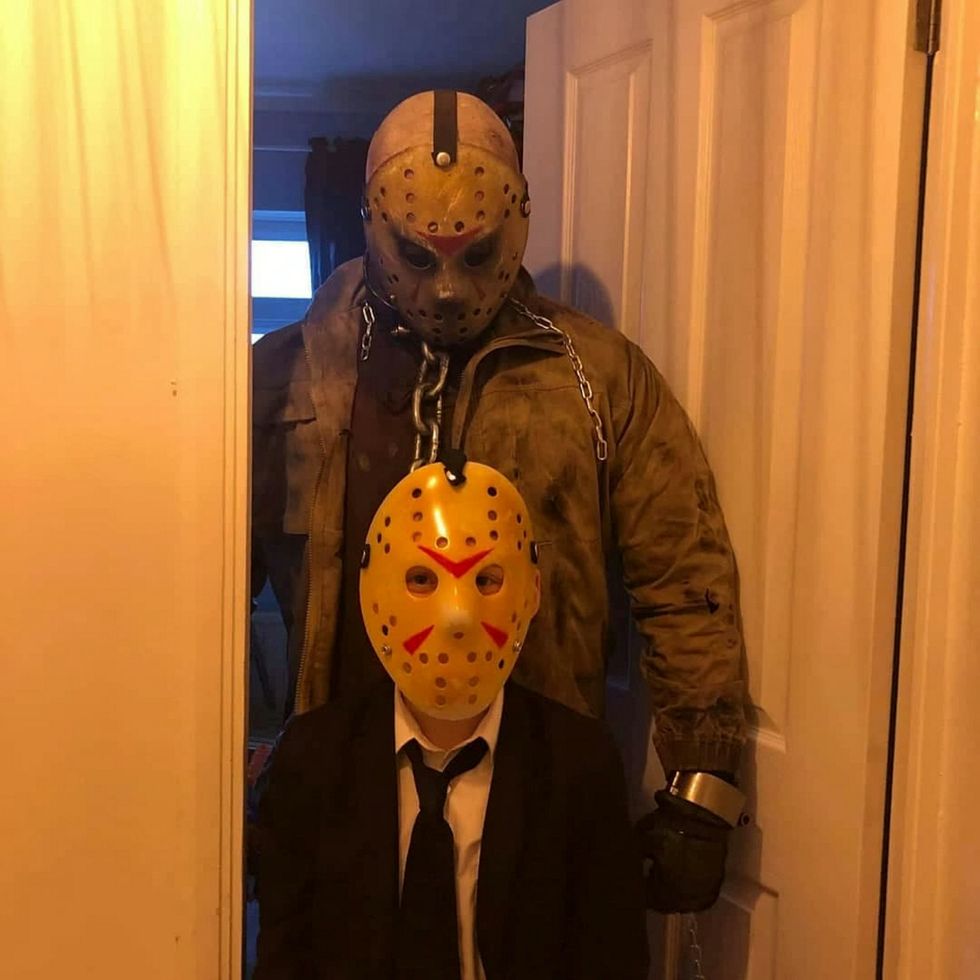 Sam Murphy /SWNS.COM
Tony, who lives in Saltash, Cornwall, owns a special effects and t-shirt printing business and has plenty of experience with costume make-up, masks, and costumes.

He said he's always been a horror fan and has even attended horror conventions as Jason Voorhees.
Keep reading...
Show less
A dad who recorded his baby son every day for a year has edited clips of his noises together to create a video which appears to show him singing AC/DC's rock classic 'Thunderstruck'.
And it's pretty impressive.
*Just a warning for anyone with seizure disorders, this video has a lot of fast-moving parts.
Matt MacMillan compiled clips of little Ryan making noises before splicing them together in time with the music.

Angus Young's iconic guitar riff from 1990 is instantly recognizable as the video begins - with the one-year-old also providing several other parts as song progresses.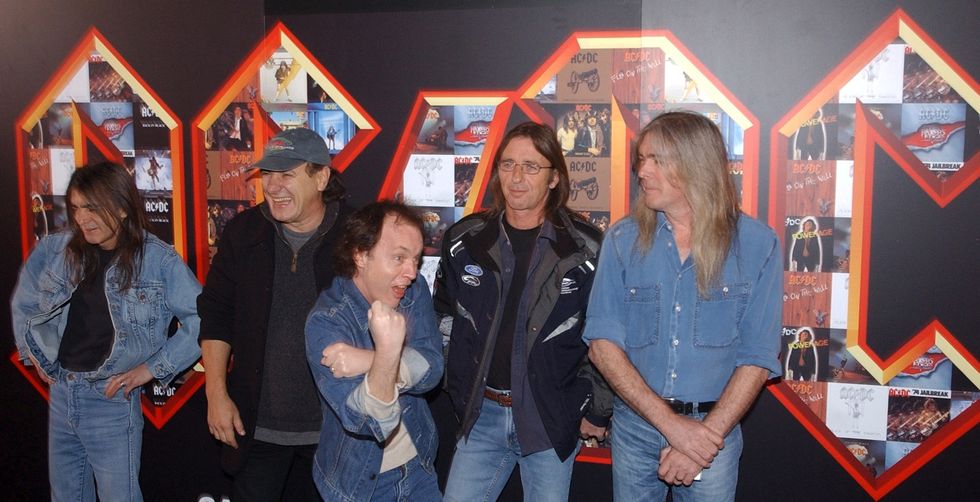 AC/DC (SWNS)
Matt, from New Jersey, manually sorted 83 clips according to pitch then organized each according to note to create the track.

He found 21 notes in total - enough to carry the tune.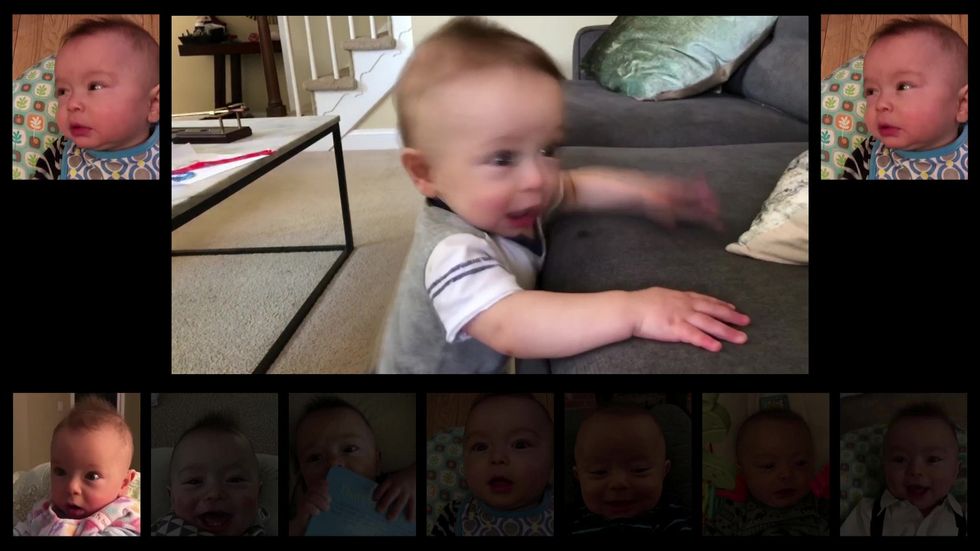 Matt MacMillan /SWNS
Angus then listened to the AC/DC track over and over again, figuring out the notes by ear.

He also used his son's sneeze as a cymbal, a clip of Ryan hitting a sofa with his hand for the drum and the child slapping the floor for the snare.
McMillan recently shared the video to YouTube, where it has already racked up over 25,000 views.
Keep reading...
Show less