Rex, a cat owned by Emily Crane, had a habit of disappearing every day.
Then he returned home with an adorable note from his neighbors which shed light on the cat's whereabouts.
Crane has had Rex for eight years. Not long after rescuing him as a kitten, she discovered that he liked to go outside.
"He loves attention, especially when it comes with nice, behind the ear scratches," Crane told The Dodo.
"At a rather young age, he starting begging to go outside. I would let him out the back door and watch from my upstairs kitchen window."
He's adorable, isn't he?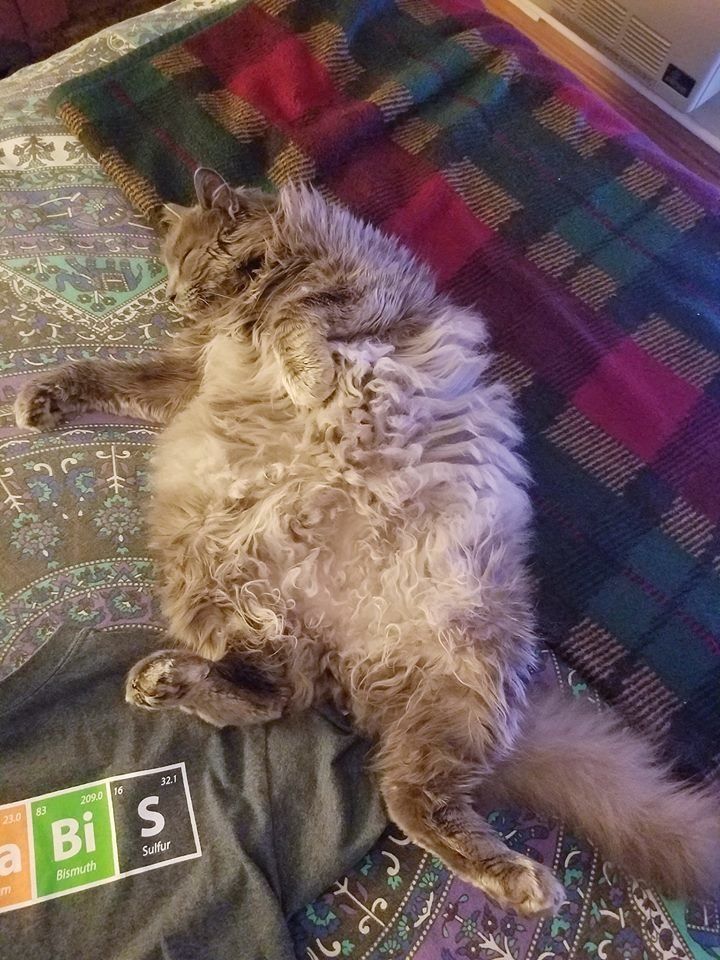 Emily Crane/Facebook
Rex had free rein of the neighborhood from a young age and Crane believes seeing a "friendly kitty" likely delighted her neighbors. Then one day he returned home with a note attached to his collar.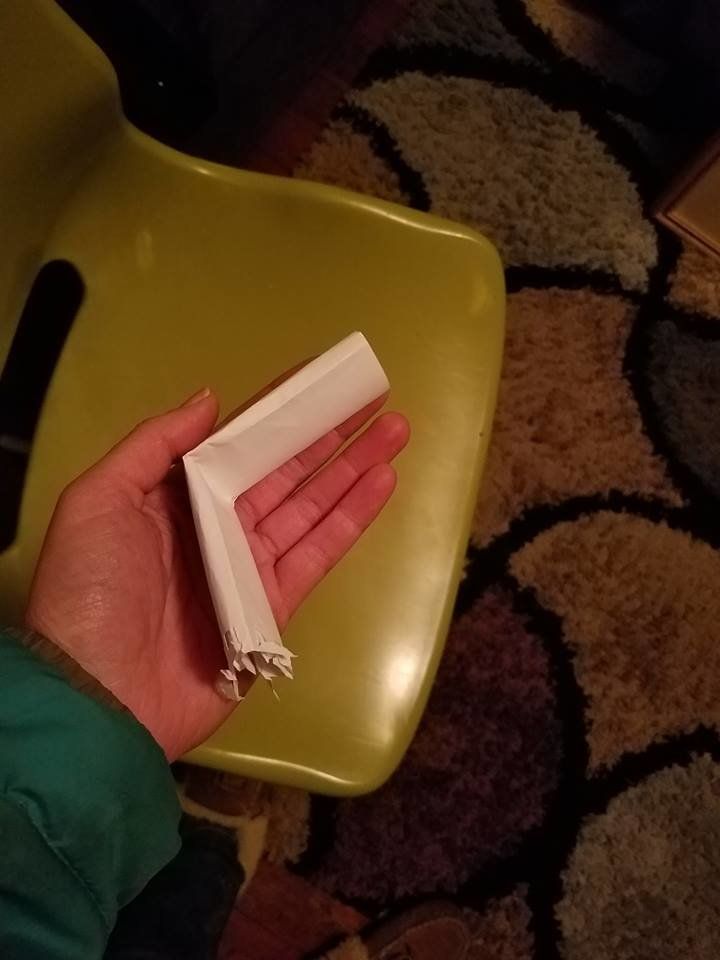 Emily Crane/Facebook
"He pranced inside with it, like he knew that he had a delivery to make," Crane said.

The note reads:

"Hello! This is your neighbor in the red house! We just wanted to let you know that Rex has developed a weird love for our bathtub + will sneak into our home to sit in it! All of us in the house are 100% okay with this because we all love Rex very much. We just want to let you know in case you were wondering where he was one of these days … he's probably in our bathtub. <3 The Red House."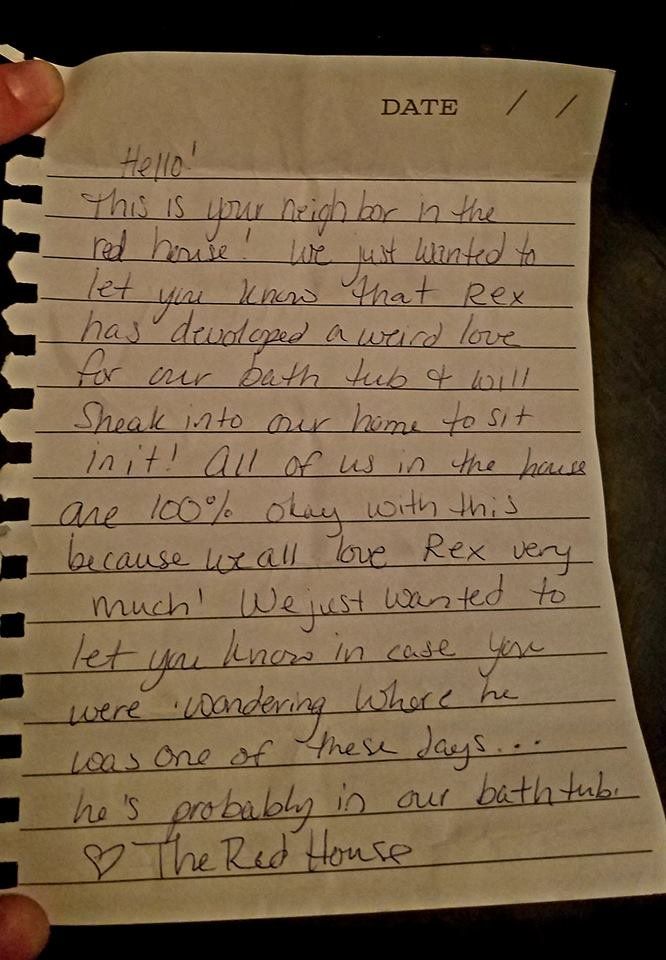 Emily Crane/Facebook
Crane says she thought the letter was hilarious.
"I seriously could not stop laughing when I found the note," she said. "It was adorable!"
Others concurred––and shared stories of their own.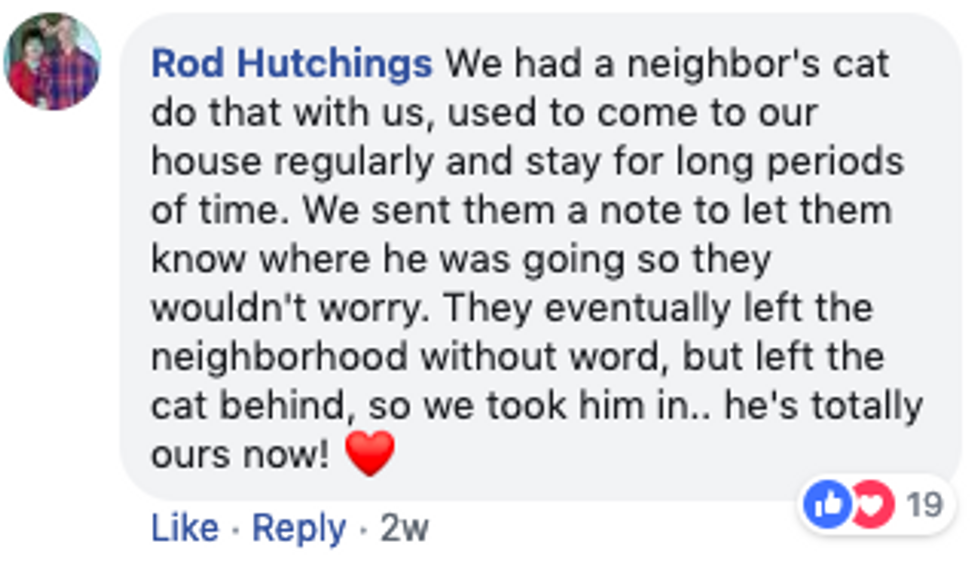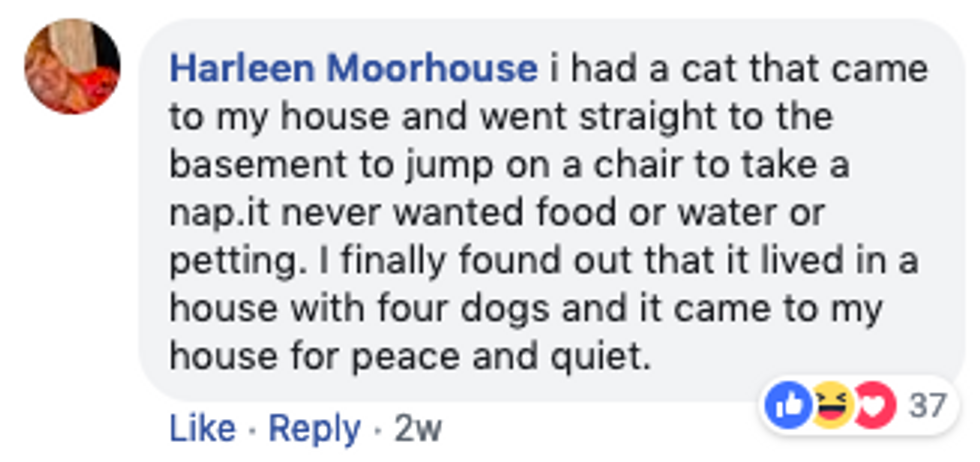 "I love how friendly Rex is with people," Crane said. "If they are interested, I can tell it makes their day to give a pet to a handsome, social kitty cat."
Rex has made our day as well––and we're eagerly awaiting that children's book.
Keep reading...
Show less
The Lion King is a pretty emotional movie, especially for those young'uns. The same seemed to hold true for a pit bull pup named Luna, who was born only 4 months ago.
Josh Myers recently posted a video to Facebook of his dog Luna watching The Lion King. She stopped playing and stared at the TV to watch the scene where Mufasa dies.
During the scene, Luna begins whining and crying while Simba attempts to wake his father. She eventually settles down and can be seen watching the movie without further comment.
Myers captioned the video:
"'Anything you feel, I can feel too.'

🐾
"So Hannah and I were watching the Lion King while Luna played wildly with her toys. But right as Mufasa falls to his death, she stops and turns to the TV to watch. To see her crying at the TV was the sweetest thing I think I've ever seen."
"She even lays down right after Simba lays with his dad....We don't deserve dogs. 💚 4 months old and she's already showing empathy."
Facebook users couldn't get enough of Luna.

Emily Kelley/Facebook

Colleen Steps Keough/Facebook

Madison Milita/Facebook

Deana Joy/Facebook

Several people commented on Luna's newfound fame.

Dalton Vradenburg/Facebook

Randi Franklin/Facebook
Some agreed that we don't deserve dogs.

Jehann Kazem/Facebook
Apparently, someone insisted that there must have been a human coaching Luna, so Josh posted another video from a different angle.

Josh Myers/Facebook
Luna was tired out by the whole experience.

Josh Myers/Facebook
Dogs have a surprising capacity for empathy, as anyone who has been ill or upset and had their dog comfort them will attest. We hope Luna got lots of treats and extra attention for being so adorable!
Keep reading...
Show less
In the Disney film, 101 Dalmatians, Perdita gives birth to a litter of 15 puppies. This seems excessive and a little unbelievable, even for a cartoon, right?
Except now, a real life Great Dane has given birth to a litter of 19 puppies!
Take that, Disney!
The dog named Cleo in Kingman, Arizona had to go into the Kingman Animal Hospital to deliver her litter. The staff performed a C Section to deliver all the animals.
A litter of Great Danes is often between eight and ten puppies, so doubling that number could have been disastrous for Cleo. Thankfully, the staff says all the puppies were delivered without any complications.
The hospital posted photos showing the adorable babies and Cleo in the treatment area, after the procedure had been completed.
The puppies were bottle fed every three hours while the team waited for the mother to recover from the procedure. The dog did not belong to the hospital, though the Facebook post did not specify who then owned the animal.
This isn't the first time a Great Dane has given birth to such a large litter. In 2014, the dog Snowy gave birth to a litter of equal size in Pennsylvania.
As for the largest litter ever, the Guinness Book of Records claims the largest litter of dogs is 24. They were born to a UK mastiff named Tia on November 29th, 2004.
Since the dogs belonged to a private individual, there is no comment at this time about selling them to interested persons, despite many comments asking precisely that.

Facebook.com

Facebook.com

Facebook.com
It's hard to blame people for asking though. These are some really cute dogs.

Facebook.com

Facebook.com

Facebook.com
As of Monday, the puppies and the mother were all in good health. They will be back in the hospital for a check up on their health at a later date. And if the owners find their hands full with the pups, I'm sure some very willing volunteers can help.
Keep reading...
Show less
The Animal Kingdom is a mighty mighty world not to be toyed with and there are so many facets the human race has yet to learn and discover about it. It may seem like we're just hoarding fascinating facts to one day show off in front of Alex Trebek (or on a first date) but to know all these things about our fellow planet dwellers is just straight up intriguing. Pick an animal or insect off the top of your head then go google, you'll be amazed. And that is just from the ones you can think of, never mind the species you didn't even know existed.
Keep reading...
Show less
Experiencing things for the first time is something not enough people really appreciate. When we say "first time" we tend to think about first kisses, first intimate experiences, first heartbreaks... but there are literally zillions of firsts we all have that we just don't take the time to appreciate.
One Reddit user asked people to share the "firsts" they wish they could experience again. Of course some responses were sexual, but you might be shocked at the other stuff that came up! Enjoy some of our favorite responses.
H/T: Reddit
Keep reading...
Show less