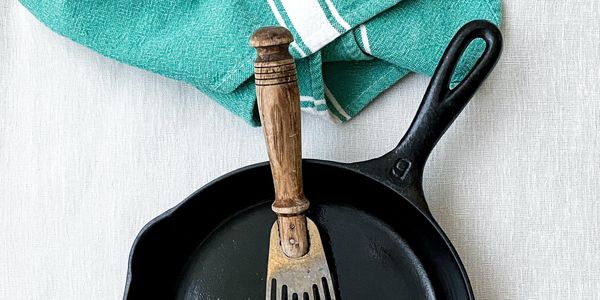 Don't be alarmed: There are some terrible corporations out there (looking at you, Nestle) but there are also some great brands that are selling decent products.
I know, surprising, right? Maybe we've all just gotten used to brands selling things of questionable quality that when we stumble across something worthwhile it stuns us.
Hold on tight when you find a brand deserving of your loyalty!
People shared their thoughts with us after Redditor spwf asked the online community,
"What brand(s) do you swear by and why?"
"Their cast iron pans..."
"Lodge. Their cast iron pans are super durable and can last a lifetime."
StillForest989
Not just a lifetime. Your Lodge cast iron will outlive you, if (and even if you don't) take care of it. Even if they get rusty they can be resurfaced. And damn is it satisfying to resurface a forgotten cast iron pan.
Asics, specifically the Gel-Nimbus series. I've suffered from joint pain and unbearable plantar fasciitis from a relatively young age... These shoes are life savers. Very pricey and I don't love the look of tennis shoes of any type but nevertheless I will praise these shoes to the end of days. Hopefully, I will always be able to afford them once a year.
Glad to hear you've found some much-needed relief!
"Warranty and service..."
"Victorinox. Excellent pocket knives, multi tools and their kitchen knives are probably the best ones you can get under 100 USD. Warranty and service is top notch."
CharacterComb3039
Anyone who cooks, but can't afford or doesn't want to invest in a professional-grade chef's knife should get a Victorinox. They aren't nearly as good as a top tier professional chef's knife, but they are night and day compared with everything else in their price range.
"This one brand..."
"This one brand of granola bars called Sunbelt Bakery. Every other granola bar brand is so dry I can't eat them anymore."
[deleted]
Yes, these are so good! An excellent choice.
"Very comfortable."
"Dickies. High quality pants. They're meant to be work pants so they're pretty durable and breathe well. Very comfortable."
GargantuanCake
"High quality" is right. Those pants last forever.
"It helps clean..."
"Dawn dishsoap. It helps clean dishes and it's great when one of my kids has an accident and I have to wash their clothes. Sometimes leaves a small stain but no smell. It has saved so many outfits."
[deleted]
Fantastic – it sounds like you should be their salesperson.
"They don't use..."
"New Balance. They don't use slave labor to make shoes."
Tink2013
They are comfortable and fit well.
I personally still don't like the aesthetics of many of their shoes, but still recommend them to people who want a good shoe.
"They are a retailer..."
"REI. Stand behind everything in their store. They are a retailer but you can beat something up they sell and they give you a full refund."
bigturkey1738
Many people use them for shoes, for camping gear... all kinds of stuff. They're very reliable.
"I wear my Timberland boots..."
"I wear my Timberland boots almost every day, I've had them for almost ten years, and they're still just about as sturdy as they were the day I bought them."
RedWestern
These shoes tend to last forever. "Durable" is the perfect word.
"One large bottle..."
"Dr. Bronner's Castile soap. One large bottle lasts me about a year and I use it for everything. No toxic BS in them like pretty much every other soap and they smell fantastic."
"Also when I say everything I really mean it. All purpose cleaner, dish soap, body wash, shampoo, carpet extractor wash, dog shampoo, it's called 18 in 1 for a reason."
drumkid74
If you're interested in the story behind the company, the documentary Dr. Bronner's Magic Soapbox might be right up your alley.
See? Not all brands are terrible. After reading about some of these, it might be time to change of your buying habits.
Have some suggestions of your own? Tell us more in the comments below!
Keep reading...
Show less
Ah, yes, we are in the age of the unsolicited non sequitur outburst.
You know the kind, where you mention the weather and someone launches into a rant about Jewish Space Lasers causing wildfires.
It's time to bring them back to reality and say, "Representative Greene, this is Congress."
Redditor darodori asked:
"What's your 'Sir, this is a Wendy's' moment?"
If your wife was treated here...
"Not me, my daughter. She answered the phone, appropriately, 'Radiology'."
"Guy on the phone was looking for some test results, but she couldn't find his name, or his wife's name anywhere. Long confusing call."
"Finally she asks for the name of the animal."
"'What animal? I'm asking about my wife's test!'"
"'Sir, this is a veterinary hospital'."
- Sparky-Malarky
What was the answer?
"My wife was doing an interview and the interviewer asked her 'How she would handle a situation if there was an elephant in the room'."
"Not being familiar with the phrase she proceeded to describe in detail all the things she would consider to help get the elephant out of the room."
"The interviewers allowed her to finish and she didn't realize it until she told me about it later."
- Overrated_22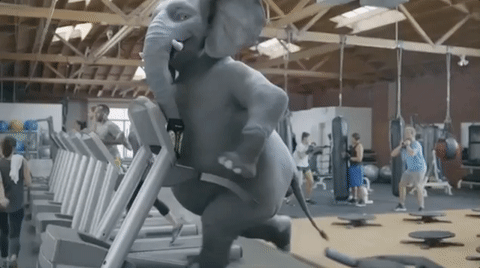 Giphy
Coupon Clippers
"I actually work at a Wendys, and someone tried to use an Arby's coupon."
- QwertytheCoolOne
"I worked at A&W and someone gave me a McDonald's coupon for a Big Mac."
"Sir. I literally can't make this for you."
- Opening_Wafer_3952
"Similar story, I work in an auto shop. A customer came in with a coupon for Jiffy Lube trying to get us to use it."
"After a few minutes of arguing I actually looked at the coupon. It was only $1 less than our regular price."
- PM_ME_UR_SELF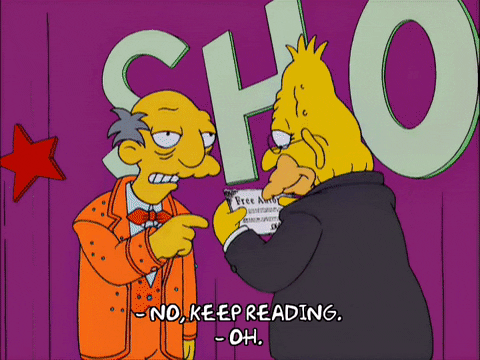 Giphy
More Coupons
"One time this older dude rushes up to order and slams a coupon on the counter saying 'I want this!'."
"I pick it up It has menu items for KFC. I ask him 'What exactly would you like to order?'"
"He instantly gets disgruntled with me for not reading his god damn mind and shakes his finger at the coupon and said 'Well Whatever is on the coupon, obviously!?' in a condescending tone."
"I just look at him for a minute an say word for word 'Sir, this is McDonald's. I don't know what you want me to do with this KFC coupon'. He looks at me dumbfounded."
"Then looks behind me at the menu and around the store, yells 'Awh, Shit!' (Like this isn't his first time walking into the wrong establishment), grabs the coupon and storms off."
- Apprehensive--Toe
9-1-1, what's your problem?
"Former police/emergency dispatcher."
"People would call for all sorts of things, like settling an argument over the rules of Monopoly or other board games, answers to crossword puzzles, complaints about the weather, etc..."
"My favorite over the years:"
"'The power's out, can you have the fire department come over and hook up a generator? I need to watch the ballgame'."
- Faelwolf
That won't fit in the book drop.
"I worked in the tech department of my university's library. Some guy called and asked who he needed to contact to donate his body to the medical school when he died."
"I was like 20, and I had no idea how to respond especially since the medical school is another campus."
"I explained to him that he needed to contact the medical school, and he told me he already had."

"I was like… okay… I can't really help you. This is the tech service department of the library."
"I was on the phone with him for like 35 minutes."
- spiderlegged
Did she see cars?
"A woman came in our shop demanding to help her fix her car because it was our job to do so."
"I worked in a pawn shop. I told her that the car repair store was at the corner of the street and she got the address mixed up."
"She looked ashamed and I never saw her again."
- Ok-Age3061
Driving Them Crazy
"I used to work at a drive through coffee stand. Two guys came through, clearly high af, asking for cheeseburgers."
"We explained that this is a coffee stand, we have breakfast sandwiches, but if they want cheeseburgers they'll have to go down the street to Jack in the Box."
"It took them a solid 5 minutes of us re-explaining this to them before they understood."
"Another time it was super early in the morning, working at the same coffee stand. A woman rolls up and it legit looks like she's sleeping."
"She orders her coffee and hands me a punch card for a different local coffee stand. I said oh wrong card (happens all the time).
"She looks at the card, looks at me, looks around, and says 'what, where am I?'"
"And I've just realized neither of these people probably should have been driving, yikes 😬"
- pnwrdh
First ExxonMobil Trust
"Had a guy scream at me over the phone because I told him I can't transfer money from his savings to checking."
"Why?"
"I work at a gas station."
- Jaycket
At least it wasn't your core warranty.
"I work at a nuclear power plant."
"A few years ago, the control room emergency phone number got out to telemarketers."
"We get a call on the emergency line. One of the reactor operators picks it up 'xxx power station emergency line'."
"He hears a click [of a person being connected]. Then some dude is asking if we want to upgrade our home security system."
"The reactor operator is like 'Do you have like, microwave or infrared detectors? Oh no, we do. Do you have an option for hand geometry scanners?'."
"This goes on for a few minutes and he's finally like 'Dude you called the control room for a nuclear reactor. You don't have anything that could upgrade what we already have for security. Never call this number again.' and hangs up."

"I was dying laughing."
- Hiddencamper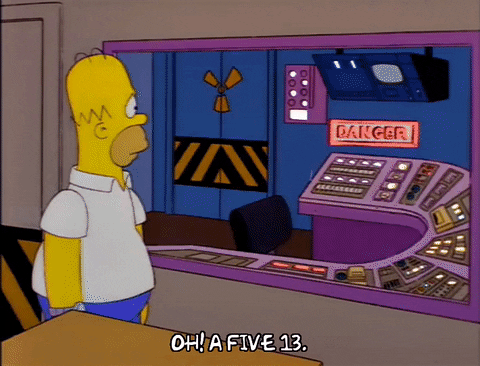 Giphy
The Origin?
"This is really weird that this became a meme, because I swear this is true. In about 95 I was driving from New England to Florida for a college spring break trip."
"Somewhere in South Carolina we stopped at a Wendy's. Near the hallway to the bathrooms they had a big map of South Carolina and I said to a person 'Can you tell me where we are?"
"I was pretty clearly indicating the map."
"The lady said 'Honey, you in the Wendy's!'"
- SabinaDrumm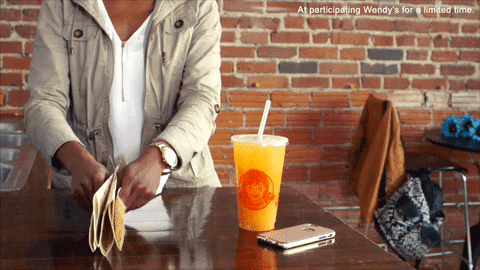 Giphy
We've probably all been on one side of this situation as either the confused person or the victim of their confusion.
What's your story?
Want to "know" more?

Sign up for the Knowable newsletter here.
Never miss another big, odd, funny or heartbreaking moment again.
Keep reading...
Show less
A Build-A-Bear workshop may be "Where Best Friends Are Made," as the toyshop claims.
But the stores also have the capacity to breed mischief, thanks to naughty customers taking advantage of the personalized voice recording option–a popular feature.

While most of the submitted recordings are completely innocent, not all of the customer-submitted voice recordings are always in line with the good-natured appearance of the affable toy bear.

Curious to hear examples of some "interesting" audio emanating from the stuffed toy, Redditor elephanturd asked:
"Build A Bear workers what's the strangest voice recording you've heard?"
These are examples of scenarios when a customer couldn't speak for themselves.
Regretful Bear
"I had a guy come in with loads of shopping bags. Flowers and chocolates. Typical gifts you'd get a girlfriend but WAY too many. He bought a bear and just recorded."
"Hannah, I'm SORRY!"
"He didn't seem in the mood to talk so I didn't pry but everyone in the store agreed it was a terrible idea. Reminding your girlfriend she's angry at you everytime she squeezes a bear."
– MoonMurph

The Private Message
"I can't think of any truly strange recordings, but this did make me think of a semi-awkward situation I was in. A dad came in to make stuffed dog for his daughter. His partner was telling me that he was going through some sort of intense custody battle situation and didn't get to see his daughter very much. He ended up going to like a separate part of the store (or maybe the bathroom? I don't remember) to record the message. Like, the dude clearly didn't want anyone to hear it. But then when I put the sound thingy in the dog's paw and line it up correctly, I kept accidentally pressing it a bunch of times. It was basically him just telling his daughter how much he missed her—so nothing sketchy or anything like that. But I just felt super intrusive because it seemed like it was intended something really personal that I wasn't supposed to hear."
"So just to be clear - this isn't a judgment on the customer, just my awkward and clumsy-a** self."
– Skysteps00000

Sexy Bear
"I heard a man there, he had made a 'sexy' recording for giving to his girl. Kinda creepy, but if it worked...."
– IamtheBoomstick

A Bear's Purpose

"A friend gave a girl a bear, when asking her out, with the recording of his voice saying 'It is my duty..... to rock that booty.'"
– finnicko

Adult customers can be silly as mischievous children.
The Bear Doesn't Consent
"In high school at the time, making a bear as a gift for my best friend. Thought it'd be hilarious to put the little heart speaker into the bear's crotch and have it say 'Don't touch me there!' when pressed."

"Go to check out and this poor elderly woman working the register grabs the bear in just the right way that at least 10+ people around hear someone shout 'DONT TOUCH ME THERE!!!'"
"All heads turned. I thought I was going to have to resuscitate the poor cashier. Left and never went back."
– WholeKaleidoscope556

Dirty Bear
"I was a customer. One voice recording I managed to hear was 'C*CK AND BALL' very loudly.
– PALLABSemployee

Beware The Volume
"I worked at BABW from 2004-2010. I can't remember any build-a-sounds that were especially outrageous. My favorite was when the parents really didn't care, so the kid would record something long, rambling, and odd. The sound costs $8 back then, so almost as much as some bears, but the parents would just shrug it off as the kids screamed some random message."
"If it was an important message, like a proposal, I would try to persuade people to just buy the sound box, then go record it at home, and come back another day to make the bear. People don't realize that Build-a-Bears are hella loud. Those stuffy machines were basically vacuums and playing your build-a-sound while standing next to vacuum and gaggles of children is not a great representation of what you've just recorded. It is going to play back LOUD. We'd have people record in the bathroom regularly, which was better than recording in the store, but very echoey."
– FattyOlive

Oliver, The Sardonic Bear
"Customer, not worker, but John Oliver has a comedy sketch about when he moved from the UK to New York and he was feeling really lonely, so his friends got him a present: a Build-a-Bear that said 'You will die, alone, in a dark, cold room.' That's friendship for you."
"Well, my sister thought it was hilarious, so I went and did it for her. You get some weird looks at the store, but even as she moved across the country from me, she took it with her and cherished that someone cared enough about her to build a stuffed bear telling her she would die alone to satisfy her sense of humor."
"She named the bear Oliver."
– Mijal

A Parent Bonds With Their Daughter
"My daughter when she was 11- in a creepy voice, 'Get your Paws offa me!' We laughed like idiots, playing it over and over on the way home. Her mom did not share our humor. We still laugh about it 15 years later, but I'm pretty sure wife burned the bear."
– Old_Study2105

Pleasure Bear
"Yesterday, a high schooler came in and wanted to record anime moans from his phone. BaB vetoes some recordings..."
– Mucidia

Get A Clue
"I mean probably not weird but I set up a scavenger hunt for my wife each clue solved gave her a letter collect all five letters and solve the cryptex."
"The clue I gave her was something like 'the beating source of life needs to be removed, do you have the stomach to do what you must?' I wrote the letter on the little heart they put on it and they sealed it up. I recorded the jigsaw quote I want to play a game' on the speaker and when she found the stuffed dog it had a picture of jigsaw and a knife."
– turk_turklton

Introducing, "Suitcase"
"My bear didn't say anything he just mooed like a cow. I also named him suitcase."
– ecargrace

On the flip side, memorial bears are a poignant options for those in grief.
A Boy Memorialized
"My son works at BaB. His very first day of work he had to build a memorial bear. The mother and grandmother came in with a voice recording of the little boy who died of cancer. It was a recording of the kid saying he was brave and loved his life."
– MyPonyMeeko

Grandma's Heartbeat
"I can't count the number of memorial bears Ive made."
"Most recently had a family bring in a recording of their grandma's heartbeat to make a bear for each grandkid."
"I think the weirdest one I got was a couple preteens recording a tiktok onto the build a sound. I'm not sure exactly what was on it, but they were really awkward about it, so I ended up turning the computer down really low so it didn't project through the whole store. I made an extra effort to not squeeze the sound as I put it in the paw."
"Us Bear Builders have lots of stories. Some good, some sad, some downright terrifying."
– Raisyk

A Gift For A Bereaved Mother
"I had a lady come in to make a memorial bear for the mother of a baby who died, she put an audio recording of the baby crying."
– Bartok_and_croutons

Auditory Reminder
"Definitely not creepy. We had our baby's heartbeat recorded during an ultrasound and put it into a stuffed animal. My newborn daughter passed away a few weeks after delivery and now that heartbeat is something we have to remind us of her."
– BigCaT31

It's no wonder that BaB toys are so popular.
It's next-level roses and chocolates gift-giving option for all occasions.
Of course, it's also a huge opportunity for vexatious customers to exploit the personalizing feature for their dirty deeds.
Which customer are you?

Want to "know" more?
Sign up for the Knowable newsletter here.

Never miss another big, odd, funny or heartbreaking moment again.
Keep reading...
Show less
When you work in the service industry you are more than just a waiter, host or bartender. You are also a therapist, a janitor, a cop and a journalist of life. Everyone should have to work at least one month in a bar or restaurant sometime in their lives so they can grasp the scope of the craziness of humanity. The stories bartenders have could fill up story ideas for Oscar winning films until the end of time. And still, nobody would believe half of it.
Redditor
u/Adexiss
wanted all the liquor slingers out there to share with us a bit by asking...
Bartenders of reddit, what is the weirdest thing that you have ever witnessed at your job ?
When I bartended I left every shift with at least one personal eye witness account that I could label... "WTF was that?!" People are nuts, and then you get alcohol involved and suddenly we're living in an episode of "Stranger Things" or "Days of our Lives." People truly tend to forget they are in public after a fews shots.
A Wet Fight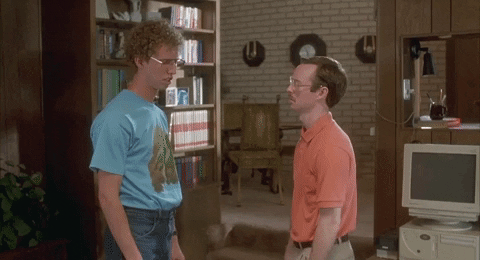 Big Brother Fight GIF by 20th Century Fox Home Entertainment
Giphy
A guy who peed himself sitting on a a barstool and then wanted to fight me when I cut him off and wouldn't serve him a new drink.
The Phone Call
I worked on the bar in a restaurant but would sometimes act as the host if things got busy on the floor.
A couple came in once, I sat them down, gave them menus and all that. Not ten minutes in I pick up a call and it's a woman asking to speak to the guy. I politely let him know someone's on the phone and they say it's urgent. He has a quick chat, seems okay and hangs up the phone before going back to the table. 5 minutes later, she calls again, I go over again, apologise and say they seem really concerned.
At this point he's clearly tense and making an effort not to raise his voice. After a few minutes he hangs up, hands the phone back to me and says "if she calls again, just tell her I'm not interested in speaking to her".
Lo and behold, she calls again, and I say exactly what he asked, to which she laughs in kind of a clichè "crazy ex" kind of way, and I kid you not, says "well tell him I hope he doesn't eat too much because when he finds the tires I slashed he'll be walking home, wishing he'd spoken to me" and hangs up.
I went over a minute later and asked what kind of car he had because there was someone double-parked outside and wanted to check it wasn't him. I figured it wasn't worth freaking him out if it was an idle threat. He described the car and said where he'd parked it. I took a cig break and went to check... All 4 tyres were fine, but that poor bugger had not a single window left unsmashed or severely cracked and there were a couple of rocks laying on the ground.
Needless to say, they did not stay to finish their meal.
Say What?
I once witnessed a woman openly fondling herself (dress hiked up, underwear pulled aside) in the middle of a not super busy bar. It was very obvious she wanted people to see. The weird part was, after a bar back yelled at her and told to stop or get out, a guy walked up to the bar back and said "don't talk to my wife like that" This really happened.
I go to Chili's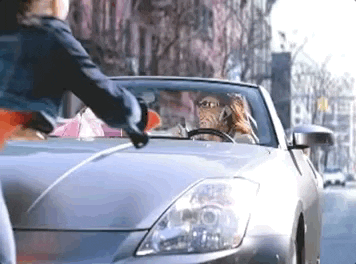 Giphy
Car plowed into the bar I was working in, coming all the way in, and flipping a pool table on its side. Pinned three off duty Applebee's waitresses against the bar. No one was hurt and the woman who was driving tried to order a drink.
I'm Lost
Used to have a regular who sold her time on Backpage. She loved our queso so she always had the guys bring her there. What stuck out was that she always ordered Jagermeister and Diet Coke. In the same glass. I once had to kick her out because she got so wasted she tried performing oral sex under one of our tables. When I could clearly see she lies about what she's doing and says she is looking for something.
See? What did I tell you? You can't make this crap up. Yet half of it sounds like nonsense. Everyone seems to think the bar is like their bedroom or therapists's office. The mentality of like... let me blow off some steam and burn the place down is shocking. Several more barkeeps felt the need to share.
Happy New Year!!
Lots of funny things at new year when everyone is in fancy dress, sad older guys who have drank so much they haven't noticed their wig has slipped. The weirdest is definitely having a mariachi band burst in through the door of the pub, play two songs and leave! Keep in mind this is the UK, it was a dark rainy mid week night. I don't know where they came from or where they went after but while they played they had the attention of everyone in the pub.
Meow Sir...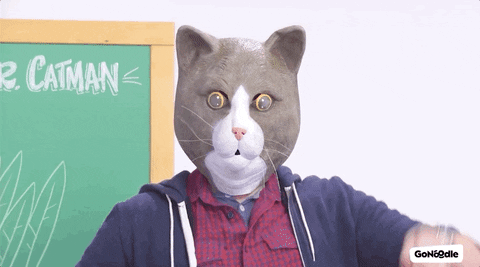 Movement Thumbs Up GIF by GoNoodle
Giphy
I once served Catman a Bloody Mary. Dude had body modifications that were hard not to stare at. He was very friendly. He ordered a blue rare steak and returned it for being over cooked. I told him we can't legally feed you anything more raw then a blue rare steak. He hissed and ordered another drink.
Chew Slowly
A heavy set middle eastern man was drinking heavy and got very drunk at my bar. When he went to the restroom his prime rib dinner had arrived. I think he did some drugs in the stall cause when he came back way drunker. He then cut a long big strip of prime rib, about the size of a thick hot dog, then while glaring at me, threw his head back and proceeded to swallow it whole like a baby bird would a worm from its mother.
It of course got stuck in his throat choking him and he passed out and fell on the floor. I/we cleaned out his air passage and gave him CPR. 10 minutes passed and he was still unconscious when the paramedics arrived. He left with a heart beat but died later that night in the hospital.
How WONKY...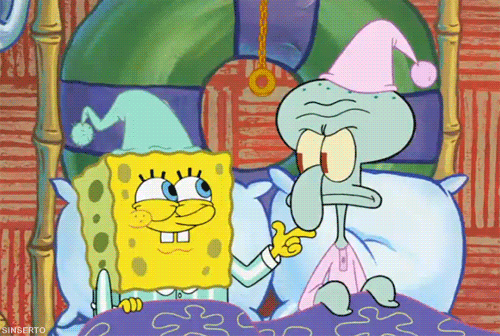 nose GIF by SpongeBob SquarePants
Giphy
Honestly? A fight between someone dressed as SpongeBob and some one as an Umpa Loompa. (Sp) no one was seriously hurt.
The craziest thing I can recall during my tenure behind the wood involved, a homemade carafe of Red Sangria, a pork chop, a seeing eye dog and two, eighty year old men. I'm sworn to secrecy but the local Palm Beach paper may have it archived. If you can't hold your liquor.... STAY HOME!!!
Want to "know" more? Never miss another big, odd, funny, or heartbreaking moment again. Sign up for the Knowable newsletter here.
Keep reading...
Show less
PSA: the drive-thru microphone hears EVERYTHING, ALL THE TIME.
The drive-thru at a fast food restaurant is a one-of-a-kind social experience. Just about every step is a weird form of human interaction that occurs literally nowhere else.
And, oh yes, there are robot speakers that look alarmingly like sci fi trash cans.
Want to "know" more? Never miss another big, odd, funny, or heartbreaking moment again. Sign up for the Knowable newsletter here.
Keep reading...
Show less