Just like the items and behaviors that are easily defined as "American," there are some activities and mindsets that are distinctly "European."
From castles to coffee culture, to an overall dismissal of "hustle culture," this combination of characteristics will leave zero doubts in a person's mind that they have entered a European country.
Redditor doeyy0 asked:
"What is the most European thing ever?"
A Day in the Life
"Driving through four countries to go on vacation, not using your passport, no visa, and using the same currency everywhere."
"Plus using your cell phone all the way with no extra cost."
- Tc2cv
Castles, Castles Everywhere
"I can literally see one castle out of my living room and another one out of my kitchen window."
- 1337sti
The True Meaning of "Walking Distance"
"One big difference is the way from villages to big cities are laid out. They all have numerous squares or public gathering places. You can enjoy a drink, music, and people-watching. You don't have to drive everywhere. Local pubs abound."
"I always wondered how so many Europeans could make do with those tiny fridges. But then I realized they shop fresh all the time. There are so many butchers or bakers, produce stands, cheese, deli, and flower shops within walking distance. They shop locally and fresh all the time. Without a car."
"My Uncle lived in a big condo or over the row housing area. Every Saturday mobile butchers, bakers, fruit and produce, etc. would set up outside for a few hours and then move on. Everything is fresh and local, and absolutely delicious. And no car needed."
- hhar141
Just a Few Minutes Away
"Going to another country just to go shopping."
- Armstry
Kebabs Aplenty
"From an American's perspective; Kebab shops. I've been all over Europe and I've got to say, those things were everywhere and I stopped at way too many of them. I could really go for a durum kebab right about now..."
- Korvun
Trains, Trains, Trains
"Trains. Trains that are clean. Trains that go where you want to go. Trains that are affordable."
- gadget850
Polyglots Everywhere
"Multilingualism."
- Whimsical-Escape
Better Soft Drinks
"Fanta, but not the American kind."
- unholymxja
Truly Ancient Buildings
"Casually having buildings from millennia ago around you all the time."
- AxelVoxel
The Musical Sport
"Eurovision."
- noise_is_for_heroes
A Continued Tradition
"Closed stores on Sundays."
- bogeysandwine
Multilingual Radio
"One weird thing I learned about other countries is how they get American music on their radios, but we hardly ever get their music on our radios. Recently, the closest we've come is Boy With Luv by BTS featuring Halsey."
"I wish we could get some foreign hits on our radios, but oh well. I can look that up online."
- Give_Help_Please
A Top Priority
"A proper selection of cheeses."
- intangible_tangerine
Dressed Up to Go Out
"Men unapologetically dressing super stylish."
- gimmeconfetti
...Whoa.
"Paid vacation time."
- Stratchmop
While these things might be seen occasionally in the United States or other countries, seeing them all compiled in one place feels undeniably European.
Many cultures and countries are associated with a specific food or dish.
Most people won't visit England without having fish and chips at least once, while others dream of having authentic Spanish paella.
This leaves one to question, does the United States have a food synonymous with their culture?
Hot dogs, hamburgers, and french fries tend to come to mind.
Foods that interestingly have their origins, or at least their inspirations, from elsewhere.
Thus begging the question: what is the food which defines America in one bite?
Redditor FruityandtheBeast was eager to hear what people from near and abroad considered to be the answer, leading them to ask:
"What do you consider to be a cultural food of the United States?"
A Foreigner's Perspective

"As someone not from the states I would kill to try a peach cobbler or a pumpkin pie."- DukeOfPoose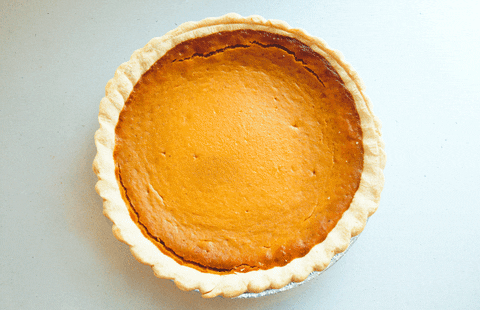 pumpkin pie family GIF by Simple
Giphy
Based On Their Origin, At Least

"Buffalo wings, perhaps."- Upstairs-Try6583
"Peanut, Penut Butter, and Jelly!"
"I was grocery shopping recently when a very nice German guy approached me for advice."
"He had friends coming to visit from his home country and he wanted to introduce them to peanut butter and jelly sandwiches, and could I advise him on the best ingredients?"
"He already had some kind of bullsh*t artisan bread from the bakery department in his cart."
"I told him to put that back, go to the bread aisle and get the crappy white Wonder Bread."
"Then there was discussion about the merits of Welch's grape jelly vs. strawberry jam, and how most big brand peanut butter is optimal as opposed to the oily natural kind."
"Lastly he learned to use the term 'PB & J'."
"He went away delighted, and it felt great to be a cultural ambassador!"- RedBattery
"PB&J."
"Idk if it was originated in the US but it's not that popular in other countries, although it's shown a lot in American cartoons."
"I literally tried PB&J last year for the first time and it's freaking delicious, 10/10."- burber_king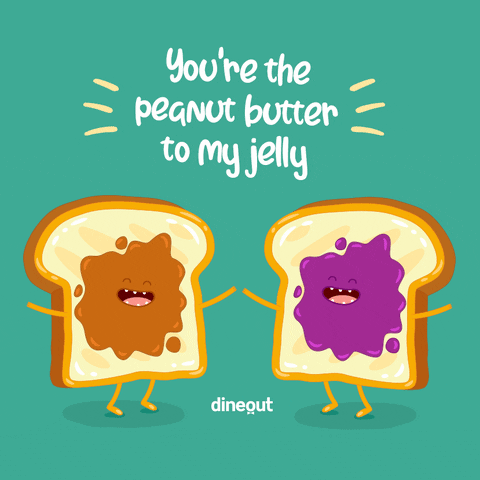 Peanut Butter Food GIF by Dineout
Giphy
"You're Killing Me Smalls!"

"S'mores."
"I've traveled the world and no one knows what smores are besides Americans, whereas even if burgers or whatever are American, everyone everywhere knows what they are, so..."- decehod235
With Or Without Chili!
"Cornbread."- Deadp*ssyf*ck
Shrimp, Chicken, Anything!

"Cajun."- tnmcnulty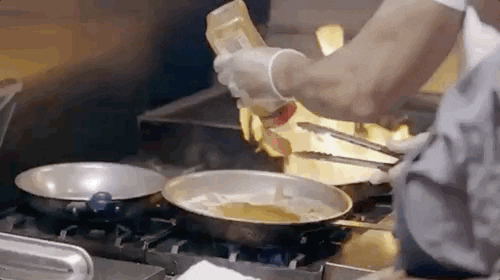 Stevie J Cooking GIF by VH1
Giphy
​​French Fries Are So Passé
"Tater tots."- tdly3000·
Maybe Depending On Where You're From?
"Shrimp and Grits."
"Nashville style Fried Chicken."
"Texas BBQ."
"Carolina BBQ."
"Kansas City BBQ."
"Memphis BBQ."
"NY Style Pizza."
"Po Boys."
"Jambalaya/Gumbo."
"Hotdish."
"Ambrosia Salad."
"Clam Chowder.:"
"Manhattan Clam Stew (it is not a chowder)."
"Conch Fritters."
"Chicago style Brownies."
"Chicago style Italian beef."
"Philly style chopped steak and cheese (NJ and DE have pretty good ones too)."
"Beef on Kimmelweck with creamy horseradish sauce."
"Lobstah Rolls (Maine only, every other one sucks)."
"Maryland crab cakes."
"Tex-mex style everything."
"Chicago Deep Dish Pizza."
"Chicago style hot dogs."
"Texas style corn dogs."
"Bagels with Lox (smear optional but I never get one without it)."- RandomUser0666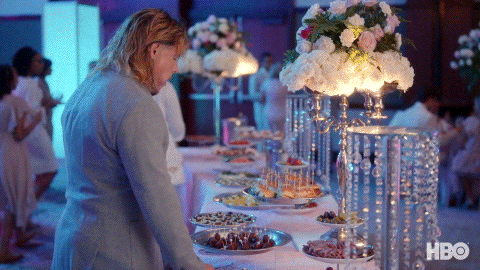 All You Can Eat Eating GIF by The Righteous Gemstones
Giphy
Don't Let The Name Fool You
"The Cuban sandwich - originated in Tampa Bay."- OhSeesOhMees
Simple And Delicious
"Biscuits and gravy."
"The reason it came to my mind is I have been making them now in the winter months."
"Here is the recipe I use for biscuits."
"It takes practice but they come out great."
"Very cold butter and not overworking or touching the dough with your warm hands is key."
"I get a little better at each time I make them."- wanted_to_upvote
The Sweet Treat Everyone Craves

"Chocolate chip cookies."- whoathererockstar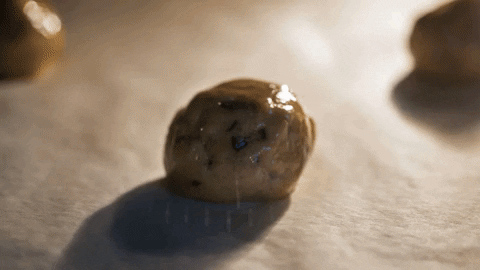 Baking Chocolate Chip GIF by Nestle Toll House
Giphy
Breakfast Combos
"The USA are fierce contenders against mainland Western Europe for the greatest breakfasts in the world."
"You people are visionaries when it comes to breakfast."
"Like, chicken and waffles?"
"Who the f*ck thought of that?"
"You did, that's who, you beautiful bastards."
'It shouldn't work, but by god, it does."
"And steak and eggs?"
"Who the f*ck eats steak in the morning? "
"THIS GUY, THAT'S WHO."
"I LIKE YOUR STYLE, AMERICA."- ZdCole
Needless to say, what constitutes being "American" has proven to be a highly, some might say unnecessarily, divisive issue.
Even so, it's hard to believe there are any people out there who can't put aside their differences to enjoy a Peanut Butter and Jelly sandwich, followed by a slice of Apple Pie.
A stepping stone for improved diplomatic relations maybe?
Stranger things have happened...
It's easy for Americans who haven't traveled outside the country to assume citizens in other parts of the world have access to the same amenities offered in the US.
But people who were not born in the States know very well how what a world of difference life in North America is compared to where they've come from.
Curious to hear of the things most Americans take for granted as citizens of the US, Redditor CapitalBread6959 asked:

"Fellow Non-Americans, what is something quite common in the U.S. that is completely unheard of in your own country?"
Americans do drinking differently.
Bottoms Up
"My German friend visited us in college. First party he goes 'THEY DO EXIST!!' and held up our pack of red solo cups. Haha"
– mulljackson
Cup Overruneth
"Free drink refills."
– internetsss

H2O Required
"Every single place with a bar is legally obliged to provide free tap water on demand in England. Most restaurants will give you a pint of tap water with food for free (you do have to specify tap otherwise you get stung with some fancy expensive shite!) Admittedly the measures of alcohol are small here, though, compared to other places."
– anon

Some industries have laxed work protocols compared to in other countries.
Bee-Lining It For Home
"Health care workers going home after work still in scrubs. And washing them at home."
– orebro1234

Work Clothes Stay At Work
"This!! It's so weird to me. Here it's literally forbidden to leave hospital grounds in your work clothes. I would hate having to bring them home and possibly carry some resistant hospital bacteria there with me. Plus you never know how well other people wash theirs, I like it done professionally at the hospital."
– pauliaomi

Making Sense Of It All
"Many moons ago, I did an IT internship at a hospital's service desk and being the intern, was always the one who had to run out and physically check things."
"When I had to go in to work on something in an operating room, I had to put on a full body tyvek suit, gloves, mask, coverings for my shoes, etc."
"Which made sense to me. Except the OR nurses who worked there wood just breeze in and out all day long, wearing the same scrubs they wore commuting to work on the bus."
"That DIDN'T make sense to me."
– caribou16

Meanwhile, over at school...
Dances Don't Happen Everywhere
"Homecoming, Sadie Hawkins, Winter Formal, Prom..."
"We have none of this, the closest thing is the graduation itself."
– badeksha
American Educators
"Teachers buying school stuff so they can teach."
– comicsnerd
The way certain things work in the US definitely raised eyebrows.
Feeding The Sink
"This thing were the kitchen sink has teeth."
– PoetPont

Going Nowhere Fast
"As a Dutchy, driving a car and turning right on a red light. That messed with my head. If you do that here you are gonna hit at least 5 cyclists."
– CowabungaNL

My Japanese cousin always comments on how Americans are friendly and are more open to striking up a conversation as opposed to citizens in Japan, where they prefer to keep to themselves and be captivated by their smartphones out in public.
As an introvert and one who can't stand small talk, I actually loved being left alone whenever I was in Japan riding the subway and walking about the city. Nothing against engaging with other people, but I found the quiet and my personal space being respected to be very calming.
While people try their best to be pleasant, sometimes we are so wrapped up in our own worlds that we don't realize some of our behaviors or actions aren't appreciated by everyone.
Things like talking on the phone in a public place or listening to music without headphones have become so normal that people don't always realize others may be irritated by this behavior.
There any many things that some people consider normal that others think are rude.
Curious to know what some of those things are, Redditor dentistani asked:
"What is something people find normal, but you find horribly rude?"
What Happened To Private Conversations?
"Face timing in public. Not everyone wants to be a part of your personal life or conversation."
– Fuzzy_Principle8075
"Talking on speaker phone in public. The number of people I see holding their phone out in front of their face while they yell into it is annoying."
– mattwb72
Don't Answer The Question
"When someone talks to you or asks you a question, then when I respond with a meaningful answer, the other person just talks about something else to someone else or just doesn't respond."
– aboxatar15
"My MIL does this. Whenever we visit, she'll ask me a question about work/my side of the family/a hobby I have/whatever as a platitude, and a lot of times before I'm even done answering, she'll be like, "Oh, hey, [my nephew], tell them about your baseball game last weekend.""
– Infinite-Weakness584
May We Meet Again
"Depending on culture, people will propose to meet up again but they do not really mean it. Where I am from, if you tell someone you want to meet up again you actually mean it. I learned it the hard way when I took people for their word and tried to arrange a meet up but they'd ignore me."
"They say they do this to be polite but I consider it more rude. Just say ''goodbye''"
– maya_clara
I'm Not Here
"People just showing up for a 'surprise visit', like I love my family and friends but sometimes I just don't want to hang out and a bit of forewarning would be nice"
– red-and-misdreavus
"I've had to set boundaries with my mother as she was doing the "We're coming down and going to stay with you thing." Like could you ask?! Besides she's exhausting and never stops talking and needing attention."
– Fuzzyphilosopher
"If someone shows up unannounced at my door I just don't answer. F*ck em"
– 360SubSeven
Text Me Back!
"Expecting me to be within reach at all times. Just because I have a phone does't mean I hate you because I leave it in the other room sometimes, or go on a walk without it. I'm not dead if I take a couple of hours to get back to you."
– billbaparker
"There's a special place in hell for people who keep messaging you trying to get your attention simply because they want it and not because they have anything important to say."
– murderymcmurderface
Can't Hear Myself Think
"Kids watching videos or playing games with volume on. Sorry I was trying to enjoy my own thoughts."
– TheConstant815
"Listening to anything on your phone without headphones/earbuds while around other people. Don't care if it's radio, music, social media. Worse if other people are trying to have a conversation."
– Daedalus332
Personal Space, Please
"When clients stand directly behind me, looking over my shoulder at my computer screen while I'm at work. 1) Back up, I don't want you standing close to me. 2) I did not invite you to look at my screen, and it is intrusive and it is uncomfortable to have you watch me work."
– madindenial
Far Too Personal
"Asking married or older people why they don't have kids."
– DragonFlyMeToTheMoon
Focus!
"Having your phone out while socializing. I've stopped hanging out with people who can't put their phone away while having a conversation, it's so rude."
– bamblb
"There was a guy I was seeing for a couple months and when I would message him he would take HOURS to respond most of the time. But then when we would be out together at dinner he would be messaging on his phone right in front of me, replying to his mates group chat. Really showed his priorities."
– MissMidknight
Someone's Not Listening
"Talking over somebody whilst they're already talking."
"Everybody does it and it's so ignorant! It's as if they're saying "yeah I'm not interested in what you've got to say, Me, me, me and me…etc…""
– Jlaw118
"My husband does this! Sometimes I just stop talking. If I'm irritated, I'll say, "Sorry, did my talking get in the way of your interrupting?""
– godrainlovemusic
Going, Going, Gone
"Ghosting has become pretty normal and I hate it"
– toxicrith01
"I'll never understand why this has been normalized"
"What confuses me even more is why people get so defensive when you say that it's a cruel thing to do to someone."
– RadiantHC
Ask Me First
"Filming people without their permission, especially if they are dancing or singing. Just because people are looking silly doesn't mean you get to make them your joke."
– Soobobaloula
"pushing someones face into a cake on their special day, that is terribly rude. Not funny or cool."
– winkledorf
"Dangerous too - fancy cakes with multiple layers can be held together by wooden skewers. People have literally lost eyeballs that way."
– merecat6
"Just this past summer, I attended a wedding where the bride gently put a bite of cake on a fork after they had cut it together then fed it to her husband... Even cupping her hand underneath so no crumbs or icing could fall on his suit. And instead of doing the same to her, the groom full on chased his bride down to smash cake in her face super hard and throw it all over her while she was being dead serious trying to run away saying "no. please don't!" . And while everyone laughed like hyenas and cheered him on like it was just fine. One big joke."
"She looked so heartbroken after with cake all over her hair (which looked beautiful), her face (with perfect make up) and her dress (which was a unique style of dress that she had sewn a piece of one her father's shirts on since he had passed. So her dress was obviously something that she put a lot of thought and care into). He then proceeded to chastise her after she was upset in front of us, threw back his champagne in one gulp and then went back to the bar then dance floor."
"She spent the next 45 mins trying to fix herself. F*ck that guy forever. She's a distant cousin and although we aren't super close, I have ALWAYS known her to be a perfectly sweet, kind and loveable person so I couldn't believe she was with this jerk! I hope it's gotten better but.. My hopes aren't high for her. I wish I had felt comfortable enough to approach her and tell her she deserved better. I should have anyway."
– iwant_torebuild
Mind Your Own Business!
"When someone you don't know very well asks you personal questions."
– Back2Bach
"Add to that, someone asks you personal questions you don't know too well and feigns that are suddenly really concerned/ supportive of your struggles. Like I didn't want to be vulnerable in the first place with you and now I feel like I have to be appreciative for your fake a*s empathy."
– GreenIce2022
I 100% agree with that last one!
Do you have anything you'd like to add? Let us know in the comments below.
Different parts of the world are characterized by diversity and culture.
It's what makes us all unique.
But sometimes, it's those differences that can seem perplexing to those who don't have an open mind.
And instead of trying to be enlightened by foreign customs that are "normal", they can be perceived as "strange" or "weird" by outsiders.
Redditor ojlol2 sought to spark a conversation on the concept of what is normal by asking:

"What is normal in your country but seems weird to the rest of the world?"
The following descriptions are of how people roll in their respective regions.
It Tells Us When To Go
"Calling a Traffic Light a Robot."
– itryandgiveadvice

Bromantic
"Men holding hands in public as a display of friendship is normal in Afghanistan but super weird in the west."
– MichianaMan

Encouraging Destruction
"Whole restaurants cheering when a plate or glass is smashed (UK). Once was in a Canadian bar/restaurant on holiday and a waiter dropped a tray of glasses, the local looked horrified when I was out of my seat screaming 'wheyyyyyy.'"
– owen-sksk
You-Tensil
"Eating with our hands."
"In 1969 (the same year the man landed on the moon), Miss Gloria Diaz coveted the Philippines' first Miss Universe Crown. During the preliminary Q&A, she was asked 'Is it true that you Filipinos use your hand when you eat?' To which she replied 'Why? Do you use your feet?' and went her way to winning the crown."
– NorqMarash

Welcome Harassment
"In my friend's country, Easter is when gangs of boys roam the countryside, pouring water over girls and beating them (gently) with sticks. The girls then have to thank them for it."
"I thought that was pretty weird."
– himit

Respect The Slumber
"Leaving your baby alone outside for their nap, even if it rains or snows."
– e_ph
They're forms of protection.
Glass Moat
"Putting broken glass bottles on the walls around your house so burglars cant jump it and rob you. I moved to Canada and they don't even have walls around the houses!"
– anon

Winged Beasts
"Putting cable ties, branches, fake eyes etc on helmets, buckets and hats in spring time to scare away the birds. Magpies are vicious."
– LostBetweenthePages

Now, Stomach This
"Blood pudding and fermented fish."
– Skeightrgurl

Would You Be "Loving' It?"
"Having Spaghetti in Mcdonalds."
– fyi360

How Sweet & Savory
"Eating biscuits and gravy. I traveled to the UK and told them that biscuits and gravy is a very common breakfast food and as you would expect they were highly confused (biscuit=cookie across the pond) why we would take something sweet and cover it in gravy. And also was confused that the gravy we use has sausage in it and is white."
– KorRay

Some people not from Japan think it's "weird" how commuters on the subways of Tokyo are all deathly silent.
There are signs discouraging normal level conversations. Phone calls are restricted.
As a visitor, I actually appreciated the peace and quiet. It's the only place of zen until riders step out into the chaotic flow of their day-to-day living.
If serenity is not for you, then using New York's MTA system must be pure bliss.
But, to each their own.