Tattoos are a personal choice.
As a result, many people choose tattoos which have a special meaning to them, such as the name of their beloved, or an image or symbol sacred to them
It's also easy for people to judge what others choose to have inked on their body.
With certain types of tattoos almost instantly resulting in the immediate cringes of others.
Redditor saxonn_88 was eager to learn which tattoos people find to be the most insufferable, leading them to ask:
"Which type of tattoo makes you cringe the most?"
Leave Calvin Alone!
"Calvin from Calvin and Hobbes peeing on stuff."
"Except the one from Hot Rod with one stream of urine going on the TV set and one going on the FM radio with an AM radio safely dry in the middle on a magic carpet."- alanladdismydad
What Does That Say About Them...
"A defendant in the courtroom I clerked in during law school had 'homicide' tattooed on his face, over his eyebrow."
"Not a great look."- Silidon
Love At First Sight... One Hopes!

"Couple tattoos like portraits or names."
"Mostly when they proudly tell you it's because they've been together for 5 months and just know they stay together forever."- Gingeraffe25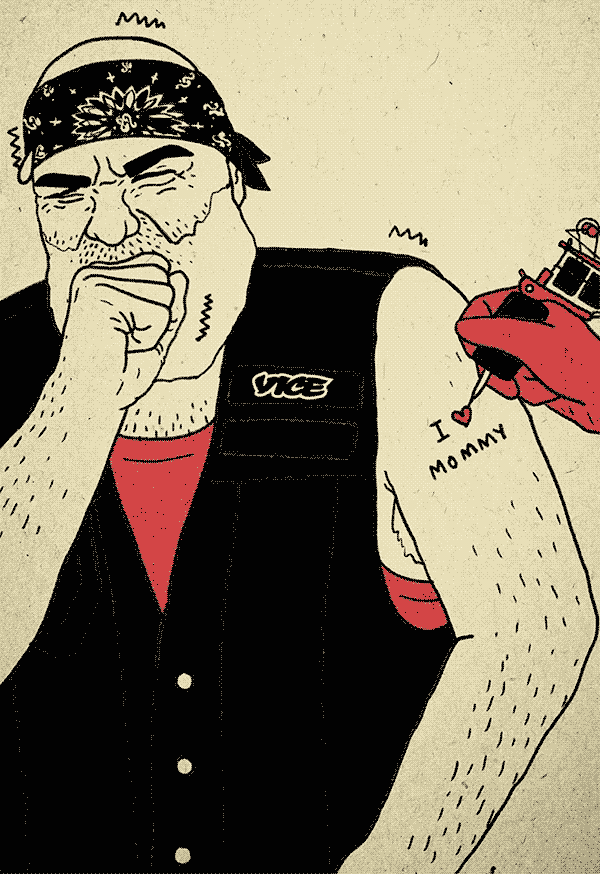 Scared Animation GIF by Jacqueline Jing Lin
Giphy
Quickly Outdated...
"Knew of a guy once who had 'DUBSTEP' tattooed on his chest in VERY VERY large letters."
"He also insisted that dubstep was the future of music and was here to stay."- Shadesmctuba
Choose Your Words Carefully...

"Tattoos that are gifts from you to someone else."
"For example 'for your birthday, I got your birth date tattooed on me!'"
"And tattoos with spelling errors."
"Example 'were you really there if you think you were their?'"- AlexatRF21
Easy To Make Assumptions
"Nothing says 'I've been to prison for cooking Meth in my trailer' like a Joker neck or face tattoo."- Celer_Umbra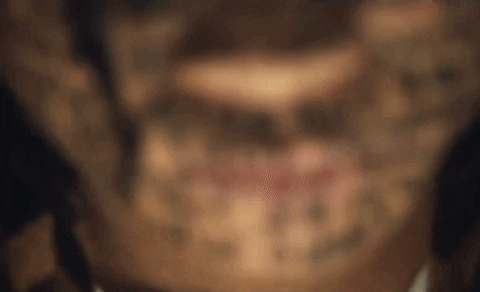 Who Needs Love GIF by Trippie Redd
Giphy
To Infinity And Beyond...
"Former tattoo artist here, and it has to be infinity symbols."
"ESPECIALLY when they want them to be 'uNiQuE', so they have you spend three hours drawing up different ways of cramming little McKayzleigh and Brackxston's names, birthdates, birth weights, blood types, and favorite ice cream flavors in there."
"Fine, I'll find a way."
"I can work for my money."
'"Oh, and can it also have a thin blue line in there for my husband?'"
"Sure, lady."
"And maybe some birds breaking off of it, cause my meemaw loves birds!"
"Sighhhh. Yeah, okay."
"'And can you do it on the side of my finger in white ink?'"
"F*ck you, get out."
"Bonus points on these if they walk in holding a monogrammed Yeti tumbler full of the alcohol they're trying to smuggle in."- rumpertumpskins
​​Hickey's Are So Passé
"Lips on the neck."
"I get it, you're a gangster with an attitude problem and probably want to fight."- LooseLeaf24
No One Has Time To Read Anymore
"Sayings, especially ones that span multiple limbs/areas."
"I was in the Army with a guy from Texas that thought he was hard as woodpecker lips."
"Had 'Cowboy The F*ck Up' tattooed across his forearms."
"Ostensibly so if he put his fists up to fight you, you would read it and, I don't know, be scared or something?"
"He never got in any fights that I know of."
" But due to the size he wanted it and sh*tty planning, one arm said COWBOY THE and the other arm simply read F*CK UP."
"And he immediately became known as Cowboy, the f*ck-up."- RistaRicky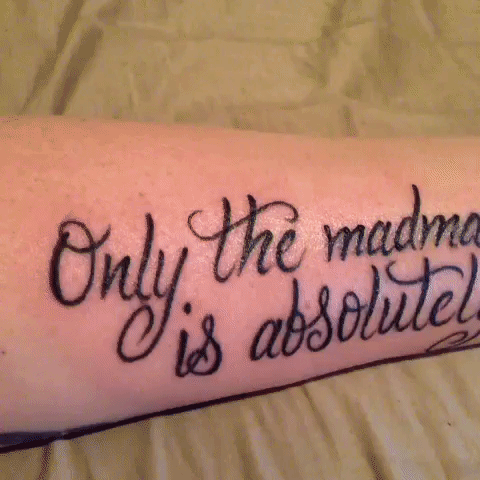 GIF by andymilonakis
Giphy
Anyone considering getting a tattoo should always remember that they're all but permanent.
As far too many people are sadly stuck with a reminder of a past bad decision which greets them every time they look in a mirror.
And often on display for the rest of the world to see as well.
Keep reading...
Show less
High school is strange time for most of us. We think we know everything, we want to be cool and idolized, and we conform to fit in, even if conforming really means doing something stupid, like smoking.
Still, as high schoolers, we thought all of this was cool. We did all sorts of stupid or inappropriate things, and either justified them, or didn't even realize they needed to be justified.
However, we all grow up. Things we thought were cool as high schoolers are absolutely cringeworthy to us now. Redditors are only too eager to share what those things are.
It all started when Redditor crypto_wut asked:
"What is cool in the eyes of most high schoolers but is actually cringe?"
Uselessness Of High School Hierarchy
"Being popular for the wrong reasons. As soon as you graduate that starts over. Better not to rely on being popular and prepare."
– Hamfiter
"I remember this guy in high school who had a fearsome reputation. Him and his cousins would show up at parties, literally say, "Do you know who I am?" and attack people. People were terrified, and rightfully so, people were getting severely hurt."
"Anyways, I was in 11th grade, he was in 12th."
"Once he graduated high school, he would come swing by the high school often, smoke out front with his "friend's" and talk about how it was so great to graduate, he didn't have to get up early or do anything, etc. At first, everybody was like, "Cool, lucky!" and then it was like, "Heh...let's go back to class...""
– lazarus870
"I'm Real Grown Up!"
"Telling people how mature you are"
– pineapplewin
"When I was in high school there were some girls in one of my freshman/sophomore classes bragging about how mature they were because they had boyfriends who were older and would invite them to college parties. Like...no, your boyfriends are losers and you're just naïve.
– ArcticFox46
Teach Yourself To Be Kind
"Being rude to teachers. Every person who I know who was rebellious in school cringes hard when they think about the sh*t they said to teachers."
– WowThisIsAwkward_
"Being jerks to the teacher who just tries to do his\her job."
– Greedy-Ad-189
Not JUST A Prank
""It's just a prank bro" no, you're being an a**hole"
– bzaroworld
"I like to use the pie in the face test. Does it cause the person more inconvenience than a pie in the face, under normal circumstances? If yes, then it's not a prank, it's a crime."
– indrada90
Feel What You Feel
"Worrying what other people think. The concept of "cool" in the first place."
"My brother and I (in our early 30s) were watching a group of teenagers trying so hard to put on this cool, unemotional facade at Disneyland while everyone else around them just enjoyed themselves and we were laughing to ourselves that teenagers are so afraid of displaying emotion or passion and nobody else cares. But we all went through it, and we all reach the realization that it's more fun to just enjoy ourselves."
– Objective-Ad5620
Louder and Louder
"Being loud and obnoxious everywhere they go. Like dude no one thinks you're or your friends are cool over there yelling penis because you think it's funny."
– Activ_RefRigeRatoR
"I own a store kids frequent and I have had to tell them more than once to shush. The volume got so loud once an actual PAYING customer was uncomfortable."
– CalliopeKB
Be Who You Are...
"Doing things to gain other peoples approval.."
"Seriously, when you grow up and stop giving a f**k about other peoples opinions, life is so much better"
– EndlesslyUnfinished
...And Not Who You Aren't
"Being 'edgy' and 'offensive' just for the sake of it."
"Yeah, we get it. You think that mocking dead people or posting racist/sexist stuff on social media makes you a tough edgelord not to be f**ked with. No, it just makes you look like a complete tryhard."
– AlysonMazzoni
They Are
"Most high schoolers."
– Bacontoad
"Yup. The most awkward demographic that uses grunts to communicate."

– Pimp_Daddy_Patty
"I was gonna say "the word cringe" but yours' better"
– jamieleeght
Faking It
"Pretending to have some type of disorder, like that makes them special. Like some how everyone has multiple personalities now, one of the rarest disorders of it's kind and everyone and their cousin suffers from it."
– Top-Sprinkles6929
"Faking mental disorders and saying "OMG I HAVE DEPRESSION I AM SO QUIRKY" IN THAT EXACT SENTENCE"
– w0rms1nMyEy3S
That last one is pretty sickening. It's a good thing high schoolers grow out of it.
Keep reading...
Show less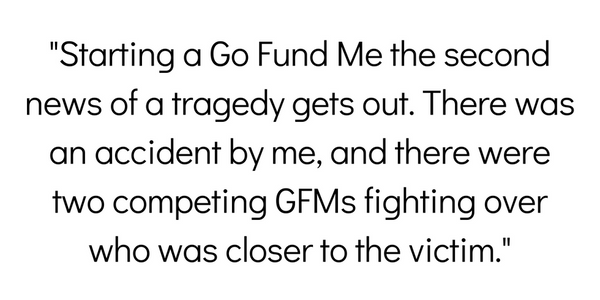 I had to stop watching talent shows years ago because while I got to see some really enjoyable acts—especially singers, of which there are a seemingly endless number—I grew sick and tired of how scripted everything felt.
For one thing, I hate overt sentimentalty because it can ring very false, and that's how I've felt whenever I've had to sit through any sob stories. Everyone has a sob story.
The music swells and immediately we'll hear about someone's cancer diagnosis or the fact they lost their house due to foreclosure or that their father died and that afterward they found bodies in his shed and learned he was a notorious serial killer...
Okay, that last one might have been made up. But my point stands.
People shared their thoughts with us after Redditor TheCheeto4 asked the online community:
"What is something that you find incredibly cringe, but you think other people wouldn't?"
"You just reminded me..."
"You just reminded me of those Facebook posts that give instructions to prove who is/isn't a "real friend", always ask you to share afterwards. Like a copy-paste friendship test."
Ovesper0
I never bother with those. I always ignore them and I'm okay with that.
"People exaggerating..."
"People exaggerating how quirky, different or relatable they are."
[deleted]
You just described every manic pixie dream girl in Bushwick.
"People singing..."
"People singing at me. I have no idea what to do and feel cringe the entire time. Some people love just having people sing to them though."
FierceDragoon
Many people feel super awkward when this happens... especially when it happens in a restaurant... on their birthday.
"Starting a Go Fund Me..."
"Starting a Go Fund Me the second news of a tragedy gets out. There was an accident by me, and there were two competing GFMs fighting over who was closer to the victim."
coolbeansfordays
They do that so they can skiff the funds. People have no shame.
"I couldn't fathom..."
"Public vlogs. I couldn't fathom walking around the city holding a camcorder on a stick and talking to myself."
[deleted]
I hate them and don't understand why people would watch some rando walking around, going about his day. No thank you.
"The judges..."
"The judges crying on those talent shows on TV."
14012387504
Sob stories always increase your chances of entering and lasting longer on those shows.
"I love..."
"I love that unspoken thing where talent show judges act all surprised that the ugly person actually has a great voice!"
nardpuncher
The Susan Boyle effect (and she wasn't even all that great to begin with, but it's the perfect example).
"Dating profiles..."
"Dating profiles and bios. I just can't not feel weird about advertising my self to randos."
User Deleted
Always awkward. Even worse when you meet someone interesting and they are nothing like their profile at all.
"Turning on music/singing loudly in public places. I always listen to music in my headphones."
VladSolopov
I would never. It's the height of rudeness.
"If someone is going..."
"Filming yourself doing acts of kindness. If someone is going to do something nice for me, and they film me and post that online I'll be pissed."
damnedpancakes
It's everywhere. Social media is a pain.
Remember the last time you cringed to some of these? You probably do. It's the worst, isn't it?
Have some cringeworthy moments of your own to share? Tell us more in the comments below!
Keep reading...
Show less
You don't want to think about it, but it haunts you at three in the morning, the way embarrassing, awkward memories often do.
You sit there and you can't stop cringing because dear Lord, it was awful and how in the world did you even survive that moment without immediately dying from embarrassment?!
Well, you did, and it sucks to be you. Just kidding. Hopefully you've learned to be a bit kinder to yourself – and to laugh at yourself, too!
People told us all about the embarrassing moments that they experienced after Redditor No-Bag7478 asked the online community,
"What was the most embarrassing moment of your life?"
"Luckily for me..."
"I have a few but the worst, as I've said on here before, was when a colleague gave me a lift home from work as my wife was busy. When he dropped me off, I went into 'wife dropping me off' default mode, and leaned in for a goodbye kiss. Luckily for me, he wasn't looking and either didn't notice, or had an existential crisis and never mentioned it."
"The walk to my front door was spent bemoaning the fact I had been born."
SoapyRibnaut
I mean... I can't blame you. My face would be red as a beet!
"When I was in the 7th grade..."
"When I was in the 7th grade I got assigned a project with the most popular girl in school. This was my chance to become her best friend. I invited her over to my house and I thought we could chill before jumping into the project."
"I thought the best way to impress her would be to show her the dance I made to a song from the new J.Lo album. She sat on the couch while I performed."
"We did not become best friends."
SahmiSahm
This gave me a good laugh. Don't be too hard on yourself. At that age, kids lack a lot of self awareness.
"I was enlisting in the Navy..."
"I was enlisting in the Navy. I had to go for a drug test. The lady comes in the bathroom with you and watches you pee. I pulled down my pants and I had gotten my period bad; it was all over. I was mortified, I asked the lady if she had a pad or tampon, and she said no. I rolled up some toilet paper and stuck it in my underwear."
"The next thing we had to do was strip down to our bras and underwear (15 females in the room) and do stretches, and bends, and duck walk. I had on bloody underwear with toilet paper stuffed in them. Everyone saw. Everyone thought I was gross. I wanted to die."
lukriel
Why did they think it would be better for you if you just free-bled everywhere?! I am angry on your behalf.
"I asked my cousin..."
"I asked my cousin, who I hadn't seen in two decades, how long he and his girlfriend had been together. He informed me that it was his daughter."
kobblejagar
At that point just never speak to them again.
"I wander in..."
"I was rehired at a job after 6 years and most people still there remembered me and were happy to see me back. Friday rolls around and someone goes "Dave...come by the break room!"
"I wander in and there's this cake at the end of table and everyone is standing there. So I you say "You guys!" and blow out the candle ,not noticing it said Happy Birthday Julie."
The68Guns
Not hard to relight a candle and to be fair, you could always play this off as a joke!
"Some kid and I..."
"Some kid and I agreed to wear tuxedos to the last day of middle school. I was too young/stupid to realize he wasn't serious, so I convinced my mom to front the cost of renting a tuxedo which I spent the next several weeks paying off."
"I won an academic award that year too, so not only did I show up in a tuxedo, I had to go up in front of the whole school in the gym to accept the award."
thisguyhaschickens
I realise it was embarrassing to you at the time but I feel that's pretty cool of you. The other kid should be embarrassed for standing you up. You got an award and accepted it in style.
"The time my high school history teacher..."
"The time my high school history teacher called me and the girl I was dating into her office, asked us about the nature of our relationship, and then told us we were cousins and she was our aunt. And that we should not be dating. We didn't know."
ThadisJones
I think there might be more to this story, no?
"Last week..."
"Last week when I accidentally sent an butt photo to my family's group chat for my grandmother's funeral."
[deleted]
Hey, look on the bright side: You took their minds off their grief!
"Love is bliss."
"During the early days of courting, we had just finished having sex. We were all sweaty and had those post-coital munchies. We went into the kitchen to prepare food."
"Our relationship was at that wonderful moment where everything was still new but we were gaining intimate trust. We had reached that huge milestone of farting in front of each other. We'd grown comfortable doing so and when we entered the kitchen in our sweaty glow I decided to let rip."
"I farted. Quite a small fart but with such pressure (I wanted to make her laugh) that some poop flew out my nekkid butt and landed on the kitchen door."
"I looked at the poo."
"She looked at the poo."
"I closed the kitchen door in her face and grabbed the kitchen roll. Utterly horrified. Hearing her howling with laughter the other side of the door. Me with my shame."
"It's been 20 years and my wife reminds me of that shart almost every month. Love is bliss."
coglanuk
This is gold and I love that you two are still together!
"I pissed myself..."
"I pissed myself during my first grade play."
PlusDay2950
Stage fright, huh? Don't worry, it's quite common.
You live and you learn. As you get older, it becomes much easier to laugh at yourself. If you're not at that stage yet, you'll get there. You'll see that a lot of these moments are much more meaningless as time moves on and you acquire new experiences.
Have some stories of your own? Feel free to tell us more in the comments below!
Want to "know" more?

Sign up for the Knowable newsletter here.
Never miss another big, odd, funny, or heartbreaking moment again.
Keep reading...
Show less
Picture this: you're laying in bed, peacefully drifting off to sleep, when suddenly your brain reminds you of that time you embarrassed yourself in third grade. Suddenly, you're wide away and cringing as you reply that moment in your head.
Maybe that moment was when you were trying to impress a crush, or maybe you tried to crack a joke that flopped.
Well, we wanted to know what those embarrassing and absolutely cringeworthy moments were so we can have a good laugh about it.
Redditor LexiDuck asked:
"What is the cringiest thing you've done?"

Let's get into some second hand embarrassment.
Want to "know" more? Never miss another big, odd, funny, or heartbreaking moment again. Sign up for the Knowable newsletter here.

Keep reading...
Show less