We all know that the human body is very complex.
But even with all the recorded and available science, there are certain things about our bodies that continue to elude us, and medical experts can still get stumped about how the human form reacts unpredictably.
Curious to discover some of the mystifying yet unsettling truths about our anatomy, Redditor Hot_Banana_Ice-cream asked:

"What is a creepy fact about the human body?"
Visceral Reaction
"If you wear glasses which vertically inverts your vision long enough, your brain will correct it, and you'll see things normal. But when your take those glasses off, everything will look upside-down again until brain recalibrates again."
– shadow29warrior
Brain Assessment
"Our brain filters out a lot of what we see along with just straight making sh*t up based on extrapolation."
– AdmiralClover

The Experiment
"My favorite is the blind spot at the center of each eye, where the optic nerve is."
"A lot of people don't even know it exists, and even if they do, it is bigger than people often think."
"And it's also really easy to demonstrate to people if you know how. It's one of my favorite bar tricks - all you need is a pen and a napkin to draw a cross and a dot."
https://thebrain.mcgill.ca/flash/capsules/experience_jaune06.html
Alternate demo: https://faculty.washington.edu/chudler/chvision.html
"Edit: If it doesn't work, you're doing something wrong - not getting close enough, the image is too small on your phone, you're not closing the correct eye or not keeping your gaze fixed on the cross."
"It isn't because you don't have a blind spot. Unless you're a squid, you have a blind spot. All vertebrates have them."
– M0dusPwnens

The workings of our innards are out of this world.
The intestines are covered by a double "fleece" of peritoneum. See it like a blanket.
When your intestines get damaged for whatever reason, this blanket starts moving out of itself and crawling upwards towards the place which has the injury. It will stay there until the injury is recovered. And then move on again.
Maybe not the most creepy fact, but definitely interesting in my opinion.
Do Do That Doo-Doo
"We don't just have one anal sphincter. When poo comes along it passes another inner sphincter which isn't under voluntary control."
"Sensory cells can detect whether you're about to pass gas or solid. From toddler age on, you can decide to go or not to go. If the time isn't right (e.g. at a friend's house or no toilet nearby), the inner sphincter can push the poo back and store it there for later."
"That's why sometimes if you need to do a number two but don't go, the urge goes away after about 20 minutes later. (But seriously, go if you can. Constipation risk.)"
"Gas can't be pushed back so easily, so we sometimes toot by accident when moving or engaging the core."
– bmb00zld

The Same Lining
"The inside of your cheek and your rectum are lined by the same type of tissue."
– GasTsnk87
You don't always have control of your body.
Taste Of Curiosity
"The front of your tongue is curious, constantly patrolling, and autonomous. It chases the dentist around your mouth and you aren't even aware of it. So embarrassing and weird/creepy."
– AdeleBerncastel
Licking Partner
"In dental school, I learned this fact when practicing taking impressions on each other. My buddy's tongue kept licking my finger. I asked him to quit licking me, and he was like 'I can't help it!' And then we switched places and my tongue wouldn't leave him alone.And for those of you that don't think your tongue does this: some of you are right. But the majority of you just think your tongue is behaving, but it is all over the place without you even knowing."
– recoveringcultmember

Dancing With The Dead
"Bodies will move as they're coming out of rigor. I've been bumped by a few (I'm a coroner). Bodies can also make sounds as the remaining air/ gas leaves… 2am in the morgue and I thought I was in COD zombies."
– Jar-JarShotFirst69

The Only Way Out
"When you get laser tattoo removal the ink doesn't disappear, you pee it out."
"Your body's immune system breaks down the pigments of ink and it flows in your blood stream, gets processed through your kidneys, then you pee out the ink."
– Fine_wonderland

Our soul-containing vessel is a mysterious wonder unique to us.
We should do whatever it takes to take great care of it because it's the only one we've got.
If we don't, they might turn on us.

While many classified documents of disturbing cases are now accessible to the public, there are some things that have happened throughout history that are better left unknown.
Still, there will always be curious minds wanting to know the details of some of the most disturbing cases that were once strictly confidential information.

Curious to hear what some of these unsettling things are, Redditor Imakillaholic opened Pandora's Box by asking:

"What are some of the creepiest declassified documents made available to the public?"
To say these are disturbing is an understatement.

Sweden's Sterilization Program

"Sweden had a compulsory sterilization program running from 1935-1979. It was state-sanctioned and given without consent, sometimes without the people knowing they were being sterilized."
"The three main reasons for these sterilizations were:"
"Health concerns for the mother."
"Eugenic (not wanting to pass on mental illnesses or any form of handicap)."
"Social (antisocial people, criminals, drunks etc.). In other words anyone who didn't conform properly and was considered unfit to raise children.
– Sugary_skull

The Coup In Guatemala
"Not exactly creepy, but Operation PBSUCCESS , the CIA backed Coup in Guatemala at the behest of the United Fruit Company and US State Department. The official CIA history of the operation is truly one of the most f'ked up things I've ever read. It was also the blue print for the Bay of Pigs and other CIA interventions around the world."
– anon

It's crazy to think we are run by governments that are capable of coming up with and concealing the following. Trust no one.
We're Not Alone
"Not really creepy but more weird:"
"The Pentagon commissioned an initiative called the Advanced Aerospace Threat Identification Program and they recently just released footage of US military aircraft approaching these 'advanced aerospace threats.'"
"I mean what the hell are these guys doing."
– anon

New Kind Of Weapon
"The CIA was working on a heart attack gun back in the 1960-70's. It started off as a conspiracy theory but gained enough momentum nationwide that it forced the US Government's's hand and they finally admitted the theory was "mostly accurate".
"Short version, they never had a fully functional heart attack gun, but they did have a 'nearly working prototype.' The idea was that it would have a very small projectile that would be laced with a chemical that would induce a heart attack and leave a hole smaller than one left behind by a syringe. While they never had a fully working version, they did have a prototype but abandoned the project once they more or less had to admit the conspiracy was mostly true."
– anon

Unexpected Turn
"I remember a US government funded project that involved teaching Dolphins how to talk."
– Sengura

More was revealed about serial killers.

Toybox Killer Transcript
"Dude and his wife kidnapped young girls for his dungeon and played this tape for them when they woke up, detailing what he was going to do to them, including torture and how he doesn't get caught by brainwashing them to forget."
– theLast_brontosaurus

"Jeffrey Dahmer's full confession - a couple of hundred pages of pure madness. Dahmer became pretty close to his interrogating detectives (Dennis Murphy and Patrick Kennedy), and provided a lot of detail to them. A lot of it in a pretty candid, off-hand manner. It's incredibly hard to find Dahmer's confession online without it being behind a paywall, but it is in the public domain, so I've provided link to the pdf downloads. The first 63 pages are mainly forms and letters, the real meat of the confession starts afterwards."
– Miss_Musket

To Catch A Killer

"Dahmer was caught just after I had read Silence of the Lambs. A central plot point of the book is that they catch the serial killer by profiling him; one of their tenets (proved correct in the book) is that the guy must have his own relatively isolated house to himself or he couldn't get away with what he was doing. Then Dahmer is busted after years of living in an apartment building where everybody complained about the smell of rotting meat. And where the police actually brought his victims back to him."
– Garfield-1-23-23

The Jonestown Death Tape
"That sh*t proves to be a solid way to lose all chances of sleep."
"So, here's some context. Jim Jones started a cult called the Peoples Temple (yes, without the apostrophe) and eventually they moved to a new settlement they built in Guyana called Jonestown, named after their leader. Since he made them believe he was some form of the messiah (as a lot of cult leaders did), he could control them all to do whatever he pleases, and one of the things they did was practice drinking Flavor-Aid - not Kool-Aid as commonly believed - to prepare themselves for the time when they commit 'revolutionary suicide'. These practices were just normal Flavor-Aid / Kool-Aid, but Jones told them it was poisoned just to see their reactions."
"When the time came, someone recorded what was, essentially, the sounds of people drinking Flavor-Aid laced with cyanide, alongside a fatal cocktail of other substances, many victims including young children (which you could hear screaming in te audio). 900 or so people died, only a few didn't. This was the biggest loss of American life in a deliberate act until 9/11, and there is an audio recording of it. And just a VERY strong reminder: This wasn't mass suicide, this was mass murder. Many people were willing to die at his hands, but all the children and some of the adults didn't. Since all of them were forced to take the drink, it wasn't their own choice to drink it, it was Jones's. So, whilst people believe that it was a suicide, they were all duped into being murdered by Jim Jones."
– EbmocwenHsimah

Do you think some of the most captivating crime dramas on TV are original stories?
Think again. Many of the cases you see dramatized are inspired by actual events, a preface often shown at the start of a program.
People are capable of some of the most twisted forms of violence. We see it everyday in real life.
So much for escaping from reality.

An age old classic beginning to any horror movie is a car breaking down in an inopportune location.
In search of help, the car's passengers might find themselves asking to use the phone of a haunted house, in a town inhabited solely by demonic children, or in the woods where a monster lurks.
With this trope ingrained in our brains, finding ourselves with a flat tire or overheated engine is enough to put us on high alert no matter where we're stuck.
But finding ourselves stranded in a place which isn't so different from the settings of those classic horror movies will no doubt make our pulses raise and our teeth chatter a little bit harder…
Redditor Squeaky-Fox43 was curious to hear if there were any such places in the US and Canada, where one really wouldn't want their car to break down, leading them to ask:
"What's the scariest rural place in the USA/Canada for your car to break down?"
Wide Open Space...

"Wyoming."
"It's a really cool place, but there's just nothing there."
"You might as well break down on another planet when it comes to some stretches on the interstate, let alone smaller roads."- cosmolegato
Way More Than Border-line creepy...
"A number of years ago I drove along the Texas/Mexico border and went through a little border town on the US side."
"A buddy of mine was with me and as soon as we pulled into town, we both looked at each other and said, 'what the f*ck is wrong with this place?'"
"But, I was almost out of gas, so I stopped to fill up."
"Went inside to pay."
"Standing in line."
"10 year old buying a candy bar in front of me."
"I suddenly realize that the magazine stand in front of me is completely filled with, anime porn?"
"I still don't know."
"They looked like comic books, but the cover of the one that I happened to be looking at was a p*ssy."
"A very artfully drawn anime p*ssy, but a pussy nonetheless."
"With a 10 year old standing in front of me buying a candy bar."
"Okay, this is weird, but whatever."
"Ten year old pays for their candy bar and exits."
"Guy behind the counter says, 'can you hang on for a moment?'"
"Sure. Whatever."
"I look at the counter."
"The magazine on the counter seems to be a special effects magazine of some kind."
"It's showcasing what appears to be a severed human head lying on the sand of a beach somewhere."
"Me, still not figuring this out somehow, 'huh, this is an interesting magazine, what's the back cover?'"
"The back cover would appear to be a car interior with a dead body and a bunch of blood and, material, everywhere.
"Oh."
"This is a magazine of crime scenes."
"Death porn."
"At the local gas station."
"So we left."
"Pretty sure the next car found themselves in the middle of a Stephen King novel."- kneightx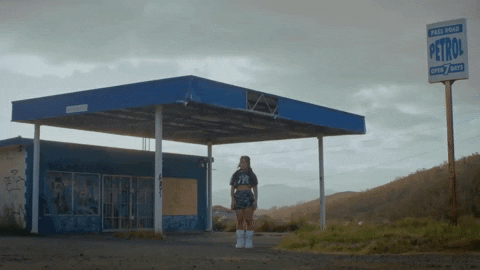 Giphy
Always Pack A Sweater
"My car broke down in rural Nunavut."
"I'm lucky I had my emergency kit on me."
"Nothing like sitting for three hours while it's -40C and no heat."- veggienuggets123
Alone In The Lone Star State

"For me, it was west Texas."
"No idea about the people, but it was unnerving."
"I drove through it at mid day-night."
"No cell phone signal."
"No radio."
"No power lines."
"Hot as hell."
"At night you could see occasional flashes of light in the distance of one of those fuel things that spit out fire out the top."
"Then every once in awhile there would be this random small house or run down looking trailer out in the middle a good 10-30 minute drive from the road."
"I always wonder what their story is."
"Cut off from the world in the middle of a desert, though I do not dare to find out lol."- PalwaJoko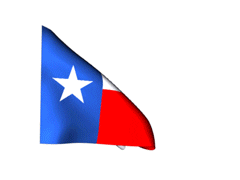 Giphy
Define What You Mean By "Rural"...

"There are two kinds of scary rural: rural so remote you'll die before you reach help and rural where you die because you meet 'help'."- onesadjam
Beware Of Wolves...

"I'd say between Thunder bay and Winnipeg."
"There's like f*ck all between these two places, and I once saw a giant white wolf here."
"Was cool, but I wouldn't want to break down there."- Hawkwise83
Anywhere In Canada In The Winter
"I imagine along the Saskatchewan-Northwest Territories border in the dead of winter would be pretty horrifying."- Zytharros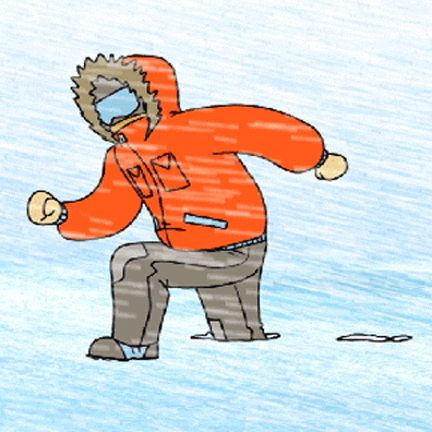 Giphy
Truth be told, it's never fun or convenient when your car breaks down anywhere.
But if one could choose the location, it would ideally be in the midst of civilization, and in broad daylight.
Seeing as we can't plan around that, however, it is always a good idea to get your car checked up before embarking on a long road trip.
Particularly in the winter.
Why is it that some of the most unsettling things happen when we're alone at home?

Could it be that our minds are playing tricks on us and we're imagining things that aren't there?
Probably, at least that's the hope.
Because someone with a burlap sack over their head with two eye holes cut out and attempting a home invasion would be an undesirable situation.

Curious to hear from strangers who have experienced disturbances, Redditor VagariTurtle asked:
"What is the creepiest thing that has ever happened while you were home alone?"
Someone was trying to break into these Redditors' homes.
It Wasn't The Stepdad
"My brother and I were home from school because we were sick. We had a craftroom in the mostly unfinished basement and we were down there playing with miniatures. Around noon we heard, VERY CLEARLY, the front door unlock, open, close, and someone walk in shoes across the foyer tile to the kitchen and turn on the sink."
"They then turned off the sink and went up the stairs to the second floor. I figured it was my step dad and called my mum to let her know he came home for lunch."
"She had just got off the phone with my step dad and he was in his office at work. She called him back and he came ripping home while we hid in the basement. Although we never heard the person come back down the stairs we didn't find anyone in the house."
– JamesonZane

Early Morning Disruption
"Someone started trying to force the door of my small garage apartment open, while I was laying in bed inches from the door, at around 2am."
– RainWindowCoffee

Evidence Of Forced Entry
"Years ago, a stranger smelled weed outside my apartment and knocked on my door. They wanted to join and smoke. I apologized and said no."
"Later that night, I left to go out. When I came home my air conditioner was knocked in and there were signs of someone trying to force entry."
– tassadank

Voices Carry
"I wasn't technically alone as someone else was in the house, but because of his medication, he couldn't do anything to help if there was an emergency."
"I was downstairs with my husband snoring beside me. I heard from the top of our basement stairs 'Hello?... Hello?... Is everybody okay?.' I went up to figure out who it was and thought maybe we'd accidentally left a door open somehow."
"Searched everywhere, nothing even slightly amiss. Made a phone call and also got my neighbor over. Both doors were shut and locked. Did a thorough check behind every door, the tub, under furniture, etc. Nothing. No one."
"This has happened several times and my only explanation is that it's our neighbor. For some reason, when we're in the basement, everything our neighbor does sounds like it's in our townhouse. Though I still have no idea why he's walking around his own house calling out 'Hello' and asking if everyone is okay."
– CuriousRelish

These Redditors had it ruff and later had a laugh.

False Alarm

"I was awoken in the middle of the night to something pulling on my comforter at the foot of my bed. I look down the foot of my bed and see this three or four foot shadow figure trying to climb on my bed. I panicked thinking I was about to get murdered. I flipped on the light to find my 15lbs dog trying to drag my 4 foot teddy bear onto my bed. It was terrifying in the moment, now I just find it hilarious."
– Accomplished-Gap5856
The Hairy Entity
"I was in my late 20s possibly early 30s when i woke up to see this black mass staring at me on my bed in the dark. I was terrified. I threw the blankets over my head and I was shaking. I peaked out after what seemed like an eternity and was licked. It was my black ungroomed schnauzer."
– CinematicHeart

Barking Order
"It was like 2am and I had to take my dog out to go to the bathroom. As I'm standing out in the yard, I notice there's this really big dude walking down the sidewalk towards my house."
"The big dude looks over toward me and screams 'Hey! Come over here, right now.' He sounded really pissed and I definitely did not go over to him. I locked myself in the house and watched him from inside."
"He was pacing back and forth on the sidewalk just staring at my house and looked really mad. As I'm watching him, two cars pull up to the curb and a bunch of people get out and join him to stair angrily at my house."
"I'm very confused at this point because I don't have any enemies and I wasn't sure what all these people wanted with me."
"The guy who originally scream at me starts walking toward my house and screams 'I said come over here! Right now!'"
"At that moment, my motion activated light on my porch went on and I could see a giant goofy looking dog sitting on my porch. The dog sprinted away when the light went on and the big dude went chasing him up the street. The people got back in the cars and chased after the dog too."
"As it turns out it the big goofy dog was their family pet and it had escaped from their house. It saw me in the yard with my dog and was running towards me to play (I never even saw it until the light came on). The big dude was just yelling at his dog, not me. The people in the cars were his family members trying to help catch the dog."
"I actually saw them walking down the street a few days later and introduced myself. Both the dog and man were very friendly. It was a happy ending for an initially creepy situation."
– MrBigTimeJim
Funny Games
"Slightly similar, I looked out my window and it was and episode of black mirror with 15 people standing in front of my home and people in their cars all looking down at their phone emotionless… Pokémon gym is in front of my house apparently."
– LA_LOOKS
It Was A Scream
"As I'm laying on the couch watching TV late at night, I hear a tapping on glass. I brush it off, only to have it happen again about a minute or so later. I turn to look out our sliding glass back door, which had always given me the creeps with its no blinds or lighting in the back yard, to see of all things someone standing outside wearing a scream costume."
"My mind started racing as to who it might be, perhaps one of my sister's friends? I wasn't about to go outside and find out! They slinked away into darkness before I found my nerve. Turns out my 70 yo grandma decided to scare the sh*t out of me lol."
– AmbivalentEnthusiast

People recalled their hair-raising events.
Strange Bedfellows
"So I lived in an apartment by myself. And every once in a while I'd be about to fall asleep and I'd feel a weight next to me as if someone else got into the bed (it was a queen size bed). So at the time I was dating a woman who would sleep over from time to time but I never mentioned this to her. So one night while she was over I had to leave due to a family emergency. I told her it's okay if she sleeps at mine alone if she would like and that I would be back the next day. I get home that morning and she tells me 'the weirdest thing happened last night, as I was falling asleep I thought you had come home and gotten into bed with me bc I definitely felt someone get into bed on the other side, but when I opened my eyes you weren't here.' Freaked me the f'k out."
– ManyRanger4

The Murderer
"My neighbor shot 2 people in his house. Then proceeded to hide the gun behind my house. I was home and watched him out the window. I didn't know what he was doing at the time. It wasn't until later I found out what had happened. The victims both died."
– offtuna

Eight-Legged Freaks
"Once was watching arachnophobia as a 13 year old on Halloween. Went to go to bed, got a little nervous because of the movie, decided to just shake out my bedspread. Found a solid 3 inch wolf spider sitting like an Andes mint on my pillow. Slept in the bathtub that night. Idk why that felt safe but it did."
– kharmatika

Wailing
"I was about 10 or 11 years old. We had woods behind our house. My parents were out one night, and I heard a shriek from the woods. My blood ran cold and I called my parents immediately. While on the phone, the terrifying scream happened again from the woods, and my mom could actually hear it from the phone."
"Later we figured out it was a fox."
"What does the fox say? Apparently foxes scream like someone getting murdered."
– morethanlemons
The Unstoppable Chair
"I was 11 or 12 yrs old. Internet was not a thing on my country yet, but the first PCs with Windows 98 came in and we have one at home. I was playing with wordart (yeah, good times tho) at like 12pm, then suddenly a chair from the kitchen table start to shakking, like with violence. Of course nobody was there. I ran out to the frontyard and wait for my mom to come home, she was there by 1pm."
"20 years later I still don't know how the f'k the chair was moving like that, because a lot of thing that happens to us when we were kids have a reasonable explanation. This on the other hand could be my mind playing with me but never happen again and i was a normal kid with normal parents and friends, no traumas or psychologic problems."
– outerspace69

If you're alone and not expecting anyone and you suddenly hear the front door rattling, would you check to see who it is through the viewfinder or pretend you're not home?
I pretended I wasn't alone once under the circumstances.
When I heard someone trying to open the door to my apartment several years back, I faked a conversation with someone who wasn't there to ward off the possible intruder.
I never found out if it was a tenant mistakenly arriving at the wrong apartment or a complete stranger who managed to bypass the secured vestibule door to the building. But I wasn't going to find out if my apartment was going to be broken into by somone who assumed no one would be home.
Time to invest in a Ring doorbell cam, I suppose.

Want to "know" more?
Sign up for the Knowable newsletter here.

Never miss another big, odd, funny or heartbreaking moment again.
Skeptics may believe there is a logical explanation for everything.

While that may be true, there are things that happen in life that simply defy logic.
Whether it's a creaking noise on the second floor when no one else is home, or demonic hallucinations that may or may not have been part of a dream, people have felt something with every fiber of their being that convinced them there were other forces at work.
Redditor TurtleBoi87 wanted to hear about unexplainable phenomena from strangers on the internet and seriously asked:

"What is the creepiest experience you have ever had?"
Not everyone believes in ghosts. But they also probably would not want to see proof they exist.
The specters are just waiting for the right moment to make an entrance.
A Presence In The House
"I grew up in an old farm house. It was around 150 years old (must be around 175 now) located in a sparsely populated area in north central Iowa. Very rural. There were a lot of small odd occurrences over the years my family lived there, but the most frightening one for me occurred when I was a teenager. I was old enough to be home alone, but not old enough to drive."
"My parents and older sister were all out for the night so it was just me and the dogs at home. I settled in to watch a movie in the living room located on the first floor of the house when I heard someone walking heavily in the hallway above me. This house had plank wood flooring with nothing remotely sound insulating. These steps were distinct, heavy, and unmistakable. I knew I was the only person home and the house was miles from the closest neighbor, let alone town."
"My stomach was in a knot, but tried to be logical and quickly decided it must be a dog (even though the steps sounded much too heavy for our small terriers). I leaned forward in the recliner to call for them, but as I leaned forward I saw that both dogs were already sitting at my feet. And they looked terrified. I took the dogs, the wireless house phone, and ran out of the house, and locked myself in my mom's car in the driveway. I called my parents and waited in the car for them to get home. They had both had enough experiences in the house to not doubt me."
"ETA another story from that house -The family who built the house lived out their lives there, including their daughter. Her name was Minnie and she never married and thus lived in the house her entire life; birth to death."
"A few years after my parents moved I was talking to my mom about all the odd incidents that happened in that house. She asked me if I ever found little gold safety pins around the house. I hadn't. She then shared that she was always finding little gold safety pins when she was alone in the house. Multiple times she had even had them drop onto her, landing in her book or on her sewing project. She would look up and even checked for cracks in the ceiling, but they seemed to fall from nowhere. It made her uneasy, but it mostly just perplexed her."
"Then my grandma told my mom that she had a once met Minnie years ago. My grandma was an RN at the local hospital and when she was a young nurse Minnie came into the ER. She was very old at this point and in poor health. In order to treat her, the nurses had to undress her as she was wearing layers and layers of clothes. My grandma said it was an incredibly frustrating task because all of her layers of clothes were fastened together with hundreds upon hundreds of tiny gold safety pins"

Possessed Laptop
"One time I was in my room trying to go to sleep when my closed laptop randomly blasted screams of what sounded like a woman in pain. I still have NO IDEA how that happened, but it scared the sh*t out of me."
– caitycha
Gramps Has Had It
"I was at home alone with my dogs and one of them wouldn't stop barking. She had a shrill piercing bark. Suddenly a man's voice yells 'SHUT UP.' I was on the phone with my mom at the time and she asked 'who's there with you?.' I said no one I don't know what that was. She told me to gtfo immediately. I didn't, I figure the only person who died while living in the house was my grandpa and I can't blame his ghost. That dog was being super annoying."
A good night's sleep didn't come for these Redditors, who either experienced being in a partial sleep state or witnessed someone who did.
Face Stealer
"As a kid (maybe 12) I walked in to my mums room to kiss her goodnight. I didn't realise she was asleep and as I entered I woke her. She saw me standing in the doorway and jumped straight out of bed. She grabbed me and threw me on to the bed and tried to choke me out, while kind of clawing at my face. I grabbed a pillow to try to put it between us but she was on top of me and screaming. I remember seeing her face in the light coming from the hallway and she was crazed. I kept screaming at her 'it's me! It's me!' But she wouldn't stop. "
"Somehow I got out from under her and I ran out into the loungeroom where my dad was stood up, about to see what was going on. I grabbed him and threw him between me and my mum, who was right behind me and still clawing at my face. He grabbed her and bear hugged her, while her arms reached out over his shoulders, still clawing at me. I don't know how but she woke up, and immediately started crying, really sobbing, and apologising. She said she was stuck in some sort of not quite asleep, not quite awake state and when I stood in the doorway all she could see was that I was wearing her face, and she felt she had to get it off me. We stayed up all night crying and I still won't walk in a room if someone is asleep."
– PiperPug

The Long Night
"Sleep paralysis. Was laying in bed after one hell of a day and the mind was racing like never before."
"Eventually, the body fell asleep but the brain didn't or however the f'k it works. Luckily I prefer to sleep on my sides or face down, that night was face down so I guess I skipped a lot of the nightmare fuel."
"Felt a pressure on my back, akin to say a large cat laying on your back."
"Then came the hallucinations whoo boy. Dark moving figures in my peripheral vison, odd sounds in an empty house, sensations of touch on my arms and legs."
"It was a sh*t night."
– Helluks

"When I was about 10 I was lying in my bed when a pair of hands came up from behind my headboard and started choking me. I remember trying to move or scream but I was completely paralyzed and silent. Then all of a sudden I 'woke up' but I was sitting bolt upright in my bed. Had no idea what sleep paralysis was at the time so it's safe to say it scared the absolute sh*t out of me!"
It's interesting the things the brain interprets what we're seeing.
Cosmic Rays
"When I was younger I've been walking around with a friend of mine in the middle of the night. We walked over an open field when we suddenly stood in a flickering extremely bright and somehow 'dancing' light, we both looked around but there was no light source or something we ran away and when we turned around to see if it's still there it was just gone. Today we still have no idea what happened back then and yeah."
O Brother, Where Art Thou
"Went to visit a friend since I had moved away. We were hanging out in the bathroom and I saw her brother walk by and down the stairs. Couple minutes passed and I asked if her brother was off, she said no he's at work right now. I told her no I just saw him passed by us and he was wearing his sweatpants. He was in fact at work. When he got home the first thing he said was 'you can see it to.' His room was the only room that was ice cold. His mom ran sage through the house and after that his room went back to being warm. His parents or sister would never see this figure, but I did."
Demon Beast
"I started experiencing all the typical haunting stuff. lights flickering, shadows, objects moving, feeling weight on the bed, even being touched."
"Didn't phase me."
"Then I saw a demon beast appear outside my window, just waving at me with the most sinister smile, pure evil, something even hollywood couldn't recreate."
"That got me. Almost left my apartment without my shoes."
"When I returned I was intent on capturing it on video, But it never fully manifested again. I guess it made it's point."
Sinister Silhouette
"Several years ago, before kids) I got up to use the bathroom in the middle of the night. As I crossed from the bed to the bathroom I looked down the long hallway to the guest room at the end of the house. We slept with the doors open then, before kids. The guest room has a big window lined up perfectly to The hall. The shades were shut but there was lots of ambient light in the room. It lit up a black shaped ghost/ vampire perfectly. Only saw it for a second but nearly gave me a heart attack. I have convinced myself that it was just my eyes playing tricks on me,but…."
They say your mind plays tricks on your and your wild imagination confuses your perception of reality.
While that's plausible logic, why do they always have to happen when we're all alone, and usually at night or in the dark?
As a kid, my "imagination" had a field day with me when I spent the night home alone for the first time without a babysitter.
I think I was just paranoid because it was eerily quiet, but I could've sworn I heard the rocking chair behind me creak a few times as I was reading a manga comic book.
When I turned around, the rocking chair was completely still, but the creaking noises simultaneously stopped as I turned around.
It probably didn't help I was reading The Drifting Classroom, one of the most disturbing manga by Kazuo Umezu, a well-known Japanese comic book artist specializing in the macabre and unimaginable horrors.