Skeptics may believe there is a logical explanation for everything.

While that may be true, there are things that happen in life that simply defy logic.
Whether it's a creaking noise on the second floor when no one else is home, or demonic hallucinations that may or may not have been part of a dream, people have felt something with every fiber of their being that convinced them there were other forces at work.
Redditor TurtleBoi87 wanted to hear about unexplainable phenomena from strangers on the internet and seriously asked:

"What is the creepiest experience you have ever had?"
Not everyone believes in ghosts. But they also probably would not want to see proof they exist.
The specters are just waiting for the right moment to make an entrance.
A Presence In The House
"I grew up in an old farm house. It was around 150 years old (must be around 175 now) located in a sparsely populated area in north central Iowa. Very rural. There were a lot of small odd occurrences over the years my family lived there, but the most frightening one for me occurred when I was a teenager. I was old enough to be home alone, but not old enough to drive."
"My parents and older sister were all out for the night so it was just me and the dogs at home. I settled in to watch a movie in the living room located on the first floor of the house when I heard someone walking heavily in the hallway above me. This house had plank wood flooring with nothing remotely sound insulating. These steps were distinct, heavy, and unmistakable. I knew I was the only person home and the house was miles from the closest neighbor, let alone town."
"My stomach was in a knot, but tried to be logical and quickly decided it must be a dog (even though the steps sounded much too heavy for our small terriers). I leaned forward in the recliner to call for them, but as I leaned forward I saw that both dogs were already sitting at my feet. And they looked terrified. I took the dogs, the wireless house phone, and ran out of the house, and locked myself in my mom's car in the driveway. I called my parents and waited in the car for them to get home. They had both had enough experiences in the house to not doubt me."
"ETA another story from that house -The family who built the house lived out their lives there, including their daughter. Her name was Minnie and she never married and thus lived in the house her entire life; birth to death."
"A few years after my parents moved I was talking to my mom about all the odd incidents that happened in that house. She asked me if I ever found little gold safety pins around the house. I hadn't. She then shared that she was always finding little gold safety pins when she was alone in the house. Multiple times she had even had them drop onto her, landing in her book or on her sewing project. She would look up and even checked for cracks in the ceiling, but they seemed to fall from nowhere. It made her uneasy, but it mostly just perplexed her."
"Then my grandma told my mom that she had a once met Minnie years ago. My grandma was an RN at the local hospital and when she was a young nurse Minnie came into the ER. She was very old at this point and in poor health. In order to treat her, the nurses had to undress her as she was wearing layers and layers of clothes. My grandma said it was an incredibly frustrating task because all of her layers of clothes were fastened together with hundreds upon hundreds of tiny gold safety pins"

Possessed Laptop
"One time I was in my room trying to go to sleep when my closed laptop randomly blasted screams of what sounded like a woman in pain. I still have NO IDEA how that happened, but it scared the sh*t out of me."
– caitycha
Gramps Has Had It
"I was at home alone with my dogs and one of them wouldn't stop barking. She had a shrill piercing bark. Suddenly a man's voice yells 'SHUT UP.' I was on the phone with my mom at the time and she asked 'who's there with you?.' I said no one I don't know what that was. She told me to gtfo immediately. I didn't, I figure the only person who died while living in the house was my grandpa and I can't blame his ghost. That dog was being super annoying."
A good night's sleep didn't come for these Redditors, who either experienced being in a partial sleep state or witnessed someone who did.
Face Stealer
"As a kid (maybe 12) I walked in to my mums room to kiss her goodnight. I didn't realise she was asleep and as I entered I woke her. She saw me standing in the doorway and jumped straight out of bed. She grabbed me and threw me on to the bed and tried to choke me out, while kind of clawing at my face. I grabbed a pillow to try to put it between us but she was on top of me and screaming. I remember seeing her face in the light coming from the hallway and she was crazed. I kept screaming at her 'it's me! It's me!' But she wouldn't stop. "
"Somehow I got out from under her and I ran out into the loungeroom where my dad was stood up, about to see what was going on. I grabbed him and threw him between me and my mum, who was right behind me and still clawing at my face. He grabbed her and bear hugged her, while her arms reached out over his shoulders, still clawing at me. I don't know how but she woke up, and immediately started crying, really sobbing, and apologising. She said she was stuck in some sort of not quite asleep, not quite awake state and when I stood in the doorway all she could see was that I was wearing her face, and she felt she had to get it off me. We stayed up all night crying and I still won't walk in a room if someone is asleep."
– PiperPug

The Long Night
"Sleep paralysis. Was laying in bed after one hell of a day and the mind was racing like never before."
"Eventually, the body fell asleep but the brain didn't or however the f'k it works. Luckily I prefer to sleep on my sides or face down, that night was face down so I guess I skipped a lot of the nightmare fuel."
"Felt a pressure on my back, akin to say a large cat laying on your back."
"Then came the hallucinations whoo boy. Dark moving figures in my peripheral vison, odd sounds in an empty house, sensations of touch on my arms and legs."
"It was a sh*t night."
– Helluks

"When I was about 10 I was lying in my bed when a pair of hands came up from behind my headboard and started choking me. I remember trying to move or scream but I was completely paralyzed and silent. Then all of a sudden I 'woke up' but I was sitting bolt upright in my bed. Had no idea what sleep paralysis was at the time so it's safe to say it scared the absolute sh*t out of me!"
It's interesting the things the brain interprets what we're seeing.
Cosmic Rays
"When I was younger I've been walking around with a friend of mine in the middle of the night. We walked over an open field when we suddenly stood in a flickering extremely bright and somehow 'dancing' light, we both looked around but there was no light source or something we ran away and when we turned around to see if it's still there it was just gone. Today we still have no idea what happened back then and yeah."
O Brother, Where Art Thou
"Went to visit a friend since I had moved away. We were hanging out in the bathroom and I saw her brother walk by and down the stairs. Couple minutes passed and I asked if her brother was off, she said no he's at work right now. I told her no I just saw him passed by us and he was wearing his sweatpants. He was in fact at work. When he got home the first thing he said was 'you can see it to.' His room was the only room that was ice cold. His mom ran sage through the house and after that his room went back to being warm. His parents or sister would never see this figure, but I did."
Demon Beast
"I started experiencing all the typical haunting stuff. lights flickering, shadows, objects moving, feeling weight on the bed, even being touched."
"Didn't phase me."
"Then I saw a demon beast appear outside my window, just waving at me with the most sinister smile, pure evil, something even hollywood couldn't recreate."
"That got me. Almost left my apartment without my shoes."
"When I returned I was intent on capturing it on video, But it never fully manifested again. I guess it made it's point."
Sinister Silhouette
"Several years ago, before kids) I got up to use the bathroom in the middle of the night. As I crossed from the bed to the bathroom I looked down the long hallway to the guest room at the end of the house. We slept with the doors open then, before kids. The guest room has a big window lined up perfectly to The hall. The shades were shut but there was lots of ambient light in the room. It lit up a black shaped ghost/ vampire perfectly. Only saw it for a second but nearly gave me a heart attack. I have convinced myself that it was just my eyes playing tricks on me,but…."
They say your mind plays tricks on your and your wild imagination confuses your perception of reality.
While that's plausible logic, why do they always have to happen when we're all alone, and usually at night or in the dark?
As a kid, my "imagination" had a field day with me when I spent the night home alone for the first time without a babysitter.
I think I was just paranoid because it was eerily quiet, but I could've sworn I heard the rocking chair behind me creak a few times as I was reading a manga comic book.
When I turned around, the rocking chair was completely still, but the creaking noises simultaneously stopped as I turned around.
It probably didn't help I was reading The Drifting Classroom, one of the most disturbing manga by Kazuo Umezu, a well-known Japanese comic book artist specializing in the macabre and unimaginable horrors.

Keep reading...
Show less
People are obsessed with hauntings and ghost stories.
Unexplainable phenomena remain a fascination for even for the timid. It's like driving by the scene of a traffic accident. As horrific as they are, people can't help but slow down and look.
This is why ghost hunting shows remain popular. Audiences in general like being freaked out.
But the real horrors that keep me up at night are the ones perpetrated by the living.

Curious to hear about hair-raising anecdotes, Redditor Napalm_Nancy_Yeet asked strangers online:

"What true, non-paranormal story gives you chills?"
No ghosts or murderers here, but these stories are creepy, nonetheless.
Incognito Photo-Bomber
"Seeing that photo of the guy hiding in the trees. The kid took a selfie on a mountain trail and sent the pic to his family then went missing. After closer inspection they noticed there was a guy crouching down hiding in the trees behind where the kid was.... On this trail that no one was supposed to be on..."
Undiscovered Body
"A guy was sleeping on top of fridges at a grocery store trying to hide from work. He fell between the wall and one, and died there. Nobody knew where he was until his rotting body stunk up the place."
These tragic stories are nightmare-inducing.
The Fight For Survival
"Alive. Bunch of kids survived a plane crash but couldn't get out of the mountains. Wound up cannibalizing each other. A few were eventually rescued, their stories are harrowing."
The Drowning Girl
"The story of Omayra Sanchez. Don't look it up if you are sensitive. She was a kid that got a feet trapped under debris during a flood and was imposible to rescue. They could interview her while was slowly dying of infection and hypothermia."
What criminals are capable of are far more haunting than any spooky specter.
Stalker
"The story of Daniel LaPlante. There's quite a bit of information so I'll try to sum up the creepiest bits."
"Daniel met a girl named Annie and took her on a date or two. They talk for a while but eventually, Annie found him to be a bit creepy and dumps him. He continues to stop by the house uninvited but quite sneaky about it. He'd tap on windows and stuff, get Annie and her sister riled up and scared. They'd try to convince their dad someone was out there but he was often working and didn't hear or see anything."
"So one night, the two sisters went to the basement to do a seance, trying to contact their mom who had died somewhat recently I believe. They hear tapping on the walls and run up stairs. All is well for a while, but the tapping and knocking continues. It comes from all over the house and they can't figure out why."
One night, dad finally heard the knocking and investigated. He opened a closet door to find Daniel standing there with a knife or machete. That's scary enough but Daniel was also wearing his late wife's wedding gown (I think make-up too but not sure). Dad fought him off and he was finally arrested. If that isn't weird enough, they found out he had been moving around, even spending the night INSIDE the walls of their house. That's how he'd watch them and it explains the constant knocking from all over.
Prior to this incident, he had assaulted and murdered a pregnant woman and drowned her two children.
I left out a fair bit of details and maybe the timeline is off but I'm telling this from memory.
The Bedroom Watcher
"A few years ago in Saratoga NY there was a guy who would break into people's houses just to watch them sleep. Never took anything, just watched people sleep. They caught him, but it apparently really messed with the minds of the victims. Saratoga Sleeper Creeper."
Laundry Man
"When I turned 18, I got my first apartment. I started using the laundry down the street. I noticed the owner would show up within 10 minutes of my arrival. Didnt matter what day or time. Always trying to chat me up, drive me home etc. Creeper dude. One day, a man I didnt even know was there and yelled at him for staring at my clothing in the dryer while touching his hand to the door. He was staring at my panties. It was so uncomfortable, I began to take my laundry back to my parents."
"About 10 years later, scrolling FB, i see an age progression for a teen girl who disappeared from that laundry, a week before I began going there. I never forgot how scary he was, and would have remembered any missing child posters or even newspaper articles because I was a daily reader then. Turns out, this guy is the only suspect, also lived across the street from me so it explains why he always arrived when I showed up. I had to walk past his place with my clothes."
"She's never been found."

The Paroled Rapist
"A paroled rapist and his wife abducted an 11 year old girl and assaulted her on a weekly basis, even forcing her to give birth to two children. All throughout this time he was being monitored by parole officers and psychiatrists who praised him for his supposed rehabilitation and even tried to have him taken off parole several times, unaware that he was holding three people captive under their noses."
"This went on for eighteen years until he was finally caught when he brought his daughters-by-rape to a campus and the police officers reported it to his parole officer."
The Netflix docuseries, Don't F**k With Cats, seriously kept me up at night.
Witnessing a twisted psychopath's gruesome torturing of animals ​was disturbing enough, but it turns out his social media stunts were only the beginning.
The three-part series, while being a well-produced show, wound up being the creepiest thing I have ever seen.

Keep reading...
Show less
Isn't it fabulous when you strike up meaningful and enriching conversations with people?

Stimulating conversations can change your perspective on the world and society. The person with whom you're engaged in the exciting discourse can leave an indelible impression.
On the flip side, some of the things people say can come from left field and leave you trembling in fear.
Curious to hear about some of the more unpleasant paths a conversation has gone Redditor Lonely_Bison6484 asked:
"What is the creepiest thing someone has told you?"
These people had conversations that morphed into true crime territory.
Dead Prostitutes
"I used to have this guy come into my work and we would talk about aquariums. He used to live in a city not too far from where we were at. The last time that I spoke with him, he was telling me about how sex workers used to end up dead and they were found by the river. He seemed really excited about it as well. I didn't say anything and I didn't see him again."
Ominous Cab Ride
"Got in a taxi once just outside Sainsbury's, as we were leaving the car park he told me about this young woman who went missing the night before and how she was last seen in his taxi… I did not like that."
The Golf Group
"I knew a guy in business who was in a golf group with OJ Simpson a couple months before the murders. Said he couldn't stop talking about how much he loved his wife and was looking forward to getting back together with her soon."
Creepy Kid
"In kindergarten some kid was digging a hole with a plastic shovel. I asked him what he was digging, and he looked me dead in the eye and said, 'your grave.' Freaked me the hell out at the time."
Patients say the darnedest things.
Tall Man
"I used to work evenings in an Alzheimer's/dementia home, and had become good friends with one man. He once told me, 'I like when you talk to me, but I don't like the tall man behind you.'"
"I know it was probably a hallucination, but that's a no."
The Guardian Angel
"That she had a guardian angel that helped her out. Like when she disliked someone and he had a lethal accident at work because she ordered it."
"The woman was severely psychotic and this scared the crap out of 12 year old me."
– theofiel

Obscure Opinions People Are Fully Committing To | George Takei's Oh Myyy
We all have a set of beliefs about even the smallest of topics. Like sandwiches should have structural integrity. That's something we can all agree on, right...
The Psych Patient
"I worked as a psychiatric tech for outpatient community based clients and had a patient have a psychotic break and told me that he wanted to 'cut off my arms legs and head and watch me rot in hell' and 'there are bugs crawling on you' and while brushing my upper thigh. He was a foot taller than me and twice my weight. The scariest part was the er staff telling me he was released because he wasn't a threat to himself or others THAT NIGHT."
The Puppet Master
"I was in a hospital for several days and I had made friends with an old woman in the room down the hall from me. She told me she grew up in Jamaica. (We were in the US) She also told me she was a witch. I was 21 at the time, and didn't know much about witchcraft other than movies, I think I said something like 'Oh cool, really?'"
"She said 'watch I'll show you.' Now this is where it gets creepy. We were on one of the upper floors of the hospital sitting by a window that overlooked an intersection below. There was a man walking down the sidewalk along the road."
"She said, 'See that man?' I said, 'Yeah?' She held her hand out in front of her and said 'Oops, you forgot something.' The man, who was walking a pretty fast stride stopped dead in his tracks and started patting his pockets."
"Then after a few moments she said 'Alright now off you go.' And flicked her hand and the man stopped searching his pockets and just started off walking again as fast as he had before."
"It left me speechless and really freaked me out."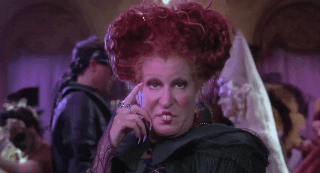 Hocus Pocus Witch GIF
Giphy
We need to protect animals from these suspicious individuals.

Dog Hater
"When I was in 5th grade, my older brother sent me to the convenience store to buy milk. A random adult man with shoulder length, stringy straight hair started walking beside me and asking me questions about myself...what grade I was in, what I was up to, etc."
"We passed by a yard with a dog. The dog ran up to the fence, growling and barking we shied away and, once we were past the yard, the man looked me in the eye and said:"
"I could have killed that dog. I know how to rip its heart out with my bare hands."
I was a high school freshman being dropped off by a friend who just got his driver's license when I heard the creepiest thing.
My friend told me he was a vampire. He was into Anne Rice and all things goth, and I totally believed him when he said that if ever I was to reveal his identity and repeat what he just told me, he would "find me."
I was extremely gullible then, but now as I'm typing this out, I fear he might be watching me.
Friends, it's been a real gas writing for you.

Keep reading...
Show less
Hospitals often see some of the most horrific moments of people's lives, including the end of their lives. When there is so much trauma and death in one place, you begin to see some unusual things.
Sometimes it's creepy things that bump in the night, sometimes it's just a marvel of the human body. Either case, it's quite scary to witness the often unexplainable.
We went to Ask Reddit to hear first hand accounts from the people who work in hospitals.
Redditor BlockWide said:
"Hospital workers of Reddit, what's the creepiest thing you've ever seen?"
Beware, some of these stories are gruesome. This is not for those with a light stomach.
Keep reading...
Show less
Documentary shows like Unsolved Mysteries are deeply disturbing to watch. Yet, these unresolved cases have an unexplainable allure that draws people in.

Murder cases that involve unidentified killers are among the most popular.
Is the killer still out there? Were there many more undiscovered bodies tossed in a ditch somewhere in the desert? Or was the death of an individual purely accidental?
Equally compelling are the investigators who explore every possible theory to track down a criminal.

These cases continue to prompt intrigue because we all have an innate desire to have closure.
Curious to hear from strangers online, Redditor TGS_Holdings asked:
"What's the creepiest unsolved mystery you know?"
Multiple bodies were found and not a single killer was identified.
Family Murder
"Dardeen Family Murders. Husband, pregnant wife and young son. Wife and son bludgeoned in their bed the mother gave birth where the perpetrator(s) then bludgeoned the newborn. They found the husband shot execution style outside. No fingerprints or DNA found at the scene it was completely clean."
Beach Graveyard
"In the area I grew up, there was someone killing sand dunes and burying them in the sand dunes by the beach. They would sporadically show up. To my knowledge, the person was never found."
"Cleveland Torso Murderer"
"Back in the 1930s, there was a serial killer called the Cleveland Torso Murderer who would cut off people's limbs, heads, and genitals, then leave the torsos behind for the police to find them. Not only did they never figure out who the killer was, but they also never figured out who most of the victims were."
Bodies On The Road
"The Santa Rosa Hitchhiker Murders in 1972-73. I grew up in the area but didn't hear anything about it until a couple years ago. Seven girls and women were murdered and dumped along rural roads in Sonoma County. The case is often overshadowed by the Golden State Killer and Zodiac Killer. Who murdered these girls in sleepy Sonoma County remains a mystery to this day."
The following Redditors discussed cases involving missing people and unknown causes of death.
Missing Bride
"Mary Shotwell Little has always kept me up at night."
"Went missing after shopping at Lenox Mall in Atlanta in 1965. She was a newlywed so she was called the Missing Bride. She was reported missing by coworkers the next morning but her car was no longer in the Lenox parking lot. Her husband was out of town and when he returned and went to Lenox to look for her, her car was now there. The car had her groceries, blood spots, and a folded pair of women's underwear on the console. Lots of weird details in this case like the car being returned in daylight, her credit card being used and her being spotted in NC under duress and with two men. Her body has never been found and the case is still unsolved."
The Dad That Stayed Home

"I forgot the names, but a family was going on a vacation to a sports game, but the dad stayed home because he wanted to record it, and his TV didn't have an auto-record function, meaning he had to be there to hit record."
"The family gets home and the dad is missing. The game is recorded on the TV, meaning he had to have been there when it aired. The fridge had two turkey sandwiches freshly made."
"Someone driving down the highway near their house spotted a body on the side of the road. They turned around to find it, but it was gone."
Last Seen Arguing
"Local bar, missing man from a few years ago. Nowhere to be found. He was drunk and had gotten into an argument at the bar. Walked to an Arby's at some point. His glasses were found on the ground, but no trace of him otherwise."
These bodies were found in small spaces.
The Missing Kid
"Probably that one kid that went out and disappeared but was found mangled up in a chimney a decade later by his parents."
Stuck
"Last year i worked for DEMA (Danish Emergency Management Agency), we were called out to a case of a man losing contact to his partner who was inside a chimney at a Danish art project. He was supposed to uninstall some lights, but when his partner radioed him, there was radio silence. His partner was controlling the mobile crane used to lower him inside, which was the only way up there. When we arrived the man had been inside the chimney/cylinder for about 2-3 hours. There was drones installed with heat reading cameras in the air trying to see if he was alive, and when we got the picture his body was still warm. Since we had no way of getting up there we had called for another mobile crane with which we could get to the top. My partner and our sergeant went up, and when they pulled out the man, he was already dead. We couldn't figure out how it happened, but when we got the report back it said he died from his injuries. But there was no major bruising on his body!"
"I still don't know how he died till this day."
There were no deaths in the following cases but still caused intense fear.
Repeat Break-In
"About 1.5 years ago I was broken into. They stole essentially all my life savings which was in precious medals, along with a bunch of other misc personal belongings. The police never found them. 3 days later, I see my door is broken in again and thieves came back and put a couple things back, including a gold ounce coin with a note attached that my dad had written to me when I was an infant, telling me he loved me. Less creepy just strange; criminals with a conscience."
Almost Abducted
"Whenever I was a small kid I was almost kidnapped when my mom had a seizure at the grocery store some man had grabbed me saying that he was my uncle but luckily a family friend happened to be there too and the dude ran off before police got there I was only around 5-7 at the time so I came very close to being kidnapped I have very little memory of that moment tho I only remember riding in the ambulance."
Mystery Scar
"How did I get this scar and dent in my skull. It must have been a major event with lots of bleeding, but my parents know nothing of it."
It's one thing to be haunted by the unsettling cases presented on television, but it's another to learn of one through a friend or have firsthand knowledge.

And in the digital age, where our every move is being monitored through our digital devices or surveillance cameras capturing our movements, you would think more cases of foul play would quickly reveal the murderous culprit.
But with lawbreakers always managing to stay a step ahead and adapting to technology, it's not that easy to close a case.
As with many complicated cases spanning years, we still have to trust and rely on the fact that time will eventually bring malefactors to justice.

Keep reading...
Show less