Reddit user Adrian0091 asked: 'What's the dumbest thing you've seen a coworker do on the job?'
When I was in college, I worked at a restaurant as a hostess. Since I previously only babysat and tutored, a restaurant was a whole knew world to me.
Two of the girls who worked the same days as me were the ones to train me. They were a couple of years older than I was and had been working there for a year already, so they had a lot of experience. They not only taught me how to do the job, but gave me a lot of tips to make some of the more tedious tasks easier.
They both seemed like responsible girls, so when I came in the week after my training was over, I was shocked to hear they were both fired. According to a server I'd become friends with, the girls had snuck in some alcohol on what was supposed to be a slow day (it was a Tuesday, which was always our slowest day) and decided to have a "party at the host stand."
They got completely wasted and basically kept tripping as they led guests to their seats, even as they told the guests to watch their step. When one of the girls accidentally poured a milkshake over one guest and had to call a manager to smooth things over, they were caught and fired on the spot. I was cringing at their stupidity!
Apparently, I'm not the only one who has had to deal with co-workers doing something utterly stupid while they were on the job. Redditors have borne witness to this and are eager to share their stories.
It all started when Redditor Adrian0091 asked:
"What's the dumbest thing you've seen a coworker do on the job?"
Such A Pretty Display
"I asked one of the new kids to stack the shoe department."
"Easy if but a bit boring. I showed her, stack by brand then size, big at the bottom, small top yeah?"

"She decided to organise it by the color of the boxes instead because it looked prettier."
"Took me hours to fix that mess."
– Lizzy_Of_Galtar
Oooh, Burn! (Quite Literally)
"In high school, working at a Chinese restaurant, was there basically to take orders and bus tables. Another dude I vaguely knew from high school got hired there. Nice, popular dude, but not much common sense. Within his first two weeks, he went to make himself some food (we were allowed to do that to a certain extent), and he dropped some wontons into the deep fryer. When he decided they were done, and as we were having a conversation, he just REACHED HIS HAND into the oil to retrieve it. I don't think I even reacted for a moment or two, and then rushed forward. He somehow ALSO didn't react for a moment or two before pulling his hand out and yelling out a cartoon-style "YEEOUCH!""
"He went to the hospital, and quit the job."
– CwAbandon
Umm...Huh?
"One dude once photocopied a slice of pizza. We found cheese and stuff inside the machine for weeks. Was pretty funny though."
– LinusMeindl
"Inside? Did the idiot put the pizza into the document feeder or something?"
– MechanicalHorse
"How else would you feed the machine pizza."
– andtheIToldYouSos
Spelling
"I saw a tattooist I worked with tattoo "Laugh now cry Ladder" across a guy's chest..."
"He was let go, and a few years later, a guy came in with "Warior" across his upper back in bold letters, wanting it fixed. Same tattooist lol."
– hurrythisup
"Cry me a ladder."
– Deleted User
"Cry me a liver."
– iqtrm
"Crimea river."
– MagicSPA
Yikes!
"Telling the manager on duty, "I'm not the one eating it, so why should I care?" when the manager was trying to explain to her how to correctly prepare a customer's food."
– 2gecko1983
"Watched a coworker of mine at a Pizza Hut (1976) clean off the food prep counter with a gross floor broom. The kitchen was open, so people at the tables could see the food being made, and someone saw him and yelled out to the other customers, and people started walking out."
"Cleared it out."
"Once the manager figured out what happened, he fired the guy on the spot."
– big_d_usernametaken
Misstep After Misstep
"Admitted to not having spoken to any of the business stakeholders, but instead "made up their own story.""
"This was at the end of what was supposed to have been a four-week information-gathering phase of the project."
"That afternoon, when one of the managers went to escort her from the premises, they found her by the printer with a stack of confidential documents."
– WitShortage
No Cell Phones At Work
"Worked with a lot of hazardous chemicals. Had a coworker who was notorious for being on his phone. We had to use a pump to put a hazardous chemical into a tank. Problem was you couldn't look at the destination and pump the pump at the same time. Someone had to pump and someone had to watch. So I specifically asked said coworker to not look at his phone this one time. Tank overflowed and spilt the chemical everywhere because he was staring at his phone. Took hours to clean up."
– BigTiddyOstrogothGF
"A coworker of mine was fired for using his cellphone in an electrically classified area, cell phone wasn't explosion proof, not to mention the fact no cell phones on the floor, they gave him a warning, second time they walked him out."
"Bad part for him was that his wife found out he was talking to his girlfriend."
"Twenty years down the tubes."
"As we liked to say, "He fired himself.""
– big_d_usernametaken
Ewww!
"A guy I worked with sent a spreadsheet round with all the women in the office ranked in a spreadsheet and graded overall based on 1-5."
"He was somehow shocked he didn't pass his probation."
– downfallndirtydeeds
Thank God He Was Fired
"My best friend, he took his mop bucket and poured it down a water fountain instead of using the closet with a sink that was literally right next to the water fountain. He got fired the next day."
"He told me he was in "f**k it" mode with the job and he didn't care. We worked at a hospital."
– MrFavorable

""Who cares if sick people get exposed to a little bit of antibiotic-resistant flesh-eating bacteria.""
– Brett42
Get Right Back Up
"There were 2 of us installing an air conditioner. He had a bit of work outside that required him going up a ladder about 3 or 4 feet, not high. I was inside doing wiring."
"I heard a loud thud and scream, so I ran out to see what happened. He fell off the ladder. I've seen gruesome injuries from stupid thing like this before, so I ran outside to help him out. No injuries, he picked himself up and got back at it, I went back inside."
"Five minutes later, same thing. I walked out to check on him again after a small fall. He was ok again, but I told him to chill out and watch what he's doing. I went back inside."
"Heard another thud from outside. He fell again. I just looked out the window the third time and went about my business."
– DrVanNostrand6
*Cringing*
"He opened a Skype window (yes, this was ~10 years ago) and started messaging me to sh*t-talk a person who was in the same call as us."
"Except, he forgot he was sharing his screen."
– zyygh
R.I.P. Press
"After checking the correct lock-out tag-out procedure was followed, I assured an employee that it was safe to change dies on a horizontal press. But he was skeptical so unbeknownst to anyone he put a piece of tooling steel about the size of a coffee can under the die base. Some of you know where this is going. He made the tooling change, forgot his "safety measure", and cycled the press. We all heard a $400k press eat itself in a fantastic swan-song of a noise that would take Stephen King four pages to describe."
– Idontfeelold-much
The Stupidity Of The Human Race
"Late 90's, I was a custodian in a NYC public school to pay for college. One of my coworkers accidentally spilled about 15 gallons of gasoline in the school parking lot. He didn't want to get in trouble for spilling that much gas so he thought the best course of action was to burn off the gasoline. Of course gasoline burns with huge billows of black smoke so he panics and tries to put out the fire BY DRIVING HIS CAR OVER THE GIANT PUDDLE OF BURNING GASOLINE. Fire department shows up within minutes and sees him doing donuts in the giant fire and they spend a whole hour screaming at my coworker about how f**king stupid he was."
"Edit: and in 1997 when this happened, gas was 97¢ a gallon. He could have replaced all the gas for less than $15."
– -Words-Words-Words-
"I'm a veteran of the Internet, and enjoy reading accounts like this. I must have read thousands."
"This is, hats off, quite literally one of the most stupid decisions I ever heard anyone make."

– MagicSPA
I really don't want to believe that last one really happened!
Do you have any great stories? Let us know in the comments below.
Reddit user redmambo_no6 asked: 'Redditors with younger coworkers, what was your "I'm officially old" moment?'
The realization you're getting older can smack you in the face at any given time, and boy-howdy is it fun!
It can be in the morning when you get up out of bed, and your body makes crackling noises, or when you can't seem to keep up at the gym and you cut short your running time on the treadmill.
That's just the physical.
When you suddenly have the epiphany that you're suddenly the oldest one in a group setting, it's humbling.

Curious to hear from strangers online who are no longer the young whipper-snappers they imagined themselves to eternally be, Redditor redmambo_no6 asked:

"Redditors with younger coworkers, what was your 'I'm officially old' moment?"
These moments of realization never get old. But people do.

Senior Kitty
"My childhood cat lived to 21.5 so teaching (freshman biology lab, so students were ~18) became very weird when I realized my cat was older than my students."
– mollusck_magic

Aging In Reverse
"I'm a preschool teacher. It's been a TRIP to watch parents go from Soooo much older than me, to the same age as me, and now they're younger than me!?!?"
– Smart_Alex
The Shook Pediatrician
"My kids pediatrician was also my husband's pediatrician when he was a kid. He was the first kid she had to come back as a parent and she was SHOOK."
– trixtred

Older Together
"See, that's what really kinda drives it home for me."
"I'm not bothered that I'm 48. But that means my school friends are 48, and that's weird for some reason. Like, I went to school with a guy who was wild and crazy. That guy is 48 now, and has a new grandbaby. Somehow, he's old, and I'm just 'getting up there '."
– ThatWeirdTexan

Relics of the past don't just pertain to humans.
Dialing It In
"Had a co-worker ask me, 'Back before cell phones, did you just have to wait around at your house for a call?' Uh, yeah, pretty much."
– Status-Effort-9380
"Reminds me of having to explain the concept of collect calls to my kids. The whole speed speaking where you were for pick up during the recording so your Mama never accepted the collect call."
– DaraScot
Legendary Aircraft
"Various colleagues were debating whether the Concorde had been real. They couldn't fathom that supersonic civilian aircraft used to exist and now they don't anymore."
"The Concorde last flew in 2003, when these colleagues were toddlers."
– geckos_are_weirdos

Foreign References
"We were talking about where we were on 9/11, and my coworker went quiet. He wasn't even born."
"We also had a band that was famous in the 90s stay at the hotel, and he had no idea who they were, meanwhile I was so star struck as they were my entire childhood!"
– Itsagabby

Gravity is not our friend, and not just because of its effect on our faces.
The Day It Went Downhill

"When i fell down the last couple of steps on a stairway. No one pointed and laughed like I expected, instead they helped me up and asked me if I was okay. That's when I knew."
– day_of_duke

It's About The Recovery
"F'k. That has to be a bummer."
"You fall. You know you're fine. You feel like an idiot. You get ready to wave to the crowd as they laugh and clap. But then... a hand is placed on your arm and you hear 'that was a big fall, are you ok?' You stay in shock for a moment. Of course, you're fine. Everyone is looking at you. They all have concerned faces. Sh*t. Two weeks later, the soreness finally subsides."
– minimalfighting

Ice Slip, You Slip, We All Slip
"This happened to me as well....walking my dog the day after a huge snowstorm. There were some rowdy teenage boys having a snowball fight across the street (schools were closed that day, of course). I slipped on the ice, my feet flew over my head and I landed solidly on my backside. As I struggled to get up I braced myself for the laughter and catcalls, but all I heard was "Are you OK Ma'am??' 'Do you need help??' I was in my early 50s and had never felt 'old' until that moment."
– Ouisch

Conversations with younger coworkers can be fun.
You can quote lines from your favorite TV shows and talk about the latest CD you bought at Target and brag about your new digital camera that takes better pictures than a smartphone.
And then you can watch the blank expressions on your coworkers' faces because they haven't a clue about what you speak.
Yeah. This has never happened to me...
Old.

Working at a job where you get along with coworkers is ideal.
Strong teamwork can establish efficiency, and good rapport at the workplace can inspire friendships.
But not even the kindest person can vibe with everyone despite good intentions, and it could be due to toxic personalities.
Those types of coworkers can be ones who are unfriendly, manipulative, super arrogant, or completely lacking in self-awareness.
Annoying right?

Curious to hear about the latter, Redditor Woodchipper_AF asked:

"Who is the most insufferable a**hole you've ever worked with?"
These individuals did not look forward to showing up, due to individuals who've made their lives miserable.
Sweet Revenge
"At my old job, my boss would give me difficult projects from difficult clients. When I finished the project, she would go into the system and add her initials (whoever does the work has to initial after every step) and take off mine."
"Then she would go to her supervisor and be like, 'Look what I did! Hehe!' And she would get all the credit. When I finally figured out she was doing that, I wouldn't let her know when I was done, and I would personally submit my work to her supervisor."
"His mind was blown that I just 'magically picked up the work so effortlessly,' and I got promoted lol."
– i_am_dean

New VP In Town
"Matt, the new VP of operations decided that everything about our company needed to change, including undermining my role, essentially taking over my team, and started implementing these incredibly micro managing processes that nearly halved our productivity, then blamed it all on me. He then proceeded to place our junior as the team lead and left me on my own island. It really felt like he was trying to get me to leave and well, he got what he wanted. F'k you, Matt."
– Corgon
Her Way Or The Highway
"Sierra. Sierra knew the answer to every single question, had better ideas than you, had done more than you had done, tried everything that you thought of, seen more a problems than you had, and just all around was an insufferable know-it-all. Everything had to be done exactly the way she wanted it to be done even if it didn't need to be done that way, it still had to be done that way because that's the way she wanted it. She micromanaged everyone around. I was so happy when she moved to a different job."
– edgarpickle

Major Hypocrite
"Sounds like my insufferable coworker. Except mine is also a f'king hypocrite who'll rat you out for bending a rule that is flexible while constantly breaking rules she's not supposed to because she's been working this entry level job for 30 years."
"I look forward to the day she gets fired but unfortunately this is a union job."
– sketchysketchist

Sometimes, things backfire.
Called Out
"I had a coworker who would sh*t all over my ideas in meetings and then offer up the same solutions I'd just offered like 5 minutes later. Everyone watched her do it and I don't know if she thought she was getting away with something or had some kind of mental block where she didn't even realize she was doing it. After a year or so we had this guy Dave get hired and the first meeting she did that he blurted out, 'wait a minute, 5 minutes ago Joe suggested that and you sh*t all over it.' And she was kind of like, 'Oh,' and like mumbled something while everyone stifled a giggle."
– Homerpaintbucket

The Saboteur
"Lady tried to get me fired and was totally harassing me - it backfired and she was escorted out by HR. I've been with my company for almost ten years now. See you never✌️"
– natureismyhappy

Gaslighting
"Yeah I just went through 2+ years of hell because of a total abusive gaslighting coworker a-hole. She would say abusive stuff to me when no one else was around and then completely deny it with management. She would create weird situations to make me look bad or crazy and would like daily attempt to turn coworkers against me. She would straight up mock me in front of coworkers and customers. Also, many incidents of her mocking me for being a guy and being 'too sensitive.' Sh*t like 'You are too sensitive. You should be able to handle what I say.'"
"She even knew I was sober (25+ years) and on a couple of occasions managed to make me feel like sh*t as if I was some total scumbag. It was unbelievably frustrating and I had no idea how to handle all this. I managed to kick alcohol and drugs a long time ago and survive a very rough childhood but had no tools to handle something like this. It was like the twilight zone. She successfully convinced management I was the problem and that I was making the whole thing up for a long long time. I felt completely defeated and hopeless."
"Massive stress for something like 2 years. I finally broke and told management do something or I will sue. They first hired a mediator who took us through the mediation process. I was not told what the mediator thought of the situation but I definitely get a sense the mediator told management yes you have a problem here."
"Then the company called in lawyers who investigated my claims. Took about 6 months but it turns out several of her own employees (we were both foreman) backed me up and from what I know the lawyers told my company they were in serious legal jeopardy. Every one of the women I work with said I am kind and never have I ever been mean, snapped or been rude to them."
"Several of them said they love working with me and some actually witnessed some incidents. I was kept in the dark as to the whole timeline of the investigation but one recent Friday management walked in and told her to gather her things and they escorted her out of the building. I literally had to step out and weep. Not just because it was finally over but why did any of this have to happen? I still don't really know why I was her target and I don't think I ever will. My stress levels are 1000 times better but yeah I think I need therapy. Still processing it all."
– Quinnjb
These are the kind of work colleagues you don't go out for drinks with afterward.
The Thing About Dave
"Dave."
"Dave is a guy who thinks he's much smarter than he is. He's been with the same company for 20 years and has worked his way up the ladder at a small company, where he now leads Operations."
"He's a control freak and micromanager and this job is pretty much all he has in life. He will do anything and everything to block progress and innovation and will ruthlessly stab anyone in the back who gets in his way."
"Sometimes I have pity on Dave because this job is as good as it's ever gonna get for him. I'm gonna leave this job soon and move on to better things, but Dave's gonna be doing Dave things until a heart attack or kidney failure takes him out eventually."
– rockit454

Can't Be Pleased
"Guy that I worked with on a cabinet door assembly line. One night we got done about 30min early and this guy throws a fit. How is he going to pay his bills if they send us home early ect ect. Two nights later we had to work about 45min late. This guy starts throwing a even bigger fit. No one helps us, whining we have to work overtime ect ect lol."
– Munson4657

Working Quitter
"Got a dude i work with who always claims he will quit when it comes to OT. Thing is, its never mandatory unless dire. We usually always have volunteers to fill in. Its been like seven years. Quitter still works there, claiming he's gonna quit."
– hobgoblinreacharound
I've been fortunate enough to have worked with amazing groups of people throughout my performing career.
But my first job experience as a 16-year-old was not a positive one. I worked in retail selling video games at the mall where I grew up.
My trainer who worked shifts with me behind the counter was the boss's girlfriend. She was condescending and would often abandon her job duties when things at the store was slow and go shopping around the nearby shops and department stores.
Of course, whenever she was gone, I dealt with mayhem. I had to figure out how to deal with exchanges, giving refunds, which I had yet to learn.
I also had to call security on a kid who wandered in unattended and swiped an item from behind the counter, then later dealt with his irate mother who had to leave her job to pick up her kid from the mall and yelled at me for accusing him of stealing.
After two weeks, I quit.

"Never dip your pen in the company ink."
An age-old cautionary saying urging people not to get romantically entangled with their coworkers.
Doing so used to be illegal at many companies, whereas now it's grown to become a bit more commonplace, and often results in some cases of wedded bliss and happily ever afters (as demonstrated by The Office's Jim and Pam.)
Of course, when entering a relationship with a coworker, be it a one night stand or a committed, multi-year relationship, there is always the risk that it might not end well, resulting in your being forced to see your ex every day at the office (Bridget Jones anyone?)
Redditor Headbobby was eager to hear from people who became involved with their coworkers, specifically the aftermath, leading them to ask:
"People who slept with a coworker, what happened after?"
Well, That's A Success?
"We became friends and she donated a kidney to me lol."- Headbobby
As If Nothing Had Changed...
"Got married 2 years later."
"'Co-worker' can mean different things and different circumstances, for instance:"
"Our company had 130,000 employees world-wide."
"Our group was housed in a building with 1,000 employees."
"We were not in each other's chain of command."
"It could have been somewhat awkward if it did not work out, but not awful."
"It did work out."

"Later on, saved money by carpooling!"- SyntheticOne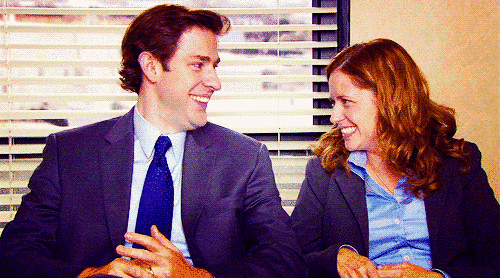 The Office Laughing GIF by NBC
Giphy
Just Couldn't Fight The Chemistry
"We were both working as actors in a small film, cast as romantic leads."
"She noticed I got tense when we had to kiss... and suggested we go on a date to practice kissing."
"We played mini-golf and practiced kissing."
"Then we continued practicing in her car in the parking lot after the mini-golf place closed until a cop came to investigate."
"Then we got a hotel room and practiced other stuff."
'I guess I'm a slow learner because she's still giving me remedial lessons."- Jake_Science
Nothing Personal, One Hopes..
"She had to fire me."
"Poor performance."- bilvester
Consider Long Term Goals First
"Fun."
"Highly recommend if you have a job."
"Do not recommend if you have a career."- bluegiant85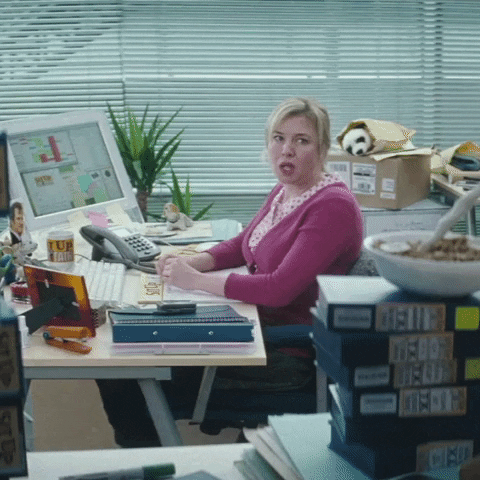 Renee Zellweger Office GIF by Working Title
Giphy
On To Bigger And Better Things
"Dated discreetly and after four years we got engaged."
"We then both told our supervisors we were leaving in the summer."
"At our last meeting as they were doing their good bye lunch for both of us with about 30 coworkers, they had us say a few words."
"I went first and said I was moving to a new city."
"Then it was my fiancés turn and she said she was also moving to that city, with me, because we're engaged."
"It was glorious."
"We are happily married for 13 years and have an awesome daughter."
"Life is goooood."- lmc227
Jealous Much?

"I had a supervisor that I really hit it off with and had great chemistry."
"As soon as they found out we were dating, she got fired and immediately found a better job."
"We've been married for almost 13 years now."
"I feel I should clarify a little bit while still keeping the details as vague as possible because quite a few people worked there."
"She was my boss in the sense that if she told me something needed taken care of, I was expected to take care of it."
"She didn't actually have the power to fire me if our relationship went south, but she probably could have gotten me fired if she had been that type of person."
"We worked there for two years before anything remotely physical happened."
"Our lunch breaks lined up."
"After a few conversations, we became friendly and started spending most of that hour shooting the sh*t with each other."
"I was crushing on her hard, but didn't think she'd be interested in dating one of the janitors, so I didn't say anything in an effort not to make things weird at work."
"One day I let it slip to one of the other janitors that I had a crush on her."
"He thought it would be hilarious to immediately go and tell her what I said."
"The next day, she asked me if I had really said that."
"I was really embarrassed but admitted that I had said it."
"She basically told me she was feeling the same way and gave me her number."
"11 months later, we were married."
"There were two guys in upper management that had asked her out and been rejected."

"Their egos obviously took a hit when they found out she chose me."
"She was fired after being blamed for someone else's mistake."
"Then they refused to show the proof that she was the one responsible."
"It was bullsh*t, but it only took her two weeks to find a job that paid a lot more."
"Once they did that to her, I immediately became a terrible employee and openly talked sh*t about everyone in management until they really had no choice but to fire me."- Imahorrible_person
Nothing Lost, Nothing Gained
"We did it a couple of times then both went on with our lives."
"It was just something we both wanted to do temporarily."
"Neither one of us wanted it to be serious or long-term, and so it wasn't."- Listening_Heads
No Regrets Whatsoever
"We moved in together, got engaged, bought a house and had a baby."
"Don't let a job get in the way of your life."- AllSonicGames
Who'd Have Guessed...
"I slept with my boss back in 93."
"She instigated it."
"She's sitting beside me."
"30 years later and two adult kids."
"Worked out!"
"I should add we did NOT care for each other at first. It was definitely not a case of 'will they, won't they' but more of a 'will he quit or won't he?'"
"Funny how life works."- Uncle_Bug_Music
Proceed With Caution
"Fun while it lasted, but very awkward after."- BrianH-84
Love cannot, and should not be denied, even if it is a coworker.
Anyone looking for a one and done, however, might want to look beyond the walls of your office.
Unless you like constantly being reminded of your past mistakes.
My second college internship led me to a small content creation company. It was so small that the two editors were the only paid employees. Everyone else was an intern.
I was excited to start so I could add more to my portfolio only to realize that one of the editors replaced my name with hers every time she edited one of my articles. Not much of the content was changed, but I was too shy to question it.
I eventually found out that she did this to all the interns, and most of the interns had learned to private message their draft articles to the other editor, who did not take the bylines.
I asked one of my fellow interns if the founder of the company knew the editor took bylines. Turns out, the founder knew, but for some reason no one else could figure out, the editor never got fired.
It turns out this story isn't unique. There are lots of instances when someone does something at work that should get them fired, but they manage to hold on to their job. Redditors have plenty of stories like that and are eager to share.
It all started when Redditor Shelendrea asked:
"Have you ever witnessed something that should've gotten someone fired at work? If so, what happened?"
Needs More Than A Demotion
"Coworker jokingly threw a box at my chest and knocked the wind out of me and I collapsed. He begged me not to tell anyone and I didn't. The guy was a weirdo. He'd talk about how he'd burn insects and starts fires. Weird sh*t. He ended up getting in more trouble later on for some reason or another...crass jokes, sexual comments....either way, he eventually transferred stores and I never saw him again. This all happened back in 2013-14."
"Fast forward to earlier this year 2023, my store was getting a major remodel, and he was one of the managers that came from afar with a team of workers to do the remodel. I was surprised he was still with the company, let alone in a leadership position. I said hi to him a time or two, but he was busy with the remodel project on the other side of the store so I eventually stopped seeing him."
"This whole time things were tense between the remodel crew and our store crew. Pallet Jack's getting stolen, supplies going missing, etc. Both sides hated each other."
"I hadn't seen (we'll call him John) in a few weeks and noticed there was a new manager on the remodel crew. Either way, things were finally cooling down between us."
"Out of curiosity I asked one of the remodel crew what had happened to John, and they told me, "Oh you didn't hear? He got demoted for trying to start problems between our teams. He'd tell us to steal your pallet Jack's and tried getting a few people to fight.""
"Unreal."
– AdamR91
Got Milk?
"I worked in a milk factory. I was working with a man that was a bit off. We had to take the milk cartons on a conveyor belt and place them on a pallet. While we were working he said "time for a break" and slammed a blade used to open boxes into the conveyor belt. The conveyor belt got absolutely destroyed and the machine was in maintenance of two days after that."
– LyricalJerrycal
"Hey, when it's time for a break, it's time for a break."
– MyOpinyunIsRight
"How dairy?!"
– StrongestAvenger2211
Money, Money, Money
"The supervisor left the safe open."
"At this job, he should have absolutely gotten fired but his blunder got overshadowed because one of the douchier employees stole 50k and went on the run for over half a day."
– BW_Bird
"...doesn't that just highlight why the supervisor should keep the safe shut?"
– akaioi
"You'd think."
"Honestly, I wasn't too upset. Sups was a nice guy."
– BW_Bird
A DQ Thing
"When I was in high school, I worked at Dairy Queen. I was on the opening crew one Saturday and the assistant manager unlocks the doors, lets us in, and tells us "Guys, I'm really hungover right now so I'm gonna sleep in the back. Wake me up if you need me." She goes back and curls up on top of the laundry machines (we washed all the uniforms on site because they get covered in ice cream). It was a slow day so and she was the cool manager, so we all let her sleep and never told the owner."
"Another night, one of our cook's buddies parked their car in our lot and he just hung out there with them smoking weed for a couple hours. If someone ordered food, we'd go out and get him. He'd come back inside, cook it, and go right back out. The rest of us had the decency to smoke after work, but nobody ratted him out either."
– SeveralAngryBears
"Must be a Dairy Queen thing. When I was seventeen I was the grill cook at Dairy Queen and the employees had a pact with each other that if one of us came in after 4 pm when we weren't working and made food and walked out with it, nobody would see the person doing it. We only had a shift leader, no managers after 4pm. So, my friends and I would smoke weed, drive to Dairy Queen, and I would walk back to the kitchen and cook a bunch of fried food and burgers, then take it out to my stoner friends waiting in the car. As you can imagine, I was pretty popular with my weed smoking friends."
– Horror-School-6713
Going, Going, Gone
"At my last job we had this guy who seemed normal, I knew he did some club drugs outside of work but I don't have a problem with that. Anyways, he shows up to work one day COMPLETELY f*cking blasted. Like couldn't walk right, couldn't talk. This motherf*cker gets mad at me when I send him home, the next day I get to work and our boss is like "hey man what did you say to Tyler last night? He said you're a huge a**hole and he's never working with you again". I told him and my boss goes "oh. Okay. Well I think he quit, he said if I don't fire you he's done here""
"Bold f*cking move to make after showing up in a k hole during your third week of work at our company lmfao"
– _clydebruckman
A New Kind Of Sneeze Burgers
"Was working at McDonald's. Watched a female crew member sneeze into her hands, and proceed to make a wrap and sent it out. I threw it in the bin before front staff got it."
"Edit* I should mention - I was genuinely shocked to see it happen. McDonald's are extremely strict on hygiene. I reported her to a manager, but she denied it and said she sneezed into her arm. We were too busy for anyone to check cameras."
– RewardNew5810

Nepotism At Its Finest
"Work in a residential setting for teens with behavioral issues. There's 1 staff in particular who should not be working with kids and it was clear on my 2nd day. He's almost 50 and behaves like a 15-year-old. He's always going back and forth and gets mad about everything with them."
"One day, things got heated between him and a kid for the 100th time and he ends up choking the kid. The kid was actually being more mature about it and he wanted to continue to fight the kid. We separated them and I was holding the staff back when he started to get mad at me for not letting him beat up a 14 year old."
"I've only been at this job for 3 months and was told by other staff that this has happened multiple times now with different kids."
"He still has a job because he's best friends with the 2 bosses."
– i-piss-excellence32
Wrong Accountability
"I worked at a special needs day program many years ago. Wednesdays were classic film day at the local theater and we'd take the clients. I was a 1:1 meaning I had only one client. My direct superior had 3, and a substitute had 4. The substitute lost one of her guys and didn't realize it until after the film when we were counting clients."
"Long story short, I got fired & the superior got fired. But the one whose responsibility it was to watch him kept her job. The client was fine, though, he was found a mile down the road asking for a police officer to help him find his way home."
– iateacakeonce
It Is The Night Shift
"I work overnights at a hotel. They hired a guy to be the security/valet and in the first two weeks he was found sleeping on the job. The first time he was found by a third coworker. We told the manager and nothing happened. The second time the manager found him sleeping in the bell closet in a wheelchair. He got sent home but didn't get fired."
– aolewahine808
"I'm overnight too, sometimes it feels like they just want a living body and don't care about much else."
"One of the guys I've had over the years would fall asleep constantly and sounded like he was drowning he snored so horribly, no consequence."
– wickedblight
Santa is Real!
"I worked at a small map company. Our first task when we started was to add rivers and lakes over satellite imagery/topographic maps. It was a summer job when I was in college. Both me and the guy who worked next to me were 19-20ish. It was very dry, repetitive, tedious work. We weren't really allowed to talk while working so for the most part just plugged away at our own computer stations. Occasionally we would write notes to each other. Towards the end of the summer when he was about to go back to school my coworker went off the deep end. He just started drawing line art with the GIS software and naming them things. He drew Santa and his reindeer. Made up like half a dozen lakes with a bunch of whacky names like "Lake Milk Was a Poor Choice." I didn't tell anyone what he did and I wonder what the quality control people thought of it. He definitely would have been fired had they known."
– JMaple
Just One More Zero
"Yep."
"Few weeks ago one of my sales rep comes in to drop off paperwork for a sale he had just completed."

"The whole time he's bragging about how the customer couldn't believe his great deal even though he was paying MSRP."
"I take the paperwork, and start looking through it to verify the same amount to put the commission in for payroll."
"I come up on the price, and in the box it says: $2,100. I look at him in complete disbelief. I show him where he put the price, and his face went white as a ghost."
"$2,100 when it should've been $21,000. By misplacing the comma, and not adding an extra 0, the dumb S.O.B let a BRAND NEW UTV GO FOR $18.9K BELOW MSRP!!!!!!!"
"I had to tell the owner who told sales rep that 1% of the price would come out of all future paychecks until the price was paid back."
– amethyst_haired_emo
Yikes!
"I worked in a pizza restaurant from age 15 to 23. My answer is almost everything. Just a tip, when people say be kind to your servers, this is for your own benefit, not theirs."
– Silver-B-NotGold
I used to be a server. This is very true!