"I'm too old for this sh*t"
The iconic words of Roger Murtaugh, portrayed by Danny Glover, in the Lethal Weapon movies.
A thought that all of us have with each passing year, both about things we're now tired of doing, and things we once loved, but don't find as much joy in any more.
After hitting the big 3-0, we find ourselves increasingly surprised by the things we used to find fun, but now might find almost intolerable.
Redditor nonchalannt was curious to hear the things people lost their taste for after their 30th birthday, leading them to ask:
"What's not "cool" anymore when you turn 30?"
Actually worrying about anything being "cool"!
"Being cool."
"Actually for me it was around 35, because I like banging my head into a wall."
"But others started realizing earlier than me."
"Everyone I knew started realizing that all of the things I thought were cool when we were 20 were actually really, really dumb and unimportant and weren't interested in them anymore."
"And I'm not even married or have kids, I can't imagine how stupid the sh*t I was into would seem if I had a family."
"However, video games I played when I was young still seem cool to literally everyone my age, so that didn't change even though I expected it would."
Early to bed, early to rise... or at least early to bed...
"I value my sleep a lot more at 30 than I did at 29."
"It scares me."
"I'm not in my twenties anymore but life is good."- arcanehavok743
"Sleep deprivation."- Hoppy_Croaklightly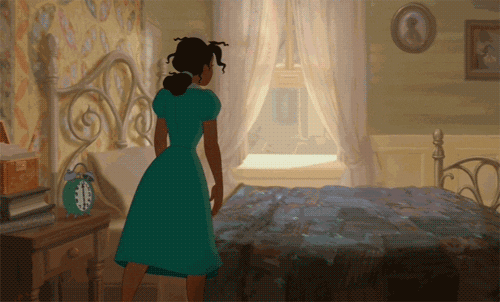 Tired Jet Lag GIF
Giphy
Yeah...I'll just have one glass
"Hangovers."- writer_rat
I'll pay up for convenience.

"Teenager/early 20's: 'yo we can save money by booking the 7am return flight and not paying for accommodation - lets just stay at the club until 5am or sleep on the airport floor!'"
"30yo: I'd rather die."- Gravesens1stTouch
I'll be transparent, and I'll honor my plans!

"Bailing on plans last minute."
"If you don't want to do something, just say so."- freakanature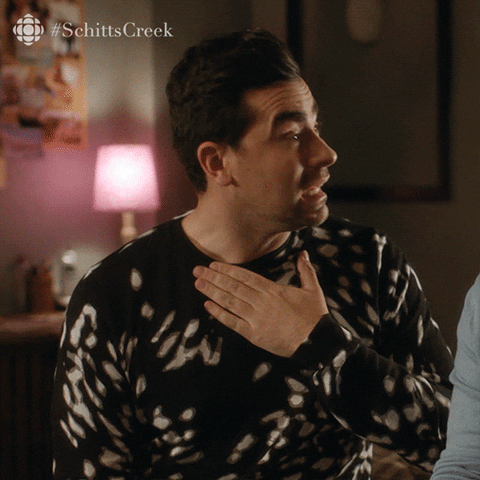 Schitts Creek No GIF by CBC
Giphy
Dude, we graduated over ten years ago!

"Bragging about your high school accomplishments."- Hysterical_Realist
Yeah... I'll get my own...
"Sleeping 8 to a hotel room to save money."- UrDraco
So this is what it's like to have a savings account...

"Spending all your money at the bar on payday."- deputytech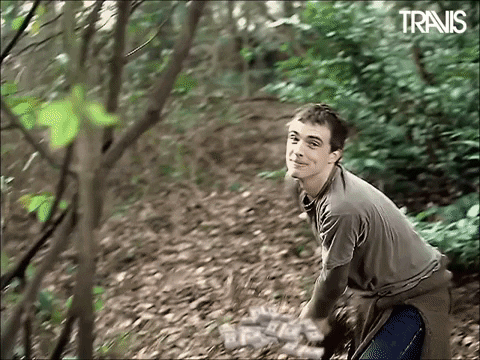 Paying Make It Rain GIF by Travis
Giphy
Life is meant to be enjoyed.
"Here's some prospective from way in your future."
"I'm 64."
"When I was in my 50's my motto was, 'Oh, well'."
"I have 2 mottoes for my 60's."
"'Anyway, doesn't matter', and 'I don't need that stress in my life'."
"It's a great place to live."
Our tastes and interests change with each passing year.
Hence why staying up till 5am drinking straight from the bottle and eating nothing but potato chips might not have the same appeal.
Though no one should look back on those moments with shame or embarrassment.
After all, a good time was had by all, and that's what your 20s were for.
Keep reading...
Show less
One of the coolest things about working from home is that I can literally do my job while sitting on the beach. It's a feature I take advantage of often - like this morning.
My morning beach trip ended with me looking mightily uncool, but Reddit helped me feel better by pointing out that some things just aren't doable in a cool-kid kind of way.
Having a toddler pee on you while you slow-mo fall down a sand dune because you're overloaded with bags (and currently-peeing baby) is one of them.
Reddit user Apxm asked:
"What can nobody on Earth look cool doing?"
Y'all read this, I have laundry to go do.
No Smooth Recovery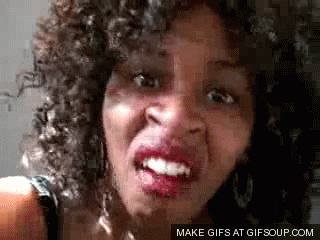 coughing GIF
Giphy
"Recovering after saliva sinks into your throat and makes you choke."
- NoPaleontologist6056
"Or worse, your drink accidentally starts down the wrong pipe and you cough for hours afterwards."
"And then someone asks 'Do you need a drink of water?' NO! That's what caused this!"
- narrauko
"This happened during a job interview once."
"As soon as I sat down at the desk, the manager took a drink and it did not go well. It was very awkward... and I had no idea what to do. I did not get that job 🤣"
- Violetrose806
Wind
"Trying to pick something up that's blowing away in the wind."
- FungicideEater
"One time one a windy day a dollar blew out of my hand and I chased it for a couple steps. Then I realized what I must look like and I just walked away lol"
- nobodyeversoslightly
"My grandmother broke her arm doing that."
- dirtythirty1864
Spontaneous Karate
"Unexpectedly walking into a spider's web."
- Feels2old
"Why do they always get me in the eyes??? Every freaking time!"
- Obviously_a_douche
"We call that spontaneous karate."
- NotMandinga21
"There is no better karate instructor than a spiderweb to the face."
- tartar-buildup·
Why Is This A Thing?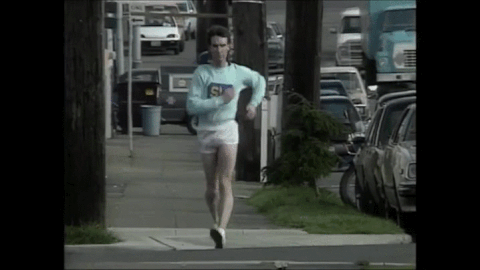 sitepandawhalecom GIF
Giphy
"Racewalking."
"Why does that even exist? And how does anyone ever decide that what they wanna do in their lives is to walk professionally?"
" 'I will walk... I will walk faster than anyone has ever walked.' "
- V02D
"I tried to watch a bit of every sport during the Japan Olympics, so I gave race walking a shot."
"It suuuuuuuuuuucked."
"The worst part of all is that they go for like 55kms or whatever it is, and it could easily be a beautiful loop through Tokyo, past different interesting scenery. But it's not. It's a 1km loop that they do 55 times."
- svenson_26
"The biggest let down of my life was watching the start of the Junior Olympics race walk."
"Tons of anticipation…the starter's voice calling 'Racers to you mark!'…the BOOM of the gun"
"…aaaaand 8 people start walking."
- Hecho_en_Shawano
Getting Out
"Getting out of a beanbag chair."
- hmmgross
"Especially if you are pregnant."
- RainbowsarePretty
" 'Come on, let's go!' "
" 'You guys go ahead, I'll catch up...' "
- 3-DMan
"You do a tactical roll off of it to look cooler."
- jetpuffedo
Responsible Ownership
"Carrying a bag of dog sh*t."
"I literally said to a guy at the dog park not 30 minutes ago, as I was walking to the garbage can with poo bag in hand...'no one can make this cool.' "
- Marlowebabe
"My dogs drop a load & for whatever reason, want to get away from it asap."
"So not only am I cleaning up poop, I am yelling and struggling with two big labs pull me trying to run away from the pile."
- dailysunshineKO
"Having a very weak stomach and gagging and retching while picking up my dog's steaming pile, I definitely don't look cool."
- Rude_Imagination_981
The Chase
"I worked with someone who parked her golf cart on a hill near the green."
"I still remember seeing the look of terror on her face as she chased after the cart as it start rolling down the hill towards the pond."
"She did not look cool. Nobody could."
- cagibaxii
The Fart Table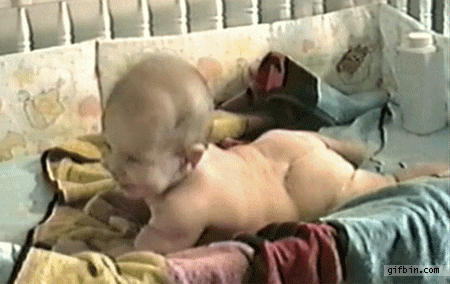 Baby Fart GIF
Giphy
"Recovering on the fart table after a colonoscopy."
"They have to inflate your colon to get easier passage and a better view and all that gas has to come out. You spend a good 5-15 minutes just ripping the biggest farts (by volume) of your life."
"I'm sure they're 100% used to it because I was warned as my first one started."
- Revenge_of_the_Khaki
"I did 15 minutes on the fart table after mine."
"For those wondering, after a colonoscopy you lie on a table that tilts so your butt is slightly elevated, allowing the air that entered your colon during the procedure to rise and escape."
"A fart table."
- bbenji69996
Two Seater Trauma
"Getting out of the backseats of a two door car."
- No_Client7651
"Oh god I watched my mom do this couple months ago. I was wheezing on the ground from laughing so hard."
- moonkingoutsider
"It's feels like you're Ace Ventura being birthed from a rhino."
- Mowgli9991
Ping
"Chasing a ping pong ball."
- HoneyAndThunder
"Most undignified sh*t in the world. Actually kinda ruined ping pong for me."
- Bony_Eared
"Trying to chase after a ping pong ball that's on the loose and you can't properly anticipate each bounce is the most humbling experience."
- CountBacula322079
"You have to flick the ball with your foot and then you catch it, that makes it look cool."
- RicardoMayo_
We're all un-cool friends here, so it's your turn to talk.
Have you done something incredibly awkward lately? Or seen something nobody could possibly make cool?
Meet us in the comments, lets talk about it.
Want to "know" more?

Sign up for the Knowable newsletter here.

Never miss another big, odd, funny or heartbreaking moment again.
Keep reading...
Show less
Have you ever looked at some of the current things that are "IT?"
You see all of these things that are cool and are now cultural touchstones that change the world and you can't help but wonder... "When will this mess be over?"
Not to sound like an 80 year old. but... get off my lawn!!
Trends used to be a hip thing, like Rachel's haircut.
Now we have nonsense dictating culture.
And all we can do is wait it out.
Redditor Conscious_Camel4830 wanted to share thoughts about what popular aspects of life right now need to GO.
They asked:
"What current trend can you not wait to fall out of style?"
Remaking classic movies! STOP! Just stop! How about remaking the bombed movies correctly? Leave perfect alone.
Underscore...
"Videos that have unnecessary songs instead of the actual audio." ~ ciaranciaranciaran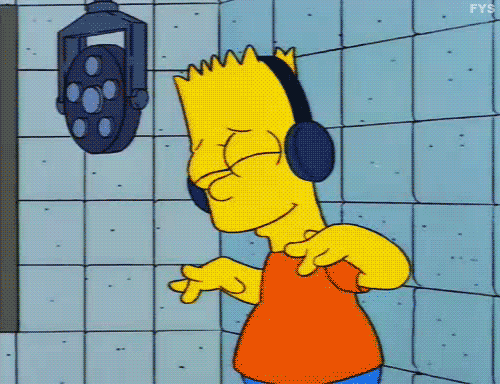 Giphy
Service Me
"Subscription services for everything." ~ rex8499
"I went back to r/Piracy for films and shows. If music ever goes in a similar direction, where I need to pay a number of different companies to hear all the music I want, I'll go back to pirating that too. App subscriptions have meant that the last app I bought, was in 2019. Games are still waaaaay easier to buy and 'own' legally than pirate and I hope they stay that way." ~ S-Go
Being Real
"Family vloggers. No kid should ever have to be exploited and subjected to attention-hungry parents like that." ~ ajcasta10
"Know too many people who only show their kids low moments such as temper tantrums and meltdowns to seem more 'real' to other parents. These kids will be traumatized when they find this stuff out in due time." ~ Zanderson59
"Eternally grateful I was born early enough to not have my youth put on the internet by attention seeking idiot parents without my consent. So many kids begin their digital footprint from no age and then grow up on the internet, uploading videos or embarrassing the hell out of themselves for everyone to see." ~ Heavy-Kaleidoscope62
Resell...
"Every kid reselling sneakers, I just want to get stuff for retail again." ~ Much_Committee_9355
"Scalpers ruin everything. I just want to buy a GPU at MSRP." ~ kenny1911
"Seriously! It took a year for me to finally get ahold of a decent graphics card for MSRP (6700xt) because of the rampant scalping."
"That same card, which I paid $450 for, was generally going for $800-$900 from local sellers, and it's a freaking mid-range card! Even at MSRP, it's the most I've ever spent on a graphics card, so they're not exactly affordable to begin with before the scalpers get ahold of them." ~ AlternativeFilm8886
Gotcha...
"Facebook, TikTok and other scripted stupid video 'pranks.'" ~ Soulshroude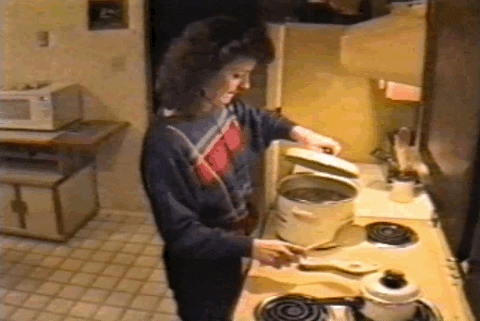 Giphy
All valid. Enough with the pranks. Is your life really worth a TikTok video?
Oh Lord
"Extreme photo filters. Jesus, Madonna! We know how old you are!" ~ Appropriate-Rough563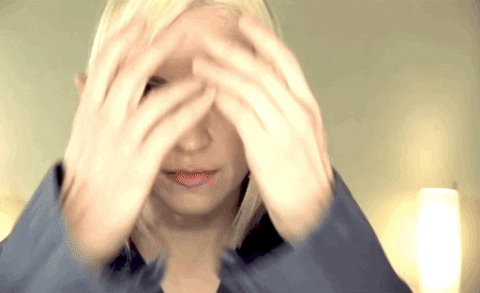 Giphy
"more interesting"
"Thinking that mental illness is quirky and cute. It's not, it freaking sucks." ~ Ness_902
"It's so bad that people almost had me convinced in high school/early college that I was somehow 'more interesting' because of my illness. Theres absolutely this weird fixation with having a difficult life, like it's a cool thing. Everyone wants to be the most disadvantaged."
"I wish I could not have disabilities or illnesses, it sucks, and I just don't understand whats so quirky or cute about it. I think a lot of people don't even have 'fake mental illnesses' like keeps getting thrown around in here. I feel like for a lot of people they may genuinely have struggles and illnesses but completely misunderstand it because of the current social media culture/lack of real awareness." ~ Talkingheadd
Plastics
"Cookie cutter plastic surgery. All these people look the same." ~ Trixgrl
"I just watched my first and last episode of Real Housewives Of Miami. I cannot continue to watch because I can't tell the women's faces apart. Same lips and cheeks and very dramatic eye brows. They were having a pool party but none would swim because of hair extensions. One woman's husband is the boob king of Miami and he had installed the implants of most of the women at the party." ~ Canadasaver
On the Menu
"The 'secret' menu. It isn't a freaking secret, you can just ask. There's not a special stock of things not already on the menu, just combinations of the same crap. If you want some off menu crap, just say what's in it. Might cost more, but whatever. There's no list of names for carp hidden in the kitchen." ~ somecow
Go Away
"Influencers." ~ ekhogayehumaurtum
"The only thing an influencer has ever influenced me to do was swipe away faster." ~ UpdateYourselfAdobe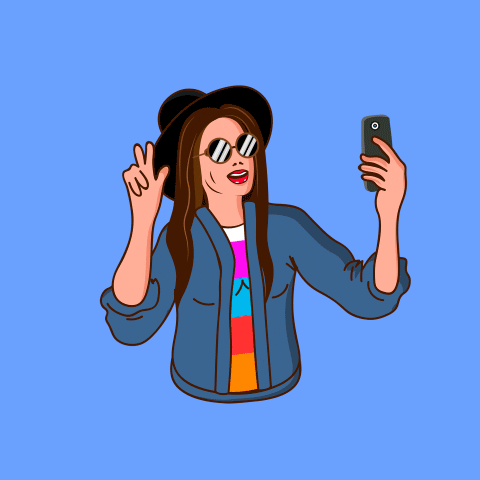 Giphy
I've lost all hope. Let's manifest better trends.

Want to "know" more?
Sign up for the Knowable newsletter here.

Never miss another big, odd, funny or heartbreaking moment again.
Keep reading...
Show less
The world is a cool place. So much is happening at any one second here on our planet earth, that at any moment there are so many cool things happening that you don't even know about.
But when you do know about it, it makes life that much more rich and interesting, and sharing that fact with others can bring them into that fold.
Redditor Not_a_Replicant_ asked:
"What's a cool fact you think others should know?"
Here were some of those facts.
Blood In The Water
"Human's ability smell petrichor (smell of wet earth from rain) is greater than a Shark's ability to smell blood in water."-issaparadox
"Wiki says: The human nose is extremely sensitive to geosmin and is able to detect it at concentrations as low as 400 parts per trillion. Some scientists believe that humans appreciate the rain scent because ancestors may have relied on rainy weather for survival."-broxae
Your Anatomy Literally Doesn't Match
"Muscles do not develop the same in everyone and their exact origins/insertions can differ between people. In some the biceps have three or more heads, as opposed to the normal two."
"Some muscles are entirely absent, such as the psoas minor (found in about 40% of humans) and the sternalis (only 7.8%)."-Ruffled_Ferret
Poisons In The Air
"Acacia trees were shown to send chemical signals to other trees that they were being overgrazed on, causing the other Acacia trees to increase the production of a specific chemical that would kill the animals overgrazing on them."-RustyCopal
"DMT is found in many different types of grass, even. It is found naturally occurring in way more places than people realize, but you'd need quite a bit of grass to extract enough for consumption lol"--Psychonautics
These facts may make you stop and reexamine more of the things you encounter on a day to day basis.
Feed The Dogs--Tuppence A Bag
"Dogs that are slightly underweight live an average of two years longer than dogs that are slightly overweight."-Holybull79
"Scientists also found that mice who were fed all their calories during a single feeding lived longer than those who were fed the same amount of calories but broken up throughout the day."-Lurkay1
Aeronautics
"I always find it amazing that the first flight and first moon landing essentially happened within 65-70 years of one another."
"Also a modern day iPhone has more processing power than the entire computer set up NASA has for that mission."-AmerisaurausRex
"Eugene Aldrin, the father of the famous moon landing astronaut Buzz Aldrin, not only witnessed the Wright brothers' first flight but also went to see his son land on the moon in his lifespan. We've been quick!"-cfitzi
Mr. Sandman-Send Me A Dream
"In the pineal gland in your brain, over time it will start to form tiny calcification, little mineral buildups. There is no known function for these but scientists named it corpora arenacea also known as dream sand."-jimbo-g
"René Decantes believed it was where our rational thought comes from. And possibly where our soul hangs out. (I think the second part is a pretty interesting thought)"-HalpOooos
Defeca Spacea
"There was a phantom poop on an Apollo mission. A poop, floating around, that none of the astronauts said was theirs."-chalk_in_boots
"I'm not in a position to look them up at the moment but the transcript of the conversation is amazing."-stierney49
"https://www.hq.nasa.gov/alsj/a410/AS10_CM.PDF page 416"-ACERVIDAE
Or they could simply come to mind one day and bring you a smile you've been needing.
Wrong Or Wright?
"They took a piece of the original Wright flyer to the moon with them on Apollo 11. Also, the picture taken of the Wright flyer during the famous first flight was taken by someone who had never seen a camera before that day."
"That was the first photo he had ever taken. The photographer's name was John T. Daniels. As others have said, all he did was press a button to activate the shutter."
"Having been his first time seeing a camera and his first time seeing an airplane flying, I still think that's pretty mind-blowing."
"Later that day, while retrieving the aircraft after the 4th flight, a gust of wind flipped the plane over. Daniels was caught in the crash but uninjured, while the plane was completely destroyed. Daniels would go on to brag about being the first man to survive a plane crash."
"Unfortunately, the Wrights would eventually experience the first fatal airplane crash too, on September 17, 1908. Thomas E. Selfridge was a US Army lieutenant who was flying with Orville Wright to look into potential military uses for aircraft."
"During the flight, one of the propellers broke apart, causing damage to nearby control structures on the aircraft. Orville did a commendable job controlling the aircraft, but it still crashed nose-first, killing Selfridge and severely injuring Orville."
"An airfield in Michigan was named after him, and you can see a piece of the broken propeller on display at the National Museum of the United States Air Force."
"If wikipedia links aren't enough for you, I highly recommend Birdmen: The Wright Brothers, Glenn Curtiss, and the Battle to Control the Skies, by Lawrence Goldstone."
"It goes much deeper into the Wright Brothers, their bitter rivalries with other aviation pioneers at the time, and the legal battles that would follow their success for decades to come."-dog_in_the_vent
One Fish, Two Fish
"The Devil's Hole Pupfish!!! It's a critically endangered fish, measuring about 1.2" (30mm) they live in an isolated body of water in the Devils Hole in Nevada. The water temperature is consistently 91 degrees (33*C), which is very warm for most fish."
"Devil's Hole is a water filled cavern stretching into a rocky hillside at an elevation of 2,400 ft, (730m) Devil's hole is over 430 feet deep (130m) and connected to a massive underground aquifer below that- but the Devil's Hole Pup Fish only occupy the upper 80ft of Devil's Hole. It gets much much smaller than that!"
"They primarily eat, live and spawn on a small shelf measuring just 11x16 ft (3.5x5m) with a total area of 176sqft (17.5 m). They have been living in this shelf, as an isolated species for up to 60,000 years!?!"
"They were discovered in 1930, and since then have faced many trials, agriculture trying to drain the water, vandalism, and outright attacks. They are now surrounded by protective fences and surveillance."
"Since 1972 (200 fish) the population spiked at 550 in 1995, but then saw a slow decline- at its lowest count in 2013 it was down to only 35 individuals."
"Thankfully it's back up as of 2019 to 136 individuals. There have been multiple attempts at conversation even going so far as to build an exact replica of the Devils Hole 22ft deep! (6.7m) and have raised many fish there."
"They have a very fascinating history, and remain largely a mystery. For such a tiny fish- millions have been spent on conversation efforts and protections, legal battles and defense."
"I think it's all completely worth it, they are the single most endangered fish on the planet and are completely unique to the Devil's Hole."-umamifiend
Saved From The 'Bies
"Opossums generally cannot get rabies. Their body temperature is too low for the virus."

"Also the stomach acid of a vulture is so highly acidic it kills rabies virus and most bacteria, which is why they can eat dead disgusting rotting things."
"To clarify, I mean vultures stomachs are crazy super powerful and destroy just about anything that gets in contact with the stomach acid, where we would get very sick from eating a rotting racoon."
"Also so happy to see all the interest in opossums and vultures. They are very interesting creatures that are gravely misunderstood and get a pretty bad rep."
"Opossums are master tick destroyers that generally want nothing to do with humans or are pretty chill about us. Vultures are a critical clean up crew that prevent the spread of disease in the environment that rotting carcasses could spread, such as rabies.""-ginpanda
The world is just so cool, that no matter how many facts you do learn, you can always learn more.
So much is going on beneath the surface on our world, and it's up to us to uncover and share each and every very fascinating fact to keep everybody's mind expanding.
Want to "know" more?

Sign up for the Knowable newsletter here.

Never miss another big, odd, funny or heartbreaking moment again.
Keep reading...
Show less
"Cool story, bro" ... except for real this time.
Normally when you hear that phrase it's spoken derisively, but today we thought we'd switch it up a bit. Why not? Our timelines and feeds are all so full of doom and gloom, we could all use a good energy shift. So let's vibe.
Reddit user CarltheChamp112 asked:
"What's a really cool thing that happened to you?
So if you needed a break from reading about the cosmic dumpster fire that is Earth, grab your shades and come rock with the cool kids.
A Free Vacation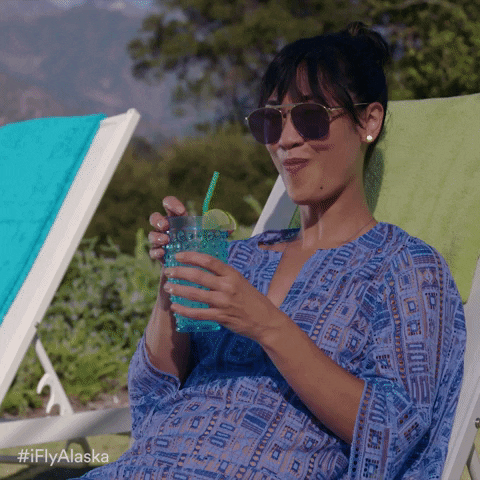 Family Vacation Drink GIF by Alaska Airlines
Giphy
"I used to wait tables and mentioned to some of my regulars that I was thinking about going on a vacation to Mexico. They owned a second mansion in Puerto Vallarta and offered it up to me."
"I got to stay there for a week! For free!"
"It had a private beach, snorkeling equipment, a car in the garage, walking distance to a resort etc. Best vacation I've ever had."
- Crabtoe
The Movies With A Movie Star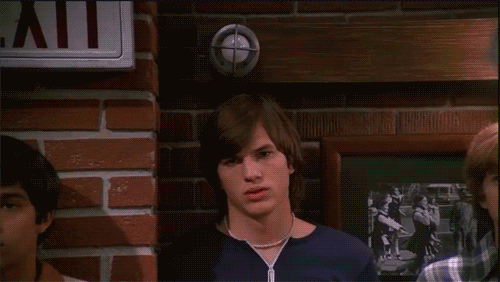 ashton kutcher idea GIF
Giphy
"I went to the movies with Ashton Kutcher."
"The short version of the story is that I was working for a limo company; me and another coworker were transporting him and his friend. Their flight got delayed, so he took us all to the movies."
"We saw World War Z."
"This was in Anchorage, AK. I actually have met a decent number of celebrities for someone who lives in Alaska."
"In general, I have weird luck -- it's either REALLY great or comically sh*tty. Keeps life interesting."
More Than $20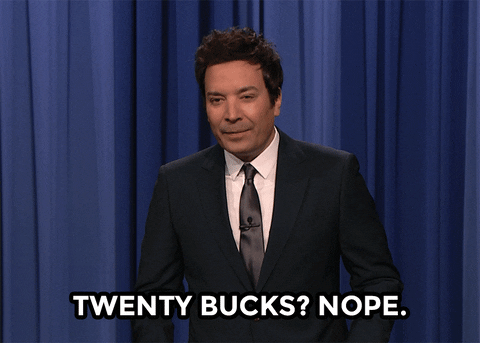 Jimmy Fallon Money GIF by The Tonight Show Starring Jimmy Fallon
Giphy
"Found a framed painting I liked at a Goodwill for $20."
"Turns out, it's an original Peter Max worth bit bit more than $20. It was appraised upwards of $15,000."
"Peter Max is a huge inspiration for my artwork."
"I have a sweater they made of one of his art pieces from the 80s. This would be an absolute dream to have."
"Muy jealous!"
- Xotaec
I Survived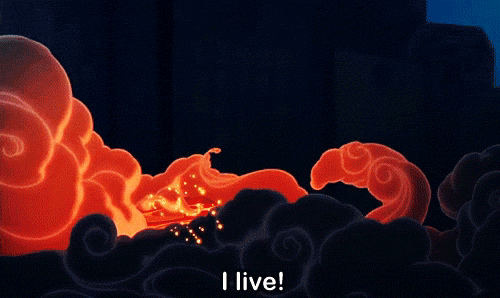 i live disney GIF
Giphy
"My stage 3 pancreatic cancer was found on accident when I was getting a CT scan for something completely unrelated, and I survived!"
"I went to urgent care originally for a UTI, but I was also having strange side/back pain."
"The doctor sent me for a scan to check my appendix. Apparently the pancreatic tumor is what was causing the pain."
"I was 19 at the time and it was a rare type of tumor typically presented in young females, so it was a super bizarre situation."
- cbdbun
Sneaking Around The White House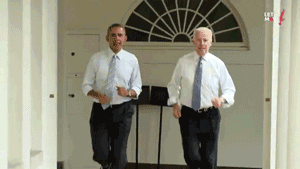 President Obama Lol GIF
Giphy
"I knew a guy who had a son who was secret service at the White House during Obama's term."
"I was able to get a tour of the White House and during the tour the guys son took me and my sister behind the scenes to see the kitchen and flower room."
"It was so cool sneaking around the back halls of the White House."
My Watch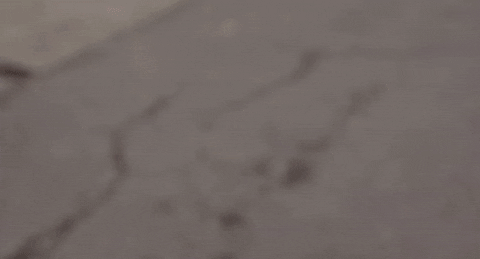 Relapse Records Watch GIF by Red Fang
Giphy
"Had my house in Pennsylvania robbed in 2012. They took a watch with my name engraved on the back."
"My father gave me that watch when I graduated high school. He and my brothers also had the same watch."
"Mine was engraved on the back with my name and class year. It was a Bulova Marine Star watch, so nothing expensive but it meant a lot to me."

"Fast forward to 2021. I now live in Oakland, CA."
"I get an invite on LinkedIn from some random guy in Philly, he doesn't really have a built profile, we have no shared connections, so I decline the invite."
"A week or so later, I get a message on Instagram:"
" 'Hi (my name), I'm in possession of a Bulova watch with your name and (HS abbreviation) on it. I googled you and this is how I found you. My number is 215-XXX-XXXX' "
"A few messages back and fourth, I tell him the story, he expressed he wanted to return the watch to me. I offered to pay, he wouldn't have it."
"I gave him my current address and I now have the watch."
"I was blown away that all of this had happened, and how generous one person could be. With so much negativity being projected at us constantly, I thought everyone could use a good story."
​God Contributes To The Delinquency Of Minors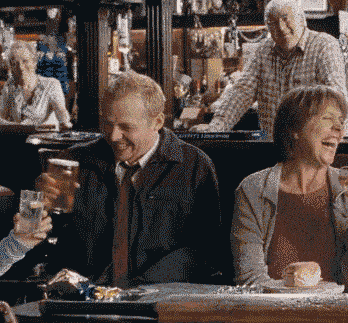 Happy Hour Drinking GIF
Giphy
"One time when I was 14 I was being a smart-@ss trying to get my dad to buy me a couple beers."
"I looked up at the sky and said 'God, for f*cks sake, if you're there please bring me some cold ones!' Very Christian of me."
"But I sh*t you not about 15 minutes later our neighbor from down the road pulls up to our house and shouts to my dad:"
" 'Hey Mike, I got something for you for catching my dogs when they got loose the other day!' and then he pulls off and goes to his house."
"About 10 mins later he rolls back up with a cold 30 pack of cold beers."
"My dad let me have one since he was in complete shock."
"Anyways, my God gives me beer even when I'm underage."
- MGCIII
The Launch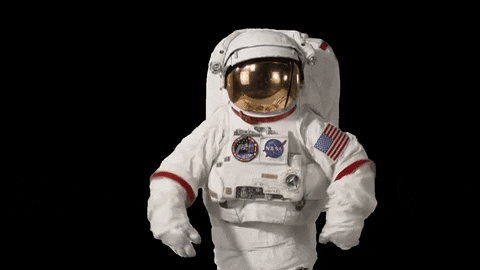 Dab On Ya Outer Space GIF by NASA
Giphy
"I'm GOING TO SPACE!!"
"I'm working with the company Worldview and I got chosen to go to space for free in 2023. I have my ticket and everything!"
"This probably sounds so unbelievable, but I work in social media and I'm basically one of the ambassadors for its first launch."
Coveralls Guy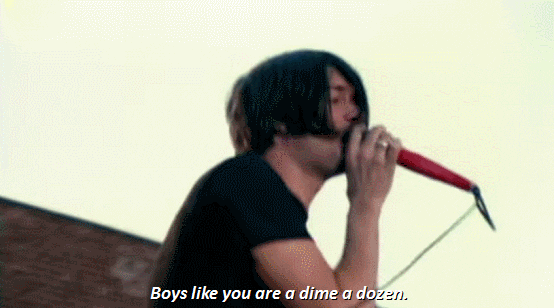 taking back sunday emo GIF
Giphy
"The lead singer of the punk band I went to see in concert stopped the show to get me a drink from the bar."
"I was around 19 or 20 and went to visit a friend of mine in a small city west of Toronto. We decided to go to a local bar that night to hang out and watch this punk band that had a song in current rotation on MuchMusic."
"I was feeling kind of angsty that night so we sat in kind of a secluded part of the bar, near a fire exit with a set of stairs to stay away from people."
"We were quietly enjoying our night, waiting for the band, catching up, drinking a beer when suddenly this cute guy in a pair of coveralls came almost racing by us and out the fire door, I assumed to smoke or do whatever."
"A few minutes later he re-appeared, raced by our table, then stopped and turned around, saying to us 'you never saw me!' "
"My friend and I continued to catch up when, about 30 minutes later, the guy returned and headed out the fire door again. This time, before he headed out he looked at us and said 'remember, you never saw me.' "
"Now, I thought this guy was cute and he had been somewhat amusing earlier - but this friend and I were really close and I hadn't seen her in a long time, so I was totally immersed in our conversation and not really worried about coverall guy."
"So when he spoke to me I was confused and merely replied 'What? Whatever man' before turning back to my friend."
"This time when coverall guy came back from the stairwell he stopped at our table and offered to buy us both a drink for keeping his secret. We said thank you, told him what we were drinking, and thought that would be the last of it."
"Instead, for the next several hours, he disappeared and reappeared several times, always bringing new beer and never speaking other than me saying thank you and him saying you're welcome."
"Finally it was time for the headlining band to hit the stage. My friend and I left our table and stood on the balcony, watching the stage."
"Whiiiiich means we had an excellent view when coverall guy got onstage and revealed himself to be the lead singer."
"The band played their first song and it was awesome - really loud and full of energy - the crowd was loving it. Then the song ended and coverall guy grabbed the mic and started walking around the stage, talking to the audience and asking if everyone was having a good time."
"Then he started telling them about how he'd been buying drinks all night for this girl, and she wouldn't give him the time of day. He pointed at me and said, 'And there she is! You ready for another drink?' "
"I said yes so he left the stage, approached the bar, ordered me a drink, brought it to me upstairs, then returned back downstairs to the stage and resumed the show."
"It was a cool night."
Eight Years Later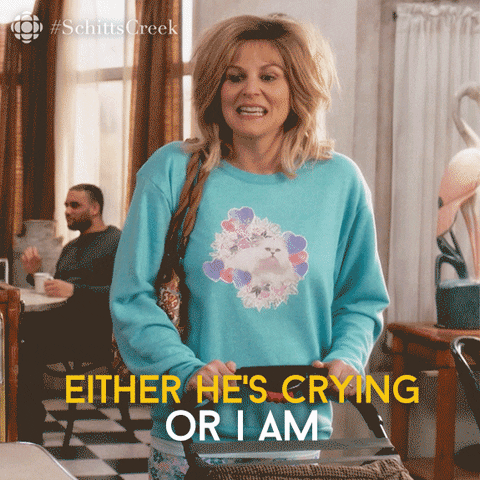 schitts creek crying GIF by CBC
Giphy
"A few years ago I had a pretty strong post-natal depression. I decided the best way to try and beat it was to focus on something other than kids."
"There was not much I could do since I was staying home with my three kids, so I just thought I might try writing a novel."
"Eight years later I'm a pretty famous writer in my country and live solely from literature."
Welp, that last one is particularly inspirational all things considered.
Being able to change your whole situation IS really cool!
Did any of these stories stick out to you or remind you of a cool thing that happened in your own life? Sound off!
Want to "know" more?

Sign up for the Knowable newsletter here.

Never miss another big, odd, funny or heartbreaking moment again.

Keep reading...
Show less