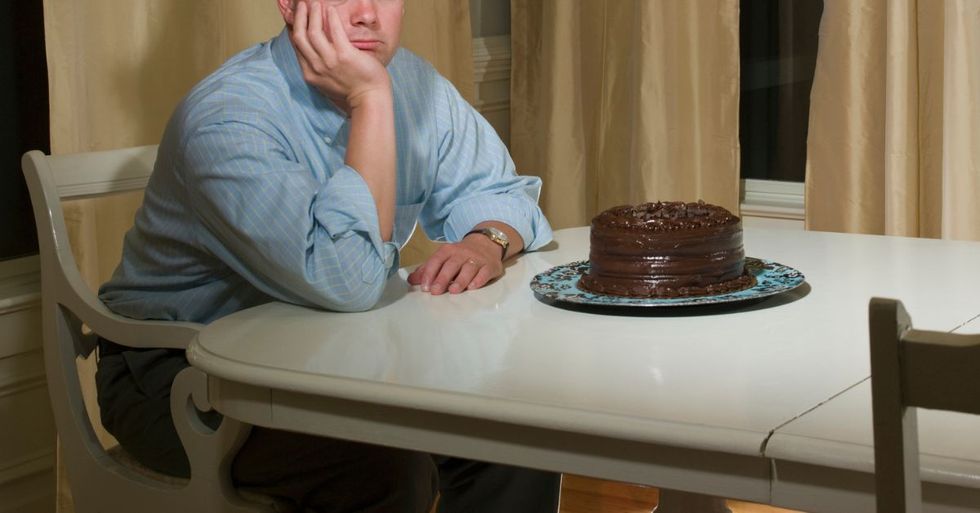 Not everybody has the cooking skills of a celebrity chef. Heck, not everyone can make microwave ramen without having to call the fire department. Those folks may just need to hang out in other rooms of the house, far from the kitchen. But a nice gesture is a nice gesture. When a bad cook concocts […]
More
Earning a college degree, especially a doctorate, takes a heck of a lot of work and definitely requires intelligence. Expertise in your usually narrow field of study definitely doesn't guarantee expertise in other areas — especially common sense, it seems.
Redditor SgtSkillcraft asked:
"Richard Feynman said, 'Never confuse education with intelligence, you can have a PhD and still be an idiot.' What are some real life examples of this?"
Too Much Ketchup
"My ex-boyfriends mother was a linguistics professor and knew over 10 languages. She was also one of the dumbest people I've ever met. Some examples: she believed that in case of emergency stewardesses catapult out of the plane; she was also convinced donating blood causes some blood disease and you can die because of it. But my favourite one was when she said her son's orthopaedic problems are not a result of a serious injury he had. His knee hurts because he eats too much ketchup."
- ImnotUK
"Man that ketchup is going straight to my knees. Ima need to sit for a minute."
- myrevenge_IS_urkarma
You'd Think An Engineer Would Understand Physics
"I had a boss who was an engineer who put a couple hundred dollars in change in a bank's pneumatic drive through tube where it got stuck and they had to use a jack hammer to get it out. He was upset that the bank was charging him for this because he didn't know this would happen. They had large signs saying not to put change in the tubes, including on the tubes themselves."
- RumBunBun
Self-Powering Power Strip
"My first call at my first IT job was in a medical laboratory. There was a doctor who had been in the job for years and she called saying her computer would not power on. I walked her through some troubleshooting and nothing worked. "Is the computer plugged in? Ok, is the monitor on? Ok, when did the problem start?" type of questions were asked and she answered them all. I go up to her office and indeed the computer is plugged in to a power strip which is plugged in to itself. Cleaning crew had deep cleaned her office and never plugged anything back in. Dr. plugged the power strip into itself thinking that as long as it was plugged in, that's all she needed."
- acheron53
Liquid Displacement Isn't That Complicated, Is It?
"I was at a keg party at college and the (gravity keg) was set up. Someone complained that the beer was not flowing, so I check that the keg was still almost full. Turns out someone closed the air intake on top. I opened the intake and poured myself a beer. Problem solved. A few minutes later someone else complains the beer is out. I told them the keg was full a few minutes ago and it was a tap problem that I fixed. They told me they just came from the keg. I go back to the keg and find the intake was closed again. Opened it and poured the young lady who said it was empty a beer. As she is leaving my suitemate comes in and goes to the intake can closes it. Now my suitemate is a straight A student who gets all As mostly due to his photographic memory."
"Back to the keg. So I tell him that he needs to leave the intake open to let air in to displace the beer coming out of the lower tap. He then proceeds to tell me that since the beer is carbonated air is not needed to replace the liquid volumn lost when the beer is dispensed. So I asked him two questions; If it is not needed, why is there the upper tap, and does he really think the amount of gas the carbonation gives off in a glass of beer is equal to the volumn of the liquid beer? He thought for a few seconds and his only response was, "I have a 4.0, what is your GPA?" Then he walked away."
- vpniceguys
Med Students Aren't Immune To The Bystander Effect
"Not quite PhD. But I was at a party (in the uk) full of med students and stereotypically everyone was off their face drunk. Well some guy fell over and broke his collar bone and immediately got rushed by a dozen of them all fussing and asking him the same questions over and 'going through the checklist'. Half an hour later and he's still on the couch in pain and I go in to ask if anybody knows why the ambulance is taking so long. Nobody had an answer because nobody had called one. A party full of medical students hadn't called an ambulance or made any transport arrangements for a guy in severe pain with a broken clavicle. Idiots."
- Reiseoftheginger
"That's actually super common in emergencies when there's a group of any kind. One of the first things you learn in a lifeguard certification course is to identify a single person to instruct to call 911. Never just yell out 'someone call 911' or assume that it's been done because everyone in the group is assuming someone else did it already."
"It's not necessarily that everyone forgot about it, just that everyone assumed it was the logical first step that someone else would have taken already."
- Bangarang_1
He Just Hadn't Had His Coffee Yet
"I had a professor for higher mathematics who had real difficulties figuring out how to extract a cup of coffee from the vending machine. Bless him."
- onesmilematters
Laser Focused Intelligence
"My wife has two Masters and a PhD, is internationally recognized in her field, and is an absent minded doofus. My role in her life is to ensure that her car works, that she takes her meds, and that she eats things other than yogurt and eggs. She can be brilliant one minute, then walk into the side of a moving bus the next."
"I love her dearly but she's a numpty."
- Lost_One_1963
Dump Dinners Were Designed For This Person
"As someone who did two trades and then decided life is better with education - my experience currently going to Uni is how clueless so many people are in Uni. I wouldn't say they're an idiot, but tons of ignorance develops living in a student bubble your whole life."
"I rented a room to a guy who did his masters, and it would take him hourssss to cook dinner. I watched him one day, and he just couldn't wrap his mind around cooking things that take different amounts of time to cook."
"Like, he'd start cooking potatoes and wait til they were done before moving on to the next thing he was going to eat them with."
- XavierOpinionz
Doctors Are Brilliant...and Not So Brilliant
"I work with medical doctors all the time for work. Doctors are some of the dumbest smart people I have ever met."
- Secksualinnuendo
"Yup. I know a plastic surgeon who thought it was a great idea to sue Yelp for bad reviews his business was getting. This ensured that tons of news stories were written about him that repeated those bad reviews to a bigger audience."
- heimdahl81
"My friend's dad is a surgeon, I never forget when we were 13-14 and her mom called her to ask if she could go home and make something to eat for her dad because he was starving."
"That's when she told me that he had never ever made a meal himself for his entire life, he cannot even work the toaster, literally! So the guy was just starving at home because he cannot make a simple meal. And the next day he's fixing someone's heart."
- _reykjavik
"As someone who works security in a hospital, I can say a good 90% of the doctors there are smart but lack any type of common sense, and sometimes I wonder how they function on a day-to-day basis"
- Ray_Ray_86
Doors Are Hard
"I used to work at a university, and tons of academics are incredibly educated in their chosen field, but have the common sense of your average dachshund."
"My favourite was probably an entire group of geology professors and PhD candidates who got 'stuck' for a good few minutes in an entryway because they didn't think to check if the door required a pull rather than a push. Bearing in mind that they'd just entered with that same door not an hour before."
- Koras
Children Require Supervision At All Times
"My ex had a real lack of knowledge and common sense when it came to children."
"She's currently completing her PHD in biochemistry and molecular biology. She was confused though when I said I couldn't go out after putting my toddler to bed as I had no one to babysit. In her mind, once my daughter was asleep she no longer needed anyone here to take care of her."
"I chalked it up to cultural differences and never being around children. Eventually though our opinions on raising kids differed too much and I had to end things for my daughter's sake."
- RetroDad-IO
Just Read The Documentation
"Worked at a tech company, was made team lead. One of our team members was a PhD in astrophysics. He would ping me constantly for how to do things that we had well documented. How to install certain programs, how to gain access to servers or code repositories. Literally we would sit in zoom calls together and I would just read the instructions out loud and watch him do them. I was utterly confused as to how he could breathe by himself."
- Woodhouse_20
It's Not Supposed To Be A Soup
"A long time good friend, absolutely brilliant. Can literally beat you at chess blindfolded. Engineering in college and one of the smartest people I've ever met. But he's a big picture guy, sees how things develop and great long term vision. Incredibly successful. But little things? Guy couldn't pack a suitcase, wouldn't know how to book a flight. Was making boxed Mac-n-cheese and couldn't figure out why it was so watery. Ya, he didn't drain the water after the pasta was cooked."
- PapaChoff
India Is Definitely Not A Continent
"Mother in law has a PhD in some thing related to botany. She thought India was a continental island like Australia. To this day I still have no idea how that happened when this came up she was in her mid 60's."
- SavingsCheck7978
Computers Aren't That Hard To Understand
"If you work IT you feel this. Every lawyer, doctor, celebrity and CEO I've ever worked with is computer illiterate. They can email, they can Twitter and that's it. They confuse the mouse, they openly call themselves Luddites, they kick the power plug out and claim the 'box broke'. Mega-millionaires, too. Smart in other regards, but computers are kryptonite."
- zeift
"not IT, but, I worked in tech support for Verizon fiber optic services a long time ago. they provided internet, TV, and phone services."
"my favorite call was a dude who couldn't receive calls, and this was a Big Deal™ because He Was A Doctor - that might've been something he repeated a few times. anywho, I walk him through basic troubleshooting as he's dramatically exhaling after every sentence because I should obviously just be sending a tech. I wasn't allowed to do that without going through the steps, though."
"everything in the house checked out, but, after an attempt to remotely reset the system to no avail, my last required step for the guy was reporting the state of some status lights in the terminal on the wall outside the house. I get the guy to pop the front panel, and I'm explaining that he needs to tell me which of these lights is on and off, and what one of the digital panels says. guy cuts me off to say, 'oh, hey, there's a bunch of phone and internet cables in here,' to which I reply, 'yes, there are, but, we don't need to pay attention to them at this time, we just need to know what the status of the system is.'"
"dude says, 'well, these don't seem to be plugged into the right ports. let me see if I can correct-' this was when I interjected with, 'sir, please don't mess with any of the wired connections, those are setup on installation and everything is already mapped to your home layout-'"
"that's when he cut me off with, 'I think I know what I'm doing - after all, I'm A Doctor.'"
"the line immediately went dead. obviously, I tried to call him back... but, his issue was that he couldn't receive phone calls, and we didn't have a cell phone number for him. shucks."
"I've often pictured the guy standing outside his home, realization of his mistake settling in, all while his brain starts to focus on the fact that he had to wait on hold for over fifty minutes to even speak with me. f**king glorious."
- extralyfe
We can't all be smart in every area of life, but it's good to be able to acknowledge your weaker areas as well as your strengths.
I'll gobble up pretty much anything.

But I do have my limits.
All people have culinary limitations.
Some menus, as fabulously touted as they are, just don't do it for everybody.
Everything popular is not everybody's cup of tea... or cake, for that matter.
Redditor Complete-Sweet5222 wanted to discuss the menu, so they asked:
"What is the most overrated cuisine?"
I won't do french cuisine. No snails. No way.
That's just me.
Fancy Schmancy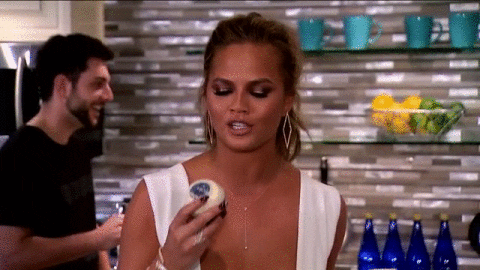 Chrissy Teigen Cupcake GIF by Billboard Music Awards
Giphy
"Fancy cupcakes. Every 'designer' cupcake I've had has been incredibly dry. I just don't get why they charge $5-$10 per serving, but the quality of the cake is below a Walmart sheet cake."
ThoseArentCarrots
"I make cupcakes sometimes. Over baking and day old baked products tend to dry out. A lot of the fancy desserts take time to build, which means the cupcakes have been sitting out for a while."
Stinkerma
Shock
"Not really a cuisine per se, but 'shock food.' You know those giant milkshakes with whole slices of cake and candy on top, or quadruple cheeseburgers with so much cheese it's running everywhere. It's just not practical/tasty and really only exists to get a cool picture."
viillanelles
"I made the mistake of getting one of those milkshakes exactly once. It was fun to get and then you realize you just paid 20 bucks for a normal milkshake and grocery store sheet cake."
ceigetank
Be Simple
"Complicated burgers. Some a good but others have far to much on to eat without disassembly or using a knife and fork."
MedicalUprising
"Also I hate when they have overly elaborate names. I want to verbally order a cheeseburger, not the 'big wet sloppy double daddy burger.'"
Guava_
"I totally agree. I hate being embarrassed to order something. There used to be an ice cream shop that had funky names for sizes. I had to stop going because I could not stop giggling at having to say 'no, I don't want a zinger, I would like a zooper."
bakay138
Premiums...
"Our family has been restaurant investors for 40 years. High end French cuisine using offal or organ meats."
"These dishes are pushed because the costs of these types of meats are very low and produce a huge profit margin. Also, the lack of experience with guests cooking these types of dishes for themselves mean very few patrons complain about authenticity. Usually a chef will throw his/her twist in the menu."
"Most customers can tell the difference between a great pizza and a mediocre one. They'll remember a great steak - but a restaurant may be paying huge premiums to fly that Waygu in from Japan or for your Flintstone tomahawk. Whereas, a local butcher shop will gladly unload offal and such with glee due to low demand. You'd be surprised as to how little we paid for cow brains for example."
rayrayrayray
No Silver?
gold GIF
Giphy
"Gold-flaked cuisine."
bushbeanbuddy
"God, why did it take me so long to realize you were talking about literal flakes of gold? I read this three times and thought, 'What a weird way to describe fried food.'"
bygollyollie
Gold is meant to spend not eat.
Price Point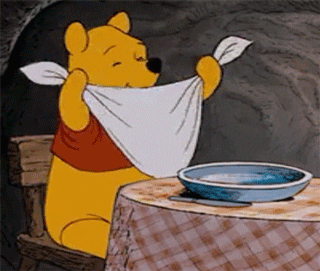 Excited Winnie The Pooh GIF
Giphy
"The most expensive dishes. 'Yeah, man these diamonds sautéed in truffle oil and emerald dust are good, but do you have a cheeseburger?'"
gmen_forever
For All...
"'Something for everyone' restaurants. Anywhere where the menu has a ridiculously extensive offering. If I'm flipping multiple pages and not even halfway, I just know everything is about to taste questionable."
low_power_mode
"Several of my local Mexican restaurants have 8-page menus. All the dishes use some combination of tortillas, cheese, peppers, onions, avocados, beans, chicken, and beef, it's just the proportions and presentation that differ from one to another!"
MatttheBruinsfan

Pork Scents
"No cuisine, but I am sick of the whole 'bacon life' meme. It was funny for a couple of decades, but enough already. Bacon 'flavored' anything is disgusting."
SirReal_Realities
"One time in college I ordered bacon flavored popcorn."
"When I popped it in the communal microwave it smelled so awful that we had to open all the windows and evacuate until it had aired out enough for us to Febreze the rest away. It tasted like death. A couple guys threatened to beat me up if I popped any more. Some things just don't need to be bacon flavored. Popcorn is one of them."
Waffle_Maestro
Portions
"Rather than pick on a specific nationality or style of cuisine I'll talk about presentation."
"Any restaurant where portion sizes get smaller as the price goes up is the very height of epicurean pretentiousness. Like if they actually serve you enough food to be satisfied, it might as well be McDonald's."
"I spent a lot of years working in restaurants, and the ironic thing is what's on your plate is by far the smallest expense in serving that plate to you. There's no reason for tiny portions other than pretentious do*chebaggery."
McFeely_Smackup
Shrimp Then?
"Lobster. It's fine, it's just not really worth it's cost imo. I also like eating it in things rather than by itself. The lobster rolls I had in Maine were much better than lobster straight up."
babythrottlepop
Food should be more affordable.
Do you have and foodie quibbles you'd like to add to the list? Let us know in the comments below.
We can't all know and be experts in everything, but there are some things that are vital for us to know, like the basics of keeping a clean home and cooking simple, healthy meals.
But a lot of us were raised in households that taught us a lot of those vital basics, leaving us to have to figure them out on our own.
Redditor Wehause asked:
"People who love to cook, what tips and tricks do you have for beginners?"
Key Rules in the Kitchen
"Prepare everything before you start cooking. Cooking can be so stressful if you ignore this step."
"Clean as you cook. Waiting 20 minutes for that soup to simmer? Take that moment to clean."
"You don't always have to every the recipe down to a tee. Sometimes improvisations can work just fine."
"Food tastes a bit bland? Add more salt. Does the food taste like it just needs something? Add an acid (vinegar, lemon juice, tomatoes, etc)."
"Taste. Your. Food. Don't be like me, the id**t who used precise measuring spoons for his first two years in the kitchen. Add a little bit of salt/spice. Taste it. If it's a bit under-seasoned, add some more. Doing this is how you build up intuition in the kitchen, and it's how you learn how to season things intuitively."
- Distinct_Water_5075
Clean as You Cook
"To kinda go along with the 'Clean as you cook', keep your work area clean, too."
"Set aside something that is your designated trash collector on your counter, so as you're chopping or whatever, all the onion papers, garlic skins, and carrot ends have a place to go."
"I like using paper plates or the meat tray so once I'm done, I can just pick up the whole thing and throw it all away at once."
- iluvhalo
Prep Ahead of Time
"Prepare everything before you start cooking. Cooking can be so stressful if you ignore this step."
"AKA 'Mise en place,' or for us casuals, 'get your s**t together.' Truly makes everything go much smoother."
"My MIL (Mother-in-Law) is continually horrified at using 'so many bowls and cups.' Dang lady, I'm running the dishwasher anyway, so why does it matter? Even if hand washing a prep bowl is like a ten-second cleanup."
- AtlEngr
Go with Medium Heat
"The only time I ever go higher than exact medium heat (aside from boiling something) is to do a quick sear. Always medium or lower."
- ConsiderationWise205
Seriously, Medium Heat!
"I can't even say this loud enough or repeat it enough. Medium heat!"
"In college I had a friend ask how I made grilled cheese both melty and without burning. He was just putting it on high and sticking the sandwich on the pan."
- luvitis
Intuitive Spicing
"Taste everything as you cook and do it often. All cooks should be doing that but if you are a new cook it's even more important. Not tasting as you cook is like covering your eyes as you paint or plugging your ears as you play music."
- bajesus
Learn from the Recipe
"What you want to do is cook a recipe as is exactly the first time you make it. Otherwise, you really can't properly evaluate it. Halving the sugar since you want less can drastically impact the target flavor. So make it according to the directions once and then rate it."
"You'll end up with a library of actual good recipes (seems rare in this click-views blogging age, unfortunately). Then you can adjust the next time you remake it if you think it should be altered. Or since you now know what it should taste like, measure by feel until you perfect making it again and again without measuring."
"Now you're a chef and creative modifications will soon follow. But doing it properly first will teach you more than just winging everything."
- 7ht4tguy
Take a Note from 'Pirates of the Caribbean'
"If you're cooking recipes are more like guidelines than rules. If you're baking, a recipe is a doctrine."
- NGC_1277
Know the Basics and Go Wild
"If you understand the basics of baking, you can go wild. But it's the 'understand the basics' part that stumps people."
"People hear that baking soda can't be substituted for baking powder (which is true) and then they're terrified to alter a baking recipe."
"There's a book called 'Cooking for Geeks' that's a good read. It gets into the chemistry of acid-base rises, the Maillard reaction, and other underlying principles."
"The trick is to understand what's going on, to learn the savvy to grab vinegar so beaten eggs hold their shape when you don't have the cream of tartar."
- doublestitch
That Steak, Tho.
"Clean up as you cook. If you're not using a utensil or strainer or whatever you use anymore, clean it while you wait. I've kind of made it a game to see how efficient I can be while cooking. It's kind of fun."
"If you want to make a steak delicious baste it in minced garlic and butter. Then after you're done basting it, drop your veggies or whatever side in the pan, and shake it around. I'll do this if I'm trying to wow someone with a good meal. Not the healthiest but is the tastiest."
- Ac997
Start Simple and Grow
"Choose simple recipes, follow each step, and consider why they might be important."
"Give it time, don't try to rush things through, most food takes time to let the flavors combine."
"Look at cooking videos or read cookbooks, even if you have no intention of making that specific recipe it might give useful information you could have used in other recipes."
"I can recommend looking into authentic Italian cuisine, often simple recipes with few ingredients but the techniques to each step can be crucial to the finished product."
- Daddebuff
Know the Textures
"Not something that will apply to everyone's style of learning, but when I was learning to bake and cook I did a lot of things by hand the first few times and then used a mixer or other tools later. For me, it helped to understand the different possible feelings and textures."
"I knew what to look for when I introduced more appliances and tools because I knew how it felt and how it needed to look from doing it more slowly first (dough is the best example, but there were many other things too)."
- goanaog
Be Careful with the Cookware
"I learned that lesson in my early 20s. You don't have to spend 100s of dollars on good cookware but 50 to 90 dollar set works well."
- geri73
A Hot Pan is Your Friend
"Make sure you let the pan heat up before putting food in it."
- JustDave62
A Necessary Companion
"Get a knife sharpener. I paid like $12 for mine, on clearance, and the difference after sharpening is night and day."
- 314159265358979326
None of these tips are particularly complicated or groundbreaking on their own for someone who frequents the kitchen, but each of these will make a new cook's experience that much sweeter and more savory.
Did we miss any pearls of wisdom? Let us know in the comments below.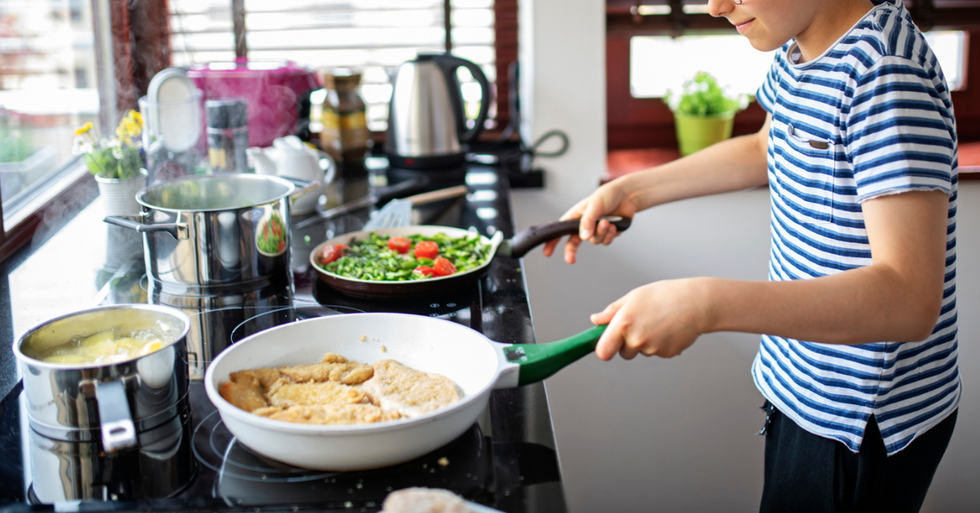 As a parent, it's important to support a child's growing passions, especially if it's something they enjoy, can use to relax, and might even see a future in someday. But when there's a lot of arguing going on in the household, especially among siblings, sometimes parents have to make tough calls, and it isn't always […]
More