When it comes to enjoying the foods we eat, ignorance is bliss.

We know what we crave and don't think twice about the edible delights we put in our mouths

But if we find out the nauseating truths about our favorite foods, would we still eat them?
Curious to know about unsettling food fact, Redditor KhaleesiDog asked:

"What's a gross fact about a common food we eat?"
You may want a bucket near your place at the table after hearing about some of these
Processed foods get a bad rep. They have been blamed for causing obesity and high blood pressure. Some foods like frozen pizzas and microwavable entrees are more processed than others.
Still they're very difficult to avoid – like the following:

Gross, To Be Frank
"There are an allowable amount of rat hairs allowed in hot dogs!"
– jenyj89

"And bug parts. Probably sh*t too. I think it's just general foreign biological material, not anything in particular."
Cured Delights
"Salami and many other Italian deli meats are not cooked, they are cured."
"Raw meat is ground up and blended with spices and binders, then it's loaded into a casing and hung to dry in a curing chamber. Curing chambers are very precise pieces of equipment that keeps the humidity and temperature in the perfect range to encourage mold growth on the outside of the casings."
"So ya, salami is moldy uncooked meat...."
We Love It Anyway
"cheese is essentially a rotten milk roll waiting to be eaten for years and somehow I still eat it."
Bet you didn't know these not-so-appetizing facts about the following treats.
Jiggly Desserts
"That gelatin is actually made out of skin, tissues and bones of cows and pigs."
It Comes With A Side Dish
"If you've eaten wild caught fish you've almost certainly also eaten dead parasites."
Taste Like Vomit
"American milk chocolate often contains small but measurable amounts butyric acid, either as a byproduct of how the chocolate is made or added to it on purpose as a preservative."
"Butyric acid is also produced by human gut bacteria, and is one of the noxious/smelly/foul-tasting components in vomit."
"The amount of butyric acid in American chocolate is small enough and Americans are usually so accustomed to it that we don't really notice, but, to non-Americans - especially Europeans, apparently - American chocolate literally tastes like puke."
​Artificial Goodness
"Artificial vanilla and strawberry flavouring used to be derived a chemical extracted out of a beaver's musk glands (near it's anus)."
Unwelcome Patrons
"As someone who did pest control for years, the vast majority of restaurants that you eat at have a rodent problem, a roach problem, or both. And quite a few of them are severe."
Whether you like it or not, you can't interfere with the laws of nature.
They Gotta Start Somewhere
"Mushroom are fungus that thrive in really sh*tty dirt."
The Thing About Figs
"Wasps go into figs to lay their larvae. They also have an enzyme called ficin that breaks down the deceased wasps into protein, which become part of the ripened fruit."
Nature's Candy
"Honey is basically bee vomit."
Cheese is made through the process of curdling milk – on purpose.
While that doesn't sound appetizing, the popular dairy product has always been a guilty pleasure for many people.
Just keep in mind that – unless it's blue cheese – the mold growing on any other cheese that's been sitting in your fridge should be tossed.
You wouldn't want to make the same mistake my roommate once made after eating rotten brie.
Long story short, I had to clean up after him.

Keep reading...
Show less
Celebrity chef Gordon Ramsay is highly regarded for his delicious plates, his ability to run a solid restaurant, and, let's face it, his stage presence.
He's also a foul-mouthed Brit who is all too willing to dismantle people's self-esteems and compare them to livestock animals.
Alas, as watching all reality television goes, we love to see the crashing and burning.
But what if the shoe was on the other foot? What if you were the one being torn into by the sailor of all chefs, Mr. Gordon Ramsay.
Wondering what horrible dishes were lurking in unknown kitchens all over the place, Redditor FalloutSl*t413 asked:
"What's something you made that was 100% delicious but Gordon Ramsay would slap you for anyway?"
Some people talked about those purely functional meals that are just perfect for piling on enough protein and calories to get through the day.
Spewing Lava
"My mom used to make us 'Volcanoes.' Mashed potatoes topped with ground beef with some ketchup. I still tear it up to this day."
Quick and Easy
"I make weeknight 'enchiladas.' "
"You stick frozen taquitos in a casserole dish and cover them with canned or frozen chili and cheese. Bake them until everything's hot, serve with a dollop of sour cream. They sound disgusting but they taste amazing, and they take like, five minutes to prep."
-- MuppetManiac
Human-Cat Food
"I know it looks like, smells like, and probably tastes like cat food but potted meat sandwiches. Look, when you're poor as hell and you can make 3 sandwiches with one little can that cost like 20 cents, it's pretty good."
"While I'm at it, Treet and bologna are pretty great. I have the taste palette of a raccoon and I like it that way."
-- wildboywifey
A HEAP
"When I was younger I would make this thing where it was a patty melded of:"
- "spinach"
- "a can of tuna"
- "two eggs
- "cheese"
"And I would eat that almost daily, pan-fried, for lunch. Just slap me now and lets get it over with."
-- Corvacayne
Others shared the recipes they make to feel fancy despite being totally trashy.
A Nuanced Process
"I call them 'chicken puffs.' Some par-cooked chicken (white or dark meat, either works) with sauteed serrano peppers and onions and garlic."
"All wrapped in crescent roll dough in little balls (a bit smaller than a baseball), put in a casserole tray filled juuuuust above the top of the little dough balls with cream of roasted chicken soup. Baked to completion/safety."
"Overly indulgent and delicious."
A Famous Side
"I consistently make a box of pastaroni angel hair and herbs as a side with meals I prepare for people. EVERYONE always asks for the recipe LOL please don't tell my secret"
Just a Couple Additions
" 'Fancy Ramen' Ramen made normal. Don't mix seasoning. Drain water. Add Mayo. Then mix in seasoning. And Volia. A lot of people question it. Until they try it."
-- RachelMay6
Others outlined the things they eat that combine some ingredients it may seem disgusting to mix together.
Throw An Egg On There
"Fu** it lasagna, alternating layers of bread and shredded cheese (your choice which, I use cheddar) then crack an egg on top and put it in the microwave. Old depression meal, but it still holds up."
Hard to Wrap Your Head Around
"As a kid I would eat a banana with a cheese slice. Haven't tried it in years but it might hold up" -- Send_it_to_me
"Let's not" -- Sea-Entertainer-4974
Little Zing
"When I was younger I would make toast with peanut butter on it, then add pepperoni. Delicious then but I cringe thinking about trying it today"
The truly horrifying thing? There are so many more recipes out there that would leave Ramsay trembling.
Want to "know" more? Never miss another big, odd, funny, or heartbreaking moment again. Sign up for the Knowable newsletter here.
Keep reading...
Show less
I love food! Maybe a little too much. It's been an especially amorous relationship over this pandemic. And I know I'm not alone.
All of our palettes are tuned to our own personal tastes. And sometimes certain items and combinations of tastes can leave others less than enticed.
I've lost track of all the side-eye I've gotten when I declare how much I enjoy PINEAPPLE on pizza. I said it. I meant it. Fight me. Let's discuss who else has eclectic tastes.
Redditor u/CatVideoFest wanted to discuss the mixing of certain ingredients that don't leave the best taste in one's mouth by asking:
Want to "know" more? Never miss another big, odd, funny, or heartbreaking moment again. Sign up for the Knowable newsletter here.

Keep reading...
Show less
Look, unless you enjoy cooking, no one likes spending time in the kitchen longer than they have to in order to whip up something mediocre to eat.

Ordering food or, for the time being, enjoying a socially distanced lunch at an establishment is convenient, but it can take a toll on your wallet.
So what options are there?

Fortunately, there are plenty of them that do not involve nuking a frozen entree.
Strangers on the internet shared their amateur culinary wisdom when Redditor SandandS0n asked:

"What's your go-to under 5 minute meal?"
Keep reading...
Show less
Being a chef is way harder than it looks. Trust me, I've watched ten seasons of Hell's Kitchen, so I'm basically an expert. Cooking for an entire restaurant of people, while doing so in a timely fashion, isn't the easiest job in the world. And of course, not all dishes are created equal.
Every chef has that one item on the menu that they can't stand making. Wanna know what they are? Keep reading!
u/ShylocksBloodyBond asked: Chefs of reddit, what is that one dish on the menu you absolutely hate making?

​Depending on which restaurant you go to, there are times when what may seem like the easiest dishes, are actually much more annoying than they look.
​Eggs can be tricky.
Former chef, it's some of the simplest dishes that are the most annoying. I always hated working breakfast rushes, people are very particular about eggs, and it is very easy to accidentally break a yolk.
Outside of that, while pastry and desserts were some of my favorite things to make, working with phyllo dough is a major test of patience
Also f*ck cleaning mussels.
​A lot goes into those tasty soufflés.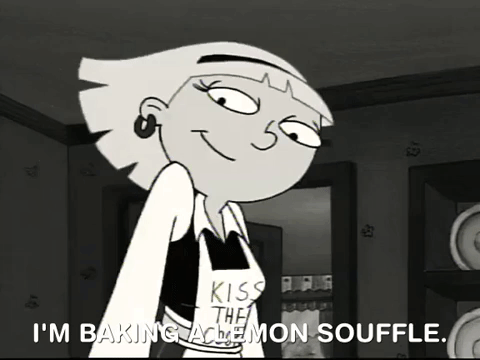 Animated GIF
Giphy
Soufflés. We make the creme pate in advance but when it's ordered the process is: Warm creme pate over a double boiler, while that is warming you need to hand whip a fresh meringue. Once the creme pate is warm, you have about 3 minutes to fold in the whites, fill your molds to make sure you don't touch the edges(as it makes them rise crooked). Into the oven for 3 minutes, open oven and rotate for 2 minutes. In those 5 minutes you have to plate the rest of the tables desserts, which all have 8-10 components. Soufflé comes out to a waiting waiter, has to go to the table immediately or deflates.
While it's not the most difficult thing in the world, when you're busy and have 4-6 on order and each one needs to pass a 3 finger test(height above rim of mold or it gets sent back and you need to restart), it can get quite hard and demoralizing when they don't work.
And then you send out 4 at once and someone at the table gets up to go to the bathroom or have a cigarette and the tray comes back and you start again and cry inside.
​Gross.
Slightly different take, but I was a chef at a nursing home and anything puréed for people who are on that dietary restriction was gross to me. I literally had to take whatever meal I made, throw in a blender and put it in a bowl. I always felt so bad.
​Fancy dishes are even worse. If everything isn't just right, it may be at risk for starting all over again, making for some very impatient customers.
Please don't order this ten minutes before close.​
Our German Apple pancake.
First you sauté Granny Smiths in clarified butter.
Then add three ladles of our German batter into sauté pan.
Throw in oven for 15 minutes.
Remove from oven and add clarified butter and cinnamon sugar.
Flip delicate pancake with spatula and a dash of learning curve.
Return to oven and cook 5 more minutes.
Flip pancake onto plate and insure it makes it to the table in less than a minute as it deflates rapidly.
Bonus points for when it's ordered 10 minutes before we close.
Edit: those who are apologizing for ordering it, don't it's our job. Kitchen staff are gluttons for punishment.
Some customizations are actually impossible.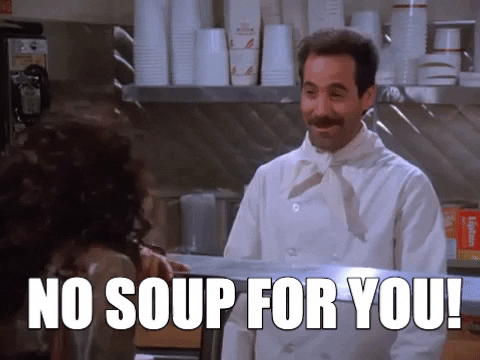 Seinfeld Soup GIF
Giphy
​Customizing the soups. I used to work at a Michelin star restaurant. WE ALREADY HAVE THE SOUPS PREPARED BEFORE YOU WALK IN. I can't just take out the shrimp taste of a paella soup that I prepped before you walked in here.
I don't know what that is, but it sounds like a nightmare.
Not working in a traditional restaurant anymore but the f*cking ringmold stacked beet salad. It took like 3 minutes to make just one and if a table of four all ordered them it slowed down the entire salad line.
​Even the chain restaurants have their own sets of issues when it comes to their dishes.
​Don't underestimate the fruit boxes.
I used to work at a grocery store and I was the person who made all those pre-cut fruit boxes. I didn't particularly mind any of them all that much except clementines. We had to peel clementines and put them in a box. First, it was a huge waste because no one ever bought them (why would you pay $5 for 6 peeled clementines when you could buy a whole bag unpeeled for the same price) except for old people who couldn't peel the fruit themselves, and secondly because the acid would eat through our gloves and then destroy our nails and leave orange smell on your fingers for days.
The only other thing I hated making was 5 mix. We have a mixture called "six mix" which is just 6 different kinds of fruit together, but this one guy would come in and ask for six mix without the cantaloupe in it. We actually started calling him 5 mix. When he walked in someone from a different department would ring us and let us know 5 mix was there and to start making some 5 mix. I hated it because when he asked we'd have to go get a whole watermelon, a whole honeydew, and 3 other fruits and cut them all up just so he could have like 5 cut up pieces of each instead of just eating around the cantaloupe. And he always showed up right as our department was starting to close down for the night too. So we had to them rewatch all our surfaces after five mix came in.
​Microwaved McDonald's is no bueno.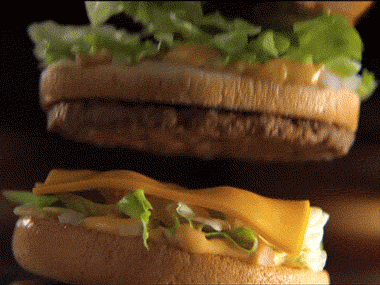 Food Drink Mac GIF
Giphy
I used to work at McDonalds. Years ago we had this promotional burger we called the 'lean beef burger'. It was aimed at people who wanted to be more healthy.
Normally the meat patties are cooked on the grill, but this one was nuked in the microwave. When it was heated, it looked grey, and it smelled so putrid no one wanted to work near the microwave so they wouldn't have to smell it.
Subway can be a tough gig.
Not a chef but I worked at Subway, whenever people wanted guacamole, we always spread it on one side of the bread before adding the rest of the veggies but the way the counter was designed the avocado was the last ingredient so people would always add all their veggies and then want avocado on top. This was a nightmare to spread across the uneven veggie surface and would generally just stick in clumps.
Some vegetarian customers also wanted us to change our gloves to serve them but everytime we change gloves we have to wash our hands which makes the gloves near impossible to wear - this would grind our whole production line to a halt while all staff members struggled to change their gloves. I mean I'm vegetarian too so I kinda understand but like if you're so strict about it you want fresh gloves then you shouldn't work at subway because the "contaminated" gloves from before still went in all the veggie boxes.
​Peanut butter is tricky.
Worked in a sandwich shop for a bit in college. Not fine dining by any stretch of the imagination, but a couple steps above Subway.
Every time someone ordered a PB&J off the kids menu we had to clear off both lines, change our gloves, wipe down every surface the peanut butter got close to, and wash the knife we used to cut it. Like, I get it. But having to treat peanut butter like nuclear waste in the middle of a lunch rush was never fun.
Plus, the peanut butter was too thick for the bread we used for the PB&J, so the bread ended up tearing half the time.
Most of these chefs have made clear- it is 100% ok to order these items off the menu. But it doesn't make them any less of a pain in the butt.
Show appreciation for the chefs at the restaurants you go to! They work even harder than non-food service workers would expect
Keep reading...
Show less