Since its advent way back in the 1960s and its popularization in the 1990s, the internet has long departed its primitive roots and become the most influential technology to grace the human race since the printing press.
With every passing year, the capabilities of just a few years before seem quaint, slow, and clunky.
What used to be an interconnected network of documents using fax machine technology is now a robust invisible universe that facilitates sweeping political action, allows for the creation of multi billion dollar corporations, and even exerts long-term influence on our personal neurochemistries.
It's so easy to take the latest advancements for granted. Some Redditors took a momentary step back and reflected on the earliest days of the internet, before it had already changed the world.
They recalled the silliest idiosyncracies they could.
DevilYouKnow asked, "What was the weirdest part of the early internet?"
Want to "know" more? Never miss another big, odd, funny, or heartbreaking moment again. Sign up for the Knowable newsletter here.
Keep reading...
Show less
In this day and age we all rely on our computers for a myriad of tasks.
Not only do we use it to respond to emails and order things online, we also use it for gaming and streaming media content.
With the indefinite global health crisis still limiting physical contact, many of us have also mastered utilizing Zoom to connect with friends and family, even though our clumsy search for that elusive logout button at the end of a call dictates otherwise.
The point is, we have all to an extent become technical wizards.

But when it comes down to basic computer skills, even the most proficient user can be oblivious.
Redditor sujhkonen wanted to know:

"What is a computer skill everyone should know/learn?"
Keep reading...
Show less
A glitch. Deja Vú. Call it what you what but life can be weird. Like movie weird. We sometimes find ourselves reliving a moment, and that first time may have been a dream but it still counts. We're all far more in tune to the ether than we want to acknowledge, because how scary is it to connect to the unknown, but the unknown has no issue reaching out. The Matrix may be real after all. Which pill will you take?
Redditor
u/1v1brah
wanted to hear from everyone who experienced those moments of mess in the matrix by asking....
Redditors who experienced a glitch in the matrix, what happened?
Red Cup Issues....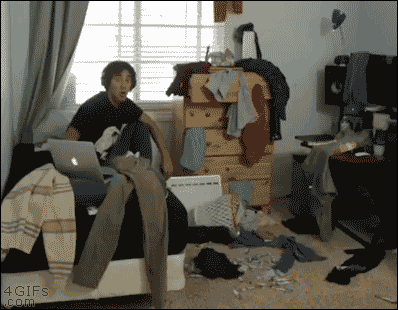 Giphy
When I was young, I got a bunch of those common red plastic cups and stacked them into a pyramid (I was bored). After building the pyramid I would knock them down, then repeat.
After a few times of this: one of the cups disappeared. Literally tore my room apart trying to find this cup. Never found it.
Always makes me feel a little weird when I think about it.
September 2005.
September 2005. I woke up at 10:01, late for physics class. Ran downstairs and arrived on time, at 9:57. This is according to the clock on my cellphone.
Another time, while running to catch a train, I saw everyone suddenly take two steps backwards, and all at the same time.
Blood Truth....
Tw maybe? I'm an artist and work with a scalpel fairly regularly, I'm pretty competent with it and haven't had any other injuries with it, but one time I was cutting out some artwork and spotted some blood on the page which I thought was pretty strange. I was pretty confused as I didn't recall catching my hand so checked my hands for injuries and there was blood but no cut so I washed my hands and checked them again- nothing.
I shrugged it off thinking it was a little odd but put it down to maybe leaning on something earlier and not noticing. I carry on cutting out my artwork and about ten minutes later I slip and catch my hand with the blade, pretty much the same area where the original blood was but this time theres a visible gash- but no blood at all. It's like my injury had happened in reverse... Not the most exciting one, but definitely creeped me out at the time.
Not Moving. 
I was driving home late at night after spending time with friends, I saw a plane just... hovering, I stared at it for a while, that crap didn't damn move. I never saw anything like it afterwards but I still think about it sometimes, I know there's probably an explanation but it just freaked me out.
It just wasn't possible.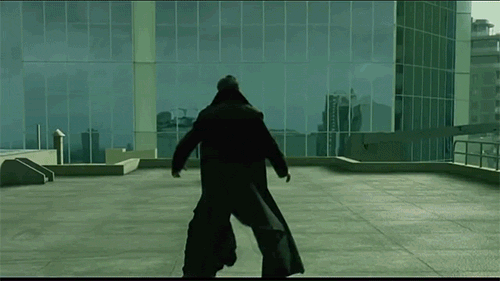 Giphy
One time me and a friend were in her car late at night, she was driving. We approached a T Junction on a local road. We turned left and continued. A few minutes later we were approaching the same T Junction from the same direction we approached it in the first place.
She stopped the car and we both just looked at each other in disbelief.
If we had followed the road, it would have been taken us maybe 25 minutes to drive the circuit which would have brought us back to that point, from the same direction.
We were driving for about 2 minutes after we pulled out of the junction and we just suddenly approached it again.
It just wasn't possible.
security fobs...
We use these little security fobs at work to open doors into certain areas. One day I went to a meeting and when it was over I noticed my fob was missing. I went to my manager and he looked up the logs and it showed that it had been used to access a perimeter door while I was in that meeting. I get a new fob and go about my business.
The next morning I wake up and directly in my line of sight on the floor is the missing fob. I take it to my manager and he verify s that it is indeed the fob that was lost. I cannot explain how it went missing, was then used and wound up on my bedroom floor.
towards the checkout....
Walking down a supermarket aisle towards the checkout, then all of a sudden I'm a few steps behind where I was... still heading towards the checkout, the lady behind the check out noticed too. StanMarsh02
'dada'
I have identical twin sons. When they were 3 I had to make a 6 hour round trip drive, and I had to take them with me.
They slept for most of the drive, and on our way home I decided I should wake them up to go to the bathroom. I stopped at a rest stop, and turned around to wake them up.
Before I said a word they both opened their eyes at the same time and started talking in perfect unison. They said to me, "dad, we should tell you about the dream we just had.
We were driving down the highway and we saw three piles of bones. One was me, one was my bubba, and one was 'my full name'" Then they closed their eyes and slept for the rest of the ride home.
This happened 6 years ago, and recounting it still creeps me out. Were we going to crash and die that day? I'm not 100% sure they even knew my full name, I was 'dada' to them.
Damn Gremlins.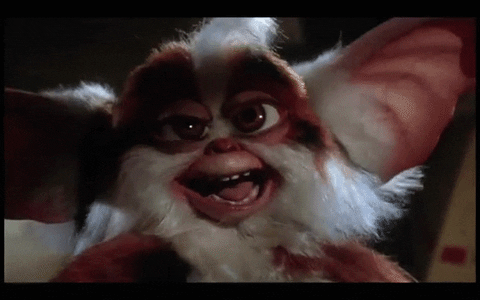 Giphy
I was at work and looked up at the clock on the wall, wondering how long it was until lunch. Lunch was at one, and it was 12:30, so I said something like "Oh good, not long til lunch." My co-workers all glanced at the clock or their watches and agreed, saying stuff like "Great, I'm starving" and so on. We talk about lunch for a bit and I look at the clock again, expecting it to be about 12:45 by now.
The clock says 11:00. I check my watch - it too says 11. I point it out to my colleagues and they can't believe it - their watches all say 11 too. If it was just the clock I'd have assumed it was faulty, and if it was just me I'd assume I just misread it or something, but we all saw it was 12:30 and then 11 on different devices.
I will often put something down in an obvious place, like the middle of the desk, and have it vanish despite there being no one else in the house. I will hunt high and low without finding it, and then BAM! It will be back where I initially put it. I blame gremlins for this.
Twins. 
Sitting in restaurant with friends and new guy walks up who knows my friends and sits down with us. Chatting w/us asks me about things: a woman, work and so forth that I know NOTHING ABOUT. Obviously confused, I say," WTF are you talking about, I know none of these people, places and he blurts out, well aren't you so and so? Turns out, I have an evil twin in the same city, and he looks like me and has friends that know my friends!
Want to "know" more? Never miss another big, odd, funny, or heartbreaking moment again. Sign up for the Knowable newsletter here.
Keep reading...
Show less
It's a literal stress dream. You're giving an important work or school presentation when all of a sudden that porn you forgot to x out the night before starts playing, loudly.
Or else a picture that nobody else was intended to see. How did that get up there when you've worked really hard to keep it under wraps?
The world didn't need to know that about you.
u/ohlawlz asked:
People of reddit who have accidentally showed NSFW things from your computer during important presentations, what is your story?
Here were some of those stories.
"Motivational"
I was being presented to rather than presenting. My boss called our team in for a morning review, he was a bit like David Brent/Michael Scott so at the end of the meeting he liked to show "motivational videos".
This one time he goes on YouTube and as he starts typing his laptop freezes with only the letter a in the search bar (he was looking for the Any Given Sunday speech), as I'm sure you know when you start typing YouTube will make suggestions or show previous searches. So on the screen the first result under the "a" was "Asian lesbian massage".
Everybody saw. Nobody said a word. Before his laptop had unfrozen he closed it up and said the video could wait until next time.
It was never mentioned around him again but the rest of us laughed about it for weeks.
I was a university 'professor' (I was a grad student filling the part as cheap labour).
There was a time when QuickTime on the Mac would open the last video you were watching. I don't know if it was a feature or what, or is still an option, I have no clue. But I didn't realize it somehow. I think I'd always just double clicked my new video file and it opened.
Well I was sharing my screen giving a lecture and wanted to show a video clip. I clicked QuickTime icon at the bottom. Window opens and it's paused on a clip of my girlfriend of the time in a pretty compromising position.
As soon as I saw it I ripped the power plug from my computer.... but it was a laptop.

As soon as I'd realized that wasn't going to work I pulled the VGA adaptor thing out of the side.
I said, "Oh sorry, technical problems." and got a ton of laughs.
I closed that thing down and launched the right video, then plugged everything back in and went on like it never happened.
After the class one of the kids said, "You're hilarious."
Thankfully, they are 'adults' when they are that age, and no one ever reported it or said anything as far as I know.
I used to work for a point of sale systems company, my coworkers and I would mess with each others demo accounts, put in very inappropriate Easter eggs etc.. which is ok because we weren't in customer facing positions.
All of a sudden I get asked by my boss to go on site to a very important customer to train them and demo the system. I go there, quite a formal setting, the customer sets me up with a projector. About 7 people in this meeting. I start showing everything, everything is fine until I show a lesser known function of the system (it makes a picture pop up of a food item or a product or whatever).

My favourite jerk coworker had changed all those pictures to some very explicit gay adult videos. With a didgeridoo.
My immediate reaction was to just start laughing, luckily the other people started laughing too and I said "well... As you can see, you can add any picture you want to this function, so if you're selling didgeridoos..."
Back at the office everyone thought it was hilarious, luckily the customer thought so too and is still with our company
Inadvertent Porn
Old story, but that context is important for understanding the 'why'. I was interning at an small US ad agency in the early days of the internet. Boss/principal wanted me to do some internet research on something mundane - US automobile market share, methinks. He was going to be out of the office for a couple hours and I could use his desktop computer to do it, as interns back then had no computer to call their own.
This is pre-google when porn companies would manipulate keywords to show up in your Yahoo search results no matter what, so I search for 'automobile market share' or whatever and get a list of links. The whole first page of the list is porn sites, and my curiosity gets the better of me. I click on a few just trying to understand what they could possibly have to do with automobile market share, poking around the metadata etc, and yes of course just a bit titillated as internet porn was a new concept at the time.
However, I am in someone important's office, door open, etc, so I quickly shut it down without any self-service and continue the struggle to complete the task at hand, leaving the browser window open with the data I found to satisfy his question.
Boss gets back and quickly calls me into his office, asking basically "what's the meaning of this?" Well, unbeknownst to me, pop-unders had just been invented, so I unknowingly left a dozen small browser windows full of adult videos ads sitting open under the main window with the research in it. That was a seriously awkward conversation, trying to explain that yes, I did click on some things, but honestly wasn't being inappropriate and was more just baffled and confused. Even worse, the data I had found was pretty much useless, so he essentially thought the intern had just been inappropriate in his office the last 2 hours instead of doing the requested task.
My Thesis Defense
So I wasn't the one presenting, but I was involved in the situation. I my 20s, one of my college friends was in a slump with the ladies (like 7 years w/ no dates). He was in graduate school for art and I was out of college and working. He sent a text out late at night on a thursday with news that he had gone on a date and hooked up with a woman.
I didn't get the text since I was asleep, and when I saw it in the morning at work, I hopped onto AOL IM (This was like 15 years ago) to congratulate him. He was away, so I sent a TON of messages like "Yeah dude, good job! What's her name? What does she look liked? What did you guys do?" and emojis and meme pictures of cartoons having sex etc etc.
After about 10 mins, he signed off without responding and was offline the rest of the day. I didn't think anything of it and then I got a call from him at like 8pm all upset. Apparently, when I IMed him, he was doing his thesis defense and he had his laptop plugged into the projector at the back of the room and only had the little slide advancer tool. So when I IMed him, they kept popping up on screen and he'd have to stop talking until they went away or I sent another message.
Finally, after a long enough time that he realized I was not going to stop IMing him, he paused his presentation and ran to the back of the room to log out. He was really mad, but mainly out of embarrassment. My IMs actually helped him out because most of his thesis questions ended up being about the girl and his dating slump and not hard questions on his work.
So he was mad that it happened, but also relieved that his thesis was over. . .
Not The Christmas Card I Expected
I was running a training class offshore we wrapped for a break and I decide to check my personal email. Didn't think to turn off the projector cause everyone was exiting the room, and just didn't think about it. I was expecting an email from my mom maybe, was really just going to quick scan the headers to make sure all my bill pays had processed. Any sales. I see an email from my bestie. Header says we miss you here's you xmas card. This should be sweet so I click. And for a brief second all my friends were on the projector naked posing in front of a xmas tree wearing santa hats. I'm sure a few of the trainees saw but no one said anything.
Hot Mic
Idk if this qualifies. When I was a kid I went to a friends Bar Mitzvah. Probably 150 so people are attending. Halfway through the service there is a time where everyone prays quietly to themselves. At this point in the service its damn near silent in the room except for some quiet muttering. At that point the Rabbi decided to go to the bathroom. He also didn't turn off the lavalier mic on his lapel and we heard him peeing, farting, and saying "well g*ddamn" and yawning. At first no one knew what the sound was, and then everyone figured out at once. By the time we all knew what we were listening to it was pretty much over. I did feel awful for him when he walked back out. I'm sure someone said something at some point but I never saw it.
Whoopsie!
I was in Iraq. Part of my job was to publish this report that was sent out to basically every unit in Iraq. My coworkers and I had got into the habit of messing with each other on our shifts and leaving random NSFW things on the screen for the next shift to find. One of my coworkers changed the title page of this report to say "F*** This Report." I didn't catch the change until after it was already sent out to high ranking officers throughout Iraq. Almost instantly I was bombarded by equal comments of 'WTF' and 'thats hilarious.' Thankfully, our commander fell into the 'that's hilarious' category, so we didn't catch too much flack for it, but I am sure that ominous feeling I had taken at least a few years off my life.
It wasn't a presentation but a funny story anyways. In college we where working laptops in lab and I left mine unlocked when I went to the washroom.
When i came back the room was silent because everyone was working. Until I get a msn message and my computer screamed at top volume "HEY EVERYONE i'M LOOKING AT GAY ADULT VIDEOS OVER HERE"
My usually stoic teacher just calmly said "Mr. Mackey can you please do that on your own time."
The 90s Came Back
I was talking with someone about an old porn site from the 90's, I googled it to see if it still existed. Realized that it did, we had a good laugh, and forgot about the conversation.
A couple weeks later I was in class and my professor's laptop dies, I offer mine up so she can finish her presentation (which included googling reference images). As soon as she typed in the word "the".. It auto filled to the aforementioned porn site. I dont think she caught it but there's no way out of a room full of people that no one else did. I was mortified, and learned the valuable lesson of not googling weird stuff outside of incognito.
Keep reading...
Show less
Some people seem to think that computers (and related devices) are some sort of esoteric devices which only the properly initiated can learn to use or fix. In reality, Google is tech support's best friend. An ability to follow written directions is often all that is necessary to fix most problems.
Keep reading...
Show less