Ever been in a position where you received a compliment... and didn't know what to say? It happens to the best of us. Not everyone takes compliments well.
But there are compliments and then there are... well, compliments that make you uncomfortable. Let's just say that some things just shouldn't be said. Inappropriate behavior is rampant and people's boundaries are ignored. That's not all the time, mind you, because some of these situations are rather humorous, but it is true much of the time.
People shared their experiences after Redditor Foolbasket asked the online community,
"What's the most uncomfortable compliment you've ever received?"
"I took my cat..."
"I took my cat to the vet and he says 'She has great anal tension!' as we're both struggling to get her temperature taken. To which I said, 'Thanks!'"
"I don't think it was a compliment but I cringe every time I remember it. Mostly because of my idiotic 'Thanks!'"
pupperfysh
If only your cat could accept compliments!
"Coworker looked at my children..."
"Coworker looked at my children, then me and said I must have a really attractive wife."
shoopshoop87
Oh dear... well that's very, very rude.
Ouch.
"I was a 14 year old girl in a basement with a 50+ year old man who told me I look "pretty, young and fresh."
[deleted]
Nooo.
Hopefully you ran far, far away.
"Was told that..."
"'I'd sleep with you if you were a girl.' Was told that on two separate occasions, by someone more senior than me at my last job."
Adub91
Sounds like you left that job – sexual harassment is never okay.
"From the dude..."
"'That's a nice watch.' From the dude at the next urinal. Honestly, it was so funny I've used it myself since just to mess with people."
nuboots
Honestly, I agree. This is a great way to psych someone out.
"Said to me..."
"'I always hoped Sarah would marry you.' Said to me by Sarah's mom. At her wedding to my good friend. Who happened to be standing next to me."
10tpeg
Noooo.
Talk about awkward!
"The first time..."
"The first time my mother in law saw me in a bikini she said, 'I knew my son would end up with a woman like you by the way he breastfed.'"
"It was uncomfortable."
ProductiveFidgeter24
Oh dear... now I feel sorry for your inbox. The creepy messages you must have received...
"It was a drunk text..."
"I want to have sex with your brain's d*ck." It was a drunk text and kind of flattering, but also the weirdest compliment I've been given."
carnivorouspickle
This IS somewhat flattering... but the execution could have been much, much better.
"One customer once told me..."
"One customer once told me I looked 15 and then proceeded to ask for my number while I was ringing up his items. He kept on with this for several days by telling me stuff like how I looked pretty or complimenting my hair. He was well into his 40s."
daymanAhhahahaha
I worked as a cashier years ago and had a customer like this. It was not pretty (and he went through my line more than once).
"This was in high school..."
"This was in high school, but a female friend of mine told me I had nice genes. I was wearing sweats at the time, and was confused because I thought she said jeans."
"She clarified saying she meant my hair and skin color. I awkwardly said thanks and to top it off, she said "One day, I want to adopt a small little Asian girl who looks just like you."
omfgitsmal
Nooooo.
Why do people say stuff like this?? WHY??
They say that if you don't have anything nice to say, then you probably shouldn't say it at all. But then there are times when you should probably just... not say anything EVER. For the good of mankind.
Have some stories of your own? Feel free to tell us more in the comments below!
Want to "know" more?

Sign up for the Knowable newsletter here.
Never miss another big, odd, funny, or heartbreaking moment again.
Keep reading...
Show less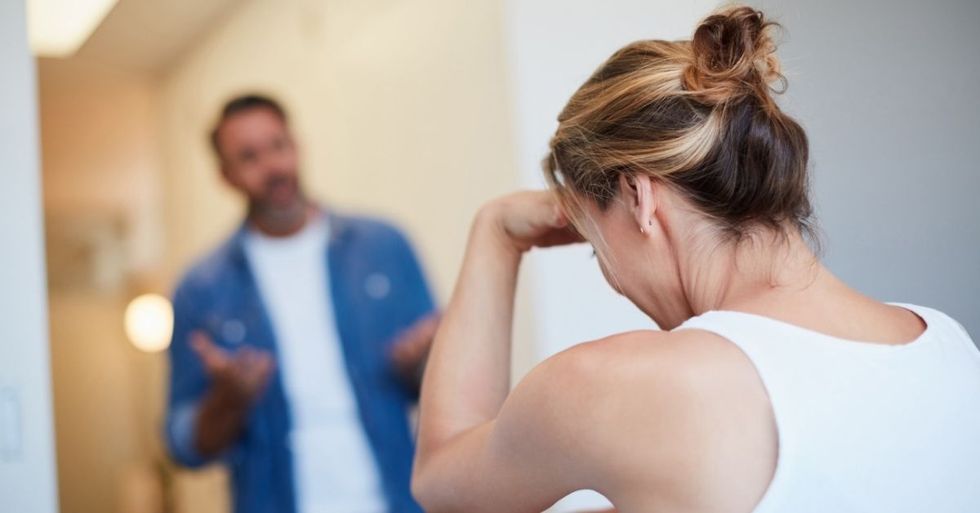 Supporting our children comes in many ways.  You can emotionally support your kids, financially support them, or all of the above. Regardless, it's basically a parent's only job to support their kids.  And one dad found that his wife didn't love it when he was supportive for his daughter. This Redditor, whose username has since […]
More
Random compliments are a huge mood booster and can make your day, but there are some that truly stand out from the rest and stay with you forever.
One such compliment I received is one I will not soon forget.
I have often gotten compliments on how I look younger than I actually am – no complaints there.
But one individual at work was slackjawed when I revealed to him my age.
He told me I was "well-pickled."
Aww, shucks. I'll take it!

Curious to hear about the comments that stayed with strangers, Redditor wubdubbud asked:

"What is the best compliment someone ever told you?"
All About Looks
Who doesn't like being complimented on their looks? Not these Redditors.
Exceptional Corneas
"I was having an eye test, and I was on a machine that measured the pressure of your eyeballs. Mine came up elevated, so the 70-year-old optician took another reading, and just said, 'miss, you have the thickest corneas I have ever seen.' And for the rest of the appointment, he just kept telling me how great my corneas are."
Love Note
"A random guy at a coffee shop wrote, 'I just wanted you to know, I think you're EXTREMELY CUTE!' on a scrap of paper and dropped it on my table as he walked out."
"It's still taped to my monitor and this happened in 1998."
ETA: pic of note - Note https://imgur.com/gallery/eVjlqyO"
Beyond Expectations
"I thought you'd be taller in real life; you have such a powerful presence online. It's still there...I just thought you'd be taller"
"Idk about best, but it was one of the most unique."
Heartwarming
These compliments are the ones that get you choked up harder than any Hallmark card.
A Child's Approval
"My 6 year old said 'Im proud of you, daddy' one day after a long day of school and work. He had just learned what 'proud' meant and was using it a lot, but this one hit differently."
The Devoted Pet Owner
"'If I were a cat I would want to be your cat.' Spoken by the veterinarian after my little furry guy lost his battle with lymphoma."
"So many people don't visit their sick pets when they have to stay at the vet. I came every day to sit with the cat and pet him and feed him out of my hand. It makes a difference. A lot of animals don't understand they're in pet-hospital. They think they're being abandoned and get really depressed. The extra love didn't save my fur kid but it bought him time and he knew he was loved."
"The vet even made a donation to a veterinary school in my cat's name. (It's rare but it happens). About the sincerest compliment it's possible to pay."
Comforting Companion
"My gf earlier this evening told me 'I feel safe when I' m with you.' As an addict in recovery, that is a huge one to hear. Very humbling. Probably made my whole next week."
Words From A Father
"I'm proud of you."
"---my dad, after I managed to get my bipolar disorder stabilized, built a life for myself, and repaired the fractured relationships with my family members."
"I didn't realize how much I craved his approval until I finally got it."
Appreciation From Unexpected Places
Just because you don't know them doesn't mean they don't deserve to hear your praises.

The Stranger
"Someone once told me, a stranger, that I seemed like a good person. For some reason coming from a stranger it felt really nice."
Happy Car
"When I was in college, I put those silly reindeer antlers on my car at Christmas time."
"One day after class, I got a note on my window saying that they love my car & it cheered them up every time they saw it. I have no idea who left it. I still have it."
"A couple years later, I sanded down my car and covered it in chalkboard paint. I leave out chalk for people to draw. Now I get smiles (and strange looks) all the time!"
Elderly Praise
"An old lady on the bus told me women would only dream of having hair as beautiful as mine. I'm a guy."
You never know if anyone is struggling on any given day, so it's good to know that a simple positive acknowledgment can make a huge difference.
So the next time you're impressed by someone's hair-did or by their accomplishments, let them know.
We could all use an extra ray of sunshine these days.

Keep reading...
Show less
Compliments totally rule. Someone takes a moment to not only direct their full attention to you, but they follow that up with a wonderful testament to your worth.
It's tough not to blush.
But what if the compliment comes in a package that's just a little off? Sometimes, it's all about delivery.
Some Redditors gathered to share the most bizarre compliments they've ever received. Some were back-handed, some oddly specific, and others were just plain confusing in all regards.
icylilith asked, "What's the weirdest compliment you've ever been given?"
Want to "know" more? Never miss another big, odd, funny, or heartbreaking moment again. Sign up for the Knowable newsletter here.
Keep reading...
Show less
Folks not every compliment is a compliment.
Growing up, I used to have people tell me all the time how pretty I would be if I grew up to look like my mother. My mom is pale skinned with straight black hair, dimples and bright green eyes. She also had a perfect pear shape figure.
I, on the other hand, ended up boxy, olive skinned, with a riot of curls and brown eyes.
In other words, nothing like my mom.
That's not to say I'm not a total baddy. I'm the flyest of fly - just in a totally different way than my mother is and growing up I had it drilled into my head that I'd be beautiful if I looked like her.
Like... I'd be gorgeous if I looked like Marilyn Monroe, too, but I don't. I look like me. That sh*t was not a compliment and it took me forever to see my beauty because I didn't live up to the standard that had been set for my brain.
One Reddit user asked:
What is a compliment you hate getting and why?
Fam - I am not the only one out here living the salt life at people who pay them "compliments" - take a look.
Want to "know" more? Never miss another big, odd, funny, or heartbreaking moment again. Sign up for the Knowable newsletter here.
Keep reading...
Show less