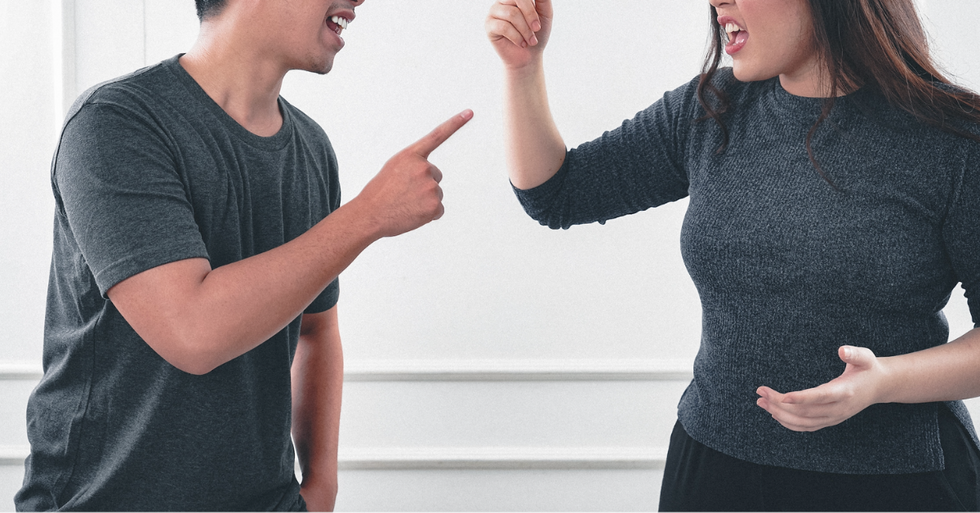 It's always a risk to make a joke at someone else's expense. When you know the person well enough, it's understandable to think that you are then entitled to poke fun at parts of their personality because of how well you know them. After all, it's only a harmless joke, right? Well, not always. More […]
More
You've probably had someone tell you "f*ck you" or to "go f*ck yourself" at least once or twice or ten times throughout your life and if you haven't, have you even lived?
But what do you say when you want to be smart and witty and want to shut someone down while you're at it?
After all, you can't just stand there, you probably should have a response lined up.
(Disclaimer: Know when to walk away, seriously.)
People shared their best suggestions with us after Redditor Bluephoenix681 asked the online community:
"What's the best response to 'f*ck you?'"
Clever.
"'You want to what?' Hopefully then the reply is another f*ck you."
divinetrackies
Hopefully – and when it does happen you must feel so powerful!
You could say this:
"In this economy?"
Trytek1986
I felt this in my soul.
The rent is too damn high.
Or this!
"Don't threaten me with a good time."
Austintk
Who's to say it'd even be a good time, huh?
Ouch.
"Tell your mom to top up the cell phone she bought me so I can FaceTime her late night!"
catch10100
But then what do you say if they remark that their mom died?
The Welsh appreciate this joke.
"You'd never be satisfied with a sheep again."
citsonga_cixelsyd
Paging the Welsh – you must have a response to this joke.
You must.
Self deprecation.
"You wouldn't like it I just lay there."
Drongo11
Ummm... you might want to work on that, in that case.
How polite!
"Thank you."
Select_Coyote7644
Kill them with kindness.
They won't know what hit them.
Burn.
"You aren't my type."
Ape28Comoco
This is an excellent way to stop someone in their tracks.
This works, too.
"My go to response to statements like this is "I will try anything 4 times." Mainly causes confusion at first but tends to make people laugh."
juniorohio
Four times?
That's quite specific.
There's a story here, isn't there?
That's quite the claim.
"You'd never go back to women."
rogerofdale
I'm okay in this regard but thanks!
Next time someone tells you to go f*ck yourself, you'll be prepared, won't you?
Or just throw back another f*ck you or some other variation.
It's the most versatile swear word in the English language, after all.
Have some suggestions of your own? Feel free to tell us more in the comments below!
Want to "know" more?

Sign up for the Knowable newsletter here.
Never miss another big, odd, funny, or heartbreaking moment again.
Keep reading...
Show less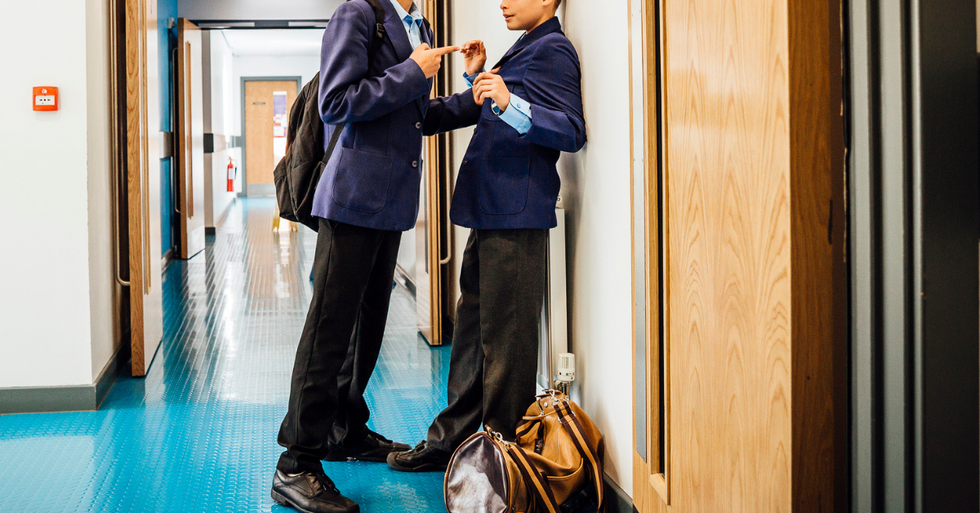 An eye for an eye is advice given in the religious texts used by several major world religions. But Mahatma Ghandi countered: "An eye for an eye only ends up making the whole world blind." In modern society we could replace those words of wisdom with the unattributed quote… "Don't start none, won't be none." […]
More
They say that no matter how close you feel, you never really know somebody.
Many dismiss the axiom as bleak and pessimistic. Maybe it's based on a very specific and biased sample of adage users who have particularly bad friends, families or marriages.
But there do exist so many horror stories of people's true colors gaining sudden exposure. Moments like that make one wonder, "Is this the fluke, or was all this time before now the fluke?"
Reddit is apparently full of people who've been forced to navigate that mind-trip.
u/Wide_Stop asked, "Has a friend ever done/said something that just straight up ended the friendship?"
Keep reading...
Show less
Sharon Stone is out here, sexagenarian (that's an age reference), still stunning, single and trying to live her best life.
But now she has to get past big tech too.
Absolutely no issue though for Stone.
Did you even see Basic Instinct?!
This woman is unstoppable.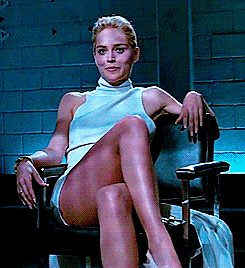 Giphy
Apparently, Stone was booted from the dating app Bumble after several users complained that her profile seemed fake.
And Sharon Stone was NOT having it.
She took to twitter shortly after she was blocked, even posting the very message she received on her Bumble account.
https://t.co/wrsFpTkygp

— Sharon Stone (@Sharon Stone) 1577688486.0
Asking, "Hey @bumble, is being me exclusionary?" Stone raises an interesting dilemma.
What if hugely popular movie stars do want to simply mingle on a dating app with normal people, go on shot in the dark dates, and see where it all goes?
Can someone like Sharon Stone—who recently became single again, and is LOVING it—partake in life like the rest of us?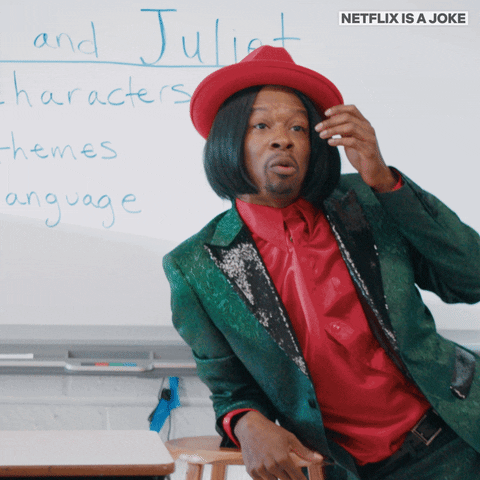 Giphy
Of course, Bumble unblocked her account within a few hours.

@sharonstone @bumble AHA! @sharonstone, we at @bumble found your account, unblocked you, and ensured this won't hap… https://t.co/xCSTmh2BWY

— Clare O'Connor (@Clare O'Connor) 1577697960.0
But in that approximately 3 hour hang time between blockage and unblock-age, twitter went wild about the whole thing.
@sharonstone @bumble Perhaps you could try walking up to any person in the entire universe and saying "Hi, I'm Shar… https://t.co/UEnrzK0ZV4

— Liddle' Savage (@Liddle' Savage) 1577708775.0
@sharonstone @bumble hello sharon if youre ever in buffalo and kinda dig fat guys with mustaches my dms are open… https://t.co/oqN7zb3ONN

— StachesStashes (@StachesStashes) 1577687138.0
@sharonstone @bumble *joins the Twitter queue offering to take you on a date* https://t.co/MJ07F1Oc6C

— Gregg 🏴󠁧󠁢󠁷󠁬󠁳󠁿 (@Gregg 🏴󠁧󠁢󠁷󠁬󠁳󠁿) 1577691820.0
@sharonstone @bumble Lordt the men on this thread trying to get with Sharon Stone ... https://t.co/vy7S0Coafd

— Welsh G. (@Welsh G.) 1577693552.0
@sharonstone @bumble The good news: Sharon Stone's @bumble account restored. The bad news: Bumble's servers can't… https://t.co/GTowurna5K

— 🏝 Kim (@🏝 Kim) 1577706099.0
Now we can all rest easy knowing that Sharon Stone *might* find herself a new year's date on Bumble.
Good luck folks!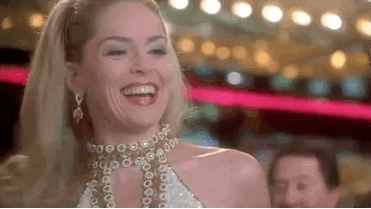 Giphy
You're welcome.

In almost entirely unrelated further reading, check out this satire piece that claims Stone is the prime suspect in that Cannes jewel heist case.
And you can get the film that made Stone a household name, Basic Instinct, here.
Keep reading...
Show less