Who doesn't love a good travel experience?
While difficult right now, what with the seemingly never-ending worldwide pandemic, there still lingers in many people's hearts the desire to see the world.
But where to go? Don't want to go any place too touristy, too on the grid, right? Certainly there must be some spots that you've heard of but never given a second thought to see.

Reddit user, justarndmacc, wanted to give some space to the underrated locales of the world when they asked:
"What city is massively underrated?"
Having fun is key to any bit of travel. After all, experiencing the day-to-day life of local eateries and shopping is fun, but what you really want is to see how the people live there celebrate and enjoy themselves.
Knowing How To Party
"I was not expecting Krakow to be one of the highlights on my trip to europe"
Mallonhead
"I loved Krakow! Wouldn't have thought to go there but my friend married someone from Katowice so checked it out on the way. Great place and Polish people certainly know how to have a good time at a wedding"
VegetableVindaloo
Beer On The Streets? Hello!
"Savannah, Georgia."
"Absolutely stunning architecture, not overcrowded, rich history, and you can drink beer on the streets."
americanslang59
"I've been there multiple times. The city is so gorgeous and the history is mind-blowing. It's main streets are so welcoming and full of cafes, with multiple parks and large trees. There are fountains literally everywhere, and the dock is very relaxing. There's a market too, full of southern culture and food. Honestly the prettiest city in the south."
marksman12O
It's Australia. Everything Might Try To Get Ya.
"Underrated by other Australians, but my city of Adelaide."
"Beautiful wine regions, nice beaches, great nature walking trails in the hills and boutique eateries, great nature reserves, all within about an hour drive."
"Come during festival season and the arts scene is insane."
"Stay more than a week or so you might start to struggle, but a lovely stop on an Australian trip."
"People just focus on the murders..."
eroticdiagram
You might have heard of the city before this, but it wasn't for what people want you to know it for. There seems to be more lying under the surface than we might think when we imagine these cities.
When The Belfast Child Sings
"Belfast, Northern Ireland."
"People still think it's the 1980s with Gerry Adams, masked bandits doing street patrols, uniformed police beating up Catholics, murals everywhere and a car bomb parked on every street corner. That is basically all gone now, apart from the usual marching season and a few dodgy suburbs you'd best keep away from. Most normal people aren't that bothered and the city centre is really good."
"Seriously good friendly people, clean and beautiful city, great vibe, stellar entertainment and nightlife, awash with culture and history. Houses and property are also dirt cheap."
_spookyvision_
Can't Beat History
"Plovdiv, Bulgaria"
"Not a small city, actually a big one, but it has so much in it and also it has 8000years old history"
ShortResearcher4173
"I LOVED Plovdiv. Very beautiful city center, seems to have a rich artist and cafe culture. Food was also A++"
halbesbrot
Catch All The Sports
"Madison, Wisconsin. I was only there for a day but everyone was super nice, the city was incredibly clean, there was plenty to do, and the scenery was amazing."
gil_beard
"Wisconsin is super underrated as a state; and Madison is the best the state has to offer."
"Madison has so much more than college sports, but either way I'd like to add: That place is something else during game day. From Women's volleyball to football. Sure it's not Alabama or Duke, but we have relevant sports on both men and women's side all year round."
TimmyRL28
Come In For A Good Drink

"Da Nang. It's changed a lot from what it looks like in all those Vietnam War movies"
throwaway4127620
"Hello from Paddys Irish Pub in Da Nang as I write this"
"I lived in and visited many many cities and this place is by far the most liveable place I've been to."
its-not-me_its-you_
Sometimes a country is lucky enough to have more than one city worth visiting. Would such a country exist?

A Dream Country
"Kanazawa, Japan. It has the charms of Kyoto without the overcrowdedness that Kyoto suffers from during peak tourist seasons."
PumpkinSpiceBiscotti
"Japan is cheating."
"Japan has so many cities outside of the usual (Tokyo, Osaka, Kyoto) that are skipped by tourists but are fantastic."
"Nara, Hiroshima, Nagasaki/Kagoshima, Kobe, Nikko, Kamakura are all worth a visit if you're willing to spend a few weeks in Japan."
ExoticCommunication
"Asahikawa, Japan. Has a much less crowded snow festival than Sapporo and the snow is so beautiful. Plus, a really cool zoo."
semispooked
"I went to the zoo when it was snowing and it was amazing, gave the whole experience a completely different dynamic. Wolves howling in the snowfall, Amur leopards in the snow - not a typical zoo experience. The penguin walk was cool too."
tintinfailok
Wherever you do get to travel, make sure you take in as much as you can. Barring world events shaping our daily lives, you might not get another chance for a long while.
Want to "know" more?
Sign up for the Knowable newsletter here.
Never miss another big, odd, funny, or heartbreaking moment again.
Keep reading...
Show less
Have you ever traveled to a city you've always heard good things about, only to be totally let down upon arrival?
According to this thread, many have, mostly because of people influenced by hype.
When a friend insists we travel to certain cities because we would "just love it," they're setting the bar pretty high.
And a city can also boast a rich history or an attraction that makes us curious enough to find out what makes it so appealing.

But, alas, when we finally reach the destination, it's never exactly what we thought it would be.

Curious to hear from strangers online, Redditor tshirtguy2000 asked:

"What city is overrated?"
These are not officially real cities but they do have a rotating population.
It's Always A Party There
"Party city."
"As a former slave associate at party city. I 100% agree."
Liability City

"Lego City. There always has to be someone falling into the river."
Lotsa Crime
"Cabot Cove, the murder capital of the world."
"Sure, the murders are all solved, but would you really want to live in a city with that much, easily solved, crime?"
– Andvare
Neighbor To Springfield
Shelbyville. Those f'kers steal trees from neighboring cities.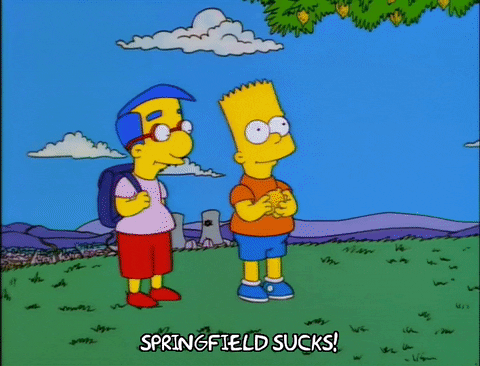 the simpsons episode 25 GIF
Giphy
These were once considered destination cities but their popularity eventually took a nose dive.

Not Pair-A-Dice
"Atlantic City. Venture a few blocks off the boardwalk and it's incredibly depressing. Very clearly an area exploited by the big casinos while the locals have been driven to absolute poverty, while they still force a smile to work the shops that are required for the tourist traffic."
– juanzy

Lots Of Water
"Niagara Falls, Canada. I grew up there. Mayor pumps most of tax $ to casinos and tourism with flashy vegas-esque attractions."
Meh Beach

"Myrtle Beach. I'm not even saying that it has a good reputation, I'm just saying that any shred of positive thinking about it makes it overrated."
Where A Creek Is An Exciting Attraction
"Lamb's Grove, Iowa. It's not the paradise on earth that people always say it is. Don't get me wrong, it's got great Chinese food but the motel 6 is meh at best."
– shah357

Impressions for these cities fell far below expectation.
Do-Bye
"Dubai. It's the clickbait of the world. 'We have the biggest/tallest/most expensive YOU WON'T BELIEVE when you see THIS...' It's hot as f*k, everything's a man-made tourist trap; labor exploitation and racism are rampant, and they try so hard to prove to the world how modern and Westernized they are. Really, it's just government propaganda."
Oh, Florida
"Miami. Horrible place filled with horrible people."
Truth be told, many cities can be overrated.
It just depends on a person's experience, or a resident's perspective about what it is about the location they live in that is nothing worth writing home about.
If I had to choose, I would say Las Vegas is overrated, but that's because there is nothing in Sin City that is of personal interest to me.
I may be severely judged for my opinion, but that is a gamble I'm willing to take.

Keep reading...
Show less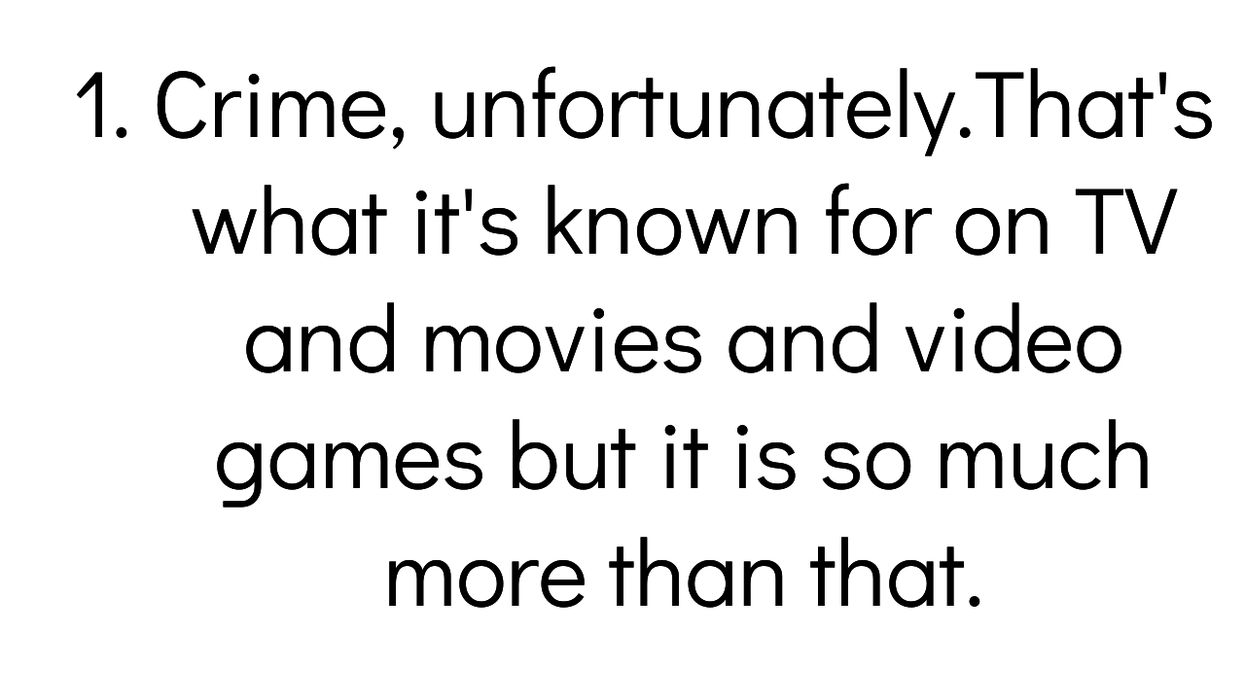 There's always something inherently charming about where we grew up. The memories, the family, the old haunts- visiting is just so special. But there's always that one thing that our hometowns are known for, for better or for worse. Here are a few examples from the kind people over at Reddit.
u/reva_r asked: Without naming it, what is your hometown known for?
Keep reading...
Show less
"How did I end up here?" you asked as you tried to avoid potholes. There are some really depressing places out there, so if you're ever in the area, leave. But get a t-shirt first.
Rmmm79 asked: What's the worst city you've ever visited, and why?
Submissions have been edited for clarity, context, and profanity.

Keep reading...
Show less
User Jordan Daley posed an interesting question on Twitter: how would you identify your city if you weren't allowed to say its name? What makes it unique and memorable?
Twitter had a great time with the question, breaking out their best references to local food, events, and pop culture!
If you can identify all of these cities, you get a gold star!
Some clues were definitely easier than others.
Some hints were more cryptic than revealing.
It's strange to know what each city carries with them...
Some things are so simple, yet so revealing!
Residents also took the opportunity to throw some low-key shade at their hometowns.
It just goes to show—people have to get out there and experience the world! Every city is different, and you won't regret checking out a new one.
Keep reading...
Show less