Good movies are adored by many, but even bad movies can shine in the right context.
Some movies are just so bad they're somehow good, especially if you're watching with friends.
Redditor Sword__of__Damocles asked:
"What 'terrible' movie do you absolutely love?"
Man Of The Clawth
"Velocipastor. I'm an aspiring doctorhookerlawyer."
-Laurienty
"This movie looks amazing."
-MyDogIsSoUgly
-"'I don't know much about God'." – "'I don't know much about dinosaurs'."
-Laurienty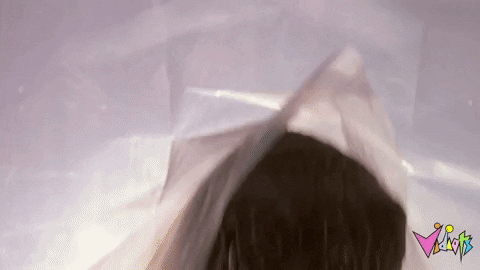 Giphy
It's-a Me, Mario
"Super Mario Bros. So bad, its good."
-DrunkLastKnight
"YESSSS. My goodness, that movie was a fever dream. It is the one where they go into a cave-portal to turtle land right? Where bowser turns humans into goombas?"
-imashnake_
"'I love mud, its so clean, yet so dirty at the same time' is my favourite quote. Why was Dennis Hoppers character oddly sexual!?"
-Thumthumsinaction
Scooby Doobie Doo!
"The live action Scooby Doo movies (2002 and 2004) are unironically both fun and funny."
"The CGI has never been good and the story is extremely predictable but I never get sick of watching them."
"They're just pure dumb fun to me."
– omen_in_budapest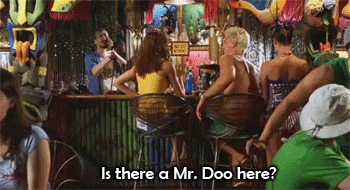 Giphy
Waterworld
"Waterworld"
-Tormz1569
"This is mine too. It's like a worse version of Mad Max just on water instead of a desert and they went full unhinged. I adore it."
-PastelHerb
"This is the best description of Waterworld ever lol I'm taking this 😂"
-franklikethehotdog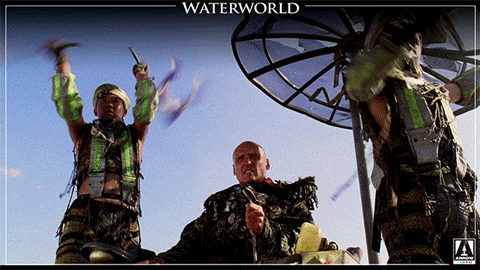 Giphy
Van Helsing
"Van Helsing. It's a pretty bad dracula movie but I still enjoy watching it just for the cheesy dialogue. The ballroom scene is pretty good though."
-AfricanGhettoBaboon
"The werewolves in that movie look fantastic."
"And I highly recommend the commentary track of the DVD with the b-list actors."
-RMMacFru
"The steampunk 1800s technology van helsing uses is just so freaking cool."
-PantrySkeleton
Sparkly Vampires
"The Twilight movies are g*ddamn hysterical. Two and four are terribly paced and just plain boring until the end. Number three is actually ok if you don't take it too seriously. The other two are pure so bad it's good. One is my favorite, but five has a special place in my heart for playing that amazing prank at the end on the fanbase."
-twitchy_taco
"The first Twilight is 10x better with the DVD commentary. Kristen Stewart and RPatz just shred the entire storyline AND their acting the entire time. It's shocking the production company even allowed the commentary track to get put on the DVD, because they just bash the hell out of the whole thing and it's hysterical."
-toomanyburritos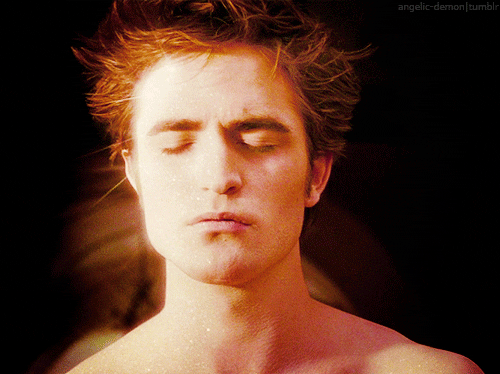 Giphy
It's Craaazy! The Greatest Show on Earth
"Killer Klowns from Outer Space."
-ThenaJuno
"A classic...and as a kid I always wanted one of those hanging, giant cotton candy machines."
-k_shills101
"Believe it or not but it was this movie that got me into horror. Sounds preposterous, I know."
-genichiropops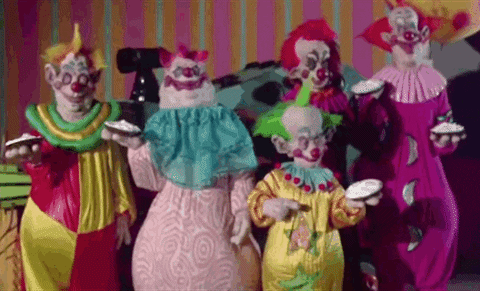 Giphy
Down Periscope
"Down Periscope"
-Livid-Spring-5454
"'Think like a pirate! I want a man with a tattoo on his dick! Have I got the right man?'"
"'By a strange coincidence, you do, sir.'"
-firelock_ny
"That's the one with Frasier in it?"
"It's great!"
-sladives
"I love submarine movies. The more serious and cramped the better. But Down Periscope takes its rightful place in my top 3 sub films."
-CrayonEyes
Dude Where's My Car
"Dude Where's My Car"
-roguemagnetar1
"I once introduced a friend to this movie by saying 'ok, let's be clear. This movie is not Good. However, it IS Great.'"
-Hititwitharock
"I still quote this movie on a regular basis."
-the_man_who_knocks
"Yes. So quotable."
"'Dude, what does my tattoo say?…'"
-Deadboy_5150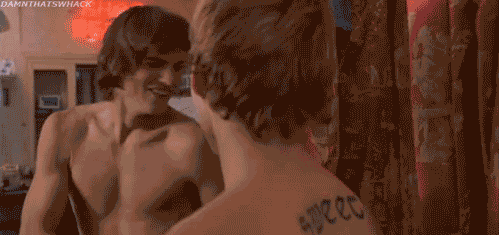 Giphy
Escape From LA
"Escape from LA, the sequel to Escape from NY"
"Kurt Russell as Snake Blisken. its got extreme sports, Steve bushmi as totally not the Joker, a ridiculous plot. It is a dumpster fire and I love it so much."
"Edit: thanks for the award, I wrote this comment after a 16 hour shift so spelling clearly wasn't a priority. I'm not correcting it because its funnier that way."
-barefootastronaut718
"How can you leave out the best parts - a surfer dude Peter Fonda and psycho plastic surgeon Bruce Campbell."
-rcblender
"That surfing scene was so great"
-Tiberius-Dawn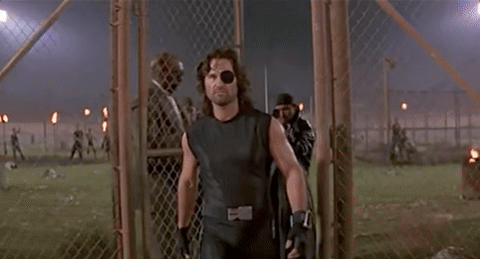 Giphy
If you see a movie that looks absolutely awful, it might be worth giving it a go.
It might turn out to be a delightfully terrible classic.
Want to "know" more?
Sign up for the Knowable newsletter here.
Never miss another big, odd, funny or heartbreaking moment again.
Keep reading...
Show less
I love movies and cinema and basically everything Hollywood.
This time of year is always so much fun. We're gearing up to the Oscars. And the best films of the year are being announced.
But I have to say, sometimes I wonder... who is making this 'best of' list?
I have lost track of the films I've watched that have been lauded as genius that I wish I could get the hours of my life back for watching.
Talk about the power of hype.
Redditor hootyowlscissors wanted to talk about the films that are not much without the hype. They asked:
"What is the most massively overrated film of all time and why?"
This year alone, I've been left empty by almost everything that is being touted as a marvel. And then there is Marvel...
Oh Will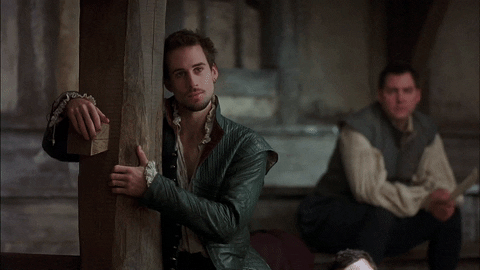 joseph fiennes longing GIF by MIRAMAX
Giphy
"Shakespeare in Love. And it beat Saving Private Ryan for best picture FFS." ~ Millerzeit
It was Dry
"Water for elephants. The book was really good but the movie barely told the story." ~ Icy_Gap6980
"I didn't read the book, and don't hate the movie, but Reese Witherspoon and Robert Pattinson had 0 chemistry imo. Could have been a lot better with one or the other switched for someone else." ~ cheese_hotdog
Blue Bad
"HOLY S**T NO ONE STILL LIKES AVATAR STOP TALKING ABOUT IT!! Now its overHATED!" ~ devilthedankdawg
"Seriously, it's an ok movie. It has good but not crazy good reviews, and that's totally fair. But Saying it's ferngully/Pocahontas/Dances with Wolves doesn't make you smart, you are just repeating the same thing said by every person ever. It just got an insane amount of money because of the spectacle of it and how much word of mouth it had to. And, yeah, to give credit to Avatar, it looks FANTASTIC. It still looks a lot better than a lot of CGI today!" ~ Lucienofthelight
Let it Go... Away!
"Frozen. I liked the idea of two female leads for a Disney Princess movie, but I feel the execution was off the mark. The Hans twist was predictable and the way Elsa freezes Anna's heart to trigger an 'impending death' was just stupid. Olaf was also annoying and I did not find his love of Summer endearing." ~ TelemachusTheYoung
And Burn...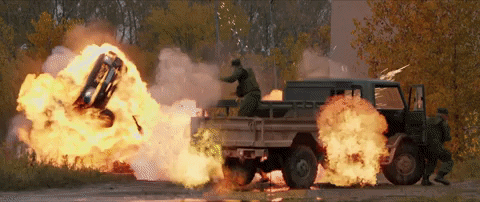 Car Crash Fire GIF by My Spy
Giphy
"Crash. Pure pandering, shi**y script, one-dimensional characters, the whole shebang that should not have even been nominated for crap." ~ freebird12g
Ok... I love Shakespeare in Love. I'm not saying it needed to win best picture but, I'm tired of people crapping on it.
Poor Sharon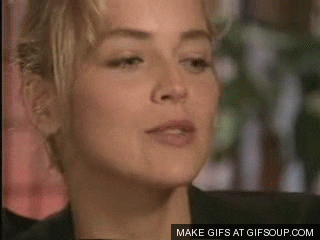 sharon stone GIF
Giphy
"Sliver. I was almost happy when another person in the audience had a heart attack so I could walk out. Don't worry, EMTs were there." ~ pappyvanwinkle1111
Not Believable...
"I have two. The Purge movies. Not only is the premise mind numbingly illogical with so so many ramifications, but I find it really hard to believe that the entire country would go on killing sprees instead of stealing crap and doing drugs. Paranormal Activity. Oh no, the chair suddenly moved after a half hour of nothing else happening!" ~ Yuiopy78
God of War
"Wonder Woman. Everything in it is so predictable and cliché. Gal Gadot looks like she reads her lines through a prompter. Just awful." ~ MappleSyrup13
"In my opinion they also just shouldn't have had the God of war show up at all. I really liked the idea they were originally pushing that it wasn't a larger beings doing, but humanity itself. Then WW has to come to grips with that instead of getting the cop out." ~ Seizing_sponge
Unfunny...
"Ted - once the swearing bear novelty wears off five minutes into the movie you're left with a paint-by-numbers rom-com with the same tired jokes and cliches we've seen a thousand times." ~ SithDraven
"Like family guy, the content of the story is awful but they have 2-3 jokes that really hit in an attempt to redeem the lack of plot." ~ dontshoot4301
Just Go!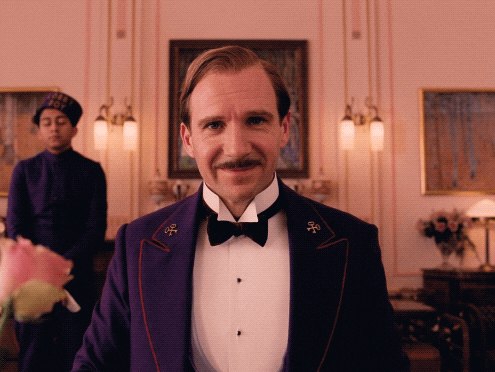 Wes Anderson GIF by Coolidge Corner Theatre
Giphy
"The English Patient. I almost got thrown out of the theater at one point for screaming "just f**king die already.'" ~ 12altoids34
Don't me started on The English Patient. And come on, Sliver is campy fun. Just go with it.
Want to "know" more?
Sign up for the Knowable newsletter here.

Never miss another big, odd, funny or heartbreaking moment again.
Keep reading...
Show less
You know, I'll just be real for a sec: I hate annoying kids in movies. They drive me crazy.
I am reminded, first and foremost, of Marriage Story, which received a bunch of nominations for awards a couple of seasons ago. It wasn't even Noah Baumbach's best, by the way, despite being lauded as his most personal, fully realized project.
A big factor that brought the film down: The annoying damn kid. The kid that appeared to have been spawned by Satan himself and is probably single-handedly responsible for the breakup of the marriage depicted in the film, though no one in the film bothers to admit it.
If there's an annoying kid, I rarely suffer through the film. What makes it worse is that these kids never act like humans, because screenwriters either make kids really brilliant prodigies with the vocabulary of some top scientist or egregiously infantile. There is no in between.
But there's much more than annoying kids that can ruin a movie. People shared their thoughts with us after Redditor lawyeratyourservice asked the online community,
"What ruins a movie instantly?"
"Not answering questions..."
"Not answering questions with yes or no. So many movie plots could be cleared in 10 minutes."
SirZooalot
Right? It's maddening.
In reality, if someone says, "I can explain," then the overwhelming majority of people will give them the opportunity to explain.
It's insulting to the audience.
"Having an idiot sidekick..."

"Having an idiot sidekick constantly asking questions about what you're doing. I know the sidekick is a stand in for the audience."
Blazerblaster
They are, and this is an example of lazy screenwriting. Garners an instant eyeroll from me.
"Even if..."
"Even if it's a one vs multiple people fight and they could have easily overhelmed the one person together, they always take turns/do it one on one. What's up with that?"
sunflower4
How sweet of them! They're so kind, just waiting for their fellow henchmen to die before they have a go at our hero themselves!
"When a trailer..."
"When the trailer reveals the entire story."
Prams35
This is precisely why I hate trailers and don't bother with them. THE WORST.
"An exposition..."
"An exposition in which one character explains everything that's going on to another character that should already know what is going on."
smartypants
LAZY SCREENWRITING 101: Tell us everything. Assume that the audience is stupid so create characters that are even more stupid.
It's offensive.
"People with lower middle class jkobs..."
"People with lower middle class jobs that live in a nice, large house in an upper-middle-class suburban neighborhood."
crucifix_peen
Yeah, what's up with that?
It's impossible to suspend disbelief at that point. Is Hollywood just out of touch?
"A house full of kids..."
"A house full of kids and the whole home is pristine. In real life, there's always going to be some toy or art project laying around and most likely damage to the furniture."
zerbey
Yeah, I bet actual parents are envious of all these movie families that somehow have it all together.
"When the characters..."
"When the characters experience the 'misunderstanding and break apart' trope. Then they 'come back together to resolve conflict.' I'm so sick of it, especially when the misunderstanding could easily be avoided in the moment if they just saw the simple solution staring at them in the face."
captnbass
Again, this drives me crazy. And it always follows the same beats, too. A lot of romantic comedies are like this, and that's what makes them bad romantic comedies.
"I get that the main characters have to survive..."
"Main characters being invincible while everyone else dies from one punch. I get that the main characters have to survive or they wouldn't be main characters, but at least make the damage somewhat realistic."
roostertail47
It's always a pleasant surprise when screenwriters remember that our heroes are people too and have them suffer some damage.
When this is done in horror movies in particular, it really ups the stakes.
"I hate movies where..."
"I hate movies and TV shows where the world is ending and everyone's fighting for their lives, but the teen characters are still angry at their parents just for existing."
escargoisntfastfood
Even though the character is an adult, I can't help but think of Jenny from Deep Impact, who is still somehow mad at her father for divorcing her mother even though there is a literal comet about to hit the earth and wastes so much of the film pouting.
I love Deep Impact, by the way. I hate myself more than enough, thanks.
Something tells me a lot of screenwriters would benefit from spending time with regular people. Perhaps some of their success has gone to their heads.
A lot of movies would be much better if they didn't commit so many of these cinematic sins.
Have some observations of your own? Feel free to tell us about them in the comments below!
Want to "know" more?

Sign up for the Knowable newsletter here.
Never miss another big, odd, funny, or heartbreaking moment again.
Keep reading...
Show less
There's something about seeing a scary movie when you're a kid that is just not the same when you're an adult. I adore The Shining but please, someone explain to me... why did I think it was a good idea to sit through that at the age of eight or nine?
Before you say anything, it was late at night and it was on television. Just the sound of the music as the car went up the mountain sent trembles of anxiety coursing through my body.
Still one of my favorite movies to this day, by the way. But I still can't get that image of the old lady in the bath out of my mind.
People told us all about the films that scared the bejesus out of them after Redditor Tmorris22 asked the online community,
"What movie traumatized you as a kid?"
Children of the Corn (1984)
"I saw Children of the Corn as little kid. I still f**king hate cornfields. Oh a corn maze! Here, have an anxiety attack."
"Parents: Don't subject your kids to things they will not comprehend at the age of five. Like demon children in cornfields."
fiddlenutz
This one was a bit too goofy for my taste, but there's no doubt it left an impression.
It did inspire me to read the short story, which is infinitely more creepy.
Jaws (1975)
"Jaws -- I actually saw it in the theater when it came out; I made my mom take me. I was OK until the night scene when they dived under the trashed boat... then I was not OK..."
"To this day, I will not swim in the ocean."
obik501
The film that taught an entire generation of people not to get into the water. That's really something, isn't it?
I still have fears of running into a shark to this day.
The Ring (2002)
"My mom showed me The Ring a couple of days before Hurricane Katrina, and then we were without power for two weeks. We slept with the windows open and it was scary dark and all you could hear was crickets chirping in the woods. I've never been so scared."
shelbikadoo
The original film is creepy too, though very different in style.
Seeing this one, I have to say that the bit near the end when Samara exits the television is still one of the most unnerving images I saw as a kid.
Guess what? The film definitely still holds up.
Who Framed Roger Rabbit (1989)
"Who Framed Roger Rabbit. The shoe being dipped in acid was absolutely horrifying, and I had nightmares about steamrollers for years after seeing that movie."
Lichruler
I found this film more of a fun romp more than anything else but there's no doubt that it's not a "kid's" film.
Jeepers Creepers 2 (2003)
"Jeepers Creepers 2. I was sleeping on the couch while the older kids were watching it and I woke up to the scene where the bus drives by the kid with no eyes. That was fun."
HiraethAtRockBottom
The first one works for me, though starts to lose steam once they get to the police station.
This one does a bunch of things... and I'm not sure any of them really work.
But you're right: There's something about the shot of Darry standing on the side of the road with no eyes that is unnerving.
Child's Play (1988)
"The first Chucky movie. It made me develop a terrible fear of dolls. I'm an adult and just a few days ago I had to hide a giant Santa Claus doll in other room to be able to sleep because I felt extremely tense with that thing there."
HentaiIsOctopusAbuse
The first one is the only one that takes itself seriously and that's probably why it works so well. The second film is a great black comedy, but the films really drop in quality after that.
Poltergeist (1982)
"That movie traumatized me as a child. Specifically the scene with the raw rotten meat crawling around on the counter…just made me feel sick and fear raw meat."
groovysebo
"They're heeeeere!"
A classic moment in a film that feels very much like a macabre carnival ride.
Saw (2004)
"The first Saw film. I still to this day have an irrational fear of being kidnapped in my sleep and put into a Jigsaw trap."
hermajestie
How old were you?!
The first Saw film is pretty excellent. The second is a good follow-up. After that? What in the world was the point?
Jumanji (1995)
"Jumanji. Frickin' Jumanji. Thank goodness I was too young to recognize actors in other movies/shows, otherwise Robin Williams might've terrified me for life."
terrayoung
Jumanji?
Of all things? I can't see it.
It (1990)
"It. That whole move made me afraid of plumbing."
DowntownSurprise-2
Tim Curry's performance is excellent. The film (technically a miniseries, actually) surrounding him? Not so much. But he carries it all so well that it's no wonder this is such a classic.
There's no doubt that movies leave an impression.
That's what makes them so magical – and so effective.
Think a film is missing from this list? Feel free to tell us more in the comments below!
Want to "know" more?

Sign up for the Knowable newsletter here.
Never miss another big, odd, funny, or heartbreaking moment again.
Keep reading...
Show less
It's a great day when you see an actor in a role that seems as if it was tailor-made for them.
While the Disney film 101 Dalmatians is an animated classic at this point, there is no doubt that the decision to cast Glenn Close in the live-action remake was the right one. She embodies every inch of that character. Even if you don't like Disney flicks, there's no doubt that the film is a showcase for her stunning acting.
Speaking of Glenn Close... we might want to just run down the list of her most acclaimed roles, because she was pretty much perfectly cast in all of them. Looking at you, Fatal Attraction and Dangerous Liaisons.
People shared their thoughts with us after Redditor tms88 asked the online community:
"Which movie/series character is perfectly cast?"
"So much so..."
"Dolores Umbridge. Imelda Staunton did such an incredible job at being an unlikeable monster. So much so that a lot of Harry Potter fans hate her more than Voldemort."
VolantisMoon
Perhaps the one character from the series that inspires the most hate – and in the best way.
"She played that character's..."
"Melora Hardin as Jan Levinson in The Office. She played that character's downward spiral perfectly."
JWREES
She did indeed. Excellent acting in a series that included plenty of it.
"The head of Disney..."
"Johnny Depp in Pirates of the Carribean."
"The head of Disney at the time hated what Depp was doing while they were filming the first Pirates movie. Apparently there was a call where he was heard screaming at the director that he's ruining everything and he did all he could to basically sabotage the movie."
"He quickly changed his tune after Depps performance was a huge hit after release."
Mcchristopherr
And Johnny Depp's been laughing all the way to the bank since. He even got an Oscar nomination for it!
"He was so convincing..."
"Jack Gleeson as Joffrey Baratheon."
"He was so convincing that it ruined his career. Can't get much more perfect than that. Sad that people are idiots but it was incredible casting."
Cw2e
I'd say he decided to go back to school and do theater more than "ruined his life" but he could probably pick up another role tomorrow if he wanted to.
"Really a stunning performance..."
"Heath Ledger as the Joker in The Dark Knight. Really a stunning performance, and a heartbreaking loss."
whoamuleoh
I don't even care for The Dark Knight that much and there's no denying that Heath Ledger is all kinds of brilliant in it.
"That was acting?"
"J. K. Simmons as J. Jonah Jameson in Sam Raimi's Spider-Man (2002-2007). That was acting? I thought they summoned the character straight from the comic books."
1CENinja
I was rewatching Spider-Man 2 recently and have to agree: Stunning casting. So good, in fact, that they used Simmons again other films!
"He is wonderfully cast..."
"Tom Hiddleston as Loki. He is wonderfully cast and such an amazing and deep character. Hiddleston portrays such emotion so subtly or so violently and it's beautiful."
Noodles4Cats
If it wasn't for his Loki performance, Hiddleston wouldn't have been able to turn in great work in other stuff, too. The Night Manager is a miniseries that works precisely because of this same charm.
"I've hated him for years..."
"Joaquin Phoenix as Commodus in Gladiator. I've hated him for years because of that character, and I mean that as a compliment on his acting skills."
josdin00
A character audiences love to hate. He did a good job being utterly dispicable in that role.
"Everyone has played..."
"Walter White, Saul Goodman, Gustavo Fring, Jesse Pinkman, Mike.. basically the whole crew of Breaking Bad. Everyone has played all phases of their characters as if it's all the happenings of their own lives."
BadBeast11
The entire cast of Breaking Bad was firing on all cylinders from day one – and somehow just got better and better with each subsequent season.
"They absolutely nailed those characters."
"The four Golden Girls were perfect - Rue McClanahan as Blanche Devereaux, Betty White as Rose Nylund, Bea Arthur as Dorothy Zbornak, and Estelle Getty as Sophia Petrillo. They absolutely nailed those characters."
hawknip
This show is a classic for a reason. Who could imagine anyone else in these roles? Sacrilige!
There's no doubt about it – there's something magical about seeing great actors work their magic on screen. If they happen to align with the role perfectly, that's a bonus.
Have some suggestions of your own? Feel free to tell us more in the comments below!
Want to "know" more?

Sign up for the Knowable newsletter here.
Never miss another big, odd, funny, or heartbreaking moment again.
Keep reading...
Show less