Reddit user WCh3L3 asked: 'What's the wildest cheating story you've witnessed or happened to you?'
The people who love you the most can break your heart because of their betrayal of trust.
Cheating is cowardly and inexcusable, but depending on the situation and the couple, it is possible for them to find a path to healing emotional wounds.
But there are some ways in which infidelity is totally unforgivable.

That's the kind of scenario Redditor WCh3L3 was curious to hear about when they asked:

"What's the wildest cheating story you've witnessed or happened to you?"
It must be exhausting leading double lives.
Hospital News

"A friend of a friend found out that her husband was cheating when she got to the hospital to see her husband who had just moments before been brought in by ambulance after a serious car accident only to be denied entry to his room because 'his wife was already in the room with him.'"
"He had two simultaneous lives with two women, neither of which was aware of the other."
– JeBronlLames

The Ruse
"My ex-wife pretended to be admitted to a mental health ward for long term treatment while actually staying with her new man and cheating on me."
– Impossible-Visit-199
"This one is just next level."
– most-royal-chemist
"That's some Batman villain level of intrigue and machination. His wife missed her calling and wasted her abilities on sleeping around."
– filifijonka

A Separate Life
"My friend's mom was in a relationship with a guy for years and they ended up getting engaged and due to marry."
"The guy was a senior director of a company for which he travelled every week abroad for business."
"Eventually, the guy had a heart attack and when my friends mom turned up at the hospital, his wife and 2 kids were there also."
"Turned out he was already married with children and living a double life the whole time. When he went 'abroad' for business, he was simply going back to his actual family."
– wallbagz

Here's The Story
"My dad did this. He worked nights and would juggle both families that way."
"He came clean after he got admitted to hospital for heart trouble and realised that if things went badly he'd end up in this exact situation."
"I was 16 when he came clean that I have an older brother and sister. They found out about me then too - as did his wife."
"ETA: I'd actually already figured it out before he told me though. Nobody else had."
"EATA: I saw a preview of a text on my dad's phone from my sister. I didn't know she was my sister obviously, but it said 'hi dad, mum says…'"
"At first I was in denial and I thought his friend must have borrowed his phone or something. I started to watch him more closely."
"He had a ringtone (lol the 00's) that would say the name of the caller. I noticed whenever a certain name rang he'd leave the room. Some tactical eavesdropping later and 15 year old me had it figured out that I had a brother and sister."
"I didn't clock I had a stepmother though, or that I was family no2 and they were his primary family. But I still think I did pretty well!"
"My whole family on my mum's side knew - mum respected that it was my dad's secret to tell and she gave him time to tell it. (Although they did have a few arguments about it as I was growing up, I never knew what they were about at the time.)"
– notemily-

Life is never the same once the truth comes out.
Shameless
"A family friend's husband was having an affair for 20+ years and that woman knew the entire time about his family. He was at her ranch one time and was bucked off a horse and broke his back. The affair partner called his wife to tell her and acted like everything about this situation was normal and the wife had no reason to act all upset at the affair. Some people really just have no shame."
"Guy lived and made a complete recovery, left his mistress and they stayed together since they were working on their relationship. He died a few years ago and the wife finds out he never actually left his mistress just lied."
– SailoLee92

Unilateral Decision
"In a small town the husband kept telling people he had an open marriage; finally someone asked his wife about it, she was unaware of this new arrangement."
– Long_Strange_Trip_GD

Rehab Romance
"Was in rehab, two people were there for sex addiction one a minister the other a Jewish housewife. They left rehab together early. Woman divorced her husband who sent her to rehab for sex addiction and married the guy she met in rehab. They are still married 10 years later and seem very happy."
– Life-Evidence-6672

On The Case
"I knew a guy years ago that was a private investigator. Many times he was approached by a spouse who suspected their partner was cheating."
"He had a slam-dunk strategy. He would suggest his client sign up for a course, whether a hobby thing, or educational. The key was that the class would happen for a period of weeks, all on the same day of the week, and all at the same time of day."
"Then, while his client was in class, he would follow the spouse."
"Caught them every time."
– PJMurphy
If you have a hunch about an unfaithful significant other, it's there for a reason.
Going For A Run
"Had a coworker who cheated on her live-in boyfriend. She would tell him she was going for a run, put on her shorts without underwear and would f'k her side piece in the apartment parking lot. So then she would come back inside sweaty 30 mins later and needed to shower and it all made sense to her boyfriend, he never questioned it. She was an awful human."
– rashawah

It Made Scents

"A friend caught her husband cheating because he kept coming home smelling like ferrets."
"Hard to play off 'long day at work' and explain that."
"When she found out at a holiday party that one of the young female coworkers owned ferrets, it all made sense."
– benloe7

Special Delivery
"I used to go to a comic shop. And the comic shop owner knew all of the gossip in the area. Nice dude. Remembers all of his regulars and asks about you if he hasn't seen you in awhile to check in on people. Lot of people in the area grew up with his shop. So he's got stories."
"Anyways he told us about this story from some years back about this regular. Who disappeared for a few months. Comes back one day. And the shop owner asks him, 'hey, man. Haven't seen you in awhile?' Kind of like where have you been. The regular was like oh I've been getting divorced. I had to move it was a whole thing."
"So naturally the shop owner asks. 'Why are you divorcing your wife?' The regular caught his wife cheating."
"He had picked up a 2nd part time job as pizza delivery man because he was trying to fund to take his wife on her dream vacation. All of the money he earned from that job was supposed to go into that vacation. He had been working this job for like 6 months. It was a whole secret. She didn't know he was doing that for her. Because he was trying to surprise her."
"He was the pizza delivery man at the motel. She was cheating at him with. The dude she was cheating on him with answered the door with her right next to him."
"He apparently didn't even go back to the pizza place. He quit on the spot. Went home. Packed his sh*t and left town."
– TheMysticalPlatypus

Those who are unfaithful in their relationships may think they're good enough for more than one person, but they're usually not.
And while you may not believe in it, there's something called karma, and watching it enact justice can be extremely gratifying.
If you were the one being cheated on, know that the person with whom you've fallen in love is not the kind of person you want to spend the rest of your life with and there will always be a better human who will respect you and love you.
And if you were the cheater, watch your back. Because whether you believe in it or not, karma's coming for ya.

Reddit user miaah214 asked: 'People who have cheated before, why did you do it?'
When it comes to the dating scene, most of us have a pretty low opinion of people who choose to cheat on their partners, not to mention serial cheaters.
But that doesn't seem to stop some people from doing the deed.
Curious, Redditor miaah214 asked:
"People who have cheated before, why did you do it?"
Revenge Cheat
"He cheated first, and I was young, petty, and thought revenge would make me feel better."
- Witch_on_a_moped
Immature and Selfish
"Unbridled ego, unsatisfying regular sex life, and a girl who threw herself at me."
"I was an idi*t, I acted like an a**hole, and I will regret it for the rest of my life."
"It was a hard truth to face. It was a dark time in my life where my ego and my immaturity caused me to hurt several people I loved."
"Fortunately, I learned from it, and while I can't take back the pain I caused, at least now I know that I am 100% capable of being an a**hole and so can choose not to be one."
- Seba_King
Insecurity
"Insecurity. I was always on the lookout for someone who would make me feel more desirable than the last. It was a serious youthful lack of judgment."
"Once I grew up emotionally, I realized what a piece of s**t I was and the hurt I caused. Hard to live with, to be honest."
- Penfold_for_PM
Just Desire
"100% pure lust. That's it. I'm not proud of it."
- mydepressingpoems
Lots of Options
"Willing partners. It was amazing how many times when I did have a steady girlfriend that I would suddenly get propositioned by random women or worse yet, my girlfriend's friends or sisters."
"Too many times to be a fluke."
"It was like they figured if you are in a relationship, you're worth pursuing."
"But when I was single, most times I couldn't get a woman's attention."
"So it was an ego boost, but ultimately, I decided to be a better person, and I met a person who I truly thought was 'the one.'"
"And to a certain extent I did, it just didn't last through no fault of my own."
- Patient-Quarter-1684
In Need of Validation
"When you grow up being in turn neglected and told you're not good enough, validation is like a drug, and intimacy is the ultimate validation."
"Sooooo much therapy to undo this."
- RowhammerBitflip
"This. I'm just recently realizing how I didn't receive enough attention and validation from my parents and how much it's influenced my choices. Meeting someone and having them be into me physically is the easiest validation boost I can find."
"People who grew up with parents actually interested in them and with an instilled sense of self-confidence don't know how good they have it."
"I don't inherently feel important or relevant so I'm always looking for someone to tell me otherwise."
- tellitothemoon
The Thrill of It
"Because I was a f**king a**hole 20-year-old who only thought of himself and getting some action. The high of it."
"I'm 37 now. No cheating since then."
- Temporary_Fault6402
The Real Joy
"My ex was done in the bedroom and even said they were no longer interested in me physically or sexually."
"I should have left at that point, but with kids and the financial hit of divorce, I just looked to fulfill that need."
"I later divorced, and it was a big financial hit, but oh my god, what a relief it was getting out. Getting out of an abusive relationship is where the true pleasure comes from."
- loomdog1
In Need of Attention
"My partner cheated on me shortly after I had his baby. I wanted to leave, but I convinced myself to stay. The logistics of having a baby and 24-hour care are challenging on your own. He refused to have sex with me."
"At some point, someone got me in a weak spot. Somewhere between exhaustion, low self-esteem, and the sheer opportunity of having an orgasm were too strong for me. I'm deeply ashamed."
"Shortly after I picked myself up, the relationship ended. I should have left sooner."
"Someone telling you that you are beautiful, talented, and special after being invisible can feel like a drug. I don't expect sympathy from anyone for my actions. But I do have a lot of sympathy for others now."
- throwawaythrowyellow
The Easier Option
"Because I chose a cowardly and easy path. Instead of going to therapy and ending my toxic relationship, I cheated on them with someone who I had convinced myself I was in love with and loved me."
"As it turns out, breaking up with someone is a lot less harmful to everyone involved than cheating."
- dodongosbongos
Devastating Choices
"Not me, but a guy friend cheated and the reason he gave was that he loved his fiancée but they had very different sex drives."
"He also said that when he brought it up to her (the difference in their sex drives and the problems it would cause) she begged him not to leave and insisted it wouldn't be an issue."
"He told her it already WAS an issue and, as a last resort, she said she would understand if SOME DAY he felt the need to look elsewhere…just as long as she never found out."
"The girl admitted to saying all this but explained that she would have said anything for them to stay together in that moment, she didn't think he'd actually be 'f**ked up enough to cheat' and she never imagined he would do it so soon."
- Dramiotic
The Perfect Combination
"A perfect storm of poor impulse control, untreated mental illness, and boredom."
"People on the moral high ground will tell you not to cheat for reasons like morality and integrity; from the moral low ground, I can tell you that the lifelong guilt, shame, and remorse are not worth it."
- LowCarbBeesechussy
Emotionally Done
"Because the relationship was done and I was already moving on emotionally. I just didn't care about her enough to care whether she was hurt or not. Honestly, in hindsight, I have zero idea why we were still together. It DID make the eventual breakup a lot messier."
"I was young and it taught me an important lesson. If you're done, just be done and leave. There's no point in dragging it out. If you're ready to start looking for another relationship, start by ending the relationship you're already in."
- codefyre
Ready to Make Up for It
"I had a perceived lack of affection. I felt ugly and disgusting and like I was just an emotional tampon."
"I would never do it again. In therapy, I learned a lot about the reasons I did what I did and in all honesty, if she would even entertain the idea of trying again, I'd spend every day making up for it and making sure she felt more love then can be imagined."
"I'm currently fulfilling into the man I know I can be. I just wish it took a more positive trigger in order to start that for me."
- Anthonys455
Let's end it -- the article, that is -- on a lighter note.
The Worst Kind of Cheating
"My wife wasn't around. The house was empty."
"I couldn't wait for her to get home, so I watched the next episode without her knowing."
"Honey, if you're reading this… I'm so sorry."
- six6sickx
"You're a monster."
- Efficient_Ad_8367
It's so hard to imagine what's going on inside someone else's head or why they might choose to do the things that they do, especially if it's something we don't agree with.
It's at least heartening to see that many of these Redditors used these experiences as learning opportunities and have since gone on to treat the most treasured people in their lives a little differently.
According to the General Social Survey, 20% of married men and 13% of married women reported having sex with someone other than their spouse.
In the United States, 17% of all divorces cited adultery on the part of either or both parties.
But 70% of married women and 54% of married men reported they didn't know of their spouses' extramarital affair until their spouse confessed.
And how did the other 30%-46% figure it out?
Reddit user Ok-Still2345 asked:
"How did you find out your significant other (SO) was cheating on you?"
Out of the Mouths of Babes
"Hell, my 5-year-old grandson told me!
"He said 'you ain't my favorite pop pop...Rodney is!' I said who the f*ck is Rodney?'."
"The rest is history."
~ Able-Acanthisitta681
STI Was a Big Clue
"My best friend had chlamydia she got from a hook up. And then weirdly enough my fiancé at the time started having symptoms of, coincidentally, chlamydia!"
"This was the 2nd partner she had done this to me with."
"I had just gotten out of the hospital for a spine surgery, so thankfully I didn't contract it."
"I gave him a ride to the Walk-In clinic (he couldn't drive) and left him there."
~ brokenbackgirl
Keep It Down Over There
"Neighbor called me asking if we could be a little more quiet with the sex."
"I was in another state."
~ gooberhack
"This is how my neighbor found out her newborn child's father was cheating on her."
"She was working an overnight shift and their other neighbor (I was away) called in a noise complaint for a woman screaming."
"Dude was having sex his ex while he was supposed to be watching his newborn."
~ kaloonzu
Friendly Exes
"Oddly enough my ex-girlfriend (call her A) at the time told me."
"She messaged me asking if me and my girlfriend (call her L) were still together.
"I said yeah."
"A sent me a picture of L grinding on some dude's lap at a party."
~ CystandDiseaseLetter
Making a New Friend
"I caught an ex in my 20s in a similar way. My friend called me and he was like 'hey man are you still with her?'."
"'Yea why?'."
"'I'm going to send you a picture, I'm here right now, sorry man.' It was a picture of her on some dude's lap at a house party making out."
"I drove to the house, parked outside, texted her the picture, then walked inside. Walked up to her, told her we were done, looked at the dude, said 'congrats she's all yours now' to which he responded completely clueless that she had a boyfriend, and yelled at her."
"She left. He and I proceeded to get sh*t faced together at that house party and became really good friends for about 5 years before he moved to the other side of the country."
~ burkechrs1
Her Friends
"Her best friend called me and told me. She was very gentle about it, knew it would hurt a lot."
"Eased me into it, provided evidence, wished me a good evening."
"When that friend and I ended our convo, I called my then girlfriend and informed her about what happened. It felt good to have a counter to every excuse or lie she tried to retort with."
"Going in prepared spared me from just going back to her, probably."
~ danielstover
"My ex girlfriend's best friend did this for me as well."
"It was my birthday and I invited them all to a hotel in socal to celebrate. The friend pulled me away and said my gf had slept with like 5 people during our relationship."
"She saved me possibly years of heartache."
"Funny thing is, she hated me. She only told me cause my ex pissed her off."
~ Pawn_captures_Queen
"My ex's friend all summer kept referring to me as 'Scotty' and I kept asking why and my ex would get mad and 'sshhh' them."
"I finally found out that it was a reference to the song 'Scotty Doesn't Know'."
"Oof. This was in high school."
~ kikistiel
His Friends
"I had an ex whose friends were the reason I found out he was cheating on me after deep cleaning his apartment while he was in the rehab that I helped get him into."
"Real solid dudes. Wish I kept in touch with them over the years.
"They saved me so much grief."
~ tenderourghosts
In the Clouds
"Shared cloud storage photo album had backed up some damning pictures."
~ notyourregularninja
Photo Finish
"Had a picture on his phone of his side piece in our home holding our child."
"My head exploded."
~ Lady013
Gaslighters
"Found a long, maroon-dyed strand of hair in his BEARD."
"I have short blonde hair."
"Funny enough, he had constantly accused me of cheating beforehand."
~ MiniJackalope
"My ex husband was the same way."
"He swore I was cheating but it was him."
~ ddgg17
"My ex too, yeah. She blew up at me several times to accuse me of cheating while she was visiting her sister over Christmas."
"Her roommates informed me that she had a threeway with some random guy and her cousin on that same trip."
"Honestly at that point I was glad for the excuse to dump her."
~ camelCasing
Surprise Gift
"We were living a few hours apart for a few months because of work. I was driving up every weekend to see her."
"She called me and told me that she had to go see her dad or something that weekend. I knew she had been super busy and stressed at work and she loved wild flowers."
"I spent all day Sunday picking wild flowers, bought a vase, and drove up to the house she was renting, intending to drop them off on the porch so she'd see them when she got home that night."
"Her car was there. A sport bike was parked next to it."
"And she has never been quiet in bed when she didn't have to be."
~ JeevesTheRunner
Right Person for the Job
"I received an 'anonymous' email from someone who felt I 'deserved to know' that he was seeing someone else.
"The email included details about the relationship and several screenshots."
"99% sure it was sent by his side chick who wanted a promotion to main chick."
"I gracefully gave her the promotion and he found a replacement for her old position shortly thereafter."
~ apostate456
Ignorance is supposed to be bliss, but there's one thing all of these stories have in common.
Everyone was happier to end a relationship with a cheater than continue being lied to.
CW: Death and miscarriages.
It's always sad when a couple doesn't make it all the way.
Especially when a promise was made.
Isn't that what an engagement is?
A very expensive promise.
Diamonds ain't cheap.
Redditor mimi_nivi wanted to hear about the reasons why finally getting to "I DO" was impossible, so they asked:
"People who were engaged at one point but never got married, what happened?"
I've never been engaged.
And I thank God everyday.
My laundry list of exes is full of stains.
Not in Bed?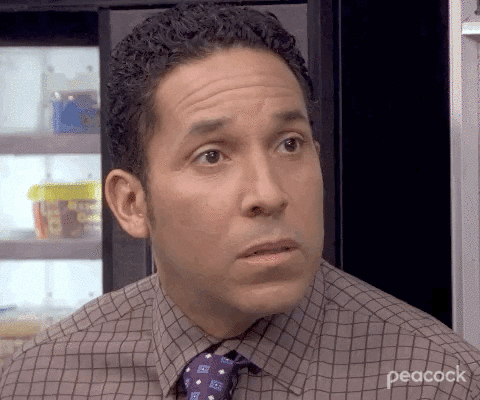 Season 5 What GIF by The Office
Giphy
"Came home for lunch one day to surprise her. Surprise was on me as she was in the middle of doing her co-worker on my couch. I loved that couch."
Siguldg
3 Months Before
"He wasn't participating in the wedding planning at all and I realized he didn't actually want to get married. There was a lot of pressure from his family and admittedly, me as well. I just wanted a family and to be married and hadn't really paid attention to his reluctance up until that point."
"It was 3 months before the wedding and I sat down and reviewed our relationship. We were incompatible at several crucial points, even though we loved each other a lot. So I called off the wedding and ended it and while we were both sad, we were also relieved."
"This was more than a decade ago and whenever we run into each other we catch up and there are no hard feelings at all. He's married and a father now and I couldn't be happier for him."
Midnight_Muse
Back in 2012
"She died due to seizures. 3 am: she was home alone. She woke up and had a seizure and unfortunately hit her head against a wall… 7 am: she was supposed to show up at her parent's house to drop off the dog before work. She didn't. 9 a.m.: her parents went to check on her, the dog was fine, but she was unresponsive. 9:30 am she was declared deceased at the scene. 10 am: I was at work and I got a call from her father… I lost it right there. It was back in 2012 but still, I'm not over it yet."
Fragrant-Snake
Cruel
"We had like 6 miscarriages."
"At the end of the relationship, he said something to me like 'It's just so hard… I look at your face and I feel like I SEE nothing but 6 dead babies.'"
"Can't really come back from that one. I mean some people can. We couldn't."
"It's crazy in hindsight but everything just kind of worked out. I have two beautiful daughters and a stepdaughter I love and a great life!"
relentpersist
Whoops
"Turns out she liked vagina as much as I did."
wayneo88
Sometimes too many of the same interests are NOT a good thing.
Lesson learned.
Thank You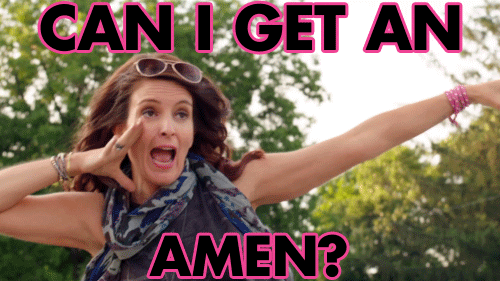 Preach Amy Poehler GIF by Sisters
Giphy
"He cheated before we got married and I found out. I thank the stars every f**king day I didn't marry him."
fatfemmebish
Old Friends
"She started hanging out with an old group of high school friends and just changed. She became extremely nasty over wedding plans, telling me we had to have the exact same number of guests on both sides. If I had one more guest than she did, she made me remove someone from my side. I knew if I moved forward it would have ended in divorce, so I just ended it before it got to that."
Wastoponcene
True Colors
"The longer we lived together leading up to the wedding, the more he showed his true colors. One day while I was cooking dinner for us he started screaming at me, like an inch from my face, and called me a (see you next Tuesday.) Something about it snapped some sense into me. I walked out and never went back."
gamergirl007
Technicalities
"We're still technically engaged, but we never wanted a wedding. We met way late in life (I'm 50, she's in her mid-40s), no kids, and if we get legally married the gov't f**ks with her disability assistance so she is my spouse, my partner, and my soul mate. But we don't feel the need to get married. But I do have a living will just in case. We will be celebrating our 10-year anniversary early next year."
lovedontfalter
Holy Mary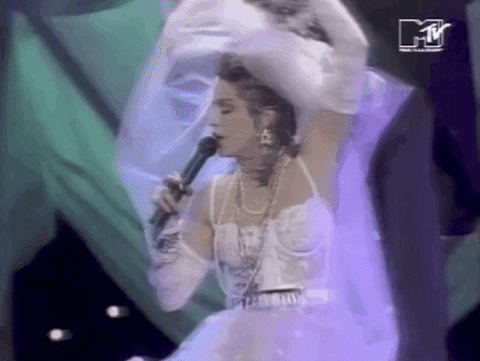 like a virgin madonna GIF
Giphy
"The Holy Spirit came to him in a dream and told him that he couldn't marry me because I wasn't a virgin."
hitlersd**k69420
Well, sometimes it's just not meant to work out.
And that sounds like a blessing.
There are a lot of sayings about human nature that address bad behavior in a relationship.
One such idiom is "a leopard can't change its spots." Another is "once a cheater, always a cheater."
But is that really accurate?
Can a significant other cheat just once and never again? And even if they can, is the relationship ever truly healed?
Reddit user Menezeris3029 asked:
"People who have stayed in a relationship after their partner cheated. How was it like after?"
Projecting And Gaslighting
"It was super short-lived because of the hardcore projecting."
"Because she cheated, she assumed that I was going to cheat with all my women friends. She became super controlling and didn't want me to have any women friends."
"I ended up leaving because my friendships were more important than a broken relationship."
~ Ookimow
"It's in fact so common that people who baselessly accuse others of cheating are almost always cheating and projecting it on their partner."
"Every time I had been cheated on, this is the trigger that made me realize it was going on in the first place and was easily able to find proof."
"They out themselves."
~ PsionicKitten
"My ex husband tried to get me to go to therapy. And don't get me wrong, I needed it and should have gone, to get the self-worth to leave his a**."
"But my point was, if you won't stop cheating on me why waste money on therapy lmao‽‽ It's like sitting in the ER while someone is stabbing you in the back."
"He swore on everything we had he wasn't cheating on me again."
"Yeah…..he was the whole time."
~ WillBsGirl
Regrets, I Have A Few
"I really truly believed I would rise from it and forgive him, get over it, and come out of it stronger."
"It was never the same. I lost that trust and I couldn't get it back. And eventually, I stopped caring to want it back."
"It was a 7 year relationship & although I don't regret it, I sometimes wish I knew to walk out sooner."
"But it made me realize what I really deserve and it led me to the forever man in my life who treats me so well and loves me and honours our commitment."
~ backandforthlosing
"This got me in my soul!"
"My soon to be ex is not violent, he's grown into a lovely man, just not the one for me after what happened."
"I've just cracked my early 30s so I'm calling this my quarter life crisis and moving on...a lot of those things you have said resonated so much!"
~ Puzzleheaded-Ad-9724
"Reasons for not leaving—Fear, isolation, guilt, not wanting to hurt the person you love most in the world, even though they hurt you. Not wanting to lose them."
"It's hard to let them go, because you have to let go of a part of yourself too and the life you thought you were building together. It is so hard to accept that it was all just an illusion."
"After some time passes, you try to put what happened at the back of your mind as a survival mechanism, and then your partner assumes that you have forgiven them because you no longer appear to be preoccupied with it."
"Sex also complicates things because some cheaters think that resuming sex equals their partner has moved on and are not upset any longer."
"You keep quiet and bottle up emotions to keep the peace, but at a severe detriment to your mental health and well being."
"This is where I am currently with my relationship. I am just trying to get through one day at a time until I gather enough strength to move forward."
"I too hope to wake up one day and say, 'FUK THIS!' I have known about the infidelity since 2021."
~ lunarmantra
Never The Same
"Happened in 2010, part of a mental breakdown on their side. Stood by and watched my world fall apart with a young child to look after."
"I believe in the vows I took when I got married, especially in sickness & in health. 13 years later, still married, perhaps stronger than ever but it still hurts."
"The pain numbs down over time from a glowing ball the size of the sun to a little pin prick of light but it still burns."
"I'm glad we stayed together, child is now a happy and rounded young lady—enjoying the world and her life ahead of her."
"We are now 26 years together so if any of you are reading this, good can come from bad, life does go on, listen to your heart but don't ever get mugged off."
~ oldskoolplayaR1
"Caught her in an 'emotional' affair early on in our relationship."
"Both her and him told me it was a mistake and he apologized and told me it was over."
"I believed it all."
"However I will admit that it bubbled up during arguments over other issues because of how betrayed I felt."
"It weighed on me to the point where she told me I needed to see a therapist to get over it. I went to 3 of them over a period of the next 4 years."
"We went as a couple maybe a year after that."
"Flash forward another 2 years…I found the texts and pics."
"It never ended and it only grew. The entire time she told me to get counseling. The entire time we were in counseling together."
"The entire time I worked 2 jobs and 7 days a week because she lost her job and took a year off and I picked up the slack."
"You do not recover."
~ justaguylookinghappy
Tick, Tick, Tick...
"A ticking time bomb."
~ Ratakoa
"Yep. We spent a year trying to recover, then had 2 good years..."
"Then he cheated again... I think in the back of my mind I was just waiting the whole time for it to happen again."
~ naturally_eva
"This! Every single day, this is what's in the back of my mind and yup, waiting for it to happen again and hoping, at the same time, that it won't."
~ ahuh_itzme
"Ex wife was the same. We tried again, but she just had to get back in contact with him… lasted ten months, but only eight before she'd started seeing him again."
"It was a 12 year relationship for us, with most of that married. I don't think she actually stopped seeing him really, looking back."
"When I started seeing a new girl, my ex wife tried to seduce me! Erm, no."
~ CabinetOk4838
"Shoot, mine never even stopped seeing the other guy. She swore up and down she wanted to stay together and it was all a mistake—so I laid out some very simple rules for moving forward, starting with no more contact with the guy."
"She never stopped."
"To this day I dont know what she was thinking. She just kept on trying to see us both. This was a 10 year marriage with kids, too."
"About a year into the divorce, she straight up moved 500 miles away (by herself), became a drug addict, and her entire life fell apart. Got arrested for felony drug possession etc..."
"Most bizarre complete self destruction I've ever seen in real life."
~ alonjar
If They'll Cheat With You...
"One of my buddies dated a girl once that cheated to be with him. Then after awhile she cheated on him too."
"He was so shocked."
"But I was like, bro, she cheated on someone to get with you. Her cheating on you to get with someone else shouldn't be a surprise."
~ travworld
The Other Side
"That's not always true. I cheated once. It destroyed the person I love, and it sent me into a 2 year spiral of depression and anxiety that I had to be hospitalized for twice."
"I'll NEVER, EVER make that mistake again. People can learn from their past mistakes."
"That being said, 'once a cheater, always a cheater' is true more often than it isn't - and that's quite sad."
"I just won't be one ever again. Absolutely not worth ANY of it."
~ reflUX_cAtalyst
The decision to stay with someone who has broken your trust is an individual one.
Unfortunately, it doesn't seem like there are many happy endings for couples after one partner cheats.