Many people would rather focus on the scandals associated with celebrities notorious for bad behavior.
This is a shame since many of their phenomenal talents are overlooked in favor of a juicy tabloid.

But what about the genuinely well-behaved celebrities? Well, they are not without haters too, unfortunately.
For instance, stars like Taylor Swift – who has been a positive role model and ally of the LGBTQ community – still has her share of critics no matter how hard she tries to shake it off.

Curious to hear positive examples from strangers online, Redditor AndweleHarris asked:

"Who's that one celebrity that has like no haters?"
Keep reading...
Show less
Celebrities hold a special place in our hearts. We see them on screen, we read their books, we listen to their music and podcasts, and we hold them in a high regard.
Our societies celebrates celebrities, as the name suggests, so as we see our hero's lives come to an end, it can feel like a huge loss.
Reddit user aliensockmonkey asked:
Which celebrity's death actually made you cry?
In this thread of emotional comments, people shared their fondness and influence of those no longer with us and celebrated the lives they lead.
This article does contain mentions of suicide and death.
Those who showed us to love science.
"Grant Imahara from Mythbusters and Gran Thompson, they made me get into science."
"I'm not going to go digging for it but I remember I didn't cry at his death, I cried over a tweet from Kari Byron that she posted not an hour later I believe. It wasn't long or thoughtful or beautifully written; it was something like "I was just talking to you this morning" with a picture of him and that was it. It felt like she was broken inside."
"One of the rare individuals out there to have both a keen intellect, a practical engineering and scientific curiosity AND the onscreen presence and charisma to bring knowledge to the masses."
"There were so many years in him to teach. Truly a tragedy."
A wonderful actor and person.
"Alan Rickman. That was just such an unexpected one, & I genuinely cried when I read it. He was such an amazing actor & human, it's still sad he's gone."
- poohfan
"Same. Such a phenomenal actor and a great guy. He kept his cancer diagnosis private so it was such a shock to all of his fans that he was even sick. I'm still trying to figure out how to make Siri sound like him."
It didn't matter what film, so many of us loved Alan Rickman.
"Same. I remember standing in my bedroom, scrolling on my phone and when I saw the news it felt like the wind completely went out of my sails. I sat on the edge of my bed and cried a bit. It feels a little silly to be sad about the loss of someone you've never met but I loved him in Harry Potter, Love Actually, and Dogma. And even though I hated the Hitchhiker's Guide adaptation that he was in, I loved him as Marvin."
A man with great spirit and love for wildlife.
"Steve Irwin. That man was so passionate about wild life and it's good to see his wife and in these past few years his children keeping up the fight."
"I've been thinking about this one a lot since Bindi had her little girl. Steve would have been the most amazing granddad.
I remember Terri talking about how Steve would get up early with the kids, and she'd wake up to the sounds of laughter coming from the living room every morning that he wasn't carting them around the zoo. I could imagine Bindi waking up to Steve just hanging in her house, doting on the grandkids, teaching them everything he knew. That family is missing a lot for having lost him."
The game show host that so many loved.
"Alex Trebek. My immigrant family used to watch Wheel of Fortune and Jeopardy religiously. He was always on TV when I was alive.
And hearing how he died really broke me. Just on his back porch swing with his wife as he went. It made me really think that one day, it will be your last day. And what you wear that day, everything you do, what coffee or breakfast you had or whatever, is going to be your last, and that's it. And just the way he went out was so beautiful."
The commenter later went on to edit his thoughts to say this:
"I want to clarify. I come from a family of immigrants who worked hard their entire lives and continue to, and they worked very hard to learn English. And game shows is what they would watch to help them learn. So these shows remind me of being with my family too."
Two people who shared their art and joy with us and left too soon.
"Robin Williams and Chester Bennington. Linkin Park got me through the darkest parts of my life and kept me alive. Chester's death rocked me, and so did knowing i would never get to see them live. I saw the tribute concert they did for him. I remember vividly during Numb I think, they called out to the audience "I want you guys to sing so loud Chester can hear you!" And I broke down."
"I could hear the audience start sobbing. Every lyric hit me before his death, and hearing Leave Out All the Rest or Numb makes me realize he was telling us his story the whole time."
"Robin was just a pure soul who made me and millions of others laugh, all while hiding such pain and an illness he couldn't control. Its a bit like how we say in Narcotics Anonymous, what happens when the person who kept you from relapsing relapses? It was such a cold and empty world after they left us, and I never even met them in person."

A mother and daughter that we lost so close to one another.
"Carrie Fisher and her mother Debbie Reynolds when they died within a few days of each other."
"I wasn't sure how close. Debbie told her son she wanted to be with Carrie and died hours later. Mother and daughter were very close. It must have been really hard on Carrie's daughter, Billie. She was very close to both of them."
"In her book she's very forthcoming about how she literally stayed alive for Billie. As much as she struggled with mental illness and addiction, her daughter was always her biggest priority, and she wanted to be healthy for her."
A chef that touched kitchens everywhere.
"Anthony Bourdain"
"I'm a chef and his impact on pretty much everyone in my industry is immeasurable. Kitchen Confidential is easily the most impactful book for most all of us. The most amazing way of translating and speaking about food/chef culture. His shows had an amazing way of highlighting other cultures and the way food brings people together no matter where you are from and showing that alot of our differences are purely cosmetic."
"That day was easily the quietest day I've ever spent in a professional kitchen in my life, everyone was just silent and upset."
- Napo2212
"Anthony Bourdain's death inspired me to go back to therapy. It hit me so hard because I loved his food travel shows."
"I loved how he had such a genuine love of food. High class food, low class food, spicy food, sweet food, whatever it was, if it was good food, he liked it."
- Ryan0413
This comment allowed a space for many to open up about their own feelings, so the original commenter added this:
"Thanks to everyone who shared their feelings about him. It's crazy to me to see how much influence he had in so many people's lives of all walks of life, even if they aren't a part of the culinary industry. It's a credit to who he was as a person."
"For alot of the comments here, I just want to say really quickly. If your suffering from depression or having suicidal thoughts, please, please, please, talk to someone. Friends, family, therapist, phones lines, anyone, everyone. You matter, no matter what you may think, and you matter to others around you. Please open up and talk to people."
- Napo2212
An actor that brought us so many laughs brought many tears when they heard the news
"Gene Wilder. I remember exactly where I was when I heard the news; I was sitting down in a sandwich shop and it was broadcast on the store radio. I heard it but it didn't really register at first, but as soon as I got home it hit me and I had to lie down and cry for a few minutes."
"According to his family while taking his last breath he was listening to Over the Rainbow. Such a poetic way to depart, I don't know how to describe it. May he rest in peace."
- GSavvage
A man who defined our childhoods.
"Jim Henson for sure, maybe not a traditional celebrity, but the Muppets, Fraggle Rock...man, I'm still sad thinking about his death."
- gavreaux
"I was 14 when he died, lifelong muppets fan. My dad was reading the paper (the paper! How quaint) and told me Jim Henson died. I immediately said "no he didn't" my dad again confirmed that he died and I remember yelling "No! He didn't!" Then I sat down and cried. First time I ever cried over a celebrity death. Jim Henson defined my childhood and I still mourn his passing."
Though there are so many more we could name, these few were influential to so many people during their short times here. Whether we were influenced by their work, defined our childhoods, or helped us fall in love with their passion for life, their lives will hold a special place in our hearts.
If you or someone you know is struggling, you can contact the National Suicide Prevention Lifeline at 1-800-273-TALK (8255).
To find help outside the United States, the International Association for Suicide Prevention has resources available at https://www.iasp.info/resources/Crisis_Centres/
Keep reading...
Show less
In the age of the internet, sometimes it can be very cool to hate on things just because other people do. Bandwagons can be fun, right? But honestly, not all of the things hated on actually deserve it. Save your hate for things that actually call for it.
Wanna jump off the bandwagon? Then keep reading!
U/lit3rallyuseless asked: What doesn't deserve the hate it gets?

​Film and media are probably the biggest contender for being hated on randomly. It may seem harmless, but not always deserved.
Actors are people too!
Actors who played characters that people didn't like.
Really if you hated the character then the actor did a good job (assuming that was the role).
The best cartoons.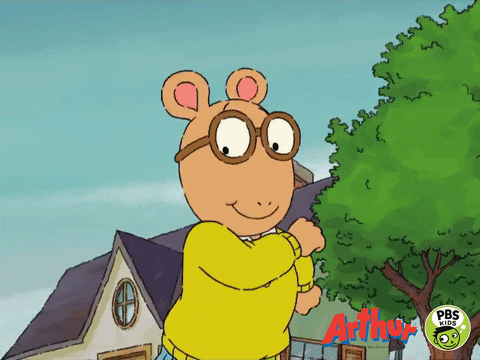 nice day summer GIF by PBS KIDS
Giphy
Child cartoons. Some are actually really good, even as an adult.
I feel like watching cartoons aimed at generally a younger audience allows for you to be reminded of some life lessons, I know I forget some things, or didn't realise others, or it at least partially renews my awareness of something I should still like or appreciate

This doesn't deserve awards, it's just my opinion that is apparently shared by many.
This man did nothing wrong.
Guy Fieri, he literally is the nicest person in the world but since he looks like he was electrocuted by mountain dew people want to saw his head off.
Even before that, I was witness to his other charitable work. A few years back, Santa Rosa was hit by some terrible fires and he showed up at a few shelters and personally cooked up and served some killer buffet food. No cameras, no massive team of PR, just a dude with an assistant to keep him on schedule to hit up other shelters in the area. Guy Fieri legit earned a lot of respect in my book for that.

You know who DEFINITELY doesn't deserve hate? Animals. They're just living their best lives, and need to be left alone.​
The best cats.
Black cats.
We got a black cat for the first time last year. I've since formulated the theory that black cats might get some of their reputation from the fact that people can't see them well in the dark and so they seemingly appear out of nowhere and they might be instinctually cautious because they know people have a tendency to kick them while walking in the dark. Our black cat is the sweetest cat I've ever known.
They get a bad rep.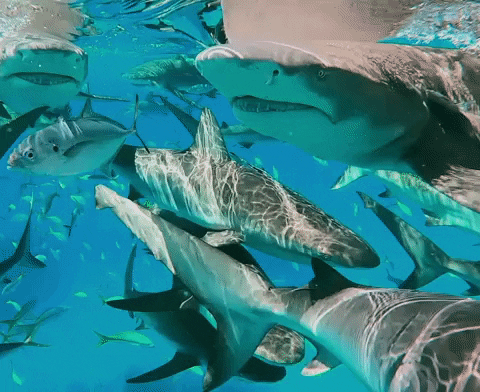 Discovery Sharks GIF by Shark Week
Giphy
Sharks. They are beautiful, complex creatures, deserving of respect and, like any wild animal should be left alone in their natural habitat, but they get this reputation as vicious bloodthirsty monsters. This is only because every shark attack is news, and only then because they are so rare. More people are killed EVERY DAY by mosquitoes than sharks kill in a year.
Any apex predator that has remained evolutionarily unchanged for hundreds of millions of years, whose existance predates TREES, is deserving or our respect and admiration. Shine on, you crazy cartlaginous fish, shine on.
So cute too!
Opossums. They're neat little critters. They eat tons of ticks that carry Lyme disease, (mostly) don't carry rabies because their body temp is too low, and they're the only marsupial native to North America! They get a bad rap because their first defense is to hiss and bare teeth, but failing that, they just play dead.
If you don't have the predisposition to hate them, you'll find they're pretty cute too.
E: this is about /opossums/, the north American species.
Kiwis, I feel for you, but this comment isn't about your possums.
​Hating on other people for just living their lives also seems to be a big contender for things that don't deserve to be hated on.
This is so true.
Unemployed people. A lot of people genuinely are looking for work and did not want to lose their last job/it was beyond their control (like a layoff) but they get so much hate and called lazy by most people. I know too many unemployed people that are actually really trying hard. They definitely aren't lazy. (Not saying lazy unemployed people don't exist, but to be fair, so do lazy employed people too lol)
Leave the weather man alone!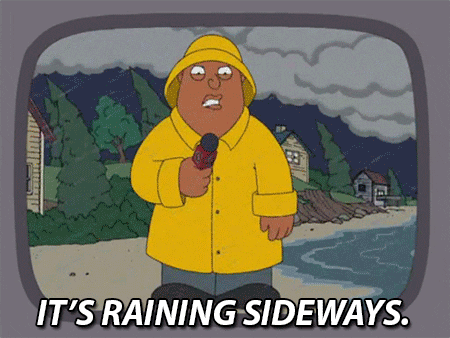 Fox Raining GIF by Family Guy
Giphy
Meteorologists. They try their best to predict the weather based on patterns, models, and data. They're not perfect because predicting the weather is insanely difficult. When they get it wrong, I think we should go easy on them. It was probably an outlier result almost no one could have foreseen.
I've seen people get angry over the meteorologists for getting it right. Like they control the weather - it is their fault we are having rain, that kind of BS. Never made sense to me, but hey, I have plenty of relatives I clashed with growing up.
Please stop being d*cks to these people.
Customer service associates.
I hate when customers think that I, the minimum wage person forced to sit there and listen to them yell, am personally responsible for every policy they disagree with. Like, ma'am, if I had that much power and influence, I wouldn't be sitting here on a Saturday evening serving you.
Wholesome and necessary.
People don't deserve hate they give themselves when they are not doing too good at the moment.
I'm in a weird place and I didn't know I needed to read this. Thanks buddy.

If you haven't heard it from anyone else today, I'm proud of you.
It seems like people hate on things simply because they think they're meant to hate them. But you can always be the change and make an effort to stop being an a**hole about certain things.
No matter what though, sometimes haters gonna hate
Keep reading...
Show less
Meeting your idols and favorite artists is a slippery slope. We always seem to forget that they are just normal people, who just happen to live fabulous and glorious lives; through the lens of the media machine of course. We don't know them personally, we just think we do. So it can be the greatest moment ever, or a soul crushing disaster when we finally come face to face with them.
Redditor
u/TheBreadMan42069
wanted to hear about the famous faces they've encountered by asking....
What celebrity have you met that was surprisingly nice/rude?
"no it's okay my darling"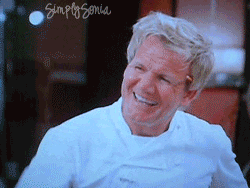 gordon ramsay masterchef GIF
Giphy
A lot of redditors mention Gordon Ramsay being lovely.
My godsister can confirm. She worked at a hotel restaurant in Cornwall where Ramsay vacations at regularly. She was so nervous she spilt something but he just gave her a really fatherly warm smile and went "no it's okay my darling" and continued on with his conversation.
When I was a kid, my family took a trip to London and we were shopping in Harrod's. Being the kid I was, I was running around while my parents shopped. I ran up to this man, looked up and said "you look REAAAAAAAALLY familiar. Have we met?" And he flashes a smile and says "no, but I get that a lot" and then he walks off. My dad came right over and went "... you do realize that was mr bean you just spoke to right?"
Good Ole Louie....
Lewis Black is freaking awesome. I was in Vegas with some buddies Veterans Day weekend and we spotted him playing craps. I stood near him and watched because a) it's Lewis friggin Black and b) I've never played craps so I had no idea what was going on. He noticed me, asked if I knew how to play. I said I didn't and he immediately spent $200 teaching me how to play craps and wouldn't let me put any of my own money down since I was learning.
We chatted, he asked what we were doing in Vegas and we mentioned celebrating the Marine Corps birthday and Veterans Day. He thanked us profusely for our service and asked if we wanted tickets to his show the following night. I'm a bigger fan than my friends were so I said yes I'd love to come see his show. He said he would leave tickets for me at will call. My sister met up with me the next day and we were super pumped about the show, but joked that it was too good to be true and there wouldn't actually be tickets waiting for us.
Sure enough, Lewis Black is a man of his word and left me four free tickets at will call, and not only that but they were good tickets, like third row center. He put on a great show and I will forever enthusiastically support him. He made great conversation, was patient and kind teaching me to gamble on his own dime, and kept his promise of tickets for me. A+ guy, despite his angry ranting comedic style.
Opposites....
I met Leonard Nemoy at different times. Leonard was incredibly cool. He was giving a talk at the place where I work and we all knew he was coming so we sat at a table outside near the entrance so we could see when he arrived. His security people led him from the car to the building and we said hello as he passed.
They took him inside to a private green room to relax before he went on. To our surprise, after the handlers dropped him off at the green room he came back outside, sat down with us and just hung out, we talked about food and cool places to see nearby. We just chatted like he was one of the crew. Class act guy. One of the neatest celebrity encounters I've had.
Oh course he is....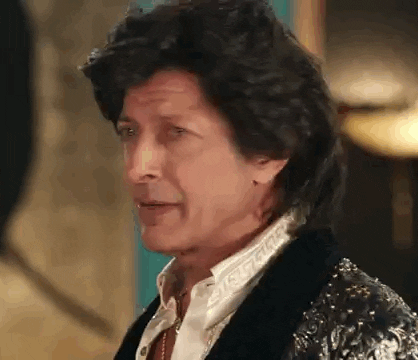 sexy jeff goldblum GIF
Giphy
I don't think anyone one would be surprised that Jeff Goldblum is nice, but I can attest to it.
I was an extra in a movie with him. When he arrived on the scene, some nasty film crew woman was screaming at us not to bother him or ask for his autograph (which none of us had done). He must have heard her, because he turned right around and came over to talk to us.
Movie Marathon
Back when they were filming Lord of the Rings all the hobbits: Elijah Wood (Frodo Baggins), Sean Astin (Samwise Gamgee), Billy Boyd (Peregrin Took), and Dominic Monaghan (Meriadoc Brandybuck), came into my mom's video store and wanted to rent all of Peter Jacksons movies. They were so excited to have a movie marathon I thought it was super cute.
Edit: They were nice. :)
Hey Girl....
Paris Hilton - I didn't meet her in person. But I worked for an airline answering phones as a supervisor. She called in to change her itinerary on New year's Day years ago when she was very much in the public eye. It would have been about 3:00 a.m. where she was, and I could hear the party going on in the background. She was my very first call of the morning where I was on the east coast. 7:00 a.m.
I was hungover as hell, and in no mood to be at work. She was absolutely the nicest person to deal with. She was really sweet and patient, she made small talk while I changed her reservation and seemed genuinely kind. I was pleasantly surprised.
Hey Hugh
Its pretty well established that he's nice, but Hugh Jackman is one of the nicest human beings I've ever encountered.
A friend of mine went to the premiere of X-Men Origins Wolverine and they camped out by the theater, he said he woke up and he was told that Hugh Jackman had bought everyone who camped breakfast. It was a little breakfast sandwich and an orange juice I believe, he also said there was at least 100 people there.
Staying Fresh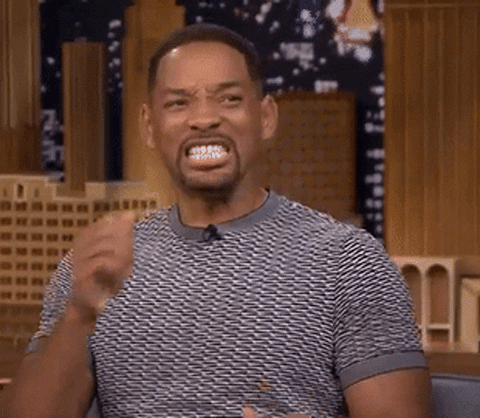 Will Smith Applause GIF
Giphy
Will Smith
I worked a private event for him a couple years back. He made sure to thank each and every employee when he arrived and before he left. He had the best manners and was in such a jovial mood, joking around with the staff. Great guy.
Wicked Nice
Met Vincent Price when I was a kid. He was speaking at the college where my parents worked and since our house was next to the auditorium we usually hosted the meet and greets. I was only supposed to be allowed in with the grownups long enough to say hello but when I blurted out how much I liked scary movies he stopped to talk. He was extraordinarily patient and kind to a nine year old kid who just wanted to talk monster movies and show off his monster dioramas.
Good AL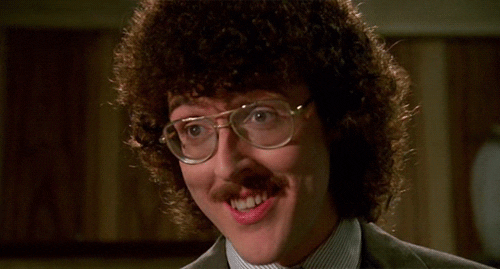 weird al yankovic stare GIF
Giphy
I work in the film industry.
Weird Al is insanely freaking nice. Like, you ask him for a photo and he'll make a 10 second video for your dad nice.
Want to "know" more? Never miss another big, odd, funny, or heartbreaking moment again. Sign up for the Knowable newsletter here.

Keep reading...
Show less
Meeting a celebrity is a dream come true moment. We think about these people even when we don't mean to. It's al part of the fantasy. Celebrities are the illusive finds we want to understand and study. However, they are just simply mere mortals, but often it takes meeting them face to face to understand that. They always say... "never meet your dream fantasy!" It can be a tricky situation but it can also be a life highlight... especially when they are great people.
Reddior
u/willis1988
wanted to know from everyone about all the times they've met those who live in the world of fame by asking....
What celebrities have you encountered that were either really nice or really horrible?
Do you have something to confess to George? Text "Secrets" or "
" to +1 (310) 299-9390 to talk to him about it.
Keep reading...
Show less