Guilty. I'm guilty as sin. And I have no shame in admitting that. We've all behaved badly and have been caught unexpectedly while in the midst of our naughtiness. Life goes on, but the eyes of a witness can never unsee what they've seen. And those of us who are guilty of... whatever... can never wash away that feeling of humility.
When one is caught in a compromising sitch, one should just smile, nod and move along. Unless it's murder or something. That's a bigger fish to fry.
Redditor u/JakeGyllenHaalz wanted to who has the guts to fess up to all of us, by asking:
What's the worst thing you've been caught doing?
Don't Look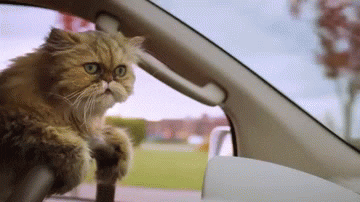 Cat Driving GIF
Giphy
"My aunt, unexpectedly, drove up next to me. My wife was currently going down on me. We make eye contact. I obviously say "the hell" which made my wife look up. The look of horror as we all made eye contact was pretty awkward."
"I don't know"
"Not me, but I was there. My best friend's mom caught her having sex in the garage when we were teenagers. Her mom asked me where she was and I just said "I don't know." And then I hear the garage door open and was like "she's screwed." Happened over ten years ago and my best friend and I still laugh about it."
- Winter
Not a Teen Movie!
"I was caught naked in the closet of my lesbian then-girlfriend's bedroom as a teenager, by her catholic parents. They got home early and my clothes were right there in the living room. Yes I know it sounds like a teen movie, no I didn't mean to star in one. They didn't even wait for me to leave before yelling at her."
"I was internally like what in the hell. I awkwardly left and she ended up joining me a while later crying, pretty much the only time I ever saw her cry. We're friends now and we just pretend it never happened. I manage to forget it until times like this."
- ramune_0
On the Job
"Going back many years but I got caught having sex with my then girlfriend at work (now ex-wife). We knew it was an area with no cameras but our manager walked past and caught us. Somehow we didn't lose our jobs that day and he told us he'd look the other way, but to never do crap like that again."
Pillow Talk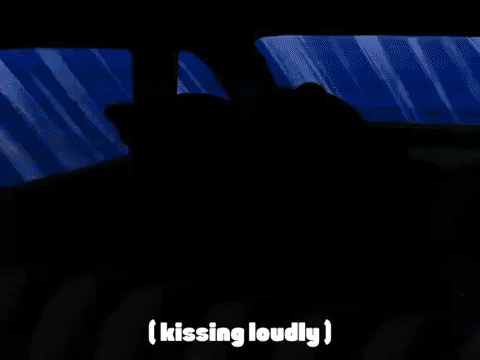 season 2 chocolate with nuts GIF by SpongeBob SquarePants
Giphy
"My grandpa once walked in on my fifteen year old self making out with a pillow while I was spending the summer with him and my grandma, it's a good thing he was senile and didn't know what I was doing."
People Share Their Unexpected Happiest Moments | George Takei's Oh Myyy
While many of life's big events like weddings and births bring us joy, even the smallest of gestures or gifts can leave a lasting impression. Especially if y...

Oh my, y'all are scandalous. I mean you could write romance novels and comics about these clandestine encounters. I feel "Like a Virgin" reading all of this. Let's continue...
Bad Times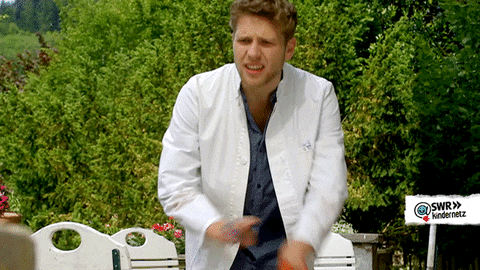 where are you waiting GIF by SWR Kindernetz
Giphy
"Out after my towns curfew. I didn't even know we had a curfew till that day. Or was it the time i was caught on the church roof next to my trailer park? Dunno, but it was with the same friend from both times."
Butt Twins
"I was at the gym and saw my wife in front of me on the stair machine. I stood behind her and used my phone to video her, particularly her butt. She didn't know I was there. I texted the video to my wife. She texted back later and said "you like her do Yah?" I looked over and from the side I could see this girl on the machine and it absolutely was not my wife. She looked exactly like her from behind. FML."

- Deedum78
High as Kites
"I got caught smoking pot and drinking when I was in high school by a teacher, a substitute teacher, and the principal. We were having a small get together, like 6 of us, at my friend's grandmother's house. We didn't realize her neighbor, who was a teacher at our school, was having her own get together. She was normally at the country club letting loose on the weekend. We saw that and knew we couldn't smoke in the house, so we just turned out the lights and snuck outside."
"We were sitting out there and had gotten high as kites. We thought we were in the clear. We heard someone from the neighbors house go "hello?" And we all got super quiet. They again said "hello? Is someone out there?" I said "hey!" Them:"what are y'all doing" Me: "oh just hanging out" Them: "who's all over there?" I told them. Well the teacher had gotten sloshed and decided to come over to say hello."
"We reeked of pot and booze and she picked on us for it. The sub was like leave them alone, "I told you not to come over here." The principal walks up beer in hand and sees it's her students- and her eyes get big. We were all a part of a Christian school and should've been expelled and them fired but we all just kind of agreed to never speak of it again. I still laugh when I think about it."
Whipped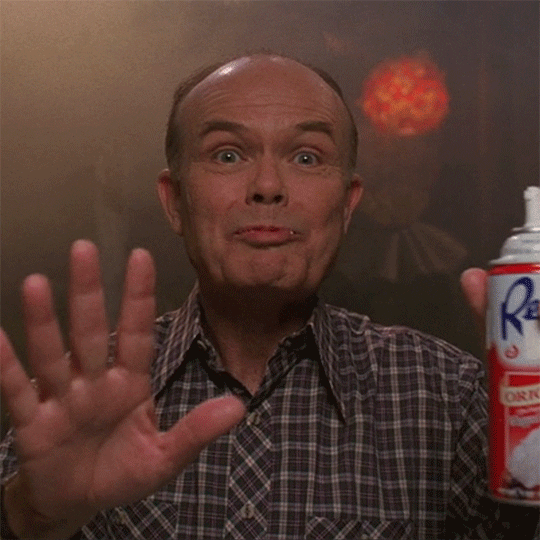 that 70s show whip cream GIF by IFC
Giphy
"It was the middle of the night at my boyfriend's house, and his mom caught me drinking whipping cream straight from the carton when she came back in from taking the dog out."
- hei4esnn
So much sex. Why is it always sex? We really need to calm down about sex. But it really is the most interesting and blush inducing topic. Always will be.
Want to "know" more? Never miss another big, odd, funny, or heartbreaking moment again. Sign up for the Knowable newsletter here.

Keep reading...
Show less
When we fall in love it's a beautiful experience. We always become so swept up in the glory of it all we neglect to think about what it means to actually succumb to the heart's desires. Falling in love and deciding to pursue a relationship with another means you're placing implicit trust in another human. Because if you can't trust them or yourself, there is no point.
But too often we sully that trust. Yes people cheat. But not all people. And if you're going to be obsessed about it, stay single. Too many people have never strayed and they live under suspicion they don't deserve.... or do they?
Redditor
u/Sparrowflyaway
wanted to hear from y'all about why we should believe
"it wasn't you"
by asking....
Innocent people whose SO wrongly thought you were cheating on them, what's your story?
Want to "know" more? Never miss another big, odd, funny, or heartbreaking moment again. Sign up for the Knowable newsletter here.

Keep reading...
Show less
Sometimes the universe just conspires against you. You do not deserve it, you lack the ability to avoid it, and yet circumstances align in the worst way possible.
Often, that looks like a bad day. But there is another version of the conspiring cosmos: not a bad day, but an incriminating one.
There you are, minding your business, when, before you realize it's happened, everything around you seems to scream trouble. For some reason--whether its the possession of the wrong item at the wrong time or simply being in the wrong place at the wrong time--you have suddenly landed in a situation that, if caught, you could never explain to the authorities.
At the time, you feel complete dread and some frustration at the dynamics of the universe. But looking back, it's pretty hilarious.
A recent Reddit thread asked users to remember their most suddenly incriminating moments.
rickkyaa asked, "What's your 'if I get caught there's no explanation' story?"
Want to "know" more? Never miss another big, odd, funny, or heartbreaking moment again. Sign up for the Knowable newsletter here.
Keep reading...
Show less
We've all done it, it's not a sin... at least I think it's not. We've all cheated on a test at least once in our lives. The only rule to cheating is... "if you're gonna do, do it right!" Cheating can actually be a skill. It requires deftness and precision. If you can't do it... just take the F. Don't become a shame story for the generations that follow.
Redditor u/molnarg1102 wanted teachers and students to let us know the best ways to NOT get caught while trying to pass, though one would think that would already be obvious but.... no. They asked... What's the best/worst attempt at cheating you've seen during a test?
Keep reading...
Show less
Home is a sanctuary. It is the place where we are all entitled to enter and all that ails us just fades away because the outside world is a dark place. And it's our haven, our time in our safe space that keeps us sane. However, this is too often not the case. Home can be a place of turmoil and grief. Sometimes what is on the other side of the front door can be daunting and a life changing experience.
Redditor u/Cyan26 wanted to know what unknowns were creeping behind closed doors by asking... What's the worse thing you've come home to?
Home is where the heart is... or where the horror is. Anything to share?
H/T: REDDIT
Keep reading...
Show less