Have you ever wondered what job people would pick if they knew they'd be financially stable?
Not rich; we're not talking "retire-in-luxury to Buenos Aires" level coin; just comfortable and with growth potential if you're smart about things.

If any job in the world put you at the precipice of stability - what would you *choose* to do?
Reddit user "talldmbfan" asked:
"If you got to pick any career/job and earned $400,000 no matter what, what career/job would you pick?"
Ya know ... a $400k salary sounds like it could be a few smart money choices away from the very serious business of picking just the right pun for my new boat's name or whatever it is rich people do with their time. So let's start there.
What WOULD Reddit do for work if people actually got to choose? Let's find out.
Ranger Danger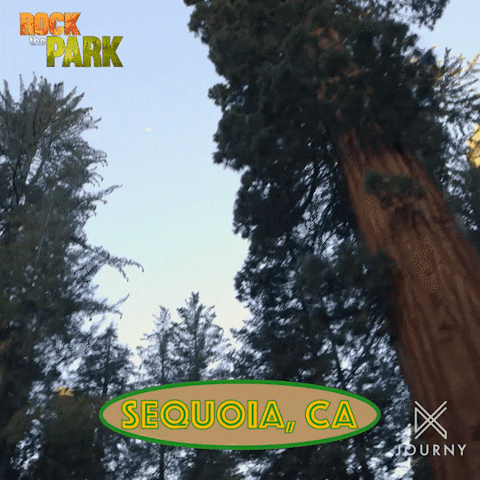 National Park California GIF by Ovation TV
Giphy
"Park ranger. Specifically at Banff National Park."
- Freshrendar
"Yeah, I was thinking the same. However, it's becoming an increasingly dangerous job these days I have heard."
"One the one hand maybe it's just misbehaved tourists who are becoming increasingly obnoxious, and on the other hand hardened, armed criminals trying to do their business in private."
- Th3_accountant
"Criminals like hiding in National Parks, feeding themselves by spotlighting game (whatever they can shoot they will shoot) and using gill nets to catch dozens and dozens of fish."
"Each ranger has a LOT of area to keep under control, it's not unheard of to pull over a truck and 5+ guys come out, fully armed and it's just you by yourself until backup arrives."
- NE55IN
"Former Ranger here. The job and positions of a Park Ranger vary widely."
"It does have its perks and I really liked it, but it also sucks in ways and has big drawbacks. Humans are the worst animal to have to manage."
- TahoeClown
Effort And Criticism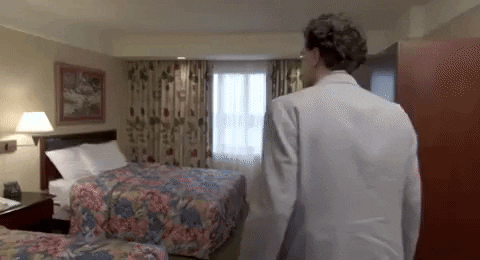 sacha baron cohen hotel GIF
Giphy
"USD 400,000 per year, right? I'd say be a hotel / resort critic."
"That way I get to travel, stay comfortably & get paid for a rather (seemingly) low effort gig."
- PuneriPerson
"I've been in travel positions before, it's pretty fun for a bit but as 'spoiled' as it sounds, hotel and restaurant living get tiring after a while."
"Sometimes it's better to just come home to your loved ones or pet or whatever."
"I did that while I was single. I don't have kids, but I can't imagine being in that type of role when you do."
"Being away from them plus putting the entire burden of raising children on your spouse? Not for me."
- peon2
"I met a girl several months ago who is a travel journalist and gets paid to do this very thing!"
"While I do get envious of all her comped trips (since I met her several months ago she's been on fully paid trips to Oaxaca, Curaçao, a couple of luxury Caribbean cruises and had to turn down a trip to the German Christmas markets) I get the impression her job is a lot more stressful than we'd all imagine."
"She says pretty much every minute of each trip is filled with activities she's expected to write about with very little down time."
"She's lived all over the world with her job but also never really put down any roots, so that's a downside. Even so - I enjoy living vicariously through her travels!"
- Fuzzy-Donkey5538
Let's Go Lego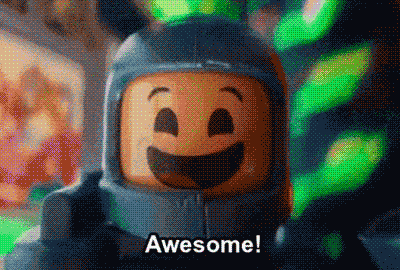 Awesome The Lego Movie GIF by Trolli
Giphy
"Lego set designer"
- JustStargazin
"A LEGOland near me just posted a position for a master builder and i was like 'f*ck yeah!' ..."
"except that it pays $12/hour."
- checkoutmyfish
"Yeees! This has been my dream job since I was a kid. Only reason I've never pursued it is because it doesnt pay well."
- bigtdgf
"I didn't even think of that!"
"My cousin and I love legos soooo much, I have that Disney castle set and we are constantly making the most random things. If I became the top set designer, there would be a lot more weird sets lol"
- The_controler
Helping Hoarders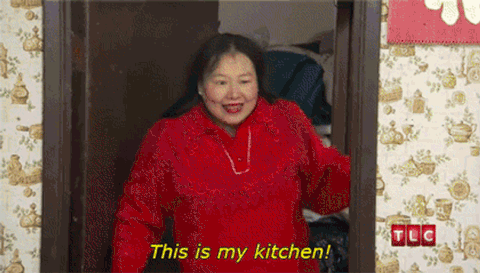 khj GIF
Giphy
"The same business I have now. I help the elderly and hoarders organize their homes. I quite a job that payed well and to do this and it is so rewarding."
"A simple tip: To maintain control over a hobby/collectables, designate a space for it. If it overflows that space, it is time to rethink the activity."
"It may mean finding a bigger space, or looking for outdated or unused items for that hobby. This helps to maintain control and keep the hobby from taking over."
- bsmknight
"This one sparks joy!"
- Zebracakes2009
"I'd love to know more about this. I worry I'm a hoarder sometimes."
- DarkAndSparkly
"I am not a psychologist so please take this with a grain of salt, but from my experience the term hoarder is often misused. Hopefully this will be helpful to you!"
"I have helped people who have ranged from perfectly normal to people with head trauma. Yes, they can all be categorized as different levels of hoarding, but I try and focus on the reason why they hoard, rather than the term itself."
"Customer 1: was a lady whose house was just a mess. Not disgusting, just nothing was organized. She had a lot going on and was feeling very overwhelmed and her place was taking a turn for the worst."
"She was a bit ashamed and kept indicating how she was a hoarder."
"In the end, over several sessions we cleared out the garage, the living room, the bedrooms, the dining room and never once did she hesitate to throw something away. She wasn't a hoarder, she was overwhelmed. So this was solely situational."
"Customer 2: Another lady, good friend of mine too, very much fit the typical hoarding situation. In her case she was just really bad at putting things away and thus everything ended up, everywhere."
"She still has this problem, but as long as I come over from time to time, stuff gets put away. She has been really good at throwing away or donating items, but she needs someone to sit down with her to help motivate her."
"Customer 3: A gentleman who was my inspiration to get into this business is probably the closest to the true nature of a hoarder."
"He received a blow to the head many years ago due to an accident. Because of that he has had difficulty staying on track. He looses focus frequently and thus things fall to the wayside."
"I go over from time to time to help him clean up. I will make him return stuff he buys when he really does not need it, because he easily becomes distracted. He forgets to return it or that he even bought it."
"I can get him to get rid of stuff, it just takes a good deal of prodding and coaxing."
"In the end, With all my customers I tell them to stop focusing on the negative. Don't worry if your a hoarder, rather spend that mental energy on what you can do to move forward."
"Tip: if you need an idea for a first step, Listen to a podcast or you tube video on organizing."
- bsmknight
A Place For Passion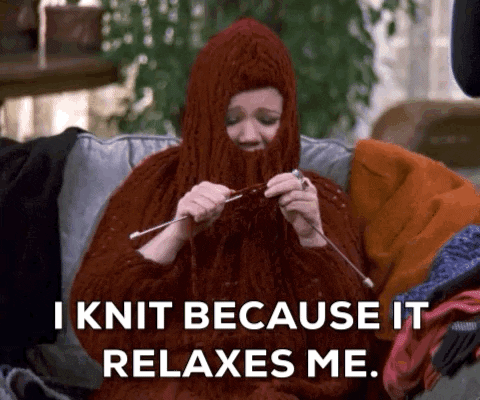 Nervous Season 6 GIF by Paramount+
Giphy
"I'd want to own studio space where people could take classes, not just art or dancing but also like general hobbies to knitting, sculpting, writing, photography."
"I want to help people find a passion and explore it. And I'd be able to support others by paying them to teach their own passion."
- resigned-unicorn
"Look into maker spaces or hacker spaces. That literally exactly what they are!"
"I've seen them have facilities and classes ranging from running a cnc machine to beer brewing to programming."
"Membership is typically expensive (50-200 a month) but most give discounts or free membership for teaching classes.
Keep in mind I don't know if they are running with covid."
- vrek86
"There's a place near me called Handmade Toledo that does this!"
"The front of the building is a storefront where local artists, makers, and crafters can sell their stuff (anything from t-shirts and cards to candles and soaps, including snarky greeting cards and patches)."
"The back of the building is an events space where they have classes a few times a week, and a big event once or twice a year where more artisans come and sell their stuff."
- RagingAardvark
Dungeons, Dragons, And Daycare?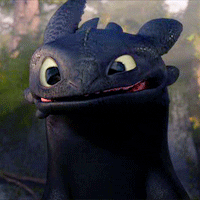 how to train your dragon smile GIF
Giphy
"I would run Dungeons and Dragons campaigns for k-6 graders to teach them about problem solving and conflict negotiation."
- snailsshouldvote
"I use D&D to teach conversation strategies and cross-cultural communication to Japanese university students and it's f*cking great."
- Lord_Dimwit_Flathead
"I think every pre-school/lower school should hire you, this is a fantastic idea to implement those values while having fun!"
- OsamaBinnDabbin
"One of our friends runs dnd campaigns for kids as a way for them to work through their trauma."
"I don't know all the ins and outs, but it seems to help them. My husband has a 3D printer so he prints their mini figs for them."
- NurseMcStuffins
OK Go Away Now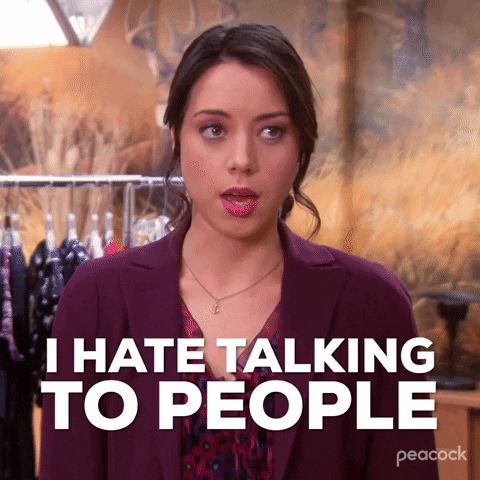 Season 5 April GIF by Parks and Recreation
Giphy
"Reclusive writer"
"I'd like people to enjoy my work, but otherwise forget about me and leave me alone."
"I went to a lecture given by Andy Weir once and he said that writing is a great way to be famous because you're famous for a few weeks when they make a movie out of your book and you get invited to parties and stuff and it's a lot of fun, but then you get to go back to civilian life rather quickly because everyone forgets about you pretty fast."
"So you get a taste of the celebrity life every now and then but you're not stuck in the spotlight all the time like someone in the film or music industries."
- Plantayne
"I second this! Reclusive writer would seriously be an awesome job to have and make $400,000 doing."
- DemonikKitten
"A mysterious person that everybody knows by what you do; but whose identity is unknown because all you put are your initials, rather than your full name? Before you know it, you're both the most famous yet unknown person that everybody is talking about."
"I'm in."
- BeltEuphoric
Here Kitty Kitty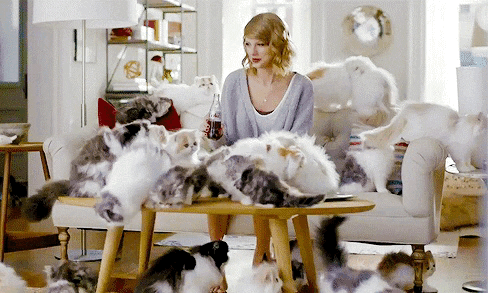 cat lady cats GIF
Giphy
"Cat rescue and rehabilitation. I do it for free when I can, so it would be awesome to be paid for it and have actual resources."
- toxinogen
"My family used to do this as well and it was so much fun growing up with up to a dozen cats in a town house at a time."
- amtapp
"Had a friend who co-owned a rescue. It's good work but man was there so much drama from cat people. Half of her energy was spent managing different crazy personalities who volunteered."
"She ended up stepping down to a smaller role and opening a cat cafe."
- bell37
Masters With No Money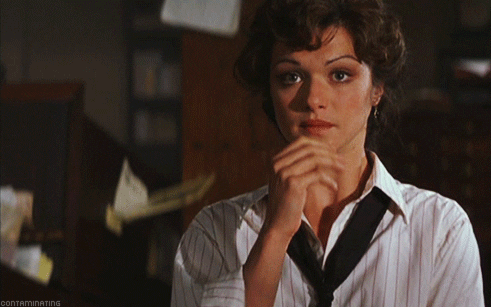 shocked oh my GIF
Giphy
"Librarian. Let me teach all about and facilitate the free borrowing of books while arranging events and services that help bind and strengthen the community."
"I would do it if librarian pay could support even myself decently. A lot of public service jobs (like librarians and teachers amongst others) do not pay very well and it can be hard to support yourself on such a salary, let alone a family if you want to have one."
"Still, if the issue of being able to live on the salary is taken out of the equation, I would choose to be a librarian every time."
- AnotherBookWyrm
"Oh man, my mom was a librarian and it is a real calling for some and I so love and respect that."
"Librarians are amazing!!!!"
- rcher87

"This was absolutely my first thought as well."
"I was halfway to a master's degree in library science when I did several shadow sessions. Everyone I talked to had gone to school for library science and was working part time shelving books and waiting for a librarian position to open up. Unless I was willing to move, it really didn't seem like a good option."
- elletastic
"It's a profession where the expectation is to have a masters degree and the pay scale for the vast majority of positions does not reflect that."
"I AM a librarian and it would still be my answer for this thread, but you'll often get that because you have to want to do this job to do it for the kinds of pay you can expect."
"I'm just lucky I'm in an academic position rather than public as that tends to set the starting pay a bit higher."
- WalkingTarget
What's Up, Wonka?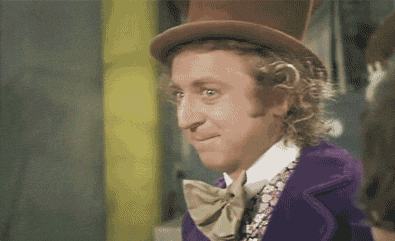 Animated GIF
Giphy
"Ice cream truck driver, but everything is $1 or less. Or maybe running a candy shop."
"While I'm at my mentally draining job, I dream of just being able to make people smile, but I just can't afford to live on the money that provides."
- fraxiiinus
"There was this man who had an ice-cream truck that went around my neighborhood (I lived near a small park) and he was so nice. He couldn't speak English well, but he just radiated a warmth around him that can never be bought or sold."
- Closet_Couch_Potato
You know what Reddit would do, but what about you? If you had enough money to be comfortable, what job would you happily get up and go do?
Is there a job you wouldn't do even if someone offered you a $400k salary?
What's your labor worth? Let's talk about it, fam.
Want to "know" more?
Sign up for the Knowable newsletter here.

Never miss another big, odd, funny or heartbreaking moment again.
Keep reading...
Show less
An astronaut. A veterinarian. A pro sports player.
These are things you hear so often as career aspirations when you're in first grade. Little by little, as time goes on, those primary dreams fade.
But even as adulthood comes and takes us by surprise, most of us know exactly what we would rather be doing at any given instance. It might not be our career now, but it could be one day.
Or else not, but it's still nice to think about it.
Redditor akotosinato asked:

"What is your dream job?"
Here were some of those answers.
PhD In Mad Science
"Mad scientist. I wanna engineer tissues for things like organ transplantation and improved cancer treatment. Giant robot can come later, but I married an ME, so that's on track."
"I'm applying for my PhD. Wish me luck, I'm terrified."-Jeru1226
The Dream Had A Price Tag
"I spent nearly two years working as a scientific diver in the Great Barrier Reef. Projects ranged from coral diversity expeditions, remote sensing and crown of thorns control."
"The people I worked with her amazing and I got paid to 'live the dream.'"
"But the big things were the time I spent away from home, the pay isn't as good as people think (welcome to the environmental industry) and after awhile it takes a toll on your body. It was some of the best times of my professional career but it does come at a cost."-newagesaltyseadog
Liminality
"Not knowing it is absolutely fine. You don't have to know. It can make you want to experiment more and gain more experience and go through different life adventurers that you would have missed out on, had you chosen a specific path."
"If you're OK with what you have, I think you're doing awesome! Keep it up."-Fahi12
Can you see yourself holding down any of these jobs?
Mama Coffee
"My dream job would be a coffee house with lots of nice books around that people can read, but I can't stand coffee and I'm terrible at reading, so it's a pretty silly dream job. There's just something about the aesthetic of it all that appeals to me."-The_Blip
"Sounds like you'd be selling the coffee and books instead of drinking and reading, so that doesn't sound very silly to me at all."-EnthusiasticWaffles
Sexy Librarian Or Just Librarian
"Being a librarian or a bookstore employee, assisting with research, and writing articles."-brkh47
"I'm a corporate librarian! I think a lot of people see it as selling your soul but the money is great, the jobs are stable, and I work with really cool materials and advise on campus museum walks :)"-mmphotos25
Ohhh *Pit Crew*
"I wanna be an F1 Engineer!"
"So far, I'm on my way to the goal by nearly finishing my degree in mechanical engineering and now I'm applying to graduate schemes at McLaren, Williams and some smaller supplier teams!"

I"'ve spent 6 years preparing for this sh*t so it better be worth it dammit!"-cannedrex2406
How Would You Dress For This Job
"Wandering hobo that parents tell their kids to avoid but they don't listen and so he guides them in saving their town from an ancient evil with awesome king fu lessons and occasionally wise yet comedic banter."
"He also can fly with his beard like ice king."-GodDamnRight-
Do you see any jobs on this list that you wish you knew about before growing up and making another choice?
Hey AI, Why?
"As a CS nerd who thoroughly enjoys playing chess, Chess.com had this job opening that looked like sooo much fun."
"Essentially, we have algorithms/models that are absolutely incredible at playing chess - world champion grand master chess players have been broadly considered inferior to the best computers since ~2006."
"The thing is these models 'learn' (improve their likelihood of winning) in such a way that, even though they make the correct decisions, they have no way of conveying (or perhaps we have no way of properly comprehending) the reason for a given decision."
"Sure, we can generally study their behavior and make inferences but those still come down to educated guesses."
"Anyways, Chess.com wanted to pay someone to mess around with their opponent AI and research ways of explaining a given decision it made. I don't have the Ph.D. that job would require but damn if it doesn't sound fun :)"-ArriePotter
I Do Not Dream Of Labor
"To be more specific for me, being financially free. It doesn't mean I wake up without a purpose. It means I don't have to keep working a job that pays well that I'm no longer interested in doing."
"I get to do things like helping people out, improving my community, etc. Like figuring out a new lease on life instead of planning to work everyday for the next 30 years just so I can retire semi comfortably."-terdferguson
The Ultimate Hangout
"Running a combo of a winery, brewery and coffeeshop at a beautiful location with easy hiking trails and fire pits outside, plus a built in movie theater with laying around room and a room for playing board games, pool, skiball, some arcade games, etc."
"Also dogs are allowed and encouraged. There'd be snacks sold and some vendors could have trucks outside."-Elliejq88
So, our dreams haven't quite left us yet, even if the world (and life in general) has truly done its best to mess us up.
Dreams always prevail.
Want to "know" more?
Sign up for the Knowable newsletter here.
Never miss another big, odd, funny, or heartbreaking moment again.
Keep reading...
Show less
Pay attention to the red flags. That is a motto in life we'd all be wise to abide by.
It's not just referring to relationships between people.
Heed the red flags everywhere. Especially when it comes to work and career. If a situation feels off, it's off.
You know from the second you enter a new job or a new location whether or not it's a fit.
If your gut is telling you to run after the first shift, then that means you probably should've hightailed it out of there on your lunch break.
Bad first days are generally a sign of things to come. I've had them.
Redditor Mr__Roomba wanted to hear about all of the rough "I'm new here!" stories. They asked:
What's the worst "first day" you've had in a job?
I was hired at an upscale, famous sushi restaurant in NYC. On my first day of training I was pushed down the stairs. Then told... "Hey. you gotta keep up!"
"No you better run before I get up from this floor!"
Closed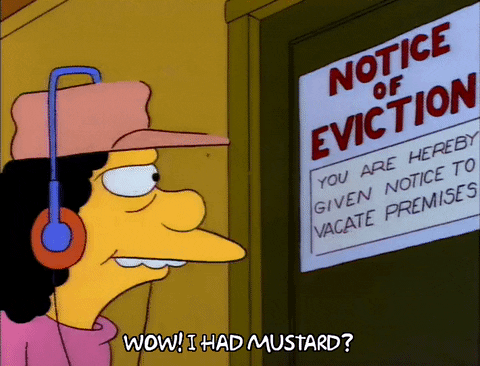 Season 3 Episode 22 GIF by The Simpsons
Giphy
"When I arrived on the first day, there was an eviction notice on the door and a cop looking for the business owners. Bullets dodged, that day!" ~ Upper-Job5130
The Pizza Shop
"True story. I got mugged on my first night as a pizza delivery guy. It was my second delivery of the night. I parked the car, and had to walk a little bit to get to the apartment building. During that walk, two guys came up, hit me in the head several times, shoved me down, and took the money bag and the pizza and ran."
"I went back to the pizza shop and quit on the spot. The pizza shop owners sent me to the emergency room to get checked out, they paid for the bill, they made sure I got home safe and sound. So they were great." ~ whomp1970
At the Buffet
"My first job was at a new buffet in a small town when I was 14. They mass hired everyone that showed up to the interview. I was supposed to be a dish washer but when I got there for training they handed me a ladder and told me to install the dry wall ceiling tiles in the kitchen."
"I, obviously, had no idea what I was doing and had a tile fall on my back, which caused me to slip off the ladder and fall on the ground. The owner was upset that a 14 year old kid couldn't do the non-dishwashing task correctly and chewed me out and sent me home and to never come back."
"I had to pester them for months to get my ~$6.50 for the hour I was there. Shockingly, they went under in just a few months." ~ DrGingeyy
Hangin' at the Queen...
"Dairy Queen queen I was 17. The layout was such that I had to repeatedly walk past the grill where the floor was so covered in grease that it was like trying to walk across oiled ice...super dangerous because if you slipped, you were likely to hit the grill. I got yelled at for mentioning that the floor needed to be cleaned (I even offered to do it but was told no)."
"I was scheduled for an 8 hour shift, so by law, I got a 20 minute unpaid lunch break, which I was made to take about 45 minutes into my shift. I got yelled at for asking if I could please take my break closer to the middle of my shift. I was left alone as the only cashier and ice cream preparer, even though I hadn't even been told what everything on the menu was yet, let alone how to make it."
"I kept getting yelled at for not knowing when I went to the back (past the slip-n-slide of death) to ask for help. About 3 hours in, I was absolutely certain this would be a horrible place to work, so I told the owner that it was dangerous there, I was being yelled at by the manager for not knowing how to make things I had never even heard of."
"And the job was a bad fit for me so I was quitting and leaving. He told me it was unacceptable that I wasn't giving two weeks notice and yelled at me about it until I cried. It's been over 20 years, and I've never set foot in a Dairy Queen again."
~ Leelluu
Whoops!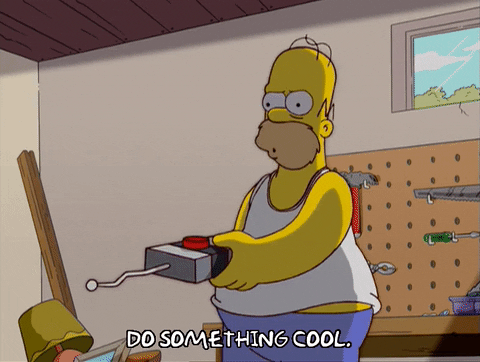 homer simpson button GIF
Giphy
"I work at a gas station and I accidentally hit the button that emergency stops all the gas pumps my first day lmao." ~ rieixee
How are you still hiring people when you can't pay your bills? Good Lord. And don't push buttons.
Charlie Ann's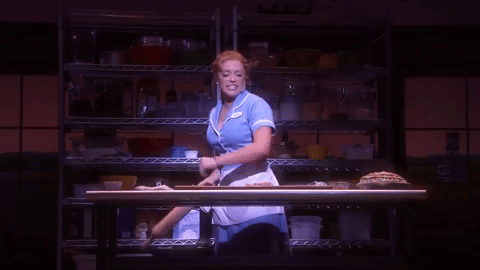 broadway baking GIF by Waitress The Musical
Giphy
"My MIL was buying a restaurant and asked me to go work there for a day and take a look see. She gives me the name, I look it up, then show up at 6 am."
"The ladies working seemed a bit confused but they let me in and put me to work. Two hours later, one of them comes to me and says "We think you're supposed to be at the OTHER Charlie Ann's" There were two unrelated restaurants five miles apart with the same name. Later she tried to hire me, lol." ~ damasu950
Lord of the Flies...
"I was a supervisor in a technical support department for "professional" support, but was one day unceremoniously moved to "personal" support. (The former was expensive and for IT and experienced clients. The latter for regular home users.) When I arrived in my new department, they were short 3 supervisors, so I was assigned all 3 teams, and the place was like Lord of the Flies."
"I was given a printout of schedules and names, with no way to find the people. I started tracking them down to find that nearly 1/3 of them had left the company, but previous supervisors didn't notify HR/payroll, there were no files on what people were trained on, nothing."
"End of the day my new boss asked how things were, and I told him people needed to be fired. He laughed, and said, "We're understaffed already." I replied, "No, I mean the other supervisors who aren't doing any job I can identify, and you for letting it get like this." Things with him were a bit touchy after that." ~ SurlyJason
Oh Kyle...
"I called a construction company about a job listing. The owner told me to show up Monday morning to his shop. When I showed up at the address, there was a sticky note that said something like "Kyle, I'm contacting the police, you have to pay your back rent NOW." I opted to leave but called the guy's number again out of curiosity. It was disconnected. Definitely felt like a bullet dodged lol." ~ apocalypticradish
Keep the broom...
"Not my first day but my second. I had just hired on at a steel fabrication plant. My boss gave me a broom and told me to keep the sidewalks clean, keep my head up, watch what everyone is doing and stay out of their freaking way. Its dangerous working with this heavy steel and we don't want you to get hurt your first week out here. It was about 7am."
"Around 8am a stack of steel fell over trapping another employee and I had to hear him scream bloody murder for about 3hrs while they worked to get the steel beams off of him. He lived. It crushed his pelvis, I worked there for 2 years, he never was able to come back to work." ~ housebird350
Switch Back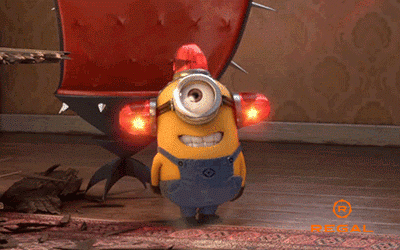 Breaking Despicable Me GIF by Regal
Giphy
"I recently switched careers and now work at a bank. Pressed the silent alarm accidentally almost immediately, didn't even realize it was there & no one thought to tell me. Whoops!" ~ keanusmommy
There are always other jobs out there. Make sure your mental health comes first. Remember... red flags. A first day will tell you everything.
Want to "know" more?
Sign up for the Knowable newsletter here.

Never miss another big, odd, funny or heartbreaking moment again.
Keep reading...
Show less
In-laws expectations and in general their ideas about who their child is and who you need to be to marry them already comes with a set of problems and complications, but sometimes in-laws can really decide they are going to take issue with anything and everything they can about their child's spouse. For example, Redditor […]
More
It's not every day that we hear about people actually enjoying their jobs.
Right now, in the U.S. there are record numbers of people quitting their jobs. Restaurant workers, hotel workers, retail store workers and healthcare providers have left in droves.
We're also seeing strikes across the nation calling for better working conditions and higher wages. So much so that they're calling it "striketober."
So it's interesting and almost novel to hear someone say they actually enjoy their job. Everyone right now probably wants to know what those jobs are and why they love them so much.
Redditor LordFlick asked:
"People who actually enjoy their job, what do you do for a living?"
Whatever it may be, we want to get a piece of that enjoyment.
Please, please mister postman.
"Royal mail postman in a small rural UK village."
"I love it and have absolutely no fear of doing it for the rest of my life."
"Walking 8 miles a day means I can eat basically what I want and stay lean, and my fitness level is always high. Also no managers breathing down my neck, and I make friends with lots of nice elderly people."
"This sounds so wholesome! I'm so jealous."
"I am impressed at how well you sell the job."
- am3l1a
"I'm a residential window washer, and I think we love our jobs for the same reasons."
Cemetery grounds keeper.
"I take care of a cemetery. Every day is different and it's pretty much a nature preserve (we treat it like that anyways). You end up sorta taking ownership of it so you sort of 'want' it to look good. It's nice choosing what you do for the most part, and seeing lasting results."
"Also the residents rarely complain, great low maintenance tenants."
"Eh they only come out once a year."
"It's quite lovely when you go to visit a loved ones' grave and the gardens and surroundings are beautiful and well kept. To me, it's a real show of respect for the people resting there. Thank you."
"Did this for 7 years before moving over to another department with the city that was in need of management. I loved working at the cemetery. And you're right, it was my cemetery, I was responsible for everything there, and I wanted it to look the best it could. The best part was the compliments from the towns people for taking care of it properly."
- ihcubguy
Getting paid to think.
"Physician scientist. Sometimes I see patients. Most of the time I do science. I get paid to think about stuff. It's great."
- pulmtom
"Oil exploration geophysicist. Most of the time I get paid to use science and my imagination to map the geometry of rock formations beneath the Earth's surface. I get paid to have an imagination. Companies trust me enough to drill million dollar wells to test my ideas. It's great."
Truck driver turned gardener.
"Gardener. I was a truck driver for a decade. 15 hour days, sleeping on the side of the road, the whole week away from home and all for sh*tty pay.
Decided I needed a change so I started a gardening business. I earn 2-3x more money than I did driving trucks, I get to work in nature all day every day, I get to pick what work I do. Don't get good vibes from a customer....turn the job down. Don't like a garden.....turn it down. I don't have to take sh*t from anyone. I get to do work I enjoy."
"I pick my own schedule. Get to wake up with the kids everyday, come home for lunch and get to read a bedtime story to the kids every night. When I was trucking I'd go all week without seeing the kids. Gone from working 15 hour days to 7-8 hour days and lost 100lbs in the process."
"Same here! (except instead of truck driving, I was working sh*tty office jobs) but man, you summed it up perfectly! becoming a self-employed gardener is the best decision I've ever made. At first I was nervous to make the complete career change and start a new business, but I'm so happy I did and I've never looked back."
"Its great isn't it. You get stuck in a career path and think this is what I'll have to do forever. Glad I decided to force a change."
Gelato taste tester.
"I'm a manager at a gelato/coffee shop! Though customers can be a lot and rushes can be stressful, I work with a great crew and get to sample the new flavors my boss tests and makes each week. He will bust out from the back with a spoon full of a new flavor of gelato and say, 'Try this.' So I guess I'm also a taste tester!"
"The best job I had before getting into my career was a server at a little mom & pop gelato shop in my city's Little Italy. I still reminisce sometimes about that summer!"
A positive perspective on education.
"High school teacher. 10 years. Despite many criticisms for the profession, I love my job. I get paid decent. I have great interactions with students every day. On my feet learning, feeling, engaged, and get goosebumps when a kid makes a cool connection (us history/American government teacher)."
"Doing my student teaching next year. Happy to hear a positive perspective for a change. Thanks!"
It's stable.
"Accountant. I know it's the epitome of a boring office job, but it works for my aptitudes and interests. Lucrative, stable, predictable, engaging but I don't take it home with me."
- abqkat
"Do you work like 60 hours a week? I am in a big4 and know personally that accountants can make big bucks. But they don't have the time to enjoy their earned money."
"I work at a big4 and within the year I work on average 40h/week - slightly more during q1, less during q3. Work/life balance is great, salary is above my country's average and I really like my job."
Maybe you'd be happier with more stability. Maybe you'd be happy with more freedom.
Everyone has different reasons for loving or hating their jobs, but it might take a few tries before you find the right fit. Don't be afraid to make the change. It may be scary, but your happiness is worth it.
Want to "know" more? Never miss another big, odd, funny, or heartbreaking moment again. Sign up for the Knowable newsletter here.
Keep reading...
Show less