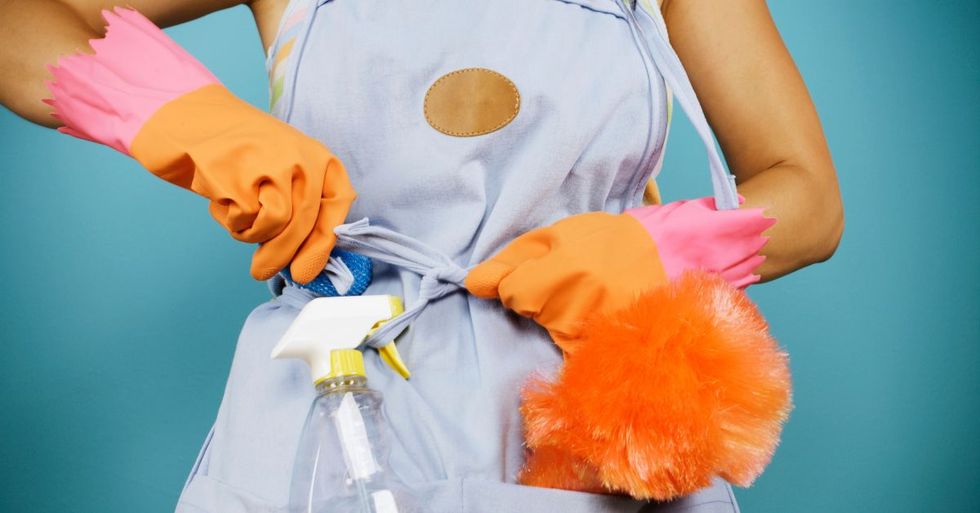 Reddito Only_Till8916 is a family man who planned a camping trip for his wife and their daughter. Unfortunately, his wife was backed out due to physical discomfort, and the trip became a father and daughter bonding trip. That was all well and good until circumstances led to the disappointing planning of a second trip. After […]
More
Camping can be a lot of fun.
That is until you get to the middle of nowhere and realize you forgot an essential piece of gear.
Wouldn't it be great if there was a list of the most useful camping supplies that usually get forgotten?
Redditor heartcakex3 thought so and asked:
"What is something handy to bring camping that is typically forgotten?"
Duct Tape
"Duct Tape."
"That sh*t can solve nearly any problem."

- camcam76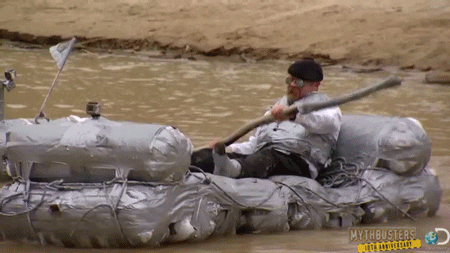 Giphy
Headlamp
"Headlamp."
"Freeing up a hand instead of holding onto a flashlight is invaluable."
- MacaronMelodic

Lets Go Power GIF by Ledlenser
Giphy
Towel
"Towel."
"Don't forget to bring a towel."
- farts_in_the_breeze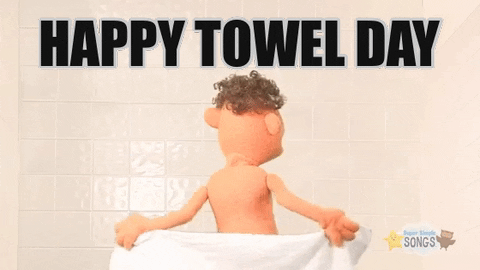 Giphy
Tarp
"Bring a large poncho/tarp."
"You never know when youre gonna need another layer of waterproofing."
- dak446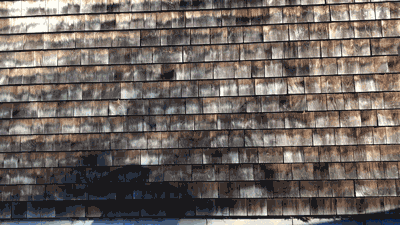 Giphy
Socks
"Very many pairs of socks."
"Wet socks are the most villainous discomfort, and they naturally occur in the leisurely outdoors."
"Scores of socks are the only straightforward and fruitful remedy."
- MatthewWakeman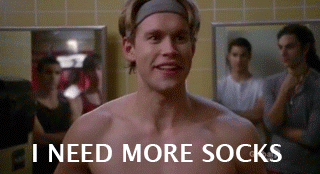 Giphy
Slip-Ons
"Any form of shoe you can put on and take off easily."
"Redoing your shoes properly every time you go in the tent sucks."
"Life changing."
- Salt_Entertainment97
"Crocs are the best camping shoe!"
- deafballboy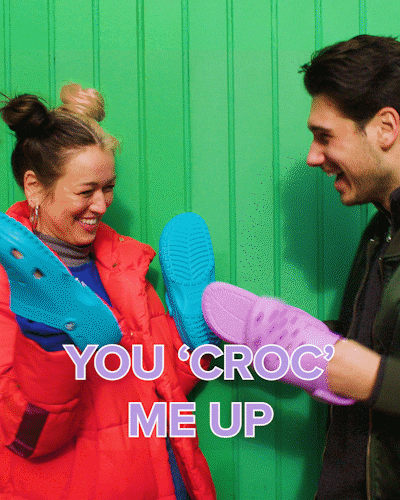 Giphy
Fire Starter
"Last camping trip my friend brought dryer lint to help get the fire going."
"Holy cow that stuff is flammable."
"Old newspapers can work too."
- meowmicks222
"My family go-to firestarter is dryer lint wrapped in wax paper, like a giant tootsie roll."
- princessawesomepants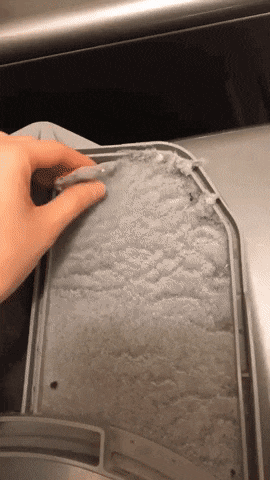 Giphy
Blanket
"Whenever I bring a blanket people are always jealous."
"Like sleeping bags are a must, but a blanket for wrapping up with outside is hard to beat."
- Brasscogs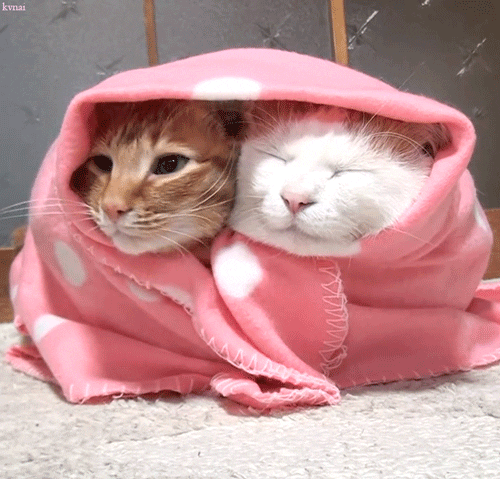 Giphy
Chair
"A chair."
"It's incredibly nice to have something to sit on that isn't the ground."
- LazyPants69
"Omg this….. we started doing a yearly backcountry hiking trip with a bunch of guys."
"First year only one guy bought a chair with him so we played a game and the winner would get the use of the chair and it was a small luxury."
"Next year everyone had chairs with them."
- Loafer75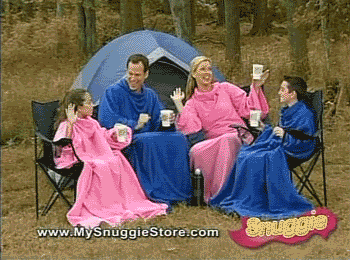 Giphy
Bags
"Just an empty extra bag, you never know when you'll need just something else to put stuff in."
- CaterpillarCute1103
"Whenever I go traveling anywhere I throw a box of gallon Ziplocks into my bag."
"They've come in handy too often to count."
- II_Confused
"I started carrying bags in my back pocket when I had a dog."
"Turns out they come in handy all the time for carrying stuff."
- 444unsure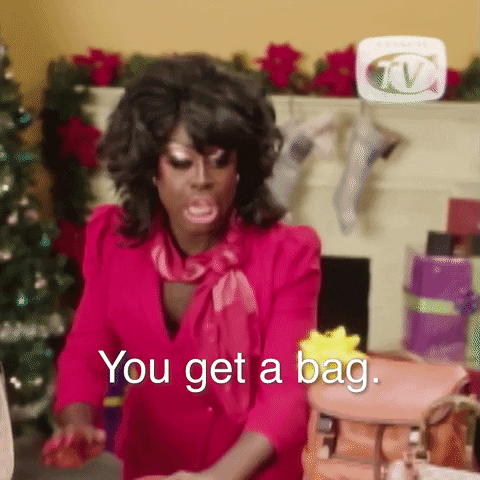 Giphy
We know what we'll be checking before our next camping trip.
Was anything left off the list?
Share your suggestions in the comments.
Keep reading...
Show less
I have never understood the fascination with the outdoors.
Camping? In the dirt? In the dark?
Y'all have seen the "Friday the 13th" series yes?
Besides being under the thumb of nature, there is wildlife, reptiles, and serial killers.
Watch a few Dateline NBC episodes and you'll see how many hiking trails are nothing but burial grounds.
Stay home, rent a movie.
Redditor Legitimate_Eye_5382 wanted to know what we should be aware of when wandering out in nature. They asked:
"Hikers of Reddit, what has been the most f**ked up thing you've seen?"
I've always said hiking, camping, the wilderness, all death traps. Convince me otherwise...
The Fall
"This was two decades ago. They used to do donkey tours in the Grand Canyon. You ride the donkey and then hike. You can camp, but we did the day tour. A woman that was probably in her late 60's/Early 70's was in front of me and on an incline started to act strange."
"She was swaying left and right as on a steep cliff (which was very safe and wide). It swayed back and forth for maybe a minute and she was slumped over and then boom, it looked like she passed out and pulled the donkey to the left and fell over the cliff. I saw her tumble over and then they were just gone."
"I cant remember how far down the fall was, but it had to be over 100ft. Immediately the guide jumped off at the front ran over and let out and audible scream before stopping after realizing she had a tour with her. A few people got off their donkey and she stopped them from peering over."
"A few of the other guides looked over and they made some radio calls and then we proceeded. It was very obvious that something really serious had happened, but we never found out. I'm pretty sure I watched a woman and a donkey fall to their death in the Grand Canyon."
BenfoSherman
Can I Help?
"I was on a trail in MA when two teenagers on motorbikes came gunning through the woods. One hit a bump at speed and went flying one way and his bike went another. He flew right into a tree trunk. He wasn't wearing a helmet. (Neither of them were). I went over to see if I could help. I told him not to move and I'd get someone."
"He told me to go f**k myself and limped over to his bike, got on it and slowly drove off. His friend just looked at me and shrugged and drove off after him. A few days later I saw his friend in a convenience store. I asked him how his friend was and was told that he had died from his injuries."
AoiGyoshi
Clapping
"Hiking a trail in Sedona alone, I heard a strange sound like thunder clapping. I stopped hiking then a boulder the size of 3 basketballs comes bouncing down the mountain about 15 feet in front of me... F**king yikes!"
Huge_Strain_8714
"A large boulder the size of a small boulder."
backtheduckup
Downhill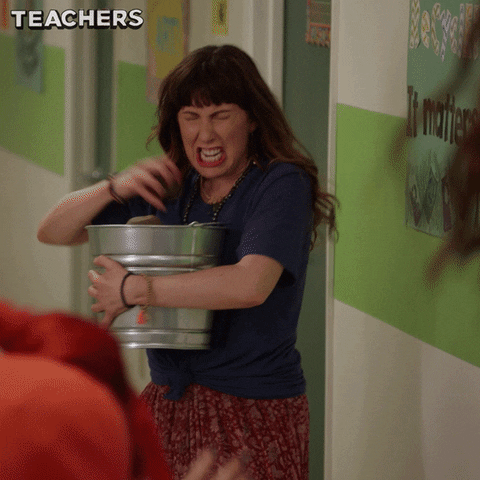 scared tv land GIF by Teachers on TV Land
Giphy
"Someone casually lobbing grapefruit sized rocks downhill, directly where we'd been a few cutbacks prior. Didn't even think he might kill someone. This was Wisdom Tree in LA, so imagine a very steep traverse."
lurkherder
I knew the wilderness was nothing but a horror movie.
At the Bottom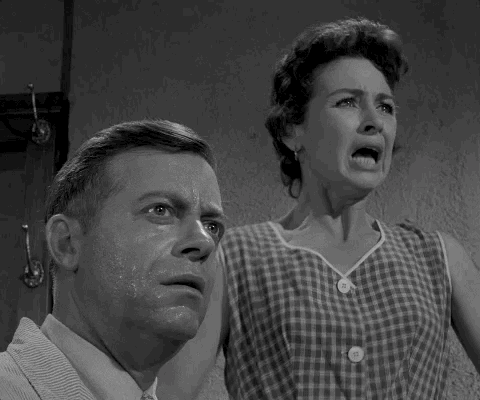 Look Away Season 3 GIF by Paramount+
Giphy
"Someone's backpack, jacket, and wallet left on the edge of a two thousand cliff in a popular national park. Rangers found the body at the bottom the following day."
alexd753
Not Pretty
"I was on a Mountain Rescue team for several years. Saw a lot of stuff, but one that stands out is a guy who fell over 2,000 feet off a cliff and onto rocks. Not pretty. Things get remote out in the Ruby Mountains… it's nuts out there. Took me a few years to realize I still carry some of the emotional weight from SAR. Make sure you get help if you need it!"
uncontroversial_name
Farewell
"I was in the Frank Church wilderness in Idaho doing some biological survey work. We were 30 miles from the nearest trailhead and got an early start to avoid the heat. About a mile into our hike, we hear the bushes stir near the trail. Up pops a man wearing nothing but a loin cloth and nikes carrying a very small bag and a hunting rifle. He says mornin' and takes off sprinting down the trail. Never did see him again, so so many questions."
Illbeyourdodo
Climbing the Stream
"I was on the Matanuska glacier ice climbing, and before we started scaling the wall a tour guide walked up with a group he was showing around. There was a small waterfall, and he filled up his water bottle, explaining how this is the best water in the world, the most pure and blah blah blah."
"Anyways, we climb up like 20 feet, and there in the stream just above the waterfall is the dead and rotting carcass of some kind of bird or mammal, completely gray and directly feeding the waterfall he just filled up his bottle with."
Shoe_mocker
signs of human activity...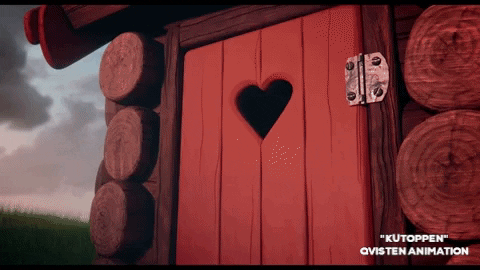 sheep bucket GIF by Qvisten Animation
Giphy
"A well-maintained 2-seater outhouse, numerous miles from any path or sign of human activity - just sitting there encircled by tall trees and dense overgrowth. The outhouse evidenced no sign of use or footprints in the area. Yet it was stocked with tp, magazines, freshly painted, and screens on the vents."
Back2Bach
I am reaffirmed... I'm an indoors person, happily. The end.
If you or someone you know is struggling, you can contact the National Suicide Prevention Lifeline at 1-800-273-TALK (8255).
To find help outside the United States, the International Association for Suicide Prevention has resources available at https://www.iasp.info/resources/Crisis_Centres/
Want to "know" more?
Sign up for the Knowable newsletter here.
Never miss another big, odd, funny or heartbreaking moment again.
Keep reading...
Show less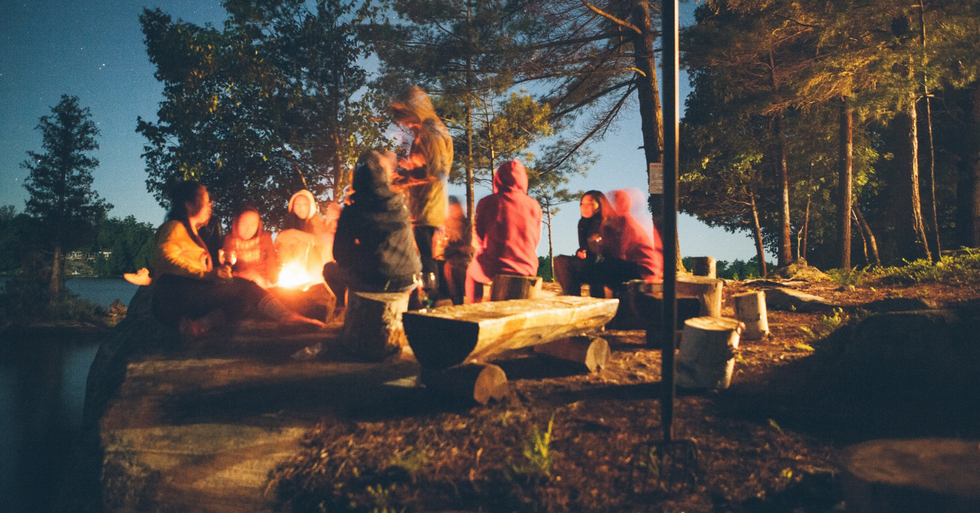 There is little more frustrating than having to change your plans at the last minute. Particularly when it comes to changing a vacation. But sometimes life just gets in the way, and you may find yourself required to change a vacation you might have been saving up and planning for years. Redditor novacayaita found herself […]
More
For the most part, survival tips have been taught to us from a young age. We know to call 911 if there's an emergency and to put pressure on a bleeding wound. Boy Scouts know to be always prepared. Hikers know to conserve water, campers know how to build a fire, and anyone who spends a great deal of time outdoors knows how to locate shelter.
However, those skills are pretty basic. If you get into real trouble, you'll need more specific survival skills in order to get yourself out of trouble.
Some people can give you survival tips that can mean the difference between life and death. Others may give you tips that seem to make sense, but will probably only lead to death. It can be a great skill to learn the difference.
That's probably the thought process that led Redditor scarredforlife164 to ask:
"What "survival tips" would probably get you killed?"
Not All Meat Is Safe To Eat
"Saw this on a survival show:
"If you find a dead animal and it's fairly fresh (flies haven't set in) its relatively safe to eat because a. It's fresh b. Nothing has had a chance to spread disease to it by eating."
"Problem is that if you can't see a visible reason for death, it's probably disease that killed the damn thing and you're about to eat it."
"A girl on Naked and Afraid 40 days quoted the survivalist that said this shortly after finding a bird on the ground of the jungle she was in. The bird was fresh, still warm, flexible etc, just dead."
"She ended up contracting avian tuberculosis, which is apparently really hard to do if you're not a bird"
– Apprehensive_Oven924
"This is why my parents always told me to not even touch dead animals (exemption: our pets, but we knew why they died). I can't believe that anyone would just eat some random dead animal."
– Nico_MyTrueSelf
The Shock Won't Save You
"Had a coworker try and tell me once the best way to disarm a guy pointing a handgun at your face was to quickly slap his hand holding the pistol because it would "shock him into dropping it". I've never tested the theory but I'm willing to bet any shock would just as likely cause that trigger finger to clench as well."
– ArchaeoFox
The Importance of Water
"Conserving all of your water. If you're thirsty, drink!"
– getyourcheftogether
"Not drinking your water when lost and thirsty because you're almost out of water. There are lots of people found with water left who were fully dehydrated but to scared to run out of water"
– Logitoh
Don't Let Him Catch Up To You!
"run in a zig zag away from crocodiles, it just tires you out"
– No_Government_3604
Never Arm You Opponent
"Throwing knives were a thing when I was in the Army. If you have a knife and your opponent does not, don't give it to him or her."
–Grillparzer47
"The enemy cannot push a button...if you disable his hand."
– hardspank916
Report It Right Away
"that you have to wait a certain amount of time before reporting someone missing. no, the second someone is missing, report it"
– karleyh6
No Bear Is One Color
"If its black fight back, if its brown lay down. Brown bears can be black and black bears can be brown"
– random_person4444
Run, Run As Fast As You Can
"Any "learn to fight in a weekend" martial arts tips. Step one: run like a mother f*cker."
– dewayneestes
Don't Drink Cactus Juice
"DO NOT DRINK WATER FROM A CATUS WHEN YOU'RE THIRSTY IN THE DESERT. IT IS PROBABLY GOING TO KILL YOU BEFORE DEHYDRATION DOES."
– Consistent_Leopard77
Tornado Tips
"DO NOT lay in a roadside ditch or hide under a bridge during a tornado."
"There's a good chance the tornado will flip your car on top of you in the ditch."
"Under the bridge will turn into a wind tunnel, accelerating the debris that will rip your body to shreds."
– tyleristheman02
Did you learn something? I certainly didn't know black bears could be brown and brown bears could be black. Of course, I prefer not to need to know anything about bears at all!
Survival tips are certainly important to know. Just make sure whatever tips you get are from a reputable source.
Want to "know" more?
Sign up for the Knowable newsletter here.

Never miss another big, odd, funny or heartbreaking moment again.
Keep reading...
Show less