When you're young, it's easy to think you've got plenty of time to responsibly live your life and learn essential life skills. This is especially true in your 20s.
In your 20s, you're just out of school, working on advancing yourself career-wise, and you want to just enjoy your youth. While there's nothing wrong with that -- you should enjoy your youth -- you have to start some life planning as well.
By the time you get to 30, you'll realize you're too late to the party on things like getting your degree, living a financially healthy life, and, according to Redditors, dental care. Use your 20s to have fun, but make sure you also take advantage of being young. Sometimes, your youth is the exact right time to start good habits.
This is probably the philosophy behind Redditor give_me_wings101 question:
"What's that one thing people in their 20s should definitely do before turning 30?"
Dental Care
"TAKE CARE OF YOUR TEETH"
"Always. Rule number one of all time. Please please PLEASE take care of your teeth."
"I don't care how old you are/will be etc."
– Leading_Funny5802
Time to Quit
"If you smoke cigarettes - quit. It's all sh*ts-n-giggles when you're in your 20s, but it'll catch up to you way quicker than you think. If you quit now your body still has time to heal much of the damage that has been done to it."
– YouWillGiveMeTP
Do It While You're Young
"This, though I was going to say "lose weight.""
"The change in your metabolism from the 20's to the 30's makes it much, much harder to do."
– FearGunner
People Go and Come
"Realize that your friend group from your early 20s will most likely look completely different by your later 20s and into your 30s and that's ok."
– forman98
Expect The Plan To Go Wrong
"Life plans don't really work for 90% of people. Especially nowadays. Basically we're all stumbling along trying to figure sh*t out as we go."
"I'm a cook/restaurant manager now. Studied economics and politics at uni. Lol. Pretty happy though. Life is strange."
– No_Belt3011
In A Rich Man's World
"Become financially literate"
– Historical-Major1832
Educate Yourself
"Go back to school if you are wondering if you should.. I went back at 28, graduated at 33, as a 40 year old I am patting my 28 year old self on the back."
– tangoshukudai
Protect Yourself
"Wear sunscreen! Wrinkles suck and melanomas kill."
– LunaGloria
Keep On Moving
"Exercise."
"My doctor told me most people don't fix their bodies in their 30s and then it becomes unfixable when they get to their 40s and on."
– ImGoingToSayOneThing
30 Years Young
"Stop yourself from saying you are "so old" now."
"And continue to hit pause on that thought in your 30s. Consider that you're simply grown instead. You've still got plenty of time to actually get old, no need to rush it. You can put that off longer than you think."
– dark_blue_7
That last one is some great advice. Yes, you should use your 20s to start your life planning, but never count yourself out because you think you're too "old" either.
Every age has it's pitfalls and perks. You've just got to figure out what they are so you can reap the benefits and avoid the drawbacks.
Want to "know" more?
Sign up for the Knowable newsletter here.

Never miss another big, odd, funny or heartbreaking moment again.
Keep reading...
Show less
A bucket list is defined as a "number of experiences or achievements that a person hopes to have or accomplish during their lifetime."
But what about people who have been there, done that?
Are there bucket list regrets?
Redditor itchy_18 asked:
"Anti-bucket list. What's something you'll never do again?"
Look Out Below
"Bungee jump.. as soon as my feet left the edge all I could think was 'well that was stupid'..."
"It was exciting and probably safe enough, but it was enough for me to know I will never willingly do that again." ~ halversonjw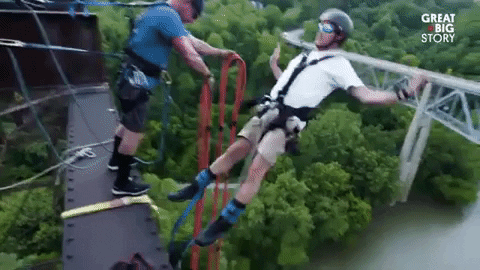 Giphy
​Driving Pain"​
"Rent a car while visiting NYC." ~ undead_opossum
"That's like asking to babysit someone's kid on vacation."
~ Glass_Anvil1
Not So Rockin'
"Go to Times Square for New Year's Eve."
"Looks great on TV, not great in person unless you pay to get in the walled off area." ~ Newfounder8
"I had a couple friends who went a few years ago and they said they wore diapers because they knew their weren't enough bathrooms." ~ Nownownowow
"As a local, you will not catch me within a 15 block area of Times Square on NYE. I've gone down to the city a few times for NYE, but Hell no I'm not going to Times Square."
"Spend like 12 hours waiting for a 1 minute ball drop. Yes there's some entertainers and stuff coming out, but they do like one song and you go back to freezing your a** off in your soiled Depends." ~ flateric420
"If you're not pissing yourself in a crowd of thousands, are you really celebrating the new year?" ~ toetenveger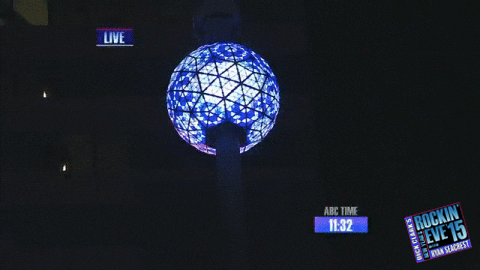 Giphy
Give It Your All
"Assume that every coworker is a friend." ~ chrwiakgjw462q1
"Amen, I truly believed most of my colleagues were friends in a place I used to work, to the point I'd go above and beyond to help them. Even if it was rarely if ever reciprocated."
"Yet whenever I needed help they were nowhere to be found or were 'busy'. If I got in trouble they were quick to throw me under the bus without hesitation and would lie to my face about doing so."
"Then when I realised finally that I couldn't keep working that way and decided to distance myself more, suddenly I became 'unapproachable' or 'unfriendly' and that was a problem. Which lead to me being sh*t talked constantly."
"It sucks. Damned if you do, damned if you don't." ~ Throwawayaccount_TM
Didn't They See Jaws
"Swim in the sea at night whilst drunk."
"Nearly drowned." ~ MrCasterSugar
"I don't understand any of this swimming in the sea at night stuff."
"One time while on vacation with friends we were drinking on the beach and vowed to come back for a nighttime dip."
"Later that night we got down to the shore, took one look at the black abyss and collectively said 'f*******ck that'." ~ MmmmapleSyrup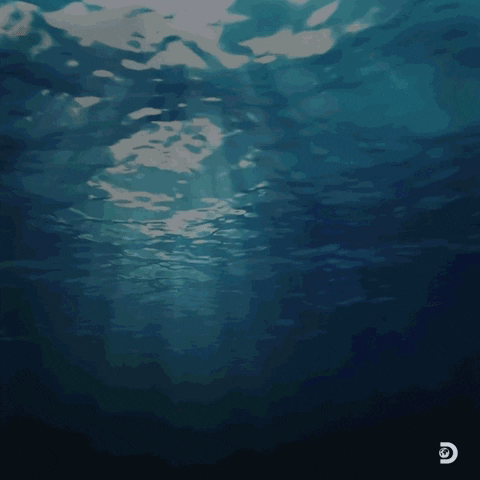 Giphy
Settling Down
"Settling for a relationship knowing you are not really happy."
"Never. Again." ~ Selthix
"This is why first divorces happen after 7 years (average), but second divorces happen within 6 months."
"People are much quicker to nope out if it isn't working." ~ pinewind108
Not So Magical
"Go to Disney World's Magic Kingdom on Christmas Day."
"Shoulder-to-shoulder people, insane lines, and nothing special I couldn't see earlier in the month." ~ mGreeneLantern
"This is true for New Years and the 4th of July, too."
"Other than the fireworks that were different, the park was ridiculous and we sat around most of the day." ~ mr2000man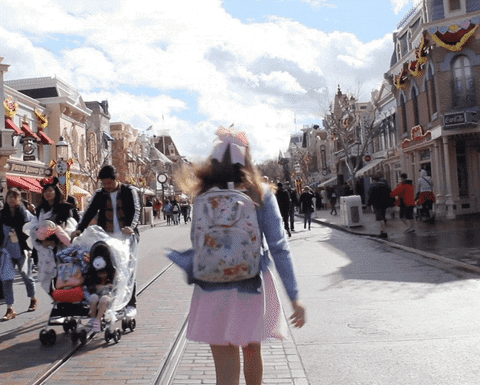 Giphy
Live To Serve
"I was a server for 5 years."
"It was fun most of the time but God Almighty, the worst customers could drive a person to murder." ~ Prossdog
"I feel you man, I'm currently serving right now to get through university and goddamn some of these people make me question my entire life's decisions." ~ Petroleum-Smelly
Feeling Hot, Hot, Hot
"Now I always pee before cutting jalapeno peppers. The other way around, never again."
"Just to add, this was for a meal prep with my housemate. I ran upstairs and immediately took a shower (cold), during which I focused a lot of cold water on Little Ed."
"Note cold water on a jalapeño accosted Little Ed offered only a brief respite. It was a bad time." ~ Jinzot
"I did this twice. Meal-prepping a slow-cooker barbacoa for lunch that would cook while I slept."
"Went to take my contacts out and was met with immediate agony, even gave myself a nosebleed."
"Finally got them both out and put away, and then next day I go to put them in and what do you know—the oil from the serrano peppers had stayed on them."
"Gave myself a second dose of eye pain along with a healthy second nosebleed." ~ rwsmith101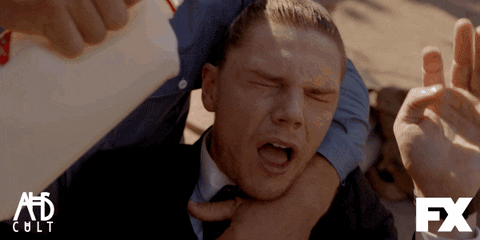 Giphy
Not So Miraculous
"Childbirth and the postpartum period."
"Love my daughter to death."
"One and done." ~ Alarming-Quarter-396
We live, we learn.
The things that seemed like a great idea don't always turn out as we expected.
Luckily we can decide "never again."
Want to "know" more?

Sign up for the Knowable newsletter here.
Never miss another big, odd, funny or heartbreaking moment again.
Keep reading...
Show less
Some people love to ascribe time limits to when they can and can't do things.
There are sayings out there such as "LA is for your 30s," or "I could only do that in my 20s," or "I feel like I'm in my 80s," when you are doing something like eating peanuts and watching Designing Women.
The truth is, we can do these things whenever. Though it's fun to ascribe ourself these limitations, they aren't necessarily accurate. but sometimes, people make the choice to leave things for later.
With life both being "no day but today" and an incomprehensible stretch of time among us, it's natural to reserve some things for later.
A Redditor asked:
"What is something you are holding off doing until you are much older?"
Here were some of those answers.

Opiods Or Amphetamines? Choose
"Meth. If I'm like 97 and not cryopreserved or if I get a terminal diagnosis, I'm not going out like a b*tch."-tex_da_PHOX
"I dig the sentiment but I feel like you can definitely choose a better drug than meth for your going away party. Like it just seems rather horrible at 97 years old when your body isn't even physically up to that anymore".
"Heroin or something like that seems like it'd be more pleasurable at that point."-Addictive_System
Bébés
"Having kids.. I can appreciate both sides. Yes, waiting until that age means you'll be more financially stable, more mature and probably more patient."
"But, having them young means that you can enjoy your middle age more, because you're not parenting littles at the same time. You have more energy to play with them too."
"And when you're retired your kids are already quite settled adults and don't need you financially for extra support as much, so you can afford to do the travelling you've promised yourself since you were younger."
"There's no right time or age to have kids, do it when you want and not a second before!"-Filhopastry79
Cover Them All
"Getting a tattoo to cover my old self harm scars. I'm ashamed and embarrassed by them. I wish I could cover them now."
"But I cannot afford a tattoo, and I'd prefer to wait until my father passes away to avoid dealing with him being snarky. I love him, but he can be judgemental and a little too uptight."-occultatum-nomen
See anything up here that you are also saving for later?
Streaking To The South Pole
"Going to Antarctica to join the 300 club. Why? Because its expensive. Basically you go to the South pole, wait till its 100 below outside and then go to the sauna and crank it up to 200 degrees."
"And then (usually with aid of alcohol) you run out butt naked except for your feet, take a picture by the south pole flag as by the time you get to it, your body will be covered in thick frost that makes you look like the abominable snowman."
"And then run back to the sauna and subjecting your body to a 300 degree temperature difference... hence the 300 Club."-Youpunyhumans
Teaching The Youths
"Become a high school teacher. I want to have an accomplished career before doing this (probably in my 50's when I'll be close to retiring)."
"I'd like to teach mathematics and on the way also be a positive figure in children's lives, give them the kind of care that I wish that I had when I was their age."
"It's something I'm thinking about a lot because my upbringing was extremely rough personally. I was never a driven student, and teachers wrote me off as someone who 'should be a plumber' (also, nothing wrong with being a plumber, but the teacher that told that to my parents was most likely trying to put me down)."
"I am now a professional Economist working towards an MSc. It took me a while to get there (graduated at 26, moving from a 0.8 GPA to 3.4), but it is what it is."
"No one deserves to be shot down by figures that are supposed to mould the next generation, and I will do my best to be someone my students will remember all the way through College and beyond!"-Sperabo
Might As Well Have Fun With It
"I (M[ale]60) have a terminal bucket list. These are things I'll tap if I get a terminal diagnosis -- mostly, things that I are dangerous enough (or I perceive them to be dangerous enough) that don't want to risk them if things are going OK."
"Things like certain drugs, skydiving, or going back to scuba diving (I got bent badly enough that my diving doctor told me that diving again would most likely kill me)."
"Skydiving is something I'm saving for a dementia diagnosis -- as soon as I forget what that red handle is for, problem solved."-1tacoshort
These Low Effort Jobs Have Surprisingly High Salaries | George Takei's Oh Myyy
Have you ever worked one of those jobs that paid you to kinda sit there? If you have, you know the joy that comes with watching the entirety of Breaking Bad ...
I Won't Grow Up
"Maturing, in the sense where I get boring and cranky, and only care about work. If its bound to happen to everybody, I will run away in the opposite direction from it as long as I possibly can."-thatonemanss
How about things you think are better NOT put off? Anything you disagree with?
Drugs Drugs Drugs
"In my personal opinion I believe somebody should do something at least once in their life. That includes drugs."
"If you ever do it, be in a safe environment, I have friends who are not druggies, who will watch over you and help you not gain an addiction. I know this might seem terrible but it's just my opinion, nobody answer agree with it."-IConsumeLead
Interesting Times Are A Curse
"Traveling, I would like to travel the world and see all the beautiful places it has to offer, but given the ever rising tensions and violence it seems the time will never be right...."-Badjib
Teeth And America's Sad Reality
"Going to the Dentist. I'm holding off until dental becomes included in healthcare and gets offered better benefits. How dental is not treated as seriously is insane."-xaviticus
"My teeth are essentially chalk, but I'm trying my hardest to avoid getting dentures as long as I can."
"I like having my own teeth, even if occasionally they explode when biting into food."-ManifestSaviour
These are things people are putting off out of some kind of necessity. Whether or not you agree with it, or recommend it as an expert, these are things people are making choices to do so as to not interfere with their lives.
Even if it seems important—necessity trumps all.
Want to "know" more?
Sign up for the Knowable newsletter here.
Never miss another big, odd, funny, or heartbreaking moment again.
Keep reading...
Show less
Death is coming for all of us.
I hate that fact about life, so I do my best to ignore it. But I know it's there. So every once in a while I can't help but wonder about it.
My biggest hope is the end is quick and painless, but some warning would be nice, so I have time to do a few things.
I often ponder what that list of "things" would entail if I was given a warning.
And what if that ending was coming fast? How do you sufficiently spend a few hours wrapping up a life?
Redditor Valleygawd wanted to hear about how we would spend those final, precious moments by asking:
"You have 24 hours left alive, what do you do for your last day on earth?"
Farewell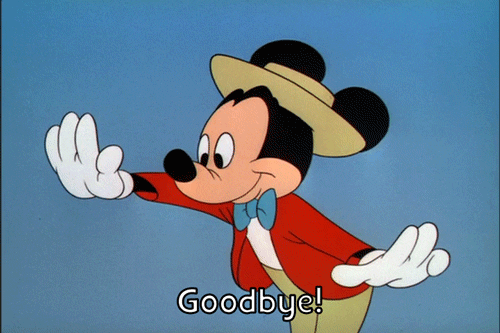 Giphy
"Say goodbye to all my friends, go outside and take my dog on a long walk and then back home to have pizza and await my fate."
Eat Wherever
"Eat McDonald's at a Burger King. What they gonna do, send me to jail for life."
"I'd buy two large fries and two large cokes at Mcdonald's and take them over to Burger King and order two whoppers for lunch."
"I know this is satire, but a buddy of mine once got kicked out of a McDonald's lobby for bringing in KFC. We were all in high school and meeting to do homework but instead we all ended up leaving."
You've Got Mail
"Send out a chain message to everyone I know saying that if you don't share this with 10 people, the person you received this message from will die tomorrow."
"Plus add on that if the people they share it to don't share it to 10 other people, they will die themselves."
- Jhawk163
Go Big!
"If I'm guaranteed 24 hours alive I will do a ton of extremely dangerous crap because I can't die until the 24 hours are up."
"You could get badly injured and live your last hours suffering in a hospital sooo..."
"Morphine drip is how a lot of us go anyhow. Doesn't seem so bad."
Bank robber?
Well that should keep the time lively, but I don't understand doing things that could cut short what little time there already is.
To each their own, I guess.
Out & About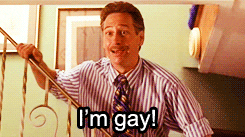 Giphy
"If I'm gonna die, then they might as well know. I'm coming out, doing what I want for once and having the most comforting day in my life."
Expose it All
"Tell everyone I love how I feel and then get all my passwords and crap in order so people can close out all my online activities. Then go hold my wife until I die... well, probably I'll go sit in the emergency room to die so my wife doesn't have to remember me dying in her arms the rest of her life."
Free $$$
"Rack up as much debt as I can buying expensive things and hiding them for my family to find later (after the estate has been sorted out)."
"Makes me wonder if I have 50k in CC debt and 75k in the bank, does my family get all 75 or will the bank be legally entitled to get 50k back?"
"The banks get 50k and your family gets the leftovers. If you don't have enough money then your estate is dissolved and your family gets nothing, the debt goes away (unless someone tricks your fam into paying the debt with their money)."
- OHYAMTB
Send the Message
"Spend the 24 hours with my kids and family cultivating a few last precious memories for them. Also a few hours staving off sleep recording messages for them to be able to listen to when they are older - things they aren't old enough to hear, but I would like them to hear from me when they are ready for the message."
I don't know anymore...
"Well, I wouldn't live long enough to face the consequences for whatever I do, so I'd do some things I see as bad ideas at the moment:"
"I'd cuss out my most hated person in the world. Forget that guy."
"I'd tell my best friend (former best friend? I don't know anymore...) how I feel about them, and apologize for hiding it."
"Other than that, I dunno what I'd do, maybe spend time with friends or family or panic. Make sure to let everyone know that I wouldn't be around much longer."
Where to Begin?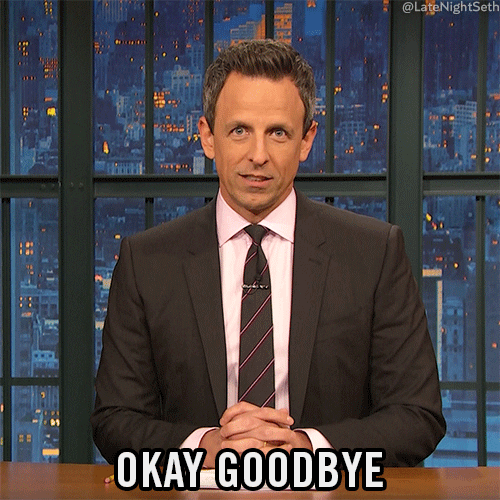 Giphy
"Fix my will, delete all electronics, call a firm to take my stuff to goodwill, call a real estate agent and put apartment for sale, give my organs to hospital. And if time, I reckon a good nap and massage would be nice too."
Is there really a best way to spend your last 24 hours?
You can't travel, that's time consuming. There will always be so much more to do.
Que será, será, I suppose.
Want to "know" more?
Never miss another big, odd, funny, or heartbreaking moment again.
Sign up for the Knowable newsletter here.
Keep reading...
Show less
We all know we don't have endless time on this earth, so we prioritize things that we want to do while we are around. We create bucket lists and dream boards and imagine all the endless possibilities for adventure. Often, those bucket lists include dangerous acts like sky diving or deep sea exploration.
But what about things you would never do in your lifetime. Not for any other reason other than it being too fear inducing or too dangerous. We went to Ask Reddit to find out what those wild adventures are that just aren't worth the risk.
Some folks also shared that they made some serious life decisions that were important to their health and well being. Trying dangerous substances or staying on top of their weight loss was important and they never wanted to take that risk again.
Redditor machine1892 asked:
"You all know what a bucket list is, what is on your 'f*ck no, not ever list'?
Let's find out what people are just not willing to do.
Want to "know" more? Never miss another big, odd, funny, or heartbreaking moment again. Sign up for the Knowable newsletter here.
Keep reading...
Show less