With social media on the rise, internet advertising feels absolutely inescapable.
With our newsfeeds peppered with ads, more social media influencers turning to user-generated content opportunities, and ads pausing our video-watching experiences, ads are seriously everywhere.
After seeing some companies and brands over and over again, we're less likely to support them, just on principle. They're like the Top 40 songs we hate on the radio because of the frequent replays.
Redditor bethebumblebee was ready to call some brands out when they asked:
"What is one brand that you'll never buy from?"
Immediately No
"The ones that constantly pay YouTube channels to do spots for them. It just makes me very suspicious of their quality. Raycon is a good example."
- RahvinDragand
Morally Questionable
"Better Help is a huge one that I think Youtube channels need to step away from. It's not a product, I guess, but it's still a service that's sponsored by a lot of large content creators. I haven't used it but i've read endless things about how awful it is."
"I got a list of therapists from my doctor and by looking things up. It makes it seem like it's so accessible because you don't have to search and search for therapists, but in reality, they just pair you up with s**tty ones. I'm sure there are actual good therapists on there but from what I've heard, it's mostly negative."
- i-am-a-salty-b***h
Wrong Audience
"I get spam-advertised for Grammarly, an automatic grammar helper tool thing because I work with languages. If I ever need a tool like that, I won't go with them because of how they have hounded me."
"This is especially frustrating because I actually work with languages as a profession and therefore DEFINITELY don't need it."
- turquoise2j
No MLMs Welcome
"Herbalife. One of their 'smoothie bars' has opened locally to me. They posted on the local residents' Facebook page, and I asked in the comments if they were Herbalife affiliated."
"In response, the 'owner' DM'd me a long, berating email about how I don't understand anything and ended it with an offer of a free drink."
"I was already not into MLM stuff but this definitely didn't do anything to improve my impression!"
- TheElusiveRaspberry
Seriously, No MLMs
​"Mary Kay, Pampered Chef, LuLaRoe, DoTerra Oils, Young Living Oils, Norwex, It Works! etc. Any and all of the MLMs."
- Carrann823
Questionable Claims
"SheaMoisture Hair products. I have major issues with the ingredients they list and the sustainability of sourcing them."
"For example, anything they say contains Baobab (Adansonia) oil is majorly suspicious. I was born and raised in Southern Africa and the clusters of trees are 100km apart, with a few fruits here and there, they take hundreds of years to fruit, if at all. It just isn't right."
"Also, the one product they said contained Mafura. That's literally the word for oil, so, what oil? It's just marketing using 'Africa' like we are fools, and I will not support this." - SundaeSwimming128
Safety First
"A friend from college sold Herbalife and I was interested in finding a vegan protein shake for health reasons. Due to a very severe dairy allergy, I cannot have dairy, and whey is a very common and popular ingredient in protein drinks. (Whey is a dairy byproduct.)"
"Unfortunately, I can only buy vegan protein powders and they are so much more expensive. I posted on Facebook, asking if anyone knew any vegan brands that were cheaper than what I was using, and my friend commented pitching Herbalife."
"At that time, I knew nothing about it so I explained that I wasn't asking if it was vegan as a lifestyle choice but because I could get very sick. You know that scene from the exorcist where it's like split pea soup? That's me with dairy and it can become so bad, I can tear my esophagus, and all the blood vessels in my face burst. It's scary and not fun."
"My friend told me she would double-check with a higher-up about the Herbalife. She got back to me not even one hour later and showed me a screenshot of a Facebook message from her 'leader' saying yes of course!"
"So I believed them and bought some. It came and I made myself a shake. It wasn't amazing but not as gross as some others."
"But guess what. Spoiler alert. Herbalife is NOT vegan. Shortly after I finished my shake, I got sick."
"I tried to go as high as I could and complain, but they said since whey is listed on the ingredients and at that point, it was in my hands, and it was up to me to check what I was consuming. They offered me three free canisters. That's it."
"F**k Herbalife and their s**tty customer service and ill-informed sellers. F**k my ex-friend. F**k anybody who tries to sell you something you would consume that you cannot see the ingredients and nutrition information before you buy."
- Human_Allegedly
We've Got Jokes
"ACME. I've seen documentaries on how their products hurt Coyotes."
- Klotzster
Online Shopping
"Shein. Ugh, and there are people who will defend them fiercely and accuse you of being classist because not everyone can afford well-made or sustainable fashion. I disagree with this because it is more of a quality vs quantity thing."
"When you look at those prices, you know the people making the clothes and the planet are being majorly shafted. So, yeah I'd rather thrift, buy second hand, or just have a few pieces of higher quality."
- Warm-Replacement1839
Sourcing Water
"Fiji water. Aside from the wild overpricing of ALL bottled water, that brand is utterly anti-environment. The bottles are made in China, shipped thousands of miles to Fiji, and filled with admittedly good-tasting water. But they're then put back on a ship, and sailed thousands of miles to the west coast, put on trucks and trains, and shipped east."
"When you work it all out, the amount of oil burnt to get that bottle to you would half-fill the bottle."
"Compare to a local bottled water, or even better, tap water in a reusable bottle."
- cryptoengineer
Annoying Commercials
"Liberty Mutual as their commercials drive me nuts. That and f**king State Farm! At least Geico and Progressive have some entertaining ones."
- Eroding-Moon
Electronic Woes
"Samsung. Had a 16-month-old 70-inch TV die and they reached out to me and offered to repair it at no charge because it was a known issue. A month later, the repair facility canceled the service ticket and when I called Samsung to ask why, they told me that parts were unavailable… because so many had broken they used all the parts up and aren't making more."
"Then they told me they would replace the TV… a week later they emailed to tell me they would not be replacing it. But encouraged me to have a non-Samsung repair facility fix it… even though nobody has the parts."
"They know the model has issues and did nothing after promising over and over that they would stand behind the product because Samsung cares and all that s**t. F**k them."
- dantasticdanimal
Homemade Is Better
"Welsh's brand grape jelly or jam. My grandfather was in WW2 when Welch's gave jelly to the servicemen."
"The ones they got were substandard, filled with seeds and twigs, so my grandfather forbade Welch's in our house."
- Simple-Mastodon-9167
Ruining Neighborhoods
"American Greetings. They bought up the drive-in theater next to their corporate headquarters and then moved out a few years later."
"That drive-in was an affordable night out for a lot of families in a low-income neighborhood and was always packed."
- hikermick
We Don't Claim Him
"Reebok."
"My grandparents operated a pretty fancy Italian restaurant in Florida."
"Some dude came through and was a huge d**k to everyone. My grandparents asked him to leave and he ranted about how he basically owned Reebok and how he could ruin them and police wouldn't even arrest him if they were called."
"I forgot his title but he wasn't the CEO. Anyways, he didn't represent Reebok well with my family."
- LongFeetMcGee
From annoying advertisements to misinformation to questionable customer relations, these Redditors made it clear that there are many reasons why they would choose not to support a brand. These companies should start taking notes.
There are many cases where a company or product promises good quality or intentions.
But that isn't always the case as some companies fail to deliver and they make off with your hard-earned cash.
In an instantly gratifying world, consumers are quick to go after the things they want with the click of a button as long as they have the funds.
But they should keep a close eye on where their money is going toward.

Strangers online shared what brands to stay away from when Redditor ToastedLeaf- asked:
"What brand can go f'k off?"
They may appear to have good intentions, but of course, that's all they show you.
Putting On A Good Face
"National/international charities that give back minimally to the communities they pretend to serve."
"From charity watch. Top compensation:"
"Name & Title Charity Viviane Tabar, M.D. Chairman Attending Neurosurgery Memorial Sloan Kettering Cancer Center $4,869,769 12/31/2020 Note: Includes $3,350,000 bonus & incentive compensation. Robert W. Stone President/CEO City of Hope & Affiliates $3,827,671"
– shootingstare

Pack Of Thieves
"F'k Autism Speaks, my school decorated the halls for World Autism Day and encouraged us to talk about it in classes as kind of a break from work, and I mistakenly outed myself as autistic to everyone during one of those conversations."
"Later my teacher put on a whole PowerPoint drawing heavily from Autism Speaks and everyone proceeded to speak to me like a f'king ape for the remainder of my time there."
"They don't respect us, don't want to help us, and in fact seem to believe if we didn't exist then things would be much better. They're a disgusting pack of thieves and they absolutely do not speak for me"
– a-friend-in-sneed

Shady Salespeople
"Mary Kay."
"And all other pyramid schemes that sell themselves as self-employment. F'k off with a sandpaper condom, and that does double for the folks that started as victims and then rope in others to save themselves."
– Exciting_Pop_1252

Outed
"They may call themselves 'Xfinity' but I know they a**es are Comcast. F'k Comcast."
– argus_orthanx

Inconvenient "Convenience"
"Ticketmaster. Surprised i haven't seen it. You'll try and cross shop tickets just to realize they always redirect you to Ticketmaster where you're gonna pay a huge amount in convenience fees. Buying 2 tickets you're pretty much paying for 3."
– pettyhonor
Textbook Thievery
"Anyone who makes college textbooks for outrageous prices."
– AkwardTimeToLaugh

A Workaround
"Oh god i need to buy a math textbook for my class that started 2 weeks ago n it's about $117.50 usd dollars 😭 i refuse to buy it esp since at the end of class my professor allows us to take pictures of his book so we can do the homework."
– Crystal_Princess2020
Stay Out Of Touch With Them
"AT&T can f'k off once for each random a** incremental charge."
– Emmjacob

No Kinda Life Is...
"Herbalife. Specifically those Herbalife 'Nutrition' Drink shops."
– fauxshoah

Beware of the products you purchase. There apparently is corruption in these companies.
Suspicious Sparkle
"DeBeers. One of the main exploiters of West Africa in recent memory, a near monopoly on diamonds jacking up prices, insists that you must buy your loved one a real diamond from them and not a cheaper synthetic one in order to prove that love."
– Flodo_McFloodiloo
Deceitful Threads
"SheIn. Art theft, lead in children's clothes, undoubtedly slave labor in there somewhere. The $1 fast food meal of clothing."
– steffinix

Bad Spark

"PG&E. They have f'ked over so many Northern Californians between faulty equipment starting fires to working with Gavin Newsom to make the consumer pay for their damages. They suck so much John Oliver made a Last Week Tonight about them. Breweries in NorCal even started making beer called PG&E Sucks."
– gregthetaco

Hidden charges are nothing revelatory.
Service charges in addition to delivery fees when you have food delivered to your home courtesy of the various apps made to make a consumer's life easier is all well and good.
But as one previously mentioned, what Ticketmaster charges with their not-so-hidden fees is basically highway robbery.
It's a shame that while live performances are re-emerging from the effects of the global pandemic, it comes at an exorbitant cost to patrons trying to regain a normal sense of life.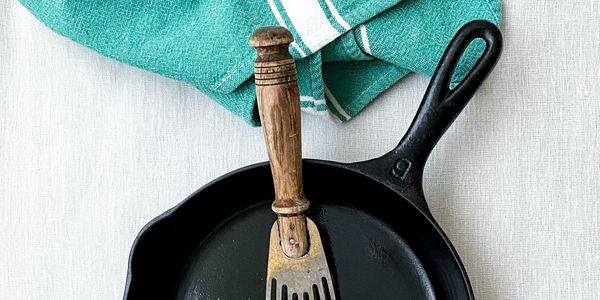 Don't be alarmed: There are some terrible corporations out there (looking at you, Nestle) but there are also some great brands that are selling decent products.
I know, surprising, right? Maybe we've all just gotten used to brands selling things of questionable quality that when we stumble across something worthwhile it stuns us.
Hold on tight when you find a brand deserving of your loyalty!
People shared their thoughts with us after Redditor spwf asked the online community,
"What brand(s) do you swear by and why?"
"Their cast iron pans..."
"Lodge. Their cast iron pans are super durable and can last a lifetime."
StillForest989
Not just a lifetime. Your Lodge cast iron will outlive you, if (and even if you don't) take care of it. Even if they get rusty they can be resurfaced. And damn is it satisfying to resurface a forgotten cast iron pan.
Asics, specifically the Gel-Nimbus series. I've suffered from joint pain and unbearable plantar fasciitis from a relatively young age... These shoes are life savers. Very pricey and I don't love the look of tennis shoes of any type but nevertheless I will praise these shoes to the end of days. Hopefully, I will always be able to afford them once a year.
Glad to hear you've found some much-needed relief!
"Warranty and service..."
"Victorinox. Excellent pocket knives, multi tools and their kitchen knives are probably the best ones you can get under 100 USD. Warranty and service is top notch."
CharacterComb3039
Anyone who cooks, but can't afford or doesn't want to invest in a professional-grade chef's knife should get a Victorinox. They aren't nearly as good as a top tier professional chef's knife, but they are night and day compared with everything else in their price range.
"This one brand..."
"This one brand of granola bars called Sunbelt Bakery. Every other granola bar brand is so dry I can't eat them anymore."
[deleted]
Yes, these are so good! An excellent choice.
"Very comfortable."
"Dickies. High quality pants. They're meant to be work pants so they're pretty durable and breathe well. Very comfortable."
GargantuanCake
"High quality" is right. Those pants last forever.
"It helps clean..."
"Dawn dishsoap. It helps clean dishes and it's great when one of my kids has an accident and I have to wash their clothes. Sometimes leaves a small stain but no smell. It has saved so many outfits."
[deleted]
Fantastic – it sounds like you should be their salesperson.
"They don't use..."
"New Balance. They don't use slave labor to make shoes."
Tink2013
They are comfortable and fit well.
I personally still don't like the aesthetics of many of their shoes, but still recommend them to people who want a good shoe.
"They are a retailer..."
"REI. Stand behind everything in their store. They are a retailer but you can beat something up they sell and they give you a full refund."
bigturkey1738
Many people use them for shoes, for camping gear... all kinds of stuff. They're very reliable.
"I wear my Timberland boots..."
"I wear my Timberland boots almost every day, I've had them for almost ten years, and they're still just about as sturdy as they were the day I bought them."
RedWestern
These shoes tend to last forever. "Durable" is the perfect word.
"One large bottle..."
"Dr. Bronner's Castile soap. One large bottle lasts me about a year and I use it for everything. No toxic BS in them like pretty much every other soap and they smell fantastic."
"Also when I say everything I really mean it. All purpose cleaner, dish soap, body wash, shampoo, carpet extractor wash, dog shampoo, it's called 18 in 1 for a reason."
drumkid74
If you're interested in the story behind the company, the documentary Dr. Bronner's Magic Soapbox might be right up your alley.
See? Not all brands are terrible. After reading about some of these, it might be time to change of your buying habits.
Have some suggestions of your own? Tell us more in the comments below!
With so many options for nearly every product on the market, people have exactly zero patience whatsoever when a brand disrespects their time or money.
We hear a lot about brand loyalty. Be it through good customer service, solid products that always deliver, or admirable ethics, some companies manage to find their ideal population of consumers and match their values time and time again.
It's good for people and it's good for business: people feel good about what they buy, and companies keep earning revenue through all those purchases.
But the very opposite occurs as well. Brand disloyalty--or perhaps better called "brand hatred," given how outraged people can be--occurs when a company defies customer ethics or belittles them in some way.
Obviously, that's bad for business. And not just because that one person won't make anymore purchases. But because people appear to enjoy spreading the word about their vendetta against a corporation.
mememachine92 asked, "Redditors, what is your 'Never again' brand?"

Want to "know" more? Never miss another big, odd, funny, or heartbreaking moment again. Sign up for the Knowable newsletter here.
In a time where money talks more than anything else, the consumer's dollar holds a lot of power.
Withholding that dollar from unethical brands makes a big statement, not just about the brand, but about the buyer. What capitalistic nonsense do they refuse to engage in?
And also, if they continue spending their money there, such as Chik-Fil-A, what kind of atrocities are they committed to engaging in?