When it comes to job interviews, it's easy not to be discerning because we all want a consistent paycheck.

But beware of potental employers who brag about the company you're interviewing for.
Sometimes the job description and what is expected of employees is very telling of the company that may not be compatible for you.
Curious to hear from people who were turned off by job interviews, Redditor u/Baker_1-2 asked:

"What is the worst thing a potential employer has bragged about the job you were interviewing for during a interview?"
That's Dedication
These Redditors were appalled by how much time employees were expected to put in during their work week.
Putting In The Hours
"'We pay such a high base salary because we expect a 70-hour work week.' That's all I needed to hear."
The Loophole
"They bragged about a 'loophole' they were exploiting to not pay overtime, which amounted to a one-page NDA promising not to discuss payment, compensation, or labor practices with anyone, including government officials."
"First of all, the mere existence of that document is two federal crimes: the Fair Labor Standards Act prohibits employers from even hinting that employees shouldn't discuss compensation and trying to get someone to sign an NDA to cover up a crime is coercion."
"I reported them to the Texas Workforce Comission."
Red Flags
The following warnings indicated these were not the jobs applicants expected.
Constant Turnover
"'We are a fast paced company. We routinely evaluate everyone's performance to remove the poor performers. It's why we are always hiring new people. Those who stay get great perks like fruits and biscuits and team lunches.'"
"Like wtf. Such a red flag. I withdrew my application straight soon as I got home."
Questionable Shifts
"Hiring manager talked about how the work ethic in the office is to show up before your boss and go home after the boss leaves."
"Hiring manager once showed up at 4am and the hiring manager's boss was already there, so the hiring manager stayed a few extra hours that night."
"And they were saying all of that like it was a fun and exciting game."
– CPOx

On-Call Position
"'When you work for us, you'll be available 24/7, if we call when you're on your honeymoon, you answer the phone'. Not to mention the IT manager was a massive jerk to the nth degree anyway... Needless to say, I didn't start at that company."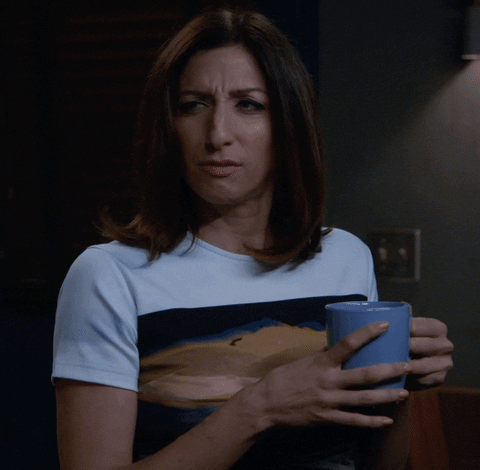 chelsea peretti no GIF by Brooklyn Nine-Nine
Giphy
Bad Examples
The egregious behavior of these employers indicated the company was one to avoid.
The GM
"At the time I was a drug addict and considered it a good thing but now years later in recovery I realized a GM that provided me with free drugs all of the time to get through long shifts without days off was actually a scumbag."
– wo0kie

Punctuality
"I showed up to a interview 10 minutes early. Interview didn't get started for at least another half hour. At the end of interview and tour, the owner went on a big rant about how important punctuality is and being late is his biggest pet peeve. I was like hold up, you just made me sit around for a half hour and you want to preach to me about being late."
"Same employer was highly impressed with my previous experience in that career field, said it was hard to find people with a passion and knowledge to do the job. Then he balked at my pay request and wanted to start me out at the bottom end of the pay range. Entry level wages for over 10 years experience, no thanks!"
Manipulation
"I accidentally became part of a group interview with a life insurance company where the main guy said 'It's amazing what you can talk the elderly into'. I asked out loud 'How do you manage to sleep at night?' and he isolated me from the group to quietly get me to leave, which felt great."
We all do our best to bring our A-game to job interviews. It's an opportunity to present the best part of ourselves to persuade the interviewer you're the person for the job.
But while you can't afford to be too picky, remember to never sell yourself short, and listen to your gut if something during the interview seems a bit off.
Also, be wary of companies that are too eager to hire you with a hard sell.
There's nothing wrong with asking plenty of questions. Because it is as much your interview as it is theirs.

Keep reading...
Show less
What's impressive to us as kids and what's impressive to us as adults are two wildly different things. The "flexes" that we did on other kids typically revolved around impressing other students at school with various weird things. Here are some of the best ones, as the people of Reddit look back at childhood.
u/Tempest_OW_ asked: What was your ultimate flex when you were a child?
Keep reading...
Show less
Everybody at least one thing they can brag about. And try as we might, there are always instances where all we want is to slip that piece of information into a conversation. But what is the right technique to work a in a humblebrag? These Redditors will tell you.
u/HoldMeDownSanta asked: What's one humble brag you always like to slide into conversation?
Keep reading...
Show less