Justin Bieber is at it again.
Despite seemingly backing down in his initial challenge of an MMA fight with Tom Cruise, the star has once again called out Tom Cruise for a fight.
Can anyone tell me what Tom Cruise did to Bieber? Anyone?
I'm at a loss here.
The popstar took part in the bottle cap challenge that has been going around the internet. He uploaded a video to Instagram to demonstrate his ability.
It's less impressive than some of the videos you've seen.
While the caption is an innocuous nomination of Cruise and Bieber's wife, Hailey Baldwin, for the challenge, the video itself tells a different story. Before he runs up to the bottle, he says,

"This could be Tom Cruise's head."
Could the Biebs really take Tom Cruise in a fight?
Despite his backpedaling, it really seems like he wants to.
His Instagram comments were a mixture of support and telling him to back off.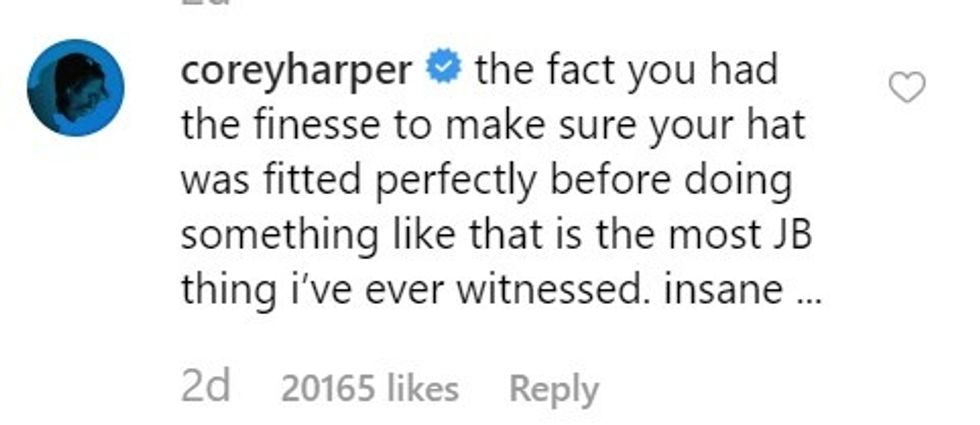 @justinbieber/Instagram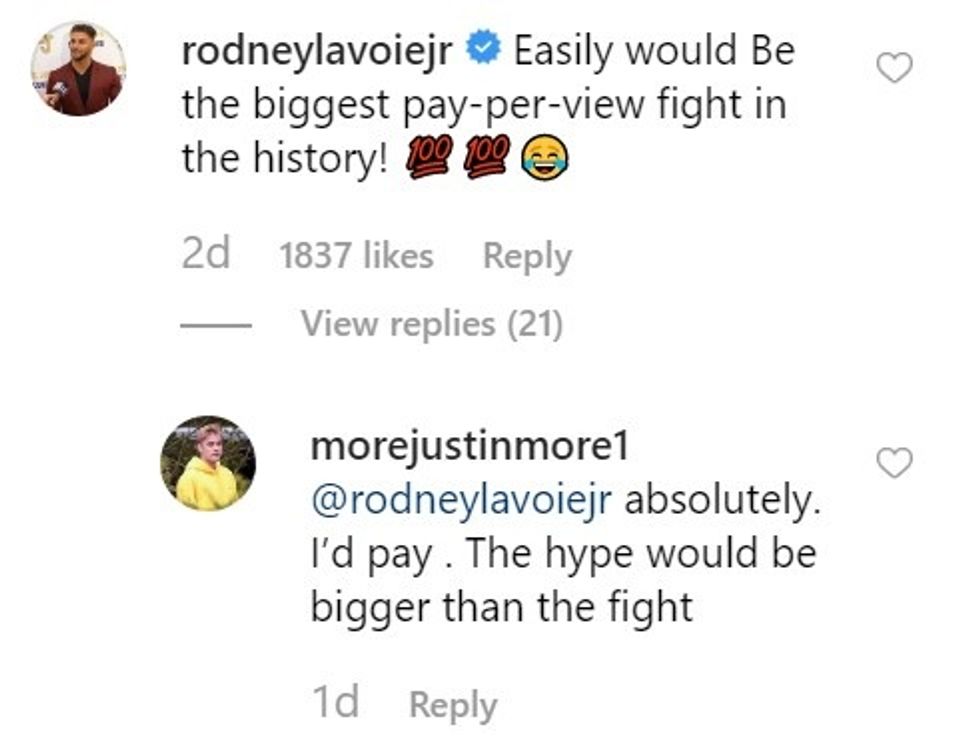 @justinbieber/Instagram

@justinbieber/Instagram

@justinbieber/Instagram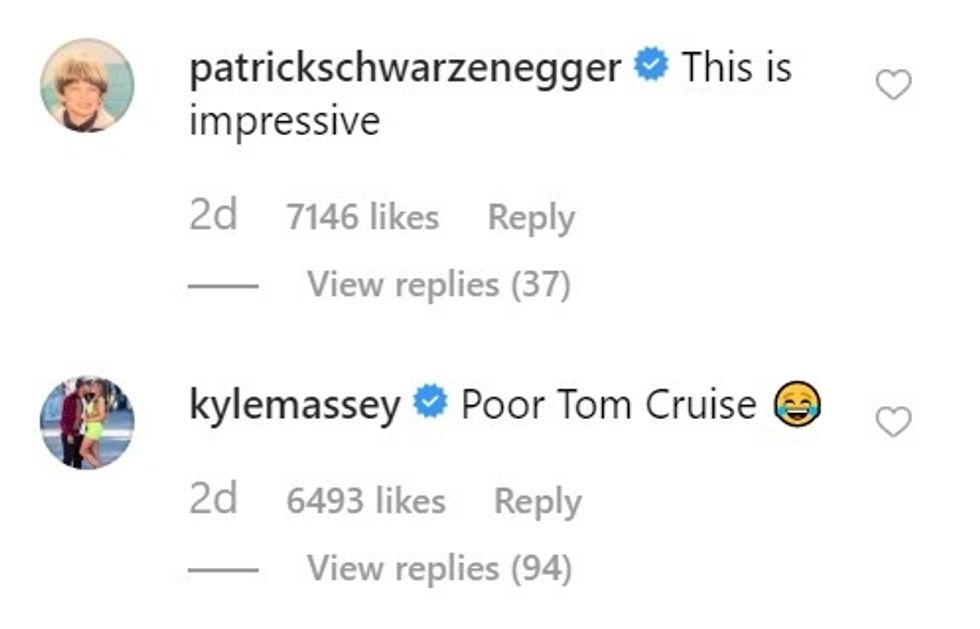 @justinbieber/Instagram
Obviously, this is Bieber having a bit of a joke at the expense of himself. He knows by now the original challenge was a weird one to make.

He even said the Mission Impossible star would "whoop [his] ass" in a fight. However, the fact he keeps bringing it up has some people really wanting to see it.
And I mean, REALLY want to see it.
I just really wanna see Tom Cruise and Justin Bieber fight

— Bill Hill (@Bill Hill) 1562708743.0
@people Man I can't stand this kid. Team Cruise

— Jennifer (@Jennifer) 1562611539.0
The initial tweet led to a spate of challenges against other stars who are 31 years older than their challengers. This was a strange mix as people called out the likes of Sam Waterson, Sally Field, and Jackie Chan.

(Side note: Sean Bean, if you're reading this, my challenge still stands. Anytime. Anywhere.)
Bieber has claimed it was just a bizarre joke, a random tweet like he sometimes does. But I'm not buying it.
This is too often and specific.
We gotta ask: Why Tom Cruise?
@enews Why is he so obsessed with fighting Tom Cruise ? 🤷🏻‍♀️😂😂

— Yailin kropfelder (@Yailin kropfelder) 1562613939.0
Justin Bieber's random beef with Tom cruise is funny af

— 薩利赫 (@薩利赫) 1562720884.0
@TMZ Tom : https://t.co/LXjzGcpTdh

— Larissa C. (@Larissa C.) 1562548347.0
@HubbOnTheBird @ChicksInTheOff @barstoolsports Yea forreal. What is this whole thing about?

— Dennis Reynolds (@Dennis Reynolds) 1562545558.0
In the strange month since the initial challenge, Cruise has not responded or commented on the possibility of a fight with Justin Bieber. Which is understandable.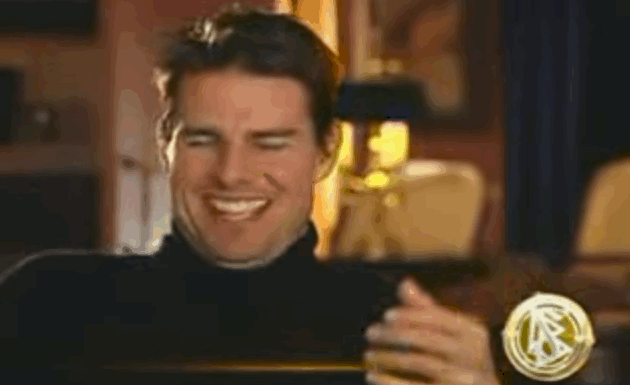 Giphy
That said, Hailey did take the challenge her husband gave and performed her own bottle cap kick from a four-wheeler.

Maybe she could fight Tom Cruise in Bieber's place?
Keep reading...
Show less
Mariah Carey's got us feeling emotions deeper than we've ever dreamed of, thanks to a diva move.
The 49-year-old pop legend tried her hand (or pipes) at the "Bottle Cap Challenge," the ridiculous viral challenge in which participants deliver a round-house kick to pop the cap off of a bottle.
Celebs like Jason Statham and John Mayer have done it after Kazakh taekwondo champion Farabi Davletchin welcomed them to the challenge, according to The New York Times.
But in her Twitter video, Carey just proved the competition was never anyone's to begin with.
Looking fierce in a black bodycon dress, the "Emotions" singer warmed up in a martial arts stance and teased us with a maneuver we never saw coming.

She put her finger to her ear and unleashed her decibel-shattering voice.
That was all it took for the bottle cap's explosive lift-off.

We don't know what to say, so various memes spoke on our jaw-dropped behalf.
We're still trying to find the words, so we let the Mariah Carey GIFs speak for themselves.

There can be miracles when you believe.
The theories came...
...but with strings attached.
Thanks for playing everyone, but it's game over.

I hope you're not afraid of heights because she took us to the stratosphere.
Keep reading...
Show less
First things first:l
what is the "Bottle Cap Challenge?"
It appears to have been started by this video:
The aim of the bottle cap challenge seems to be, in true Jason Statham movie style, to perform a roundhouse kick so precise that it unscrews the top of a bottle without causing any damage to the bottle itself.
When one person completes the challenge, they challenge another.
When it came around to MMA fighter Max Holloway, who totally nailed the challenge on a bottle of Tito's Vodka:
He challenged John Mayer.
Mayer rose to the occasion.
Mayer gets the cap clean off the bottle, before giving the viewer a look like:
"Yeah. I just did that."
Mayer then challenged Jason Statham.
Statham let no fan down with his Hollywood-worthy roundhouse kick.
After these guys brought it so hard, people wanted more.
People found it strangely attractive.
And videos are surfacing across the net of others trying out the bottle cap challenge.
Some less successfully than others.
Will the bottle cap challenge become a cultural landmark, just like the cinnamon challenge?
Hopefully it won't evolve into something like the Tide Pod challenge.
Jason Statham's challenges to Guy Ritchie and to James Moontasri were answered with gusto.
The only question is, when will the bottle cap challenge finally get to you?
Keep reading...
Show less