Until we're in a situation, we'll never really know how we'll react.
I have been in this scenario, though.
Sex matters. And people rarely want to admit how much.
But sex isn't a lifetime guarantee.
It fades, as does love.
It's important to speak about it.
It can be a fixable situation.
A relationship without sex may not be the end of the world, but it's definitely a sign that something is off.
Redditor Deviant55 wanted to talk about physical intimacy in relationships, so they asked:
"How important is sex to you in a relationship? Could you be with someone you love even if sex was off the table indefinitely?"
I learned how much sex matters in my last relationship.
Once I wasn't interested, it kind of killed everything.
Forever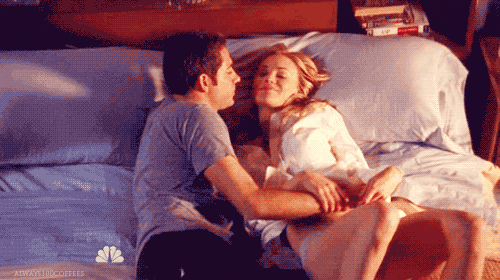 GIF by moodman
Giphy
"When my wife of 30+ years became too ill for sex to be even remotely interesting for her, I certainly did not end the relationship. I loved her and I took care of her until she died. No other course even occurred to me."
fvillion
Frustration
"When I met my wife we couldn't keep our hands off each other. This lasted a few years. I was in my mid-twenties when we married. She developed a chronic medical issue. I've gone twenty years being sexually frustrated. There are stages and phases to this."
"What I came to realize is that I love my wife. Yes, sex is important in our relationship. But I would rather have her in my life with no sex than have sex without her."
"The thing is, I love her. She can't help her situation. I can't help it. One deals with it. Marriage is more than sex. It is building a life and memories, raising a family, and loving each other regardless of the challenges life throws our way. But sex is very important. It helps keep the closeness and the emotional bond. But it isn't the only thing that does that."
QuietusNoctis
I Love Her
"It is complicated. I am in a near-sexless marriage. The wife needs antidepressants to function. And it kills her libido. So usually it is four to six times a year. My libido rages. And yeah, it sucks. I dream of more sex."
"But I love the chick. She loves me to the moon and back. I'm not willing to sacrifice her love so I can try dating again. Divorce rates these days? And I found a woman who more than tolerates me, she loves me. I'll stay. And not to be crude but yeah I masturbate. A lot. She doesn't begrudge me that. Occasionally she even encourages it."
"She went off her meds for a while. And man did we do it. But she was a mess. I need her healthy more than I need a shag. We travel together. We enjoy each other's company. We actually like each other. I could claim that it is hell, but I choose to see all of the good I am blessed with."
painthawg_goose
Heartless
"Quite important. But I think it depends on where you are in the relationship. I've been married for 10 years. I have kids. If my wife suddenly couldn't have sex with me for some reason -- illness or injury or something -- I'm not divorcing her over it. That's heartless."
"Now, if she just decided we weren't ever having sex again because she didn't feel like it, that'd be different. Or if I was just starting to date someone and they told me they'd never have sex, I probably just wouldn't keep pursuing the relationship. Plenty of people out there who will."
Arkhangelzk
Necessity
"It depends on the circumstances. I LOVE doing it with my man but I love his heart and soul more. If we had to stop having sex for medical reasons or something I'd definitely stay with him and stay faithful. If I was single, I think it's unlikely I'd start a new relationship knowing it would be sex free."
Fit_Technology8240
Heart and soul is just as necessary and hot and sweaty.
At least a lot of people recognize that.
Percentages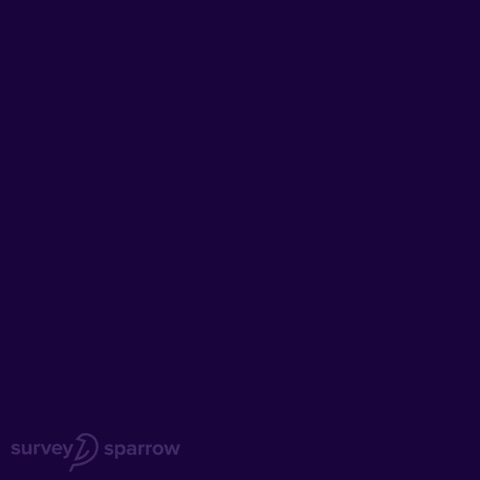 Giphy
"Sex life is 10% of a relationship when it's good and 90% of a relationship when it's bad."
jakovichontwitch
"The other way I've heard it put is that sex is like the bathroom in your house. It's not the only reason you bought the house, but if it's not working it's a big problem."
molten_dragon
Age Related
"50-year-old here married for 27 years. It's not important. It was important when we were younger but honestly, if sex wasn't possible I would still love my wife and really nothing about our day would really change."
​Kantforall
"I've been reading these comments and wishing that everyone's age was flared on their post because I sense that there are a lot of under-60-year-olds. I am older than my wife but she is starting menopause and I can see the writing on the wall. Not super thrilled but I love her completely and understand. The real intimacy is in how we still (and will always) want to sleep touching each other and waking up next to each other."
caffeinated-hijinx
Kiss Me
"I honestly considered this before. I absolutely adored this guy. It was like a child relationship; we'd kiss and cuddle and hold hands and things, but he wouldn't have sex with me, nor would he commit properly. Any time we came close to sex, he'd go soft or back off."
"I couldn't understand it, wondered if I could keep doing that. My sex drive was wild. Why kiss and the rest but not sex?"
"Then one day he told me he was in love with me and asked me out properly. I said yes there and then, had a wonderful day with him, but when I went home, I was left questioning if I could possibly live without sex. I decided that yeah, I loved him but it would be tough."
"We had sex the next day. So yes, I think I probably could."
Adventurous_Train_48
Touchy/affectionate...
"It's very important. I'm a very affectionate and physical person and touch/caresses and anything physical is one of my love languages. I couldn't function with someone who is the opposite of me or who's uncomfortable with how I am. I already was in a relationship with someone who wasn't that touchy/affectionate and it created frustration for both of us."
Borboleta77
Don't Look at Me
"I am in a sexless relationship. He has erectile dysfunction and I really don't like sex in general. I'm really uncomfortable naked or even vulnerable. I'm shy around him despite the relationship being 10 years nearly, I'm even shy around my family and friends. Everything about sex makes me feel so embarrassed, and I feel nothing but negative feelings when I used to be sexually active. Not through choice of partner, I just hate that sort of attention."
NucularOrchid
Definitive!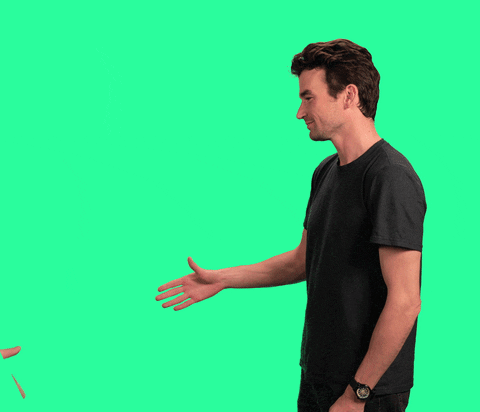 Shake Handshake GIF by Originals
Giphy
"10/10. Sexual incompatibility is a deal breaker!"
oeeiae

Sex is important but not everything.
Until it is everything if it becomes an issue.
Good luck couples. Open and honest communication is key.
Everyone wishes there was something different about their body.
Smaller nose, longer legs, a different hair or eye color.
There are those, however, whose frustrations with their body are less personal, and more universal.
Finding themselves frustrated less with their own DNA, but with human anatomy in general.
Frustrated by how certain functions work the way they do, and feeling there could be significant improvements in other departments as well.
Redditor ketra1504 was curious to hear what feature of human anatomy people felt needed changing, leading them to ask:
"What is the biggest design flaw of the human body?"
Would Make A Lot Of People Less Cautious
"Unable to regenerate body parts."
"You lose an arm or a leg, you can't grow a new one."
"We can grow hair and nails forever, but not body parts."- drygnfyre
And Maybe The Whole Childbirth Process While We're At It...
"The size of the average baby head vs the size of the average vagina."- Ruggiard
"The Obstetric Dilemma."
"Basically, the human body isn't built for easy birth."- strykazoid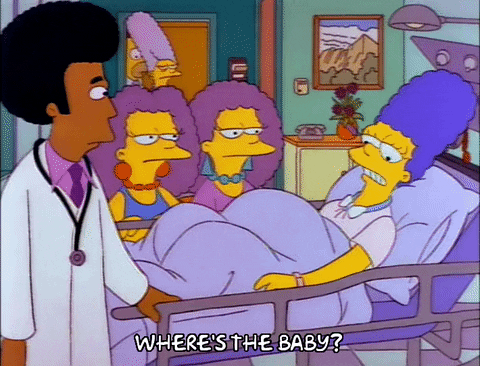 Season 3 Baby GIF by The Simpsons
Giphy
It Isn't Terribly Practical If You Think About It...
"IMO the whole 'we put food into the only air hole we have and can choke and die if we aren't careful' thing is a pretty big miss."- el_rico_pavo_real
"Throat has a built in flaw - we breath n swallow food through the same area."- coolguy1793B
A More Direct Route Would Be Helpful
"I like the example of the recurrent laryngeal nerve."

"It runs from the brain to the larynx."
"However, to get there it goes from the brain, down the neck, into the chest, around the aorta and then back up the chest, up the neck and then connects to the larynx."
"That's a massive detour."
"It also means a blow to the chest can damage your ability to talk."- The_Thunder_Child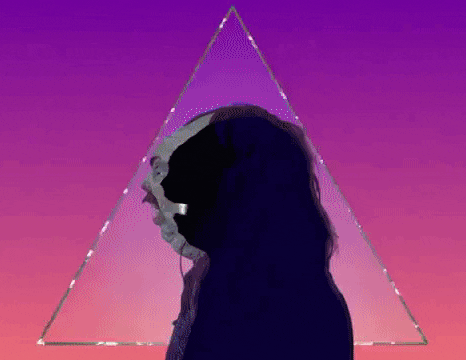 Giphy
Never Underestimate The Damage Teeth Can Do
"The fact that I sometimes accidentally eat the inside of my mouth."- -Grey_Area-·
He Does Have A Point
"'Nostalgia is the greatest human weakness. Second only to the neck'... -Dwight Schrute
In Plain Sight...
"In our eyes, the blood vessels supplying our photoreceptors are in front of them and therefore in the way of the incoming light."
"Probably not the biggest and there are some good justifications for it being set up this way."
"But it still must be such a pain for the brain constantly having to edit these out when forming our visual experience."- oliwoggle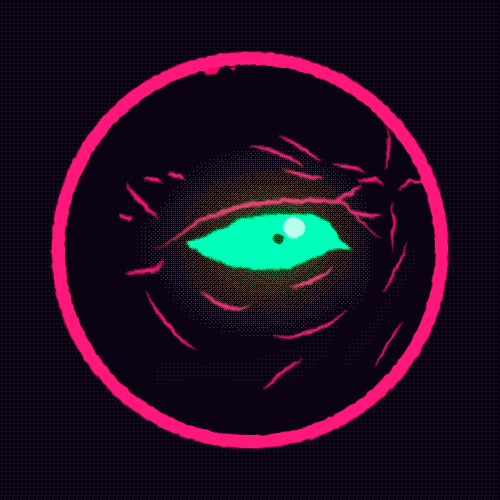 Loop Eyes GIF by Doze Studio
Giphy
Maybe Just Every Illness And Ailment?
"A stroke."
"My aunt had one when she was 31 and the healthiest person in the world."
"Ran an aerobics class at the Y, just perfect perfect health."
"Went to Pizza Hut with her the night before, next day, massive stroke, almost died, critical surgery, twenty years later she still has trouble speaking."
"It sucks."
"There is no reason that should've happened."
"Perfectly healthy person damaged for the rest of her life."
"She's still amazing and lovely and my favorite person but damn is that annoying."- Jibber_Fight
"You can kinda just die at any moment from a brain aneurysm, even if you're perfectly healthy."- mcsteve87

All Our Bones Could Be Stronger...
"For upright walking creatures, why is our head so (relatively) delicate?"
"Trip a single time and you're blinded, have brain damage, bit off your tongue, or lost teeth."- kmn493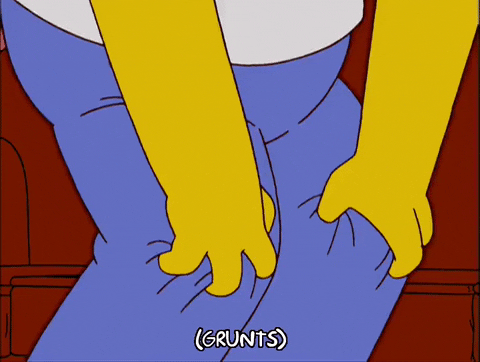 Episode 15 Pain GIF by The Simpsons
Giphy
They Arguably Also Weren't Built For Stairs...

"Our knees for sure."
"They just weren't built to last past 40 years."- TopShelfCrazy
A Couple More On/Off Switches Would Be Helpful As Well...
"That we cannot delete or sort unwanted/not needed info and memories from our brains."- PickAName616
As the saying goes, "nobody's perfect."
Or rather, "no BODY is perfect."
Otherwise, we'd all stop complaining about aching limbs or worrying about choking or other injuries.
Purposefully inflicted pain.
One of the most famous examples I can recall is that walking on coals nonsense.
WHY ARE YOU DOING THAT?!
That and Bikram yoga. Good Lord the heat.
The things humans will put ourselves through is astounding.
The things we can actually withstand is kind of amazing though.
Redditor Ok_Security_8657 wanted to hear about the times we've had to suffer through, so they asked:
"What is the most painful thing you've ever experienced, *on purpose*?"
Let's see what stories Reddit had to contribute.
Twice?!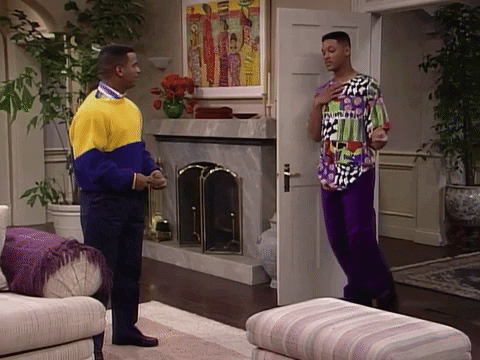 Season 2 Couch GIF by The Fresh Prince of Bel-Air
Giphy
"Novocaine doesn't work on me. For submarine service you have to have all of your wisdom teeth removed. The Navy does not use anything other than novocaine. They only pull two at a time though. I went back the second time."
LeepII
Salted
"I cut my thumb pretty bad years ago while using a knife in my kitchen. And looking at the salt shaker on the counter I got the idea to literally. Pour salt on a wound. It was like an electric shock was sent through my nervous system. A short but very intense feeling of pain. Use salt water/saline instead."
SidOfBee
"Technically it is an electric shock as salt has negative ion that if the condition is correct it would shock your nerves."
Kaperal
Feel It
"I have a friend who got a lung biopsy WITHOUT numbing and pain meds. She was 14. She said she wanted to 'feel it' like the biopsy on her knee (which did, in fact, use drugs). She says it was the most painful experience of her life. She had 26 cancerous tumors big enough to show up when on the scan of her lungs. She is happily married, alive and well, and a total bada**."
_ohhello
Welp
"I cut my arm open trying to catch a falling glass once. Saw the insides. To be thorough, I cleaned the wound by alternating squirting isopropyl alcohol and hydrogen peroxide in it. A little later my surgeon friend told me soap and water would have been good enough to clean it. Welp."
sbvp
"Next time use coffee grounds. I've also heard of people using chili powder but that seems like it'd be nasty."
Lordofdogmonsters
Motionless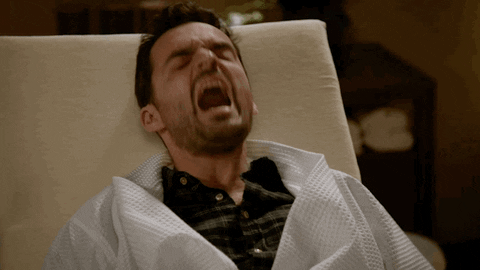 Jake Johnson Pain GIF by New Girl
Giphy
"IUD fitting. Thought it was all fine because I didn't have too much pain during the procedure... 12 hours later I could not move from the pain and had to get my mum to deliver pain killers to my flat at 7am next morning bc I'd gone through everything we had."
Chance-Bread-315
Painkillers 24/7 for somethings please.
WHITE HOT AGONY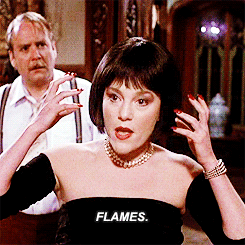 madeline kahn flames GIF
Giphy
"Recently, I had a couple plantars warts cut out of my feet. The shots they use to numb you suuuuck. Went right into the bottom of each of my feet under the big toes. WHITE HOT AGONY. Thankfully, the pain doesn't last very long, and the operation was pretty much painless after that."
NervousCap
Not Cool
"Getting my eyes washed after being Pepper sprayed. We were given a chance to experience the proper stuff while in military. My mind went 'Hell yeah, that will be cool!' Well, got sprayed, had to walk 5 meters to a person holding a water bottle so he could rinse my eyes. Motherf**ker had warm/hot water in the bottle and he poured it to my face."
"It burned even more and I got waterboarded at the same time."
"I've heard that you can experience pain that makes you fear you will die. Maybe, but at that moment I learned that you can feel pain that makes you fear that you might not die, and you have to suffer that pain."
Tit_U_Lum
Bad Removal
"The most painful experience of my life was passing a kidney stone, though whether or not it can be considered to have been experienced on purpose is debatable. I certainly contributed to its development through my choices, but that's another story."
"On the other hand, I had an ingrown toenail removed before."
"After removing the entire side of the nail, the doctor chemically burned the exposed nail bed with a chemical called phenol. Even though my toe was entirely numb, it was the most white hot searing pain ever. It hurt so bad it took my breath away. The best part is that the toenail came back, and I'm getting it done again in two weeks."
Gordoniscool666
Truth Hurts
"Decided I had to tell the woman I fell in love with that I had feelings for her. I knew before I told her that she would reject me. She was not in a mentally healthy place and didn't want to be with ANYONE. But I wanted her to know the truth. So I took the rejection like a man and we are still friends."
Horror-School-6713
Done
"Putting my wedding ring on our bedroom dresser (knowing my marriage was over) while my wife was across town doing a police officer she had met at the shooting range. I walked out of our house and have not spoken to or seen her since. That was over 40 years ago."
wyoflyboy68
Bye Bye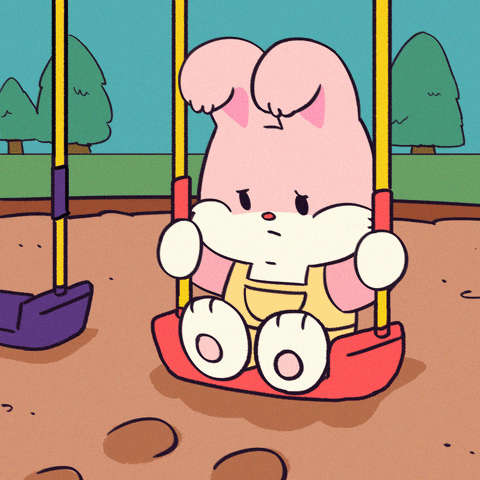 Sad Rabbit GIF by Muffin & Nuts
Giphy
"Putting my dog down. She passed in my arms. There's a song that I associate with her which I can't hear without tearing up, despite her exiting my life more than a decade ago."
GeebusNZ
These are some brave folks who have been through some enormous pain. We thank thank for sharing!
Do you have anything you'd like to add? Let us know in the comment section.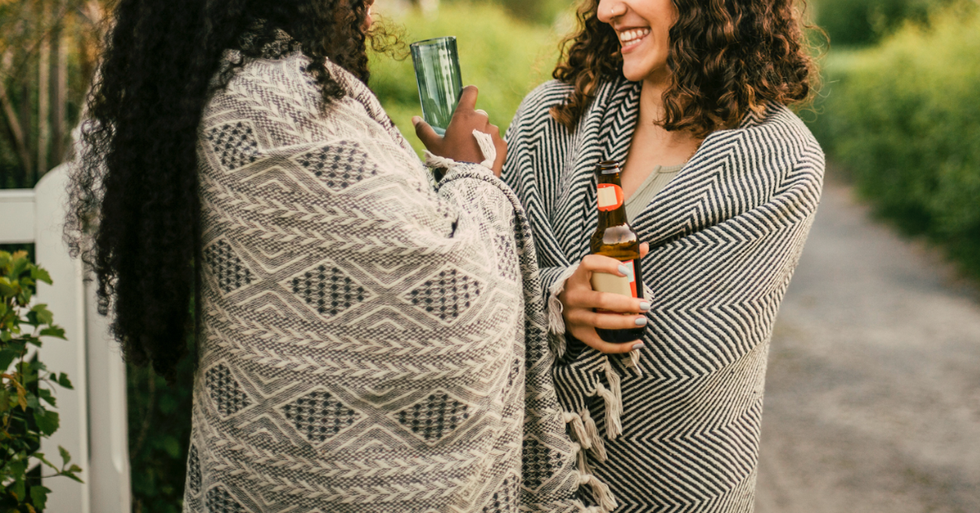 We all feel self-conscious about our bodies every now and then. Often finding a way to make certain attainable changes, but bemoaning the things about our bodies which no amount of exercise, or surgery, can change. Many also find themselves jealous of other's physical appearance, even if they too probably wish there was something about […]
More
Good hygiene is important.
Not only for yourself but for others around you.
Having bad breath or a strong unpleasant bodily odor will result in an unpleasant experience for anyone in close proximity to you.
Although, sometimes we may find that despite our best efforts, we can't seem to shake the fragrance emitting from our bodies.
Making any advice people have to offer extremely valuable.
Redditor DreamDangerous3281 was eager to hear the best advice people had when it comes to hygiene, leading them to ask:

"What are some hygiene tips everyone should know?"
A Mint Won't Help...
"If you have bad breath that doesn't go away you may have tonsil stones."- wiener_dawg
Who Actually Likes Being Wet All The Time?

"Make sure your clothes get completely dry."
"You'll smell like mildew otherwise."- YakiVegas
Never Skip!
"If something is worth doing, it's worth half-a**ing it."
"Say you're running late and need to be out the door 10 minutes ago, it's still worth giving your teeth a 10 second scrub rather than skipping it."- SharpPoetry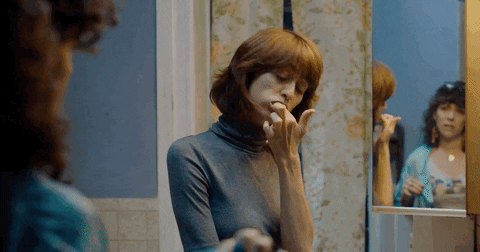 Before You Know It Brushing Teeth GIF by 1091
Giphy
Always Make The Effort

"From someone who works in medicine literally wash your butt."
"Often."- ChameleonMami
Wash First, Spray Later
"Deodorant is not meant to go on top of bad smells!"
"The bad smells come from bacteria."
"Shower first, then put deodorant on. It works by making your skin uninhabitable for bacteria."
"The nice scent is the cherry on top, the main benefit is preventing the bad smell from growing."- very-polite-frog
Wash Thoroughly!
"I used to live in a very hot, humid place.""I found that the only thing that kept my groin area from smelling funky was to wash daily and the make sure everything got really well dried out afterwards."
"Towels didn't quite cut it."
"So, yes, I blow dry my lady garden."
"Not inside my vulva, but outside and around."
"Keeping my pubes trimmed short and changing into clean underwear often also helped."
"This also applies if you have fat rolls or loose skin folds."
"Yes, I have both."
"Wash well in between skin folds, such as under breasts and between belly rolls."
"I like Dr Bronner's soap, but any soap will do."
"Dry thoroughly afterwards."
"This will prevent smells, and will also prevent itching and rashes."
"Also, Lume deodorant works really well for these areas."
"Also, one more thing: deodorant is water resistant."
"It won't wash off by just splashing water on it."
"You need to give it a good scrub with soap to get it all the way off your skin."
"If you don't get all the old deodorant washed away, the new deodorant you apply won't work."
"It has to be fresh deodorant on clean skin."
"Even if you don't like the way your body looks, take care of it. It's where you live!"- notreallylucy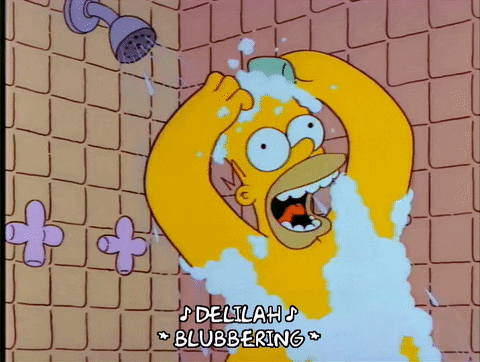 homer simpson singing GIF
Giphy
Give Those Lobes A Break!
"If you wear earrings, take them off and clean frequently."- Far-Pollution9548·
Who Doesn't Love A Manicure?

"Keep your nails clean."
"Tidying your nails helps you prevent spreading germs into your mouth."- SuvenPan
Where Does Acne Really Come From?
"If you have bacne, ie back acne, lean your head forward to rinse your hair products OR wash your back thoroughly with soap after rinsing your conditioner/last product."
"Most people lean their head backward to rinse, which washes their hair products all down their back."
"If you wash with soap after, no biggie, but many people wash their body first, typically while letting the conditioner sit in their hair for a few minutes and thus rinsing after."
"In which case, you step out of the shower with hair product residue all down your back and butt."
"For some people and products, it's fine."
"For others, it causes skin irritation and acne."
"It should always be your first step in trying to eliminate bacne, just in case it's the cause for you."
"Things that can cause acne, for some people. non-exclusive list:"
'Products: soap, lotion, sunscreen, etc."
"Keep an eye out for those ones that you don't deliberately put on your skin but end up there anyway, like the hair products."
See also: laundry detergent/other laundry products."
"Finding the products that work for you and identifying the ingredients that you are sensitive or reactive to is pretty central to skin care, and yes it's an individual process unfortunately."
"Using harsh exfoliation or exfoliating too often."
"Overwashing/not moisturizing and protecting your skin enough to tolerate washing."
"Hormones."
"Sweat left on the skin/keeping sweaty clothes on."
"Things that do not cause acne:"
"'Opening' your pores with hot water then failing to 'close' your pores with cold water after."
"Pores do not open and close, do not fluctuate in size with temp, and are always open as per their fundamental function."
"They can get clogged/filled though, so cleaning and exfoliating is good."
"Ingesting sugar."
"This comes with a major caveat in that a diet high in sugar does have systemic impacts that can promote acne.'
"HOWEVER it is by no means a direct line between sugar consumption and acne."
"Critically, you can be a person whose acne is arguably worsened by their sugar intake and still see very little improvement from cutting sugar because one or more of the above triggers is still present."
"You can also be a person who eats sugar but manages the resulting effects, with or without conscious effort, and thus has no acne."
"Every acne ridden kid in the world has been told they should just stop eating sweets and it rarely helps because there are a LOT of easier/more fundamental things you should attempt and address before going straight to the major diet change."
"That being said it definitely has been a lifesaver for some people, so if you're stuck after trying all the things it's not a bad idea to look at."- IAintDeceasedYet
In truth, when someone gives you advice on hygiene, it's hard not to view it as a hint.
Leading us to quickly check our breath, or stealthily our armpits.
But hurtful as it may be in the moment, it's in our best interests to heed these warnings.