Bodies are beautiful. All bodies, of all shapes, sizes and looks are being more embraced by the world at large now. And what people are loving more and more are what makes our look and bodies unique. What could be more unique than a scar? For better or worse scars mark certain moments of our lives. They remind us of where we've been and where we may never want to go again.
Eight times out of ten, scars come with a great story, because normally we were idiots when we acquire them. But don't rush to cover them up, they can be part of your beautiful.
Redditor u/teatimefancycakes wanted to hear about the ways we've marked up and blemished the temple that is our bodies, by asking:
What is the stupidest reason you have a scar?
I have a scar above my lip. It's a straight line to my nose. I got very lucky because it runs along the lip line I was born with so you can't really see it. But I know it's there. How did I get it? Read on...
Sliced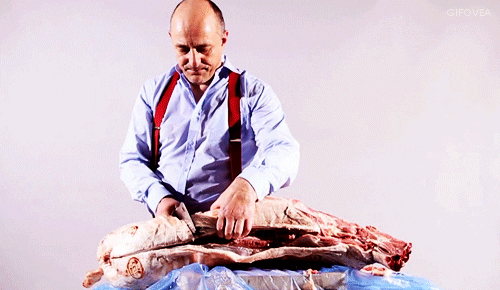 music video loop GIF
Giphy
"I cut myself on a butchers blade, then wiped the blade on my pants, cutting my leg."
Blades
"When I was 6 I thought it would be a good idea to punch a hole in a piece of paper with a pair of scissors while my other hand was holding the paper directly on the other side."
- TK82
"Done a similar thing, stabbed an empty water bottle to test the sharpness of the knife and underestimated the knife. At least I found out how sharp the knife is."
The Mark
"Kid me was pretending to be a cat running on all fours, I rammed my head into the dishwasher. Forehead scar."
"Similar story. I shut my eyes thinking I was invincible when I did that. As a precautionary measure, put pillows on floor in case I fall down. Slipped on the pillow banged my head on the door knob. Harry potter scar but the alphabet O."
- neekyboi
Swingin'
"One time as a kid I tied a toy triceratops to a string and I was swinging it around above my head. Somebody came into the room and distracted me and that thing flew head first into the side of my head. It was under my hair but if I go bald I might have a weird three pronged scar."
"I took a cupboard door clean off its hinges while running on all fours chasing my dog. My pride hurt more than my face."
Getting Crooked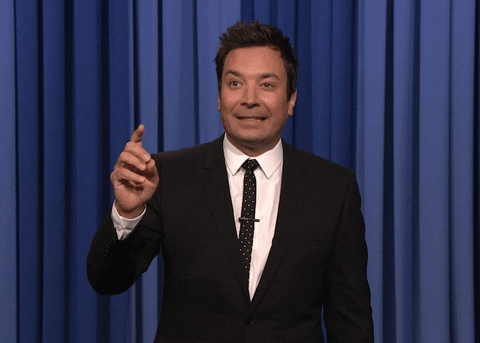 Jimmy Fallon Pain GIF by The Tonight Show Starring Jimmy Fallon
Giphy
"I sat on my hair straightener 😐."
- cohmfies
"I also have one of these on my leg from kneeling on straighteners. Sitting on them though, ouch!"
- weestace
I decided I could fly. I was eight. It was a dark, rainy New York afternoon. I was in my mother's room. I jumped up on her bed using a long, satin sheet as my cape...
Cut Off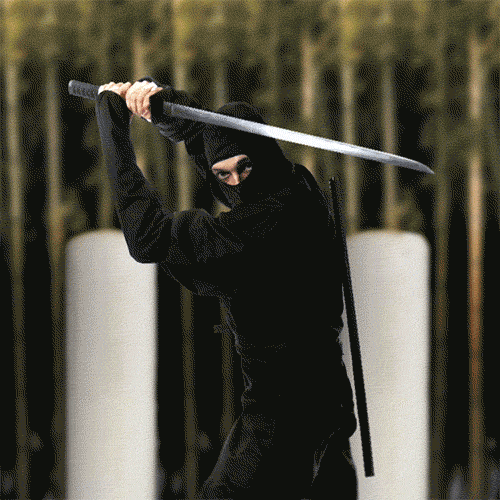 Ninja Lol GIF by Justin Gammon
Giphy
"I nearly took off my ring finger when I used a stiletto to remove a bandage from my hand. Had to put it right back on. lol"
Don't buy cheap...
"Does anyone remember those bracelets that you slapped on your arm and it coiled on your wrist? And remember how some schools banned them because "tHeY aRe DaNGeRoUs, kIdS WiLl gEt HuRt"? And how most people thought it was an exaggeration and no one was stupid enough to get hurt with them? Well I'm one of those stupid kids. I have a long scar through my inner forearm that looks just like if I tried to commit suicide, all thanks to that cheap bracelet."
the scar to prove it...
"My mom dropped me on my head as a baby. Well less dropped and more slipped on ice where I went flying and landed on a gravel driveway, splitting my few months old head wide open. While it's faded over the years, I've had a large scar at the center of my forehead essentially my whole life. Oh and it's kinda in the shape of a lightning bolt so I'll give you one guess as to how my childhood changed after the first Harry Potter book."
"Other downsides include my Mom's persistent guilt that I wish I could take away, and that one time I had a CT scan and they saw what looked like a mass and I essentially counted the minutes until my next appointment a day later, thinking I was dying. Turns out I have a scar on my brain too. But on the upside it makes for a great conversation ice breaker and when people ask if I was dropped on my head as child, I can proudly proclaim "Yes, and I have the scar to prove it!"
On Break
"Was playing handball with a bunch of my friends at school one day during lunch break, when somebody knocked the ball far away and it began rolling downhill. The layout of that area of the school was such that if something started rolling downhill, it was possible for it to go a loooooong way down several sets of stairs and walkways before it stopped, so ideally you'd want to stop it as early as possible."
"I began to run after the ball hoping to catch it before it rolled too far, but as I was running, I got a bit off-balance and began to lean forward. So to compensate, I tried running faster and faster to counteract this. Unfortunately it reached the point of no return where I was at a full sprint and was still in the process of falling further forward, so I pretty much had to just accept my fate by this point - I fell over and hit the concrete at pretty much a full sprint. Lost quite a bit of skin from my elbow, and there's still a small bit of scarring there about 15 years later."
Smored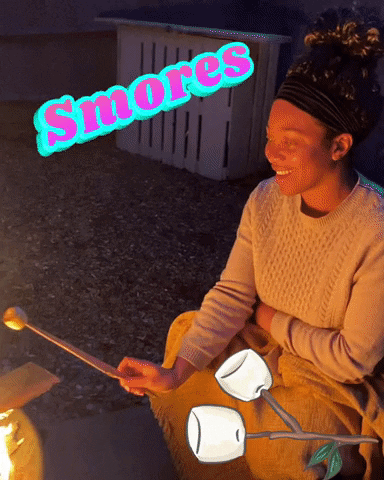 Camp Fire Smores GIF by Sherilyn Carter
Giphy
"Not me but my brother. Managed to get a scar by accidentally hitting a s'more on his cheek when trying to eat it."
It's all dumb to me!
"I was sitting with my legs crossed with my knee under the frame of a very old, wooden waterbed. I lifted my knee and a screw pierced the skin and ripped open a gash three inches long. I sneezed while shaving. I scratched my chicken pox. A metal door closed on the back of my heel slicing off a quarter inch of flesh. I'm clumsy, I don't know which one ranks higher, but they're all pretty dumb."
I flung myself onto the bed thinking I could be airborne, and for a moment I was. I landed on the corner of a small portable radio my mom loved. (Very eighties) And now because I wanted to be the wind, I'm blemished for life. Oh well.
Want to "know" more? Never miss another big, odd, funny, or heartbreaking moment again. Sign up for the Knowable newsletter here.
Keep reading...
Show less
The body is built for pain. That is what I've been told. "No pain, no gain!" Remember that catchphrase? Well... it's all madness and lies.
Pain sucks, that's why it's called pain. It's not called joy. Physical pain can be debilitating. The body is strong but it is also sensitive.
And when physical trauma happens, you don't forget quickly.
Redditor u/ameli3ee felt like chatting about what our bodies have survived, by asking:
What was the worst (physical) pain you've been through?
The worst pain ever? A toe stub. Why is that? I tell you, I have been blinded and near passed out due to toe pain. Such a small part of the body riddled with immense trauma. This little piggy...
Stoned...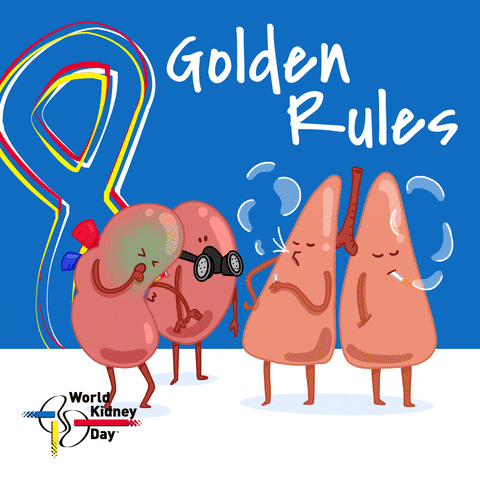 GIF by World Kidney Day
Giphy
"First kidney stone. Pain was so sharp and intense I could imagine a knife sticking out of my kidney."
The Eyes have It
"I got shot in the eye with an airsoft gun at about 350 FPS and I went blind in my left eye for a while, I developed traumatic glaucoma and the pressure from the glaucoma was indescribable, I could barely walk or speak. There's pics of my eye on my profile for any of you that wanna take a gander. Some context since some of y'all are askin' I was at an airsoft arena with eye protection and a face shield."
"Somehow the bb managed to hit me in the eye even with the eye pro (how? Idk I wish I could tell ya) theory is it bounced off my face shield and somehow went under the eye pro but who knows. I'm not blind anymore but I do have an implant that keeps the pressure down and I have a synthetic lens so I can see."
Lungs
"Pleurisy. Inflammation of the outer lining of the lungs. Causes each intake of breath, however slight, to feel like my ribs have been sharpened into swords that are impaling my chest. I've had it a few times and would constantly faint because I subconsciously wasn't breathing."
The Foot
"When my foot got torn off in an accident. In 2004 while riding my motorcycle I was hit from the side and my foot got torn off in the incident. I was lucky the doctors were exceptionally good and were able to reattach the foot, but to this day the number of steps each day I can take are finite before it starts hurting like hell."
The Jump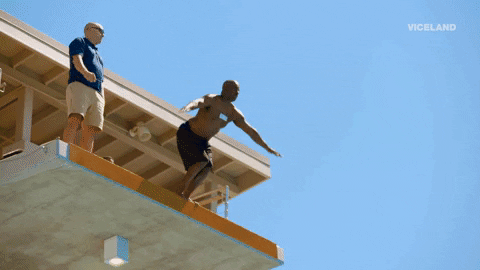 Odd Future Jump GIF by JASPER & ERROL'S FIRST TIME
Giphy
"Jumping off a high dive and missing the pool. Horrifying injuries ensued."
I could faint from everything I've heard so far. I never dive, and now I never will. And a foot torn off? What?!
We need "D"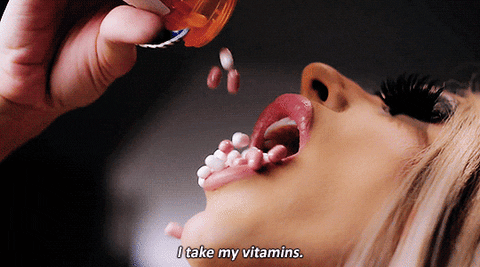 drag race drugs GIF
Giphy
"If your body runs out of vitamin D, you'll wanna die. Especially if you don't know that's what's causing it at first."
After the Poop
"I used to get hemorrhoids that would get so big that they would eventually burst and bleed for days. That was painful, and it was literally nothing compared to the recovery of the hemorrhoidectomy. Taking a crap after surgery is like literal hell on earth. Fun fact opiates cause constipation, so that's a super fun rope to balance on."
"Even though I took prescription stool softener to the point that they were the consistency of mud, they felt like I was passing jagged rock hard glass. After every poop, I would very carefully wipe as best as I could, and then shakily get in the shower so I could fully clean myself to prevent infection."
"After I was clean I would run a bath and try not to weep. The first week was so bad, I'd be starving and terrified to eat. After the first week every poop hurt to the point where I could just grit my teeth and grunt through it. They didn't fully quit being painful for about 2 months."
- FnCraig
In Hindsight...
"I'm a weak little coward who's lived a soft life so the only excruciating pain I've been through was a 10 hour period of kidney stones. I had no idea what was going on when it started, so I thought an internal organ had burst and I was dying. I've never had something be so painful for every single second I went through it. After about 9-10 hours I finally went to the er (hindsight I thought about going an hour into it, but I kept talking myself out of it) 10/10 would not recommend."

Razor Thin
"Trying to poop after having a baby, with an almost 3rd degree internal tear. I'm fairly sure I ripped some stitches getting out of my car (she left the suture string hanging out and I didn't know) the day after I was discharged. It was like someone was ripping me in half from my butt."
"It wasn't the pushing that hurt, it was when everything retracts back up after going. Second most painful thing I've ever had was mono. My throat felt like razor blades and I couldn't even swallow water. (These statements from someone who has had two babies and was impaled in the leg on a metal bar from a car frame lol)."
Poor Feet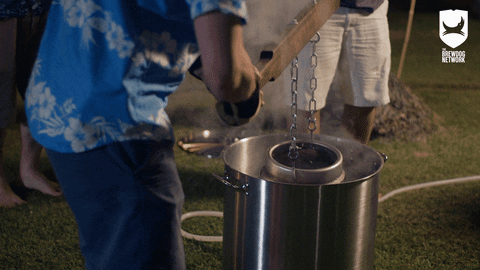 Boiling Hot Water GIF by BrewDog
Giphy
"Had boiling water dropped on my bare feet. And then about a week later my dog stepped on one of my feet and because it was all blistered up it tore much of the skin right off of it."
Now I'm going to have nightmares. And I'm going to try to live in a bubble. In my house. I will only use cold water and walk slowly.
Want to "know" more? Never miss another big, odd, funny, or heartbreaking moment again. Sign up for the Knowable newsletter here.

Keep reading...
Show less
As much as the narrative of the drunken nighttime tattoo excursion has some appeal, the truth is that tattoos are important decisions.
They are permanent, they're often visible and elicit questions from the people you interact with, and whether or not the finish product looks good is dependent on a slew of factors.
So anyone seriously interested in getting one--especially if they never have before--would benefit from some guidance.
Redditor Syrewolf asked:
"What advice do you have for someone looking to get their first tattoo?"
Many people emphasized the permanence of a tattoo. They described ways to help people be sure they're absolutely certain about their choice.
Everywhere You Look
"I had my first tattoo set as a background, screensaver and picture next to my bed for a full year before getting it done. figured if I could look at it everyday for a year and still want it, it was a good idea."
-- Noxish
Daily Check In
"Put a picture of the tattoo you want next to something you look at often (bathroom mirror for example) and just leave it there for a few months to make sure that design doesn't get old to you."
-- GoHomePig
Simulate the Future
"If you're feeling unsure, try using photoshop or similar to edit the desired tattoo onto your body to see if you like it—it's not a perfect solution but it can help you have a better idea of what you're getting."
"I would also recommend letting yourself marinate on one design for 6-12 months to make sure it's what you want."
-- doomrabbits
Other people explained the importance of going through all the right motions to make the thing a legitimate, nice looking piece of body art.
Not All Artists Are Equal
"Get a good artist."
"Make sure you have seen examples of their work, ON PEOPLE. A art portfolio is nice and all, but the difference between working with paper and working with flesh is gigantic."
"I knew a dude who did tattoos for years. Dude still can't write or spell correctly and the art is badly mediocre, at best."
"Make sure you've seen what they have done on actual people."
"Good artists get pricey. But you're gonna live with this forever and it will be what others see. Make sure it's something worth looking at."
-- AlgaeWafers
Get the Good Stuff
"GET IT DONE PROFESSIONALLY."
"I got my first tattoo only about a month ago, and it's on the right side of my right calf. it didn't hurt too bad, I got it from a family friend that does tattoos-"
"I hate it so much. it's awfully done, the lines aren't even, and it got infected because he didn't use a clean needle."
"Also, I know this sounds like common sense, but make sure ur artist is giving you what you want!! I wanted a moon and stars but he ended up doing musical symbols??? another reason I hate it lol."
-- foxy1ooboo
Know Their Strengths
"Research the artists in your area. So many people walk into shops wanting, let's say, a portrait done by someone who doesn't do portraits. And then moaning when it's not quite right. Tattoo artists are very versatile but they're human and they have a comfort zone. A style they prefer."
"For example, in my area there is are a few portrait guys, a guy who specialises in traditional old school tattoos and a few who can only do flash."
"And like everyone else has said, don't go cheap and please don't go for a kitchen job. That is someone who comes to your house and does it. Most of these guys you'll never hear from again."
Patience
"If you find yourself questioning if you can afford it or not, don't do it yet. Save up more. Tattoos are one of the things you should NEVER compromise on. Find an artist you like (they'll be $150/hr or more) and use that one. Don't skimp and head to the shi**y strip mall joint with no reputation. Spend the money, because its there for life."
"Tattoos and land - those are the only two things you're pretty much gonna keep for life."
Finally, some people spoke to those people that want a tattoo but were struggling to take the leap.
Keep It Casual
"Get whatever you want, if you think it's cool get it. I personally just enjoy getting tattoos. It doesn't have to be meaningful, if you like it you like it. My half sleeve was completely designed by my artist. Just him ideas of what I thought."
Listen To Your Gut
"Get it where you want to get it. You might worry about a certain area being more painful to get tattooed than another, but if you want it in the more painful area, get it there. The pain only lasts a few hours, but the tattoo is permanent."
-- xandrenia
Be Intentional, But Go For It
"Don't stress so much about it. Get something small and simple that you like from an artist whose work you think is good. Follow them on Instagram for a couple months before choosing them."
"There's no need for it to be a complicated image you spend years thinking about and designing perfectly, you can do that later when you have more experience."
"Also, follow aftercare instructions perfectly!"
-- pieandtacos
So go out there and get inked, people!
Want to "know" more? Never miss another big, odd, funny, or heartbreaking moment again. Sign up for the Knowable newsletter here.
Keep reading...
Show less
Every single minute, the human body sheds more than 30,000 dead skin cells.
That's nearly 9 pounds per year.
The heart beats 100,000 times a day or 35 million times per year.
And the average person produces enough saliva to fill 2 swimming pools in their lifetime.
These facts only scratch the surface of everything the body has to offer.
Reddit user Zenssei asked the question:
"What is a fact about the human body that not many people know about?"
Of course, many find the brain especially fascinating. That little jelly orb is just about the primary reason human civilization is what it is.
Still Kicking
"Your brain continues to try to revive the body long after the heart has stopped. In some cases 30 hours later there has been found brain activity trying to make repairs to bring the body back."
"This is used to indicate time of death in murder victims."
Reptile Response
"Most reflexes never make it to your brain. The sensory aspect travels to the spinal cord and the spinal cord itself sends the muscle movement signals to your limbs."
Completing Pictures
"Your brain likes stimulation, if it doesn't get any it will make some up, some people are more susceptible to it then others..."
"...the colors you see before you fall asleep are a common mild occurrence, there are several classes of these hallucinations, closed-eye visuals, which are caused by leaving your eyes closed for a long time, hypnagogia, which is caused by the onset of sleep, prisoners cinema, which is caused by looking into a dark place for a long time, ganzfeld effect, which is caused by blocking out all external stimuli, and Charles bonnet syndrome, caused by sight loss."
"Most are these are simple phosphenes but some can be whole imagined scenes, or more abstract fractal-like imagery"
Brain 2.0
"Your stomach is surrounded by more brain cells (half a billion neurons) than the brain of a cat contains in total."
"It's your enteric nervous system. It controls digestion, operates autonomously, has its own memory, can handle its own reflexes, it has its own senses even."
"It's thought to have come about because of the blood-brain barrier and the main brain being locked away in the skull, a spinal column and nerves away from the critical action of nutrition."
-- Hattix
Other people were amazed by the human body's tendency to adapt when it needs.
Like Dust Settling
"When doing surgery were the doctors have to take out some organs, when placing them back, they dont have to be put back In the exact position there meant to be..."
"...your body kind of just, moves the organs into the correct position after the surgery"
-- IamaJarJar
How You Need To Be
"People who live in 'extreme' conditions for generations adapt in extreme ways. For example people that live in high elevations often have larger lungs and different blood makeup."
"Or my favorite is the Bajau people that live on the water and spend a lot of their time diving, their spleens have become 50% larger in order to store more blood."
Saving Insurance Costs
"Our bodies have the ability to perform there own bypass procedures. My grandfather went in for a scan and it showed a 100% blockage in one of his major arteries."
"The image also showed a new portion of the artery starting .25" before the blockage and then rejoining the artery .25" after the blockage completely bypassing the obstructed portion. He had never had surgery before this discovery."
And finally, some spoke about lungs and the breath. It's one of the few bodily functions we can do both involuntarily and voluntarily.
There's plenty to talk about there.
No Need to Grow
"When you get conditioned to physical activity, your circulatory system adapts -- more blood, more vessels, more blood cells. But your lungs really don't."
"This is because no matter how much blood your heart is able to deliver to your lungs, the lungs still have no problem oxygenating it. This is why your oxygen saturation doesn't drop during exercise (unless you have a heart defect.)"
-- grenudist
Not What We'd Expect
"The sensation of suffocating isn't caused by the thing that actually kills you. You'll die from a lack of oxygen, but the feeling of suffocation is the result of being unable to exhale carbon dioxide."
"So if you started breathing in pure nitrogen while being able to exhale normally, you would pass out and die without ever feeling like you were suffocating. This also explains why some languages call nitrogen something like 'suffocation gas'."
-- Wurdan
Gimme Some of That Liquid Air Please
"In theory humans could breathe a liquid if it was super saturated with oxygen. It wouldn't be easy because the density of liquid being so much higher than air so after 15 mins or so you would be too fatigued to continue breathing."
"The hardest part is getting all the liquid out of the lungs so the person doesn't get pneumonia"
-- Crackracket
Perhaps now is a good time to take a few minutes and think about all that's going on inside our bodies. But don't think too hard though, it gets pretty weird.
Want to "know" more? Never miss another big, odd, funny, or heartbreaking moment again. Sign up for the Knowable newsletter here.
Keep reading...
Show less
Human bodies are weird, man. And at times, they're completely unexplainable. Like, I can link my arms and bring them around my body all the way, without letting go. Don't ask me how I figured it out, but weird, right?!
Turns out, a lot of people experience things with their bodies that sometimes even science can't fully explain. Here are a few examples!
U/yOculus asked: What's a rare characteristic your body has?

​Some of these rare traits can be oddly enviable. At least, for me.
2% of people are vampires???
My armpits never smell. I don't use body deodorant. My ex would comment on how I don't get a body smell despite sweating like crazy. Apparently this is a thing that exists for 2% of people.
Results are in! You're a vampire.
As someone who is constantly cold, I'm jealous.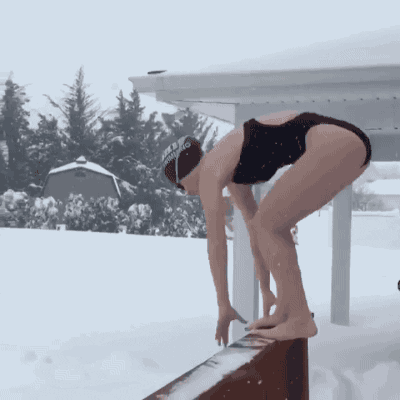 Deep Snow GIF
Giphy
My body is just really warm all of the time for some odd reason. No idea why, but I seem to have a tolerance for cold weather. Unless its freezing outside, I can just walk outside in a T-shirt during the winter months and not feel super cold. People look at me mad, but I get too warm if I have a coat on. It has its downsides though - in the summer months I am extremely hot, and whenever I'm not at work I wear shorts at all times.
That's sick af.
I have vitilligo around one of my eyes. It looks really cool when I'm in a dark room with a black light on!
Same. Except it looks like I'm constantly wearing eyeshadow and I always get asked that. Especially in middle school, I remember girls would be like "omg you're so lucky your parents let you wear make up" LOL
​However, other bodily quirks are just plain......well, disturbing, to put it lightly.
Nope nope nope.
I have a short row of eyelashes that grow from the inside of one of my upper lids. I have to pluck them before they get long enough to scratch my eyeball. Just part of my normal morning routine.
My grandma has the same issue, but it takes really long and they grow really weird. So she got a "surgery" where they cut the ingrown side of the eyelashes and a tiny amount of that skin off with a laser so it won't grow back there for at least a few months to a few years, depending on the case.
Excuse me, what?!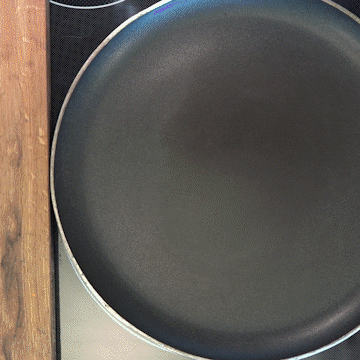 Giphy
I'm partial Situs Inversus. Meaning, some of my organs are flipped on the wrong side. My heart, lungs, and organs in the torso are all flipped to the opposite side and tbh that sh*t is f*cking cool. My heart also consists of 3 chambers instead of 4.
Reddit is the best place for this info.
Having a freckle on both thighs so my d*ck is in the middle which looks like a blob fish, idk why I'm saying this to reddit.
You should watch the Octonauts episode about blobfish. It sounds right up your alley.
That's some alien sh*t.
I have several halo nevi on my back. A halo nevus is a mole that is detected by one's own skin as not cool so the skin proceeds to remove it my eating its melanin. It first creates a white halo around the mole, then grows inwards until it "eats" the mole. When it's done I'm left with a white circle with no melanin in it.
Usually halo nevi are supposed to re-pigment with time but mine never did so I basically have several coin-sized white spots with zero sun protection. Because of this I was forced to stay away from the sun as much as possible since I was a child. The unexpected positive consequence of this is that my skin is in pretty good condition for my age.
But a lot of the time, these quirks are actually really impressive. Pretty sick party tricks, if you ask me.
I'm nasty enough to do it.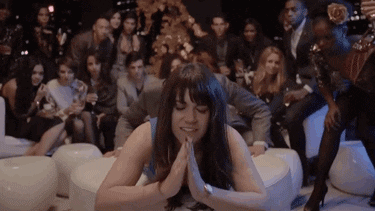 comedy central lol GIF by Broad City
Giphy
There's a big dent in my chest where my sternum should be. If I hold my breath, you can put your finger in it and feel it pulse with my heartbeat. It's a very visible pulse too. Or, if you're nasty, you can do shots out of it.
Fashionable!!!
Not me, but my son. You know those people who have a random streak of white hair? Well my son, who is blonde, has a big streak of dark brown hair. It just grows that way, and people used to ask if I was dyeing that part of his hair.
Now THAT'S a useful talent.
I don't feel much pain. My brain does but I don't register like half of it. Had a kidney stone and it felt like I was constipated. Except when I was throwing up every 20 minutes and trying to pass out.
Definitely not to same extent as you, but I'm similar. Often times I'm not in pain until I realise I should be if that makes sense? Like I'll feel the sensation, but until I pin point what's happened it won't feel like pain.
Bodies are so unique and magical, but also lowkey terrifying. But hey, if you got it, flaunt it, right
Keep reading...
Show less