There are very few people who don't wish there was something different about their body.
Who doesn't dream of washboard abs, smooth silky hair or sparkling eyes?
But what if we could improve our bodies even further?
What if we could give them special features more commonly found in science fiction?
Redditor MeatScepterGuy was curious what feature, big or small, people wished was part of their anatomy, leading them to ask:
"If you had the ability to add a feature to the human body, what would it be?"
These knees aren't what they used to be.
"Reinforced knees."- KesslerTheBeast.
Don't worry, they'll grow back.
"Teeth regeneration."- Independent_Mall_78
"Regenerating teeth."- Conqueror_of_beans.
"Regeneration, ability to regenerate any lost organs or body parts."- VastPurpleSky.
Let's see what the problem is.
"A diagnostic interface that tells you what's wrong with you."- ofsquire
Mucus be gone!

"The ability to clean out your sinuses or clear your stuffed up nose at will."- 50M3BODY.
Power napping to the max!

"Fast-charge."
"So I"ll only ever need 1-2 hours of sleep."- ofsquire.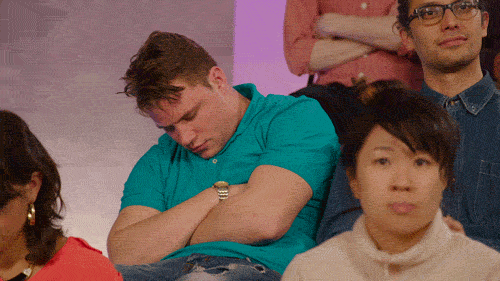 GIF by Originals
Giphy
So many ways to say "hello"...

"Built-in translator from/to any language."- RutgerCastro.
Built in filtration system.
"An organ to filter salt water into drinkable water."- Never_stop_caring.
Let's take a closer look, shall we?
"The ability to zoom in with your eyes."- JoyousMelon4.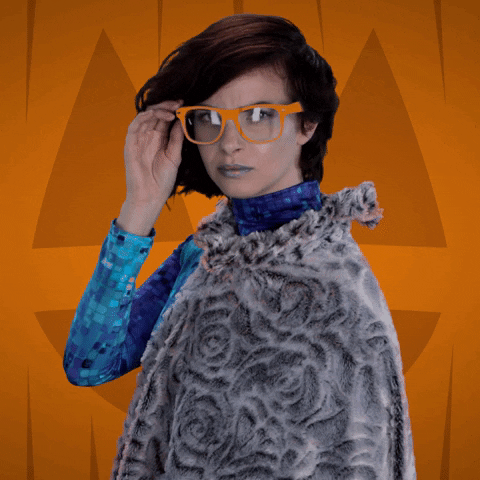 Halloween Looking GIF by GIPHY Studios Originals
Giphy
Some very fascinating ideas.
And who knows, with the ongoing advancements in science, maybe some of these fantasies might one day be a reality?
Want to "know" more?
Sign up for the Knowable newsletter here.
Never miss another big, odd, funny, or heartbreaking moment again.
Keep reading...
Show less
My uterus.
That's it.
That's my most annoying body part.
Why is it trying to overthrow the whole rest of me?
Please make it stop.
Reddit user SolsticeofReach asked :
"What part of your body do you find annoying or weird?"
So it goes without saying that the uterus came up a lot - but we're just gonna go ahead and count my complaint as an entry because there is a loooooot that people hate.
Turns out bodies are annoying AF:
Streamlined For Sleep
"As a side sleeper I would love nothing more than to be able to remove my arms while I'm sleeping."
-BAustinCeltic
"Same but boobs too"
-supagirl277
"And legs too"
-Bender0426
"As a matter of fact just disassemble me and stick me in a box till morning"
-Ragingbull444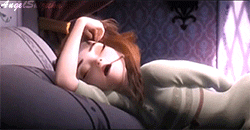 Giphy
Cheeks vs teeth
"Why do I bite my cheeks? Like WTF teeth!"
-Bikeboy76
"It makes no sense for our squishiest pieces to be pressed up against the spiky face bones."
- [Reddit]
"I hate that, so effing much."
-SolsticeofReach
"Aaah no! Once, I bit mine four times in one day and literally destroyed it"
-Euphoric_Question
Gobble Gobble
"The double chin in spite of being thin"
-MiaLedger
"I somehow manage to have a double chin and a 'turkey wattle' simultaneously. Frustrating and puzzling."
-Tiny_Teach_5466
"I was rail-thin until I was 29; I started growing a beard at 25. I shaved my beard once a few years ago, lo and behold I have a gobbler. Guess I'm not shaving again for a while"
-YandyTheGnome
Eminem Called It
"My knees, every now and then my knees just hurt randomly and I'm only eighteen."
-xxoreobabyxx
"yo, his palms are sweaty, knees weak, arms are heavy"
-Mr_Bank_Robber
"Moms spaghetti"
-thebucketoldpplkick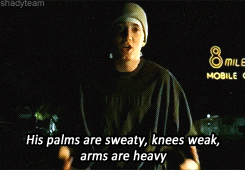 Giphy
It Feels Wrong
"I have a mole on the back of my neck and for some reason I can't stand touching it. It feels wrong. I think I ought to have it removed."
-tomorrowistomato
"If it bugs you, go for it! I had one removed that was under my bra band, because it kept getting rubbed and sore. I am thinking of getting the one behind my ear removed as well."
"Depending on how big it is, it can be a simple trip to your GP, and they will numb it, cut it off with a scalpel, and then cauterize it. In and out in like 45 minutes."
-ilike7hournaps
Furniture Detection System
"Pinky toe!"
"Like why the f*ck does it go sideways????"
-Inevitable_Dealer262
"It's your furniture detector"
-Gstfa
"A fleshy curb feeler"
-5hrs4hrs3hrs2hrs1mor
Water is a Homie
"My stomach, stop being hungry 24/7 omg"
-teejayiscool
"I don't wanna be annoying but I also don't know if you're aware so I'm gonna potentially be annoying - do you drink enough water?"
"It's great at curbing appetite when you 'shouldn't' be hungry. Headaches too."
"Water is a homie."
-OzManCumeth
"Water IS a homie"
-imaghostyouout
Popeye Calves
"My calves."
"They're cartoonishly large. Like Popeye calves."
"It's hereditary, I don't work out. The rest of my body is totally dad bod but my calves look like they live at the gym."
"They've been that way my entire life. If pant legs are too narrow, they get stuck on my calves. I don't wear skinny jeans but, even if I wanted to I wouldn't be able to get them on because calves."
"I've never seen anyone with calves bigger than mine."
-IShavedMyBallz4This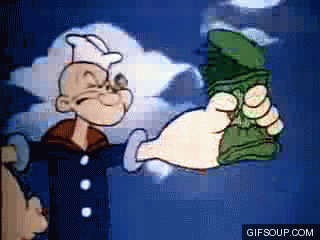 Giphy
Breathe Colors
"My tonsils."
"Apparently little food particles can get stuck in them and cause a sore throat? I'm 35 and it's happened to me twice in the last month."
"I've never had it happen before. What the heck?"
-HitNRun_
"I had that and I got them removed. They were covering 80% of my airway."
-supagirl277
"Can relate, I can breathe colors now"
-Pleasant-Pineapple20
Adding Up
"My back."
"I'm reaching the age where it does nothing but hurt randomly. Lol"
-GreatXs
"Same. It's not bad but the problems it causes add up."
"Left shoulder is lower and gets tight, left knee dislocates and both knees hurt from the effects of the unevenness, and ribs on left get sore from the compression."
-supagirl277
"Damn about the dislocations. My nerves pinch in my hips a lot more now since I'm less active than when I was younger I guess."
"I've always had a problem standing still in a spot and I would have to put one leg further forward to feel comfortable which isn't a long time regardless."
-Kage1
So what part of your body have you always secretly-not-so-secretly been annoyed about?
Let's hear it!
Want to know more?
Sign up for the Knowable newsletter here.

Never miss another big, odd, funny or heartbreaking moment again.
Keep reading...
Show less
I'll take 'A new spine' for a thousand, Alex.
Those of you who only know me as "the chick who lost her eyeball to glitter" probably imagine that if I ever had a chance to have a body part replaced, I'd have two eyes in a heartbeat.
Nope!
My spine is way more janky than the eye was (due to the same condition. What's up, fellow EDS zebras? But you can't exactly pluck out your left spine and still get by with just your right spine.
Humans are kind of a mono-spine situation; which seems like a bad idea considering how important it is.
If I had a spare lying around and could switch this one out, I could save myself daily pain. And also maybe finally break that 5-foot mark since my spine would be straighter.
Reddit user Enough-Restaurant954 asked:
"If you could choose an extra or new body part, what would you want and why?"
Spare spines. Get into it, folks.
Wear And Tear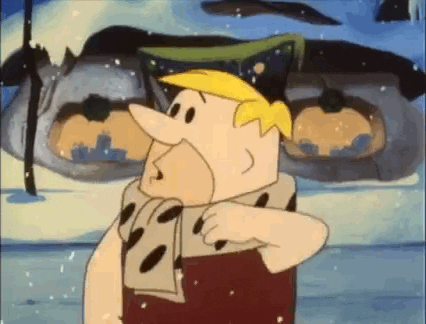 Confused Hanna Barbera GIF by Warner Archive
Giphy
"A brain. Mine has a lot of wear and tear."
- Malrad
"Same here, but my brain is so worn, I didn't even think of that one!"
- Enough-Restaurant954
"2 brains for double the mental health issues? No thanks."
- keenanlrey
Kickin It Old School
"Prehensile tail. All sorts of stuff to get up to with that."
- DanBetweenJobs
"I KNOW RIGHT?!"
"I WANT MY TAIL BACK! My distant ancestors chose the wrong monkeys to make babies with."
- souldust
"I've been telling my wife for years that I would balance on my tail and one leg to tie my shoes."
"She thinks I couldn't do it."
- RebaKitten
New Teeth
"New teeth because young me was hella stupid/depressed"
- Dagamsky
"Everything with teeth can be fixed. So making it to adulthood with bad teeth is just this billboard that you grew up poor or you made poor decisions as an adult."
"I had bad looking teeth, overbite/big gaps, that I got fixed a few years ago in my early 30s."
"I was surprised at how much friendlier people were. They were never rude, I was just avoided I guess. It was kind of a mind f*ck at the difference it made."
- imgunnawreckit
All That Junk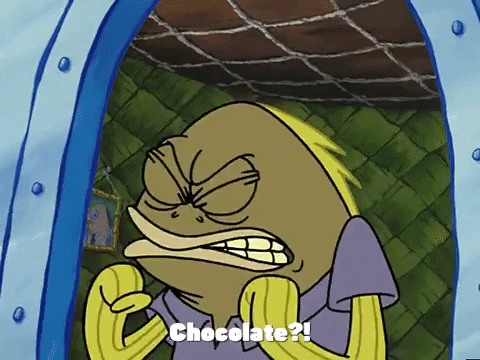 Season 2 Chocolate GIF by SpongeBob SquarePants
Giphy
"A new digestive system. I wanna be able to eat all that junk again"
- [Reddit]
"Whatever tolerates lactose, I want one."
- ilikevenndiagrams
"THIS! I cant even eat much chocolate anymore, I can only nibble a little bit or it is a fiery hell in my stomach."
- aarretuli
One Trip
"Wings would be cool, but flying sounds exhausting and wings would have to be stupidly large to lift my weight (no hollow bones, ya know)"
"So I'll take two extra arms instead, please! Imagine how many grocery bags I'll be able to carry!"
- dementor_ssc
"Have to carry it in one trip don't we?"
- EastZookeepergame806
"I have always thought that if your lazy ancestors had bothered to evolve a second smaller set of arms with more fine motor function so our primary set could have stayed larger and more tuned towards strength and locomotion it would have been overall better."
"I find myself constantly wishing I had more thin and flexible fingers to work on small projects and also wishing I had bigger, stronger arms and hands to do heavy lifting with more efficiently. Why can't we just have both?"
- Sleepycoon
"A Challenge"
"New spine, please."
"As per my last MRI, I have facet disease on every vertebrae they looked at, most of my discs are bulging, and both my spinal cord and the nerves coming out of the spinal column are becoming compressed in several places."
"It is a challenge."
"Still waiting on disability, even though my hearing was in January. I can't sit upright for more than about an hour without significant pain, and even being awake takes up pretty much all of my mental bandwidth to try to focus through the pain, so I can't really work."
"Thankfully, I have some doctors who take good care of me, as much as Medicaid will allow them to."
- MaximumZer0
Wing Woes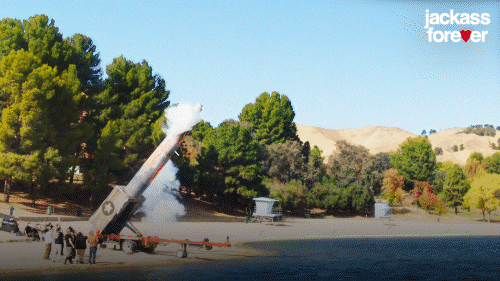 Flying Johnny Knoxville GIF by Jackass Forever
Giphy
"I'd choose wings, so I could fly wherever I wanted."
- Enough-Restaurant954
"As I am a human in a world full of humans, I can say with total certainty that you will get shot down in under a minute lol"
- Wide_Substance5731
"I've thought about this a lot. Bear with me."
"We have legs. We have the ability to run everywhere. Very few humans run anywhere, let alone everywhere. It takes a bunch of energy and makes us tired."
"Now imagine wings. If running makes you breathe hard, imagine the effort required to get a human (with solid bones, unlike birds) off the ground."

"We'd just have cars with bigger seats to accommodate our folded wings."
- Positive-Source8205
Business And Pleasure
"Mantis shrimp eyes."
"I can use my regular eyes that need glasses for business and my shrimp eyes on stalks that can see a million colours for pleasure."
- ipakookapi
"Be kind of a curse wouldn't it?"
"You'd see the fluid stains everywhere. You'd be a cursed artist, painting art nobody else can appreciate or probably even see. And what if you ever needed glasses?"
"Special shrimp glasses can't be cheap."
- jejcicodjntbyifid3
All Things Secondary
"A brain expansion that makes me now capable of telekinesis and telepathy. That might require a larger head tho, so I'd only take it if it comes with such necessary preconditions."
"If altering other things doesn't come with altering the chosen thing, then lots of peoples suggestions wouldn't work. Gills wouldn't have enough room. Wings wouldn't have the support. Your tail would just hang there and do nothing."
"A digital interface would probably be useless without a built in encryption/description capability. You get it."

- eletricsaberman
Epic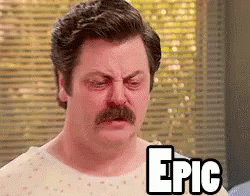 ron swanson allergies GIF
Giphy
"I have three kids. Need a third arm more often than not"
- didsomeonesaydonuts
"An arm."
"Having an extra arm would be so good. Imagine fighting, grabbing someone with one arm and absolutely destroying them with 2 others?"
"3 arms: Epic"
- UnlikelyHotel3077
Spare.
Spines.
Tell me I'm wrong. (but do it in the comments so we can all argue together.)
Want to know more?
Sign up for the Knowable newsletter here.

Never miss another big, odd, funny or heartbreaking moment again.
Keep reading...
Show less
Okay, so here's the thing ...
How come humans only have one way to breathe but turtles are out here breathing with their lungs and through their butts?
I keep hearing that humans are the "advanced" species but try telling that to my constantly janky sinuses, postnasal drip, and hyper-responsive cough reflex.
I spend all spring nearly dying by drowning in my own boogers, but turtles can stay trapped under the ice in water for over 100 days cause they've figured out how to use their butt holes as a SCUBA system.
I don't feel very advanced.
Reddit user ZanzatheDivine96 asked:

"What are some big flaws when it comes to the design of the human body?"
Let's start with everyone else who was on board with my breathing complaints. Admittedly, nobody else brought up turtle butts, but my point remains a valid and shared one nonetheless.
Airways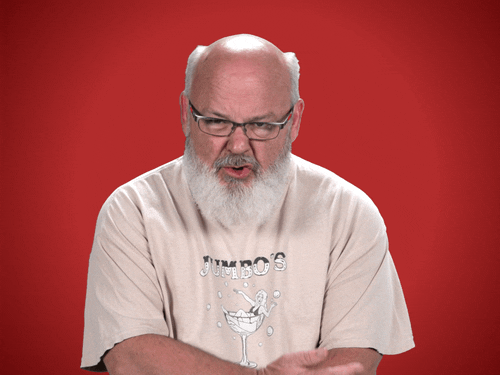 Breathe Jack Black GIF by Tenacious D
Giphy
"Airways. In order to eat and drink, you have to risk blocking them."
- Dinnen1
"God I constantly choke while drinking water. It would be nice not having to worry about that happening so often."
- bubbledragonz
"We're the only primates with a descended larynx. Most can breathe and drink water at the same time."
"A descended larynx let's us produce a way broader set of sounds, which helped the development of complex speech. Very useful adaptation for the species as a whole."
"The trade off being that an individual chokes and dies now and then."
- Choreopithecus
Why Am I Puking?
"When you're in serious pain that has NOTHING to do with your stomach your body just decides to go 'Hey this pain sucks so imma make you throw up just cause it seems like a fun add-on to your experience.' "
- carissadraws
"I've got decently sized kidney stones 🤢🤮"
"This is not your normal hangover vomiting. No no. It involves violently vomiting."
"Ribs and back are sore for days. Afraid you're going to aspirate. Can't make it stop, afraid to breathe."
"As if the stones themselves weren't bad enough."
- Inevitable_Set5762
"I have autoimmune hepatitis and when it spikes up really badly I can't stand up because if I do, I puke."
- doej0
Blue Planet
"Most of the planet is covered by water but we don't have webbed feet or anything to thrive on this water based planet."
- elton_james
"We should have the ability to drink salt water. Hydration lacks sense"
- Profound_RK800
"A small number of folks do! Aquatic ape ancestral line pokes its head up every so often."
- ErdenGeboren
"We actually have a little bit of webbing on our hands. Also you know when you have been swimming for a while and your fingers looks like raisins. The reason it does that is to get more traction underwater."
- ThisGuyLikesCheese
Earlids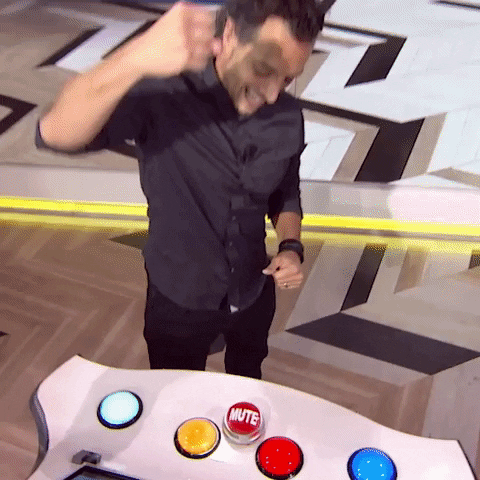 GIF by ESPN
Giphy
"Can't turn off our ears like we can close our eyes. Sometimes I just want quiet in any situation!"
"That thin film of eyelid flesh is just enough to block almost everything out. We need a built-in feature that is similarly effective for blocking out sound."
"In our modern day and age I don't typically have to listen for nocturnal predators hiding in the bushes."
- Emalan-R
"Oh my god, I never knew I wanted this until you've just mentioned it, now I want this so bad. The ability to shut off noise at will would be incredible."
- minisrugbycoach
Up?
"Sinuses that drain up."
- CertainUnit9145
"Omg my sinuses 😠 I swear one day I'll rip them open they're almost always an issue."
- whydoifeelsohopeless
"My god, dealing with this right now."
"Every season change I just get an entire day of sneezing or 3-4 days of nonstop coughing, it's ridiculous and I don't get it."
- ZanzatheDivine96
Octopeyes
"The eyes, specifically the retina is backwards."
"The 'support circuitry' is in front and the light sensors are in back. Hence the blind spot and tendency toward macular degeneration."
"Octopus eyes are done right."
"Eyes start as folds of double-layer cells and those cells divide and specialize."
"In at least humans, the layer that becomes the blood vessels and transmission nerves in the retina is on the inside and the layer that becomes the rods and cones is on the outside. So the light has to go through the blood vessels and such to be detected, and there's a blind spot where the transmission nerves gather together to become the optic nerve."
"In the octopus eye those layers are reversed, so the rods and cones (Not sure about cones, do octopi see in color?) are formed from the inside and the transmission nerves and blood vessels formed from the outside."
"Their eyes work pretty much the same as ours, except the layers were better arranged at the outset."
- phred14
The Pee Manager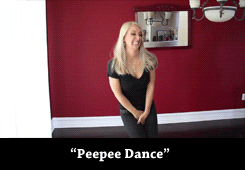 pee dancing GIF
Giphy
"This whole need to pee thing."
"Especially when I'm all cozy. That's some bull right there. I wanna speak to the manager."
- wyd55
"You ever get cozy at night in cool sheets on a warm summer night only to then have your body say 'f*ck that we pissin' so you begrudgingly go to the bathroom and as soon as you get ready to release your body's like 'sike we don't gotta pee no more I changed my mind we good now.' "
"Pisses me the f*ck off."
- 100BlackKids
Cold Sperm
"That sperm need to be slightly colder."
"Why did that evolve? Ever other cell is fine with being warmer but because of sperm being picky we gotta have nuts hanging out that can be kicked."
- Spirited-Ad-8061
"Yep. I would be happy to have my balls tucked away somewhere in my abdomen rather then swinging around, just asking to be bludgeoned."
-braedn
Chemicals
"The brain being filled with feel good chemicals but refusing to release them."
- chuckyeagers
"The big sads - Chemical imbalances."
- Allieora
"Like your brain tries to kill you, but in the same time it tries to prevent it through the instinct of self-preservation."
- showMeYourCroissant
"In my case it releases all the chemicals all at once, causing me to be manic followed immediately by depression."
- Capraos
Asking Too Much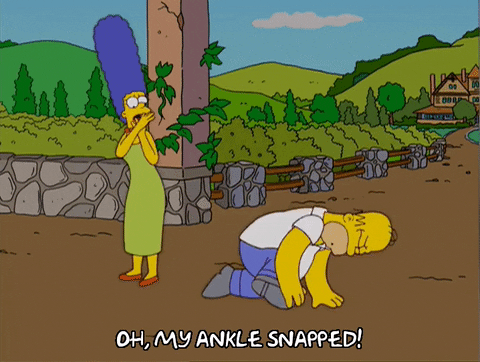 homer simpson GIF
Giphy
"Ankles."
"As a foundation, they're often vulnerable and unreliable. Too much is asked of the ankles relative to the weight they support."
- nomathnot
"Yeah man ankles suck, break it once and it's f*cked for life."
- totix28
"Can confirm, broke mine, will feel it forever."
- daggersaber
So what's your biggest body gripe?
Don't act like you don't have one. Is it a knee? Elbow? Sciatic pain that feels like a stabbing charlie horse in your right butt cheek?
Is it the turtle breathing thing? It's the turtle breathing thing, isn't it?
We'll see you in the comments!
Want to know more?
Sign up for the Knowable newsletter here.

Never miss another big, odd, funny or heartbreaking moment again.
Keep reading...
Show less
Nobody is perfect. We all have things about ourselves we'd love to change.
Now the body is a beautiful mastery to behold, but sometimes a few upgrades or changes couldn't hurt.
You can still love yourself and and want to change or eradicate a thing or two.
Just don't be obsessive it let it define you.
Redditor It_was_I_who_farted wanted to hear about what physical parts of ourselves rub us the wrong way.
They asked:
"What's the most annoying thing about your body?"
My hair.
I want my old hair back.
The gray is not working for me.
And my fingers, I wish they were longer.
Don't ask.
Colors of the Wind
"I have three natural hair colours, blonde hair on my head, black eyebrows, and a beard ranging from blonde to light red to brownish. body hair is black too." ~ Naberius_Bune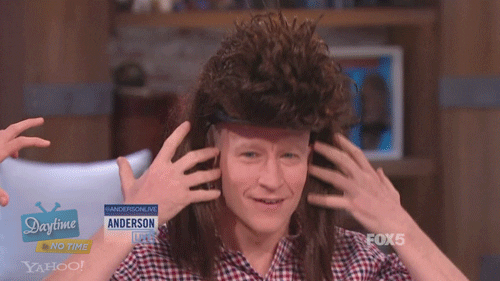 Giphy
hate needing meds...
"Epilepsy. As long as I need medication to keep functioning, I need to have a job with medical insurance. And if I change jobs, I lose insurance for a while." ~ whywouldistop1913
"I grew up on Medicaid/Medicare because my mom had epilepsy. Once they thought she had it under control, she got a job, car and started working. She died in a car crash because she had a seizure going to work early one morning. Yes, it sucks." ~ JackOfAllDevs
Go ask your doctor
"How much I sweat. I can grab a controller and just play whatever and two minutes later it's like someone was mouth breathing on it." ~ kaseadios
"Seriously, I went years just living with it and I know it did a number on my self-esteem and mental health."
"Then I asked my doctor and she was like, oh yeah, that's a medical condition, here's a pill for that. I cannot express how dumb I felt putting myself through all that. Go ask your doctor. Glycopyrrolate is the medicine I was prescribed, it works very well with minimal side effects (for me, at least)." ~ MisterMasterCylinder
A Close Shave
"The fact that the hair that my dad lost from his head seemed to magically appear on my butt." ~ benthebear3
"I'm 42 and have been shaving my head for close to 15 years because I was starting to get the horseshoe shaped hair of my grandpa on my mom's side (hair around the sides and back and bald on top). Meanwhile, my dad at 75 has full head of hair." ~ lipp79
Survive...
"Cancer. I need to keep kicking its a**." ~ Zmirzlina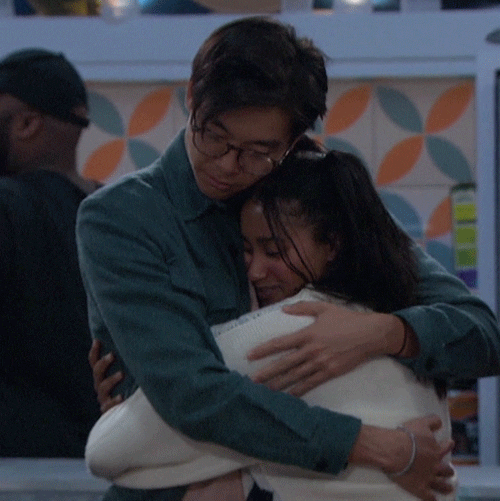 Giphy
I hate cancer.
I'm so sorry.
Good vibes all over.
Struck Down
"I get random freaking allergies out of nowhere." ~ Bruce-Led
"I developed 5 new allergies in my 20's. As I grow older, my body is beginning to reject the world." ~ Itsafinelife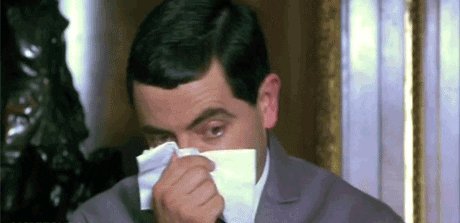 Giphy
Connected to this bone...
"I have developed a hip problem that keeps me from running for exercise. Was my favorite pastime for 20 years." ~ DontShootTheFood
"This was a major issue of mine until I strengthened my glutes by laying on my side and writing the alphabet with my foot. I also started squatting with the bands which forces me to activate my outer glute. Sometimes stretching isn't the answer. Sometimes it's a strength imbalance." ~ jnickpeters
Gassy
"Anything and I mean anything I eat causes bloating and gas. I've tried the enzymes before eating, keeping a food journal etc and nothing. I'm to the point of not wanting to eat at all. It's just not worth the pain and discomfort. And unlike guys who think it's funny to be gassy, it's not so funny when you're a girl. 😥". ~ SkyRain1
I had no idea...
"Lack of a working pancreas." ~ MrPhoen1xx
"Same for me. Then my immune system took out my thyroid. Been this way since I was 2. Then blood clots caused a stroke. Went to the doc they said my hand quit working because of carpel tunnel 8 days later another blood clot stopped my heart for 5 minutes. Said type 1 was the cause. So anyway be vigilant and if your hand goes numb demand proper tests. I had no idea." ~ Mycatlovesbiscuits
Explosions
"I sneeze whenever I see a bright light. So any time I go outside. And I have a really explosive sneeze." ~ BloodieOllie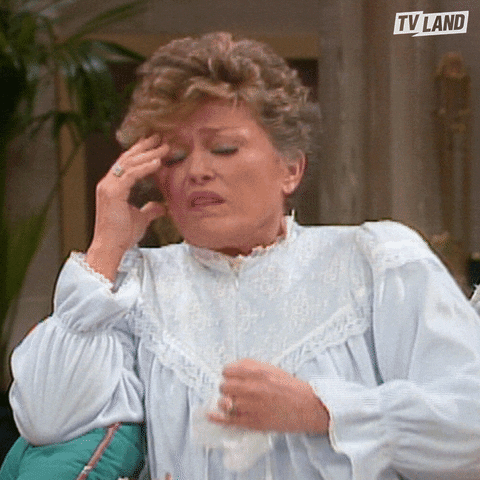 Giphy
Damn colds and allergies. That is clearly only the tip of the iceberg.
Want to "know" more?
Sign up for the Knowable newsletter here.

Never miss another big, odd, funny or heartbreaking moment again.
Keep reading...
Show less