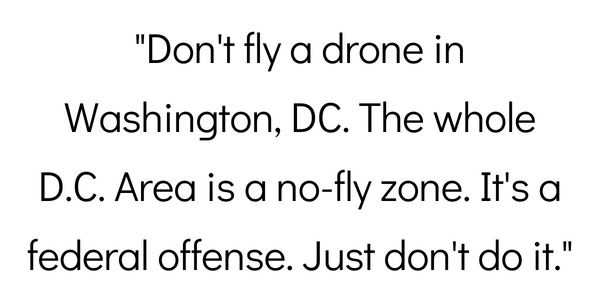 When visiting any foreign country, one should always be familiar with the laws and customs of the land.
After all, what might be generally accepted on your home turf, might be frowned upon, if not illegal, elsewhere.
For that matter, even locals might need a refresher course on what they can and can't do while at home.
A recent Redditor was curious to hear what tourists and locals alike should avoid doing in the USA, leading them to ask:
"In the United States, what should you never do?"
Stay out of the skies!
"Don't fly a drone in Washington, DC."
"The whole D.C. Area is a no fly zone."
"It's a federal offense."
"Just don't do it."- PeytonCarrK
Cops can't be bribed.
"Don't try to bribe cops when you get pulled over."
"I had some Argentinian friends immediately pull out their wallets and start pooling their cash when they got pulled over once.'
"Fortunately someone in the car noticed and told them to put it away immediately."- PeytonCarrK
"Don't pay off the police."
"My dad has friends from several third-world nations where it is common practice to give the police some cash when you are pulled over."
"However, if you try to bribe a police officer here, you'll get into a lot of trouble."- JohnASmiley
"Do not f*ck with cops."
"It might cost you your life."- Guska-siilka
Know your rights.
"Everyone, including foreigners, has the right to be silent and have a lawyer when being questioned."
"Don't say anything."
"Also, even if you speak English fairly well, ask for an interpreter."- WickedLilThing
Enjoy all that nature has to offer... carefully!
"Don't wander off in the national parks."
"It's very real wilderness and you can get lost and die out there."
"This includes going over railings you aren't supposed to, or off trails."
"People have died accidentally falling into a steam geyser that looked like normal water, mauled by animals or left to the elements."- AlphaOhmega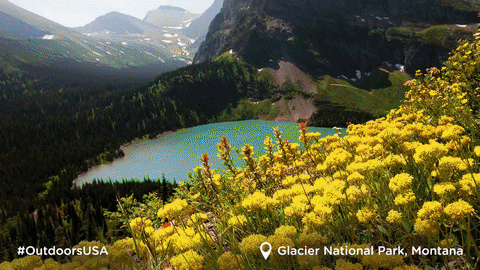 national parks GIF by Visit The USA
Giphy
Allow plenty of time!
"Expect consistency at TSA in airports."- WickedLilThing
Some terminology doesn't translate...
"If you're from England, they're called cigarettes here."- Yung_Onions
Make sure your license is up to date.
"If you come from a walkable country don't come here expecting the same."
"There are some areas with good public transportation and bicycle/pedestrian friendly streets but for the most part, especially outside of cities, the areas are designed to accommodate cars more than anything else."
"The reason a lot of Americans drive everywhere is because, depending on where you live, we have no choice."- The_Cars93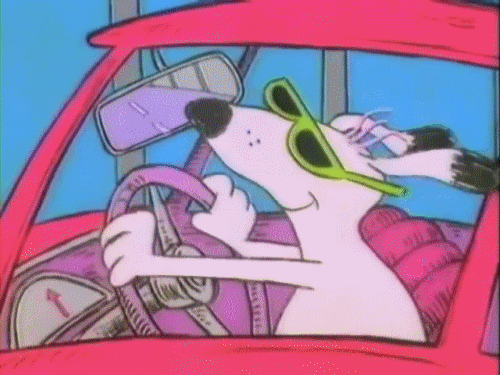 Dog Driving GIFGiphy
Wait for instructions.
"Get out of your car and approach the cop when being stopped by a cop unless told to."- hildrash
Be careful who you associate with
"Don't join a cult and work for their 'family businesses' because by the time you realize you're in a cult the statutes of limitations probably has run out, on the financial exploitation."
"Good luck trying to get reimbursed because after that you're crap out of luck."
"At least you have your sanity back."
"Don't give your power over to an illiterate boomer, who is dressed in all white, promising you that they have the secret sauce to the universe, trust your gut, and just walk away."- The_Bearded_1_
Don't rely on the badge
"Ask the police for directions, or anything else for that matter."
"At least not in Mobile, Alabama."
"Just my two cents after being a ignorant tourist trying to find my way."- Andreomgangen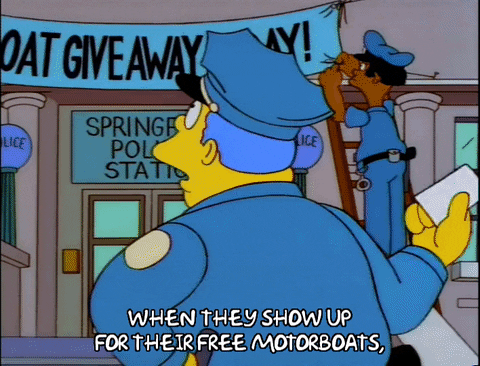 season 9 eddie GIF
Giphy
Avoid another revolution!
"Betray us!"- brandii5k
Don't rely on our healthcare...
"Get sick."- Giga-Gargantuar
Hold it in when you can...

"Visit a public bathroom."
"I'm not American, so the bathrooms there seem 12x more disgusting then the ones at home."- QuietQuizzy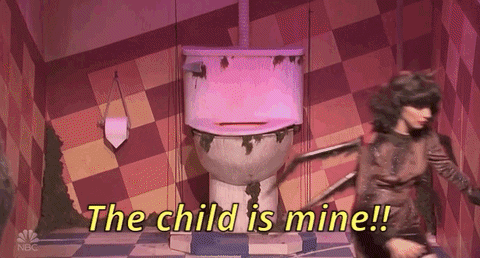 snl child GIF by Saturday Night Live
Giphy
Consult a map first...
"Don't understand how freaking huge the states are."
"Most European countries are barely if even close to the size of most of our states."
"They're ginormous."- Grumpytacos56
At least not in plain sight!
"Pee on the sidewalk."- SkyUpbeat8839
Budget accordingly...
"Underestimate gas prices but that's pretty much for a lot of countries."- Fun-Feeling8216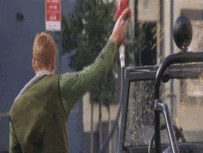 gas gasoline GIF
Giphy
Don't spoil your appetite
"Serving sizes."
"Its 3x your size here in America."
"A large cup in Europe is a medium or small in America."- Thund3r_Cr4ck3r
Level your expectations...
"Believe in the American Dream!"- zoheer
Whether your'e waling down a street in a foreign country, or the street you've lived on for your entire life, it's always wise to be on guard and aware of your surroundings.
Not to mention, obey the law.
Keep reading...
Show less
There are things men do that easily annoy the opposite sex, simply by being a guy.
"That's such a dude move," or "typical male," can be examples of snide remarks made following disapproving gender-specific behavior.

But news flash, women are just as capable of committing a "d*ck move."

Curious to hear examples of men not being alone in their irksome idiosyncrasies, Redditor XheriosLucas asked:
"What is something most people think only men do, but actually women do as well?"
Get ready for some misconceptions to be turned completely upside down.

Time For Tootin'
"For years I thought ladies didn't fart. My mom told me that so it had to be true. It didn't matter that I was a girl and farted. I thought there was just this magical age where girls turned into ladies and stopped farting."
"Apparently even when my mom did fart, I'd whip my head around and go 'ewwww dad!' Mom found it hilarious, dad not so much. Then one day I was in the bathroom with my mom (cause who trusts a four year old for longer the two minutes by themselves?) and I heard it: The quiet mythical fart from a lady."
"Oh Lordy, I told everyone! Everyone needed to know that ladies do fart, even my mom and she's a lady! Dad found it hilarious, mom not so much."
– huskeya4
Cheeky Adjustment
"The weird side step."
"Sometimes when I wear really short shorts, my butt cheeks start 'eating' my shorts and I have to try my best to make a discreet weird side step to adjust it..."
– 5cm-persecond

Assuming The Position
"Keep hand in pants in a non sexual way when just chilling."
– Clafoutie

It's A Pleasure
"I grew up thinking women couldn't masturbate only men could. In middle school I searched up women masturbating and bro my jaw dropped."
– Empty_DrPepperCan
Redditors share their thoughts about men and women keeping up with appearances.
Keep It Smooth
"Shave their face."
– Jewz1986
"I feel like women even keep this a secret from each other until you find out someone else does too or how common it is. Even still most women will rename it as "dermaplaning". Such stigma around it."
– South-Housing-748

Checking The Fitness Progress
"Flex in the mirror."
– happy-sam1
Just Gross
"Be dirty and lazy."
– ThinkIGotHacked
"I've worked in customer service most of my life, and can easily say that women's restrooms are an absolute nightmare compared men's restrooms 95% of the time. Like seriously, just throw your tampons in the trash, and wipe up your blood please; you've got a whole roll of tp 6 inches from your elbow."
– GenericThomas
Cruising
"Check out women."
– winnisp
"Even straight women check out women. Source: am a straight woman… I think."
– Solid_Explanation769

Just a thought, or may two or three.
Chivalry Is Non-Binary
"I just said this on another thread but, having fantasies about saving people or sacrificing yourself for them."
– Seyorin

Revved Up Without Warning
"Get horny over nothing or randomly."
– False-Stage-3826
Zoning Out
"Seem to be in deep thought but is actually just gaping at a wall with zero thoughts. Alternately, may be thinking of somethings completely random. That meme about the wife thinking the husband is probably thinking if another woman, when in reality he's thinking of something random ? Ya, as a woman, I relate with that husband."
– abookishhuman

Locker Room Talk
"Talk and joke about sex. I can't speak for everyone, but I find girls talking about it more than guys."
"Heck, at one point we were having a little bonfire, and one couple got up to leave. My friend's wife asked if they wanted to play Among Us when they got home, and the other girl just turned around and casually said 'Nah, this is usually about the time we have sex.' To which my friend's wife responds 'Oh yeah, we just did that this morning.'"
– Oldspice0493

The point is, all genders are capable of similar behavior that people have been socialized to exclusively associate with men.
And there's nothing wrong with that.
We are all equally guilty of being a little naughty, regardless of gender. So get over it.

Keep reading...
Show less
What's fair is fair.
That is a bold faced LIE!
What's unfair is fair. That moniker seems to define life more accurately.
Everyday we all face them... the double standard.
It's all crap. So let's vent...
Redditor FlameBoySWE wanted to vent about the unfairness of life. They asked:
"What is the most infuriating case of double standards you've come across?"
Will double standards ever end? Probably not, but we should at least be aware. So we can do better...
Wasted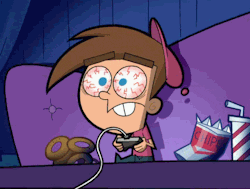 Video Games Reaction GIF
Giphy
"I can't believe you waste your time playing video games!"
"...proceeds to binge 8 hours of Netflix."
shifty_coder
Pay Up
"My cousin has been in court for 10 years because of child support problems with his ex wife. If genders were swapped he would be in jail for these same issues. She does not pay child support, adhere to court ordered child visitation, ignores court ordered restrictions on stalking him and family members, files false suits using Facebook posts as evidence against the order, does not feed the children properly, they come home usually in the same clothing they left in because she's too cheap to wash them and sees it as his responsibility."
"She owes over $100k in fines and is still facing no real consequences other than mail notices about nonpayment. My SO's father missed ONE payment years ago, they suspended his business license and threatened a lean on his house. Her mother still owes $10k+ for drinking away the college fund and nonpayment of child support with again, no consequences."
"Fathers have NO rights in Massachusetts, the mother is always right, even as a documented drug addict. Which is yet another story along the same lines."
Blazer323
I'm a man
"When I worked for a supermarket in the UK that rhymes with Baitrose, I bleached my hair. I'm a man. They ordered me to cut it all off then changed my shift to be an outdoor trolley collector. And I had to wear a hat. The person who told me to do this had bleached blonde hair. They were not a man."
Kalesche
"I applied for Baitrose when I was 16 for a Sunday job and they wouldn't hire me because my hair was too short. It was a grade 2 all over. They must have a thing about men's hair."
unholy_plesiosaur
Sushi Dangers
"My daughter and I have some things that have become tradition. We always go to Starbucks before school on Fridays, we like to go eat sushi for lunch on Tuesdays when she gets out of school early and we usually go just the two of us. I get all kinds of dirty looks, because people assume that a 45 year old guy who's out with a beautiful young woman (16 going on 25) is some sort of lecherous monster. It sucks, but I've been learning to brush it off."
beeedeee
Only the Bad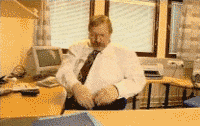 Fed Up Reaction GIF
Giphy
"In work, if I am 5 mins late they will certainly let me know about it. But if I stay behind 15 mins later than my finish, not even a mention."
BleMaeBen
Oh that last one burns me. Employers love to be nasty but never kind. Great for morale!
'Oh he can't be alone!'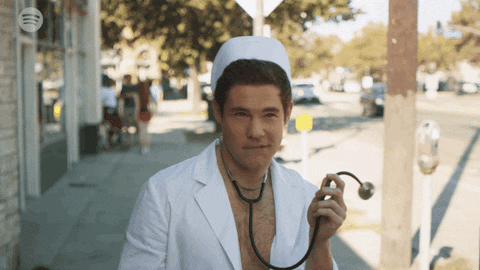 Adam Devine Swag GIF by blink-182
Giphy
"When I was a school nurse I was always alone with whatever children needed assistance, even after I would ask for help."
"New male school nurse started, all the sudden three other people are available just to watch him. I felt terrible for the guy, but literally no one trusted him with the diabetic kid or the kid with the trach alone. 'Oh he can't be alone!' But me a woman was never questioned, double standards abound."
pretendthisisironic
"That's different"
"35 years ago and it still pisses me off. I got detention in high school, no biggie... I did the crime. However I was scheduled to work so I asked for detention to be delayed for one day. Request denied. I pointed out that football players routinely had theirs rescheduled to accommodate games and practice. Only answer I got was 'That's different.'"
pants_overrated
perils...
"When I was about 16, My dad (a baptist missionary pastor) once preached a 2 hour sermon on 'the perils of pornography' and how absolutely evil it was, gotta save yourself for marriage, etc... that same night when we got home from church, he asked me to bring him his phone that he'd left in the car. I opened it to find months of daily porn-watching in his internet history LMAO."
elchefeh69420
Stop/Go...
"One of the Regional Managers goes to State Prison for over a year for DWI. If you know anything about Texas DWI laws, that means he got caught multiple times. Comes out of of Prison, immediately transferred to Corporate and made a Director. Brand new employee is rear-ended in Stop/Go traffic on the highway. No injuries, but forced to take a drug test. Fails for weed, immediately fired."
shadow247
No Dads Please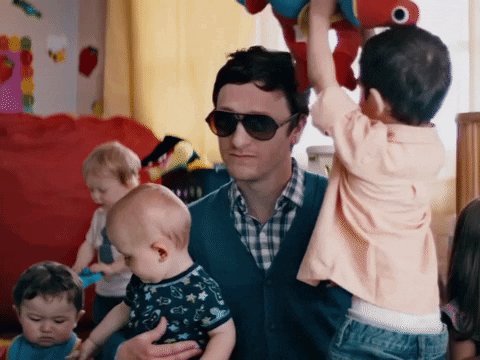 Andy Samberg Ugh GIF by The Lonely Island
Giphy
"If there's any issue big or small at day care or school, they call the mom first."
mmmmmmmmmmmmmmfarts
Why can't everything and everyone be treated equal? It's 2022! Let's work on this please.
Want to "know" more?
Sign up for the Knowable newsletter here.

Never miss another big, odd, funny or heartbreaking moment again.
Keep reading...
Show less
Shame is a powerful force. When there are certain cultural or societal norms, we tend not to deviate from them to avoid feeling a sense of shame.
Now, shame when we say something mean or do something harmful is absolutely normal. It becomes a problem though when shame dictates our lives in a way that keeps us from living joyful and productive lives.
Things like eating or sleeping habits, how you dress, or what you enjoy doing can be scrutinized by society so much so we feel a sense of shame that holds us back from happiness or well-being.
We wanted to know what are completely normal and healthy behaviors that society tries to tell us are shameful.
Redditor dodongicepick asked:
"What is a healthy behavior that people shame others for?"
Redditors shared some very real scenarios that many of us have experienced before.
You don't have to be good at it to enjoy it.
"Doing something you enjoy but being bad at it."
- donwileydon

"I love dancing, not good at it but freaking love it."
- ominously-optimistic
"Keep at it then - and damn anyone that tries to shame you out of it."
- donwileydon
"Oooh I love this one. Capitalism has turned far too many activities and forms of self expression into competitions and products worthy of judgement by all."
"I adore hearing people sing tunelessly while they cook, or drawing a shaky sketch on a loving card, or doing silly dances to songs that make them happy. It's joyful and human and real."
- chiro-petra
"I think it's globalism and the internet more than capitalism. It used to be that if you were pretty good at singing/playing an instrument your skills were very valuable to your community since the only way they'd be hearing music is from someone local."
"Now days, being good at something isn't worth much unless you're world-class, since you're compared to everyone else in the entire world and anyone can share their work online with the whole world. It has really upped the expectations of what is considered good."
- n64ssb
Everyone needs rest.
"Taking a healthy amount of time to take care of yourself, rest, or recoup."
- paintbrushvolcanoe
"Rest shouldn't be a reward, it should be treated as a necessary aspect of life."
- -Asher-
"Exactly! Even if the goal is to get work done, you cant be productive if you don't give yourself the proper time to rest before and after, but the society we live has subscribed to this perpetual cycle of working yourself to the bone and then not even getting eight hours of sleep until you have to do it all again."
- paintbrushvolcanoe
And go to bed when you want to.
"Going to bed early."
- Smooth_Arachnid8146
"This. Pre-COVID I had to be up at 5am for my job, yeah no I'm not staying up every night until passed midnight."
- Undarien
"I force myself to try and make it till 11:00. Although my mind and body tells a different story around 9:30."
- karmagod13000
"I've been called an old lady many times because I just get tired earlier and even when we used to go clubbing before C19 I'd always be either in a corner of the club or back in the car if it was safe because I just can't sustain a high level of energy for prolonged times. I just always make sure my phone is charged and can be contacted."
- docasj
And conversely, waking up late."
"I've had people shame me for waking up at 11am or laughing at me. But I'm a night owl who sometimes works and conducts research until 5am."
- JackThreeFingered
Verbal processing.
"Talking to yourself."
"It's a good way to problem solve or even just vent about something."
- Vanilla_Neko
"Sometimes I tell myself the same joke five times and I laugh every time. It is nice to have your sense of humor appreciated."
- Koloristik
"I explain things to myself so I understand it better. It helps a lot when it comes to studying but then people look at me like I'm crazy."
- Mangobunny98
Cutting off parents.
"Estranging from toxic parents."
- doublestitch
"I think the problem is that people with good, supportive parents don't understand. They can't fathom it being that bad. At least that was the case for my husband and me."
- Quill_Strokes
"Exactly. Even within the family, some can't see the toxic/abusive individuals as they truly are. I've started explaining it to these types of people as... Imagine it being EASIER and less painful to not have them in your life at all. Imagine how awful they must be that it's easier to lose them than keep them. Most can't actually imagine it, but it helps them get the message a bit better. I hope you and your husband have reached a good understanding."
- handsinmyplants
Doing things alone.
"Doing things that are normally thought of as social activities by yourself. Like eating at a restaurant, or going to a concert, play, or movie. Stop shaming yourselves for enjoying life, friends."
- ipakookapi
"I went through a period in my 20's where I was single, for years. I had lost my father after a years-long battle with cancer and just really wasn't in the head-space to deal with a relationship. But, I still wanted to do fun stuff. I'd go out with friends when I was feeling up to it, but sometimes it was just nice to do things alone - go out for dinner, a movie, travel. I could do what I wanted, when I wanted and answer to no one. It was really nice, and exactly what I needed at that point in my life. I took solo trips to California, France and Spain during that time and enjoyed every single minute of it."
"To this day (and I'm pushing 50 now and have been married for 16 years), my mother and sister still talk about my 'weird phase where I did everything alone.' SMH. Not everything has to be a group effort and solitude is very underrated."
- SuchLovelyLilacs
You can still party without drinking.
"Not drinking every time you go out with friends."
- SoNotJohnny
"I came here to say this. I work in the bar industry so everyone drinks a lot. I used to drink a lot, too but now I just have a beer here and there because I actually hate being drunk and I really hate hangovers. My friends and coworkers just stopped inviting me out. People treat you so different, I don't even not drink, I just drink responsibly and my coworkers think that I don't like going out no matter how much I tell them that I do."
- SailorSpoon11
It's okay to be wrong.
"Being wrong. It's healthy to express opinions and ideas. When we shame people for being wrong, we tend to stop new conversations from happening. In this way, we lose opportunities to understand where others are coming from and squander opportunities to change minds. Further, we push all the wrong-headed people into groups where they can go nuts following their wrongness to its logical conclusion. Just stop humiliating people for holding opinions and having bad ideas. And remember everybody does."
- addisonaddisonii
"I'd add 'admitting you're wrong (or that you f*cked up)' to this. Too often accepting blame is seen as either a weakness or a reason to lay into someone, when it's actually a sign of integrity."
- EndApostrophe4Plural
If you relate to the things on this list, it's safe to say you're not alone.
Thousands of people have liked and commented similar stories and experiences of shame.
You do you.
Your happiness is worth more than someone else's judgement.
Want to "know" more?
Sign up for the Knowable newsletter here.
Never miss another big, odd, funny, or heartbreaking moment again.
Keep reading...
Show less
Our cultural and behavioral differences is what makes the world go 'round.

But just because certain behaviors could be perceived as rude or obnoxious doesn't mean it's necessarily personal.
That distinction can even be found in different regions of the U.S. New Yorkers generally don't have time for nonsense and are very direct, which is can often be misconstrued as unfriendly.
As a New Yorker, I can attest that we just don't have time for nonsense and we don't like beating around the bush.
The same type of social behavior is also seen as normal in other parts of the world.

Seeking to hear more about these different types of social interaction, Redditor youfoundmeyo asked:
"What are some of the things normal in your country but weird or rude outside in other countries?"
In many parts of America, especially in the south, people like to engage in small talk.
Skipping Pleasantries

"No smiling, no small talks, no contacts with strangers unless necessary, being too direct."
C'est Magnifique
"French here. Don't feel like I have to do small talks to people two if not necessary. I think it's great."
– jamichou

No Time For Chit Chat
"I'm an American and I hate hate hate small talk. Out small talk culture is so intense and people think I'm a d*ck because I don't want to talk about the f'king weather."
Some cultures don't think twice about having hard conversations.

Brutal Honesty
"Actually telling people how you're doing when they ask you how you're doing. We don't use a lot of polite phrases just for the sake of being polite, so when people ask 'how are you', it's interpreted as a genuine question rather than polite smalltalk or a greeting. My grandma once asked a cashier how she was doing and she replied 'Not great. I have type 2 diabetes.'"
"(I'm from Norway)"
Death Is Normal
"I grew up in Australia and migrated to Ireland about ten years ago. First thing I noticed was people in ireland really like to talk about death in every day conversation. Who died. When the mass is. The removal of the body and the anniversaries of their death. It's so normal in conversation. In aus it's rather taboo. Theres a difference in the tone of conversation when talking about death."
Attending A Funeral

"I casually told an English friend about a wake I had been to - very typical in Ireland, just everyone sitting around the open coffin chatting and having a drink - and he was horrified. It honestly never occurred to me that it would be seen as a big deal."
– kitty_o_shea ·
Not answering the passing inquiries of a stranger is not strange at all.
Awkward Acknowledgment
"Asking an aquantaince you are passing how they are doing with no intention of stopping to wait for the answer."
– Malgaras

"Howzit"
"In South Africa we do the same, cheeky catchphrase goes 'howzit' meaning 'how is it.'"
An Interpretation
"I acknowledge your existence because we were forced into close proximity. I've faked sincerity but I don't really care about the answer. Now I'm leaving."
"Makes perfect sense to me as an Englishman."
– ledow
Using actual currency is still very much a normal thing in Japan, which I personally thought was strange given how advanced the country seems to be in terms of innovation and technology.
Everywhere I went, people had change purses and were paying for their various purchases with their $5, $1 coins.
Of course, credit card transactions were accepted, but I have gotten looks from cashiers looking like I stumped them.
But they all smiled. That was a welcoming sight to see. Unless they have a gun pointed at their backs, people are generally happy to have their jobs there.

Keep reading...
Show less