Belly up to the bar folks, 'cause there are some wild tales to be told as you sip your sarsaparilla.

Those who work behind bars meet people from all walks of life and hear a variety of unusual anecdotes.
I never worked as a bartender, but I know they get an earful from babbling patrons who have had one too many to drink.

Curious to hear about the wild life stories shared at bars, Reddit xXSlimi_Gacha009 asked:

"Bartenders of reddit, what was the weirdest/craziest thing you have overheard while making someone's drink?"
Attention Seekers
Patrons say the darnedest things.
Bobby
"The first restaurant/bar i worked in I was only serving but I frequently was in the section right next to the bar. One day I was busy serving a large group, but the restaurant was mostly empty and a guy behind me at the bar said 'you wanna pet my parrot?' my initial reaction was the same as if a stranger had just come up behind me and touched my shoulders but when I turned around... It really was a guy with a parrot on his shoulder. The parrots name was Bobby and yes both me and the bartender pet him 😂"
– Midiblye

Sales Pitch
"I was tending bar during an extremely busy happy hour. The place was mobbed and super noisy. Suddenly, a guy sitting at the bar stands up and announces 'Ladies and gentlemen of the bar, I represent the Acme meat company and we carry a full line of high quality...'. The entire bar goes silent while he continues to do his sales pitch at full volume. For some reason he decided that this was a great time and place to hustle up some business. My manager sprinted over to him and told him knock it off and that kind of thing wasn't allowed in here. So he sat down and resumed drinking."
Favorite A**hole Bartender
"Regular of mine who I hadn't seen in awhile was sitting at the bar when I came in for a shift change."
"I came in the back way and noticed he had crutches leaning against the bar."
"Recently in the news someone hadn't had their shotgun properly secured in their truck and it went off..."
"So I jokingly say, 'you're that f'king idiot who blew off his leg arent you?'"
"The whole bar gets quiet and everyone is mean mugging me."
"My regular starts laughing..."
"Yeah, it was him. I had no idea. I didn't apologize, because as his favorite a**hole bartender those comments were expected of me."
"Poor guy was only 20 couple and blew his leg off close to the hip. No idea how he survived."
Murder Plot
"I was a bartender for about two weeks (filling in for a relative who owned a bar and went on his honeymoon)."
"I heard a guy talking to a woman about murdering her husband. I called the cops, but these patrons were gone before they showed up. This was before cameras, so I just gave my story and that was it."
"Not long after, my uncle calls me saying the cops are looking for me. They interview me about the couple. Apparently, the guy was a hitman for hire and the woman was trying to get some insurance money. She got busted."
"It was actually an episode of 'Forensic Files' back when that was on TV. I remember watching the episode and they said something like 'the couple was overheard discussing the murder in a bar.' I was kind of upset that they didn't mention me. Lol. I was hoping for, 'The awesome bartender overheard them, but couldn't really tell us much. He also pointed at the male in the photo lineup and asked 'Is this him?' as if he was unsure. What a f"king dope.'"
"Edit 1: I spent half of the day reading the descriptions of every episode that's streaming on Netflix and watching the ones that seemed relevant. I didn't figure it out and I'm sorry, but I just don't know which episode it was. I recorded it on a VHS tape years ago, but don't know where that is either. I'm moving, so if I come across it, I'll edit this and let everyone know which one it was."
"Edit 2: As I recall, the hitman wasn't a professional by any means. I think the episode said he was just a local junkie who'd pretty much do anything for his next fix."
– Myzyri

Extremely Random
The following conversations were undoubtedly head-turners.

Poop-Blocked
"From a woman to her friend, 'I don't know about you but I just can't poop in a pink bathroom.'"
Proud Pecker
"Someone was boasting about his 'Very small penis! VERY TINY! LIKE MICRO!' he proceeds to lower his pants and show it to his friend 🤷♀️"
Couples
Passions are inflamed where alcohol is in the mix.
Ferris Wheel Payment
"A married couple in their fifties arguing how they were going to explain the fact they couldn't pay the remainder of the 3 million euro bill for a Ferris wheel they'd ordered 18 months ago, already put a million deposit on, and who's collection was due at 8am the following morning."
That's Amore
"Man and woman is sitting at the bar. She starts crying and says 'I just want us to have something special'. The guy looked her dead in the eyes and said 'we do have something special, we have sex. We are both married'. 10 minutes later they are making out and she's rubbing him over his pants. I loved slow Wednesdays."
I'm a cheap date.
So whenever I'm halfway through my first – and usually ONLY – glass of cab sav at a bar, I know I'm talking in a stream of consciousness and volunteering embarrassing personal information.

Once, I confided to all the patrons and staff at a bar in Barcelona, France, about my embarrassing college experience. And I apparently gave a wild performance when the DJ played Prince's "Kiss."
I'm still searching this subReddit to see if any of the comments might be referring to me.

Keep reading...
Show less
When you work in the service industry you are more than just a waiter, host or bartender. You are also a therapist, a janitor, a cop and a journalist of life. Everyone should have to work at least one month in a bar or restaurant sometime in their lives so they can grasp the scope of the craziness of humanity. The stories bartenders have could fill up story ideas for Oscar winning films until the end of time. And still, nobody would believe half of it.
Redditor
u/Adexiss
wanted all the liquor slingers out there to share with us a bit by asking...
Bartenders of reddit, what is the weirdest thing that you have ever witnessed at your job ?
When I bartended I left every shift with at least one personal eye witness account that I could label... "WTF was that?!" People are nuts, and then you get alcohol involved and suddenly we're living in an episode of "Stranger Things" or "Days of our Lives." People truly tend to forget they are in public after a fews shots.
A Wet Fight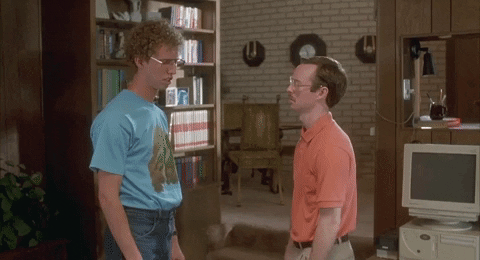 Big Brother Fight GIF by 20th Century Fox Home Entertainment
Giphy
A guy who peed himself sitting on a a barstool and then wanted to fight me when I cut him off and wouldn't serve him a new drink.
The Phone Call
I worked on the bar in a restaurant but would sometimes act as the host if things got busy on the floor.
A couple came in once, I sat them down, gave them menus and all that. Not ten minutes in I pick up a call and it's a woman asking to speak to the guy. I politely let him know someone's on the phone and they say it's urgent. He has a quick chat, seems okay and hangs up the phone before going back to the table. 5 minutes later, she calls again, I go over again, apologise and say they seem really concerned.
At this point he's clearly tense and making an effort not to raise his voice. After a few minutes he hangs up, hands the phone back to me and says "if she calls again, just tell her I'm not interested in speaking to her".
Lo and behold, she calls again, and I say exactly what he asked, to which she laughs in kind of a clichè "crazy ex" kind of way, and I kid you not, says "well tell him I hope he doesn't eat too much because when he finds the tires I slashed he'll be walking home, wishing he'd spoken to me" and hangs up.
I went over a minute later and asked what kind of car he had because there was someone double-parked outside and wanted to check it wasn't him. I figured it wasn't worth freaking him out if it was an idle threat. He described the car and said where he'd parked it. I took a cig break and went to check... All 4 tyres were fine, but that poor bugger had not a single window left unsmashed or severely cracked and there were a couple of rocks laying on the ground.
Needless to say, they did not stay to finish their meal.
Say What?
I once witnessed a woman openly fondling herself (dress hiked up, underwear pulled aside) in the middle of a not super busy bar. It was very obvious she wanted people to see. The weird part was, after a bar back yelled at her and told to stop or get out, a guy walked up to the bar back and said "don't talk to my wife like that" This really happened.
I go to Chili's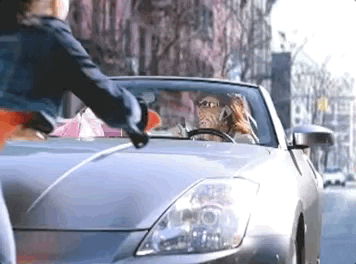 Giphy
Car plowed into the bar I was working in, coming all the way in, and flipping a pool table on its side. Pinned three off duty Applebee's waitresses against the bar. No one was hurt and the woman who was driving tried to order a drink.
I'm Lost
Used to have a regular who sold her time on Backpage. She loved our queso so she always had the guys bring her there. What stuck out was that she always ordered Jagermeister and Diet Coke. In the same glass. I once had to kick her out because she got so wasted she tried performing oral sex under one of our tables. When I could clearly see she lies about what she's doing and says she is looking for something.
See? What did I tell you? You can't make this crap up. Yet half of it sounds like nonsense. Everyone seems to think the bar is like their bedroom or therapists's office. The mentality of like... let me blow off some steam and burn the place down is shocking. Several more barkeeps felt the need to share.
Happy New Year!!
Lots of funny things at new year when everyone is in fancy dress, sad older guys who have drank so much they haven't noticed their wig has slipped. The weirdest is definitely having a mariachi band burst in through the door of the pub, play two songs and leave! Keep in mind this is the UK, it was a dark rainy mid week night. I don't know where they came from or where they went after but while they played they had the attention of everyone in the pub.
Meow Sir...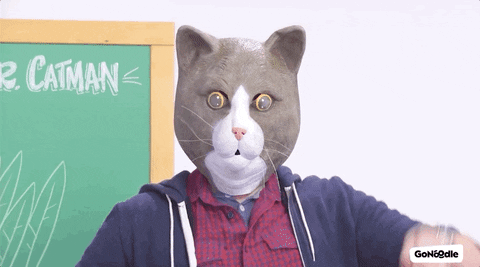 Movement Thumbs Up GIF by GoNoodle
Giphy
I once served Catman a Bloody Mary. Dude had body modifications that were hard not to stare at. He was very friendly. He ordered a blue rare steak and returned it for being over cooked. I told him we can't legally feed you anything more raw then a blue rare steak. He hissed and ordered another drink.
Chew Slowly
A heavy set middle eastern man was drinking heavy and got very drunk at my bar. When he went to the restroom his prime rib dinner had arrived. I think he did some drugs in the stall cause when he came back way drunker. He then cut a long big strip of prime rib, about the size of a thick hot dog, then while glaring at me, threw his head back and proceeded to swallow it whole like a baby bird would a worm from its mother.
It of course got stuck in his throat choking him and he passed out and fell on the floor. I/we cleaned out his air passage and gave him CPR. 10 minutes passed and he was still unconscious when the paramedics arrived. He left with a heart beat but died later that night in the hospital.
How WONKY...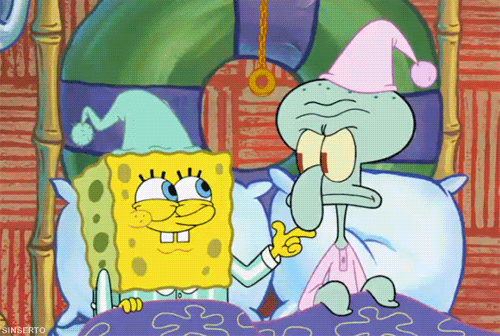 nose GIF by SpongeBob SquarePants
Giphy
Honestly? A fight between someone dressed as SpongeBob and some one as an Umpa Loompa. (Sp) no one was seriously hurt.
The craziest thing I can recall during my tenure behind the wood involved, a homemade carafe of Red Sangria, a pork chop, a seeing eye dog and two, eighty year old men. I'm sworn to secrecy but the local Palm Beach paper may have it archived. If you can't hold your liquor.... STAY HOME!!!
Want to "know" more? Never miss another big, odd, funny, or heartbreaking moment again. Sign up for the Knowable newsletter here.
Keep reading...
Show less