When meeting someone you're interested in, it's always best to avoid coming on too strong.
Doing so will likely not entice them to join you for a drink or coffee, but instead scare them away.
This is why it's always a good idea to subtly suggest your interest, by planting seeds and hints.
Of course, you don't want to be too subtle, as then your paramour might actually miss the fact you are interested in them, and move on to someone else.
Then too, some people have trouble taking the hint when it's practically staring them in the face.
Redditor AccidentRare6617 was eager to hear stories from people who somehow missed the obvious signs that someone was interested in them, leading them to ask:
"What's the most obvious hint a girl was interested in you but you missed all the signs?"
If She Wanted To "Study" She Would Have Stayed In The Living Room
"I was invited to her apartment to study on a Saturday night."
"After a little, she closed her door, we were on her bed."

"And we studied a little more until I left."- tryggvi747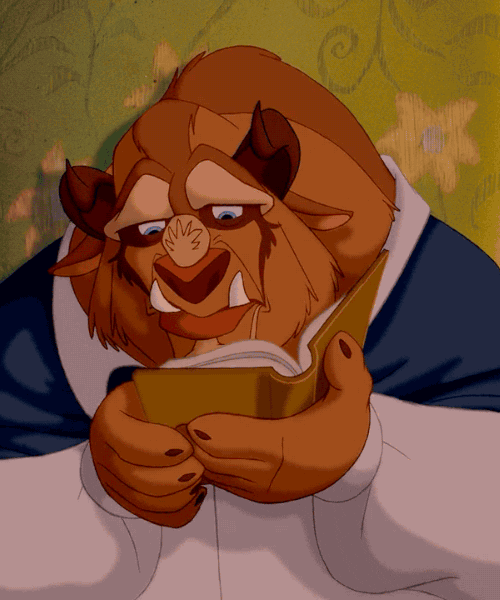 Read Beauty And The Beast GIF
Giphy
Body Heat, Maybe?

"My now wife gives me sh*t about this all the time so it's safe to share here."
"Back when we were dating, it was a cold winter's night and she texted that she was cold and if there was anything I could do to warm her up."
"I offered to plastic seal her windows."
"Yeah I totally missed that pitch."- rcowie
Love And Basketball...
"I ran into a girl who I knew a little through some friends."
"We were talking and she randomly asked if I wanted to play one-on-one basketball with her that afternoon."
"I had nothing else to do, so I said yes."
"We walked to her place to pick up a ball and for her to get changed."
"In her room, she handed me the basketball and then started undressing."
"I excused myself outside the door while she changed."
"She then held conversation with me while she got dressed in my line of sight."
"Then she asked 'So do you want to go, or... ?'"
"And oblivious me said 'Yeah, sure, let's shoot some hoops'."
"In hindsight, there was a lot of one-sided flirting on the court and afterward she again invited me to her place to cool down."
"But I declined, as I was sweaty and I went home to shower."- elevenghosts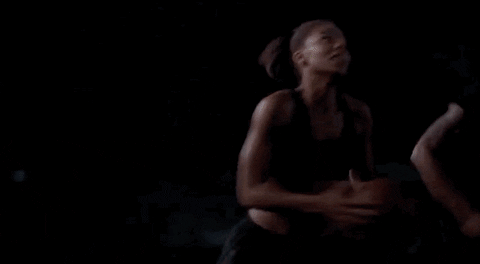 Sanaa Lathan Movie GIF by filmeditor
Giphy
Wait For It...
"Looked up at me while clinging to my arm and stating, 'I could definitely see myself dating someone like you'."
"My brain was like, 'Neat! Maybe one day I'll find a girl who wants to go out with me after all!'"
"She continued this rather affectionate clinging for about a week, constantly holding on to my arm and making puppy dog eyes up at me."

"After that week, my friend asked her out and she accepted."
"They dated for two weeks before they discovered that they were blood-related first cousins."
"Then they continued dating for another week."- cascade_olympus
Good For Her For Being Confident?

"We had been hanging out for a bit and she was talking about how nice her t*ts were, she then follows it with 'maybe I should just show them to you'."
"'Oh no you don't need to do that!'"
"Luckily she really liked me and kept the press on for a few more weeks haha."
"We got married a few years later."- iamStanhousen
In Case You Wondered If It Really Impairs Your Judgement...
"My time to shine!"
"I was in college in the early 90's and sitting in my dorm room alone."
"I was high as hell."
"The hot girl down the hall that I had a crush on and spoke to occasionally came to my room and asked if I would watch her dance routine that was her final for her dance class."
"I was like 'sure' and went to her room."
"The room was dark except for some red lighting."
"I sat on the couch and she put on 'Enigma'."

"This was a VERY clear sign that I missed completely."
"She began her dance."
"She was in a unitard and I was totally hot for this girl."
"She did what I would now consider a personal lap dance for me."
"I was petrified with lust over the whole thing."
"When the song was over she came over to me, about 2 inches from my face sexy smiling and said, 'How was that?'"
"I looked at her and said, 'that was really cool, you'll do great', and left."
"I. LEFT."
"I walked back to my room and left."
"YEARS later I was driving my car to work, just daydreaming, like you do, and that memory popped up."
"I would have kicked myself had I been able to."- Luder714
Maybe She Would Have Been Better Off With 'Diego'?
"I was in a Starbucks in Argentina, and the girl taking my order asked my name to write on the cup."
"She didn't understand what I said, and when I picked the cup up, it said 'Diego', which isn't my name."
"Later that night I was chatting with a cute 20-something girl in the bar and I retold that story, and she looked at me with sultry eyes, her top slightly undone, and said something like 'what would Diego do with me tonight that <your name> wouldn't?'"
"It caught me completely off guard, and I said something stupid in return."
"It was like being in the final minutes of the Super Bowl, being tossed the game winning ball, only to fumble it in the end zone on live TV."
"I've lived with that regret a long time haha."
"What could have been."- tennyson77
They Got The Hint Eventually...

"Back in '84, I was working at this cool department store and this was this shy girl I'd chat it up with."
"I talk to anyone, so it was no big deal on my end."
"I was also a movie nut, so I'd say 'Hey, have you seen this or that?' and she'd give me an exasperated look and say 'No. No I haven't I need someone to go with'."
"I'd be like 'Ah, well, it's a good one'."

"We've been married for 33 years."- The68Guns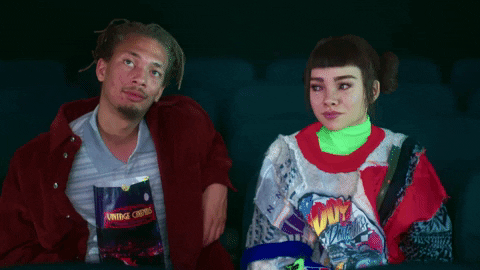 Nervous New Music GIF by *~ MIQUELA ~*
Giphy
They Needed To Be More Into Themsleves!
"In high school a gorgeous girl sent me anonymous love letters."
"I later found out she was the one sending them."
"She also asked me out to this dinner banquet thing."
"We went, but I was so shy I barely said anything."
"She still sent me letters afterwards."
"I had really low self esteem, and made every excuse to myself that she wasn't into me."
"It was like she was holding up a neon sign that she likes me and i didn't do anything about it."- uncultured_swine2099
"Years ago, just chatting with a co-worker day to day, just everyday conversation."
"Then one day, after another normal chit chat passing time casual conversation, she heads out, turns around grabs a pen and she writes her number on my arm and says 'Dude! Call me!'."
"And walked away seemingly frustrated."
"I just kinda stood there with eyebrows raised, my brain turning gears and it clicked!"
"...Oooohh!"- nukomyx
A Joke About Rubbing Organs Is Just Too Obvious...
"As I played the organ, she would turn pages for me and brush her body against my back while moving from right to left behind the organ bench to grab the next page."
"I thought she was rubbing me due to tight quarters between my organ and the choir loft railing."- Back2Bach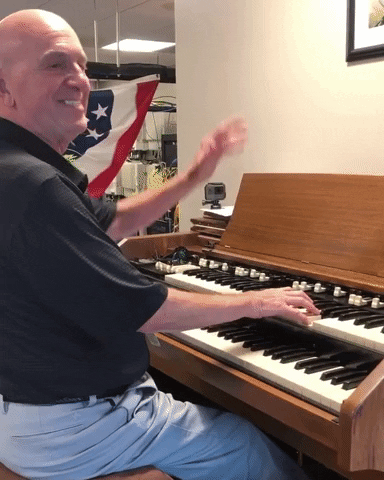 Take Me Out To The Ballgame Baseball GIF by NCAA Championships
Giphy
It's easy to kick yourself in the head for missing what might seem like obvious cues that someone was into you.
Though it's really nothing to be embarrassed about, as subtlety is lost on some.
Then too, it's worth mentioning that maybe the reason you missed the cues, is that you weren't into them?
All's fair in love and seduction...
Let's just be honest: the dating scene can be rough, especially when you're not sure if that person likes you back or not.
Some people, however, are very comfortable with their dating histories and believe there's a certain "cheat code" to confirming if someone is interested.
But for those of us who have always been bad at flirting and consider ourselves "oblivious" to other people's advances and compliments, maybe there could be some hope for us after all with these tips.
Redditor Independent_Slide932 asked:
"What are signs that there's sexual tension between you and someone?"
Their Undivided Attention
"It's serious eye contact for me, like when they would rather admire you than look anywhere else. It just makes it so obvious."
- GoGoHesHere
Butterflies
"For me, it's not just the eye contact itself, but when the eye contact is made, the two of you are in your own little world. There's communication happening in that eye contact that you aren't having with other people."
- la_metisse
The Thrill of the 'Chase'
"To answer the actual question OP asked, it's finding reasons for eye contact."
"It's 'accidentally' making physical contact. It's always ending up sitting next to each other in a group."
"It's a tingly tight feeling in your guts."
"It's a beautiful pain to experience. It's almost more fun than actually 'getting' the other person."
- AllAfterIncinerators
Literal Physical Attraction
"Angling. Always feeling like your center of gravity is shifting towards them."
- thelibrariangirl
Interested or Not?
"There's a regular who comes into my work who makes serious serious 'seductive' eye contact with me and has a smile that looks flirty."
"But he's also hot as f**k. He's just incredibly attractive. So like, just because it's making me turn to jelly doesn't mean it's anything other than just being friendly and having a regular smile to him."
- MangoMambo
It is, Indeed, ...Tense
"It's that awkward, 'I want to f**k this person, and I'm pretty sure this person wants to f**k me, but I'm not sure enough about it to actually make a move.'"
"That's sexual tension."
- Grueaux
Sounds Awkward
"It can manifest in a lot of ways. Usually, sexual tension develops when two people are attracted to somewhat attracted to each other. The funny part is, sometimes they aren't even fully conscious of it, or want to acknowledge it."
"That is where the tension lies. There is a reason why both are not participating in healthily acknowledging attraction for each other. It can look like tense awkwardness, constant fighting, overt flirtatiousness without any progression, and even consciously ignoring/avoiding the other person."
- EimiCiel
Silent Communication
"It's a shared gaze that at once leaves you both relaxed and on edge. It's like being old friends with a stranger."
"It's like an inside joke that isn't funny, it's sexy. I mean, it could be funny or sexy, but you see what I mean, it's a common understanding."
"It's like, 'You've got a secret, and I know it, and I've got a secret, and you know it, and the secret is the same thing, and we both know it, and it's so f**king delicious that we both know that without discussing it. The secret is nothing and everything, it's the knowing and sharing and the edging that is wonderful."
"It is something that is involuntary, but also once you've experienced it (enough), you can put yourself in that mode, make eye contact with a sexy stranger, and they may respond positively. It won't be as good as spontaneous mutual attraction, but you can put the signals out, 'Hey, I dig you, are you interested?'"
"Some people that you have that intense mutual attraction for aren't the right one(s) for you, except that they are the right ones to practice making that connection with. The person who is perfect for you might be someone who grows into the right emotional responses... and that's true of you, for them, as well."
"And lastly, you can choose to ignore both the mutual and asserted versions; the right relationship choices are both an emotional and intellectual decision, don't rely on one exclusively."
- im_dead_sirius
A List of Obvious Signals
"Reading signals is tough, I'm glad I don't have to date these days."
"But some legit signals I've learned, in no particular order:"
"Prolonged or suggestive eye contact."
"Body positioning mirrors yours or stands closer than typical in your culture."
"Playing with hair when you interact."
"Light unconscious brushing up against or touching."
"If seated, leaning forward towards you frequently and/or touching you hand in a friendly way."
"Flushed or light blushing when they interact with you but not others."
"Suggestive teasing."
"Excessive awkwardness that isn't the case with them around other people. Especially if they straight up start babbling like a loon."
"Awkward silences you could cut with a knife but they still keep seeking you out."
- AndrogynousRain
When Someone Gets It Wrong
"It's hard to explain. Basically, it's a nervous, delicious breathless feeling when they are close to you. You both go out of your way to stand just a little bit closer to each other."
"The sad thing is, some people think they 'feel' this with someone just because the other person is being friendly and misread signals. I once had a guy insist that we had sexual tension simply because I twisted my hair."
"He told me that twisting my hair was a 'mating signal.'"
"I told him that I had been twisting my hair has been a nervous habit of mine since I was a toddler, but of course, he wanted to believe I was interested and insisted that I must secretly want him."
- Joygernaut
Obvious to Other People First
"When other people pick up on it."
- The_She_Ghost
Responding to Looks
"When they suddenly look and hold eye contact and then look away. (Low)"
"When they look and notice you're looking then they run their hand through their hair. (Medium)"
"When they notice you looking and suddenly gently bite their lip looking away. (High)"
"When they notice you're looking and do something to draw attention to their body either stretch and reveal skin or adjust an intimate part of their clothing. (Extreme)"
"Each of the above will make you get butterflies as you know that she knows AND that she knows that you know."
- DragonofDojima_
Trying to Keep the Conversation Going
"When there's a lull in the conversation, and eye contact is maintained while you both are trying to figure out what to say next."
- djpack
Looking But Not Looking
"Catching glances, by either party. The kind where they're looking at you and don't think you'll look up or at them. Then suddenly the ceiling is really interesting to them when you make eye contact."
- HuxEffect
The Classic Note Trick
"When they hand you a piece of paper that says:"
"'Do you think that there is sexual tension between us?'"
"'[ ] Yes or [ ] No'"
- xaradevir
While we'd all love for the dating scene and general flirting to be straight-forward, simple, and stress-free, this thread serves as a reminder that it comes easily for some while being a puzzle for others.
At the end of the day, if you're interested in someone, the easiest thing to do, though it's terrifying, might be to ask them.
When people think of women being portrayed as "sexy," often big boobs with cleavage showing come to mind.
Men also have their appealing "moves" and "appearances," and the "AskReddit" subReddit did not shy away from sharing what they felt the male equivalents to showing cleavage were.
Redditor girlymuslimboy asked:
"What is the male equivalent of a woman showing her cleavage for seduction?"
Zombie Level: Unlocked
"The braaaaaain!"
- Suspicious-Squash237
Certain Facial Expressions
"Sexy side smirks and smiles. Y'all know exactly what you're doing with that."
- mtotheija
A "Clean" Appearance
"Rolling up sleeves (regardless of muscle mass). A fresh fade/cut and trim/shave. A clean cut, perfectly fit/cut outfit (doesn't have to be a suit/tux)."
"Biggest one: Clean, trimmed, and filed fingernails on clean, well-managed hands. Yes please."
- Sleepy_Little_Fjord
Possibly Chest Hair?
"I don't count rolling up sleeves because cleavage is far more scrutinized. Like I can roll my sleeves up in an office job and not be side-eyed."
"The V-line is a little closer, though also a little further on the spectrum of 'can't show it anywhere.' There's no subtlety."
"The closest I can think of is showing chest hair, but that's far less universally liked by women. Like a woman with any chest can do that and almost any man will like it, but chest hair is a very split decision."
- girhen
The V-Line or Adonis Belt
"My wife showed me a meme that had a picture of a guy with the pronounced V-Line. It said, 'I don't know what this muscle is called, but it makes smart girls stupid.'"
- d00mslinger
Grey Sweatpants
"A lot of my female friends go crazy over grey sweatpants. Nothing even sexy, just men wearing them. I don't understand it personally."
- PurpleMonkeyEdna
A Fine Suit
"My wife told me that a guy in a well-fitting suit is to her what a woman in lingerie is to men."
"ZZ Top was right. Every girl crazy 'bout a sharp-dressed man!"
- Matelot67
Driving in Reverse
"I'd like to formally submit: When they're driving in reverse and they do that twist to look over their shoulder and they grip the back of the passenger seat."
"Especially if they do the little finesse on the steering wheel with the palm of their hand."
"I caaaaaan't."
- VoodooEmporium
In the Kitchen
"When you're cooking and throw the towel over your shoulder and pick the pan up and shake it around a little."
- ThatSICILIANThing
Muscle Definition
"Either the happy trail or when their muscles get really defined when they do something."
- queenoovoov
Rolled-Up Sleeves
"Hairy forearms and rolled-up sleeves; wonderfully sl*tty behavior."
- chuckchuckthrowaway
An Illusion
"While working in an Emergency room several years ago, a fellow came through that was unconscious from an accident. The first thing the staff does is to strip the person down. When the staff cut his clothing off, it was noted that he had a cucumber taped to the inside of his groin, to, ah make it appear he had a rather large organ."
"I would think that was clearly his intent, as it was a Friday evening."
- Whorton59
Revealing Clothes
"I'm assuming wearing tight shirts that show off muscles."
- RathGodofWar
Communication
"A certain look in their eye."
- Love2Ring
Insightful
"Male cleavage, dude!"
"It's the same, but different, but still the same!"
- Inkydex
Based on these comments, it seems women's desires are just as stereotypical as men's. Where men may want swimsuits and lingerie, women want a finely-trimmed suit or gray sweatpants.
When men are hoping to impress a woman, they often agonize over the perfect thing to say.
Something which will get their attention and make them feel good about themselves, and hopefully not offend or demean them.
If they find the right words, they may likely find themselves with a new girlfriend, future wife, or even a life-long friend.
After all, finding the perfect compliment can go a long way.
Of course, this is a two-way street, and men also enjoy it when they are complimented.
Perhaps even more, and arguably, a little too much.
Redditor kipskip_ was curious to hear what men thought the best possible compliment they could receive from a woman was, leading them to ask:
"Guys of Reddit, what is the best compliment a girl could give you?"
No Pretending Required
"I can be myself around you."- noah1000000999
"Whenever a girl says she feels safe around me or feels secure/comfortable makes me feel so good it's indescribable."
"Makes me feel very manly."- kipskip_
I'll Take Them All!
"Pretty much any compliment will do."- Mysterious_Drama2772
"Any..."- Sk0ts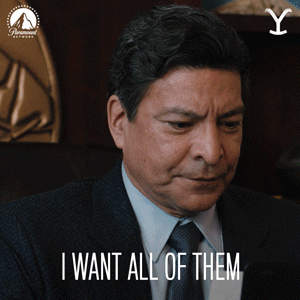 I Want Them All Paramount Network GIF by Yellowstone
Giphy
The Devil Is In The Details
"When I was younger, I had a meeting with a beautiful, slightly older woman from a different organization that I admired in our industry."
"When we were shaking hands and saying hello, she thoughtlessly blurted out, 'Oh, you're cute', then apologized and said she's not hitting on me and that she's married."
"Then, she tried to change the topic by talking about one of my recent projects, which I was surprised she knew."
"Both were nice compliments."- NoConsideration5775
Keep It Simple
"I like you."- Smirknlurking
It's Worth the Weight
"'I love you'."
"Yet to hear it but I imagine it sounds good."- Or4ngut4n
Or Just "You're Cute" In General...
"'You're cute when you're excited'."
"Still riding the high from that one, and that was 3 years ago."- JackCooper_7274
Striking Resemblance
"Girl at the mall told me I looked like Ryan Gosling."
"She couldn't be more wrong, the comment was an affront to everything Ryan Gosling stands for."
'T'was appreciated however."
"Gonna be riding that high for the next 3-37 years"- -Praetoria-
Noting Beats A Good Conversation
"I like talking to you."- cszack4_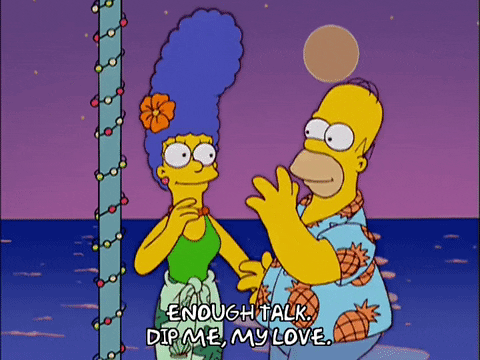 happy homer simpson GIF
Giphy
When You Got It, Flaunt It...
"A girl at work told me another girl told her that I have a nice a**."
"She tried to keep the girl anonymous but I tricked her into admitting who it was."
"The one that told me also complimented me on my legs and looks in general."
"Feels weird being complimented on my a** and legs as a guy but I guess it's better than nothing?"- Lambesis96
It's All In The Eyes...
"A female friend of mine once told me I had 'kind eyes' when I smiled."
"Best compliment I ever received."
"I just smiled normally and genuinely, and she picked up on it."
"Man, I miss her."- midnight_reborn
Great Hair Is Hard To Resist...
"'You are hot' would be very surprising yet welcome."
"I also get "your hair looks great" a lot."- KomradeElmo0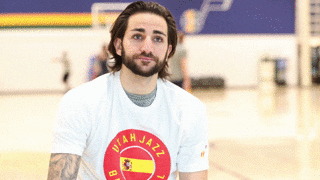 ricky rubio nba GIF by Utah Jazz
Giphy
Setting Standards For The Future

"Back when I was 9 years old my mum's friend meeting me for the first time told me that once I grow up I will be a super sexy handsome dude all the gals will drool over."
"That didn't happen but it was nice to hear back then."- playerhamdan
Should anyone find that special guy, and want to let him know just how special they think he is, all of the above compliments are a good way to start.

Sometimes attraction makes no sense.
But who hasn't been dumbfounded by the things that give others the tingle?
I have a friend, who finds men who yarn as a hobby... IRRESISTIBLE.
It's a strange thing to get hot and bothered over, but who am I to judge.
It seems like anything big or small can be a trigger, in the right places.
There is no rhyme or reason.
Just nature doing its thing.
Redditor Undecided_User_Name wanted to hear about "unique" ways people find themselves turned on, so they asked:
"What is the weirdest thing you find extremely attractive?"
Don't Speak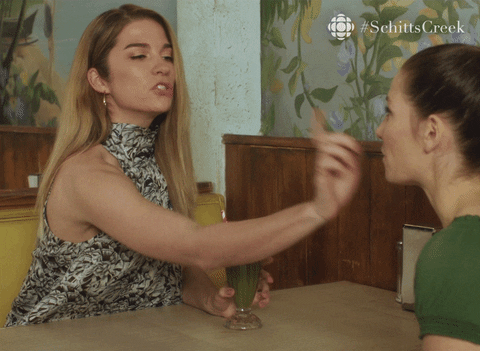 be quiet canadian GIF by CBC
Giphy
"Husky voices on girls. If she sounds like a dude, that's just insanely hot? No idea why."
superbia1997
Butt Out
"My husband can do an incredible impersonation of a gorilla. Knuckles on the ground, butt sticking out, huffing noise, the whole deal. Wouldn't you know that has gotten me into bed more times than I would care to admit it! I want to say it's mostly because he makes me laugh so much but damn, sometimes I see a gorilla and I'm like, 'Wow, he's pretty handsome.'"
sunnysunnysunsun
Nothing Fancy
"When they go all the way dressing up. Not in the fancy way, but in the 'Oh there's a theme and I'm not shy to go all the way with my costume.' Shows confidence and a great fun factor.'"
mijranda
"For me that also goes for events. When I was in nursing school, we had what was called our white coat ceremony in our first semester. It's like a 'welcome to becoming a nurse' event; we all dress business casual, wear our lab coat, have a guest speaker, and take pics. It's sweet and feels pretty special, but it's not as big of a deal as our pinning ceremony."
"So we all show up for the event, and in walks one of our classmates in a full, blue suit. A horde of my classmates erupted in 'aww's' because he had clearly over-dressed, but that one event made me look at him different for the rest of my schooling. It wasn't the fact that he was in a suit, but the fact that he was over-dressed and not in a cocky way. He actually was really embarrassed when he realized his mistake, but damn I still feel a little tingly inside about it."
skoros
Dots
"Some impurities in the face like freckles or random black dots. My boyfriend has this one black dot directly below his eye in the middle of his left cheek. It makes him infinitely more valuable on the face market to me. Looks so darn adorable."
Oddishoderso
"That black dot may be a skin tumor/cancer... Not saying it is for sure but especially if he only has one and it has a texture, unevenness, he should get that checked. Especially if it is new and he didn't have it as a birthmark."
Bunny_tornado
Hold Me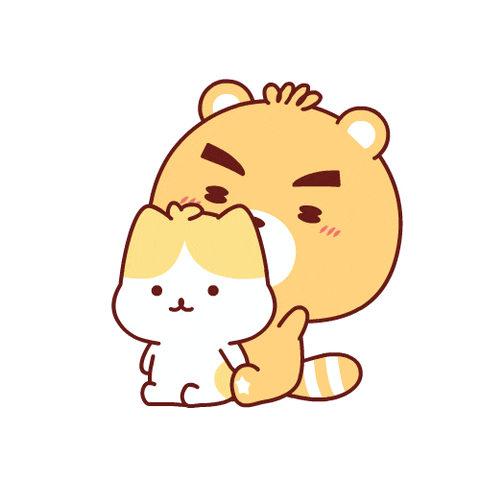 Cuddle Snuggling GIF by bluesbear
Giphy
"Whenever my fiancé cuddles me, she puts her whole face in my neck and gives it kisses. It's not only sexy but super endearing. It's honestly the most adorable thing and she just fits so perfectly. I love her."
Saint_Umbro
A good snuggle, even an aggressive one, is welcome.
Imperfect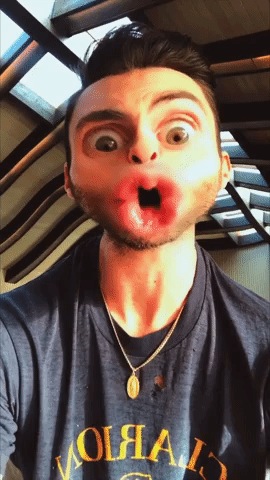 adam levine wait GIF by Maroon 5
Giphy
"The idea that in this microwave ready, Instagram perfect world, that there are people, like all of you in this thread, that appreciate the imperfections in people and make them sound like the most attractive features ever."
rhondaanaconda
I'm Listening
"People who can ramble on about their passion/s for hours. I love listening to people talk about the stuff they love."
andeelee23
"Honestly this is just such a help for my own self-confidence. I often keep on rambling on and on about stuff I like and half the time I just feel like I'm talking too much and the other person just wants me to shut up."
BlomSmashman
"This is hit or miss for me. I enjoy a good conversation, but I have a friend who if you ask him a question, he will go on foreeeeever without you being a part of the conversation. He just keeps talking about trains and star wars and Dragon Ball Z and airplanes and sh*t like that for like 20 minutes or more and youre just sitting there like mhm.... please stop."
VividLazerEyeGod
Drowsy Hot
"Don't know why, but exhausted men look super hot to me. Probably because being exhausted is as close as being the real you as possible."
aherusia
"I think there's a couple 'raw' versions of people. A great one is when someone is just completely relaxed, like present and not worrying about anything else at that time. You get to see what they think and say and how they act when the mental space is cleared and they're free to think about whatever without life's demands pressing into their consciousness."
Foxsayy
Wear it Proud
"My husband got himself this bear onesie. The first time he put it on I was like…what is this feeling? Why am I aroused right now? After a few occasions of him wearing it I was like, well I guess I'm a borderline furry (although I think it's the snuggly softness that does it for me rather than anything animalistic)."
"He still thinks it's very weird, but he will put it on for me when I ask. Too bad for him our anniversary is in the height of summer."
"Onesies are widely available, so I don't really understand why so many people are asking where he got it (I mean they're literally everywhere, and it's not like his is special - it's not a magical onesie, it's just a normal, fluffy onesie with a hood and bear ears - it's also not one of those loose ones - I like the way it hugs his butt…) but he bought his in Next, a basic high street shop in the UK. That was maybe four or five years ago, though, but you could definitely get one on Amazon."
chookity_pokpok
Pumped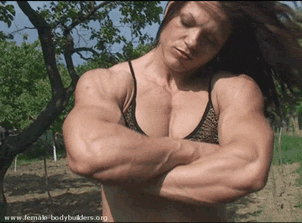 Smirk Confidence GIF
Giphy
"Recently I've been working out more. My wife says the veins popping out of my arms and hands get her all hot and bothered for some reason. Either way it feels good when she touches them."
Papa_Skittles
We all have our little sexy soft spots. Veiny as they maybe.
Do you have any turn ons you'd like to share? Let us know in the comments below.