Some myths are so strongly internalized by cultures, and even passed on to future generations, that a revelation of the actual truth somewhere along the line went completely ignored.
After all, myths are often ore colorful than facts. They appeal to intuition, and they usually have a seductive cause and effect set up.
Often, they center around health--how to preserve good health or, in some cases, how to avoid catastrophe. And remedies like that often come from parents, grandparents, or kids at school, all of whom are so influential for some kid wrapping his head around the world throughout childhood.
And let's face it, the urging, wise words of grandma are far more compelling than a newspaper article about a debunking study that just came out.
But now, as adults, we're ready for the truth. And Reddit brought it in spades with a recent thread.
Mutating_Mammal asked, "What are some common 'facts' that people believe to be true even if the existing evidence states the contrary?
Do you have something to confess to George? Text "Secrets" or "
" to +1 (310) 299-9390 to talk to him about it.
Keep reading...
Show less
Sometimes one action can give a complete impression of a person, and it can't be unseen afterward.
Friendships crash and burn for the same reason they thrive: the relationship is based on the ability to completely let your guard down.
That transparency is a coin with two very different sides.
One is wonderful for its openness and desire to collaborate. Struggles are shared, advice is trusted, and the ability to be one's true self is cherished.
The other side is the kind of trust with a shadow. Simply put, the relationship is taken for granted. Little work is offered because things became too comfortable somewhere along the line.
In those conditions, an ugly corner of character will rear its head one day. And then it's all over with
Yeetus_the_freakus asked, "What was your 'We're done' moment with a friend?"
Do you have something to confess to George? Text "Secrets" or "
" to +1 (310) 299-9390 to talk to him about it.
Keep reading...
Show less
The answer to these questions is the kind without words, and typically involves the far more efficient thrown object or a cold shoulder.
There is a common theme to these most hated inquiries: they all alienate the one being asked.
They're characteristically personal, asking why some core aspect of the person is there in the first place. These questions are leading ones. The implication behind them is nearly as loud as the question itself. It's as if they demand, "Why would you be the way you are?"
Then again, parties or work picnics can be chaotic places, bringing out the worst social faux pas in folks. Perhaps this list will go a long way and instruct people how not to lean on the worst questions when they find themselves at a loss for what to talk about.
After all, if these come out most when the conversation is dying, they do little to resurrect a flow of discussion. Instead, they kill the vibe completely.
gypsy888888 asked, "What's one question you hate being asked?"
Do you have something to confess to George? Text "Secrets" or "
" to +1 (310) 299-9390 to talk to him about it.
Keep reading...
Show less
You would not believe the amount of people that poop inappropriately at work.
These stories come from the belly of the beast, where reports of truly bizarre behavior at work are voiced and documented, to become oral tradition on a Reddit thread.
Insane Human Resources issues like these give the sense that because work is the very last place to act inappropriately, people go to great lengths to do so on the sly. And those attempts at subtly make things even stranger.
Strange living arrangements, ceiling tile secrets, and misplaced sexual energy are apparently not uncommon complaints to the HR Department.
Dankuser2020 asked, "People who work in Human Resources, what is the weirdest sh*t you have seen?"
Do you have something to confess to George? Text "Secrets" or "
" to +1 (310) 299-9390 to talk to him about it.
Keep reading...
Show less
We all meet thousands of people throughout our lives, and many of them will quickly fade into distant memory shortly after we do. Some, though, manage to affect us so profoundly from a single meeting that we remember them for the rest of our lives.
Whether it's a stranger who was there to help in a time of need, a kind word during a really hard time, or someone who just happened to say exactly the right thing at the right time—sometimes the memory just sticks.
Reddit user direwolf107 asked the folks at r/AskReddit about their profound encounters with strangers, and got some wonderful answers.
"Who is the stranger that you have only seen/meet once in your life that you still think about time to time?"
10.
I was about 16 and getting the bus home from school. It was always super crowded and and you'd be really lucky to get a spot on before the driver closed the doors and drove off. You could wait 4 or 5 buses before one came along that you could get on.
Anyway, me and my friends had been really lucky that day and managed to squeeze on to the first one, just about. The lady behind us started begging to be let on, saying she had a job interview. The bus driver said he was sorry, but the legally couldn't because of how many people were on. He kept asking us to move down but there wasn't any room and people were starting to get mad and telling him to just go. The woman started sobbing. It was about 2010 so we'd all been hit really hard with the economic crash, and jobs were hard to come by.
Like, it broke my heart. It was the first time I'd really seen an adult publicly in such distress. So my friend and I just got off and she got on. We didn't even look at her or exchange any words. The bus was free for teenagers, all we lost was 30 minutes that we would have normally waited anyway. But my parents were fairly comfortable, I'd never had to face how bad things were before. It feel like a big moment for me.
I still think about her from time to time. I hope she's okay, I hope she got that job. I can't imagine how it must have felt to be that desperate.
9.
I was on my way back from Disneyland Paris, sat in the airport and a guy beside me was typing away on his laptop. A little curious at what he was writing I peeked over and saw the title "the last letter I'll ever write". I was frozen for a few minutes, im 24 and I had absolutely no idea what to do. I thought maybe he was a writer and if I ask ill look stupid. Eventually though I turned round to him and said, "Look man, I really hope I'm making a fool of myself, but are you OK?".
Turns out he and his long term partner had broken up, and they were meant to be coming on this holiday, that he'd now come on with his dad. He blamed himself, and he'd been going to therapy for a while to get out of a a pretty dark place but some days were better than others, and writing the letters was an exercise from his therapist.
We chatted for a bit, about her, his dad, me, life in general. Turned out his brother lived nearby me and frequented a coffee shop right by where I used to live.
Eventually my plane got called, and we hugged and I told him I really hope things get better for him and that at the very least I'd had a lovely time talking to him. We left there and I still wonder what happened to him. I hope he's happy now, I hope that he's managed to find some good in the world again. But I guess I'll never know for sure.
8.
When I was a kid, I flew by myself for the first time. At the airport, when I was about to check in, I spotted an elderly lady looking at me. Deeply. At first I thought I accidentally hit her or something, so I asked if she needed anything. She nodded. Didn't give it much importance so I just checked in and headed to my plane. Later, already on the plane, I see the very same lady, looking for her seat. Of course I helped her and asked her what number her seat was. She handed me her ticket. "B37". I'll never forget it because I was the C37. She sat right next to me. I was scared. I was a kid, and I wasn't used to coincidences. Anyway, long flight.
When we arrived and were waiting for the plane to land for us to head out, she finally says "You know, you really look like my daughter, I even thought you were her! But she passed away 5 years ago, silly me. Here, this is her with my grandkids". She handed me her phone with a zoomed in picture. I was paralyzed when I saw her.
She looked EXACTLY like me. But she was 28 and I was 10. I couldn't even talk. Now that I am older, every time I look in the mirror for my birthday, I remember that lady and the picture. I am a living photo of her daughter. Every year that goes by, is a year that I look more like that woman in the picture.
When I turn 28, I hope this memory will finally scare me less.
7.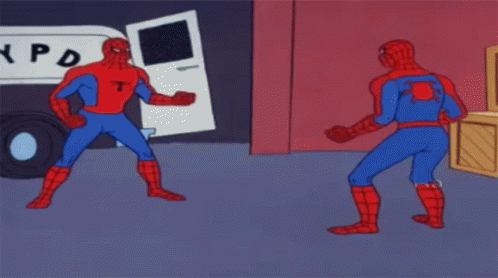 Giphy
A stranger I interacted with at Wall-Mart about 4 years ago is still engraved in my brain.
I was with my mom shopping, and we found ourselves at the yogurt section. I love this stuff, so I was looking around at all the flavors pretty carefully. Well, after a little while a searching, a older man came up and started also searching through as well. He was maybe mid 40s or early 50s. I remember him being really tall, and he had a resemblance to my features. He had my build, same skin complexion, same hair color, you name it.
As we're searching through, he chuckles and says how he's gotta find the perfect flavor, and I agree with him. It's like our little mission to find the best kind - it was a lighthearted feeling just searching through the brands and flavors with him. He asks what my favorite flavor is, and turns out we had the same favorite. I thought that was pretty cool.
A little bit more looking through the section goes by, and he introduces himself as John.
My name is Jonathan.
He then found the ones he wanted, which were the same brand as the ones I was getting, and he put them into his cart, smiled at me, and rolled away.
I have not seen him since, but every time I remember the story I can't help but think that there's always a possibility I met my future self - even if it's just a silly idea.
6.
​When I was fresh out of college I drove over two hours away for a job interview and got into a car accident like a block away from the building. My car was completely totaled. A woman who was stopped at the stop sign near my accident pulled over and got out to make sure I was okay. I was completely fine physically but have very bad anxiety and immediately had a panic attack. I was sobbing and couldn't catch my breath and this complete stranger sat with me the entire time telling me to breathe and just being so caring and supportive. She waited with me for the police to come, she helped me talk them through what happened, she called my mom for me, she even called the office I was on my way to so she could let them know about the accident and that I would call them to reschedule my interview. As if that wasn't enough, once she found out that I was that far away from home and it was going to take my mom two hours to get to me, she CANCELLED HER MEETING THAT SHE WAS ALREADY LATE TO SO SHE COULD DRIVE ME HALFWAY.
She did not think it was a big deal whatsoever. She just stepped up to the plate to help without question. I would have been completely alone and lost without her that day. She was an angel, honestly. I lost her business card between all the paperwork from the accident and I've been kicking myself over it for the last five years. All I want is to call her and tell her how thankful I am and that I've kept her in my thoughts ever since. Roxanne if you're out there, thank you so so much. And please for the love of god send me your last name so I can send you some flowers.
5.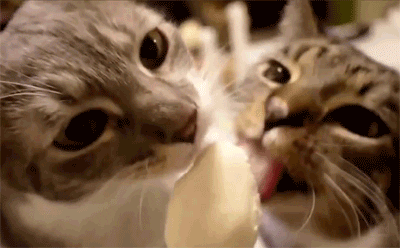 Giphy
I was having a rough day and I thought I'd get an ice cream to cheer myself up. I was standing in the line and this old lady looked at me and asked if I was okay. I said I was fine and just had a rough day. I got up to the front to get my ice cream and she tells the cashier, "I've got this young man, he's had a rough day". She smiles at me and says enjoy your ice cream. I still think of her whenever I have a rough day. I send her my good vibes.
4.
An old man I overheard telling his grandkids that if their dad got accepted to the job he was interviewing for in town, they would move there and then they could visit each other all the time. I never even saw the guy interviewing for the job but I really hope he got it
3.
A year after graduating from a tiny college on Idaho, I was at Disneyland with a high school buddy. I was totally convinced that I saw a college friend, Adam, in line at Pirates of the Caribbean. I kept waving at him, but he looked at me like I was out of my mind. My high school friend tried to talk me down, saying that "Adam" clearly had no idea who I was...it's not him...everyone has a twin...yada, yada, yada.
The line finally snakes around to where I am standing right next to "Adam" so I tap him on the shoulder and ask "hey, aren't you Adam M?" And he says "no, I'm his twin brother Aaron"
34 years later and I still tell that story at parties. I only met Aaron once, in 1986, in line at Pirates, but I do wish him...and Adam...a very happy birthday on Facebook.

2.
I met my husband's doppelganger once. The man looked EXACTLY like my husband. I was eith someone at the hospital waiting for their medical transport to pick us up and I saw who I thought was my husband across the street. My husband was supposed to be at work so I was confused. I called out to him but he didnt respond. My patient and I walked over to him but I stopped short a few feet away because I started to realize maybe it wasnt actually him. His clothes were different and this man was assisting someone in care giving type role -my husband absolutely would not do that.
The guy noticed me staring at him and so I explained why and even showed him a picture of my husband. He swore that was a picture of him and this was all some practical joke. I had to show him pictures of my husband and I together for him to realize the pictures were not of him. This man could have been his identical twin. I often think of that encounter and how insane it was. I also think of the astronomical chances that not only did my husband have a doppelganger but that we lived in the same city for a while and I happened to cross paths with him.
1.
Once I was walking to work past a homeless shelter pickup spot. It was a sunny day, middle of summer. A small lady was standing on the sidewalk wearing rain boots, a yellow raincoat, and wrapped completely in a blue vinyl tarp. As I walked by her, she leaned into me, looked me in the eye and said, "...fish monster...?"
I still think about her. Did she think I was a fish monster? Was she concerned that I had seen a fish monster? Perhaps she felt I was unprepared, and her questioning tone was more about if I'd heard about the potential of fish monsters.
Such a surreally complex interaction in just two words. One thing I know for certain is that whatever the fish monster status was, she was clearly the best prepared of everyone present.

Do you have something to confess to George? Text "Secrets" or "🤐" to +1 (310) 299-9390 to talk to him about it.
Keep reading...
Show less