The list of what irritates me is endless.
I mean... breathing too loud or dust can set me off.
I'm a bit unstable, yes.
But I'm not alone.
So let's discuss.
Redditor Aburntbagel6 wanted to hear about all the times many of us just couldn't control our disdain. They asked:

"What never fails to piss you off?"
I feel like this article can go on forever. Let's get some highlights.
Wasted Time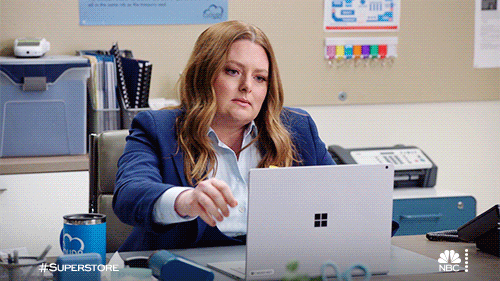 Nbc Im Done GIF by Superstore
Giphy
"Meetings that could and should have been an email."
Sirena609
Lotto People
"Getting stuck behind people playing the lottery at a corner store."
thenuggetlover
"I also used to work in a gas station and you're SO right. I f**king hated the lottery people. Especially since my store had a small staff and there was usually only one of us working at a time, which meant that I couldn't get any of my other work done as long as they were there."
"And you're right, it's also pretty sad to watch. I had one lady who used to come in every day and spent hundreds and HUNDREDS of dollars on scratch tickets. One day, she won $200 after spending probably around $600 and she was so excited and saying she can 'finally pay her bills.'"
i-am-your-god-now
Aware...
"No situational awareness. Job, home, shopping, driving. Think for one minute and go about. OBSERVE!!"
Dizzy-Foundation8122
"My mom is one of those people who leave the shopping cart in the middle of the damn aisle and proceed to walk twenty feet away. After correcting her a million times to no effect I just walk away now so people don't know I'm with her."
OutrageousEvent
Shut Up!
"Endless barking in the middle of the night, I love animals but that sh*t I can't stand."
Acceptable-Lemon2924
"Endless barking in general drives me up a wall. One of my friends dogs was barking almost an entire gaming session the other day. I wanted to reach through the computer and smack him for letting it go on."
bangersnmash13
Kindness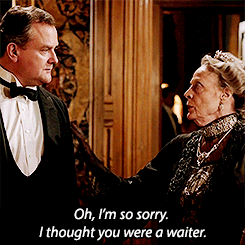 customer service waiter GIF
Giphy
"People being mean to service workers, especially if the workers are very young."'
scaryboilednoodles
All of these things. I hate them all.
Admit It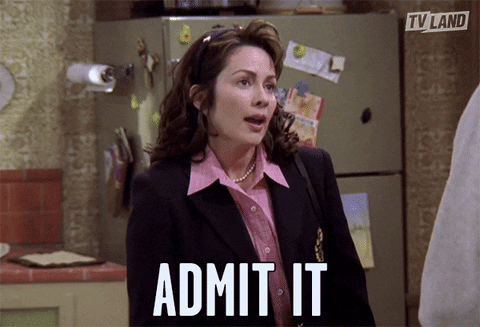 Admit It Tell The Truth GIF by TV Land
Giphy
"People who never accept fault when they mess something up. Like, why blame a million people when it was clearly you who did it???"
Quirky-Area-8978
From Above
"My upstairs neighbors."
lutzow89
"I had terrible neighbors at my previous apartment. It was a one person studio for students, but her boyfriend was clearly living with her illegally and he was loud."
"One night we knocked n the door at 3 AM because of the loud music and an unknown girl opened the door. I just thought they were having a little party. But the next door I saw the girl living there come home with a suitcase after having been away for the weekend... Her BF was cheating on her in her own apartment."
Th3_Accountant
Move Away
"People who sit directly next to me at the airport, movie theater, any other place where you can choose a seat when there is PLENTY of other seating."
BacardiPardy33
"I can't YES this enough and the ones who can't park for crap so they park so close you can't open doors on one side of the car or the ones who park directly behind when you pulled through so the door won't open to load groceries."
BacardiPardy33
It's Over
"People who try to restart old drama. Like I'm done with you, just leave me alone."
Tired_Potatos
"Yep, half the reason I've basically quit playing one of my favorite online video games. People keep bringing old crap up or sh*tting on on someone who used to be our friend. I got tired of it so I just ejected the game out of me."
CaucasianHumus
AHHHHH!!!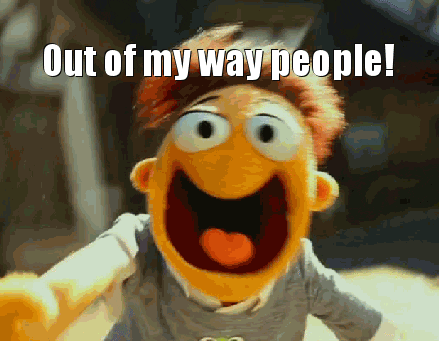 move leading GIF
Giphy
"People walking too slow in front of me with no way to get around them. It's even worse if it's a couple or group taking up the whole sidewalk. HAVE SOME SPATIAL AWARENESS FOR THE LOVE OF GOD!!"
_-v0x-_
Life in general pisses me off. I'm easy.
Want to "know" more?
Sign up for the Knowable newsletter here.
Never miss another big, odd, funny or heartbreaking moment again.
Keep reading...
Show less
Have you ever found yourself enjoying brunch or a few drinks with friends, when you find the conversation swerves into a new topic?
While the rest of your friends continue to talk about this topic with excitement, going into great detail, all the while, you can't help but ask yourself:
"Why should I care about this?".
Redditor RunikVarze was curious about which topics result in people immediately rolling their eyes, by asking the Reddit community:
"What is a topic you absolutely cannot give a f*ck about?"
Why should I know who they are?

"Which celebrity is dating whom, who broke up with whom, who got back together."- SuvenPan.
"TikTokers, influencers etc."- tyler980908.
"Celebrities' personal lives."- wut3va.
"Celebrities, royals and influencers in general."
"I'd rather talk about pinching glass."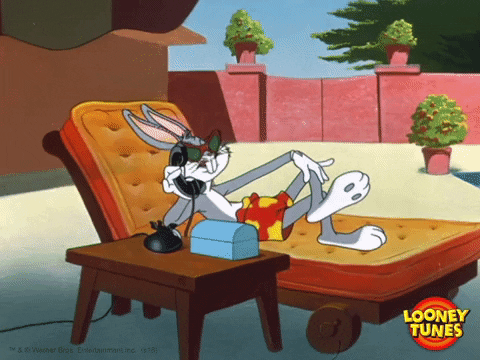 Happy Call Me GIF by Looney Tunes
Giphy
Ugh, not this again.

"Paid content with commercials."- MarshallBoogie.

"Anything on any ad played before a youtube video, ever."- ofsquire.
Rich people rewarding each other, how exciting...
"Any awards show."- Alpacazappa

Remember when people used to become famous for their talent?
"Reality singing competitions."- rickmitchel.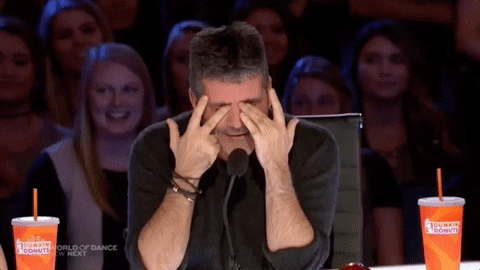 Simon Cowell Facepalm GIF by America's Got Talent
Giphy
Why not be surprised?
"Gender reveal parties."- CoachEvan15.
The things that people actually find interesting can be truly fascinating.
Perhaps the only thing more fascinating is that they actually expect other people to care.
Want to "know" more?

Sign up for the Knowable newsletter here.
Never miss another big, odd, funny, or heartbreaking moment again.

Keep reading...
Show less
My uterus.
That's it.
That's my most annoying body part.
Why is it trying to overthrow the whole rest of me?
Please make it stop.
Reddit user SolsticeofReach asked :
"What part of your body do you find annoying or weird?"
So it goes without saying that the uterus came up a lot - but we're just gonna go ahead and count my complaint as an entry because there is a loooooot that people hate.
Turns out bodies are annoying AF:
Streamlined For Sleep
"As a side sleeper I would love nothing more than to be able to remove my arms while I'm sleeping."
-BAustinCeltic
"Same but boobs too"
-supagirl277
"And legs too"
-Bender0426
"As a matter of fact just disassemble me and stick me in a box till morning"
-Ragingbull444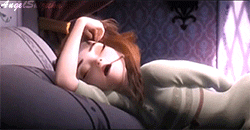 Giphy
Cheeks vs teeth
"Why do I bite my cheeks? Like WTF teeth!"
-Bikeboy76
"It makes no sense for our squishiest pieces to be pressed up against the spiky face bones."
- [Reddit]
"I hate that, so effing much."
-SolsticeofReach
"Aaah no! Once, I bit mine four times in one day and literally destroyed it"
-Euphoric_Question
Gobble Gobble
"The double chin in spite of being thin"
-MiaLedger
"I somehow manage to have a double chin and a 'turkey wattle' simultaneously. Frustrating and puzzling."
-Tiny_Teach_5466
"I was rail-thin until I was 29; I started growing a beard at 25. I shaved my beard once a few years ago, lo and behold I have a gobbler. Guess I'm not shaving again for a while"
-YandyTheGnome
Eminem Called It
"My knees, every now and then my knees just hurt randomly and I'm only eighteen."
-xxoreobabyxx
"yo, his palms are sweaty, knees weak, arms are heavy"
-Mr_Bank_Robber
"Moms spaghetti"
-thebucketoldpplkick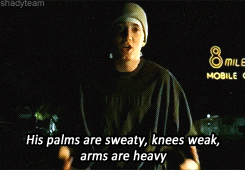 Giphy
It Feels Wrong
"I have a mole on the back of my neck and for some reason I can't stand touching it. It feels wrong. I think I ought to have it removed."
-tomorrowistomato
"If it bugs you, go for it! I had one removed that was under my bra band, because it kept getting rubbed and sore. I am thinking of getting the one behind my ear removed as well."
"Depending on how big it is, it can be a simple trip to your GP, and they will numb it, cut it off with a scalpel, and then cauterize it. In and out in like 45 minutes."
-ilike7hournaps
Furniture Detection System
"Pinky toe!"
"Like why the f*ck does it go sideways????"
-Inevitable_Dealer262
"It's your furniture detector"
-Gstfa
"A fleshy curb feeler"
-5hrs4hrs3hrs2hrs1mor
Water is a Homie
"My stomach, stop being hungry 24/7 omg"
-teejayiscool
"I don't wanna be annoying but I also don't know if you're aware so I'm gonna potentially be annoying - do you drink enough water?"
"It's great at curbing appetite when you 'shouldn't' be hungry. Headaches too."
"Water is a homie."
-OzManCumeth
"Water IS a homie"
-imaghostyouout
Popeye Calves
"My calves."
"They're cartoonishly large. Like Popeye calves."
"It's hereditary, I don't work out. The rest of my body is totally dad bod but my calves look like they live at the gym."
"They've been that way my entire life. If pant legs are too narrow, they get stuck on my calves. I don't wear skinny jeans but, even if I wanted to I wouldn't be able to get them on because calves."
"I've never seen anyone with calves bigger than mine."
-IShavedMyBallz4This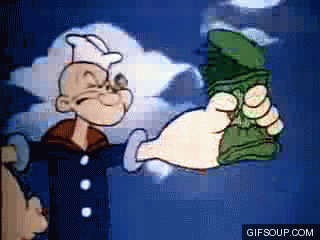 Giphy
Breathe Colors
"My tonsils."
"Apparently little food particles can get stuck in them and cause a sore throat? I'm 35 and it's happened to me twice in the last month."
"I've never had it happen before. What the heck?"
-HitNRun_
"I had that and I got them removed. They were covering 80% of my airway."
-supagirl277
"Can relate, I can breathe colors now"
-Pleasant-Pineapple20
Adding Up
"My back."
"I'm reaching the age where it does nothing but hurt randomly. Lol"
-GreatXs
"Same. It's not bad but the problems it causes add up."
"Left shoulder is lower and gets tight, left knee dislocates and both knees hurt from the effects of the unevenness, and ribs on left get sore from the compression."
-supagirl277
"Damn about the dislocations. My nerves pinch in my hips a lot more now since I'm less active than when I was younger I guess."
"I've always had a problem standing still in a spot and I would have to put one leg further forward to feel comfortable which isn't a long time regardless."
-Kage1
So what part of your body have you always secretly-not-so-secretly been annoyed about?
Let's hear it!
Want to know more?
Sign up for the Knowable newsletter here.

Never miss another big, odd, funny or heartbreaking moment again.
Keep reading...
Show less
I use the word 'literally' like, literally, all the time.
Am I a professional writer who understands that the repetition can lose some readers? Yes.
Am I educated and fully aware of the definition of the word "literally" and the fact that I almost never actually mean "literally" when I say literally? Also, yes.
Do I know it annoys some people? Also, also yes.
Am I going to stop doing it any time soon? ... ... ... I'll take that into careful consideration.
Reddit user matchless2 asked:
"What is a word that people need to stop overusing?"
So here's a whole article full of people who probably literally hate me. (hehehe)
Let's Just Start With The Obvious
"Literally."
- rs_yay
"I saw an ad for a meal kit service that said something like, 'My husband loved the salmon so much it literally killed him!' "
"RIP husband."
- madamguacamole
"High school teacher here. Sooooo many kids use this every other sentence and don't even understand the meaning. It's annoying, to say the least."
- NorwegianMuse
"I was kind of irritated by 'literally' being used figuratively for a while, but then I found out that 'fantastic' used to mean something literally from fantasy."
"It would have been just as wrong to say 'that's fantastic' if you weren't talking about a dragon or something."
"Now when I hear it I just think 'language be like that sometimes.' "
- TheRiverTwice
"I'm literally part of the problem... I let it slip into my vernacular and I can't stop 😩"
- Conscious_Camel4830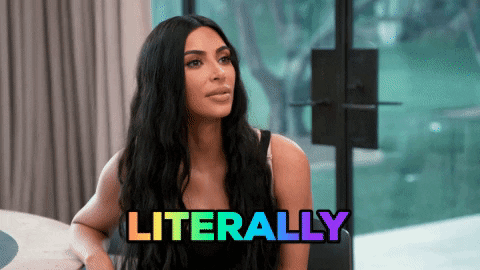 Giphy
Define "Influence"
"Influencer."
- B0J0L0
"Influencer cracks me up sometimes."
"Like the other day when someone tried trolling me by calling me an influencer. Ironically at the time he would have been the only person that I had influenced AND he had misread me anyway."
"Are that many people really influenced by 'influencers?' Wasn't the tag snake oil salesman descriptive enough?"
- Justthisguy_yaknow
"They do influence, just negatively."
- real_MainDepth
"Truly a word that has lost any positive connotation to it."
- floweytheflo
There's Usually A Precedent
"Unprecedented."
- stupidmacaroni
"I would like to upvote this comment a million times. I flinch when I hear this word now."
- Lexjude
"The amount of times unprecedented has been used is unprecedented."
- Funktastic34
"Holy hell I hate this word, even reading it makes me angry."
- popcorntongue
"Same. Everyone on TV was using it, 'these unprecedented times, these uncertain times.' "
"JUST CALL IT THE PANDEMIC BRUH."
- stupidmacaroni
"Unless they say it is 'literally unprecedented.' Then you know they're being for realsies. Because literally."
- GoodAsUsual
Gaslighting Is A Specific Thing
"Gaslighting isn't just another word for lying, it's a specific method of manipulation that involves making a person question their own perception of reality. It doesn't even require lying."
- CupcakeValkyrie
"And gaslighting is purposeful. The abuser is intentionally making you question your reality."
- hoyaheadRN
"It also doesn't just mean that someone is being stubborn or obstinate. If someone unreasonably or irrationally disagrees with you they aren't necessarily gaslighting you."
- 05110909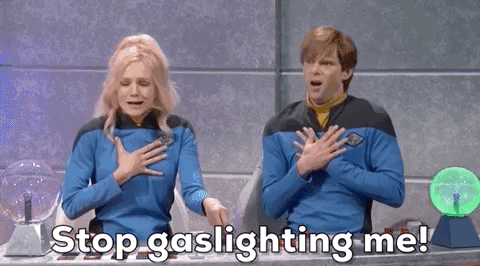 Giphy
Not Neat
"OCD, without actually having OCD."
- nepenthe17
" 'I like putting my dishes away after I wash them, but I'm just OCD like that.' "
- ostentatiousbro
"This is one of my pet peeves."
"My ex mother in law had OCD and it wasn't about being neat and keeping the cushions straight or lining things up right. It was a debilitating belief that if she didn't do certain things, that bad things would happen."
- Tendontearer
"I've met people with genuine OCD."
"They don't care about tiles being ill-aligned. They're touching the doorknob in the exact same spot for 37 times to stop something horrible from happening."
- UnoriginalUse
A Versus Anti
"Anti-social."
"Preferring to be alone is to be asocial. Psychopaths are anti-social."
- andbingowashishomo
"Just explained this to my landlord today."
"I am Asocial. A."
"A! Not anti!"
"I am not going to poison your dogs for sure."
- Critical_Macaroon_15
"I've been saying this for years, but at this point I feel like it's one of those situations where the language has evolved."
"I've literally never heard anyone say 'asocial', despite it being correct. And I feel like I rarely hear 'anti-social' used to describe actual anti-social behavior. It's far more often used incorrectly."
- imaginaryblues
War
"War."
"We've got a war against nearly everything. It waters down the tragedy of real war."
"Such as: We've got a struggle against obesity, not a war. I'm not near as scared of being in the middle of a bunch of fat people as I am of being in the middle of a real war."
- traws06
"I'm not sure how common this is outside the US, but a few years ago (it's still sort of around now, but its real heyday was almost a decade ago), the phrase 'War on Christmas' was all the rage."
"The inciting attacks of this conflict? Starbucks changed the design on their cups, more people embraced the phrase 'Happy Holidays', and schools changed 'Christmas break' to 'Winter Break'."
"Because of that, people started protesting by either boycotting Starbucks or ordering under the name 'Merry Christmas,' discussions were had on the news, and at least two full-length movies were made about this new 'threat' to our way of life: 'Christmas with a Capital C' in 2010, and 'Last Ounce of Courage' in 2012."

- Aegis_et_Vanir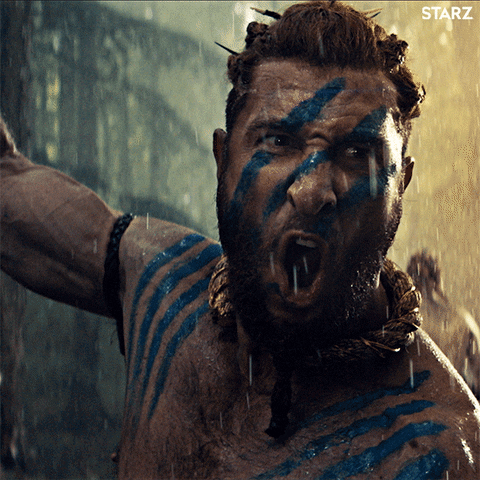 Giphy
-Gate
"Anything -Gate"
"PizzaGate, Bountygate, now SlapGate.. plus 12 million others I'm forgetting."
- Xennial_Potato
"I will make an exception if Matt Gaetz is involved in a scandal, especially involving a fence."
- Dexaan
"I support calling the allegations against him PizzaGaetz, but agree that '-gate' in general needs to stop. I actually wonder if people think '-gate' is somehow synonymous with 'scandal.' "
- NC_Goonie
Something To Be Solved
"Problematic."
"The word is supposed to connote that something is difficult to resolve or decide, as in a problem to be solved."
"It was used to point out that ideas needed more debate because questions were left unanswered, or apparent contradictions were unresolved. It was a word needed more in academia than in daily discussion."
"Now it often seems to mean something along the lines of 'I do not like this person or their beliefs'."

- TradeDeadline
Sports
"Adversity when in the context of sports."
"For instance, if a football team loses two games in a row and wins the third the Coach goes on TV and says 'this team knows how to pull through adversity' and I roll my eyes every time."
"That's not adversity. That's sports."
- Upstairs-Try6583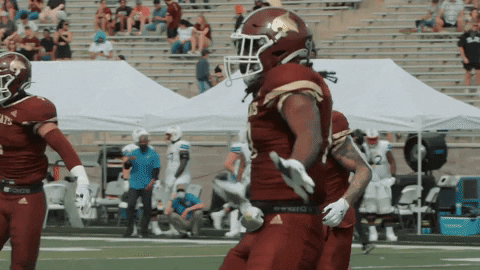 Giphy
I know you read through this list with more examples popping into your head the whole way through.
So tell us what they were!
Want to "know" more?

Sign up for the Knowable newsletter here.

Never miss another big, odd, funny or heartbreaking moment again.
Keep reading...
Show less
How many times have you said "I've heard this before" or "I'm sick of it?"

People are tired of hearing the same old thing time and time again.

Promises, lies, and nonsense.
We're tired on personal levels, professional levels, and even global levels.
Redditor fireonpluto wanted to discuss all of the aspects of life we want everyone to just shut up about... they asked:

"What's something you're sick of hearing?"
I'm tired of hearing about how things will get better in DC.
"EEEEEEEEE....."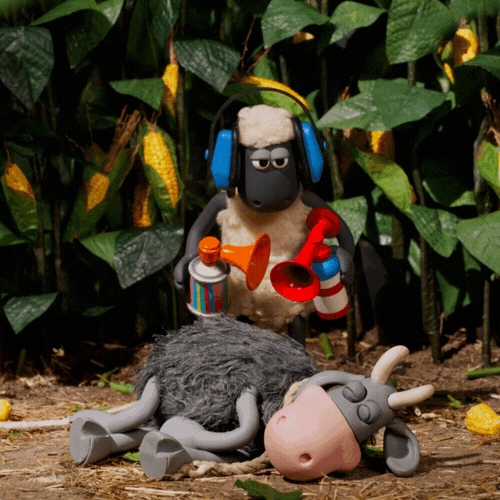 Sleepy Wake Up GIF by Aardman Animations
Giphy
"The ringing in my ears."
vargo911
"It's fun that as you get older, and more stressed, that ringing gets worse. Very fun."
HellaFishticks
Unpumped!
"For the past two weeks it's been the phrase 'pain at the pump' every time I turn on the news."
moonchilddakota
"Especially since it was like 7 year ago that we had similar gas prices to what we have now. And gas was that expensive for a long time. It feels less of a pain 7 years later."
Carbon-Based216
"I hate that! As soon as the war began it was gas prices this and gas prices that... no wonder it's all people can think and talk about!"
missladycorpse
Tuned Out
"Hey do you know this song? HA HA... probably not it's not your generation"
"As if you were forbidden to listen to music older than you."
Xeraphore
"I am 20 and get this less now, but I love reading about history, especially 20th century American political history, and during my teens I used to always get the 'how do you know that? You weren't even alive then.' It just made me mad. I started responding 'How do you know about Julius Caesar you weren't even alive then.'"
Aarizonamb
Over the Shock
"In these unprecedented times…"
Winter_Cheesecake158
"In these unprecedented times, times are more uncertain than ever, and now, more than ever, these unprecedented times are uncertain. Now, with this uncertain new normal, we're all in this together."
JesseCuster4
"Came here to say this. We've been dealing with this crap for over two years. It's past unprecedented at this point."
WickedHello
5 More Minutes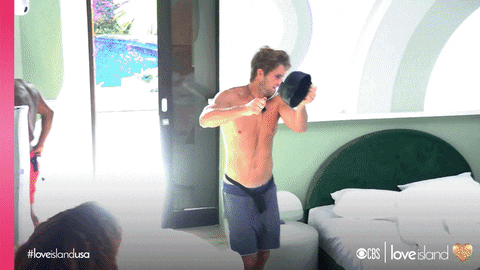 Cbs Love GIF by LoveIslandUSA
Giphy
"My alarm every morning."
Meii345
"Do you ever get so annoyed by the sound of your alarm that you start to hate whatever the song or melody is. And I it instantly gives you anxiety anytime you hear it out side of being woken up???"
KitanaFury
I hate my alarm. It hates me on a personal level. Though I'm the one who sets it...
"bye"
"Stay healthy!"
"Yeah, that might be a nice sentiment, but, dammit, all it does is reminding me of that virus, and for a while, this was being said all the freaking time to the point that it was on the verge of fully becoming dystopian 'bye.' And the way it makes my anxiety spike surely doesn't help me 'stay healthy,' so f**k off with that crap.
User Deleted
What Year is This?
"The other day my kid's school accidentally sent out the weekly announcements email from 4/14/2020 instead of 3/14/22. It started out normally enough, but about two sentences in it started getting weird. 'Distance Learning continues this week… Whether you and your family are sewing masks together, baking special breads, or holding zoom meetings with friends… thank you for your grace…. our teachers maintain a sense of normalcy …. during these unprecedented times…'"
"I was like WHAT FRESH HELL IS THIS?! Distance learning WHAT? The mask mandate ENDED this week! Zooooooom meetings with FRIENDS? Aaaaaaaargh. cue Smurf-village-style running."
Majestic-Cheetah75
"not as bad as"
"'It could be worse." or 'At least you're not…' in response to me expressing why something has me in distress or sad. Like bro, I have no freaking clue how that's supposed to help me either feel less anxious or solve the problem. But thank you for your 20 seconds of wasted breath. There's always going to be a problem considered 'not as bad as' but it doesn't make it any less of a problem. Rant over lol."
lllexj
It's Important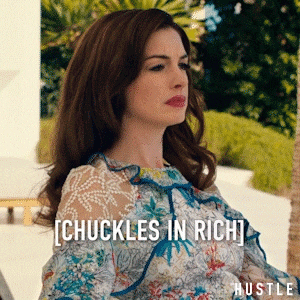 Chuckles Rich People GIF by The Hustle Movie
Giphy
"Beautiful people will tell you that 'looks aren't important.' Rich people will tell you that 'money isn't important,' and those people will tell you that you got 'tHe wRoNg PrIoRiTiEs iN lIfE' if you chase either of those."
Mirikah
I'm exhausted of all of it.
Want to "know" more?
Sign up for the Knowable newsletter here.
Never miss another big, odd, funny or heartbreaking moment again.

Keep reading...
Show less