Life's little annoyances are usually minor however, we all have that specific thing that for some reason sends us over the edge. Like when you are in line at the store and someone's rude and obviously spoiled as heck kid is having a fit over some gum, toy, or other and the parent just stands there baby-talking them rewarding the behavior.
Children are all different and parenting is not one size fits all. But you know the type, that mom probably wants to speak to the manager, too.

Redditor ChrispyRiceeee wanted to hear what super specific things grated people's nerves. They asked:
"People of Reddit, what really specific thing annoys the hell out of you?"
Everyone shared what specific thing annoyed them the most.
YEET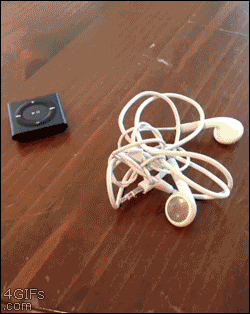 headphones earbuds GIF
Giphy
​"When your pant pocket/earbud wire gets caught on the doorknob and pulls u back" ILikeYou72
Showing off what exactly?
"The a**hats who pull up to a gas pump at a station, open the windows and crank their sh*tty music so you can hear every rivet and loose bolt buzzing...and sit there. They're not even getting gas, they just want to make the world an objectively worse place." StarChaser_Tyger
Misogyny...
"During May, I had 3 guys hit on me hard through the online games. They know nothing about my personality, didn't bother to ask, but just kept wanting pictures and personal information and trying to insert themselves into whatever I'm doing."
"One of them would not stop pushing his sexuality onto me until I blocked him. The other two treat me like a little fragile girl in need of rescuing. Dudes, I'm fine! Stop! It's such a waste of time and I'm practicing being less polite and passive about it." gibcyndaquilpls
Struggles of the vertically challenged.
"When I'm stretched out to my max capacity to reach an item and it's still JUST out of reach." madalyng
"Ghost flights"
"The last specific thing I remember getting real pissed about was ghost flights. At the beginning of the pandemic, flights were running without passengers because if they just stayed on the ground they would lose government subsidies. So they flew around without any passengers wasting insane amounts of jet fuel for government benefits." Heterodocs
Things That Are Normal Where You Live But Crazy Anywhere Else | George Takei's Oh Myyy
Youtube...
"Sometimes YouTube gets stuck with the pause button over whatever I'm watching until I press the screen again. I've gone to press the screen to get rid of it a millisecond after the pause button goes so many f**king times. The act of clicking brings the button back up and then I have to click it another god damn time to close it again."
"The whole time this is happening I am fuming and not paying attention to what I'm watching, so I have to rewind 10 seconds and start the cycle again. It brings on Alex Jones levels of anger for me." MountainCourage1304
Um excuse me!
​"People who walk side by side slow as shit down the aisle in the store. They're juuuust far enough apart that you can't squeeze by them, and at least around my parts, when you say excuse me they just ignore you." DavidoTheBanditio
​Usually when you've got a mouthful of food...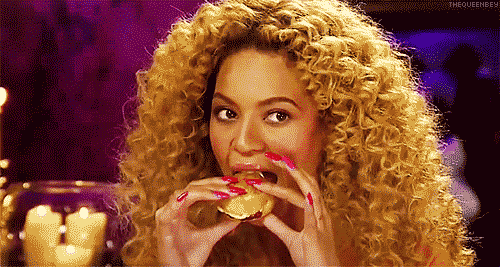 Beyonce Eating GIF
Giphy
"When I'm trying to have a conversation at a restaurant and I'm interrupted every 5 minutes by 'hows everything tasting?'. It's made worse by the fact that I don't want the waiter/waitress to know I'm annoyed because they're just doing their job and I'd be an a**hole. But I mean...once you serve me my food you don't have to check in anymore." Open_Independance_67
Just take no for an answer...
​"When people ask you if you've seen/heard something and when you tell them "no" they act all shocked then repeat the question even louder. You then repeat 'no' while fighting the rising annoyance building up inside."
"After the second 'no' they proceed to exclaim how they can't believe it and either insult you for it or start telling you how great it is. By that point you're already tuned out but trying not to be a dick about it and have no desire to see/hear said thing." RomanovRyddle

Some may think the small things are petty but on a bad day they all add up.
Want to "know" more? Never miss another big, odd, funny, or heartbreaking moment again. Sign up for the Knowable newsletter here.
Keep reading...
Show less
We go to a therapist with clear expectations. We want to be listened to, we want to be supported unconditionally, and we hope to be guided toward a clearer understanding of ourselves and the internal states that drive us.
So it can be jarring when our therapist cuts against those expectations. It feels like the rug has been pulled out from the place that, by definition, ought to be a safe space in a world that doesn't always feel like that.
Unfortunately, as a recent Reddit thread illustrated, those moments of poor therapy are all too common.
Redditor Eesah_adams asked:
"What's the most annoying thing you've heard from a therapist?"
Many people talked about the times a therapist trivialized the issues that were significantly impacting their lives. There's nothing worse than feeling the need to justify your feelings to the professional who is supposed to believe them.
The Power of Baths
" 'you're a child you have nothing to be upset about' and also a common one within like 'have you tried to cure your depression with tea or a hot bath?' in the most condescending tone ever" -- bigfrogbi***
"How about a HOT BATH in TEA?" -- Karam2468
Oh I Hadn't Thought of That
" 'Have you ever tried not drinking?' I had been struggling with alcoholism for ten years by this point. I walked out after he said he didn't think I had tried hard enough." -- ftsunrise
"I had a GP say this to me after I told her my anxiety was exacerbated by alcohol. It's so condescending and unhelpful." -- noiesferatu
Fanning the Flames
"Went in because I had started having panic attacks. Was told by a female pdoc that I should have a baby and go back to college."
"Yep - the best way to deal with stress is to become a first time mom at 40, work full time, and go to school at night. Wtf? I got a referral to a therapist and never saw that doctor again."
Why the Follow Up?
" 'You're not ill enough to be here, please don't make any more appointments.' "
"It was our first appointment, I was having panic attacks nearly every day and could hardly function."
"She called me again a few months later asking why I hadn't made any appointments and I told her to fu** off."
-- FreddieGregg
Other Redditors described times when the therapist said something so demeaning it actually made them feel worse than when they walked into the session.
Bit of an Escalation There
"Years ago I got an appointment with a therapist that was supposed to be an expert in memory loss associated with mental disorders. I have Bipolar disorder and my memory loss is linked to that."
"She seemed really nice and easy going to talk until she told me 'you know, people like you can kill someone and will not remember it'... I was just like... I'm most likely to forget I have already had dinner and have a second dinner... Never went back."
-- ariamar
Did She Hear the Whole First Part?
"I was talking to her through my program because I was experiencing burnout and severe anxiety as a result. I couldn't get out of bed in the mornings because the anxiety was so debilitating."
"During our first session I was telling her about the cycle of trying to push myself to do stuff, committing and then having debilitating anxiety about it and not being able to get out of bed to show up. And how that would lead me to be more anxious from the guilt of not going and it was becoming a vicious cycle."
"And she said 'well that's just disrespectful to those whom you committed to and you need to just show up.' "
"Umm yeah I know it's disrespectful. I am talking to you because I need to figure this out. She was only interested in clearing me from a safety perspective so my program could sign off on my continued participation."
Piling It On
"Beginning of lockdown, schools are closed and my husband and I are attempting to manage a toddler, home school 2nd and 3rd grade children, and work full-time hours in industries where the workload increased dramatically."
"Took it in turns to teach the kids in 2-hour chunks and relied on Disney and minecraft to keep them otherwise occupied. Worked from 8am to 11pm most days, no down time for us for 6 weeks. Called the EAP due to increased stress and guilt."
"Was told that my kids were consuming too much screen time and I would be a better parent if I restricted them to a maximum 30 minutes a day."
"Strangely, that advice did not reduce my feelings of stress or guilt."

-- BonzaSonza
Other times, Redditors were simply taken aback by what their therapists said. These comments either came way out of left field or showed a total lack of good judgment.
Plot Twist
"I don't know if this counts, but I was expressing how anxious I was to my therapist a few years ago. She stops sipping her drink, sets it down, and goes:"
" 'Oh, yeah, I diagnosed you with an anxiety disorder the day I met you. I just didn't tell you.' "
"The day I met her had been a YEAR previous to this conversation. I was appalled and furious. Why wouldn't you tell me?????"
"Anyway I have a new therapist now and I love her."
Hot Take
"Okay so I love my therapist but sometimes psychoanalysts stretch things a bit. Anyways when i was 15 I did a lot of creative writing and showed it to her. The piece of writing I was showing to her had characters traveling through an underground tunnel. So she said."
" 'your mother had a C - section. I think you write about tunnels because you subconsciously miss the experience of traveling through the tunnel at birth.' "
Not What They Had In Mind
" 'You're gay? You should move to San Francisco. There's a lot of gay people there.' " -- LollipopDreamscape
"I agree. Wanna pay for my apartment there?" -- Veauros
"Was this 1952? WTF?" -- Yeeteeth_thy_baby
Here's hoping that if you ever do need some help working through things, you get it from someone who doesn't say wild stuff like this.
Want to "know" more? Never miss another big, odd, funny, or heartbreaking moment again. Sign up for the Knowable newsletter here.
Keep reading...
Show less
Some things need to be banished from this planet – like fruitflies.
Seriously, what is their general purpose in life other than to annoy us?

Where do they even come from? One summer, I thought I got rid of them after reading online you can have a glass of vinegar or red wine and cover the top with saran wrap that has holes poked in it to trap the small flies once they are lured in by the sharp aroma.
It worked. However, a few mornings later, there was a new legion of fruitflies buzzing around my bananas. Damn them! They can just f'k right off!
Reddit WolfBearPup wanted to know what things in life people wanted out of their lives by asking:

"What can just f*** right off?"
Insects

How can something so small be annoying AF? Because when there's a swarm of them, it's an absolute nightmare.

Crawlies
"Ticks and all of the diseases they carry."
"Limes can F'K RIGHT OFF"
They Come Out At Night
"Cockroaches + their flying cousin."
"I was on a bar once and a cockroach flow into MY NECK!!!! Urgh. Oh god. F'k it right off."
Blood Suckers
"Mosquitoes."
"Mosquitoes I can handle. They are awful, and I will scratch myself till I bleed. But ticks... they pretty much make me want to rip off and burn all my clothing then scald myself in the shower. I hate them, so, so much. My grandparents had them on their property, my grandma's dog took off into the bushes once then came back and my grandmother said she could just see her fur writhing with ticks."
My grandma would sit on the floor with the dog until she picked them all off. I know she pulled 137 out of the dog's hair in one session once. They'd also fall off the dog and scurry off into the house waiting to find you. F'k them, f'k ticks and their lyme disease and general creepiness."
Winged Nuissance
"Ugh and flies. They're too f'king dumb. Always flying in circles and going back and forth, always missing the door/window opening to get out. Just choose where you wanna go, and go there!!!"
Behavior
Some people just really rub us the wrong way.
Irresponsible Shoppers
"People that don't return their shopping carts to the corral. We live in a society."
"I would also add parking lots that don't have enough corrals. Each row needs at least one corral, it is a nightmare getting a cart between cars."
– willstr1

Don't Kill The Messenger
"Retail worker here. For me it's people who get aggressive when they think the price of something is too high. What am I gonna do about it? Seriously?"
– vegewis

Entitled Smokers
"I'm ready to yeet the people who try to argue over the price of cigarettes. I don't make the prices, I have to abide by them. The gas station I worked at in 2018/2019 was a block down from the county line. The other county has a huge city and that county has high cigarette and alcohol taxes. Newports were just under $10 when I left. The other county was $12.73 the last I heard from customers. I had people flip and demand Newports for $5-6 per pack and let the drawer be short. I told them either pay the price or go to the Speedway up the street."
Invisible Annoyance

You can't see them, but you know they're there.
Mental Health
"Depression, anxiety, and all other mental health disorders in general."
"They can feel so heavy and so incredibly hard to f'k off. You tell them to f'k off and they just don't f'k off. So yeah. They can f'k RIGHT off."
Migraines
"A headache that's starting to build."
"I've replied to hundreds of comments and f*cked a lot of things off, but I think I finally need to sleep. If I didn't get to you I'm sorry! I hope some kind souls f"k some sh*t right off for you!!! I'm completely knackered."
"Whatever is troubling you can f'k right off!!!"
The Viral Pathogen
"[The virus]"
"Please. Please let it f'k right off."
These Have Overstayed Their Welcome – Yet Were Never Welcomed
"Cancer. Parkinsons. Alzheimers."
"I'm terrified of Alzheimers after watching my grandma develop it. Yeah. It can absolutely f'k off."
It's pretty evident there are a lot of things that should rightfully be wiped from existence.
But based on the personal experiences shared on this subReddit, the biggest offenders were not pesky pests that can be exterminated.
Mankind's real enemies were of the microscopic variety – including the virus responsible for the pandemic and a number of diseases like cancer that can't just be swatted away.
They can most certainly f'k off for good. It's just time.

Keep reading...
Show less
Not a day goes by that we don't come across some recycled platitude, some well-worn pearl of wisdom, or an absurd saying that ceased to be helpful long ago.
But don't hold your breath on those cliche messages going away any time soon.
It seems that interacting humans, in a constant effort to connect and be seen, opt to say things they can be sure the other person has heard and understood already. The nod of the head, however automatic, only confirms the effort.
But relatable isn't always good.
In fact, according to a recent thread of Redditors, those cliches all amount to meaningless drivel.
CaptainGisseno asked, "Reddit, what is the most cliche message you're just sick of hearing?"
Many people pointed to the repeated phrases they hear as consumers navigating the landscape of travel, shopping, and customer service.
No doubt you've heard these before, and nearly screamed involuntarily when you did.
Could Have Fooled Me 
"Your call is important to us." -- HMCetc
" 'Due to higher than normal call volumes...' "
"Been calling this number for almost ten years. At what point is a 60 minute wait just the normal, average call volume? Why lie to me?" -- killerqueen5
Well, Hopefully It's Up There 
" 'Your safety is our top priority.' No it isn't. Profits and shareholders are." -- frostymargaritafan
"Translates directly to 'Liability is our top fear.' " -- Aboot_
"This vein, 'The safety of our employees is our number 1 concern.' No it isn't just stop trying to lie. Nobody who works here believes you."
"So save those few seconds, add them up, and use them on something useful. Like actually helping your employees." -- PingKiccolo
Bandwagon Activism 
"Buzzwords such as 'diversity' and 'sustainability' in company mission statements. Like, if every company would actually enact their mission statements, we would be the greatest world." -- chrimimi
" 'Carbon neutral by 2025'- meaning 4 more years of fu**ing the planet before any action is taken, if it even will be taken."
"The worst is when companies continue to do the same shit and simply buy credits from Tesla or whatever and then proclaim to be green." -- Megalomouse
Others brought up the cliche messages that are infuriating for two key reasons: they don't actually make any logical sense, and they serve to make people feel guilty for no reason at all.
Can't Talk About Everything 
" 'Why is no one talking about '____??' "
"Because we are all bombarded by incredible amounts of information on a daily basis and busy living our individual lives. Stop guilting people for not talking about something they had no idea about previously."
"Shouldn't"
" 'You are young, you shouldn't have any problems' " -- GayBrandFlakes
"As a hiker that goes out on long distances with older friends and people in my community, this is absolutely a huge pet peeve. It's like, sure Margaret, I may be 30 years younger than you, but 20miles in a day still gives me some soreness." -- underminer223
Thanks for the Reminder
" 'There are children starving in Africa' "
"Then why do I have to force myself to eat more than I can handle? Give the rest of the food to the starving kids then."
"If anything, mentioning starving kids when I can't eat something will make me eat less because of how guilty I feel for actually having food when they don't."
Good to Know, But Irrelevant 
" 'Someone else always has it worse than you, be grateful' It still doesn't change my situation one bit." -- ChristianStonks999
"exactly that just makes me feel bad for whoever has it worse and makes me feel no better" -- AwesomeRailfanning
"My favorite response to this is to point out that it goes both ways - if you're saying that can't be sad because someone has it worse then me, then i guess I can't be happy because someone has it better then me." -- BrackishBloop
And finally, there were those essential, supposed tidbits of wisdom that one is supposed to keep in mind as they navigate life.
Unfortunately, those quotes only sound nice. They're usually very off-base.
Nope
"'You're perfect the way you are' "
"No, you're not. This thinking completely removes any personal accountability and improvement, and allows hubris and zealotry to fester."
But It Would Be Nice 
"Follow your dreams"
"*Side effects may include being a broke chump, not being able to provide for those who depend on you, and in severe cases a lifetime of regret when you realize your dreams aren't as neat as they seemed. Best results were seen in patients who were financially successful before following their dreams. Tell your doctor about real-life sh!t you need to take care of before following your dreams."
Sorta, But Not Really
"'Time heals all wounds.'
"No, it doesn't. Time alone may help heal many wounds, but it doesn't necessarily close them. Especially in the realm of mental health, many issues require additional help, therapy and sometimes medication. Simply trying to wait out a problem sometimes just makes the problem larger."
So next time you come across some age-old adage or piece of advice and it makes you want to scream, rest assured you're not the only out here seeing how useless it is.
Want to "know" more? Never miss another big, odd, funny, or heartbreaking moment again. Sign up for the Knowable newsletter here.
Keep reading...
Show less
They say there are no dumb questions. Well, that's debatable.

Being inquisitive and seeking information through research is commendable.
And there's nothing wrong with asking where you can find the cereal aisle in a grocery store you've never been in -- with the understanding you're not making the inquiry while standing in the said aisle.
Curious to hear from the experiences of strangers on the internet, Redditor nonlinearcharm asked:

"What's a question you absolutely hate being asked?"
Keep reading...
Show less