Mothers can agree that the greatest gift is having a child.
But even blessings such as the miracle of birth have consequences, say, on the social lives of parents.
Amy Schumer and her husband Chris Fischer welcomed their first "royal baby" boy on May 5 – within an hour and a half before Meghan Markle and Prince Harry welcomed their first child who is also a boy.

However, as far as actress Jennifer Lawrence is concerned, it's "ho's before bro's," or in this case, babies.
While her bestie is undoubtedly over the moon for Schumer – who suffered from a debilitating pregnancy – Lawrence misses her late night interactions with Schumer prior to the arrival of baby Gene Attell Fischer.
Lawrence's frustration was evident in a hilarious text exchange that wound up being a one-sided convo for the Dark Phoenix and The Hunger Games actress.

Schumer shared a screenshot of the text in which Lawrence had an urgent inquiry pertaining to Hulu's The Handmaid's Tale.
Jennifer Lawrence Jokes She Is Resentful Of Amy Schumer's Baby! https://t.co/ACmtQBFMow https://t.co/tPbKONRZzx

— The Cruzy (@The Cruzy) 1560974937.0
Lawrence just needed to know about a certain plot point from the critically-acclaimed show.

"You up? I have questions about hand maids take."
"Tale"
"It's an emergency"
When she didn't hear back from Schumer, who presumably used to be a night owl before adjusting to motherhood, Lawrence cranked things up a notch.

"Amy!!! What did she do on season 1 to deserve being in the gallows on season 2"
Jennifer Lawrence watches @HandmaidsOnHulu too😍❤ Lmao i love her ❤❤ #JenniferLawrence #TheHandmaidsTale… https://t.co/LhkYxcHMpJ

— ~ Lu ~ (@~ Lu ~) 1560921367.0
After carrying on a conversation with herself, Lawrence finally addressed something based on a hunch.

"I can't remember where I left off. Are you asleep bc of the baby??? Are you asleep before 11? Is this bc of the baby? Don't make me resent the baby"
"Wow"
"Ur really asleep before 11. I'll be damned"
The Trainwreck actress and comedian WAS asleep and responded to Lawrence the following morning.
"Everybody keeping their cool about me having a baby," Schumer wrote, with the words scrawled across a screenshot of Lawrence's needy text.
@TMZ @TooFab That's SO funny!😂

— Marie (@Marie) 1560969085.0
@HuffPost There's nothing worse than a friend who thinks you have to be on call 24/7

— dapperD (@dapperD) 1560970133.0
Just give Jennifer Lawrence a recap of The Handmaid's Tale already https://t.co/iYPxO1GMta

— Metro Entertainment (@Metro Entertainment) 1560941945.0
@todoxjlaw @HandmaidsOnHulu @amyschumer I heard Jen's voice on my mind while reading this lmao 🤣

— 🏹 𝒋𝒖𝒏𝒊𝒄𝒆. (@🏹 𝒋𝒖𝒏𝒊𝒄𝒆.) 1560921650.0
On June 5, Schumer acknowledged a sacrifice had to be made.

"Oh ok so I can't watch handmaids anymore. #filledwithregret"
This isn't the first time Lawrence engaged in a solo convo with Schumer via text.
In April, she wrote:
"What're you doing tonight? You and chris wanna get dinner? Or hang? Also about to go to the park."
After she was left hanging, Lawrence canceled the proposed rendezvous and wrote:
"Haha I can't get dinner tonight I have plans."
Schumer finally chimed in and quipped:
"Good talk."
Schumer and Lawrence have been very close since the pair were spotted vacationing in the Hamptons in 2015.
A movie starring the two as sisters and written by both of them is still in development.

During her pregnancy, Schumer suffered from a condition called hyperemesis gravidarum in which the 37-year-old actress had perpetual morning sickness and left her dehydrated, forcing her to cancel shows.
After successfully giving birth to Gene, courtesy of her birthing team including her husband Chris's doula, she wrote in an empowering pregnancy takeaway post:
"Men are cool and whatever but women are f*****g warriors and capable of anything."
It's been over a month, and as Schumer is acclimating to her new role as a mom, dishing on The Handmaid's Tale can wait.
Right, Auntie Jennifer?

If you missed what happened in season 1 OR season 2 of The Handmaid's Tale, you can get season 1 here and season 2 here. Of course, you could always read the book.
Keep reading...
Show less
Amy Schumer can't ever catch a break from her numerous haters, but fortunately the raunchy comedian can always give as good as she gets.
Over the last nine month,s Amy Schumer has been giving followers a candid inside look at the heartwarming and often hilarious joys and discomforts of pregnancy.
From her one of a kind maternity photos to some truly worrying health scares, the brutally honest comedian held nothing back.
And finally, just two weeks ago, Schumer and husband Chris Fischer finally welcomed their beautiful baby boy Gene into the world.
The journey to motherhood had been pretty tough for Schumer who suffered from a condition known as hyperemesis which made her violently nauseous throughout her entire pregnancy.
At the end of it all though, Schumer shared an inspiring post saying it had all been worth it.

After such a challenging pregnancy, one might assume Schumer would take some much deserved time to recuperate.
But just two weeks later, the warrior mom was back out doing what she does best: making us all laugh.
This week Schumer shared an image of her first night back on stage post-baby with her followers on Instagram, announcing in the caption, "I'm back!"

amyschumer/Instagram
Supportive fans were astonished with how quickly Schumer made it back on stage.

therealaliwentworth/Instagram

robinfitz/Instagram

profemilyoster/Instagram

felicityward/Instagram
But of course haters were also there to mom-shame and call Schumer out for everything from her privilege to leaving her new baby too soon.

Ipearstrom/Instagram

tsegui1/Instagram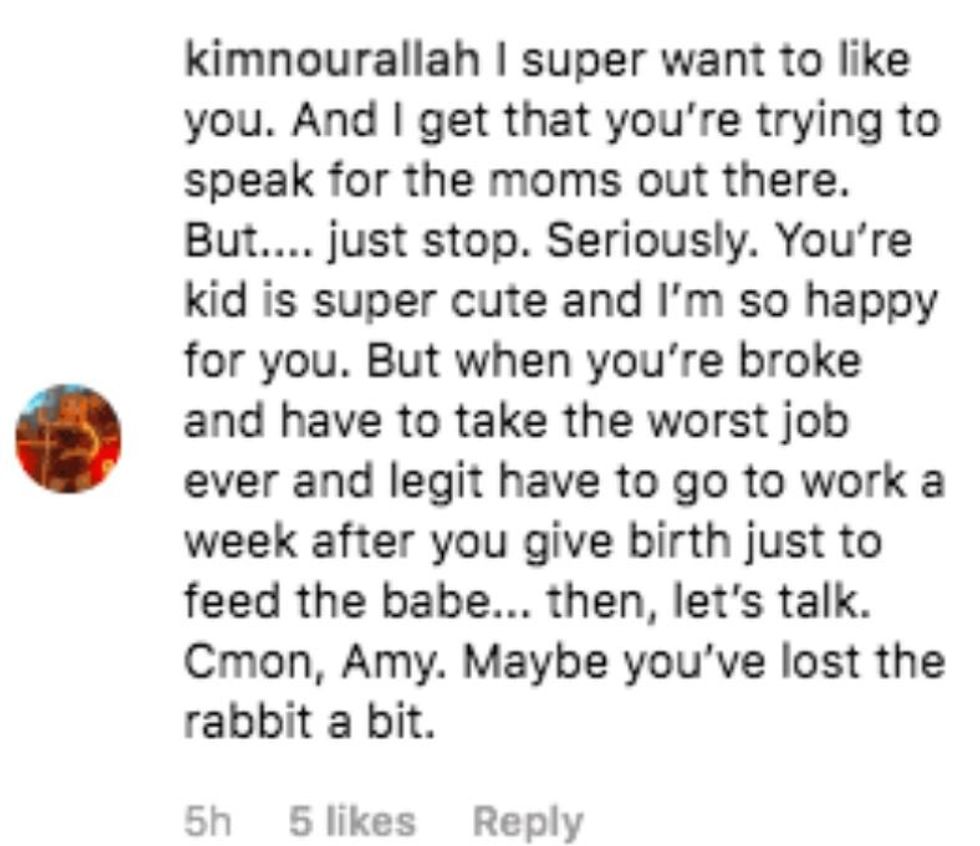 kimnourallah/Instagram

tcjackson2015/Instagram
In true Schumer fashion though Amy had a shout-out to all her haters up on Instagram the next day.
The candid post featured Schumer using her breast pump with a special message for all her mom-shaming critics out there.


amyschumer/Instagram
It was pure classic Schumer, and fans were of course there to cheer on the unstoppable new mom.

therealdebramessing/Instagram

j__vedder

melissamolinaro/Instagram

francesfischer/Instagram
It seems like nothing can stop Amy Schumer which is probably why we love her.
Now we're just dying to hear Schumer's hilarious take on parenthood in a few months.
Keep reading...
Show less
Comedian Amy Schumer gave birth to Gene Attell Fischer on Saturday and admitted on Instagram that she was putting up a post-baby "annoying post."
But it was anything but annoying.
In fact, the new mom's inspiring words about her complicated pregnancy wound up empowering women everywhere.
The 37-year-old posted a photo of herself cradling baby Gene and wrote her takeaway from the pregnancy beginning with, "Women are the s**t."
"Men are cool and whatever but women are f*****g warriors and capable of anything," she wrote.
Schumer continued thanking her birthing team and her husband Chris's doula, Domino Kirke — who's married to actor Penn Badgley.

"I was lucky enough to get to have a doula. Her name @domino_kirke @carriagehousebirth what do doulas do? I don't totally know But what she did was make me and Chris feel totally secure and supported throughout my pregnancy and the birth process."
"I really recommend getting one if you can. Doctor Brill and all the nurses and pediatricians at Lenox Hill and all the other hospitals I spent time in this year, thank you for everything."
During her pregnancy, the Trainwreck actress had to cancel some shows because she suffered from hyperemesis gravidarum, a condition marked by constant morning sickness that often leads to dehydration and weight loss.

"I did Pilates with strong women and went for walks. I threw up violently and felt sick mostly every day of my pregnancy."
"Hyperemesis is real and it's awful. But fuck, what they say is true. The second you give birth it's gone."
Fortunately, she found a solution.

"@hgmoms has the best research I found on the condition The only thing that helped me with my nausea was products from @thelordjones. I learned that globally 1 in 5 births take place without the assistance of a skilled birth attendant."
She also suggested how you can help expectant mothers in need of help in Guatemala and thanked her staff for their undying support after many visits to the hospital.

"@everymomcounts is a great place to donate $250 equips a midwife with a bag of medical equipment needed to provide care to hundreds of women and babies in Guatemala. All my friends. Friends I've had for 30 years or people who encouraged me to 'keep going' or telling me 'it will be worth it.' Thank you."
She felt a kinship with her encouraging female friends and medical experts who have helped her along the way.

"Every woman I encountered is so willing to help and advise you and I felt all their strength. And you were right. Thank you ladies from my family. Chris, Gene and of course Tatiana #titsleaking #wearingadiaper"
Her words are exactly what many women need to hear as they face their own challenges towards motherhood.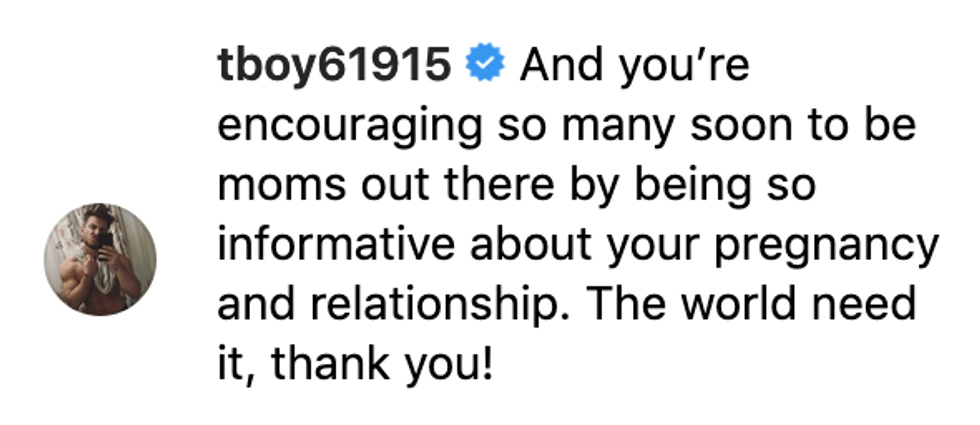 @amyschumer/Instagram
Reality star Paris Hilton and fellow actresses Rosanna Arquette and Amber Tamblyn sent her some love on Mother's Day.

@amyschumer/Instagram

@amyschumer/Instagram

@amyschumer/Instagram
Her post received 929k likes and praised her for being a "Warrior Queen."


@amyschumer/Instagram

@amyschumer/Instagram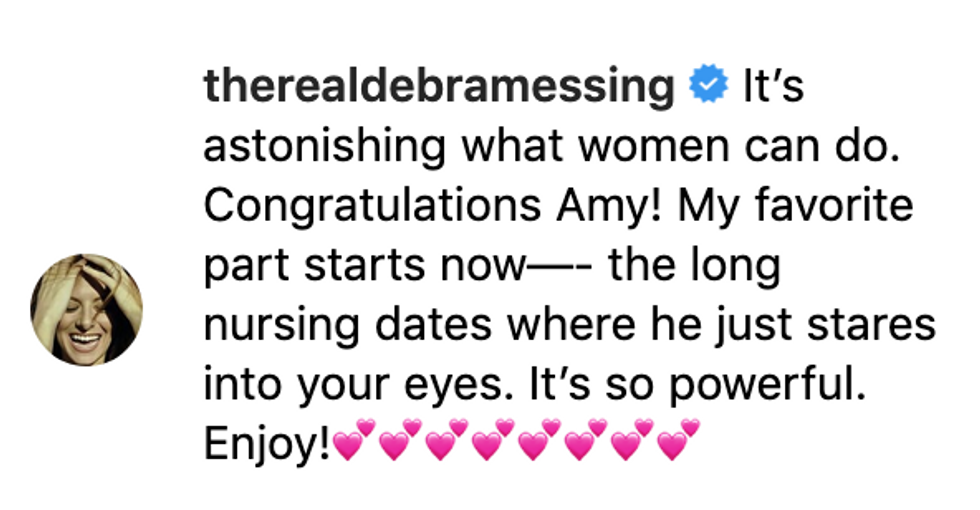 @amyschumer/Instagram
This user shared her own experience and some assurance.


@amyschumer/Instagram
Others continued showering her with mommy love.


@amyschumer/Instagram

@amyschumer/Instagram
Schumer and her husband Chris Fischer, 39, welcomed Gene on Sunday and announced the news on Monday's Instagram post.

She humorously wrote in the caption, "10:55 pm last night. Our royal baby was born," as a nod to Meghan Markle and Prince Harry welcoming their newborn son just a few hours later.
Congratulations, Amy! You are undoubtedly a fierce warrior and a beautiful mom.

Keep reading...
Show less
Amy Schumer is still pregnant.
I know, it feels like she's been pregnant for years.
Schumer and her husband Chris Fischer are still expecting their first child.
Along the journey, Schumer has been very open about her experience, whether that be the highs of seeing your child for the first time on the ultrasound, or the lows of vomiting.
Recently however, she took to Instagram to remind people that she's very aware she's still pregnant.
The caption for the Instagram photo reads:
"Oh yeah does it feel to everyone like I've been pregnant for a long time? It must be getting annoying to you all that I'm still pregnant"

"Well imagine how I feel mother fuckers!!!!!! #soblessed #hatemondaysloveweekendstho"

It would seem some people have been commenting to the comedian directly about how long it has felt, forgetting she's the one who is actually carrying the small human inside her.
Schumer announced she was pregnant in October. Since then she's shared her experience with pregnancy, both the good and bad.
It got particularly bad when she revealed she was suffering from hyperemesis gravidarum, a condition that causes extreme nausea and vomiting with her pregnancy. It was so bad, she had to cancel shows from her tour in November.
Sharing her experience has brought support and others sharing their experience.

@amyschumer/Instagram

@amyschumer/Instagram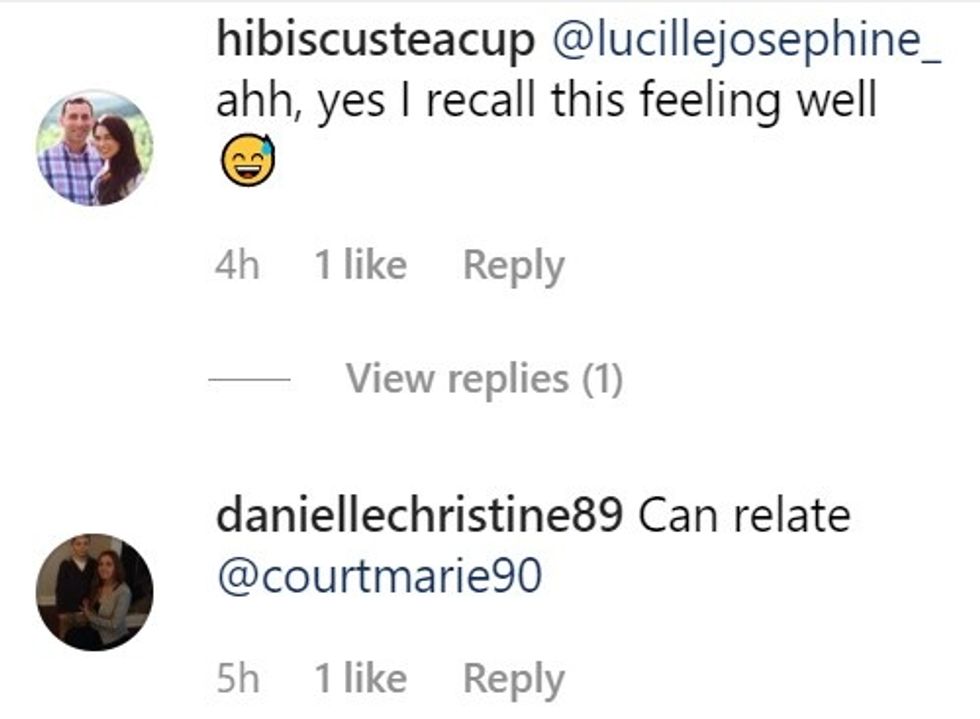 @amyschumer/Instagram
People have been following Schumer's pregnancy feverishly. At one point, due to poor word choice, people had thought she was done with her pregnancy.

She had recommended a book to her followers saying it had helped get her through her pregnancy. Using the past tense had made people think it was done.
There was a follow up Instagram post that clarified.
"Amy is still pregnant and puking because money rarely goes to medical studies for women such as hyperemesis or endometriosis and instead goes to things like d— not getting hard enough or old guys who want harder d—."


Schumer has maintained her humor through the rough times, even when she got a particularly interesting cake for her baby shower.
But seriously, how long has she been pregnant?

@amyschumer/Instagram

@amyschumer/Instagram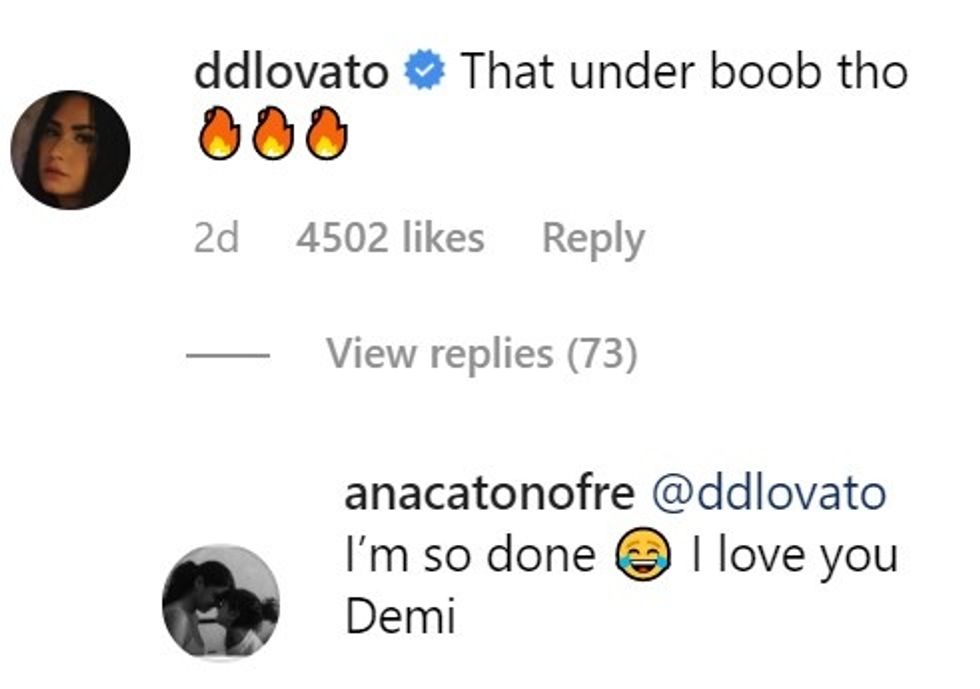 @amyschumer/Instagram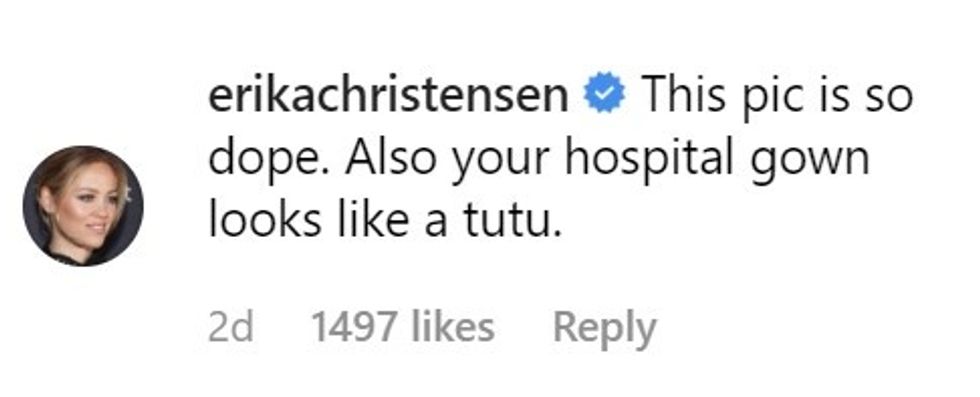 @amyschumer/Instagram
Rest assured, when Schumer has her kid, you won't have to ask. The news will probably be plastered everywhere.

Just try to not act so exasperated when you're surprised an expectant mother hasn't given birth yet.
Keep reading...
Show less
Whether she's on stage or on screen Amy Schumer is known for her brazen,no-limits comedy, but her Instagram followers known that behind the scenes the comedian is even more irreverent. So it's no surprise that Schumer is taking the same unabashed approach to being pregnant.
For most celebrity moms-to-be pregnancy entails at least one over-the-top maternity shoot, but leave it to Amy Schumer to once again buck tradition and go her own way.
Instead of being surrounded by flowers or traipsing through a forest in a couture ball gown the comedian opted to strip down and chase ducks naked through a New Orleans park for a priceless maternity shoot that fans are just in love with.
"On a chilly Nola morning it's best to chase ducks with nothing weighing you down except a baby," Shumer wrote on Instagram.

Schumer also took on the traditional "walking through a forest" shot with her characteristic humor, posing naked in a Louisiana swamp while covering herself with two handfuls of moss.
The photos accompany a new, "brutally honest" profile of Schumer by the New York Times in which Schumer talks about her polarizing comedy and the challenges of pregnancy.
"Thank you @zinomanjason for your profile on me," Schumer wrote in the caption. "Brutally honest. My favorite kind of honesty. See you in another 10 when you write about me again."
The maternity shoot was classic Schumer and fans were loving her humor and fearlessness.

lesleigh_hayes/Instagram

tonya.lynn/Instagram

dewbber68/Instagram

murkynerd/Instagram

normamahuff/Instagram
Much like her comedy Schumer has taken a self-depreciating, take no prisoners approach to pregnancy.
It's been a wild ride so far and Schumer has invited fans to follow her journey every step of the way, posting often about the up and downs on the road to motherhood.
Earlier this month Schumer shared a hilarious post on Instagram about pregnancy cravings and she chowed down on some beignets.
And back in February Schumer showed off her moves as she joined a dance team practicing for Mardi Gras in a New Orleans park.
Though pregnancy hasn't been all fun and beignets. Schumer suffers from a condition called hyperemesis. Instead of the traditional morning sickness Schumer feels almost constantly nauseated.
Schumer told the New York Times that by her estimate she has vomited almost 1000 times since becoming pregnant.
But being who she is Schumer hasn't shied from sharing that part of her pregnancy too.
As one might expect from a comedian though Schumer has channeled all the joy and discomfort of pregnancy into her new Netflix special called Growing which will be available on the streaming service March 19th. If it's even half as funny as her maternity shoot you aren't going to want to miss it.
Keep reading...
Show less