Whenever we visit a foreign country, we always want to try and blend in with the locals.
But be it our clothes, our accents, or just our scared, vacant expressions, sometimes, blending in is simply impossible.
Particularly for Americans.
Indeed, American tourists have several unfortunate stereotypes associated with them, which people all over the world can spot instantly.
No matter how hard Americans may, or may not, try to hide it.
Redditor Ermland2 was curious to hear what people considered the telltale signs someone was American, leading them to ask:
"What's an obvious sign someone's American?"
It's All In The Greeting.

"In Salzburg I went to grab something from the drug store."
"As I was checking out I said hello to the cashier (thinking there was very little difference between how I said it and how Austrians say it)."
"She immediately started speaking to me in English and I asked her how she knew I spoke English."
"She deadpan stared me in the eye and goes 'hellloooo'."
"I just about died laughing since I'm a very stereotypical friendly American that says hello exactly like that."
"One of my favorite memories from that trip."- Ted_Dance_Son
"'Hey, how are ya?'."- vorifo2709·
"Che Strano"!
"An Italian told me that Americans walk confidently in the wrong direction."- MagazineOk6401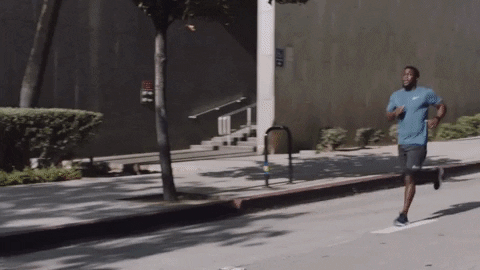 kevin hart running GIF by ADWEEK
Giphy
Can't Deny This One...

"They want ice in their water."- gianna_in_hell_as·
Just A Turn Of Phrase
"'How's your day going?;" or 'how are you doing?' in completely random circumstances."- KanyeWest_Official
"Incredibly loud but incredibly friendly."- Caozpox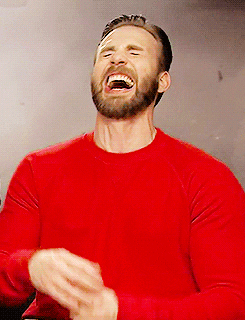 Captain America Lol GIF by mtv
Giphy
Sometimes They Do Actually Put Their Money Where Their Mouth Is
"I worked as a cashier in a touristic place in Paris."
" I always recognized Americans because they were kinda friendly to me and they always left tips."- Aterakel
Asking Questions They Don't Want The Answer To

"Retail worker here, not living in the US."
"I can generally spot an American because they greet me with 'hey how are you?"
"And since I usually have the standard 'tired from life' retail worker expression at first I thought they were mocking me so I didn't know how to react."
"Took me a while to realize they weren't really expecting an answer lmao"
"Mind you, might just be my personal experience but it's happened too many times for it to be a coincidence."- 8Eriade8
"When I lived in Spain, the barista at Starbucks immediately knew I was American because how polite I was."
"I asked him how he knew I was American and he told me, 'In Spain, we don't usually respond with 'Good, and you.' Americans are so polite whereas Spaniards will just say 'Give me my coffee'."
"So, I stopped responding nicely and baristas wouldn't speak to me in English anymore."
"Culture clash!"
"I just want to clarify and say that my story only really applies to a niche people in Spain."
"This does not represent the whole country."
"Just a few rude bad apples."
"For the most part, people in the country are nice and people in the city too."
"The barista was simply remarking on Americans and our penchant to be overly polite."
"Customer service have to deal with a lot of rude and unkind people, same in America."- Agitated-Coyote768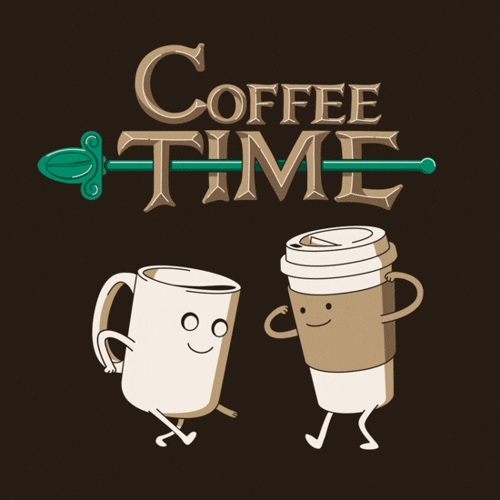 Adventure Time Coffee GIF by hoppip
Giphy
What Are You Smiling At?...
"The gentle grins you give to strangers if you make eye contact with them as you pass by, at least in the Midwest."
"Was not well received in Germany."- Vkazioa
...And What Are You Looking At?
"Eye contact."
"Maybe a smile and a 'how's it goin?'"- A_Man_Who_Writes
Keep Your Distance
"How much personal space they give themselves."
"Americans like at LEAST an arm's length."- Zonerdrone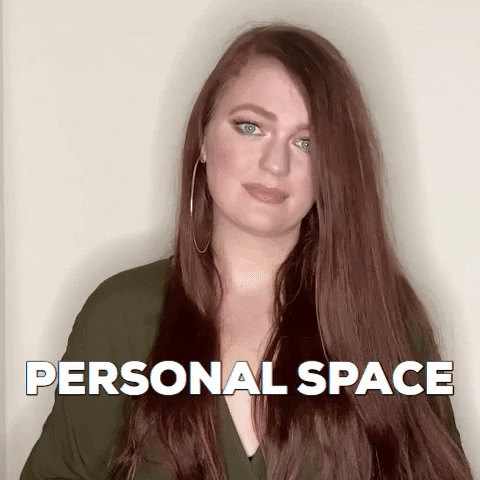 Get Away No GIF by Kathryn Dean
Giphy
"When You're Not Strong, I'll Be Your Friend..."
"According to the cia- when training to be a spy- you have to unlearn how to lean."
"Americans tend to lean on things when standing still."- chonesmcskidds
It's All About The Volume
"To quote a Latvian woman I met at a hostel: you hear them coming like the thunder."
"More often than not, if they're talking and laughing louder than everyone else, they're American."- MCRN_Lopez
The Truth Behind The Grin
"One American I've met was a bit stereotypical in some regards."
"He was on a biking tour from Sweden to Palestine, had an unusual beard, huge white teeth, was extremely friendly and a bit loud, and he literally carried a bucket of peanut butter with him because he said that was the most efficient way to carry energy for his travel."
"I was an intern at a software company that just got bought by a huge American company (Warner I think) and one time some executives were visiting, walked through our office complimenting all the developers loudly and then disappeared again."
"My general impression of Americans I've met in person is that it's difficult to see what you guys really think and feel, because you seem to hide it behind a layer of aggressive cheerfulness."
"So when I see someone radiating that, I expect them to be from the US."- Netcob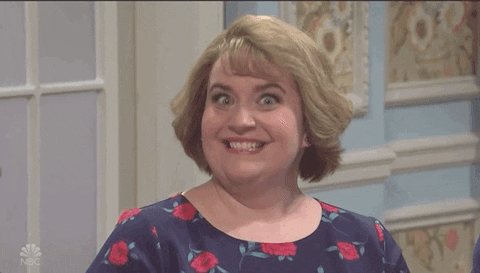 Snl Smile GIF by Saturday Night Live
Giphy
Of course, not everyone is ashamed of being an American, and will make no trouble hiding it.
Then again, even if they did, they most likely wouldn't have been able to fool anybody...
Americans, we sure are an eclectic bunch.
We don't realize just how eclectic until we're outside of the country looking in.
Some of our traditions, several of our rules and TONS of our laws are kinda all over the place.
That's why people love to visit from all over.
Who doesn't want to see the zoo animals from inside the cage?
Redditor Specialist-Anybody3 wanted to discuss the aspects of life Americans found ordinary that others don't. So they broached the question:
"What things are normal for Americans but weird for non-Americans?"
We Americans have some funny ways to live.
And everybody notices.
Privacy First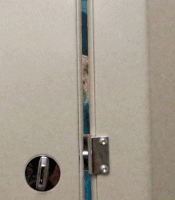 toilet creeping GIF
Giphy
"Large gaps above, below and between the bathroom stalls..."
KimPTM
"Holy Jesus this! So nice to poop in private in Europe. I have no idea why the US does this!"
hhgfryhjkoo
Travel Tips
"If you drive for five hours in the United States, you're pretty much still in the same place. If you drive for five hours in Europe, everyone's talking funny and the cheese is different."
KaimeiJay
"In the US, 100 miles is nothing, 100 years is a lot. In Europe, 100 miles is a lot, 100 years is nothing."
"The stone retaining wall for the front of our property (here in Germany) is dated 1846, and it's nothing special. Many of the houses in the old part of our small town are 1300 and older."
insainodwayno
Dates...
"Writing the date format as mm-dd-yyyy instead of dd-mm-yyyy."
silkybow-
"This actually worked to my advantage. I'm a Brit and moved to the US when I was 20. I'm not a big drinker but was still mad I couldn't get a beer. Then I realized that my DOB on my driving license would be read backwards making it appear I was a few months older and therefore 21. It never got turned down and I used it a lot."
UncleKodeia
"I work 911 dispatch. We have to write it at work as yyyy-mm-dd. Don't know why, but we do."
TheUnconfirmedk1ll
Mental Gymnastics
"Having to mentally add sales taxes on everything you buy. In Europe 9.95 means paying 9.95."
AaronBenne
"I thought we had this problem in Canada but I didn't realize just how much worse it was in the US until I moved here. In Canada, we have a VAT based tax so in Ontario, you just add 13% to the price to find the final price. Annoying, but not complicated."
"In the US, your sales tax changes based on your location increments smaller than a zip code because tax jurisdictions and zip codes were made separately. You have to basically use the exact address to figure out what tax jurisdiction you're actually in. It's practically impossible to know what actual tax you're gonna have to pay unless you've shopped there before or look it up."
BuccellatiExplainsIt
Nonsense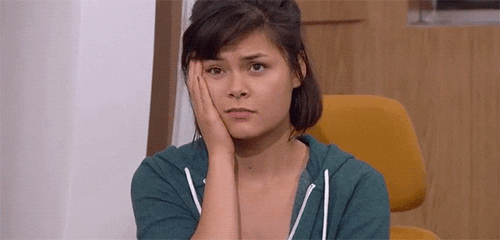 cbs wow GIF by Big Brother
Giphy
"The fact that an 18 year old can drive and buy a gun while still being considered too young to drink alcohol."
Monika396
Some "rules" make no sense to many of us.
Years and Years
back to school college GIF by Rodney Dangerfield
Giphy
"Paying for college for 30 years after you graduated."
pingerlol
"That happens in England now, as well."
"But agree, for most developed countries, the idea of having an educated population is seen as a good thing that benefits everyone and should be affordable."
dannydevon
Attachments
"Attaching medical insurance to employment. One shouldn't have anything to do with the other."
jimjamjimmerson
"Also, having a co-pay when you are covered, and a limit on what is paid. So, people are discouraged from seeking treatment early and for preventative care and can get financially ruined despite having coverage. It is a disgrace."
NameOfUserOfReddit
"I know, I've always thought that was odd. That is one thing I will never understand, America's healthcare system. How can your job be linked with your healthcare?"
BabySham8
Control
"HOAs like wtf. No other people who don't pay your mortgage telling you how to maintain your home."
throw_away_17381
"I've always thought this was the dumbest s**t. It's usually the fancier neighborhoods too. If I ever strike it rich, I'm buying a plot of land in the middle of nowhere and doing whatever the hell I want with my house. What's the point in having all that money and a house of your own if you decide to move somewhere where your property isn't under your control?"
Notthesharkfromjaws
'Hey, you need surgery'
"Seeing a possible serious medical problem with yourself and going 'ehh.'"
xx_Fiddler_xx
"I straight twisted a testicle. Since I didn't know this was possible, and I grew up on a farm so apparently my pain tolerance is pretty high, I thought it was no big deal."
"11 hours later is when I finally got off work and decided to go to urgent care."
"A total of 16 hours before I went in for surgery. I haven't gotten all the bills yet, but the one I did get has a doctor charging me $500 just to tell me I needed surgery. Not for the ultrasounds, or the surgery itself, or the follow-ups. Just to tell me 'hey, you need surgery.'"
"The worst part is, this is after the bill was run through 2 insurance programs."
StrayAI
Security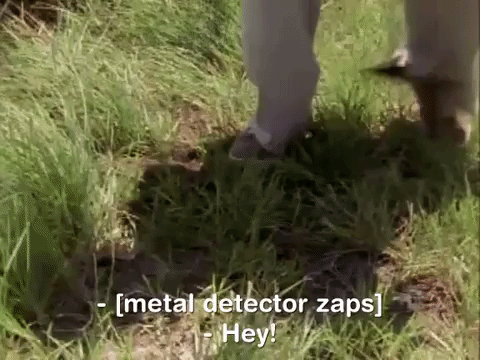 the mystery files of shelby woo nicksplat GIF
Giphy
"My friend attended his cousin's high school graduation in LA a while ago and he had to go through metal detectors and all that, as if he was going through airport security. So I guess metal detectors at school."
yeetgodmcnechass
We Americans are an interesting people.
Do you have anything to add? Let us know in the comments below.
There are so many places to travel to and see in America.
That's one of our mottos.... "See America first!"
But as majestic as this land is, there are places to avoid; thanks to high crime rates, broken down cities, bad weather... to name a few.
So a list of the least popular places could be helpful.
People only have so much travel time in life.
You want to make it count.
Redditor jhffmn21 wanted everyone to detail which parts of America may not be worth the visit and why. So they asked:
"Americans of Reddit, what is the worst big city in the USA and why?"
I could skip a few places, but I'll be kind and stay quiet.
Hadestown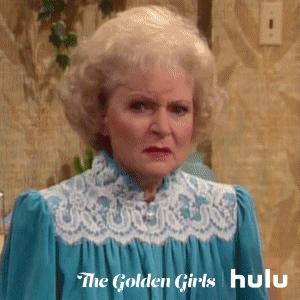 Over It Rose GIF by HULU
Giphy
"Bakersfield or Fresno pretty sure the devil has part time vacation homes in both of them."
Ok-Trash-798
"Fresno's unofficial motto being 'At least we're not Bakersfield.'"
Kongo204
Wild
"I passed Camden NJ on a way to a concert - and we stopped at a light and a cop drove up and literally told us 'just run the reds and go do not stop' and as we turned you would just see groups of ppl on corners waiting for a stopped car. It was wild."
MarsReject
"I live an hour from Philly and had to explain this to my wife several times about Camden. She didn't believe me until I ran a red there in front of a cop and nothing happened. She didn't understand then how dangerous Camden can be."
StoryAccomplished938
Back to 55
"East St.Louis, stopped once for gas. Didn't think I was going to make it back on 55."
Nature_Goulet
"Was both prepared and a bit saddened to see East St. Louis at the top. It really is that bad and there's no debating it. Crazy amounts of crime, decrepit businesses, broken down neighborhoods. It's rare to have a night without sirens and gunshots. Would rather take my chances in most war zones than in East St. Louis and I'm a native."
cbb88christian
Mr Trash Wheel
"I haven't been to every city in the US. But Baltimore could use a little cleaning up since we're on the subject."
carcinoma_kid
"Awh! Basically one of the only things I know about Baltimore is that it's the home of Mr Trash Wheel and family (the pride of the Baltimore harbor??) and I imagined it as a trash free oasis protected by the Trash Wheel clan... Bummer, I need to get out more."
julez007
"I think every city has great parts. But in my opinion worst parts of Baltimore is pretty... out there."
StewofPuppies
Bodyguard Needed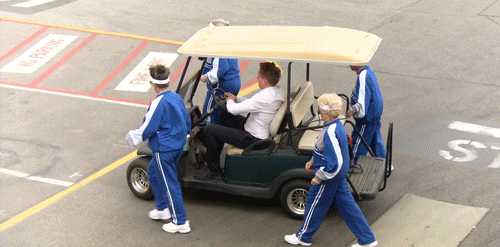 conan obrien bodyguard GIF by Team Coco
Giphy
"Springfield."
canadianzonkey**ck
"I did a wine tasting event in Springfield, when it was over the bar owner insisted on walking me to my car, which I could see from the venue, I told him it wasn't really necessary and he just looked me dead in the face and said 'this is Springfield, yes, it is very necessary.'"
RUfuqingkiddingme
Places you can't walk to your car? That's a no.
So Bland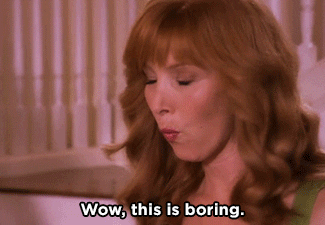 Over It Wow GIF by The Comeback HBO
Giphy
"The worst cities are the most boring cities- the most devoid of personality. So I'm going to say Jacksonville, Florida."
seanofkelley
Poor Places
"Jackson, Mississippi. Very high murder rate, low education, failing infrastructure."
"EDIT: yes I know Jackson isn't a very big city. It just sticks out as being in bad shape."
Cute-King5456
"Jackson was eye opening for me. Where I'm from being 'poor' means you don't have a car or the latest phone and your apartment has roaches. In Jackson if you're poor you don't have shoes or running water. It's like a banana republic that can't grow bananas."
scumbagstaceysEx
Different Sizes
"I hesitate to answer this because the worst cities in America aren't big cities. It's medium and small sized cities that have been hit the hardest by economic changes."
"Places like Gary, IN; Pontiac, MI; Bridgeport, CT; and Lowell, MA. Industrial cities that lost all their jobs and experienced depopulation and rising crime."
"But I don't know, maybe Hartford. There's just nothing there. It's insurance companies and street gangs. That's it."
simplepleashures
So Hot!
"In my opinion, of the ones I've been to... Miami."
"Anywhere outside of the nightlife scene is absolutely dangerous."
"For example, Wynwood, the art district, is LITERALLY in the middle of one of the worst possible neighborhoods. You enter or exit Wynwood from the wrong direction, don't stop and wait at red lights."
EmployeeRadiant
What Happened?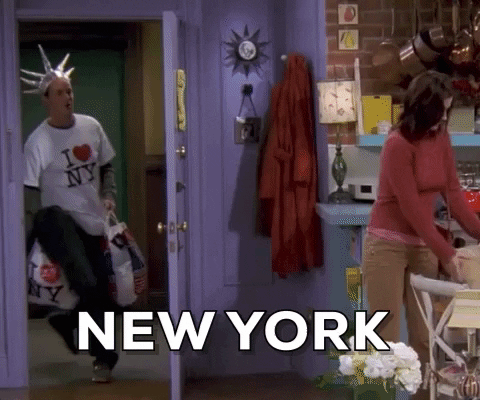 Is Awesome New York GIF by Friends
Giphy
"Charleston WV, used to be so vibrant and bustling was supposed to become NYC in the mountains is now a dead zone with a struggling infrastructure and an economy that can't keep itself afloat add on the homeless problem which makes all of downtown look like a giant skid row."
_elbon_22
That's a long list of travel... to skip.
An English friend was shocked when they visited me once and found that I actually have a kettle. I do! And I use it all the time. "Shall I put the kettle on?" is a common phrase you'd hear in my apartment.
But many Americans do not have one. Tea just hasn't caught on here the way it has in the United Kingdom, so UK residents are always baffled by this. The kettle is a way of life!
But enough of what foreigners might be surprised to find in our homes. Let's talk about the things they would find. For instance, peanut butter. I always have peanut butter in my home. And I think a foreigner would be shocked if I didn't!
Non-Americans shared their thoughts with us after Redditor Rylx asked the online community:
"Non-Americans, what do you think every American person has in their house?"
"A switch..."
"A switch that when you flick it it turns your sink into a blender."
Kingdom-Kome
This is a funny way to describe a garbage disposal.
I've never had one but have been in quite a few homes over the years that do!
"Popcorn..."
"Popcorn setting on their microwave!"
[deleted]
Believe it or not, I don't have one! Not having a microwave might have something to do with that.
"Apparently..."
"Apparently Americans are rather fond of Pickles and Peanut Butter. Is that a fair assumption to make?"
tree-of-lies
Well, not combined, but yes.
"This fascinated me..."
"Oh oh, the washing machines where you put everything in the top! This fascinated me when we visited the states. They're huge!"
Tired3520
My friend has one where the dryer is actually at the top! That should blow your mind.
"Large quantities..."
"Large quantities of over-the-counter drugs in huge bottles."
Wombattalion
Like Tylenol and Ibuprofen?
Yes, actually.
"A plastic bag..."
"A plastic bag filled with plastic bags."
bird-137
Perfect for the bathroom garbage can!
"Every American household..."
"Every American household has a drawer full with random stuff (died batteries, screws, shoelace etc.) right?"
Firm-Ideal5256
Ah, the junk drawer!
Speaking of which, I need to sort through mine.
"A coffee machine..."
"A coffee machine with large glass jug full of black coffee being kept warm. The UK mostly has electric kettles for making hot drinks individually."
UnfinishedUntidy
I do not have that one — I have a mocha pot. It's simple!
"A fridge..."
"A fridge with ice dispenser built in."
FunAccountant7632
I have one but the ice dispenser isn't hooked up. I've made do.
"A dishwasher."
"A dishwasher. All of you have one, right?"
SakuraUnicorn
Ha, I wish! I am the dishwasher. Always have been.
To the rest of the world, Americans have a ton of different luxuries. Honestly, all I want is a laundry machine. I hate washing clothes in laundromats (and that's precisely why I have other people do it for me).
Have some thoughts of your own? Tell us more in the comments below!
There's little more exciting than an American's first visit to Europe.
There is so much to take in between the famous sights, the delicious food, and the vastly different cultures and ways of life.
Most American tourists have no problem jumping into some popular customs and activities, such as afternoon tea in England, or a soothing sauna in Finland.
Other customs and behaviors, however, some Americans usually choose to leave to the locals.
Redditor Mark-Zuckerberg- was curious to hear which European habits or ways of life were truly bizarre to Americans, leading them to ask:
"Americans, what do you think is the weirdest thing about Europe?"
Where's the kitchen?
"Rental apartments in Germany often come without a furnished kitchen."
"Sink, refrigerator, stove and cabinets."
"Because these are almost always provided in rental apartments in the US, it was shocking to me as an American looking at rentals in Germany that I would have to buy and install those things."

"Having read so many interesting comments about kitchen expectations in different parts of the world, let me ask this question."
"Do any of you know of places where rentals don't come with bathroom equipment either, and it's expected the tenant will purchase and install their own toilet and sink?"- AmbitiousPeanut
Differing levels of intimacy

"Depends which countries."
"I've always found it weird that a lot of them think hugging is more intimate than kissing someone on the cheek."
"I know it isn't actually 'kissing' someone on the cheek most of the time."
"I'm referring to how someone touches your face with their face that is extremely intimate."- LadyValenciaLA
Road Rage!
"The way people drive."
"The laws don't seem to matter at all in Italy, only a little in France."
"Then the Germans are a completely different story."- jesusmansuperpowers
Toilet Troubles

"OMG the toilets."
"In the US every toilet I've ever come across has a flush lever on the left of the tank or, in public restrooms, a sensor or a button on the top."
"In Europe every single toilet has a different flush mechanism."
"Every. Single. One."
"It's like an escape room challenge."
"Foot pedals. Cranks. Pull knobs."
"Things attached to the sink."
"I was once stuck in a bathroom for 20 minutes trying to figure out how to flush the toilet, it turned out to be a pulley on the other side of the room."- Yellowbug2001
Not for Night Owls
"The oddest thing I found in Copenhagen was that when we tried to go get food around 9pm, nearly everywhere was closed."
"We were in a busy part of the city but it took us so incredibly long to find a place open late."
"I don't live in a huge city but I can throw a rock from my house and it will bounce off half a dozen places open until midnight or later."
"This is not a complaint, just an observation."
"I loved Denmark."- Ginger_Chick
Just how old are we talking?

"The history."
"Can't wrap my brain around that."
"I live in a farm house built in the 1920s and that is considered old."- Necessary_Sir_5079
You understand?

"The sheer grasp of language I've seen from some Europeans is wild."
"Back in the early days of minecraft I used to play on a server with an English kid and a German Kid."
"The English kid would randomly speak Welsh and the German could jump between German, French, and English all the time and I was there like 'Guys, I can barely English, can we dumb it down for the yankee'."- CYNIC_Torgon
"We've been working on the railroad..."

"Trains go to every major city."- CoolIceCreamCone
Balmy summer nights
"No AC."
"Our hotels had ac but it was just room temp air."
"That heatwave must have been brutal I hate sleeping when it's hot."- Slowmexicano
Some things that might seem strange at first might just take some getting used to.
Though power to any American brave enough to drive through Europe.
Particularly on the wrong side of the road in the U.K.!