If you've traveled much before the pandemic restricted tourism, you might find American influences are abundant on almost every continent.
We all know Mickey. As in, Disney's infamous cartoon mouse. He is instantly recognizable as a universal emissary of goodwill originating from the shores of Southern California in the USA.
What about the other Mickey? You know, Mickey D's? The Golden Arches pretty much dominate most parts of the globe and much of the world's population has had a Big Mac–the flavor of America.

And although many might argue hamburgers originated in Hamburg, Germany, the popular meat sandwich is almost always associated with America.
But that's just the tip of the iceberg (lettuce).
There are tons of other things that are instantly perceived as unmistakably American.

Curious to hear examples of this, Redditor bigbeantheory asked:

"What wouldn't be nearly as popular if it wasn't for the US?"
How Americans do things is sooo U.S. of A.
Major Discounts
"Black Friday. It's a worldwide thing now even though only the US has Thanksgiving the day before."
– MochaUnicorn369
Preferred Method Of Measurement
"Using inch to measure TV size."
– EnvyGhost
Go Steady With Me

"Proms... in other countries some schools host proms just because they see it on TV."
– RedpilledChris

I Got Your Location

"GPS"
"The American military gave away one of the coolest technologies to the world. No service fees, no subscriptions. Imagine if Meta or Apple had invented it."
– shingogogo

You might find these items indicating we're definitely in 'Murica.
Our Plastic Chalice Of Choice
"Red solo cups."
– wocketywack
"I have friends who've been abroad who have seen them for sale. They don't call them 'solo' cups as Solo is a brand. They call them 'American party cups' and a lot of the ones sold are meant to be reused."
– OneEyedOneHorned

It's For Your Stomach, Not Your Inbox
"Spam in northeast-asia, especially South Korea"
"American soldiers ate it during the Korea war and it gained popularity to the point that it's a common food for both Koreans, Japanese, and some Chinese cultures such as Shanghainese."
– Front_Tomorrow

Quintessential Soda

"Coca-Cola"
– destro23

Many American Households Rely On This
"Propane and propane accessories."
– eternalspark79

The aesthetic and style are unmistakably American.
Doesn't Get Any More Rock N' Roll Than These
"Fender guitars​."
– Realeron
"Hendrix with a Fender playing the Star Spangled Banner at Woodstock? That's the most American thing that has ever been done."
– Fuzzy-Rocker
Love For Denim
"Blue jeans."
– WolfThick
"Denim originated in France, but the metal rivets (from Jacob Davis) and blue colour (he and Levi Strauss decided on it based on flowers on Nevada) were actually American."
"Edit: Wow this blew up. Corrections from replies: jeans originated in Italy, in Genova, while denim first came from France. And I've been told that blue was used before America caught on. It's also important to note Strauss and Davis, and many others who influenced American styling of denim, were immigrants."
– 621extra
Music Styles
"Hip hop."
– Try_to
"Jazz too."
– puella_

The Glitz And Glamour
"Hollywood."
– SuvenPan
"Stars and celebrities: what do they know? Do they know things? Let's find out."
– jakehosnerf

Halloween and trick or treating to me are uniquely American experiences.
Kids glorifying creepy creatures, vampires, and witches by dressing up as them and demanding one of two options from strangers is the epitome of American entitlement to me.
My relatives and friends in Japan found it bizarre to understand the concept, and I don't blame them.
The one day-a-year tradition is like a G-rated Purge for kids.
Keep reading...
Show less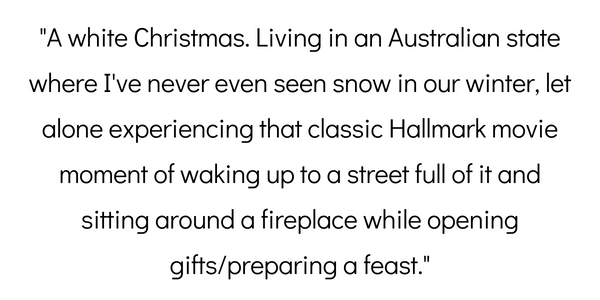 Most Americans think nothing of their humdrum daily activities or amenities available to them.
However, others with a different perspective might romanticize the things that are otherwise commonplace ideas and concepts for US citizens, like going to a diner or riding the school bus.

One Redditor looked to foreigners to hear of their American desires to respond to the following:

"Non-Americans of Reddit: what is an American thing you have always wanted to try?"
The things depicted in film really captivated foreign audiences.
Casual Dining
"To visit a diner like in the movies. In the middle of the night, it's raining and just a few people there with great music from a jukebox."
– TotalAd6225

Iconic Student Transport
"Ride a yellow school bus even if I'm too old. Growing up I always loved seeing them on TV."
– infiresemo

Just Like The Ones We Used To Know
"A white Christmas."
"Living in an Australian state where I've never even seen snow in our winter, let alone experiencing that classic Hallmark movie moment of waking up to a street full of it and sitting around a fireplace while opening gifts/preparing a feast."
"Guess it's not strictly American, but the imagery and trope is something I've only really seen from American Films."
– Stoibs
They may be uneventful for us, but they sure seem to be novel ideas to foreigners.
Let's Be Frank
"One of the hotdogs from those little street cart things."
– Who_is_lost

Kitchen Marvel
"A friend of mine from Indonesia said, 'the food chewer in the sink.'"
"Garbage disposal."
– Mnemonic22

American Pie

"Apple Pie made by white-haired grandma, placed near window, who says 'oh dear...' as I levitate towards it."
– MegaJoltik

Pre-Game Ritual
"Proper tailgating before a ball game, the kind where there's ribs and stuff."
– SpiralToNowhere

Fried Delicacies
"Deep fried foods at a state fair. I'm from Scotland and we love to deep fry everything and I wanna know if it's just as good or better."
– fenrisulfr94

Ultimate State Fair
"Come to Minnesota - 2nd largest state fair only behind Texas (little known fact) and the deep fried food is as advertised. Also, Minnesota is nice."
– UnionThugg

Begging For Candy
"Trick or treating at Halloween."
– IvanaHug

Sandwich-y Things
"Smores, Lobster Rolls and Philly Cheesesteaks."
– Select-Run-2394

Batter Up And Chow Down
"Corndogs, I don't understand what it is but I want to try it."
– AFowlWaterfowl
Backyard Tourist
"National parks."
– nhungoc1508
"America's greatest invention!"
– nhungoc1508

Backpacking In Nature
"I always wanted to hike The Appalachian Trail if that counts. Or see Yellowstone."
– EphemeralRemedy

Dry Destinations
"Would love to see some of your nature in real life. The New Mexico/Utah/Arizona/Colorado desert area seems amazing."
– ipakookapi
New Chapters
"Being able to start a whole new life 'elsewhere' without having to leave my country and going through an arduous immigration process."
– Gmtfoegy
My cousin told me she looks forward to visiting a Trader Joe's someday when she visits America for the first time.
Her bucket list option was hardly surprising. My parents used to bring treats from TJs as a novelty souvenir gift item, and my relatives ate it up. Literally.
Let's face it. The snacks at TJs rocks.
Even store locations in New York City would have ridiculously long lines during busy hours because the West-coast-based grocer was a novelty on the East Coast.
Keep reading...
Show less
People often say they came to America to pursue the American Dream.
But what is the American Dream? The ideal can be described as a life granting everyone freedom to achieve success with few obstacles in order to carve a life out for themselves and start a family.
To some, the American Dream is simply epitomized by its culture of baseball, hot dogs, and backyard BBQs.
But what would be the antithesis to the notion that "all men are created equal?

Strangers online shared their analysis when Redditor amountgood asked:

"If there's an American dream, what's the American nightmare?"
The thread began with sarcasm.
Why Cody Rhodes?
"Cody Rhodes is a professional wrestler known as the American Nightmare. He's the son of the late, great Dusty Rhodes, who was the American Dream."

– familyman121712

How Tuneful
"The American nightmare is a song by ice nine kills."
– EarthWillOvercome

And then Redditors mentioned their worst-case scenarios.
No White Picket Fences
"Honestly, for me ending up homeless."
– NoticeWhenUAreHappy
Unforeseen Setbacks
"For me it's getting a serious illness that prevents working, losing everything, being unable to provide for my family, and having to be taken care of by them."
– LividLager
When Dad Got Sick
"This was my Mom and dad's situation. My dad started developing ALS symptoms in his early 60's, by the time he turned 63 he could barely walk/talk let alone work. So he really lost the last high earning years of his life unfortunately."
"Compound that with 24/7 nursing 'heavy' care and my mom would have burnt through most of their savings if not ended bankrupt - had I not quit working and moved home to help her. Luckily she is a licensed RN so medically he was in better hands compared to a lot of other people suffering from it. She just couldn't move a 180 pound 6' 1" man like I could."
– Tler126

Roadblocks To A Healthy Life
"Yep! Can't afford a house, had to get married to get health insurance, if I miscarry, I might have to wait until I'm literally dying of sepsis before I can get medical treatment and if everything goes well, my baby is still full of microplastics :( The future is terrifying."
– listlessthe

Comparisons to the present were inevitable.
Our Current State

"What America is becoming right now."
– favnh2011

A New Reality
"Current America. -An American."
– TTdriver

We Grieve
"Agreed. What we are right now is pretty f'king terrible. Obviously things can get worse, but it feels like that the worst is inevitable. An absolute nightmare for sure."
– BleedingTeal
Dream Vs. Reality
"The American dream occurs when you are asleep. The American nightmare occurs when you are awake."
– cedriks

People analyzed the concept of what makes the American Nightmare.
At Second Glance...
"Ironically, the American nightmare is exactly the same as the American dream, just different perspectives."
– jcbasse

"The American dream is a marketing concept to sell you crap as you attempt to keep up with your peers. I have nicer rental properties than the little apartment I rent for myself. It's about priorities."
"Where I live, the bike you ride is more impressive than the car you drive."
– Backyouropinion

It Doesn't Apply To Marginalized People
"American dream: prosperous 1950's style suburbs and social mores."
"American nightmare: exactly the same, but you're black. (Or a woman, or gay, or trans, or neuro-divergent in any way etc)"
– Charlie_Mouse
The Sitcom Life
"The same thing for someone else. For every person who dreams of a Leave it to Beaver lifestyle that's another person's Purgatory. The true American Dream is simply having the ability to live life as you so choose if that's a Sitcom life then hell live it. If that's in the middle of the city hitting the coffee shop and bakery every morning then do it."
"But too many people mistake their dream for everyone else's."
– jackfaire

Speaking Of Sitcoms
I can't personally say what constitutes the antithesis of the American Dream, but I can say when I realized the so-called "Dream" only applied exclusively to a demographic that was different from mine.
My earliest notion of the American Dream was life depicted on a TV show called The Brady Bunch. (Sadly, we're in an era where people have never even heard of this once-popular American sitcom).
It took me a long time to realize I had been internalizing my resentment of the show for not representing characters that looked like me and having storylines relating to other cultures.
I'm still nostalgic about the show's more inconsequential moments with the family–like settling arguments with a potato sack race or banding together and running through an amusement park to deliver the correct blueprints for the dad's high-stakes business meeting.
But as a youngster, I couldn't help but compare my situation to the perfect White family and realize I would never have that.

To me, that was an American nightmare in a sense. Not being able to attain the unattainable.
But it took me a while to realize I'm so grateful to have had the best of both worlds–of being raised in a country that offered me opportunities leading to a sustainable career in the entertainment industry AND having a background with a rich culture and loving family that shaped me into the proud person I have become.
The Brady's can never take that away from me.
However, I'd still love to be invited over to their house and brush Marsha's hair or have a jam session with Greg up in the attic.
In an ideal world anyway.
Keep reading...
Show less
As Americans, we never question how we go about our daily lives and engage with society.
That is, until, we travel abroad and experience culture shock after observing how others interact with each other outside of our own country.
Curious to hear examples of stricly American behavior, Redditor Professional-Ad-2850 asked:
"What's an incredibly American thing americans don't realize is american?"
Americans respond differently than people from other nations when it comes to indicating where they're from.
Location Location Location
"I used to work in a call Center that took calls from Americans and Canadians. I'd ask 'Where are you from, Canada or the US?' Canadians would say 'Canada' and American would say 'Texas' or 'New York' etc. Never ever would they reply with their country name."
– fancyllamapants-

Sticking To Specifics

"Might just be me, but I do notice when you ask Americans on the internet where they're from, they reply with either a state or a city instead of their country."
"The thing is, it doesn't cause any confusion, since most people know most American states and at least the major cities."
"You don't often see an Indonesian person, for example, say they're from West Java. Just that they're from Indonesia."
– FlygonsGonnaFly

More Background
"I also find that Americans often include where they were born. For example "I'm from Philly but originally from Jersey.'"
"Edit: I understand that the US is big and has many different regions. I'm Canadian and find that Canadians typically don't answer that way, despite being very large."
– RedSpikeyThing

Some people are dumbfounded by these the following behaviors and tendencies.
Shortened Pronunciation
"Its the American pronunciation of 'squirrel' that gets me. Here its a two syllable word. 'Sqwe-rell' kinda. But when my American gf says it it comes out kinda like 'sqwurl.' The first time she said it I thought she said 'swirl'. Its just one syllable."
– DonSmo

Favored Flavor
"Ranch. I never knew ranch was just an American thing until recently."
– BlocBoyBaloo

Time To Close Out The Check
"Not having to ask for the bill."
– Ok_Independence_5025

Complete Trust
"Handing your credit card to a stranger, having them walk away, swipe it, then bring it back to like they didn't just put a down payment on a new house with it…"
– browncoat47
European Academics
"Universities in Europe are simply institutions of higher learning, nothing more."
"Americans would be surprised by the cultural differences when it comes to university education. There are no athletic teams, no Greek life, no 30 foot climbing walls at universities in Europe. You come to school to learn and leave when your classes are over for the day. If you want to study, you can go to the library, but there is very little that a university offers outside of academia."
– sharksedition

Simple Dish
"Mixing three different canned foods together and calling it a casserole."
– calls_you_a_bellend
Transactions that seem normal to Americans is considered completely unusual in other countries.
Name The Price
"Not including tax on prices displayed in stores."
– rubs_tshirts
Always On-The-Go

"Drive thru atms and everything else."
"I didn't learn we had drive thru liquor stores until later in my life."
– cbeiser

Side Effects May Include Feeling Jaded
"Prescription drug commercials."
– Dhk3rd
"Me and my husband love watching the American feed of NFL. We quite like the drug ads, as they have to list all the side effects and it sound like every drug will kill you. We love laughing at the ads."
– toonlass91

Tipping has always been a practice I never understood.
In many other countries, it is not customary to tip because–from what I understand–service industry employees are already incentivized to work hard and provide excellent service because they are already more than reasonably compensated.
Depending on the situation, I think tipping is a flawed system that doesn't work fairly for the consumer and the employee as it can breed resentment.
But that's just my two cents -- which for the record is NOT an appropriate tip. The figure you're looking for is 20%.

Keep reading...
Show less
Growing up, I had zero idea that the food I ate daily was "cultural."
It didn't occur to me until I was a kid when my mother had to gently explain to me that not everyone ate rice & beans.
She had to explain it because we were about to eat at a white friend's house for the first time.
I've always been weird about food tastes and textures and mom needed to warn me that the beans I could expect would be nothing like what I knew.
They would be sweet, have big chunks of chewy pork (which would also be sweet), and would NOT be served with rice.
"What do you mean there's no rice with the beans? Did they run out? Should we bring some?"
"No, they just don't eat rice and beans."
"So what do they eat with their chicharron de pollo?"
"They don't eat that. They do fried chicken a little different and they tend to eat things like rotisserie chicken instead."
Y'all should have seen my face.
It's been thirty years and I still struggle with the idea of not eating rice and beans all the time. I've come to understand that not everyone grew up in a Caribbean cultural household, though, and most Americans ate from a whole other menu.
Reddit user remyleboi00 asked:
"Non-Americans, what is the best 'American' food?"
Even as someone born in America, it took a while before I got familiar with American food.
So if it's just not your comfort zone - let Reddit guide you to the can't miss dishes.
Cajun
"Cajun food. Definitely the most unique American food"
- Excision
"As an American I 100% agree with you. Cajun food is heaven sent"
- Chaoticqueen19
"That's because of it's native American roots, fun fact Cajun peppers are named after the south American tribe that influenced the Spanish/French who brought it to Louisiana. Maque Choux is also a very native American dish that can be found in Mexico as Calabasitas."
- Objective_Lion196
They Are Fun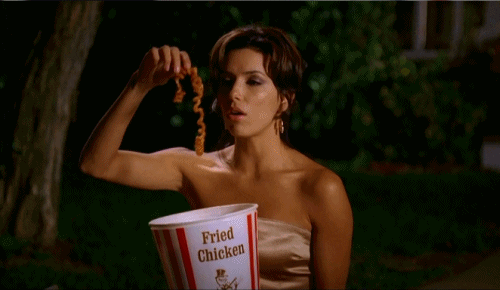 desperate housewives eating GIF
Giphy
"Curly fries 👌"
"Recently came across Carl's jr for the first time in Istanbul airport and the curly fries were just the best"
- av_jet
"Absolutely!"

- GrandpasMormonBooks
"the fun thing about curly fries is that they are basically the same everywhere. I'm pretty sure it's one company supplying all the different fast food places"

- siccanimelord69
M.A.C.
"I hate to sound like an ignorant foreigner but a made from scratch Mac & Cheese with at least 3 different cheeses plus a crispy breadcrumb crust on top is one of my favorite American dishes"
- Mona_Moans
"Mac & Cheese is such a favorite of family get-togethers that if you volunteer to cook it, your Mac & Cheese needs references."
"It's especially good with some pulled pork and caramelized onions mixed in. And some insulin."
- GetZePopcorn
"Solid choice. We Americans LOVE cheese."

- RyGuyStrong
"No need to apologize. One of our favorites too."

- sexysmartsingle
Thankful For Thanksgiving.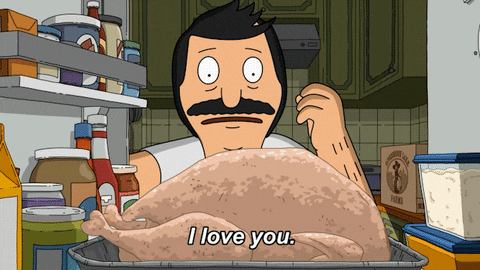 I Love You Cooking GIF by Bob's Burgers
Giphy
"I'm from Mexico and we get spoiled with our traditional cuisine but I found the thanksgiving dinner experience in the US incredible."
"Love everything, the turkey (dark meat :) ), cranberry sauce, the stuffing (oh the stuffing), mashed potatoes, salads and the delicious pays that follow for dessert. That whole combination plus the red wine and good company is an incredible experience hard to match."
- i5rider
"We also get spoiled with your traditional cuisine."
- Pharaon4
"I usually get a food coma on Thanksgiving"
- FrenchiesRule
"As an American who loves the Thanksgiving and other holiday classics this warms my heart to hear from someone whose cultural cuisine is considered a full on cultural heritage of humanity by UNESCO."
"A nicely done, quality turkey with proper attention paid to all the sides, and good friends and/family is such a great experience."
"Same with the ham or prime rib dinner at Christmas. And all the pies. God I love pumpkin pie."
- RedCascadian
Smokey Deliciousness
"Anything smoked: brisket, pork shoulder, chicken, turkey. I've even had smoked burgers. If seasoned well you don't even need BBQ sauce and it is so tender and juicy."
- stickiestofickies
"I smoke meatloaf, can't go back to oven baked ever again."

- JohnnyBrillcream
"This tread has me wanting to smoke a brisket sooner rather than later."

- firemage22
"I love smoked brisket. I agree with you about the sauce. Taste the brisket before dunking in another flavor."
- Sourbreaker
"Native Texan here. Agreed. The general rule here is that you never sauce beef. Let the flavor of the meat stand for itself. Hell, there are some places in Texas (particularly in Lockhart) that will ask you to leave their establishment if you ask for BBQ sauce."
"Now, pork and chicken, whatever else... Go nuts... Just leave beef alone."
- IAmTheZechariah
"I had smoked mac and cheese once, it was heavenly."
- RecursiveBob
Risk It All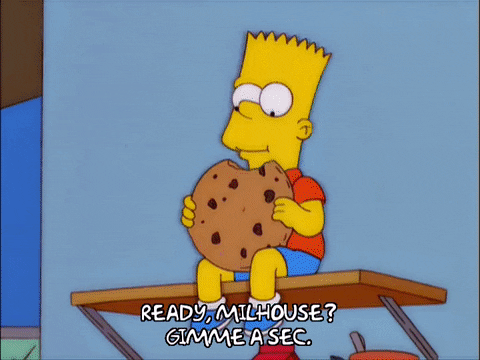 hungry bart simpson GIF
Giphy
"This is probably a recipe for disaster but I'm British and growing up visiting Florida I would love eating raw cookie dough from the refrigerator section"
- Blocker212
"Cookie dough is so good that, given the option between not eating it, or getting food poisoning, nearly everyone will pick the cookie dough."
"It's one of the few foods in the country where everyone knows the risk of food poisoning, and everyone makes the conscious, willing, and eager decision to not give a f*ck."
- duckbill_principate
"All of us here in the U.S. know that eating the cookie dough is the best part of making homemade chocolate chip cookies. I have a recipe for brownies with a cookie dough topping. Cookie dough ice cream is also extremely common (it's vanilla ice cream with cookie dough bits mixed in)."
- Idontcheckmyemail
The Holy Pudding
"I can't find someone who's listed it so"
"BANANA PUDDING"
"That shit is LIFE CHANGING"
- Madmagican-
"Gotta have the Nilla wafers or it isn't right."
- zekeweasel
"Ah, finally! A person of culture. Banana pudding is the closest food can come to a religious experience."
- timmeh4853
Cornbread!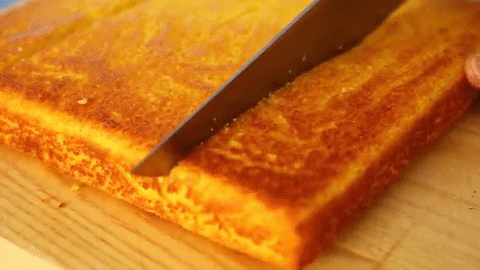 cornbread cooking GIF by emibob
Giphy
"Oddly enough, no one seems to have mentioned it…but cornbread . Yeah , as a guy who moved here , Americans have got cornbread down to a T . Combined with some soul food ? Makes me smile on the inside . Gives me high blood pressure , but smile on the inside too"
- Thatmixedotaku
"A nice warm cornbread muffin with some butter and a little drizzle of honey is amazing."
- AvatarJack
"Cornbread with a nice bowl of chili is such a nice comfort food."
"And the spicier the chili the nicer the sweet, buttery cornbread is with it."
- WingedLady
A Classic
"Peanut butter and jelly sandwich, at first i thought it was a disgusting combo, but when i tried i loved it"
- ilovepotatoesalott
"Interesting, most people in America are introduced to pb&j before we're even old enough to remember"
- Clear_Impact2025
"Farmer's market jam is the way."
- ubiquitous-joe
"That was my most frequent meal in elementary school. I didn't realize it was an American thing until recently."
- Robbie_the_Brave
"It's easily top 3 greatest sandwich ever."
- The_Exquisite
As American As It Gets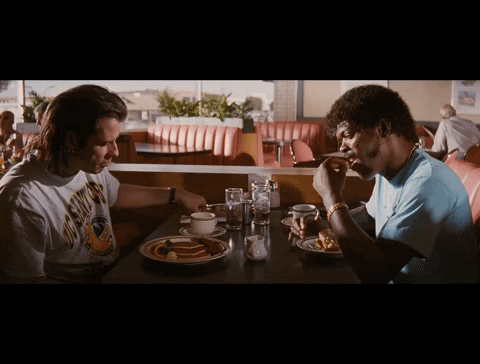 pulp fiction breakfast GIF by MIRAMAX
Giphy
"I may be a simpleton, but an average diner with bottomless filter coffee, pancakes, bacon and syrup was my favourite part of the day. Although I did put on about 10-15kg after a month in Texas"
- BasedEvidence
"I missed this sooooo much when I lived in the UK (grew up in New Jersey, land of diners). They simply do not do American diner breakfasts in Europe."

- landshanties
"My wife is German, I am American but we live in Germany. We took her parents to the states with us one summer on vacation and one of the things they insisted we do was go to a diner where they pour your coffee at the table, like in movies and tv shows."
"Took them to my favorite little spot, they loved the waitress filling up their cups unprompted."
- the-real-truthtron
Now that youve heard Reddit, it's my turn.
So remember how I said that I wasn't really exposed to American food until I was a bit older, even though I was born and raised in America?
I was 22 before I had meatloaf and mashed potatoes.
FAM. Fam. Faaaaaaaaaaam.
There is no greater meal for after a night of drinking than a good meatloaf and a nice herb and garlic mashed potato.
Keep your greasy pizza, amateurs. It's potato time over here.
Keep reading...
Show less