What better way to celebrate the impeachment you're too scared to testify at than by lashing out at a teenage climate activist.
While speaking about Greta Thunberg at the Davos World Economic Forum, U.S. Treasury Secretary Steve Mnuchin said that "she's in no position to give economic advice until she goes to college and comes out with an economic degree."
He also added this condescending ditty:
"Is she the chief economist? Who is she, I'm confused."
U.S. Treasury Secretary Steven Mnuchin takes a swipe at 17-year-old Swedish climate activist @GretaThunberg, says s… https://t.co/Wq07L68ErX

— The Associated Press (@The Associated Press) 1579786271.0
Alexandria Ocasio-Cortez quickly responded on Twitter, defending the teenage climate change activist.
If you don't have an economics degree like Greta, they'll mock you for not having one. If you DO have one, as I do… https://t.co/Cda7uY7Iqh

— Alexandria Ocasio-Cortez (@Alexandria Ocasio-Cortez) 1579793318.0
Many other people on Twitter also came to Greta's side.
Steven Mnuchin questioned Greta Thunberg's qualifications compared to his own. Let's take a look at you, Steven.… https://t.co/tiYVSlvqNK

— JRehling (@JRehling) 1579793814.0
Dude whose bank foreclosed on a 90-year-old woman's home over 27 cents disrespects a 17-year-old asking world leade… https://t.co/duJzNPmZH3

— David Beard (@David Beard) 1579784549.0
Goldman Sachs conman Steven Mnuchin, who bribed Trump to appoint him US Treasury Secretary, whose use of military f… https://t.co/NHfKcwd7ZB

— Gary Ray Betz (@Gary Ray Betz) 1579830847.0
Grown men, especially those who run powerful branches of government, shouldn't get their kicks making fun of high schoolers.
Who are you Mnuchin? A Hollywood producer? Stop kicking around Greta. It is a bad look. https://t.co/BGNKRyG6n0

— Barbara Malmet (@Barbara Malmet) 1579827833.0
Steven Mnuchin: Greta Thunberg can give economic advice after she goes to college. Also Mnuchin: Spent $2,507.42 P… https://t.co/IoUEVqdYWF

— Nick Jack Pappas (@Nick Jack Pappas) 1579791448.0
Secretary Munchkin suggests that Greta Thunberg should study economics. What for? Munchkin studied economics, yet h… https://t.co/kcVgiijalS

— Monty Boa (@Monty Boa) 1579777339.0
Mnuchin is hardly a paragon of virtue anyway.
A 17 year old understands that resources are limited and that pollution is real. Any ideological form of economics… https://t.co/zRFLpfuIxg

— NewscastNow (@NewscastNow) 1579782497.0
Steven Mnuchin might want to study climate science just a little rather than continue to enable a boss intent on de… https://t.co/eVgbUeA2Jt

— Ben Lieberman (@Ben Lieberman) 1579783433.0
Before long, Thunberg herself had responded to the Treasury Secretary's comments, saying:
"It doesn't take a college degree in economics to realise that our remaining 1,5° carbon budget and ongoing fossil fuel subsidies and investments don't add up."
BREAKING: Greta Thunberg just responded to Steven Mnuchin: "it doesn't take a college degree in economics to realis… https://t.co/AvAb9IHV9g

— PoliticsVideoChannel (@PoliticsVideoChannel) 1579805969.0
Thunberg is probably happy to know she has many allies even here in America.

Another pitiful bully. Sorry Greta. Grown men fear you. Sears is suing Steven Mnuchin and other former board member… https://t.co/2D1gnX76lc

— Liz Allder (@Liz Allder) 1579783918.0
@nationalpost Steve Mnuchin should find some morals and ethics before presuming to lecture anyone on anything.

— Erin En (@Erin En) 1579799741.0
This should go without saying...but bullying young women just trying to make a better world doesn't make you a good person.
You can purchase Greta Thunberg's book No One Is Too Small To Make A Difference here.
Keep reading...
Show less
June is Pride month, which means LGBTQ communities around the world will be organizing parades and events to celebrate their identities and continue the fight for equal rights under the law. However, three straight men in Boston seem to misunderstand the point of the festivities, and have applied for a permit to hold a "Straight Pride" parade.
Congresswoman Alexandria Ocasio-Cortez wasn't about to let the inane idea pass without giving it the take-down it deserves.

She responded to the news on Twitter with a burn felt by straight guys everywhere:
If you can't stand the heat, get out of the parade business!
Twitter was cracking up at AOC's zingers.
Many joined in the fun to throw some shade at the straight Pride organizers.
Of course, the idea that straight people need a dedicated Pride event is a ridiculous one once you know the history of the occasion.
The straight community doesn't face many of the struggles LGBTQ people do on a daily basis.
And yet, whenever privileged men see a marginalized group of people with a moment dedicated to them, their first thought always seems to be "We deserve recognition too! Why don't WE have a parade in our honor?"
Who would even want to go to Straight Pride?
Many Twitter were glad AOC called out the Bostonian men for their selfish behavior.
Happy Pride month, everybody! LGBTQ people have come a long way since the movement began at Stonewall, but there's still lots of work to do before the world achieved true equality under the law.
Keep reading...
Show less
Representative Alexandria Ocasio-Cortez (D-NY) has been a force to be reckoned with since she began serving in Congress.
Her inspiring run for office is the inspiration behind Netflix's Knock Down the House, a documentary which follows the journey of four women who ran for the U.S. Congress in 2018.
The freshman Congresswoman took to Twitter to plug the news of the documentary's release.
The film debuts on Netflix and in select theaters on May 1.
Before my primary, three women & I agreed to film our journey of trying to run for office without big money. Now,… https://t.co/dfg1sx7axU

— Alexandria Ocasio-Cortez (@Alexandria Ocasio-Cortez) 1555950690.0
If you watch the trailer, you'll see glimpses of the three women who appear alongside Ocasio-Cortez: Amy Vilela, Cori Bush and Paula Jean Swearengin.
Ocasio-Cortez was the only one of the four who won her race for office.
529 women ran for congress in 2018 — Meet four of them in @knockdownmovie on May 1. https://t.co/nJU40nfwfJ

— Netflix US (@Netflix US) 1555949933.0
The Knock Down the House social media account is already pushing to get people to see the film in theaters—so ya'll have no excuse.
Be a part of the movement. Visit https://t.co/tnrVcdjLDw to sign up for screenings in your community. https://t.co/lQtHISJRLh

— Knock Down the House (@Knock Down the House) 1555948808.0
People are undoubtedly excited for the film.
This will premiere on Netflix on May 1! It's a must see film about 4 amazing women: @AOC , @amy4thepeople,… https://t.co/d1vGb96vfI

— Bruce Carlson (@Bruce Carlson) 1555952415.0
Less than 100 years ago, women couldn't even vote. https://t.co/3nRhr8Tkna

— Martha Sorren (@Martha Sorren) 1555950620.0
I cannot wait to see this!! I relate so much to this woman!! I didn't expect to develop a passion for politics but… https://t.co/OrLhz5xAiz

— Brett Simpson (@Brett Simpson) 1555951582.0
Whew! Where's my Kleenex??? https://t.co/F5mIVQgF84

— Baby Bassett (@Baby Bassett) 1555950653.0
Amy Vilela was inspired to run for office after her uninsured young daughter died after being denied emergency medical care.
Since then, she's campaigned to consider human lives over profit margins.
"For one of us to make it through, a hundred of us have to try." This is only the beginning. Knock Down The Hou… https://t.co/VlGV88oM92

— Amy Vilela (@Amy Vilela) 1555951761.0
Paula Jean Swearengin, a native of West Virginia, has continued to rally against the environmental impacts of the coal mining industry in her home state, a sharp rebuke of President Donald Trump's claims that "good, clean coal" will experience a resurgence.
The trailer is out! So exciting! #KnockDownTheHouse https://t.co/LC6lzFHWgU

— Paula Jean Swearengin (@Paula Jean Swearengin) 1555958092.0
Cori Bush, an ordained pastor, was inspired to run as she watched the Ferguson protests against police brutality unfold.
Sign up for a screening! https://t.co/0mnBQz44Vq

— Cori Bush (@Cori Bush) 1555978214.0
It's safe to say we haven't heard the last of these women.
Knock Down the House will only further their names in the public consciousness. As for Ocasio-Cortez... well, you know the story.
Chances are there's a Republican crying about her past as a bartender even before this article goes to print.
Bravo, ladies.
Keep reading...
Show less
Freshman Representative Alexandria Ocasio-Cortez has been a constant subject of mockery by conservative media ever since her surprising victory, who often target her for her age and lack of experience.
But the Democratic Congresswoman has also proved to be a force to be reckoned with and received endless amount of positive messages from supporters cheering her on to make positive changes in Congress.
The plaque outside of her office became a magnet for encouragement, with hundreds of colorful Post-its symbolizing a better future under her guidance.
Recently, the 29-year-old was asked to remove the inspirational adhesives.
So in memoriam, AOC posted a photo of the Post-it wall in its former state outside her office.
"RIP our post-it wall :(," she wrote in Tuesday's tweet.
"We were told it had to be taken down..."
But she assured us that the notes of encouragement are not gone forever.

"We moved it inside instead."
These are the colors of support and love.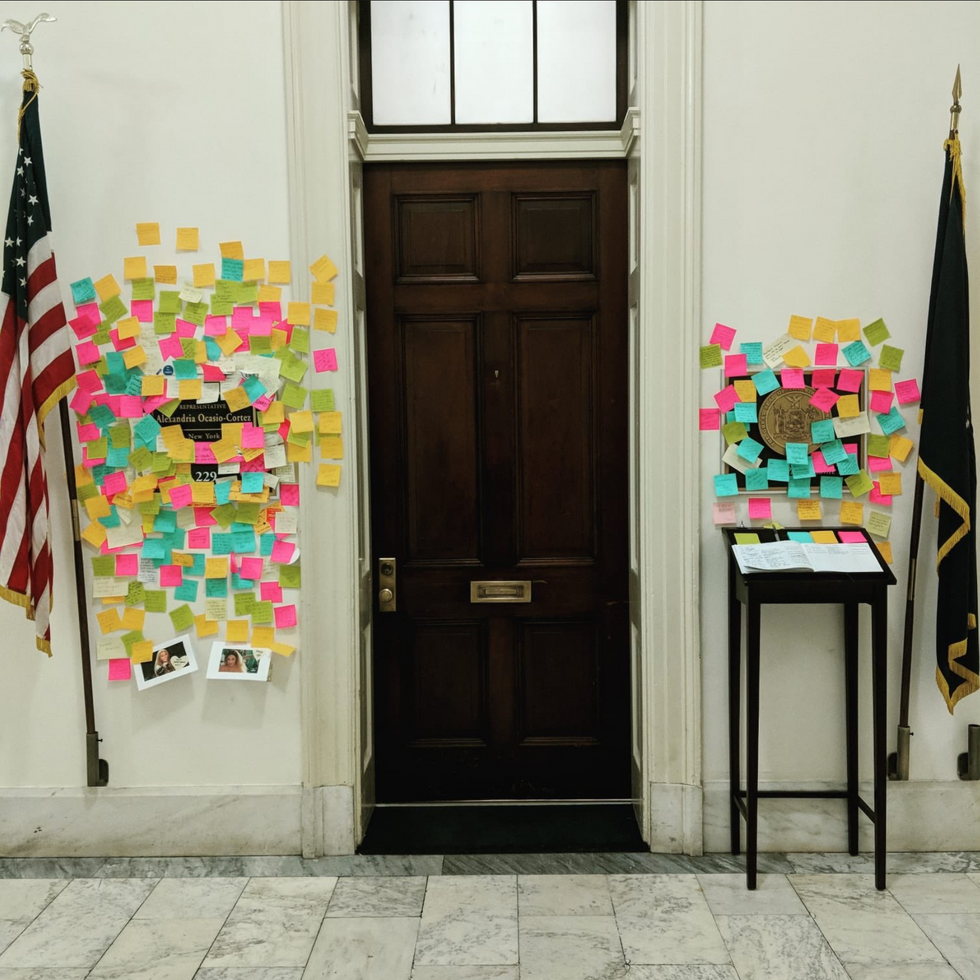 @AOC/Twitter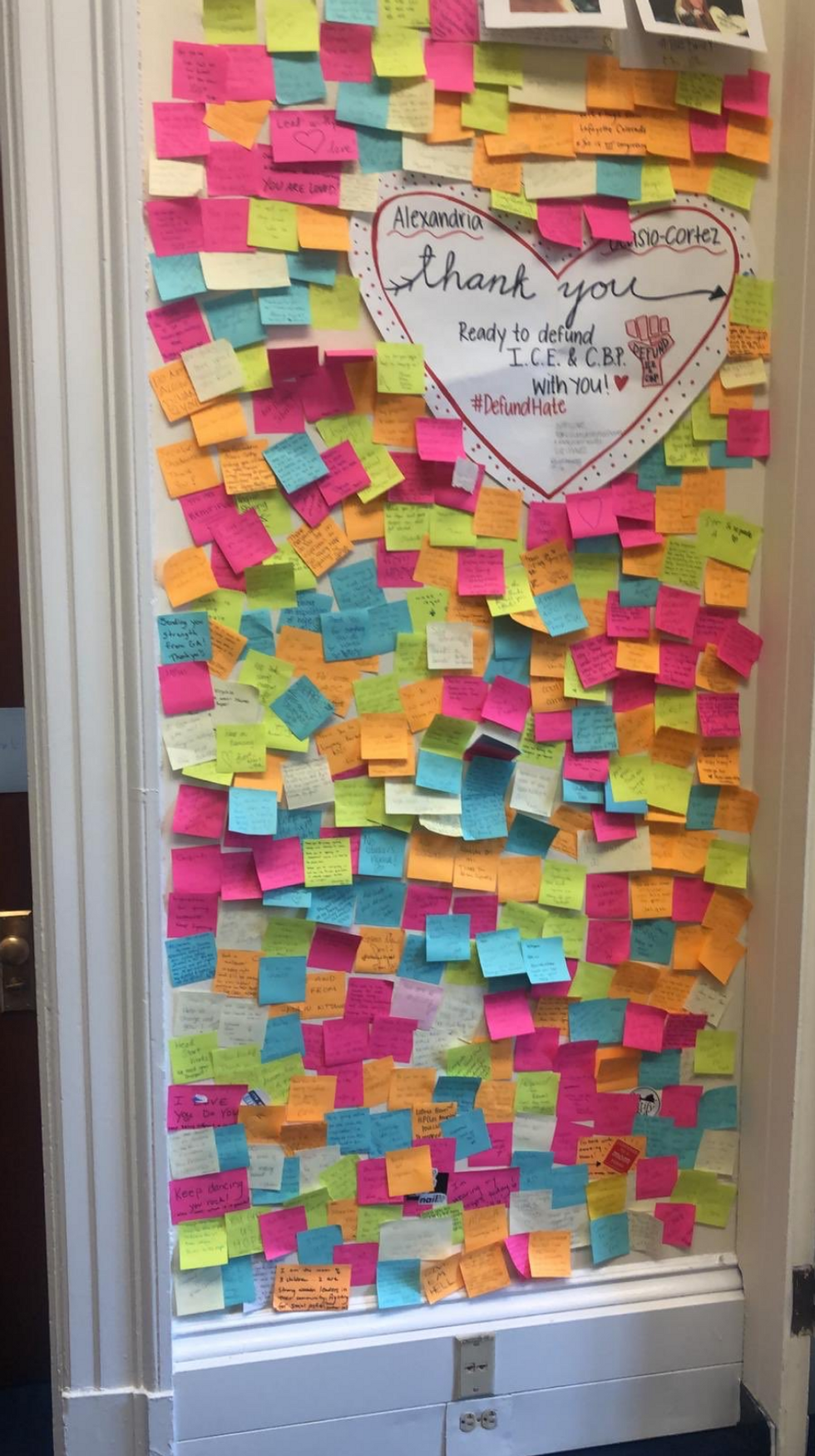 @AOC/Twitter
Of course, her critics couldn't resist noting how childish the Post-it wall was to begin with, comparing the display to that of a "dorm room" and a "kindergarten classroom."
Nice try, guys.

Her supporters came through and challenged the haters.
It's worth mentioning that the mosaic-like presentation of love was not the Congresswoman's doing.
It stood as a testament to her constituents' faith in her.
"It just appeared one day. Some mothers came by & left 2-3 encouraging notes on my plaque," she explained after some inquiry about the display.
"We left them up, bc it was great to read those little encouraging words every morning."
"Soon, more post-its came. It became a little ritual for the public, so we left stacks out for people."
The fate of the Post-its was hardly surprising.
Suggestions to preserve a wonderful concept came pouring in.
The edict to remove the display in the first place remains puzzling.

But the accolades will never go away.
Whether it's out for all to see or in the confines of AOC's office, the encouraging Post-its will continue to convey that positivity always sticks.

Keep reading...
Show less
Representative Alexandria Ocasio-Cortez (D-NY) took to Instagram Stories to explain why she was the lone House Democrat to vote against reopening the government. Her move came as a surprise as the government shutdown, now in its 34th day, continues to cripple the nation and divide politicians in Washington.
Ocasio-Cortez said that she voted against a short-term bill because it provided funding for Immigration and Customs Enforcement (ICE). Ocasio-Cortez represents parts of Bronx and Queens that include a heavy Latino population, some of whom have reservations about or are fearful of ICE's immigration raids. Her vote had her siding with 183 Republicans rejecting the resolution. 223 Democrats and six Republicans voted for the measure.
"Most of our votes are pretty straightforward, but today was a tough/nuanced call," Ocasio-Cortez wrote. "We didn't vote with the party because one of the spending bills included ICE funding and our community felt strongly about not funding that."

Ocasio-Cortez also voted "no" on a larger appropriations package that would provide funding for agencies through the end of the year. That package, however, did not provide funding for the Department of Homeland Security, and it's unclear why she voted against it.
The representative, who became the youngest woman ever sworn into Congress, was recently criticized by left-wing activists in her party for supporting a measure earlier this month to fund the Department of Homeland Security, including ICE, through September.
Response to her latest move has been rather mixed.
There's no end in sight to the shutdown, which is the longest in American history, and was triggered after President Donald Trump refused to sign a stopgap funding bill that would have avoided a shutdown altogether because Congress declined his request for $5.7 billion in funding for a proposed wall along the U.S.-Mexico border. Yesterday, Trump caved to House Speaker Nancy Pelosi's request that he postpone his State of the Union address until after the shutdown is over. Ocasio-Cortez praised Pelosi, saying, "IOUs don't pay the bills."
Two competing plans to open the government (one Republican, with funding for the wall; the other Democratic, without funding) failed in the Senate as expected, sending legislators back to square one. Friday marks the second consecutive paycheck federal workers have missed since the shutdown began.
Keep reading...
Show less