AirPods—Apple's signature wireless headphones—are super convenient.
There are no wires to get tangled, the sound is crystal clear and they feature the sleek, efficient design Apple is famous for.
They're also super expensive and super easy to lose.
New Yorker Ashley Mayer learned that the hard way when one of her AirPods fell onto the treacherous Manhattan subway tracks.
What followed was a saga for the ages.
The AirPod fell out of my ear several feet away from the edge of the subway platform, but I've never seen anything… https://t.co/V5eRKjmeYG

— Ashley Mayer (@Ashley Mayer) 1562715222.0
While I'm understandably shattered, I'm proud of myself for: 1) Not lunging after it and becoming the first ever A… https://t.co/zLPzdordiP

— Ashley Mayer (@Ashley Mayer) 1562716305.0
Ashley thought all hope was lost, but the AirPod was in the same spot the next day.
Omg you guys he's still down there 💔 (I had asked to have him rescued yesterday but it was going to take two hours… https://t.co/TMbBveVJbI

— Ashley Mayer (@Ashley Mayer) 1562802720.0
Jumping onto the tracks wasn't an option.
I think I need to rescue him 🤔 (Don't worry I won't jump down there.)

— Ashley Mayer (@Ashley Mayer) 1562802809.0
So Mayer got resourceful.
Game on. (The romaine is for dinner, not rescue.) https://t.co/3iqDCT7UFQ

— Ashley Mayer (@Ashley Mayer) 1562803232.0
The mission was on, with only a few hiccups.
Unintended suspense because the platform is super crowded and I need to wait for the incoming train to pass. 🙈

— Ashley Mayer (@Ashley Mayer) 1562804071.0
Security guard seems suspicious of my broom 👀

— Ashley Mayer (@Ashley Mayer) 1562804383.0
Though the feat occurred off-camera, Mayer put a wad of duct tape at the end of the broom to retrieve the treasured AirPod.

It worked!
He's filthy but he's mine (again)! 🏆 https://t.co/RXGuzTBGke

— Ashley Mayer (@Ashley Mayer) 1562804596.0
And though some were divided on whether she should put the subway AirPod back in her ear, she couldn't let her efforts be in vain.
I dedicate this selfie to the germaphobes. (You may be onto something, guess we'll see!) Verdict: he's working wo… https://t.co/yjhVB5qsZA

— Ashley Mayer (@Ashley Mayer) 1562810016.0
Soon, Twitter showered her with congratulations.
@ashleymayer she did what she had to do and I stan https://t.co/A7Sx8sNDvE

— brown curly girl (@brown curly girl) 1562810278.0
@ashleymayer Ashley, you just won Twitter today. Congrats, on being the MacGyver of AirPod rescuing

— Indy Sen 🏃🏾 (@Indy Sen 🏃🏾) 1562813297.0
@ashleymayer You'll die from some kind of exotic ear disease but we (us internet strangers) were entertained, so totally worth it.

— random_me (@random_me) 1562811759.0
@ashleymayer This is a profile in courage

— BPLewis (@BPLewis) 1562805536.0
@ashleymayer https://t.co/VzAI14RCoq

— 🎬 Jeremiah Warren 📷 (@🎬 Jeremiah Warren 📷) 1562804658.0
Happy listening, Ashley. You deserve it.
You can avoid a similar fate with your AirPods with this accessory pack for under $9! Including clips, ear hooks and tethers for your AirPods, the 12 piece set is available in 4 fashion colors here.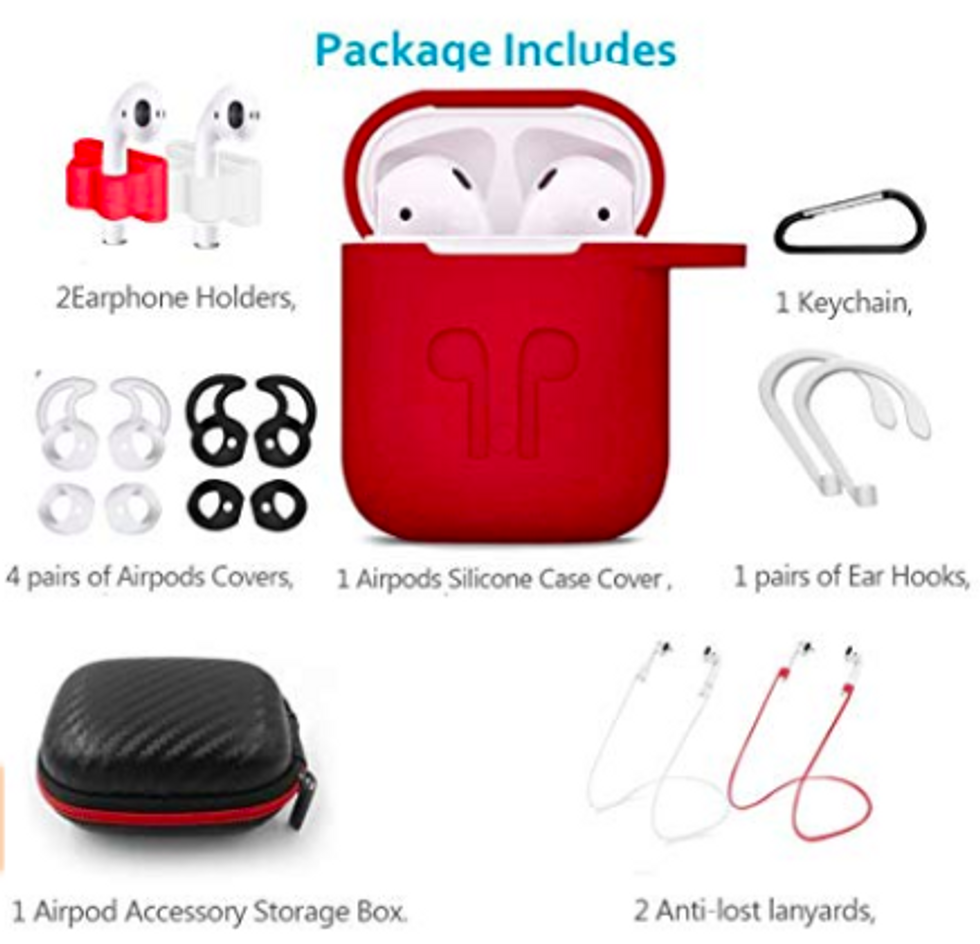 Amazon
Keep reading...
Show less