Some people love to ascribe time limits to when they can and can't do things.
There are sayings out there such as "LA is for your 30s," or "I could only do that in my 20s," or "I feel like I'm in my 80s," when you are doing something like eating peanuts and watching Designing Women.
The truth is, we can do these things whenever. Though it's fun to ascribe ourself these limitations, they aren't necessarily accurate. but sometimes, people make the choice to leave things for later.
With life both being "no day but today" and an incomprehensible stretch of time among us, it's natural to reserve some things for later.
A Redditor asked:
"What is something you are holding off doing until you are much older?"
Here were some of those answers.

Opiods Or Amphetamines? Choose
"Meth. If I'm like 97 and not cryopreserved or if I get a terminal diagnosis, I'm not going out like a b*tch."-tex_da_PHOX
"I dig the sentiment but I feel like you can definitely choose a better drug than meth for your going away party. Like it just seems rather horrible at 97 years old when your body isn't even physically up to that anymore".
"Heroin or something like that seems like it'd be more pleasurable at that point."-Addictive_System
Bébés
"Having kids.. I can appreciate both sides. Yes, waiting until that age means you'll be more financially stable, more mature and probably more patient."
"But, having them young means that you can enjoy your middle age more, because you're not parenting littles at the same time. You have more energy to play with them too."
"And when you're retired your kids are already quite settled adults and don't need you financially for extra support as much, so you can afford to do the travelling you've promised yourself since you were younger."
"There's no right time or age to have kids, do it when you want and not a second before!"-Filhopastry79
Cover Them All
"Getting a tattoo to cover my old self harm scars. I'm ashamed and embarrassed by them. I wish I could cover them now."
"But I cannot afford a tattoo, and I'd prefer to wait until my father passes away to avoid dealing with him being snarky. I love him, but he can be judgemental and a little too uptight."-occultatum-nomen
See anything up here that you are also saving for later?
Streaking To The South Pole
"Going to Antarctica to join the 300 club. Why? Because its expensive. Basically you go to the South pole, wait till its 100 below outside and then go to the sauna and crank it up to 200 degrees."
"And then (usually with aid of alcohol) you run out butt naked except for your feet, take a picture by the south pole flag as by the time you get to it, your body will be covered in thick frost that makes you look like the abominable snowman."
"And then run back to the sauna and subjecting your body to a 300 degree temperature difference... hence the 300 Club."-Youpunyhumans
Teaching The Youths
"Become a high school teacher. I want to have an accomplished career before doing this (probably in my 50's when I'll be close to retiring)."
"I'd like to teach mathematics and on the way also be a positive figure in children's lives, give them the kind of care that I wish that I had when I was their age."
"It's something I'm thinking about a lot because my upbringing was extremely rough personally. I was never a driven student, and teachers wrote me off as someone who 'should be a plumber' (also, nothing wrong with being a plumber, but the teacher that told that to my parents was most likely trying to put me down)."
"I am now a professional Economist working towards an MSc. It took me a while to get there (graduated at 26, moving from a 0.8 GPA to 3.4), but it is what it is."
"No one deserves to be shot down by figures that are supposed to mould the next generation, and I will do my best to be someone my students will remember all the way through College and beyond!"-Sperabo
Might As Well Have Fun With It
"I (M[ale]60) have a terminal bucket list. These are things I'll tap if I get a terminal diagnosis -- mostly, things that I are dangerous enough (or I perceive them to be dangerous enough) that don't want to risk them if things are going OK."
"Things like certain drugs, skydiving, or going back to scuba diving (I got bent badly enough that my diving doctor told me that diving again would most likely kill me)."
"Skydiving is something I'm saving for a dementia diagnosis -- as soon as I forget what that red handle is for, problem solved."-1tacoshort
These Low Effort Jobs Have Surprisingly High Salaries | George Takei's Oh Myyy
Have you ever worked one of those jobs that paid you to kinda sit there? If you have, you know the joy that comes with watching the entirety of Breaking Bad ...
I Won't Grow Up
"Maturing, in the sense where I get boring and cranky, and only care about work. If its bound to happen to everybody, I will run away in the opposite direction from it as long as I possibly can."-thatonemanss
How about things you think are better NOT put off? Anything you disagree with?
Drugs Drugs Drugs
"In my personal opinion I believe somebody should do something at least once in their life. That includes drugs."
"If you ever do it, be in a safe environment, I have friends who are not druggies, who will watch over you and help you not gain an addiction. I know this might seem terrible but it's just my opinion, nobody answer agree with it."-IConsumeLead
Interesting Times Are A Curse
"Traveling, I would like to travel the world and see all the beautiful places it has to offer, but given the ever rising tensions and violence it seems the time will never be right...."-Badjib
Teeth And America's Sad Reality
"Going to the Dentist. I'm holding off until dental becomes included in healthcare and gets offered better benefits. How dental is not treated as seriously is insane."-xaviticus
"My teeth are essentially chalk, but I'm trying my hardest to avoid getting dentures as long as I can."
"I like having my own teeth, even if occasionally they explode when biting into food."-ManifestSaviour
These are things people are putting off out of some kind of necessity. Whether or not you agree with it, or recommend it as an expert, these are things people are making choices to do so as to not interfere with their lives.
Even if it seems important—necessity trumps all.
Want to "know" more?
Sign up for the Knowable newsletter here.
Never miss another big, odd, funny, or heartbreaking moment again.
Keep reading...
Show less
Aging is DOPE, y'all.

I know we were all sold this idea that youth was where it's at, but trust me—we were lied to.
There is something so freeing about aging, and I'm not about to let anyone lie to the young'uns about that anymore.
The best part, BY FAR, is the way that all your f*cks just seem to just evaporate into the breeze like seawater, leaving behind only salt.
So much salt.
It's awesome.
Reddit user Gourmet-Guy asked:
"What gets less important the older you get?"
Listen folks, there are so many things you get to no longer care about when you get older that it's honestly kind of exciting.
I'm sincerely looking forward to bring one of those fearless old ladies who beats up criminals with their ridiculously giant purse, or has deadly chancla aim even though she's been blind and deaf for 5 years. You'd better believe she turns into some sort of mystic seer when you put a flip flop in her hand, though.
She gives so few f*cks about anything that her mind is clear and she can be one with the universe. Just guided by the spirit of chancletazos...

That's where I'm trying to be, but I'm not there yet. I know because I still sort of care about one or two things on this list.
Do You Like Me?
"Being liked."
"I find that the older I get, the less random acquaintances like me; but the more my friends and loved ones DO like me."
"I stopped trying to be likable and just decided to be me instead."
- brokenhippie91
"Same, also the less friends I need. Just a few good mates that are trustworthy is enough."
- Specialist_Prompt_54
"THIS! And it's crazy how fast a change like this can take place as well."
"I'm a senior in college now. Less than four years ago I was running around trying to befriend as many people as possible just to see what would stick, now I'm pretty happy with my little group."
"A possible downside of this is that meeting new people seems kind of tiring in certain situations, but that's really on a case-by-case basis."

- hammalamamba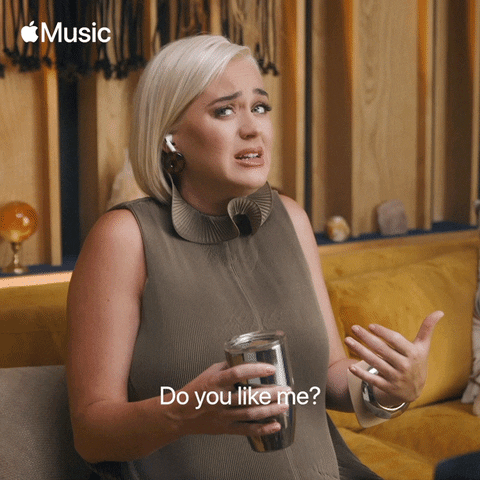 Giphy
Late Nights
"I used to like staying up late. Now I get excited to go to sleep."
- BjornBeetleBorg
"All of our childhood punishments have become our life goals."
"Going to bed early."
"Not leaving my house. (I pay the mortgage, I'm damn well going to get my money's worth.)"
"Not going to 'that' party."
- throwawayspank1017
"The absolute joy I get going to sleep by 9 so that I can get up at 4am, work out for 1.5 hours and still have so much extra time before I go to work is unparalleled by anything I did when I was young."
- Reality_Gatekeeper
"It's also enjoyable to be up fully rested, properly breakfasted and with chores, exercise or some form of entertainment already behind you while the rest of society groans and fumbles for their alarms."
"There's also a special appeal to the hours when everyone else is still in bed. It's almost like the world is yours for that brief period of time."
- Good_Dog_Almighty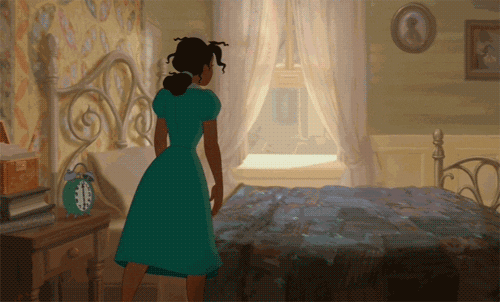 Giphy
What's Cooler Than Being Cool?
"Being cool."
"One of the most liberating things about getting older is you can just do your own thing without caring if it's trendy or not."
- DeathSpiral321
"Just started skateboarding again and I'm going full dork mode with a helmet, wrist pads, knee pads, and I plan on getting elbow pads and even hip pads when I start trying to learn to skate on bowls and mini ramps."
- evil_con_carne
"This. I started college quite a bit later than most and was worried that I'd never finish my degree. So I went all in and decided I still wanted a 'normal' college experience, living in the dorms at 25."
"It was so easy to pick out the kids who still clearly cared not only about being cool, but being POPULAR, bless their little hearts..."
"They were all so exhausted."
- Famous-Honey-9331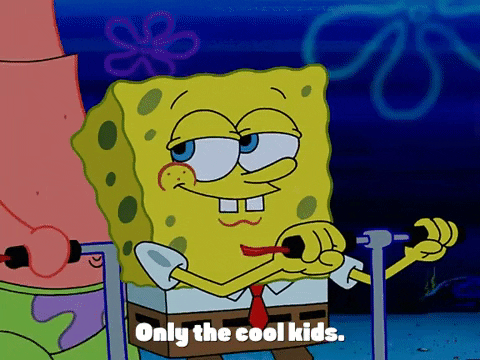 Giphy
Age
"The age of your friends."
"When you're 20, hanging out with a 30-year old is a bit weird. When you're 30, hanging out with 40-year olds is normal."
- DomDeLaweeze
"I have a friend who's the same age as my father. I routinely forget she's not my age cause she's such a cool person."
"Not to say my dad isn't cool. My dad rocks and he's the coolest person I know. But there's always that mentality of wow he's so much older than me because he's my parent."
- TheRedMaiden
"Cuz when we're younger, even a few years makes a huge difference in our thinking."
"Like when you're younger than 20, maybe 15? Even a 5 year old difference, that is, hanging out with a 10 year old is weird."
- Working_Ad168
It's Not All Treasure
"Physical possessions."
"When you're a child, everything you own is a treasure. When you're an adult, it starts turning into junk."
- Sharrakor
"As you get older, only certain things are treasures. And that's only because you get certain joys out of them."
- Anjunagasm
"Exactly this."
"I see physical possessions as something I have to make space for, deal with, and maintain. Honestly it's not worth the energy to have more stuff if I don't need it and absolutely love it."
"Less really is more. Less makes lazy me happier."
- fivesforeveryone
"I am so excited about my stuff! It's not junk because I put thought into all of it and it's all mine. It's also part of getting older."
"I am so jazzed that I bought a new washer and dryer set! I could get whichever one *I* wanted."
"My set needed replaced so I splurged and got a Wi-Fi enabled LG matching set. So happy about it, too!"
- PC509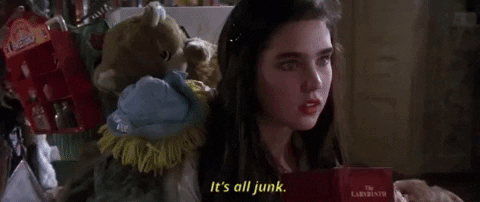 Giphy
Going Out? No Thanks.
"Needing to go out to do stuff. Fireplace, movie, spouse, good movie, comfy couch = happiness."
- angeltati
"I hate going places. God forbid I have to ever stand in a line."
"My wife and I, when we do decide to go somewhere, go on weekdays when it's not as busy. I feel like such a grumpy old man lol."
"I can't wait to be home most of the time that I'm out and about."
- PD216ohio
"This 100%."
"Sit outside at night with a cup of hot chocolate watching the sky. Stay inside and play games or do a puzzle. Reading."
- Electrical-Pie-8192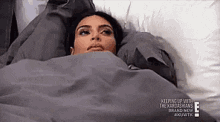 Giphy
As People
"What kinds of cars people drive, what kinds of homes/apts/condos they live in, what brands of clothes they wear, what kinds of new electronic technologies they have . . ."
". . . instead, I care a lot more about how they are as people. "
"Are they kind? Are they honest? Are they interested in the world and making some kind of contribution to it? Are they interesting and true to themselves?"
- RandomInternetLady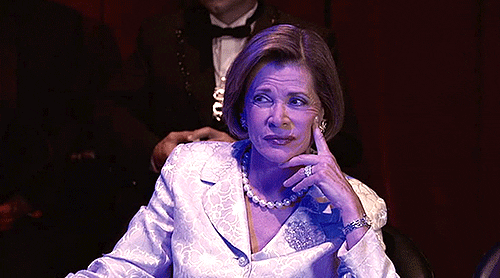 Giphy
It Works Fine
"Keeping up with new tech and apps."
"I'm at a point where what I already have works fine for what I use it for and I don't care enough to upgrade or learn how the newest thing works."
- PeterBernsteinSucks
"My phone is going on 40 months old (longest I've ever had one last, wish I could get another Note 9 when it dies lol)."
"When I get a new one, it will be top of the line, but only because I don't have the patience for slow stuttering cheap technology. And usually the more you spend, the longer it lasts."
"Beyond that... For status? For bragging rights? For that old itch I used to have for always having the best? None of that drives me anymore."
"Function > form."
- legacyweaver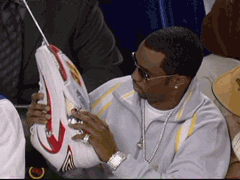 Giphy
Looks
"Looks."
"I'm not being cheesy here: when I was a teenager, you really had to look a certain way for any guy to go out with you. They wouldn't dare to admit that they liked a chubby girl or one without a typical sense of fashion."
"When you get older of course looks still matter, but people are a lot more forgiving! There's a whole wide world out there full of people with different tastes."
"I was so surprised with how easy it was for me to get dates in my twenties."
- DameDrunkenTheTall

Giphy
Just A Job
"Work."
"First company I worked there 14 years. Outworked my colleagues, stayed late, worked weekends. Missed family events to 'get ahead.' "
"Never got me a dime more in my paycheck, I never was thought of as a better employee by management than my colleagues who left as soon as they could get out the door."
"Had enough. Found another job, swore I would never work that hard for a company that could care less about me again. Lied to self."
"Second company I worked there 17 years. Outworked my colleagues, stayed late, worked weekends. Missed family events to 'get ahead.' "
"Never got me a dime more in my paycheck, I never was thought of as a better employee by management than my colleagues who left as soon as they could get out the door."
"People I worked with, went to war with, spoke to every single day for years- I never heard from them again after I left."
"Both of these companies replaced me the day I left and never looked back. It was like I was never there."

"The only thing that is important is your family."
"A job is just a job."

- Beths_Titties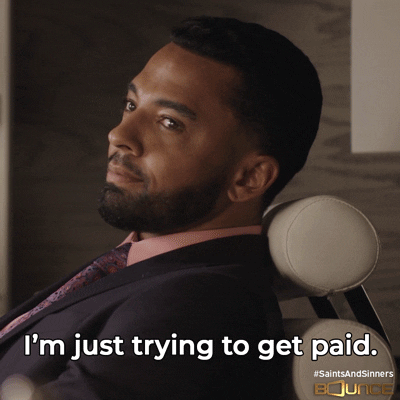 Giphy
Have you found yourself no longer caring about the stuff on this list?
Or are you still hung up on a few things? What sorts of things have you stopped caring about?
Sound off, folks!
Want to "know" more?
Sign up for the Knowable newsletter here.

Never miss another big, odd, funny or heartbreaking moment again.
Keep reading...
Show less
You know how it goes. You go your whole life sleeping okay until you sleep wrong and pull something. How did that even happen? Well, it sneaks up on you.
That's aging for you. Our bodies start to betray us (but it's important to maintain a sense of humor about it). And guess what? It won't be just your body that begins to annoy you as you get older.
People just... suck, man. We're stuck with them, alas.
The online community was keen to share their insights after Redditor hxnry_010 asked,
"As you get older, what's something that becomes increasingly annoying?"
"Clutter!"
"Clutter! Stuff! It didn't bother me that much when I was younger, but it's definitely something that's gotten increasingly on my nerves as I passed into my 30s."
"Definitely exacerbated by the grandmother-in-law who will not stop giving us stuff, no matter how often we ask her to."
dinawia
This is why I continue to purge things, and I am still young! I don't want to deal with it when I'm older!
"Loud, dark restaurants..."
"Loud, dark restaurants - can't hear the server or my friends and can't read the menu without my phone flashlight."
oldkidgrumble
I am definitely already annoyed about this. I want to enjoy my food, thank you very much, and I don't want to lose my hearing while I'm at it.
"People looking at their phone..."
"Lack of awareness - everywhere."
"People looking at their phone while driving, not really listening to the person they're talking to, blocking the grocery aisle with their cart, leaving messes for someone else to clean up, taking good friends or family for granted, contradicting themselves with cognitive dissonance, screwing everyone behind them when the left turn is green, etc."
"You're not the only person trying to live your life today."
ohemjeezus
This is the worst! I can't believe how many people just draw a blank in the middle of a supermarket while out in public.
"Sharing the burden..."
"Sharing the burden of other peoples self-induced personal drama."
Macarogi
An understatement.
Therapy helps. Get some. It'll make you a better person and your friends won't hate you. In fact, they'll be quite happy for you.
"As a kid..."
"Honestly just drama. As a kid, I didn't notice it. As a teen, it was all around me and I was half involved. As an adult, I'm so f**king sick and tired of hearing stupid drama."
TaintedTruth222
Yes, this and gossip! I don't want to hear it, thank you very much!
"When do adults get summer break?"
"Working non-stop. When do adults get summer break? It's been 16 years."
Not_A_Wendigo
I wasn't put on this earth to work yet here I am with bills to pay... sigh.
"Waking up three hours..."
"Waking up three hours before it's time to get up because you're in pain because your bladder is full. The worst."
dmreeves
This is already happening to me. WHYYYYYYY
"Discovering..."
"Discovering new aches and pains when you get up in the morning."
WiddershinsRaven
Okay, I'm still safe. I think...
*gulps*
"Seriously..."
"Small print."
"Seriously, food manufacturers, you don't need to write the cooking instructions in 7-point Arial Narrow."
BirdyCephonAltera
I hate super small print so so much. It needs to be abolished.
"People who can't..."
"People who just can't shut the hell up. Especially on the bus or train. I just want to go back to sleep."
mrmitchs
We can definitely file this under "lack of awareness." People are ridiculous–no one wants to hear you talk to your family members on speakerphone on a bus!
Well, well, I'm feeling super cantankerous after reading these. I don't know about the rest of you but I think it's about time I go find a lawn and tell young kids to get off it.
Getting older?
See something here that you really relate to or something missing?
Feel free to tell us more in the comments below!
Want to "know" more?
Sign up for the Knowable newsletter here.
Never miss another big, odd, funny, or heartbreaking moment again.
Keep reading...
Show less
The big 3-0. For some reason, turning 30 years old has become a very scary thing.
The past two years in particular have been very strange one's to turn the milestone age. Cosmopolitan interviewed a few people who turned 30 turning the pandemic.
One person said:
"Turning 30 is the point at which we're pressured to feel it 'all coming together.'"
Because no one had anything to do on their birthdays, and their once vibrant lives were on pause, that quarter-life crisis feeling wasn't as heavy. They were able to let go of the things they thought they needed in their 20s.
We went to Ask Reddit to learn more about what those things were that needed to change once you hit that magic number.
Keep reading...
Show less
Life is sneaky sometimes.

You go about with your day-to-day routine, expecting you will generally feel the same way you felt a day, month, or even a year ago.
We are often occupied with working, meeting deadlines, and keeping all our ducks in a row. Then suddenly, BOOM, the realization that we are physically or mentally not the same as when we were in our 20s cruelly slaps us in the face.
These reality checks can come in the form of random comments about our looks, or how our bodies feel the moment we get up out of bed.
Curious to hear about these rude awakenings from strangers on the internet, Redditor spp25 asked:
"When did you realise that you are officially "not young" anymore?"
Age is just a number. Sure, but let's not talk about that.

Mutually Offended
"I was in my late 20s, at work talking with one of our new interns. I can't remember why but she asked how old someone was and I was like, 'I dunno, about our age?' She gasped and asked 'How old do you think I am??' Then I gasped and asked, 'HOW OLD DO YOU THINK I AM?!'"
"Anyway, that's when I realized I was 'not young' anymore."
The Fear Is Real
"I'm scared of teenagers now."
– -thegay-

"Just don't look them directly in the eyes."
– spp25

Nightclubbing is a thing of the past for these "old folk."
Club Patrons
"When I went to a nightclub last weekend and everyone looks like children..."
– smegly87

Checking IDs
"We went to a bar recently and the bouncer didn't check our IDs -- just us out of everyone going in. Fine. Then as we were leaving, the place was totally packed and I was outside waiting for my husband to come out and thought, 'We're the oldest people here by ten years at least.'"
"Then, to my relief, I saw an old guy in the crowd."
"Then, to my horror, I realized the old guy was my husband."
Scolded By Teens
"Was told over 40s shouldn't be allowed by a few 19 year Olds"
– smegly87

Reactions to pop culture references can give away your age.

The Not-So-Familiar Tune
"When a song I loved as a teenager appeared as an oldie on the radio."
Listenin' To The Oldies
"My 17-year old nephew has a girlfriend who's into 'the oldies' - you know, like Pearl Jam and Smashing Pumpkins. That made me feel old, lol."
– Tauber10

Hey, Mr. DJ
"I DJ'd a wedding a year ago and the groom asked me if I could play that one oldie…'Get Low' from Lil Jon."
Random injuries are a clear indicator our bodies are headed six feet under sooner than we think.
Getting Unhinged
"When I dislocated my jaw lying in bed yawning. Didn't even think it was even possible."
Sleeping Injury
"Similar, except I woke up with a sprained ankle. No sleepwalking, no weird sleep Olympics, just held it or twisted it weird while sleeping and sprained it."
"I have done this 3 times after turning 40."
"Don't turn 40, kids, stay in your 20's and 30's."
– DrEnter

No More Yawning
"It was free day, Sunday, bad weather outside, I was in bed lying on the side, chilling, reading a book when mid yawn I heard weird noise. I was never out of the bed so fast. By the time I got to the mirror I heard another snap and jaw went on it's proper place, but I had swollen left lower side of the face for another 3 days. Talked to my doctor next day and he said, I should not eat hard or any food that needs a lot of chewing for a week or 2 and not to open mouth too much. I am reminded of this every single time I yawn."
As a Broadway dancer, I still frequented auditions to get me to the next gig.
That was pretty routine for me. Lining up in the hall, waiting for my group to be called in to learn the choreography and be judged on the spot to determine if I was good enough to make it to the next round.
I was so used to being focused on making a good impression while in the audition. But one day, I had a moment and noticed I was the only dancer among a group of college-aged kids.
That was when I realized I was being aged out from the business, at least as a dancer.
If my weak joints and lower back pain weren't clear indications, seeing all those spring chickens kicking their legs for Jesus was the biggest clue that my time was up.
Well, I had a good run. Speaking of which, I should go ice that knee after tripping on the treadmill the other day. Oops.
Keep reading...
Show less